Carb overload day is heeeere! If this scares you, look away now.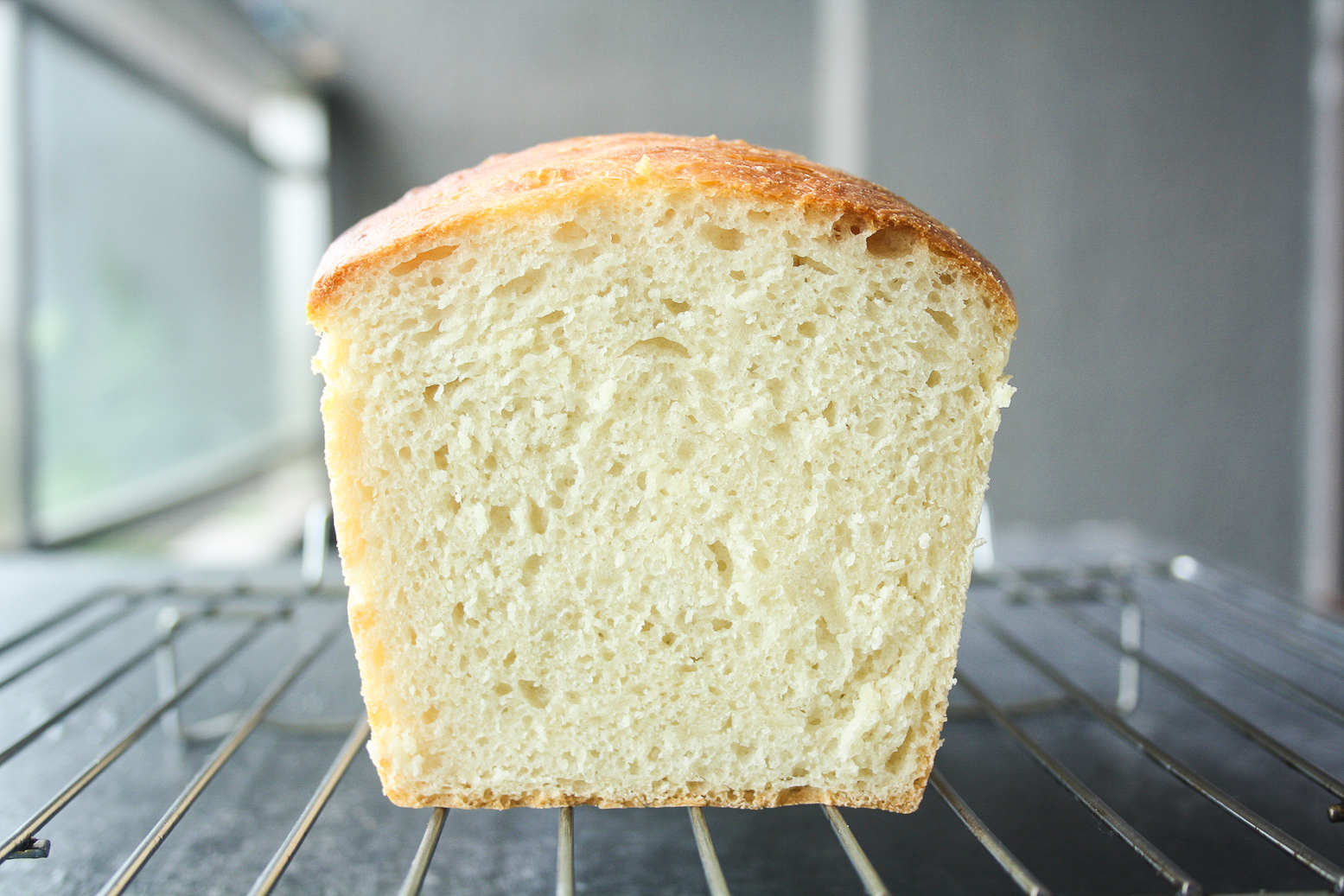 You guys, a tender, chewy, crusty loaf of white bread is the nicest thing you'll ever bake in your house. More gratifying than pretty much anything else, I feel. And I bake a lot of things. Your home will smell like that old-school bakery you wish was a little closer to you, you will never be more in awe of hot buttered toast and you will want to make this loaf every single day.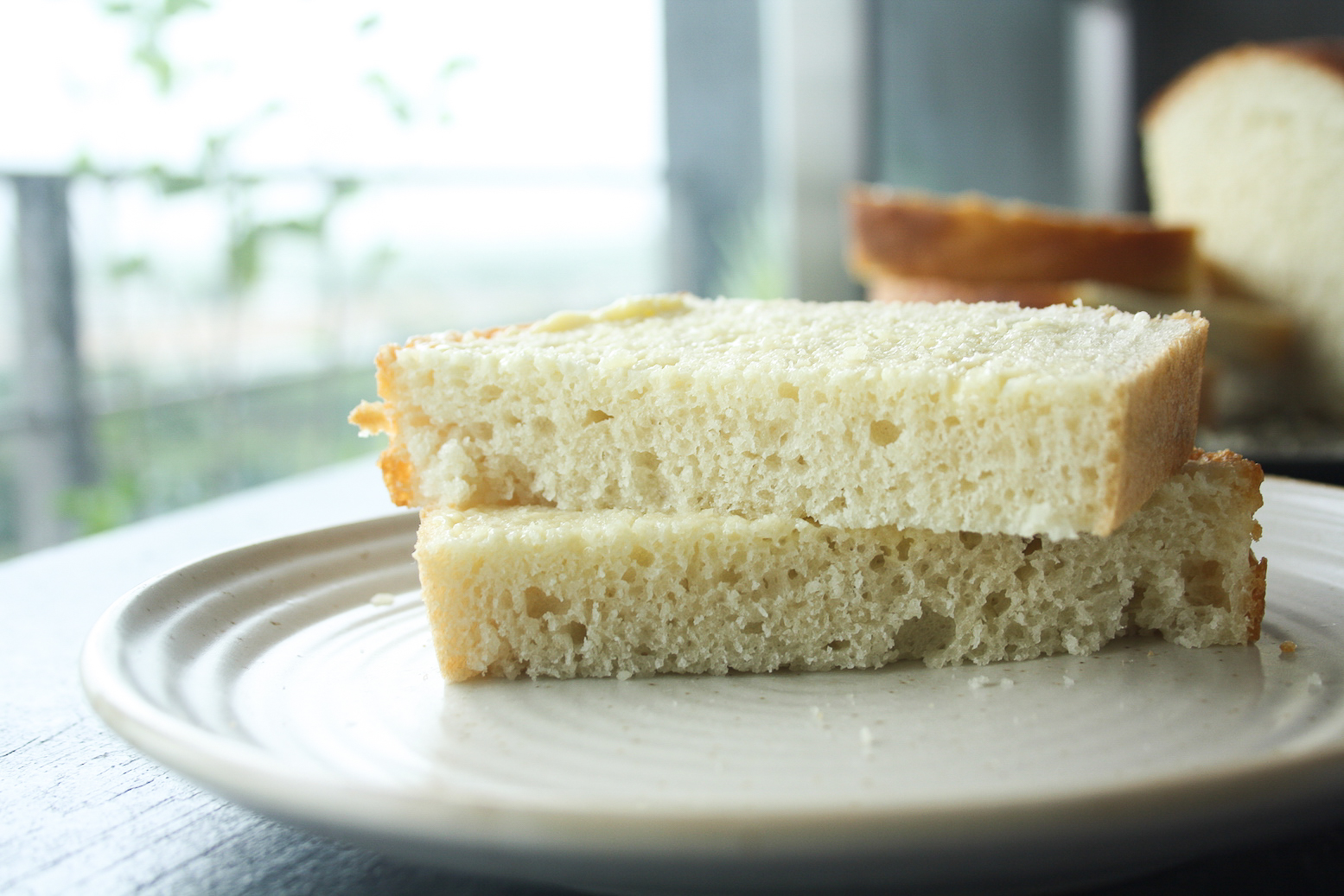 If you're following me on Instagram, you know all about my bread-making adventures over the last two weeks. I based this loaf off a recipe by Brown Eyed Baker but as bread recipes usually go, it's almost impossible to not adjust it based on where you live, and what kind of yeast you have. The first time I made this loaf, I could feel that I'd added a bit too much flour, and somewhere along the way, forgotten to make notes of my adjustments. Also, I forgot the salt. Oops. Even with the salted butter that goes into the dough, adding salt to the flour is a must, must, must. It can make or break the loaf.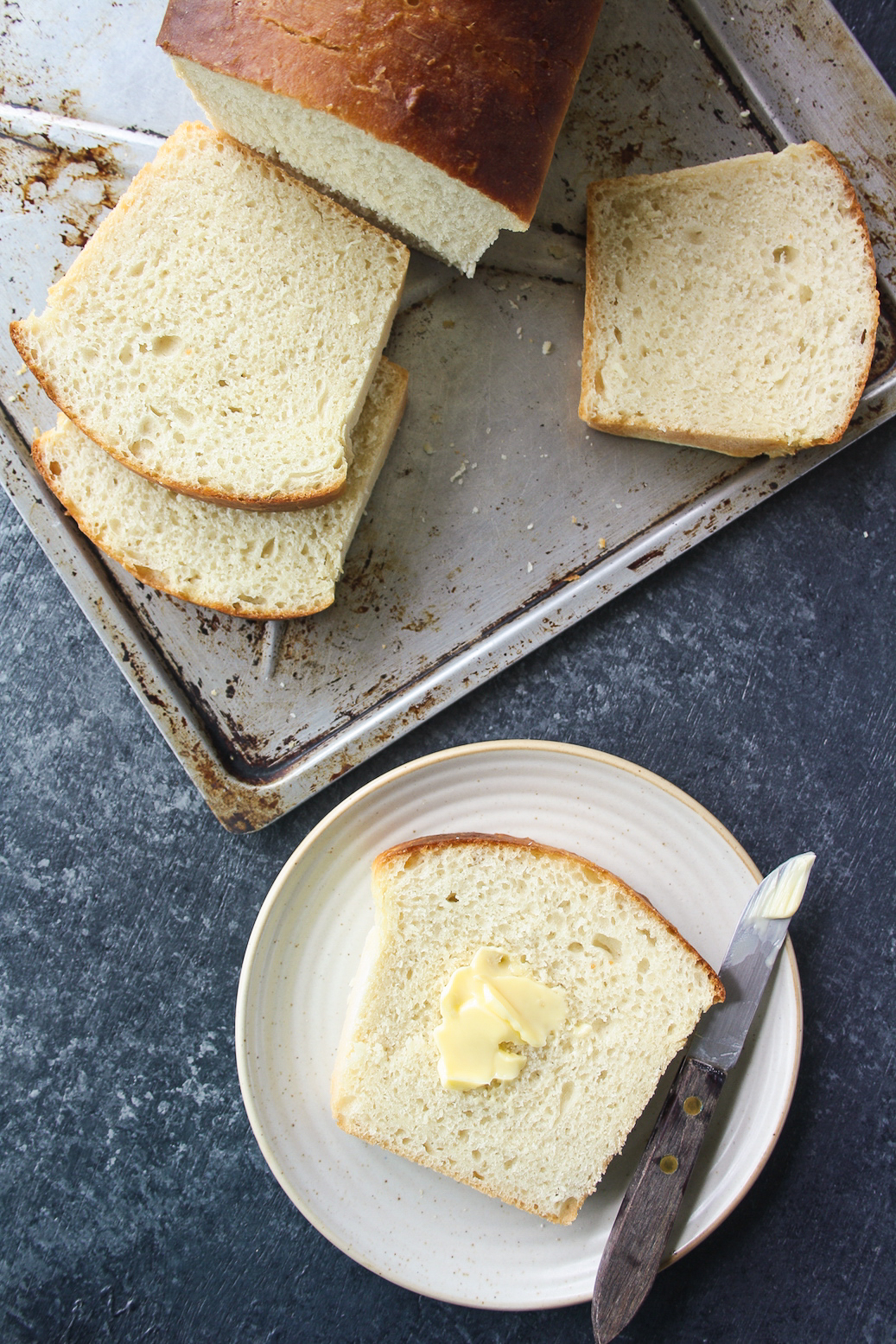 So the second time, I was more careful with my measurements, ADDED SALT, taking teeny tiny notes along the way (which is why I didn't document all of that live, I just can't focus on my phone and my pen at the same time!) and the loaf was lighter, softer and though it didn't look very different from the first one, I could tell the difference.
It's FILLED with flavour, I'm not kidding. This is the kind of bread you will want to bite off in big chunks, with nothing but butter slathered on it. It has a little chew, the crust is perfect and while it doesn't retain the texture on day two, I found toasting it makes it even more miraculous.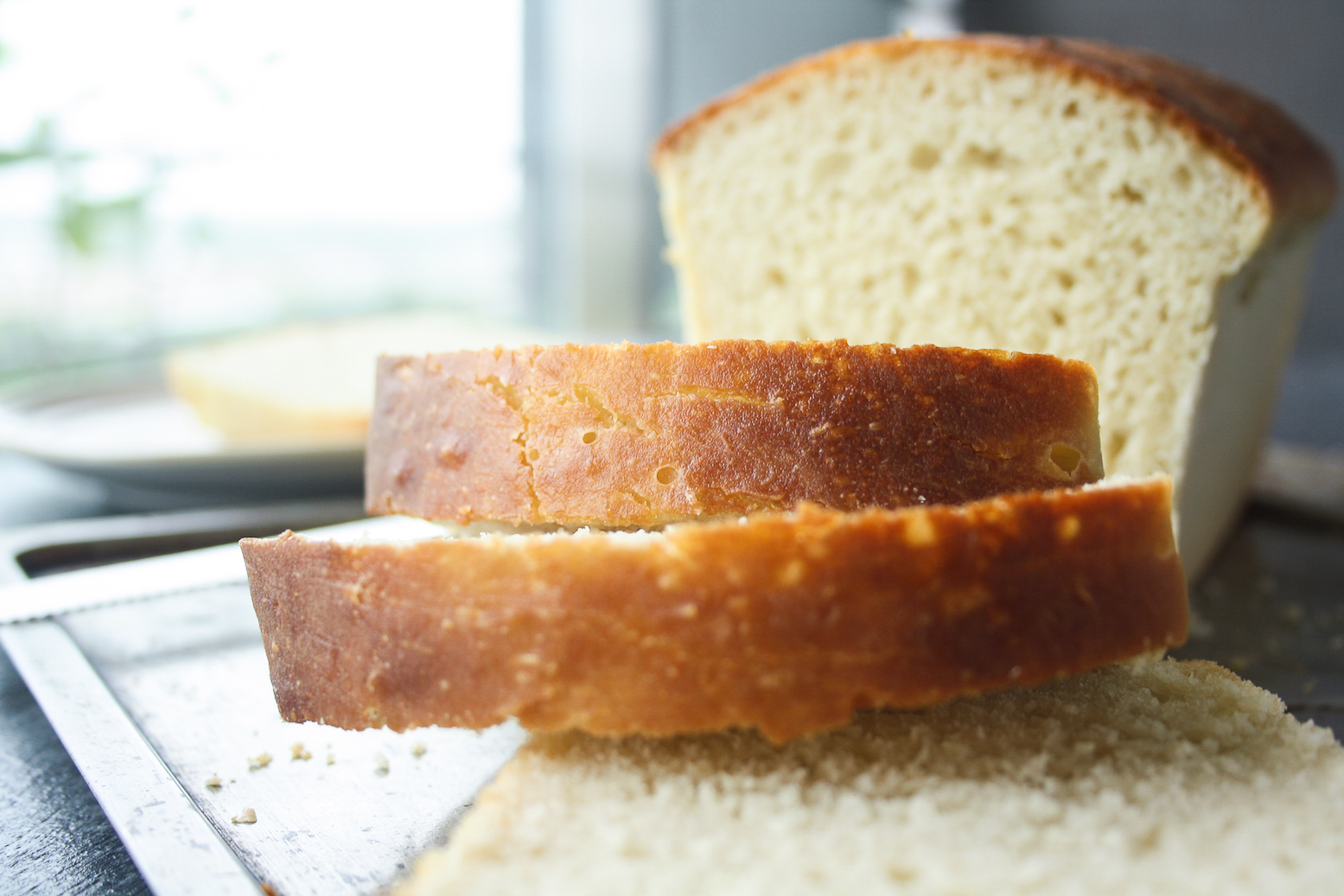 I fretted over the fact that my bread didn't look exactly the way the original recipe shows it, but because the texture and flavour were both so great, I eventually stopped worrying about it. Bread-baking is a whole new journey for me, and while I do have a lot to learn, I would love for you to try this loaf too and tell me what you think! I've tried to tailor it to a humid, hot environment so any feedback would be great.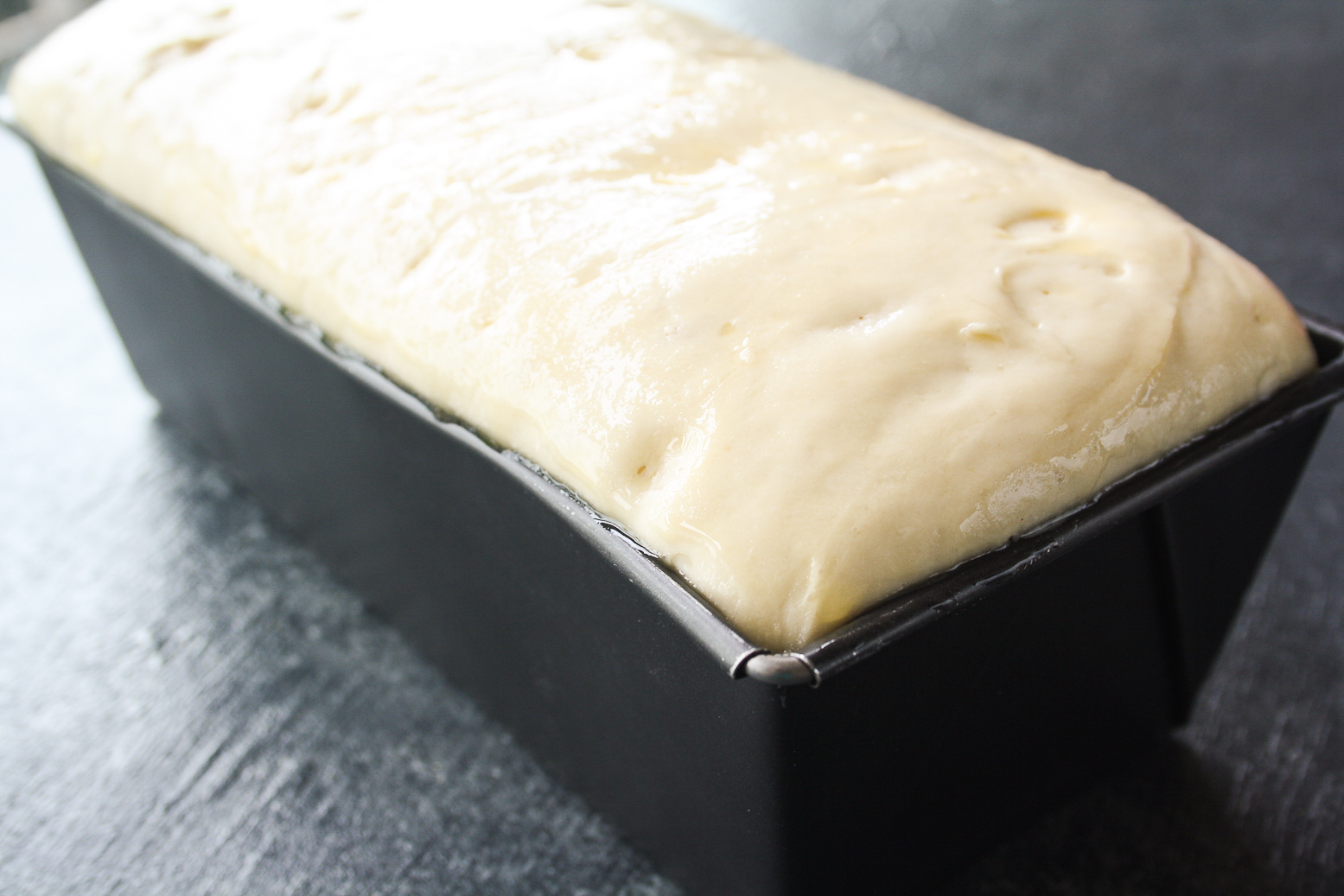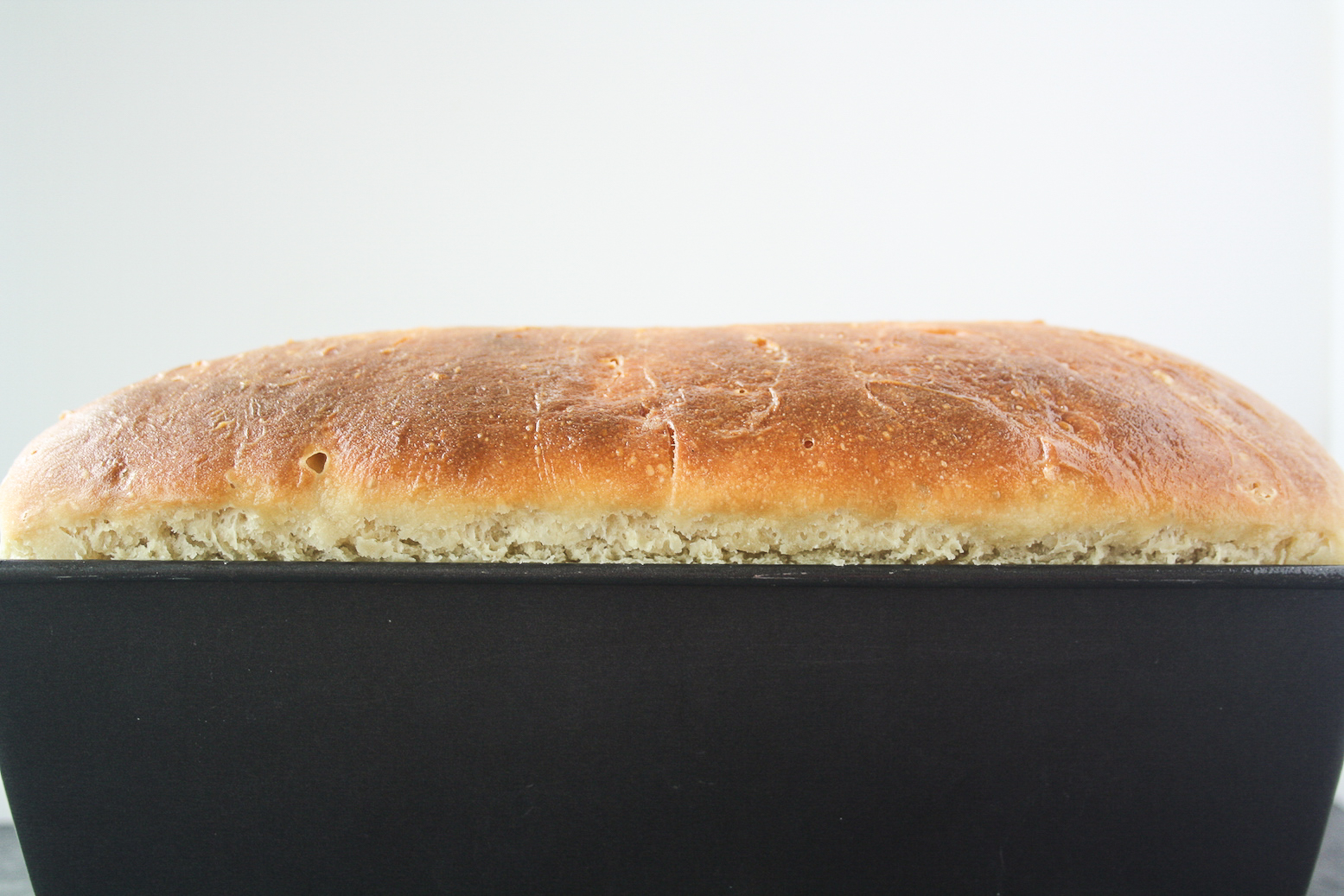 I found the kneading a little hard to figure out. The stand mixer seemed to only make the dough more sticky because of the heat of the machine itself, plus the moisture and heat in the air (hey, Mumbai). So when even after 10 mins, it wasn't as smooth as everyone online said it should be, I sent it off for a rise, worried about over-kneading. I'm beginning to feel that with a very wet dough like this one, it's easier to knead by hand because there's more control that way, and you can constantly feel the dough changing. Parking that for the next time! Any advice?
The one mystery I really want to solve is why the sides seemed to crack during the second rise, and then while baking. Any guesses? I read lots of stuff about kneading techniques and oven heat and things, but I haven't arrived at one definite issue. Some said it's just fine, some said it's not, so I'd love it if you had an answer!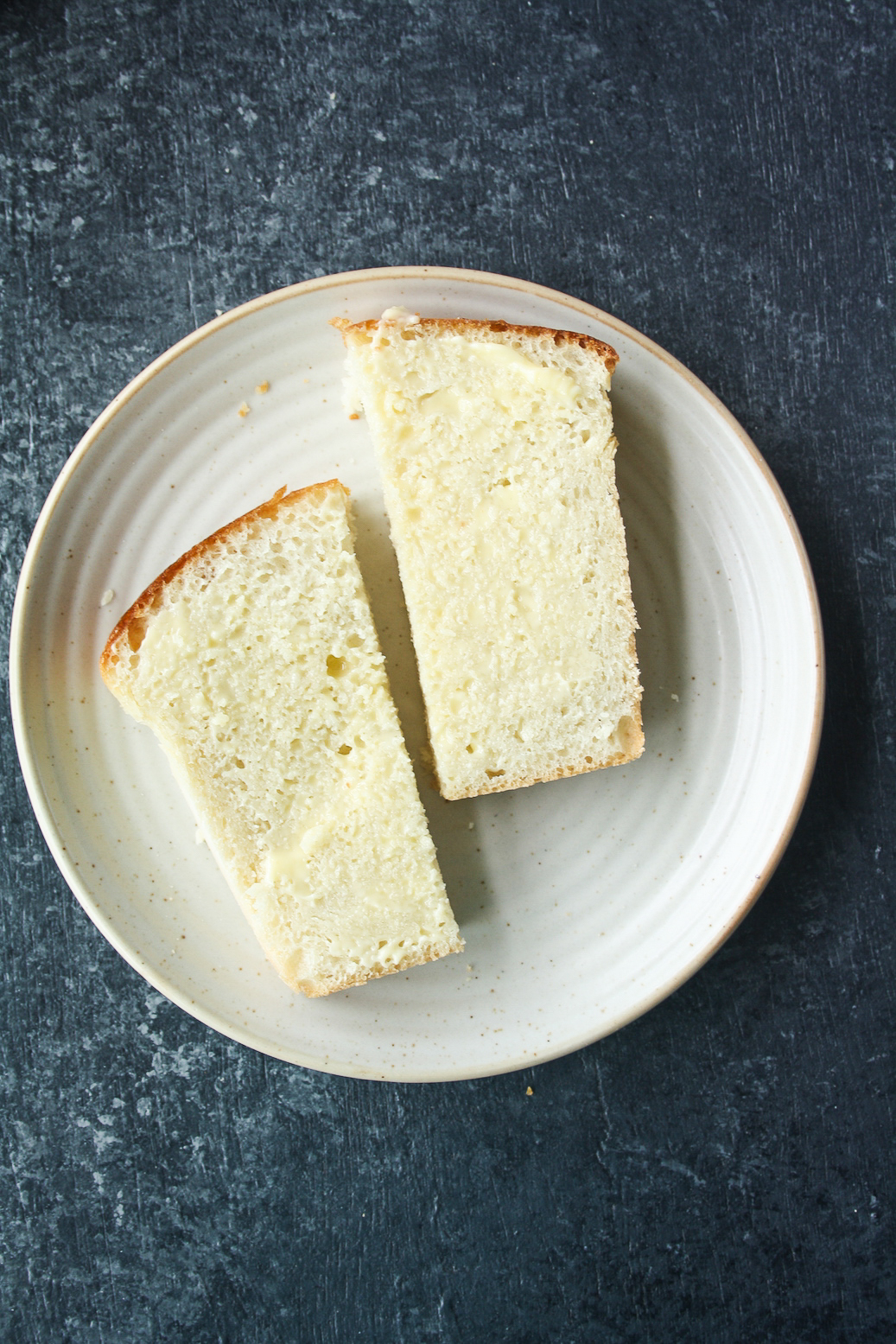 To store this bread, I wrapped it first in baking paper, then in a layer of aluminium foil. It stays fresh at room temperature for one night this way, and then in the fridge for a few days after, although it needs to be toasted then. I think this should also be ok if it's frozen, but I haven't tried that.
Unlike this wholewheat bread (always finicky) which didn't hold it's structure very well by day two, this one holds up just fine. Which means you can eat thick slices of it more often 🙂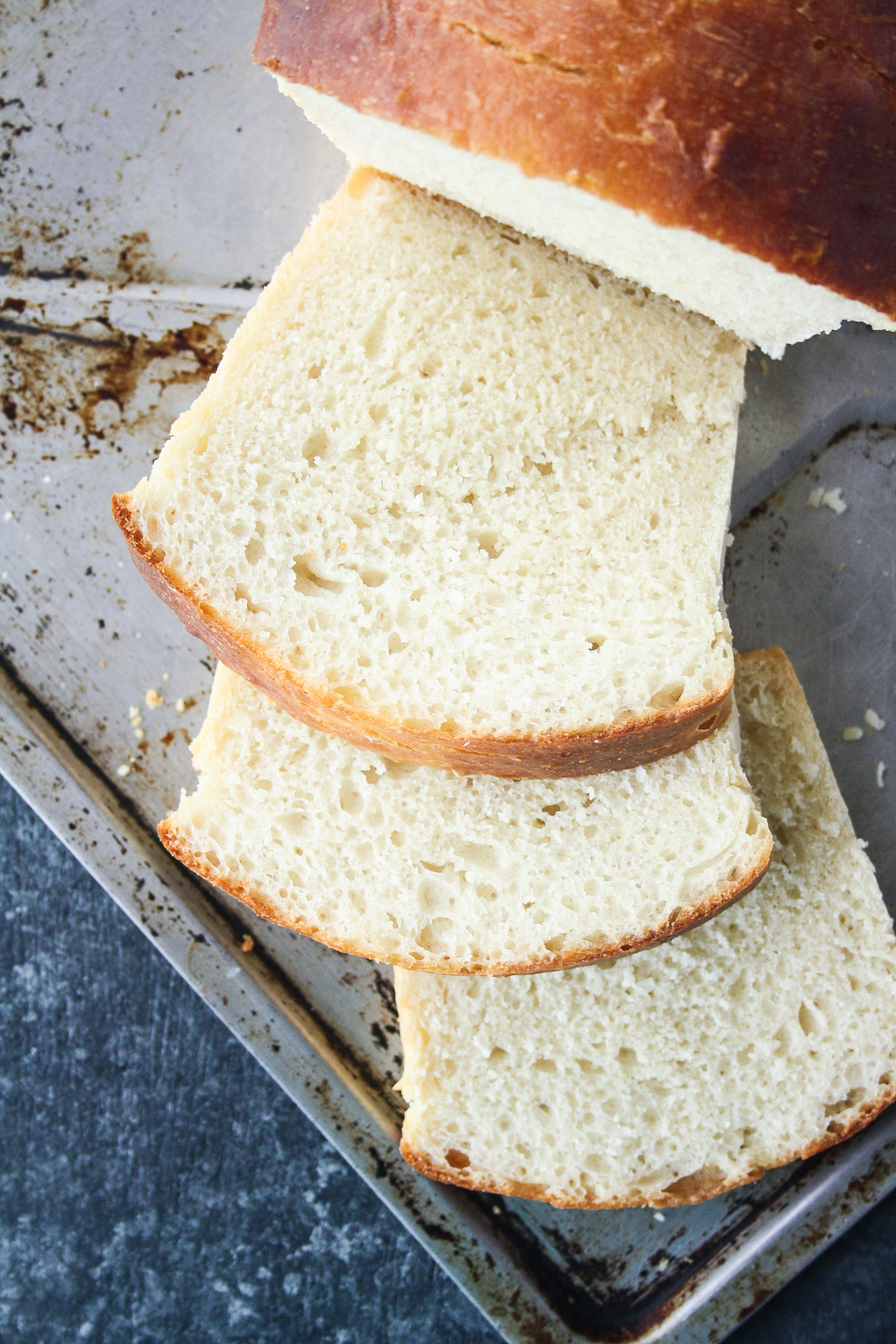 The one thing you absolutely must not skip is brushing the top with melted butter as soon as the bread is out of the oven. This helps soften the crust, and give it a lot of flavour. Without it, you'll have a rock-hard crust which really isn't fun.
The bread itself isn't hard to make, the actual time that you're involved in the process is hardly anything. The rises take a while, even in a warm kitchen, so definitely set aside a day for this if you're using active dry yeast (the original recipe uses instant yeast).
Above all, have fun while doing it! Making your own bread is a really enjoyable thing to do, if you don't get too caught up in making it all perfect. I find that the texture of commercially available bread is very hard to replicate, but if you want to start somewhere, this would be it! Leave a comment with any bread-making tips or feedback 🙂
Please read the recipe notes and preferably, the blog post above before beginning.
Update, May 2018: I made a half wholewheat version of this bread and it turned out great! Details in the notes at the end of the recipe below.

Homemade White Bread
Homemade, tender, chewy white bread!
Author:
The Desserted Girl
Ingredients
2 and ¼ tsps active dry yeast
6 tbsps warm water (just hot enough that you can dip your finger in comfortably)
⅛ cup caster sugar
1 and ½ tbsps butter, at room temp
2 tsps salt*
4 to 5 cups all-purpose flour
1 and ⅓ cup water, at room temp
1 and ½ tbsps butter, melted
Instructions
In a small bowl, mix the yeast and warm water, then cover and set aside for about 10 minutes. The yeast needs to activate and become frothy.

In a large mixing bowl or in the bowl of a stand-mixer (fitted with a dough hook), combine the sugar, butter and salt. Mix lightly, then pour in the yeast mixture. Mix again.

Add 4 cups of flour and the water. Let the mixer run on low speed to bring the dough together, and add the remaining 1 cup of flour a little at a time to make a soft, not very sticky dough. I used 4 and a ½ cups total, you may need more or less.

Let the mixer run for about 10 minutes, or knead by hand for 10 to 12 minutes. If the dough is very sticky, sprinkle on just a little more flour to help bring it together. The dough should ideally be smooth and soft, with just a little stickiness. Depending on how warm your kitchen is, the dough may remain quite sticky even after 10 minutes, so getting your hands in there is the best way to judge the texture. It should slowly bounce back when poked.

Turn the dough out onto a lightly floured surface. Lightly oil the mixing bowl, then put the dough back in and turn it around to coat all sides. Cover the bowl with clingfilm and set aside for 2 to 3 hours until doubled in size. A good way to speed up the rise, is to turn your oven on to 100 C for just a few seconds, turn it off, then place your mixing bowl in it. You can repeat this a few times during the rise.

In the meantime, lightly grease a 9x5 loaf pan. I preferred using oil to grease rather than butter, because the butter seemed to make the sides of the bread a little damp.

Once the dough has doubled, punch it down to release the air. Turn it out onto a lightly floured silicone mat (or just the kitchen counter if you like), and pat it into a 9x12 rectangle, with the shorter side facing you. The 9" width is important to ensure your loaf fits in the pan.

Starting at the bottom of the rectangle (the shorter side), roll up the dough tightly into a cylinder, then tuck the ends under itself to seal. LIft it up and place in the prepared loaf pan.

Cover the pan loosely with clingfilm and set aside for another 2 to 3 hours until doubled, or at least 1 inch above the rim of the pan. You can repeat the oven trick here if you like.

Towards the end of the rise, preheat the oven to 200 C.

Remove the clingfilm, brush half the melted butter on top of the loaf and set it on a baking tray. Make sure it's placed in the lower half of the oven so that the top doesn't burn.

Bake for 15 minutes, then rotate the tray and bake for another 15 minutes. If the loaf is browning too quickly, cover the pan loosely with foil.

The finished loaf will have a dark, very firm crust. As soon it's out of the oven, brush it with the remaining melted butter, which will help the crust soften and develop a lovely flavour.

Allow the loaf to cool in the pan for 15 minutes, then gently run a blunt knife around the edges to help loosen it. Pull the loaf out, and rest it on a wire rack. Let the bread cool completely before slicing, though it's tempting to eat it warm! You should have a soft, slightly chewy loaf that should make you very proud!

Store the bread for one night at room temperature, wrapped in a layer of baking paper and foil. On day two, the bread may be a little drier, simply toast it and enjoy! Store in the fridge from day two onwards 🙂 Happy baking!
Notes
*I used Kitchenart active dry yeast, but have also successfully used Bluebird in the past.

*If using unsalted butter, increase the salt to 4 tsps.

*Prep-time does not include rise time, which will be about 6 hours.

*You can also swap half the all-purpose flour for wholewheat flour. To make sure the wholewheat flour doesn't dry out the bread, I used 3 tbsps of butter, 1 cup of water and ⅓ cup cold milk. The amount of water needed to dissolve the yeast stays the same. I didn't need any more than 4 cups of flour total while kneading, and the dough was surprisingly easy to work with. If you need more flour to smoothen the dough, use all-purpose as too much wholewheat will make the bread dense.