Happy almost Diwali! I'm back from a lovely, eventful week in Russia and I'm now gearing up for the sugar coma over the next few days. Wheeee!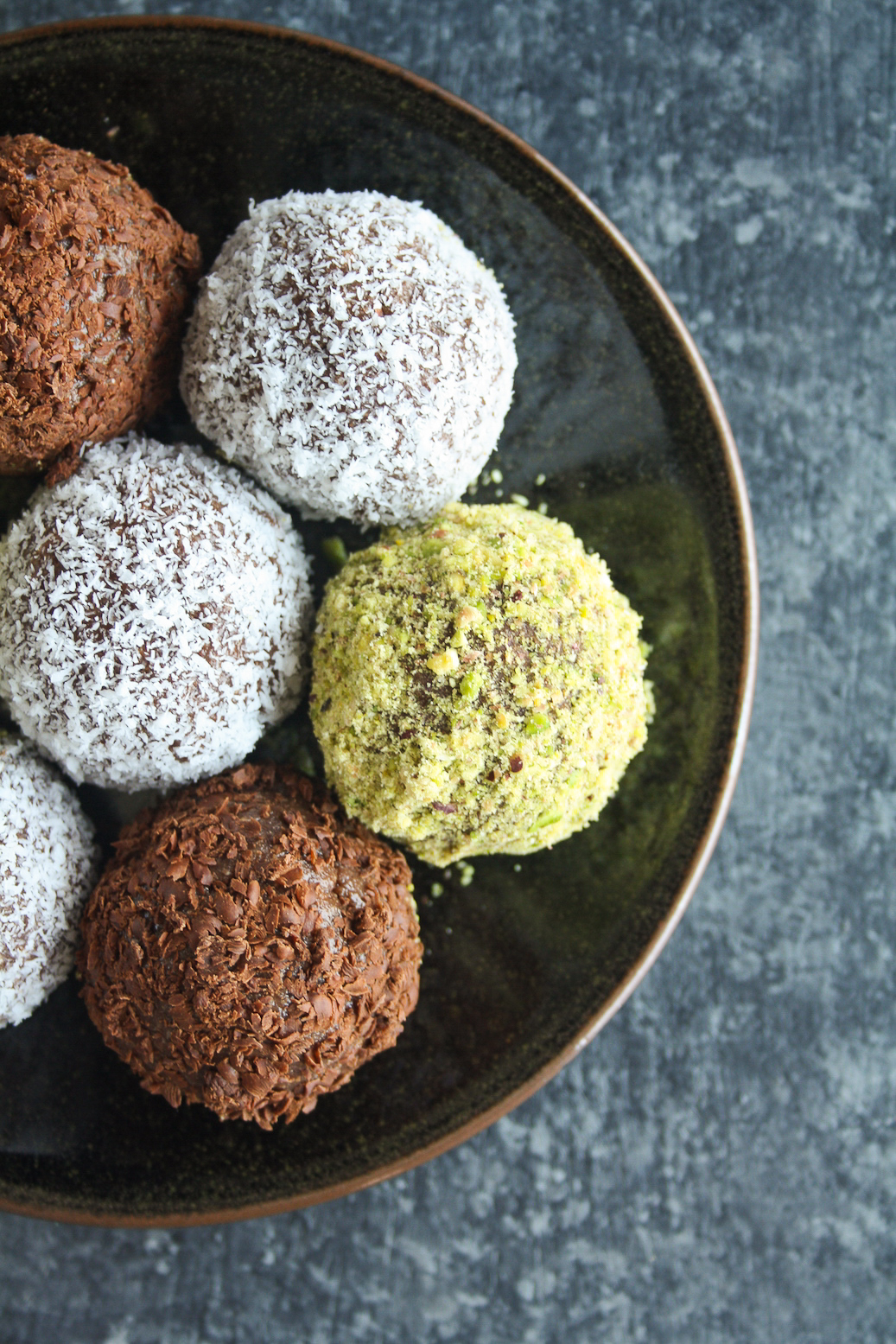 To celebrate, I made a recipe my grandmother invented. There's old-school Marie biscuits and condensed milk which in my opinion, is the most auspicious beginning to the festive season 😀 Along with cocoa and almonds, the whole thing is rolled into the easiest 'truffles' in the world. And then because we shouldn't hold back, there's coconut, pistachios and chocolate to roll them in.
It's a happy Diwali already!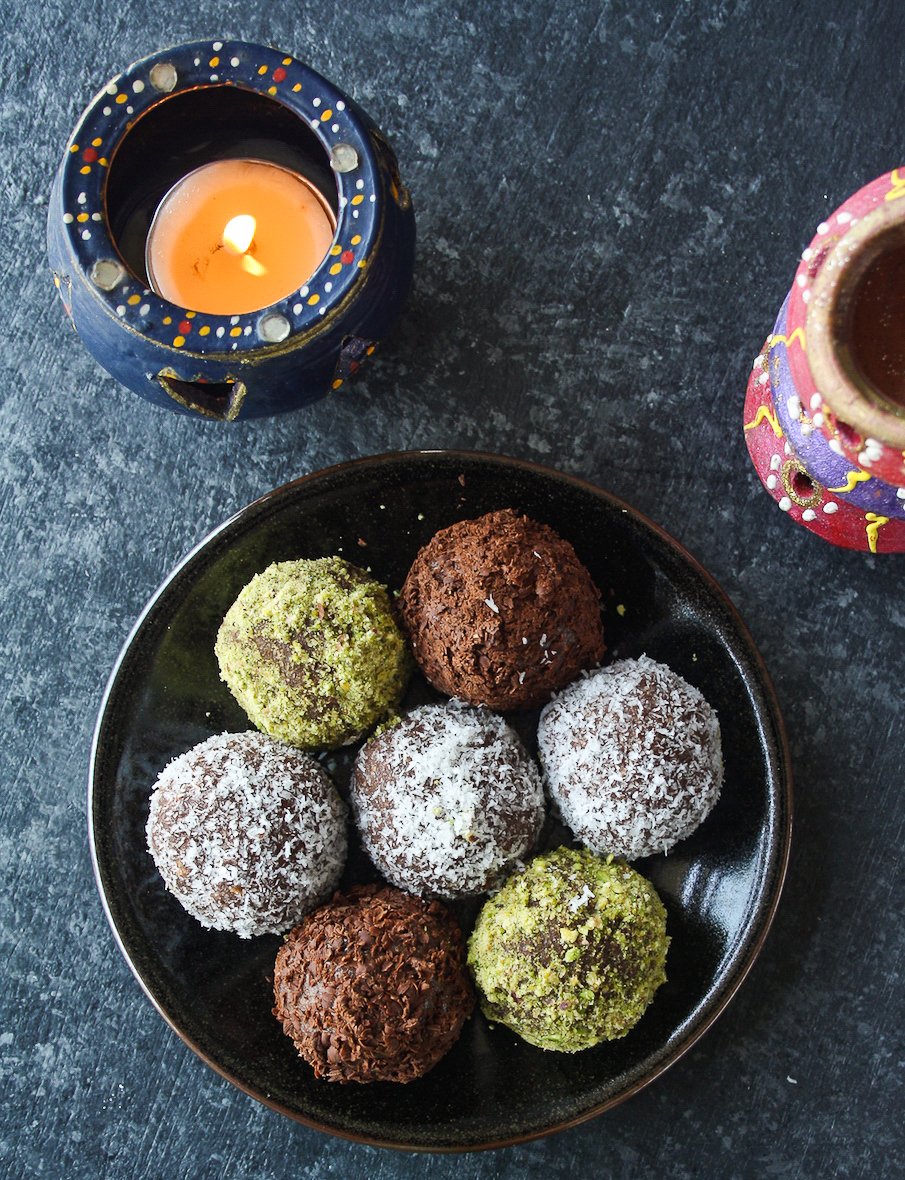 I've eaten these a lot growing up, because my Mom made them as well, and amped up the flavour of these cuties with ground almonds and grated chocolate. They are chewy, not very sweet and completely delicious. I added chocolate liqueur to the mixture, which is optional but recommended, obviously. The Marie biscuits can be swapped with digestive biscuits or any other neutral-flavoured ones. The idea is to get a little texture in these truffles which is the secret to wanting to eat them like popcorn!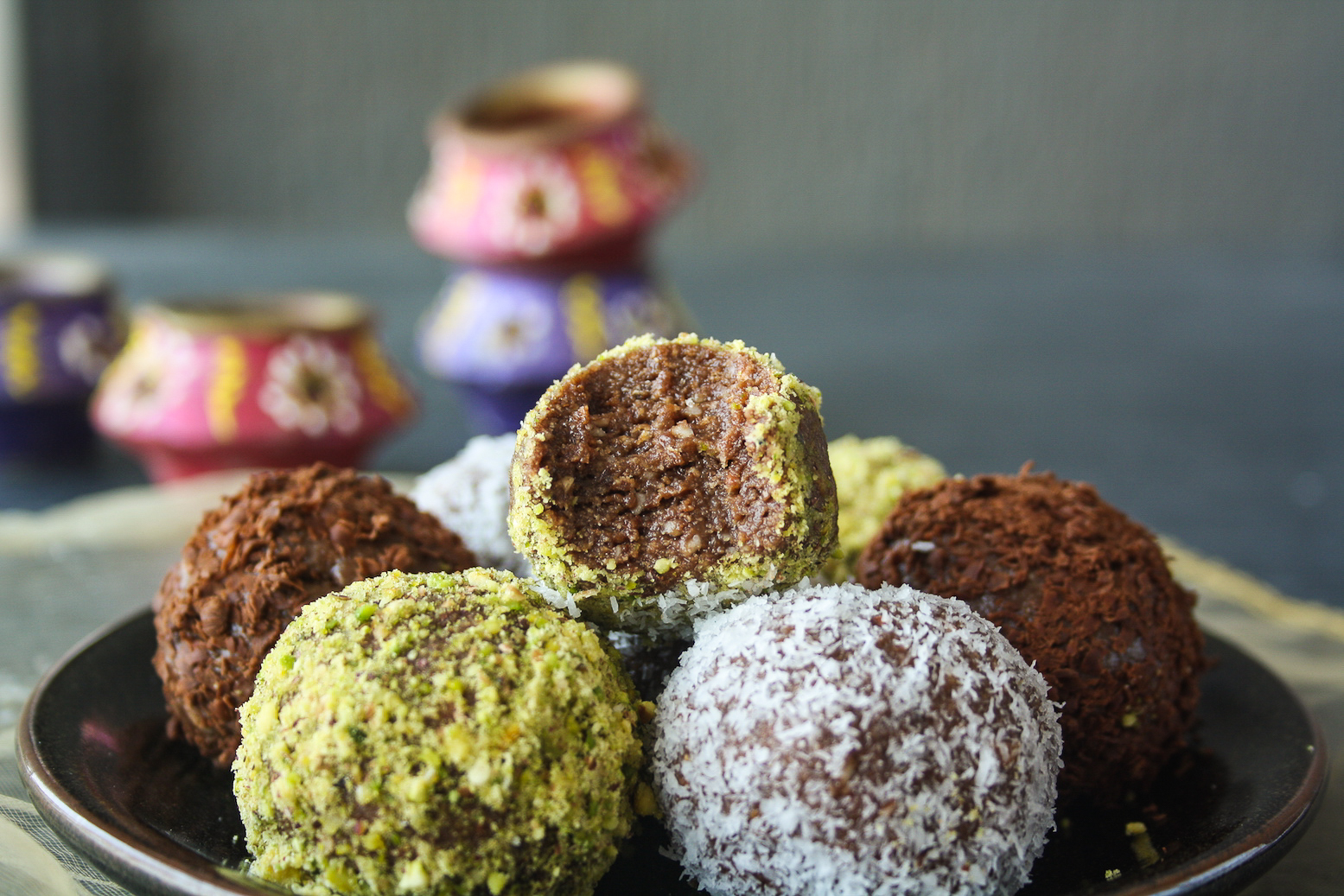 Seriously, these are so easy to make, it's dangerous, because you can whip up batch after batch and have nothing to stop you. Proceed with caution. I think my favourite was the coconut version, but they're all really great and very versatile. The 'rollings' can be pretty much anything you want. Crushed peanuts? Do it! Just cocoa powder? Yessss! Sugar? Why not?
Speaking of sugar, healthier truffles here, and they are just as good!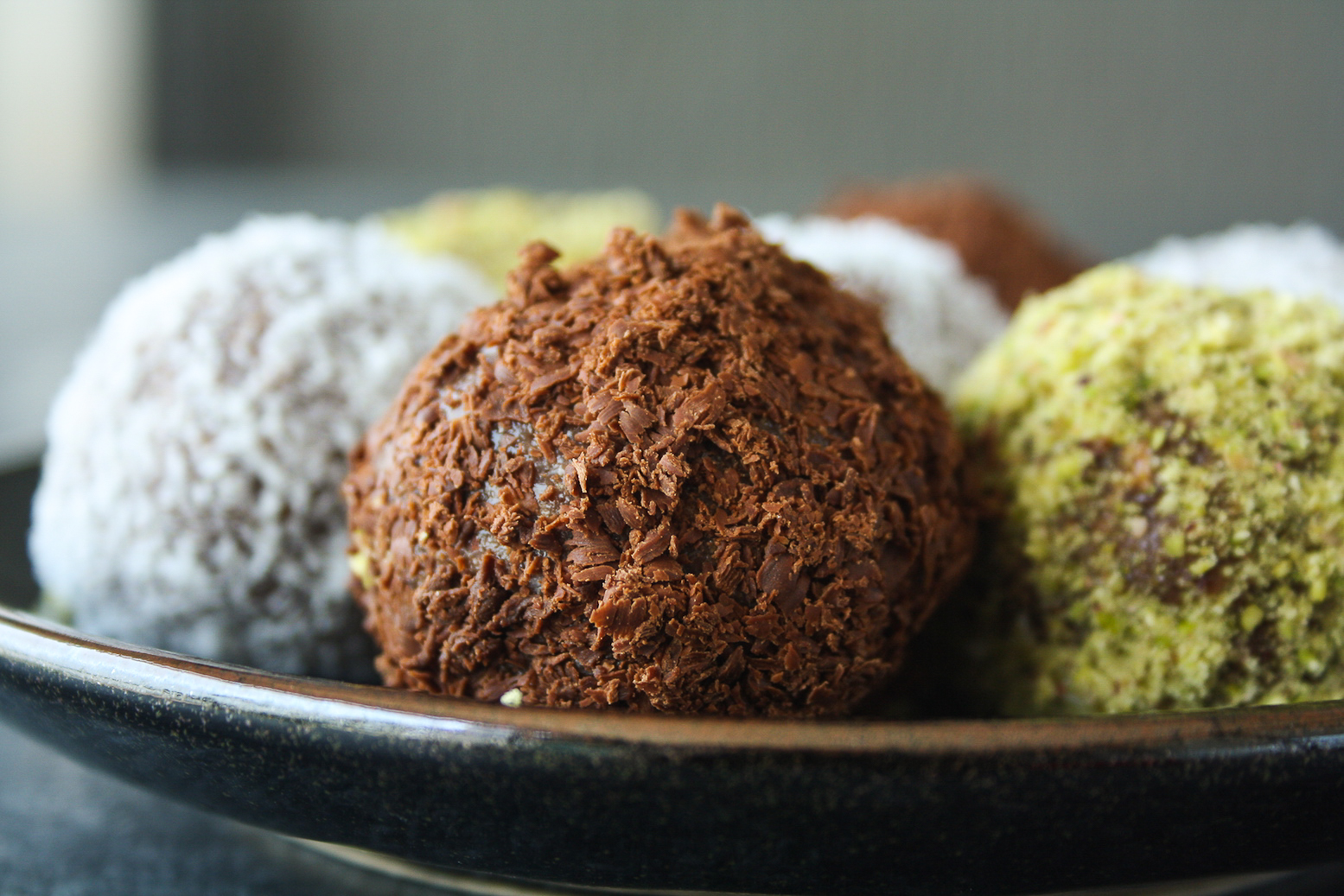 More Diwali goodies here, here, here and here! Have a lovely, lovely festive week!

Marie Biscuit Chocolate Truffles
Super quick chocolate 'truffles' made with Marie biscuits, rolled in pistachios, coconut and chocolate!
Author:
The Desserted Girl
Ingredients
90 gms Marie biscuits (or digestive biscuits)
⅓ cup whole almonds
2 tbsps cocoa powder
1 tbsp grated dark chocolate
½ cup condensed milk
2 tbsps chocolate liqueur
To roll the truffles: ground pistachios, grated chocolate and desiccated coconut
Instructions
In a food processor or grinder, blitz the biscuits until only a few larger bits remain. Transfer to a mixing bowl.

Next, blitz the almonds until finely ground. Add to the biscuits in the bowl.

Add the cocoa powder and grated chocolate and mix well. Next, add the condensed milk and liqueur. Use a silicone spatula to bring the mixture together. If it feels dry, add a bit more condensed milk, to ensure the truffles remain moist even later on.

The mixture will be a little sticky, so transfer to the fridge for 30 minutes to 1 hour, until it's easy to roll.

Form 8 to 10 equal sized rounds, and roll them in ground pistachios, grated chocolate and desiccated coconut, or anything else your heart desires! Keep refrigerated at all times. Happy eating!
Notes
*I find it easiest to grate a bar of chocolate when it's cold. Transfer the grated portion to the fridge until ready to use.