I love cinnamon. I love Nutella. And I love muffins. So really, there was no reason to not put the three of them together. This particular adventure started with me wanting to make cinnamon donuts. And then I felt like Nutella cupcakes. Which turned into Nutella muffins with cinnamon-sugar thanks to this recipe. They're fun to make and absolutely scrumptious 🙂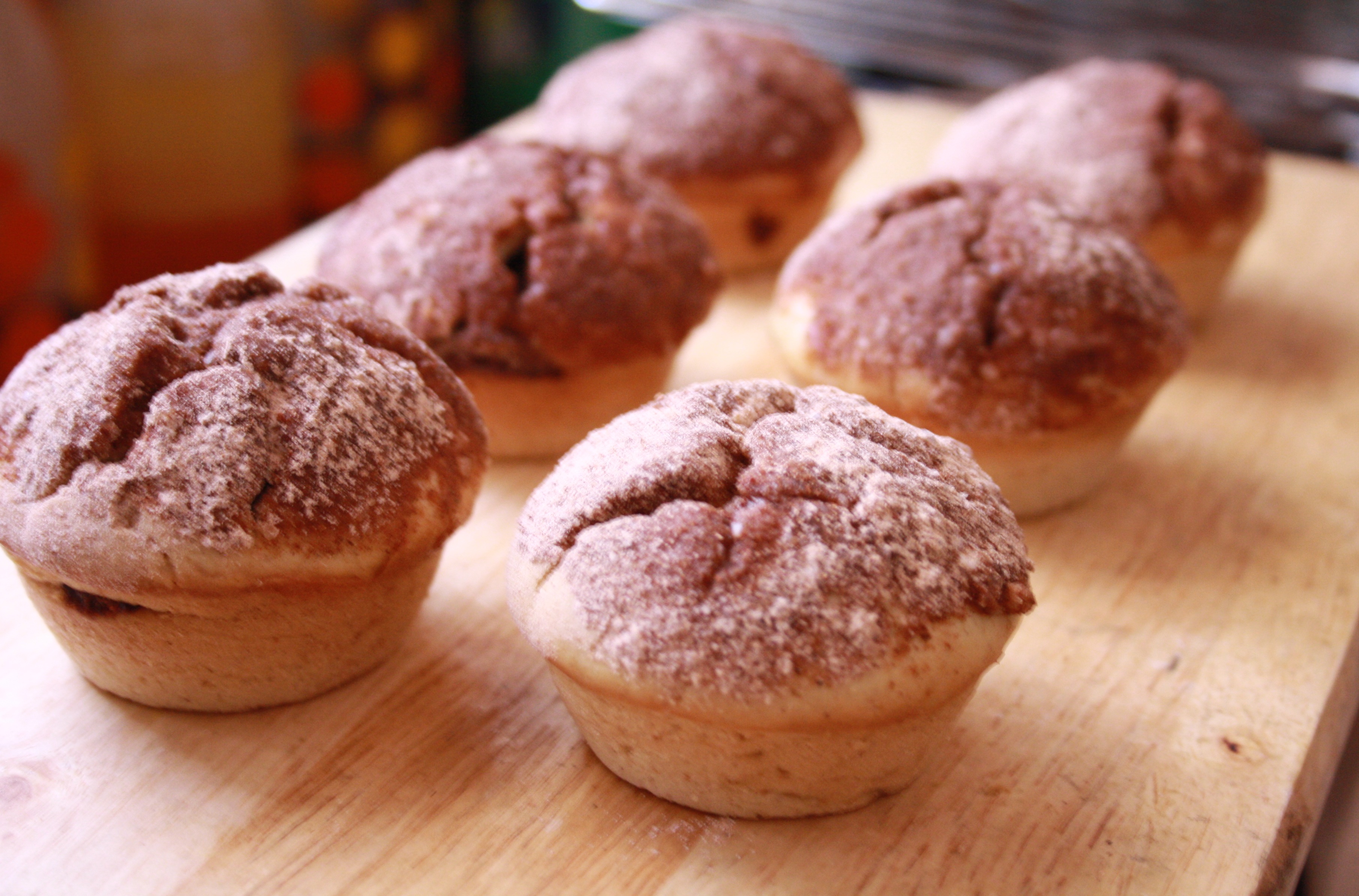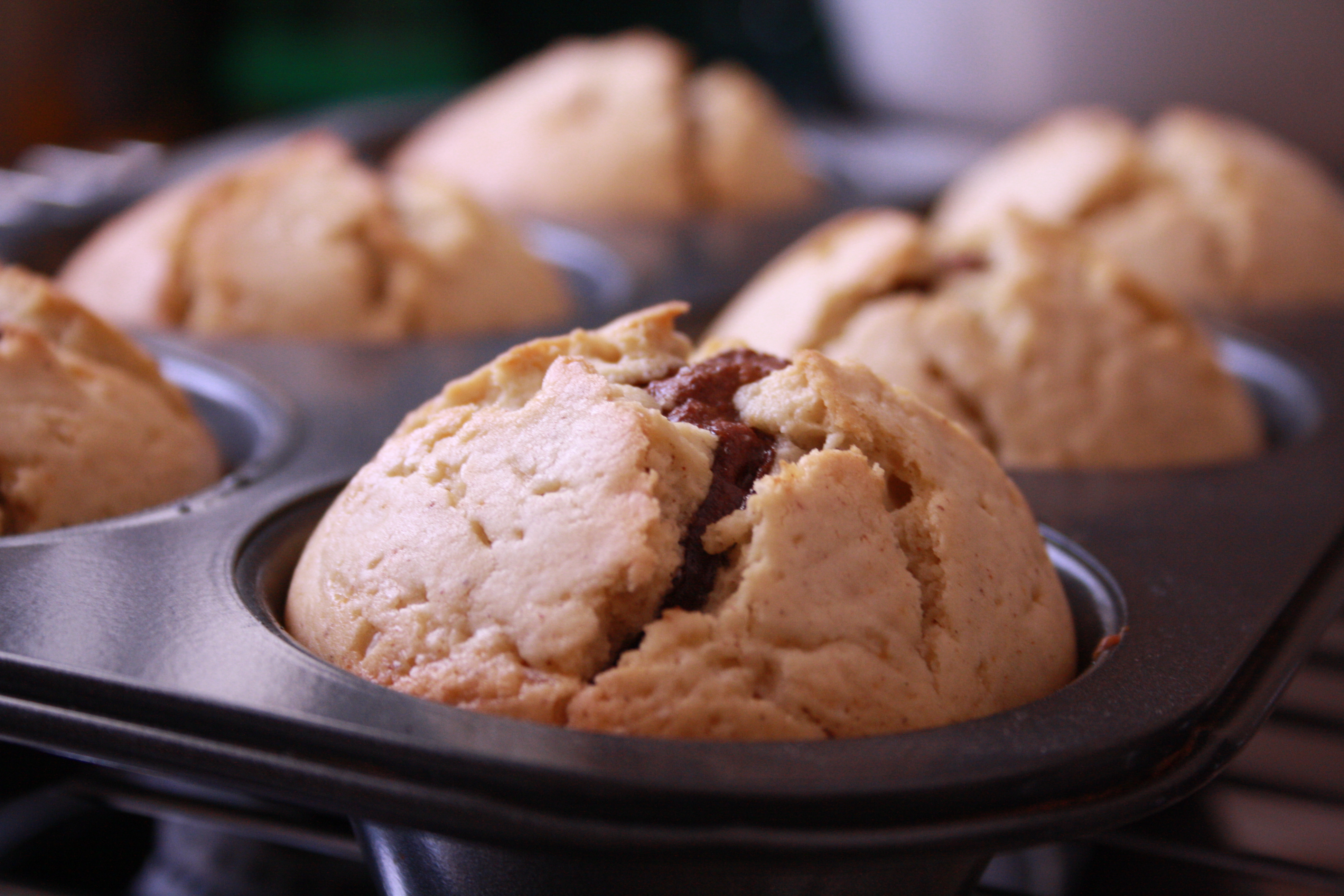 This recipe can even be made with whole wheat flour but I read that it could make the muffins dense, so that's an experiment for another day. I doubled this recipe and changed the proportions around a bit and I got 12 decent-sized muffins. Since I have a tray of 6 moulds, it did mean a bit of waiting and letting the batter sit out. In fact, today I moved into our air-conditioned living room while making the batter, because in this hellish weather, everything from the Nutella to me was melting away.
These muffins aren't just pour and bake, they do take a little longer to finish, but they're worth every bit of it!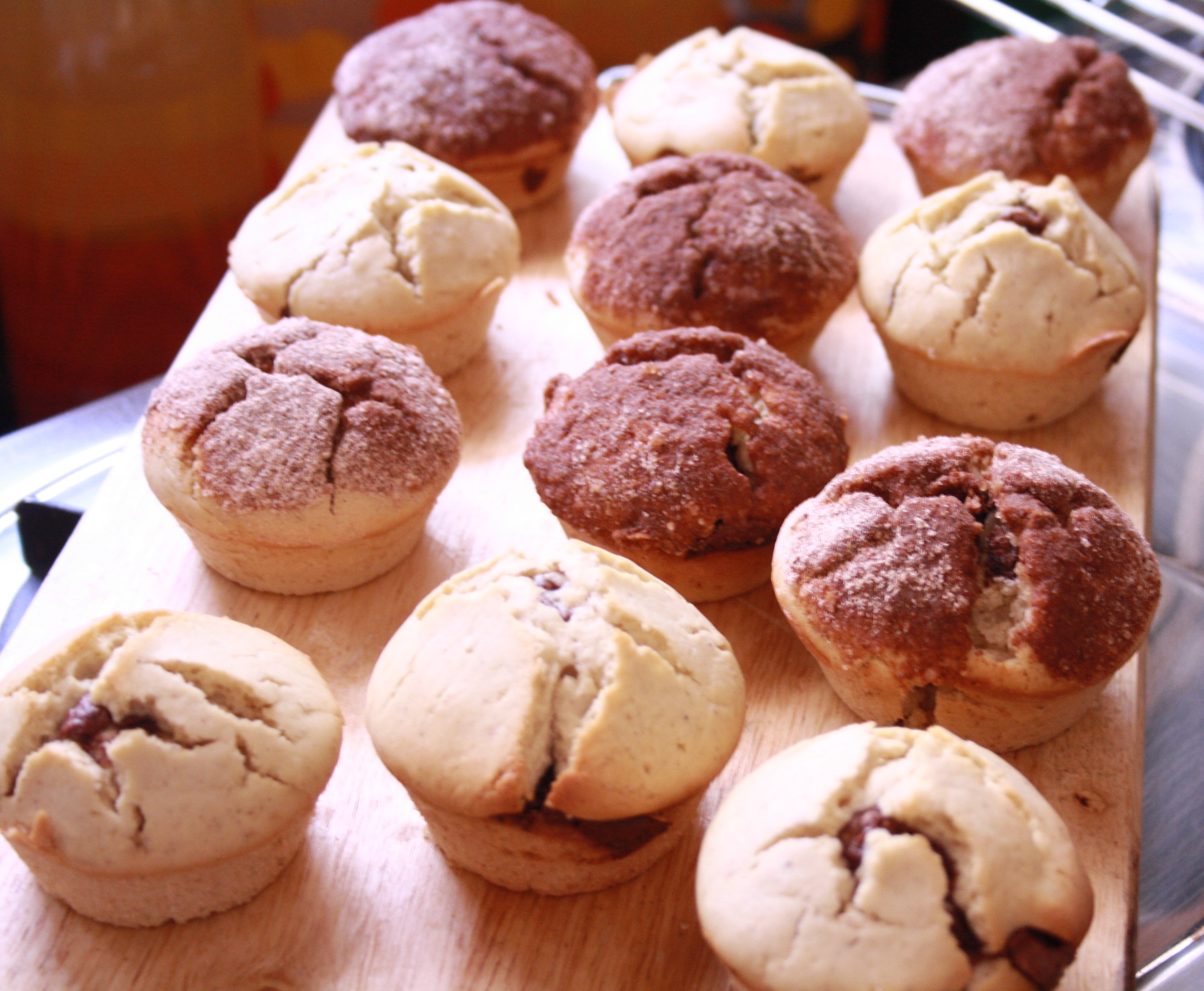 What you'll need:
For the muffins
2/3 cup unsalted butter (if using salted butter, omit the salt from the recipe)
3/4 cup powdered sugar

2 eggs
2 tsp vanilla essence
1 cup milk
2 and 1/2 cups flour
2 and 1/2 tsp baking powder
1 tsp cinnamon
1 tsp salt
1 spoon Nutella per muffin (small, medium, large, as much Nutella as you like!)
For the cinnamon-sugar topping (adjust these amounts according to taste)
4 tsp cinnamon
A little less than 1/2 cup powdered sugar
About 2 large spoons of butter
What to do:
1. Preheat the oven to 200 C. The original recipe calls for different temperatures as the muffins bake, but they turned out great maintaining a standard temperature. Grease your muffin pan and set aside.
2. Sift the flour, baking powder and salt and set aside.
3. Cream the butter and sugar in a food processor till the mixture is soft and creamy (I don't recommend making this batter by hand, it gets a little thick. Try and use an electric hand mixer or food processor or a stand mixer if you have one).
4. Add in the eggs, vanilla essence and milk and blend well. The mixture might look curdled, don't panic 🙂
5. Now add the flour mixture and then the cinnamon. Blend again.
At this stage, taste the batter and add more sugar if needed. I find it easier to add only 3/4th of it at step 3 so I don't risk making the batter too sweet. I do this for every recipe but for this particular one, keep in mind that it will get sweeter with the Nutella and cinnamon-sugar. Since it's powdered, it'll blend in to the batter easily no matter when you add it.
6. Spoon one tablespoon of the batter into each muffin mould. In the center of each, drop a spoon of Nutella and top each mould with one more heaped tablespoon of batter. Miraculously, even though the moulds will be full to the top, they don't overflow while baking. They rise to form tall muffins with a beautiful crust 🙂
7. Bake for about 10 mins, till you see a golden brown crust, most probably with a crack that the Nutella peeks through 🙂
8. Take the muffins out onto a wire rack or a plate to cool. After about 10 mins, make the cinnamon-sugar topping by mixing the two ingredients together.
9. Melt the butter in a microwave or quickly on the stove. Dip each muffin top in the butter and then in the cinnamon-sugar topping till you have a nice even coat on each.
10. Let them cool a bit more if you'd like or eat them warm with gooey Nutella oozing out!
I have polka-dot cupcake holders that I bring out any chance I get. Since I had to transport the muffins, I thought, what better to way to avoid them sticking together 🙂