Granola that tastes like banana bread, is definitely healthier that most banana breads and can easily give banana breads a run for their money. So good. Packed with flavour and all the good stuff in the world. Plus, ridiculously quick to make.
I have two giant jars of this sitting on my dining table right now and I'm snacking, breakfasting and possibly lunching on them for the next few days! This is the best of the crunchy-clumpy-nutty granola worlds, all in one.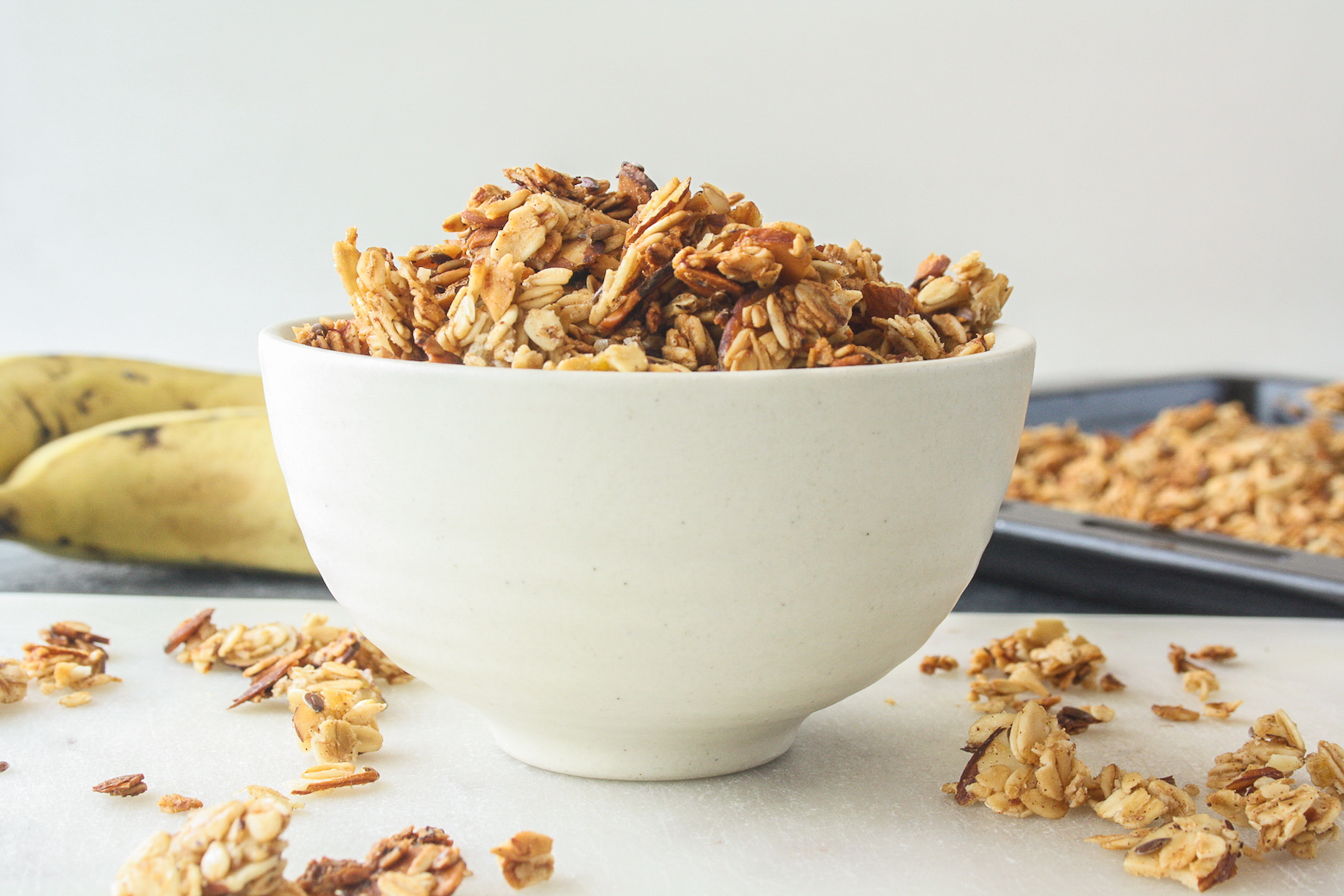 The recipe is adapted from Minimalist Baker. I used sliced almonds because I prefer them to walnuts and pecans, plus added just a little desiccated coconut to complement the coconut oil. Along with the mashed banana, this is a granola with extreme tropical feels which makes this sweltering summer a little more bearable.
I also skipped the raw sugar altogether because one, I didn't have it and two, banana and honey makes this sweet enough and you can always add a little more honey if needed.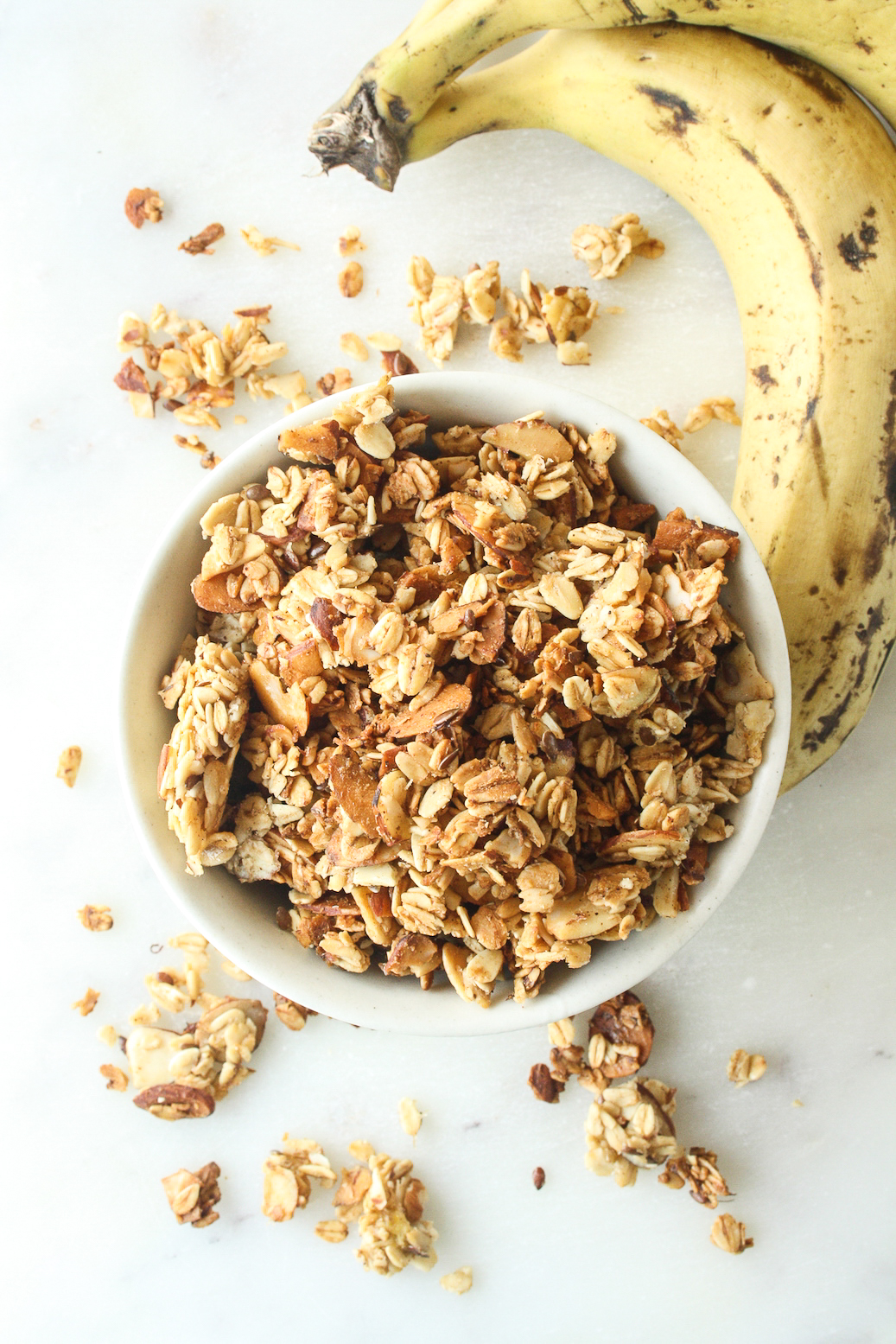 This is a larger batch of granola than I'd normally make, which means baking it in two batches like I did is necessary if you don't have a giant oven. But it lasts for weeks at room temperature, so there's really no harm in having a lot on hand!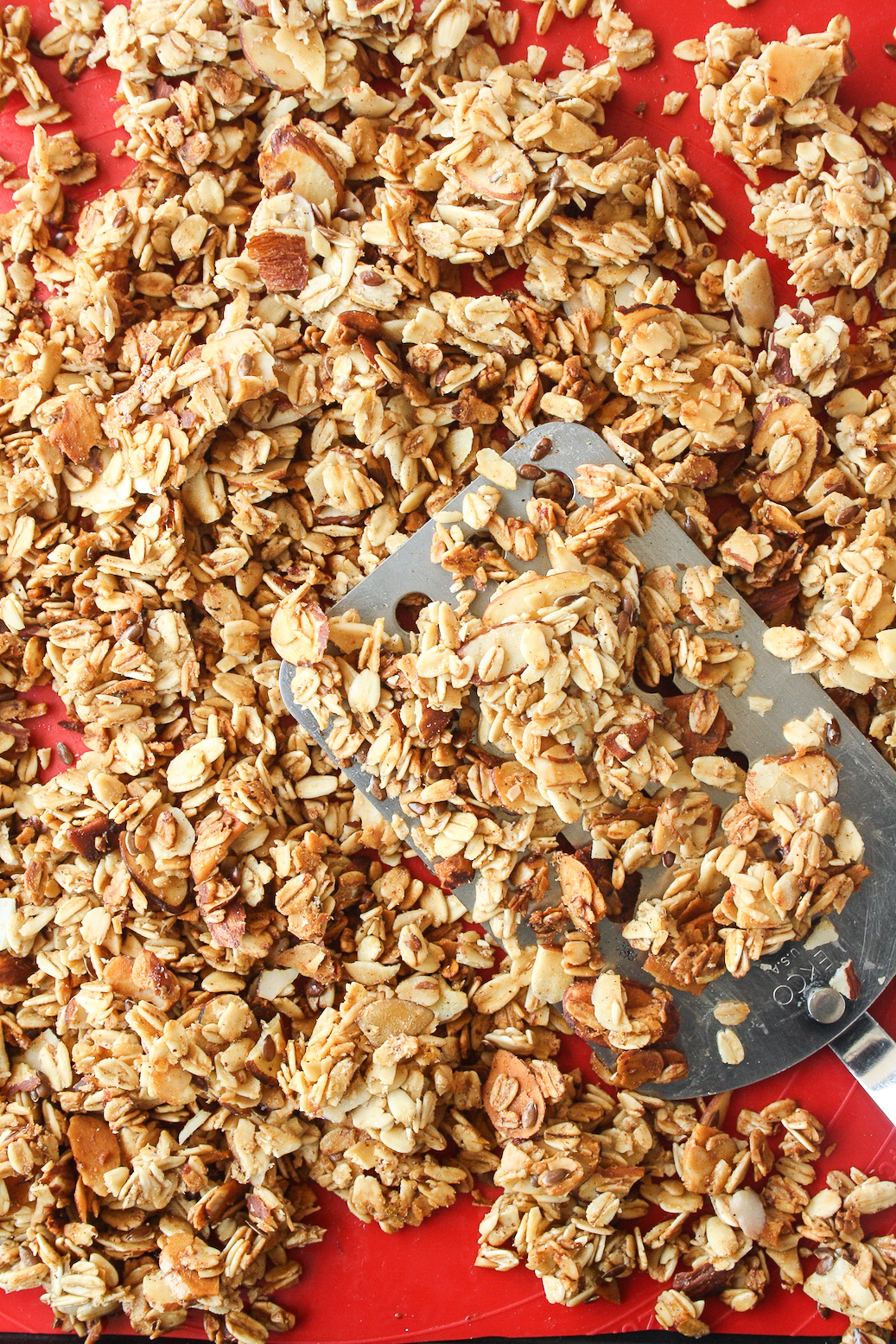 I like my granola extra brown and crispy but you can bake it for lesser time if you like. The great thing is that in airtight jar, the texture remains lovely even after a few days, no sogginess here!
The banana and coconut flavours go perfectly together and they're not overwhelmingly strong either. Initially I was a little sceptical about adding more banana, but I did try doubling it and the granola was just as crispy as ever. Plus, I love the extra flavour 🙂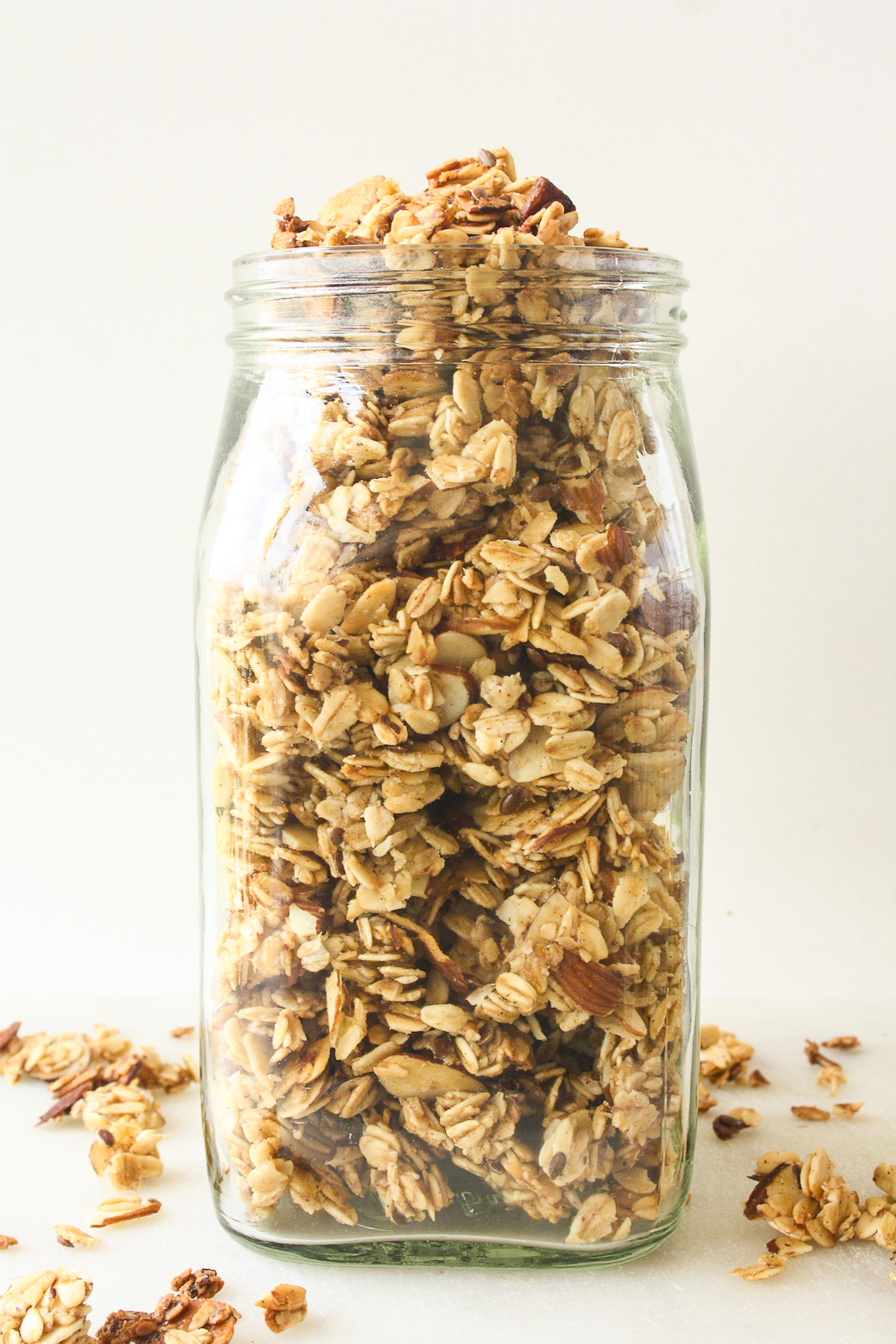 Remember to use only rolled oats for that authentic crunchy texture. Instant oats are too fine and powdery for granola and you'll be find affordable rolled oats on Amazon (also where I got the sliced almonds). Feel free to change up the nuts and spices because I just realised, how great would ginger be with banana!!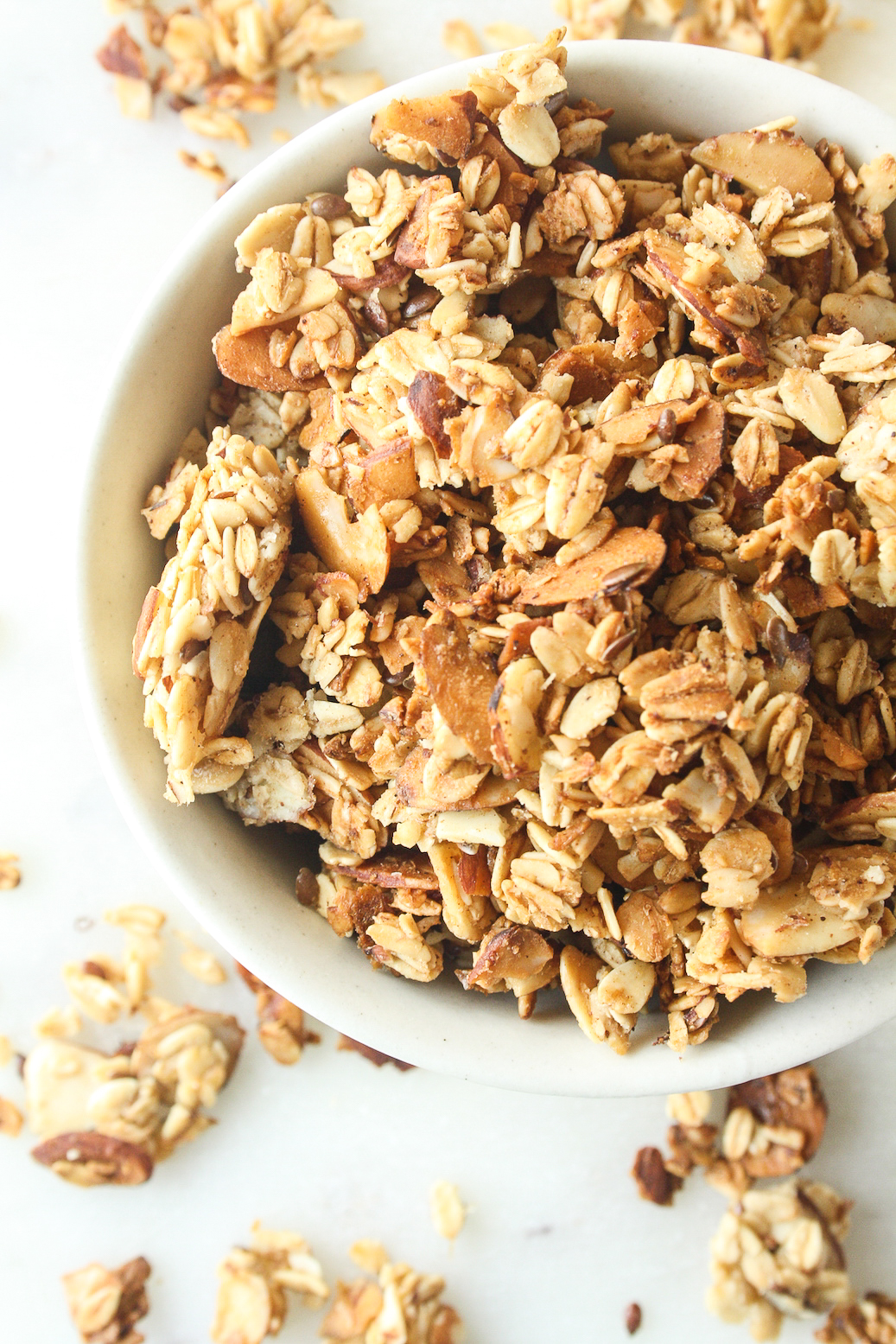 My favourite thing about homemade granola is how seriously easy it is to make and how quickly it comes together. I hope you'll make this todaaaay!

Banana Coconut Granola (Vegan, Gluten-Free)
Crunchy, healthy granola with banana and coconut!
Author:
The Desserted Girl
Recipe type:
Healthy Snacks
Cuisine:
Vegan, Gluten Free
Ingredients
3 cups rolled oats
1 heaping cup sliced almonds
1 tbsp desiccated coconut
½ tsp salt
1 tsp cinnamon powder
1 tbsp flaxseed (or chia seeds or any other)
1 ripe banana
¼ cup coconut oil/olive oil
⅓ cup honey or maple syrup
1 tsp vanilla extract
Instructions
Preheat the oven to 175 C and line two baking sheets with silicone mats, if baking in batches.

In a large mixing bowl, combine the oats, almonds, coconut, salt, cinnamon and flaxseed. Mix well.

In a smaller bowl, mash the banana very well with a fork, then add the coconut oil, honey and vanilla. Whisk to combine.

Pour the banana mixture into the oats mixture and use a silicone spatula to mix. Make sure all the oats are moistened.

Divide the mixture among the two baking trays and spread out in an even layer. Do not crowd the mixture too much or it won't crisp up. If you like 'clumpy' granola, press down lightly on the mixture to help the oats stick together.

Bake each batch for 25 to 30 minutes. Rotate the tray halfway through the baking time and toss lightly using a metal spatula to ensure even browning. I like my granola extra crispy so I leave it in the oven for a few extra minutes.

Press down once again on the hot granola for more 'clumps', then leave to cool completely at room temperature. Store in airtight jars at room temperature. Eat as is, or with yoghurt, milk, or as a crunchy topping over ice cream!
Notes
*If you don't like the flavour of coconut oil, olive oil is great too.

*For a stronger banana flavour, use two ripe bananas.
Shop this recipe!
This post contains affiliate links.