Last Christmas I made these crunchy, crispy ginger biscuits that beg for a cup of piping hot tea to be dipped into. So good. But because ginger is the best best best festive season flavour there is, I suddenly had a desperate urge for the opposite kind of cookie. Chewy, soft, super thick. Warmly spiced, tender with a ton of brown sugar and molasses, the kind of cookie whose scent you'd want to bottle up and spray all over your home on Christmas Eve.
You guys, these are soooo good!!
I adapted these from Sally's Baking Addiction, increasing the ginger a bit and using only brown sugar instead of white. And normally I wouldn't specify a kind of brown sugar, because you get all sorts in India and I usually go with the regular granulated variety, but off late, I've fallen head over heels in love with the soft brown sugar variety. It's much finer, has a lot more moisture and the flavour is through the roof. I like Tate&Lyle brand, but if you don't want to use it, that's ok, any brown sugar or demerara will do, as long as you grind it up if the grains are too coarse. Smaller grains blend in better and make the dough (and the cookie) nice and tender.
Rolling the dough balls in granulated white sugar is something I will insist on. They give the cookies some crunch and make the tops all pretty and sparkly because 'tis the season and there's no room for dull cookies. Again, I insist.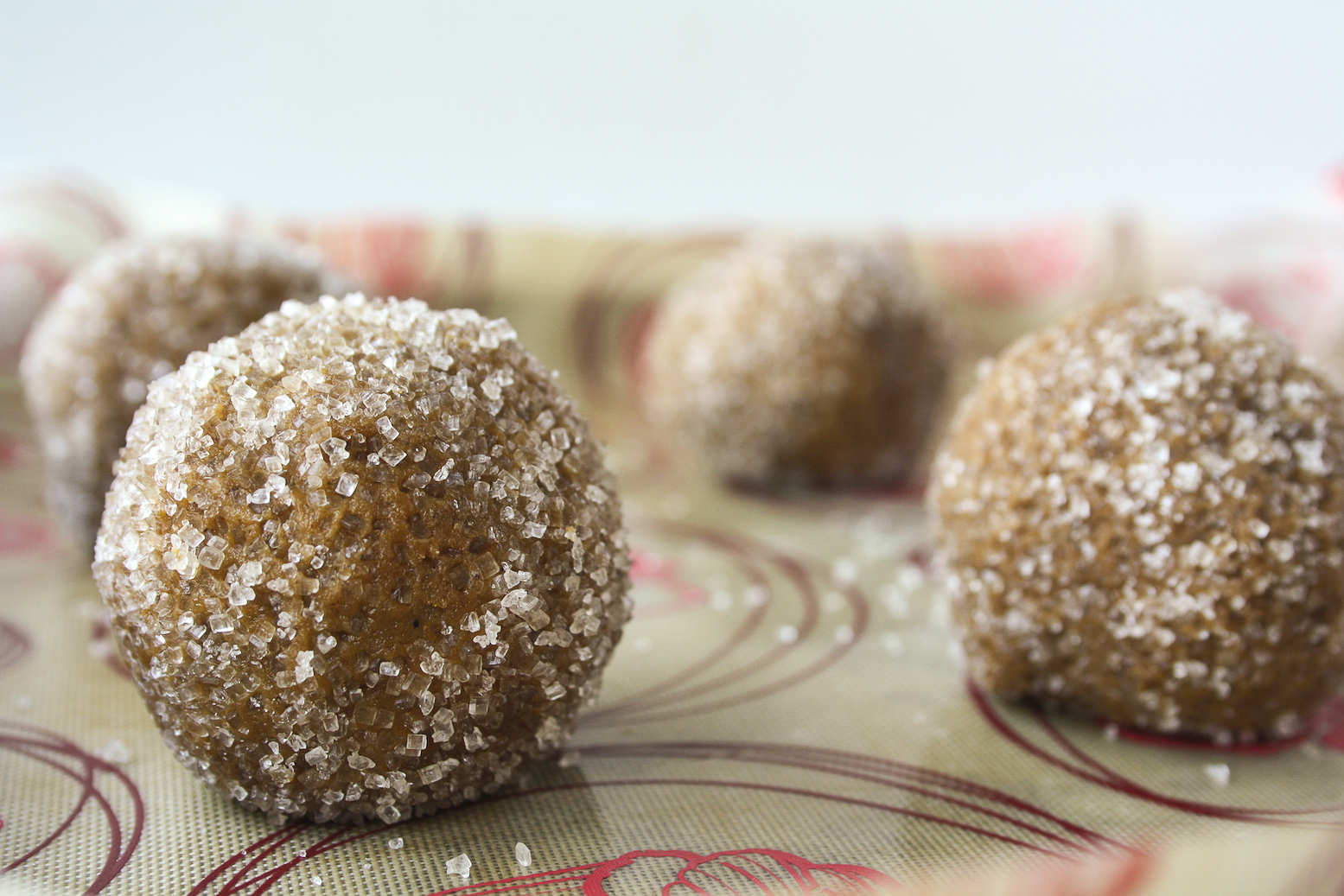 Filled with all sorts of festive flavour, these cookies will be over before you know it! The recipe makes about 14 large cookies, but feel free to make smaller ones. I was going for thick and chewy, so the dough balls are quite large and take about 15 minutes to bake through. The edges become just the right amount of crispy, making each bite pretty spectacular.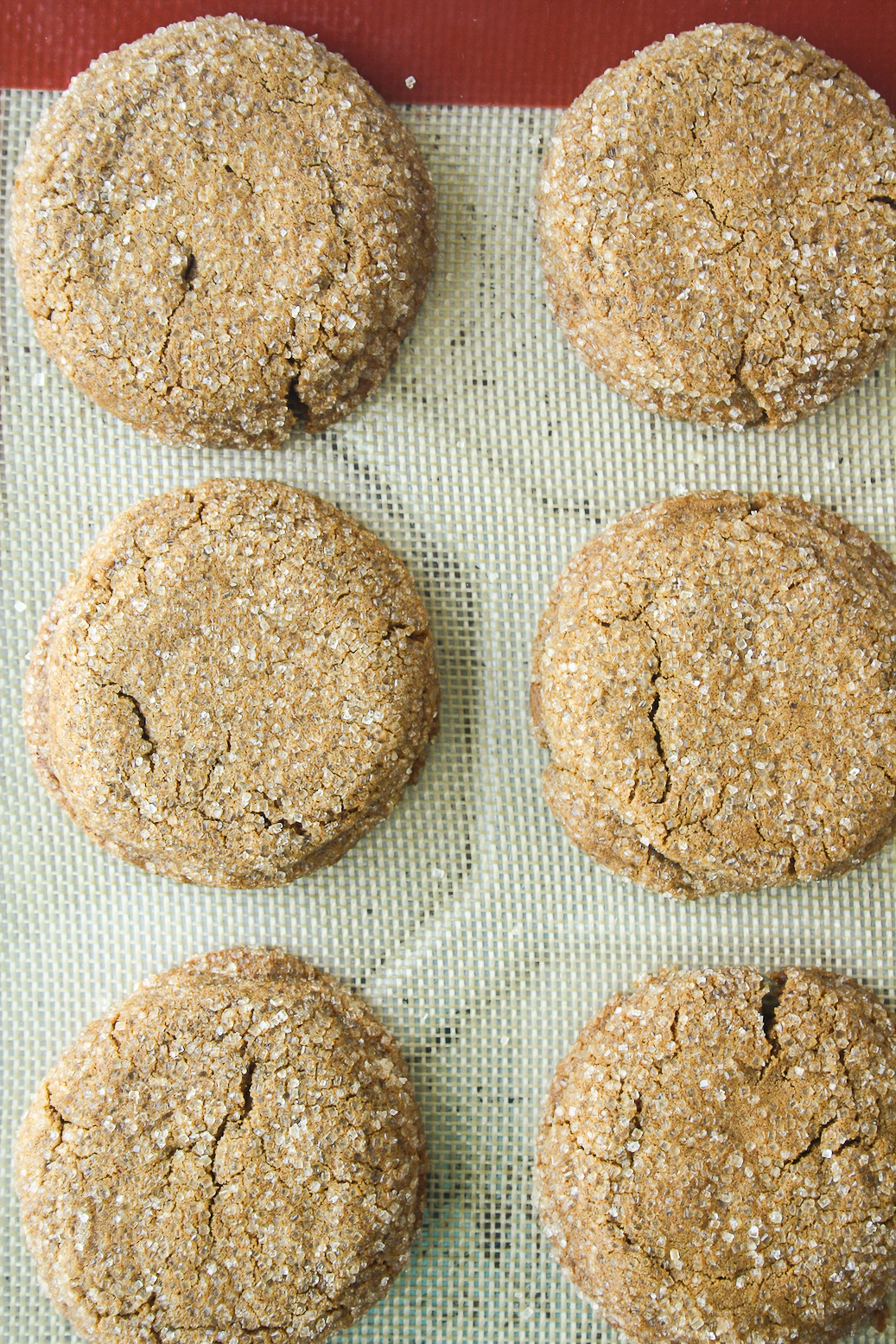 Let's make some cookies!

Ginger Molasses Cookies
Soft and chewy, festive ginger cookies with cinnamon and molasses!
Author:
The Desserted Girl
Ingredients
2 cups all-purpose flour
1 tsp baking soda
1 tsp cinnamon powder
1 tsp ginger powder
½ tsp clove powder
½ tsp salt if using unsalted butter
¾ cup butter, at room temp (170 gms)
½ cup soft brown sugar, packed*
¼ cup molasses (I used Grandma's Molasses brand)
1 egg at room temp
1 tsp vanilla extract
Coarse granulated white sugar for rolling
Instructions
In a large bowl, sift the flour and baking soda. Stir in the spices and salt (if using). Set aside.

In a mixing bowl, beat the butter and brown sugar until light and creamy, then add the molasses, egg and vanilla. Beat till combined.

Fold in the flour mixture. The dough will be thick and sticky, so chilling it is necessary. Cover the bowl with clingfilm and place in the fridge for at least 1 hour.

When ready to bake, preheat the oven to 175 C and line a baking tray with a silicone mat.

Let the dough sit out at room temperature for 10 minutes, then roll into equal sized rounds. I made 14 large cookies, you can roll smaller dough balls and make more cookies.

Roll each dough ball in the granulated white sugar, then place on the baking tray.

Bake for 10 to 15 minutes, depending on how large your cookies are. Rotate the tray halfway through baking to ensure the cookies are evenly browned. They are done when the edges are lightly browned and firm and the tops are a little cracked, but still soft to touch. Allow to cool for 10 minutes on the tray, press down lightly if they're very puffy, then transfer to a wire rack to cool completely. They will firm up as they cool. Enjoy!

Notes
*For these cookies, I prefer using a soft brown sugar like Tate&Lyle and packing it firmly into the measuring cup, but if you are using another variety and the grains are too coarse, grind them up before adding them to the dough, otherwise the cookies won't be quite as tender and chewy.

*Prep time does not include chilling time.
Shop this recipe!
This post contains affiliate links.