You guys. I've completely lost my mind, but I think it might be worth it. These are the cookies we should all be eating from now until the end of time.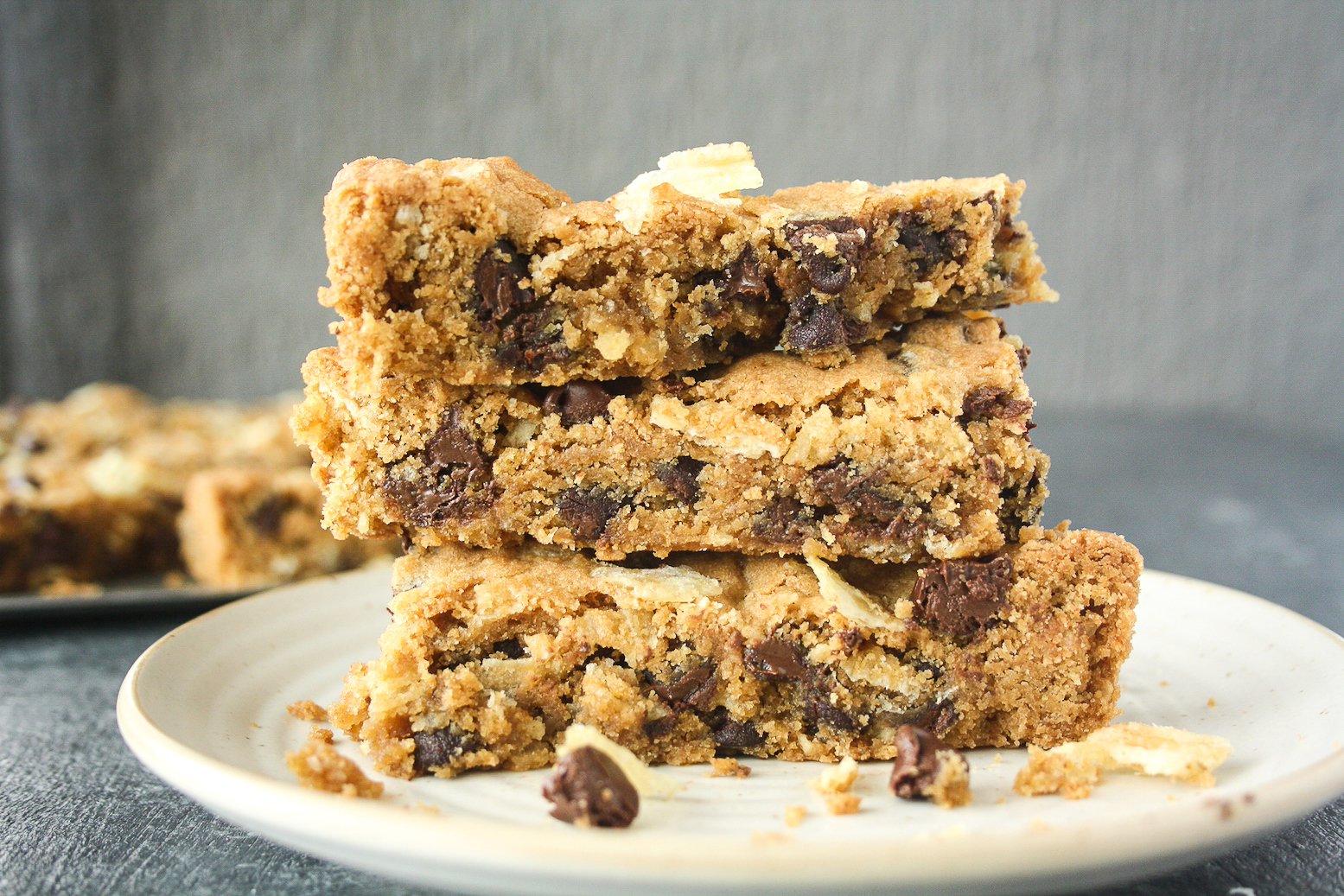 Potato chips, chocolate chips and an unholy amount of butter. All baked up as cookie bars (no dough chilling!) in under an hour. Dreamiest dessert ever.All I did was scale down my new favourite cookie recipe, throw in crushed potato chips and tip the whole dough into a square baking pan. Easy peezy.
When baked as cookie bars without having to worry about the structure of each cookie, the dough is far more forgiving, so it's also easier to scale down. The original recipe has some fiddly measurements but you can get away with playing around with them here.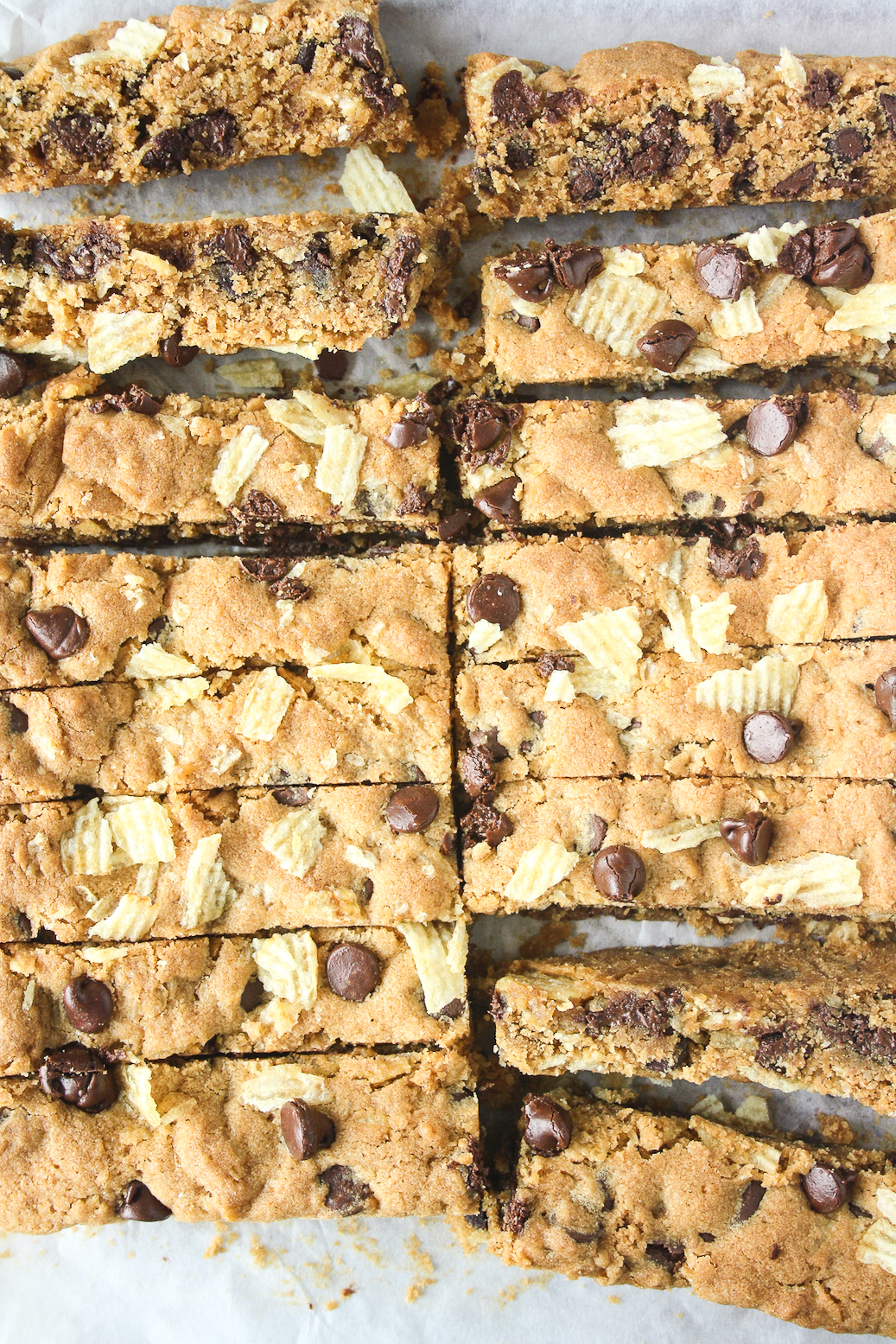 The potato chips add so much crunch and texture, chocolate chips balance out the saltiness and they're just utterly perfect together. Also, soooo buttery! Soft, chewy and completely irresistible.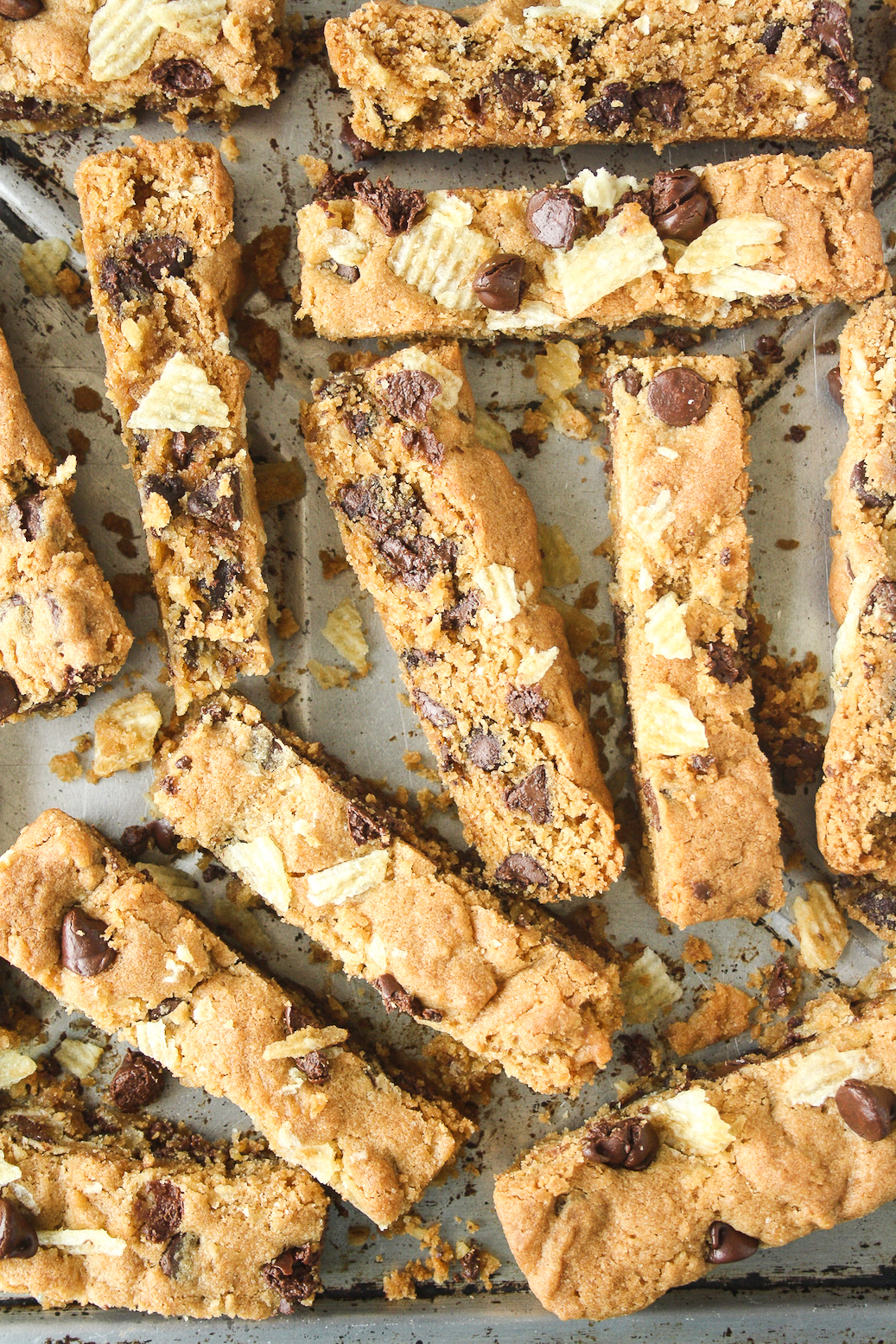 After baking and cooling the bars completely, chill the pan before you try slicing. It helps to get neater slices that hold their shape. I didn't think of doing this earlier, and I had a couple of pieces falling apart, so I definitely recommend it!
Ok now go get some potato chips!

Chocolate Chip Potato Chip Cookie Bars
Chewy, buttery, sweet salty cookie bars filled with crushed potato chips and lots of chocolate chips!
Author:
The Desserted Girl
Ingredients
1 and ¾ cups all-purpose flour
½ tsp baking soda
¾ tsp baking powder
¾ tsp salt if using unsalted butter
140 gms butter (1/2 cup heaped)
½ cup brown sugar
½ cup caster sugar
1 egg
1 tsps vanilla extract
1 cup crushed salted potato chips, plus more to sprinkle on top
1 cup dark chocolate chips, plus more to sprinkle on top
Instructions
Preheat the oven to 175 C. Lightly grease a square 8" baking pan, then line it with baking paper, leaving a little overhang for easy removal. Lightly grease the paper as well. Set aside.

Sift the flour, baking soda, baking powder and salt, if using. Set aside.

Using a hand mixer, beat the butter and sugars in a mixing bowl until pale and fluffy.

Add the egg and vanilla and beat again till combined.

Now fold in the flour mixture, until just combined. Do not over-mix.

Finally, mix in the chocolate chips and potato chips. You will have a thick, sticky cookie dough.

Tip the dough into the prepared tin and bake for 20 minutes, rotating it halfway through baking.

Allow to cool completely (it will darken and firm up as it cools) then chill for an hour before slicing into bars. Happy eating!