Happy happy Mondaaaayyyyy!! If your week begins with chocolate, it deserves extra syllables and exclamation marks. And if it begins with the dreamiest chocolate ganache, then I say your Monday morning blues do not exist any more.
Inside a buttery, chocolatey tart shell, sits this ganache. Infused with fresh mint, silky smooth and so decadent, you'll almost feel shy eating it. You should not. Chocolate means the end of all inhibitions. Go forth.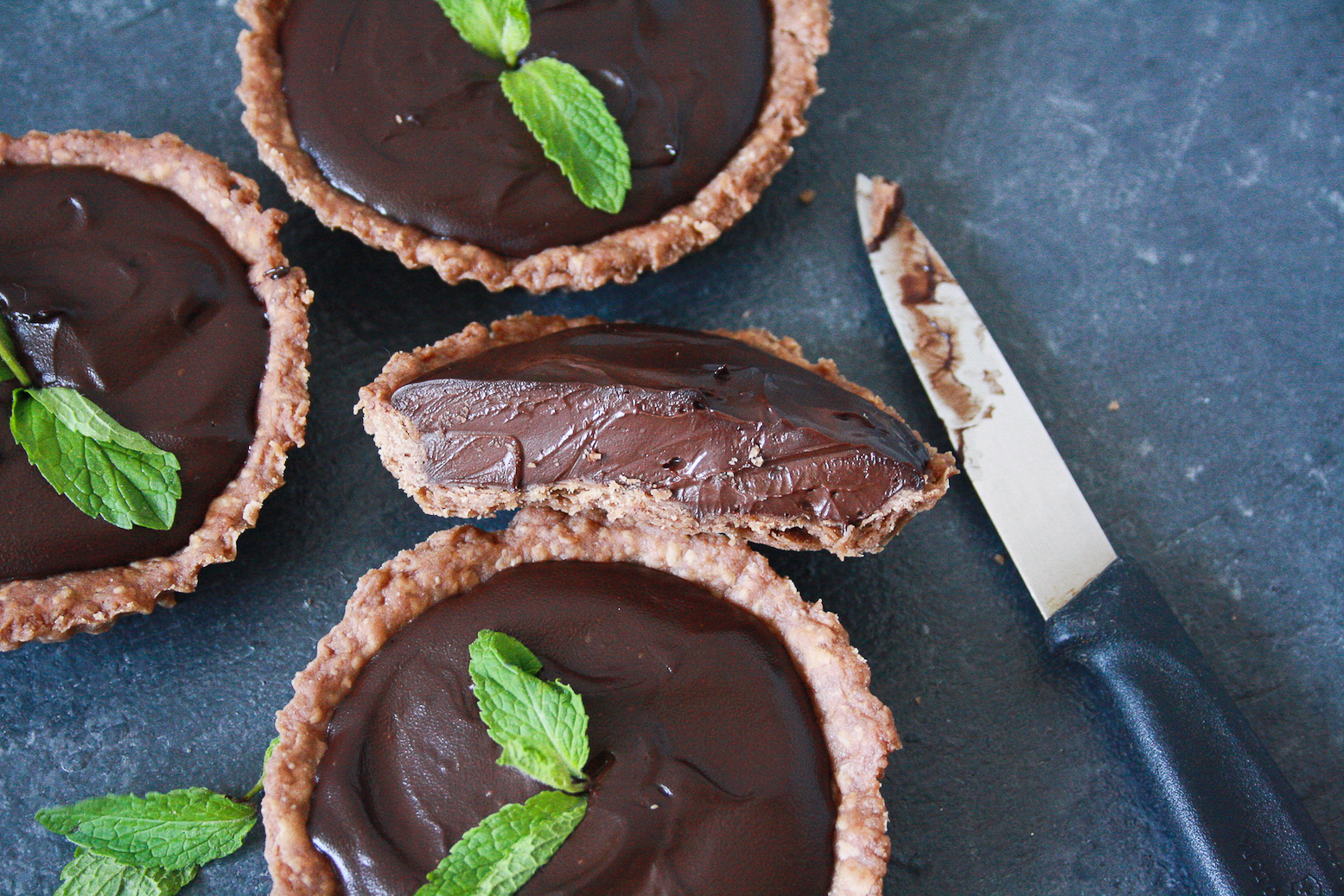 If you had told me two days ago that there would come a moment in time when I'd be raving about chocolate + mint, I'd have told you to go eat some peanut butter and leave me alone. I've never, ever liked the combination. Mint in my food is odd. It's ok in my toothpaste, but why would I want chocolate flavoured toothpaste? (Should explore that, actually)
So I steered clear of After Eights, mint flavoured chocolate bars and all of that minty-ness. And then I read somewhere that fresh mint is far more subtle, pleasant even. I decided to be an adult and try it. And boy, oh boy.
The beauty of fresh mint is that you can use as much  or as little as you'd like. And unlike with an extract, a few more leaves here and there do not suddenly make this a dental hygiene related dessert. And when infused into hot cream and mixed up with dark, bittersweet chocolate, the flavour is more than tolerable. In fact, it's quite insanely good. Light, fresh, minty obviously and just what you need if you're celebrating the recovery from a stomach bug. Or not, I'm not sure that's what the doctor would recommend.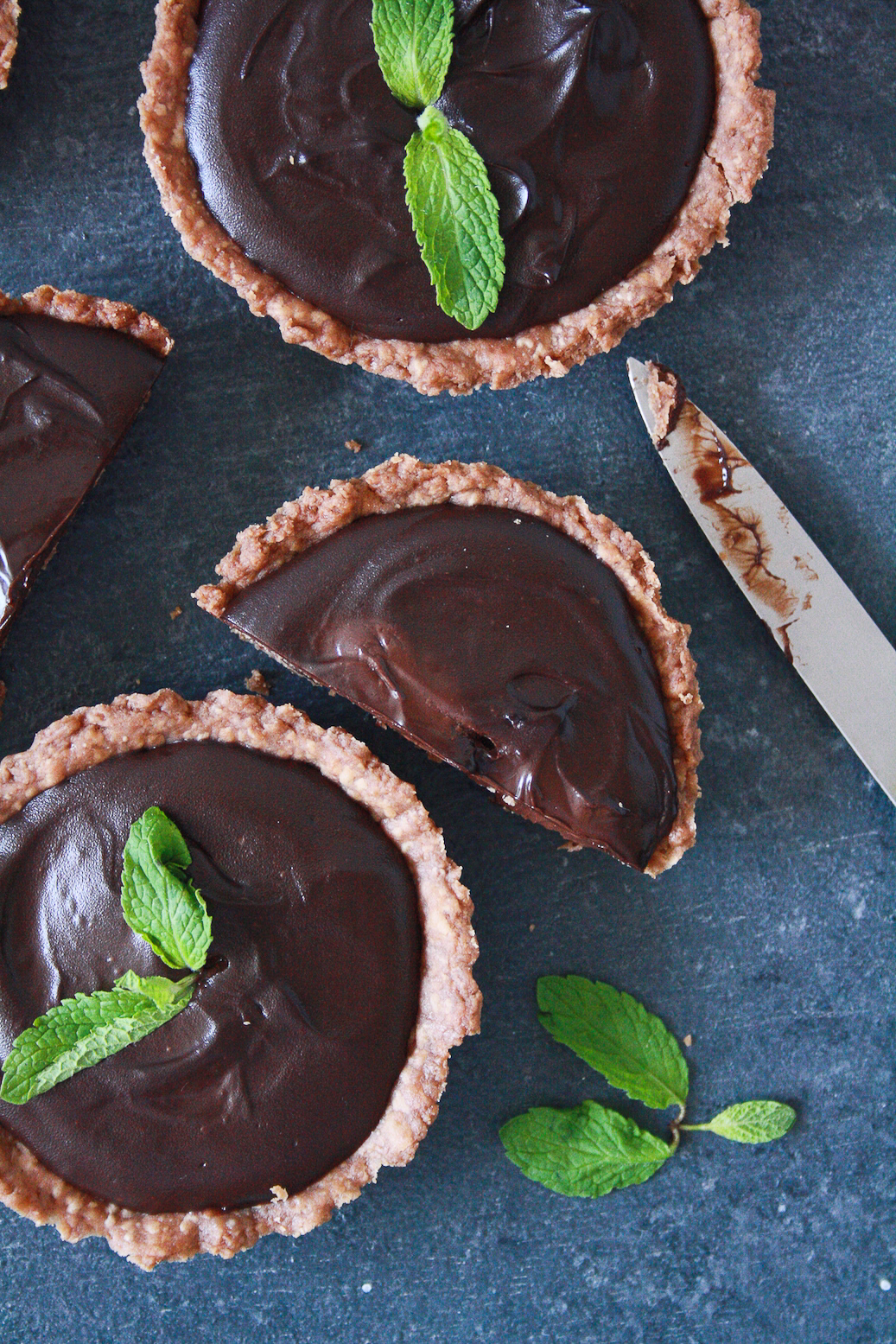 This minty ganache can be eaten by itself. I wouldn't blame you for skipping the whole pie dough, tart shell ritual completely. Just grab a spoon and go to town. But, the smooth ganache with the flaky, crispy shell is actually something worth finding a little self-control for. The whole thing is super easy to put together, it's just that there's some chilling and cooling time that can't be skipped. But make these, please. You will be newly minted (sorry) person by the end of it.
Dooooo it!

Mint Chocolate Tarts (Eggless)
Buttery chocolate tart shells filled with a rich, fresh mint infused, chocolate ganache!
Author:
The Desserted Girl
Ingredients
For the tart shells
1 and ¼ cups all-purpose flour*
1 tbsp caster sugar
1 tbsp cocoa powder
½ tsp salt, if using unsalted butter
½ cup cold butter, cubed (115 gms)
1 to 2 tbsps ice water
Extra flour for sprinkling

For the mint chocolate ganache
1 cup cream (200 ml)
100 gms dark chocolate, chopped and at room temperature
1 to 2 tbsps caster sugar depending on sweetness of chocolate
¼ cup fresh mint leaves
Instructions
To make the tart shells, combine the flour, cocoa powder sugar and salt, if using, in a large bowl. Stir well.

Using your fingertips, rub the cold butter cubes into the flour till the mixture resembles coarse breadcrumbs with a few larger bits of butter scattered throughout. These bits are what create a flaky dough.

Add 1 tbsp of ice water and bring the dough together. If you can clump it between your fingers, it does not need any more water. Add a 2nd tablespoon of water only if absolutely needed.

Form the dough into a rough ball, place on a large piece of clingfilm and pat into a ¾th inch thick disc. Wrap tightly and refrigerate for 1 hour. This dough can be chilled or frozen longer, as long as its softened a little before rolling.

Divide the chilled dough into four equal portions. I made four mini tarts. You can also make one large 8" tart in which case do not divide the dough.

Flour your counter or preferably, flour a silicone mat. I like using a mat because it doesn't move around and prevents sticking of the dough.

Flatten one portion of the dough (keeping the rest chilled at all times), and then roll out into a circle about an inch wider than your tart tin. Make sure you're not rolling it out too thick or the crust will not cook all the way. Lift and place it in the tin, flattening it and trimming off the edges as needed. Repeat with the remaining dough. Any leftover dough can be frozen for more pie later!

Place the prepared tart shells in the fridge, while you preheat the oven to 175 C. When ready to bake, prick the bottom of each tart shell with a fork, then bake for 15 to 20 mins until slightly puffed and lightly browned. Set aside to cool completely.

Meanwhile, make the ganache. In a small saucepan, combine the cream and mint leaves. Bring to a boil on low heat, then cover and set aside for 20 mins.

Place the chocolate pieces in a heatproof bowl. Into the minty cream, stir in the sugar and bring to a boil again. Use a sieve to pour the cream over the chocolate, stirring as you go so that all of the mint leaf extracts get mixed in.

Stir the cream and chocolate until thick, smooth and completely luscious. Allow to cool for a few minutes.

When ready to assemble the tarts, simply divide the cooled ganache evenly between all four tart shells, smoothen it out and chill in the fridge for about 1 hour for the ganache to set. Decorate with more mint leaves before serving. Happy eating!