I think I probably first heard of chili while watching The Parent Trap. And at that time, I had no idea what it was except it sounded spicy. Alarm bells. Then a few years later I found out it's a meaty, one-dish meal. Primarily made of a mixture of beans including kidney beans. More alarm bells. Because in my head, this was basically glorified rajma. I love rajma, adore it. But mess with it, and I get wary.
Who needs one more way to cook rajma, I thought, when the only way we know is just so incredibly good? Not me, I said. What self-respecting rajma needs veggies and odd spices and what not thrown into it? No rajma that I knew, that's for sure.
And then I caved. Because vegetarian chilis began sprouting up all around me. No ground meat, just a ton of protein-packed beans and the alarm bells began to get softer, because it just sounded like a good change from the Indian way of cooking most beans. I hopped on to the chili bandwagon, along with chipotle sauce and a bottle of beer. And boy, oh boy, what a bandwagon it turned out to be.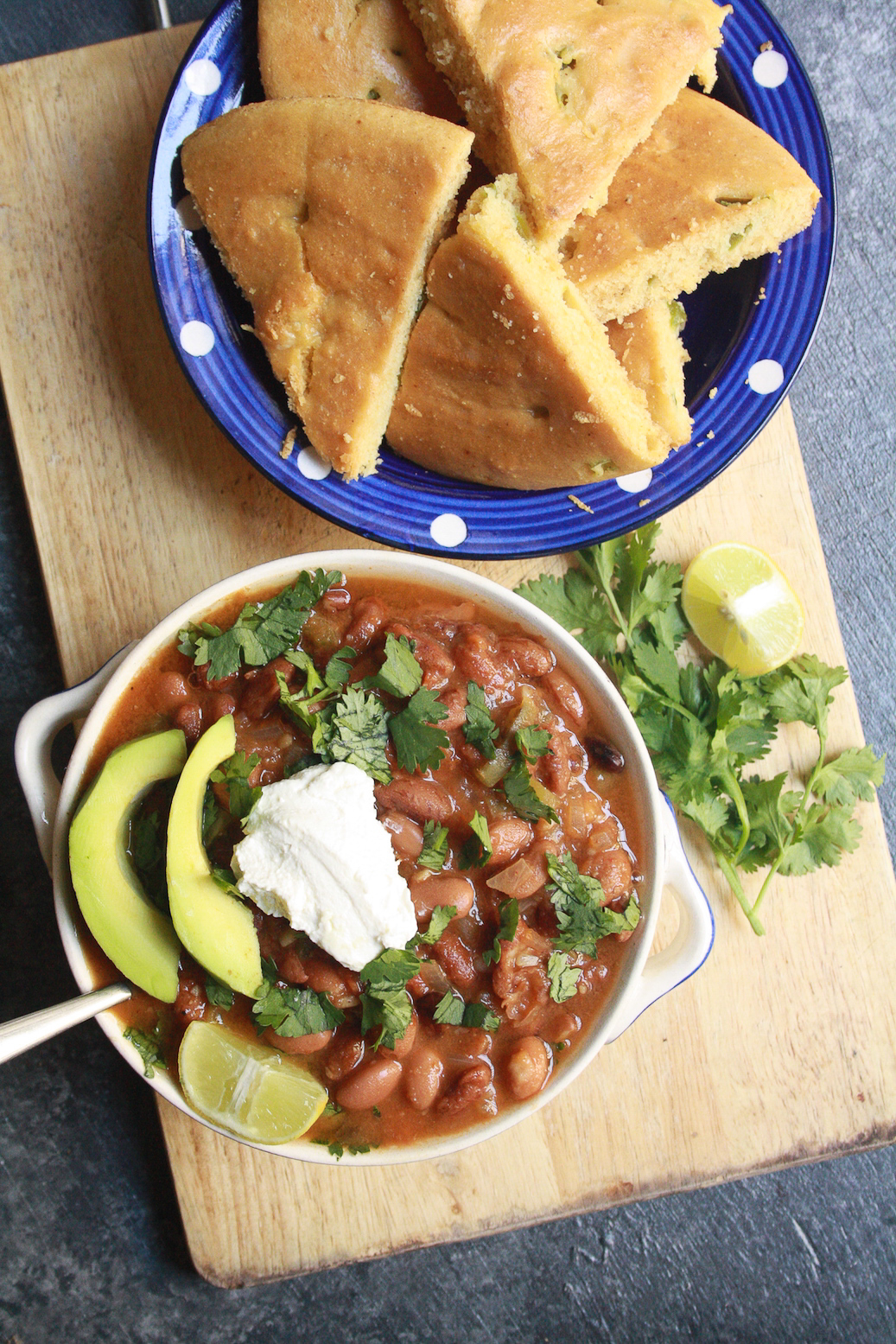 Filled with smoky, beer-y flavours, we loved this meal much more than I'm ready to admit. The rajma ego has been hurt a little bit, but the chili love has sort of compensated for it. You guys need to try this.
The thing that converted me to trying chili was this recipe on Smitten Kitchen, which outlined not just a number of different ways to do the actual cooking, but had that incredible addition of beer which is what sets this chili apart from my usual Sunday rajma lunch. The beer is where all that flavour is. I messed around with seasonings, used only two kinds of beans and fresh tomatoes instead of canned, roasted ones. Basically, this is a hugely adaptable dish, based on where you live and what you have in your kitchen. I think that's what a good meal is all about.
Some rambling about beans begins now: I used a majority of dried kidney beans, soaked them overnight, cooked them in the pressure cooker. I also found a can of pre-cooked pinto beans, which are much like baked beans in tomato sauce without the tomato sauce. They add more flavour and are a nice variation in the chili. Feel free to use just one kind of bean, or as many kinds as you can get your hands on. As far as the cooking method goes, the only one I'm familiar with and comfortable with is a pressure cooker. But if a slow cooker or Dutch oven is what you use, go for it, adjusting water and cooking times accordingly.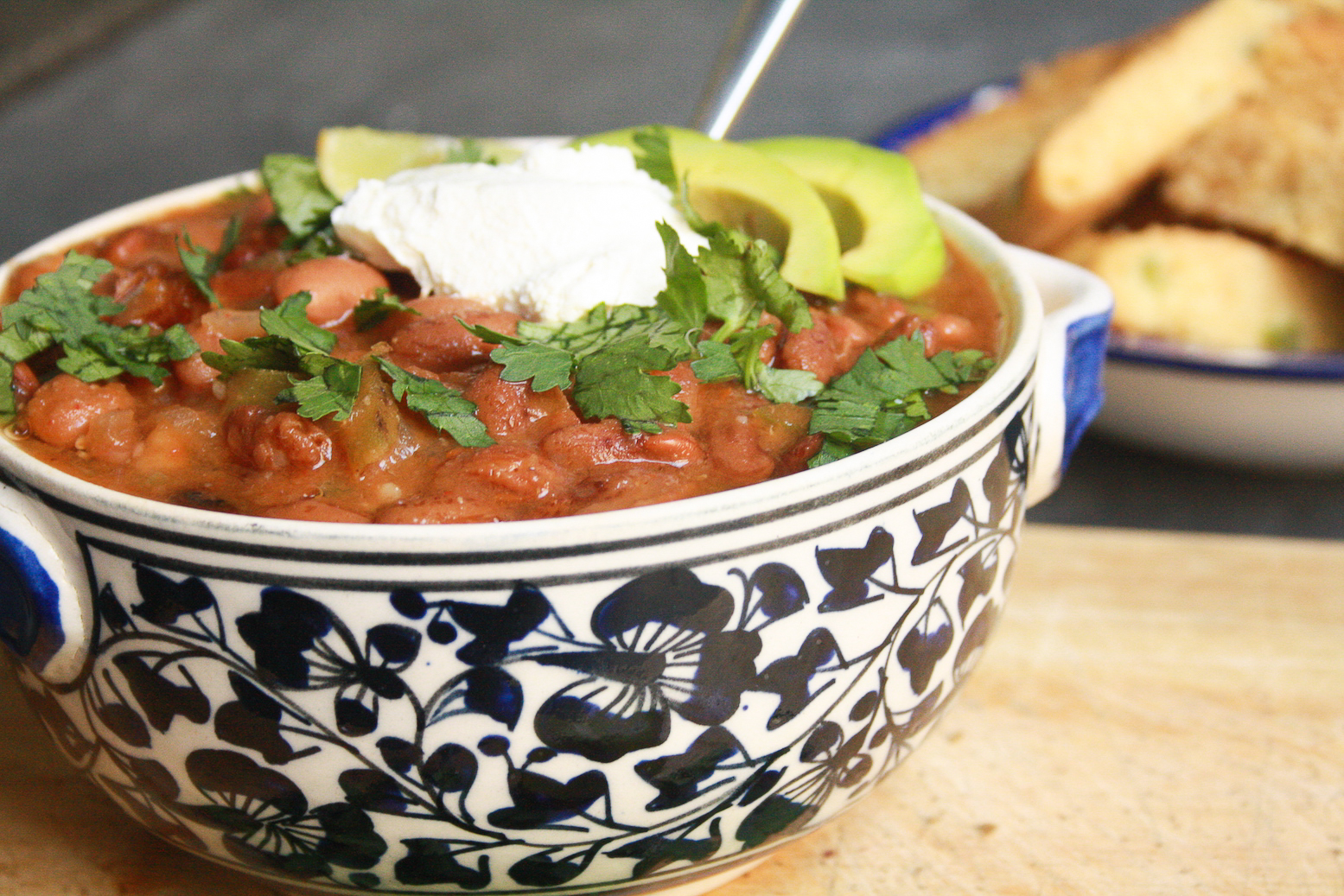 Once the beans are cooked, it's just a matter of sautéing some veggies, adding a few spices, maybe a smoky chipotle sauce if you have it and of course, the chillies which make the chili. Now I wanted to use fresh jalapenos but couldn't get them in time, so I just went with green capsicums because this isn't a very fiery household to begin with. Mess around as much with the actual spice quotient as you'd like. You can't go wrong, I promise.
What you will have is a super, super hearty dish packed with flavour from surprisingly few ingredients. You can taste the beer, the spices and it all comes to life with a squeeze of lemon juice. So good.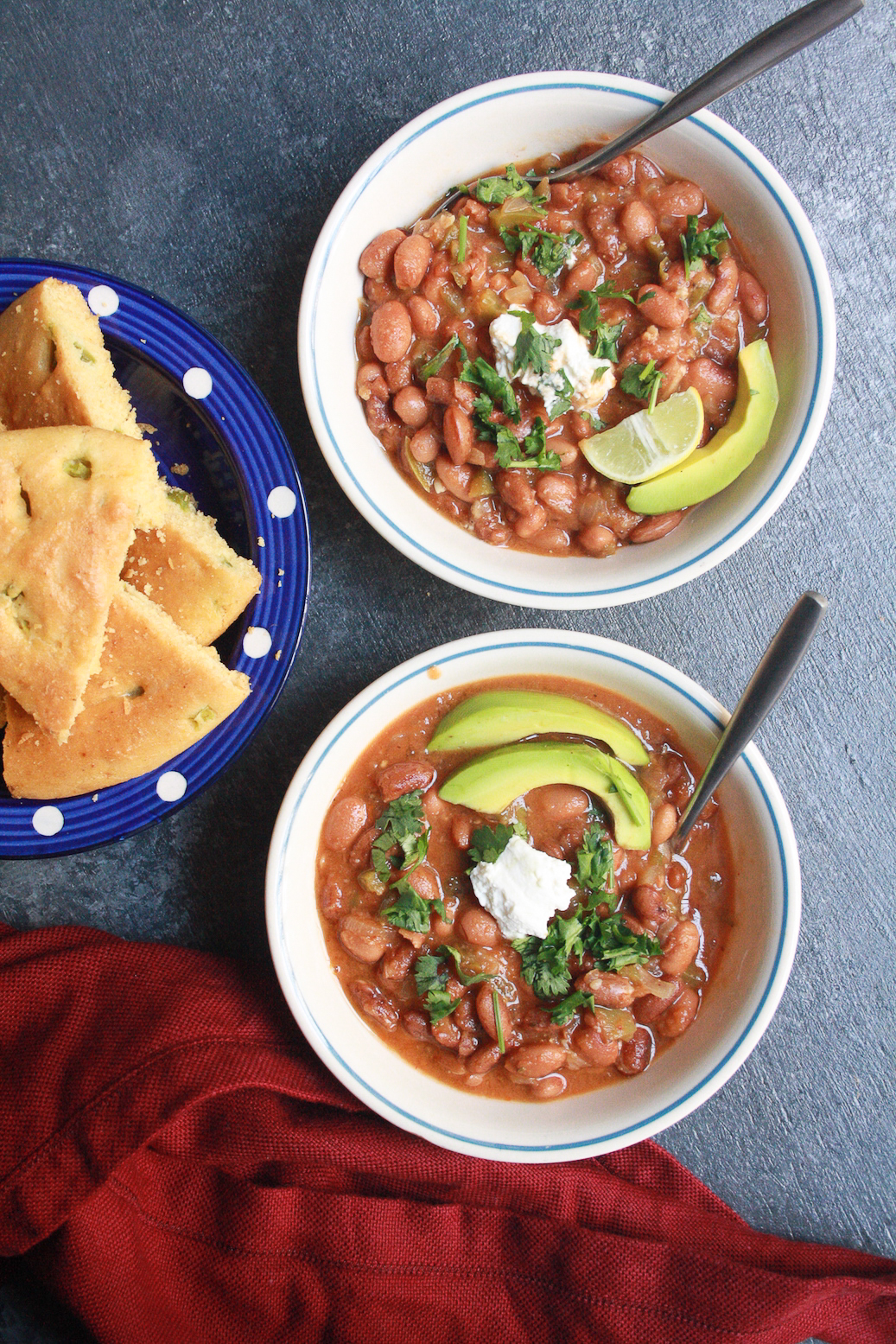 And nowwwww, the cornbread! So I always assumed you can't make cornbread in India because we don't get the coarse cornmeal or polenta locally. But after hunting around a lot for whether regular corn flour (not 'cornflour' the thickening agent) or makai atta would be a good enough replacement, I found this recipe endorsing it, and it didn't use eggs or butter. Which means, that if you were to skip the sour cream topping on the chili and butter on the cornbread, this meal is entirely vegan. Bonus!!
The cornbread is quick, tender, super flavourful and so filling that even though I halved the recipe, we were completely stuffed. I decided to bake it in a skillet for a crustier, more rustic bread and plus, skillets are fun.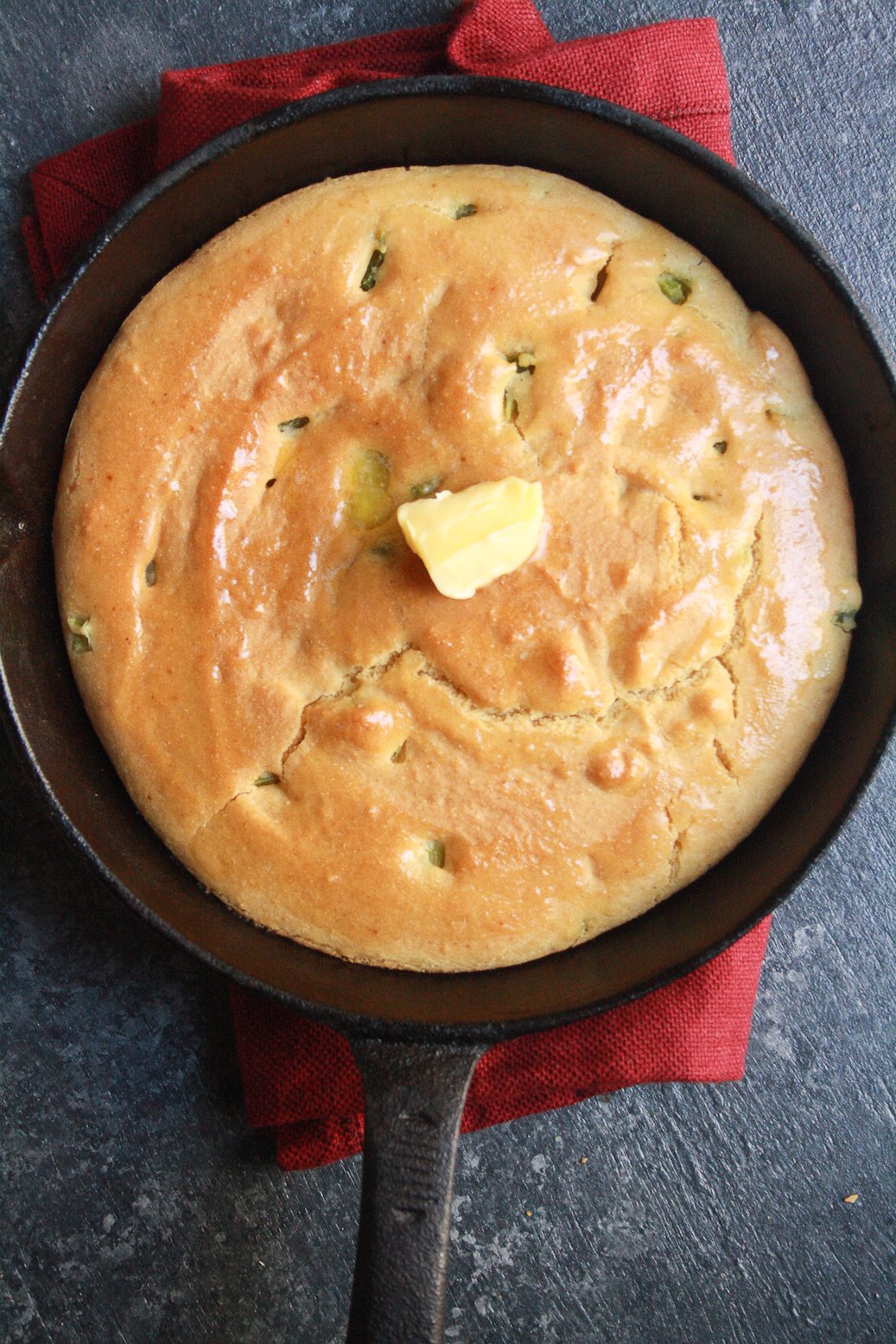 Mix in some chopped capsicum or jalapenos into the cornbread batter for additional flavour. It does need honey (or maple syrup for a vegan option), but the bread isn't really sweet, so goes perfectly with the smoky chili. I reheated it on a non-stick pan and it got beautifully toasted so you can easily make this the day before too.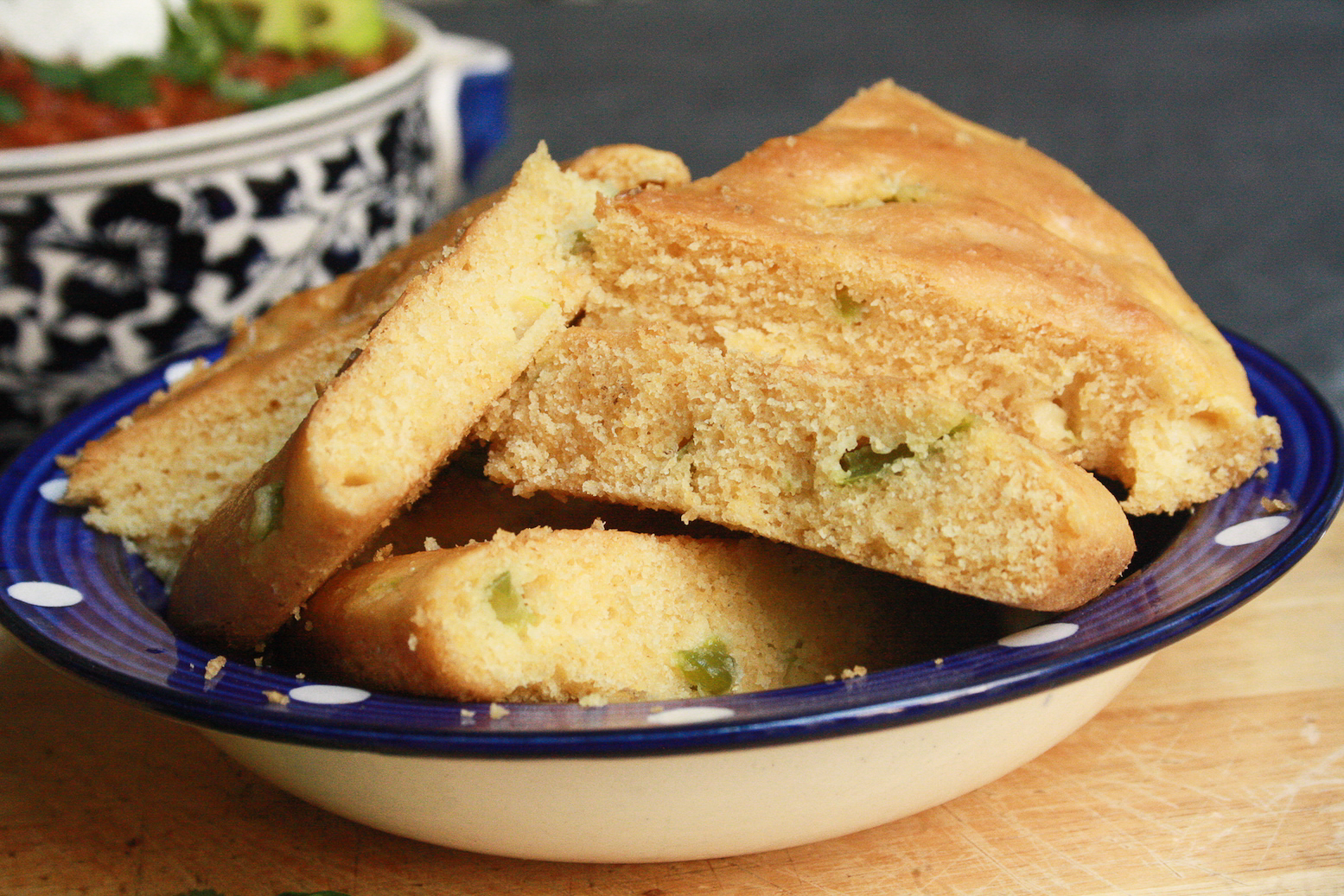 It looks like this meal will take you eons to prepare but I promise it doesn't. A lot of it is soaking or cooking time and your only work is to stir a bit. Take a break from all the Christmas sugar and treat yourself to this. It's as festive as a cookie!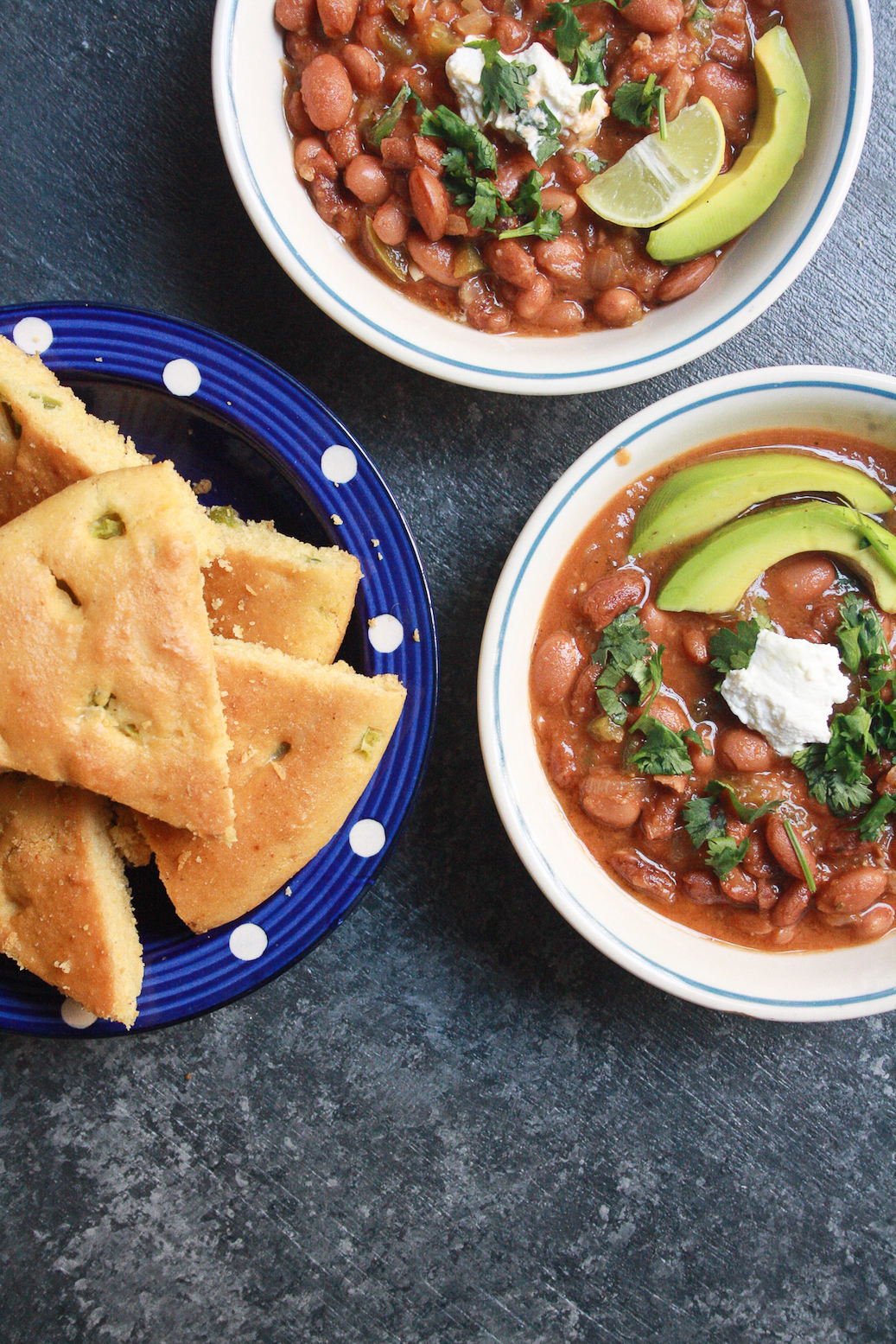 Vegetarian Chili and Cornbread
A hearty vegetarian chili with beans and veggies plus eggless, tender cornbread to go with it. Easily made vegan too!
Author:
The Desserted Girl
Ingredients
For the chili
½ cup dried kidney beans, soaked overnight
1 can pinto beans (425 gms)
3 to 4 cloves garlic, minced
1 medium onion, chopped into small pieces
2 green capsicums, chopped into small pieces*
4 medium tomatoes, pureed
1 to 2 tsps cumin powder
1 to 2 tsps chilli powder
1 tsp oregano
2 tsps salt
1 tbsp chipotle sauce, optional
½ cup beer, any kind
Olive oil, for frying
Water, for cooking
To serve: sliced avocados, lemon wedges, fresh coriander and sour cream, optional

For the cornbread
½ cup corn flour (sold as makai atta in India)
½ cup regular/all-purpose flour
1 tsp baking powder
½ tsp salt
2 tbsps honey (or maple syrup if vegan)
½ cup milk (or a dairy-free milk)
⅛ cup olive oil
To serve: dollops of salted butter, optional
Instructions
In a pressure cooker on high, add the soaked kidney beans with about two cups of water and a pinch of salt. Cook on high for about 20 minutes, then on low for another 5 mins. Once you can open the cooker, check if the beans are soft, otherwise cook for another 5 mins on low. Set aside and retain the cooking liquid.

In a large, sturdy, deep pan or wok, heat 2 tbsps of olive oil. Add the minced garlic, fry for a few seconds till golden, then add the onion and fry till translucent. Simultaneously, in another pan, sauté the capsicum till slightly blistered. I prefer doing this separately for maximum colour and flavour in the capsicum. Set aside.

To the garlic and onions, add the pureed tomatoes and cook for about 5 to 7 minutes until the mixture darkens and loses some of its moisture. Add the capsicum, spices, salt, chipotle sauce and mix well.

Finally add the beer and cook till about half the liquid evaporates. Then add the cooked kidney beans with the cooking liquid. Add about ½ cup water if the mixture looks dry and finally, drain the pinto beans and toss them in. Cover the pan and allow to come to a boil on low for 10 mins. Mix well, taste and adjust seasoning.

For the cornbread, preheat the oven to 180 C and lightly grease a cast-iron skillet or 6" cake tin.

Sift both the flours, baking powder and salt in a large bow. Set aside.

In a smaller bowl, mix the honey, milk and olive oil.

Pour the wet ingredients into the dry and fold to combine. Add up to 2 tbsps more milk if the batter is too thick. At this stage, you could mix in about ¼ cup chopped green capsicum, reserved from the one used in the chili.

Spoon the batter into the skillet, smoothen out the top and bake for 20 to 25 minutes until golden-brown and a toothpick poked in the center comes out clean.

Allow to cool for 10 minutes at room temperature before slicing. Serve warm, topped with butter and a big, steaming bowl of chili. Enjoy!
Notes
*For a spicier chili, add one fresh, deseeded jalapeño.

*The recipe will make four 4 large servings of chili, and 4 small servings of cornbread. Feel free to double the bread proportions if you like.

*Prep-time does not include soaking time for the beans.