The other day I made roasted broccoli, voluntarily. And enjoyed it, voluntarily. If you're following my brand new presence on Snapchat (dessertedgirl), you know adulting is going to a whole new level. Today, I realised, hey, I'll even eat almonds if you attach the word 'butter' at the end, pack the whole thing up in a cute little jar and let me make cookies with it. Cookies with oats, which I added because my heart said so. Nothing short of a miracle.
(There still is a wee bit of sugar in these cookies, I haven't reached dangerous adulting levels yet.)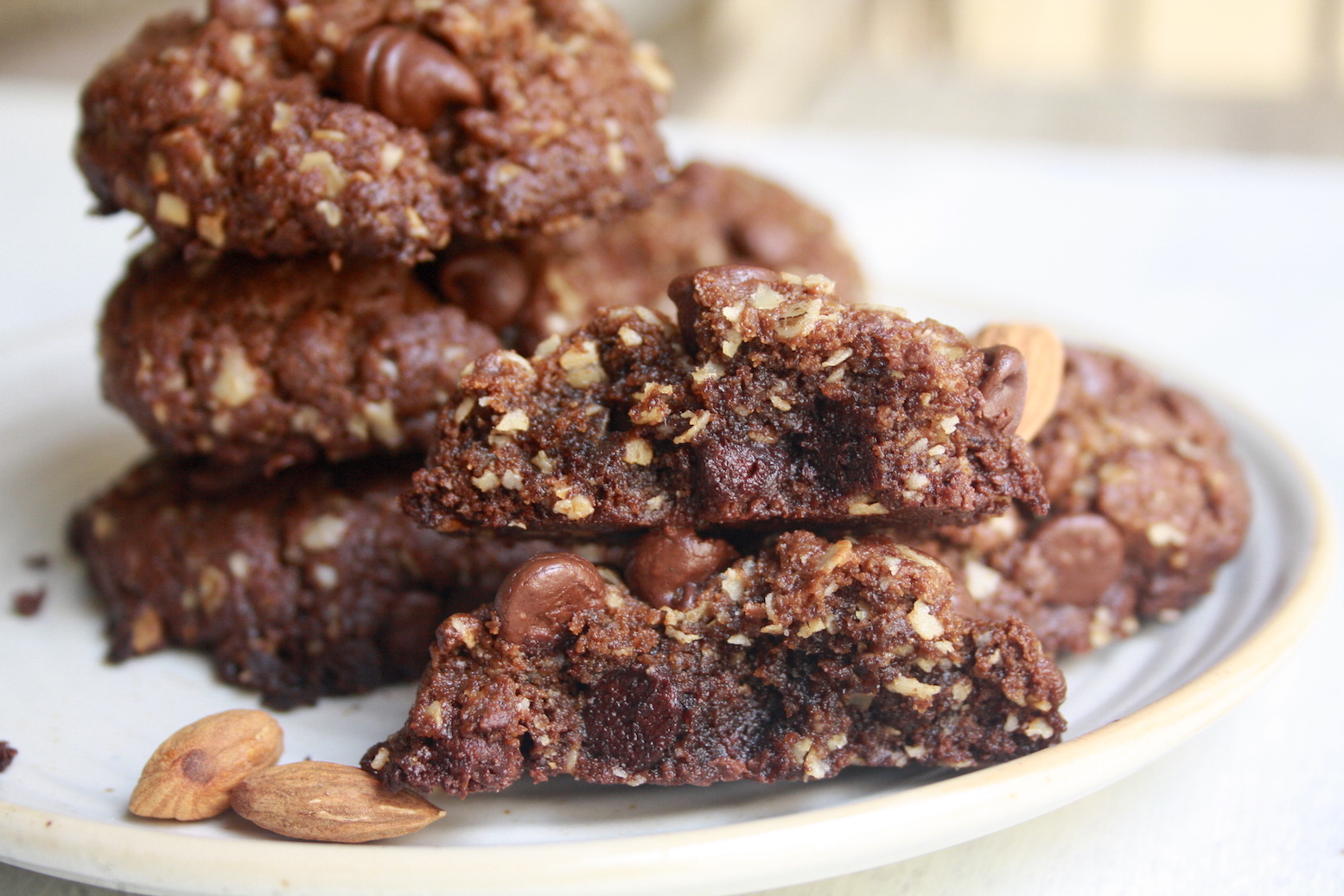 The most incredible part is not the happily added healthy ingredients, but the fact that for the life of me, I couldn't tell the difference between these little guys and these buttery cranberry chocolate beauties.
Crusty on the outside, moist and chewy on the inside, nutty and chocolatey all at the same time, with oats that give the cookies texture, structure and some sort of unexplained oomph.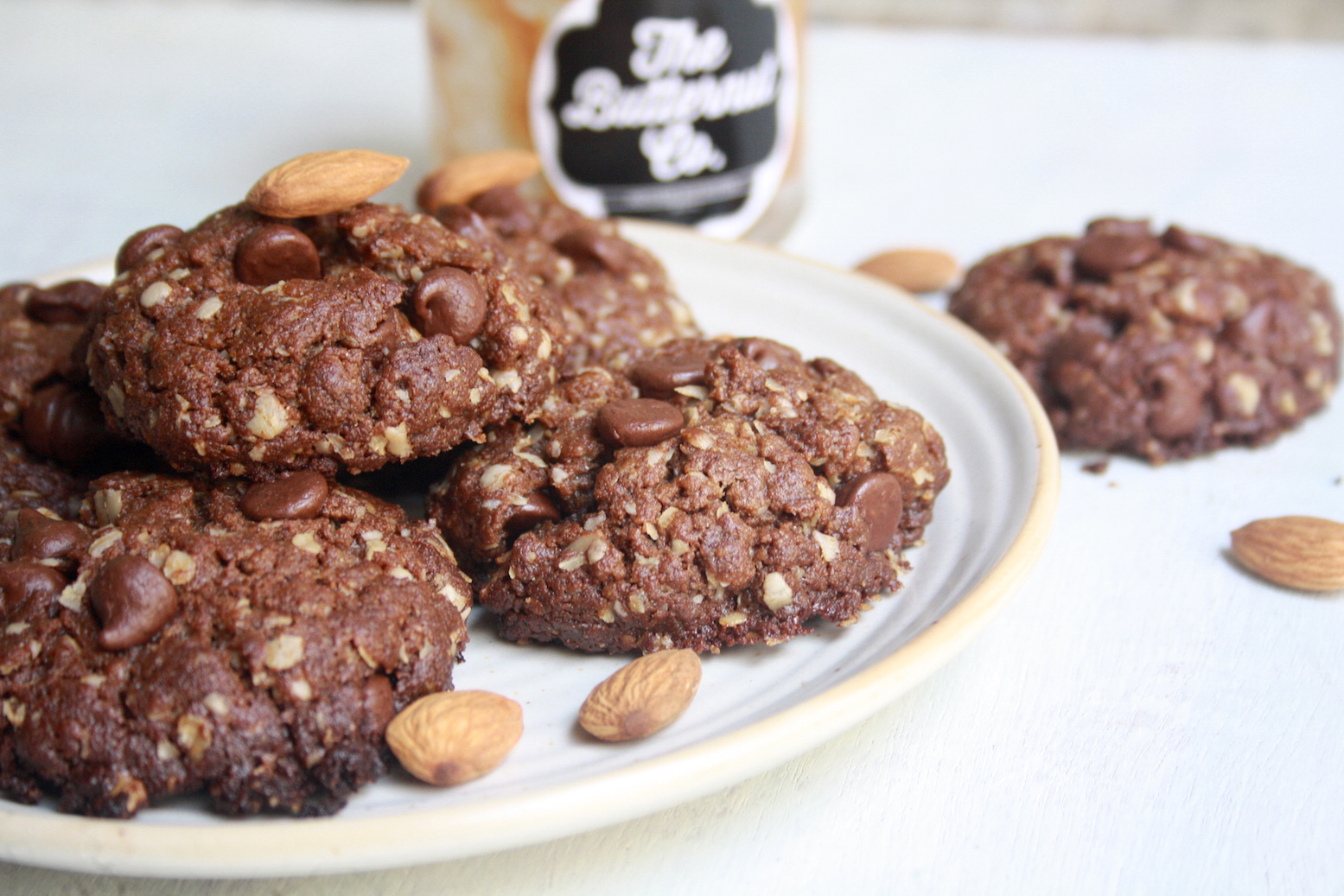 These cookies are dangerous only because you can make a meal out of them, they're that irresistible. On the flip-side, they're actually healthy enough to make a meal out of. Cookies for dinner. My lifelong goal.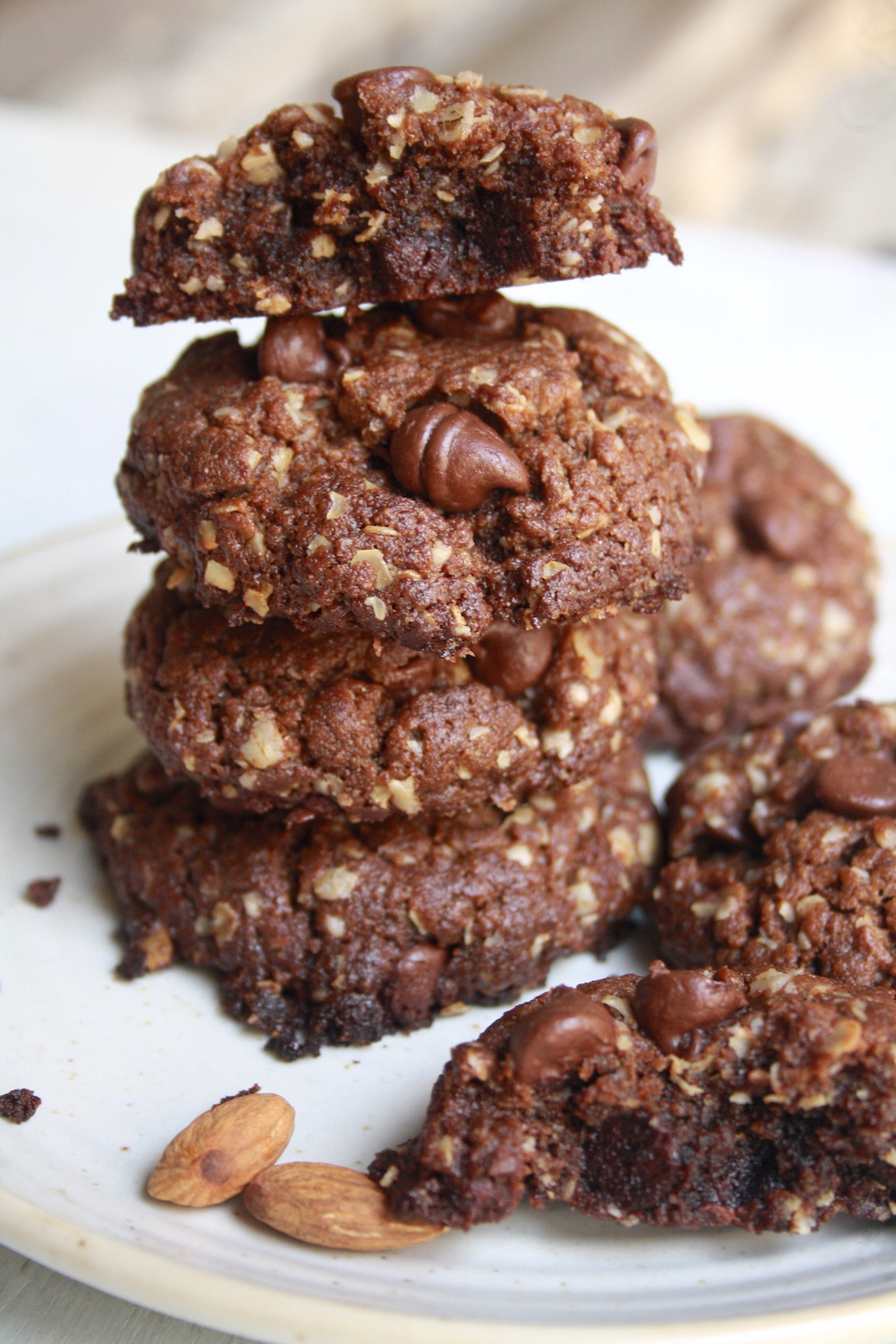 The Butternut Co. that makes natural nut butters, sent me a bottle of their almond version. With no preservatives or funny ingredients, this was as good as homemade and so, so delicious. Took all my willpower to not just sit with the jar and a spoon and never let you guys see these cookies.
Because almonds release a lot of their oils, the almond butter has to be stirred really well and a greasy cookie dough is unavoidable but not a worry, because it doesn't actually taste greasy, just looks glossy and comes together super, super quickly.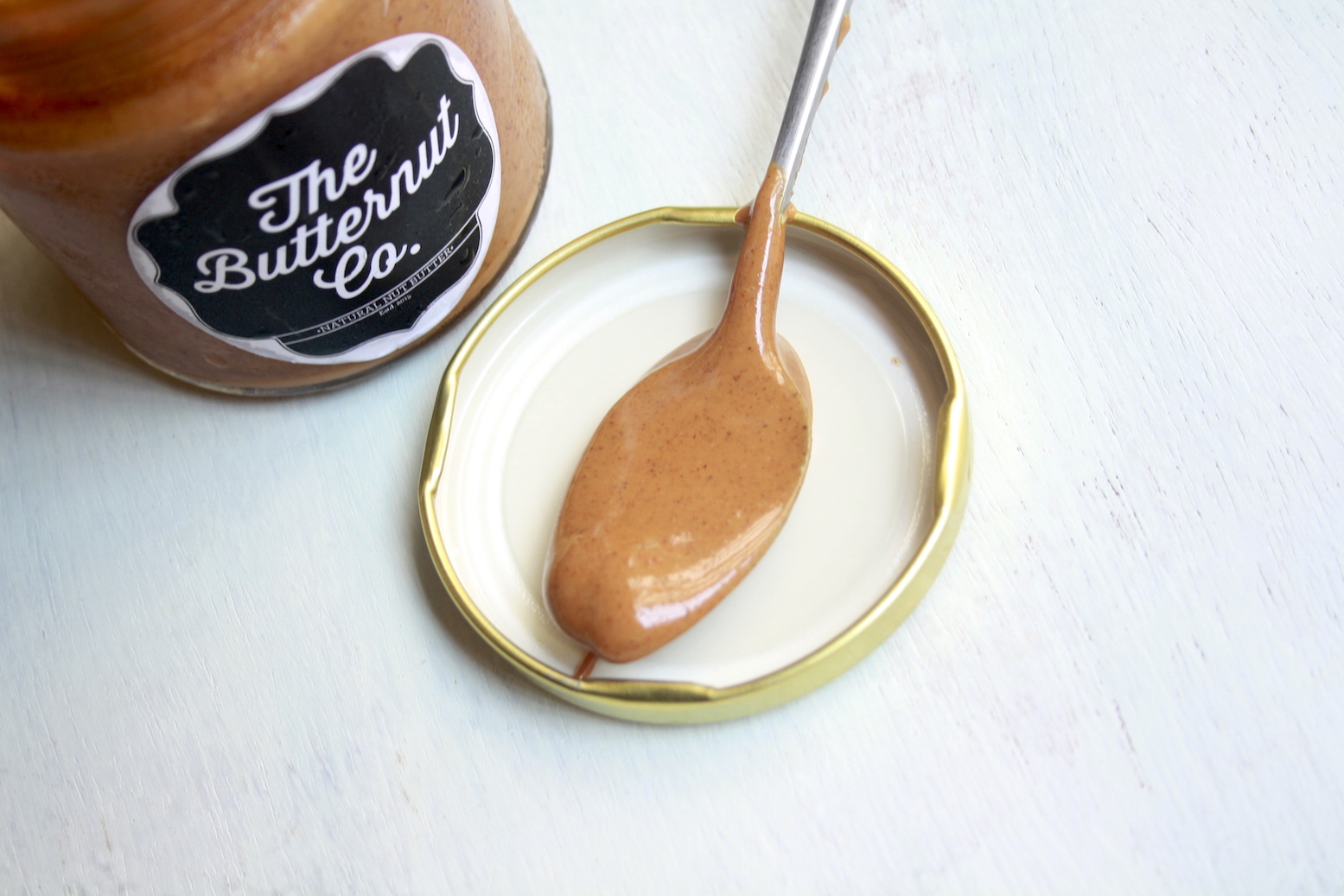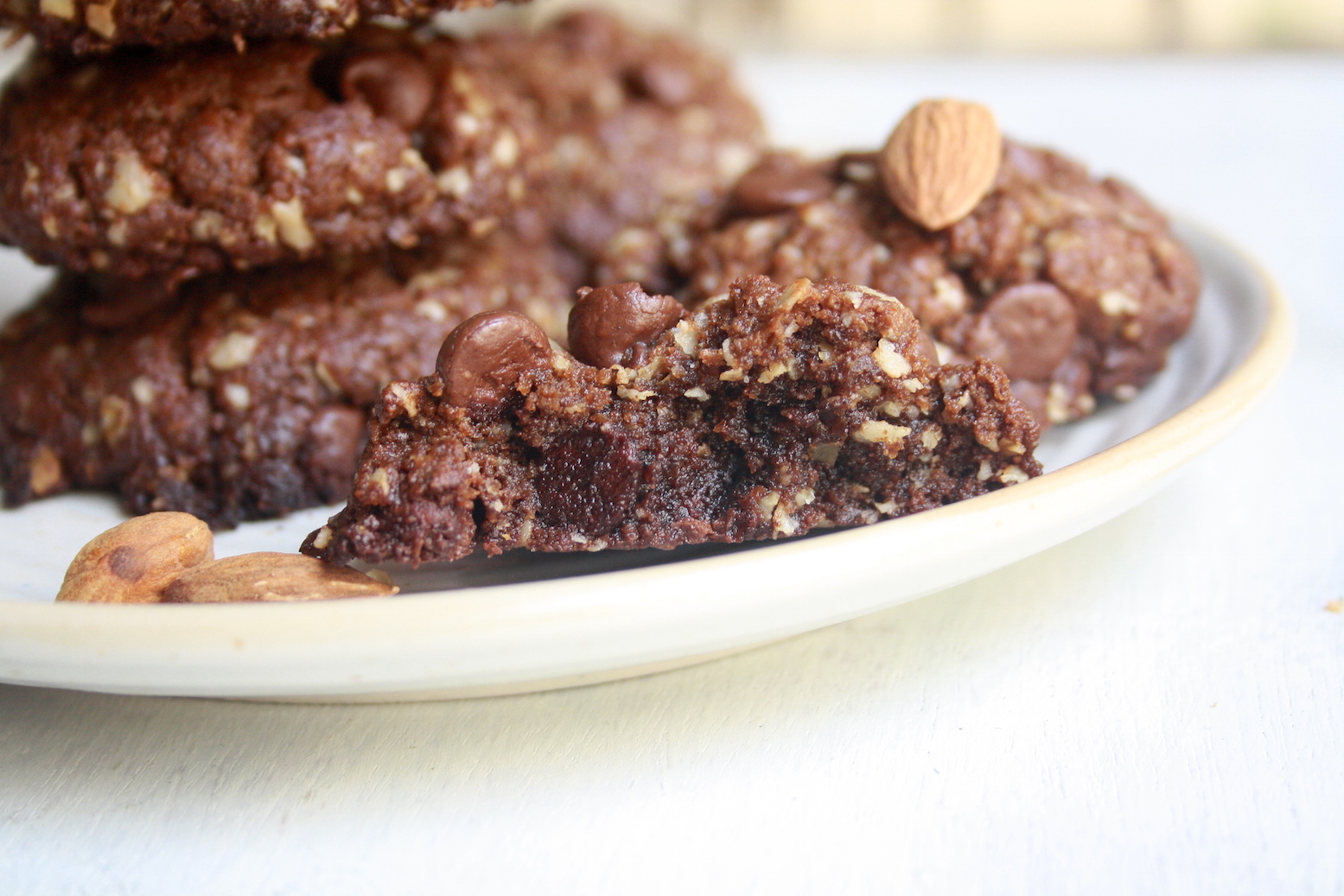 I decided the logical thing was to try almond butter cookies for the first time and I don't think I'm ever looking back. With all those melty chocolate chips and oats, you won't miss the flour and definitely not the butter. I'm sure they can be naturally sweetened with honey making you really, really virtuous and if you try it, let me know!
The recipe is a variation of these flourless peanut butter cookies which you should probably try next!
One bowl, 5 minutes, and your dough is ready. Because of the hideous temperatures right now, chilling the dough is a good idea to let the almond oils solidify just a bit, but if you don't feel the need, then you're pretty much eating cookies in about 10 minutes, which makes me jealous of you and happy for you at the same time.
To make these dairy free, simply omit the chocolate chips or use a vegan chocolate brand.

Flourless Almond Butter Chocolate Chip Cookies
Chewy, flourless almond butter cookies loaded with oats and chocolate chips. A one-bowl, 5-minute cookie dough!
Author:
The Desserted Girl
Ingredients
½ cup almond butter (150 gms)
¼ cup caster sugar
1 egg, lightly beaten
1 tsp baking soda
½ tsp vanilla essence
¼ cup instant oats
⅓ cup dark or semi-sweet chocolate chips, optional (omit for dairy-free cookies)
Instructions
In a large mixing bowl, mix the almond butter and sugar till well-blended.
Add the egg, baking soda and vanilla and mix again.
Fold in the oats and chocolate chips. Chill the dough for about 20 minutes if you're making these cookies in a hot, humid country.
When ready to bake, preheat the oven to 175 C and very lightly grease a baking tray or line it with a silicone sheet. Shape the cookie dough into roughly 1.5 inch wide dough balls, flattening the tops slightly.
Bake for 10 to 12 minutes until cookies have puffed a bit and the edges have darkened.
Allow to cool for 5 minutes and dig in!