I always thought there was a bit of a science to making truffles. They're one of those super-delicate looking things that you just don't expect to be bits of chocolate rolled between your hands.
But, that's all they are. I did look like a toddler who'd just discovered wet mud by the time I was done making these. But OHMYGOD. So worth it. So, so worth it.
And of course, I got to use the fabulously delicious Amarula again!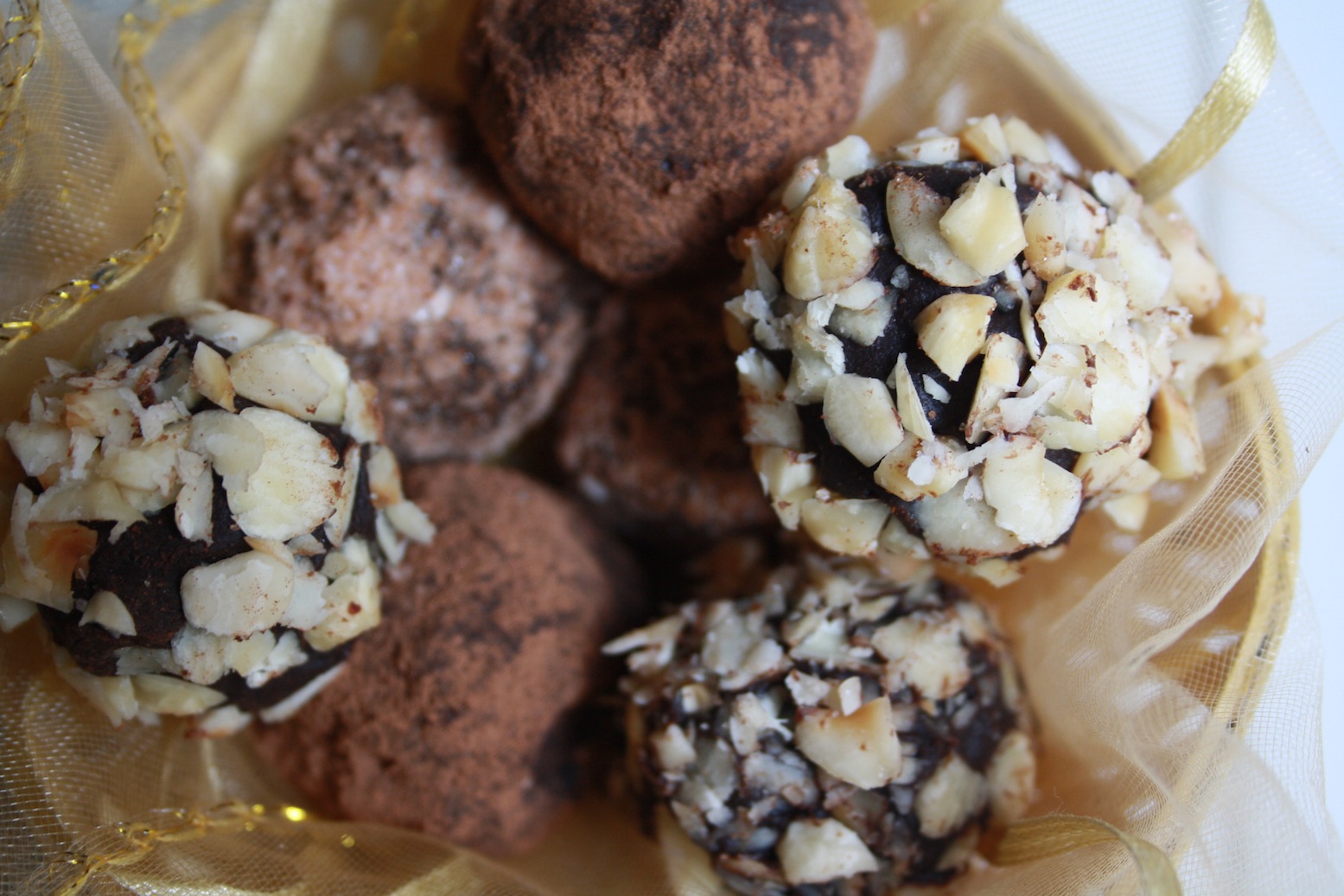 I used this Martha Stewart recipe (she really does come to my rescue very often, doesn't she?) and it was a total winner.
I didn't get too fussed about making perfectly round truffles. Honestly, once you've popped one in your mouth, it could be hexagonal, and you wouldn't care.
I had chocolate ALL OVER myself while doing this, hence the toddler reference earlier. I didn't have a melon-baller, and scooping with a teaspoon only got me so far. So I just gave up and used my hands to roll the truffles!
You do need to be a bit particular about chilling the truffles at both stages: immediately after melting the chocolate, and then again after rolling them into rounds. The second stage of chilling makes it a lot easier for you to smoothen any unwanted corners.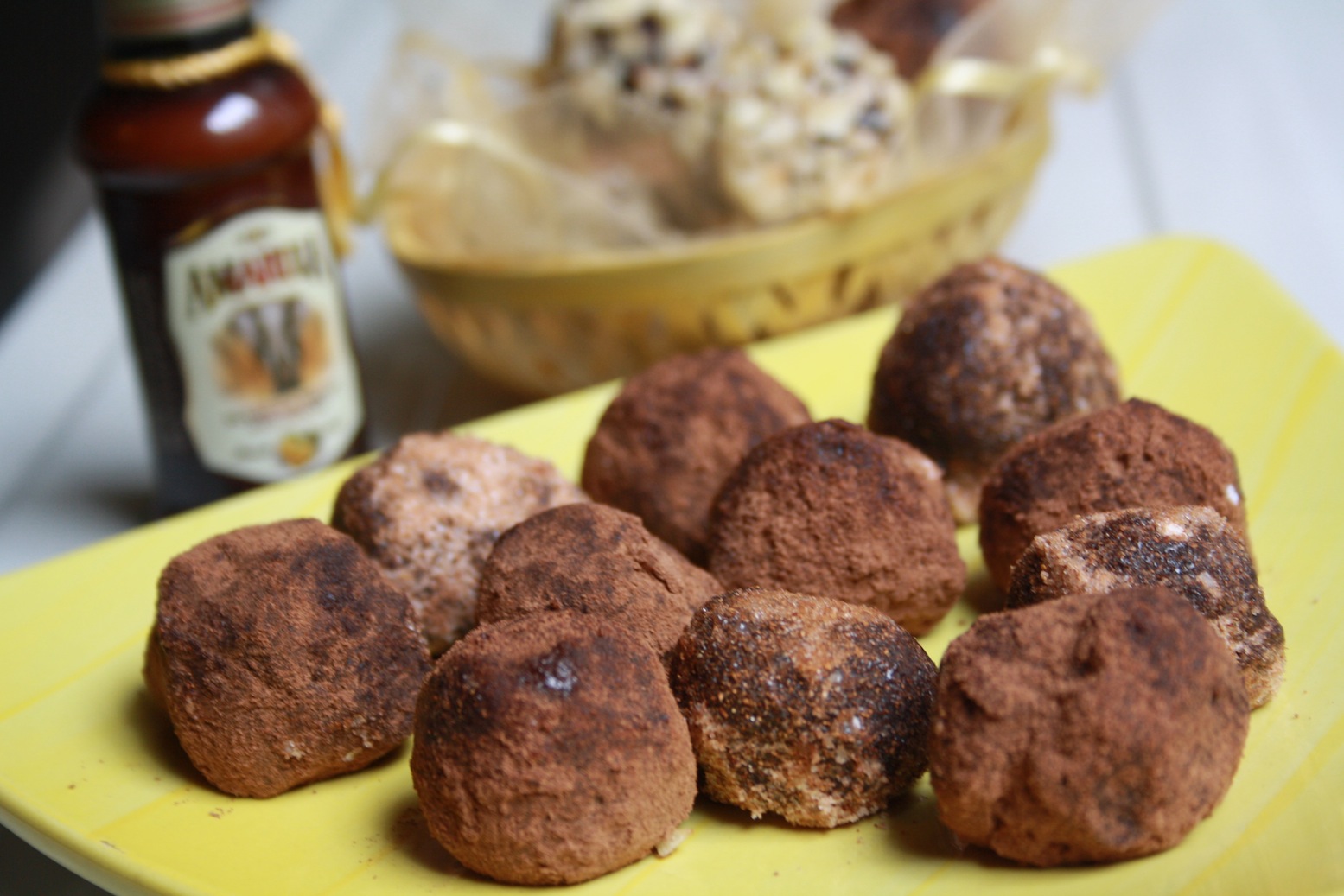 Truffles are usually rolled in unsweetened cocoa powder but I got a little excited and made three of my own versions 🙂 A few rolled in cinnamon-sugar, a few rolled in flaked hazelnuts and a few rolled in cocoa-sugar (because I can't handle plain cocoa!) I didn't use any fixed quantities for these 'rollees' so I'm going to do my best to give you the best proportions! Please adjust these according to your taste buds.
Adding a liqueur is optional, but it does give the chocolate an excellent kick, so use your favourite!
They remain soft to bite into even after overnight refrigeration and they are sooooo gooey 😀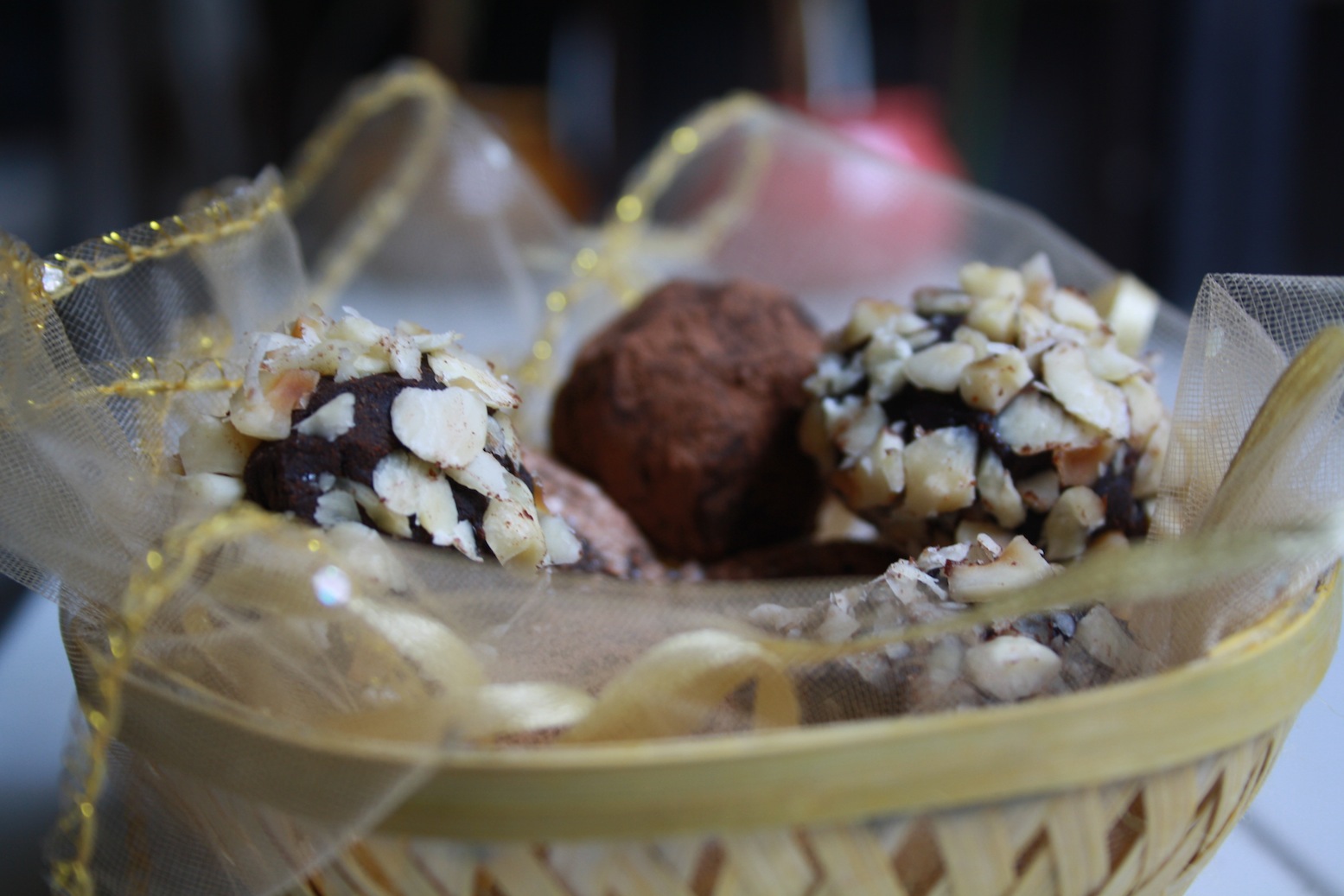 What you'll need:
225 gms dark chocolate, chopped
1/2 cup cream
1 tbsp liqueur
For the 'rollees':
3 tbsps cocoa powder + 2 tbsps powdered sugar
3 tbsps cinnamon powder + 2 tbsps powdered sugar
8 to 10 hazelnuts, flaked, not chopped (makes it easier to roll the truffles in)
*Increase or decrease these quantities according to how many truffles you want of each kind
What to do:
1. Heat the cream till just boiling and pour it over the dark chocolate in a heat-proof bowl. Stir in the Amarula/liqueur if using it.
2. If you feel the chocolate isn't melting well, place the bowl in a double boiler for about 30 seconds. I had to do this because just the hot cream wasn't enough.
3. Stir again till the mixture is smooth and set aside for about 15 mins for it to cool and thicken.
4. Pour this mixture into a shallow plate, one with a slight rim so the chocolate won't fall out, cover with Clingfilm and refrigerate for about 20 minutes.
5. Take out the plate of chocolate from the fridge. It should be set, but soft enough to scoop out the truffles from. Using a spoon, your hands, a melon-baller, whatever else you feel may work, scoop out plum-sized amounts and roll them into rough rounds. The original recipe says coat your palms in cocoa while rolling, but I didn't want the cinnamon and hazelnuts to be infused with cocoa, so I skipped this.
6. Place them on a plate/tray lined with butter paper and chill again for 10 mins. You'll find them easier to shape perfectly after this.
7. Now roll them in the cocoa, cinnamon, hazelnuts or whatever else you think will taste good.  
8. Chill again for a bit, so everything fuses together nicely but if you can't wait, take a bite!