As a kid, trifle pudding used to be something I loved. I mean, it's cake with custard and just enough fruit to justify eating a second helping. What's not to like? It's an incredibly nostalgic dessert for me because the fruity custard in particular used to be served in a watered down version during my hostel days. Not the most delicious, but definitely still packed with a lot of "oh my god I'd forgotten about this" feelings.
This is not a purist's custard, there's no eggs and no tempering and no fuss. It's custard powder swirled into hot milk. So yes, there are artificial colours and flavours but it's basically the only way to make it taste the way I remember it. If you're a 90s kid who grew up in India, I hope you know the feeling too 🙂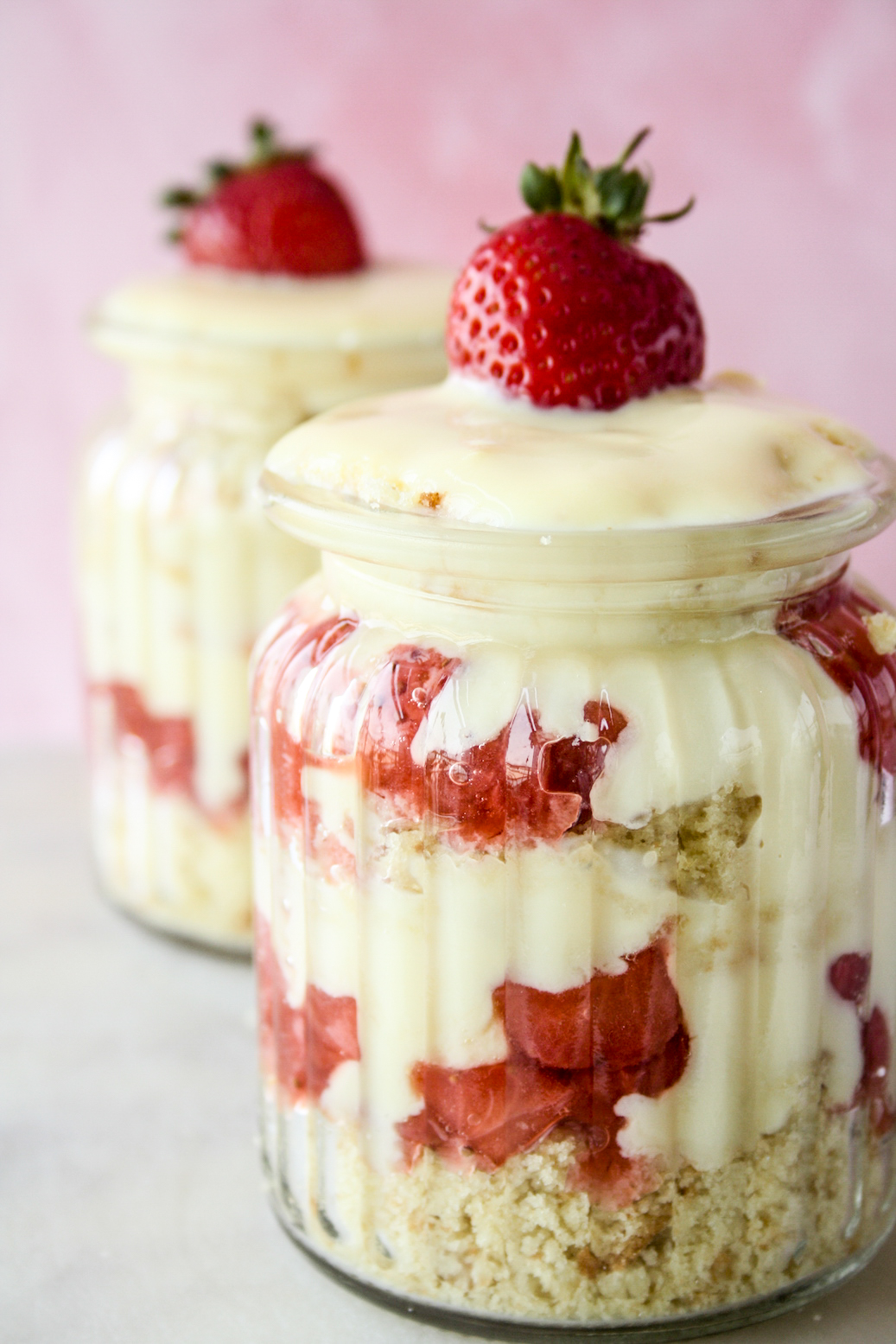 Trifle pudding is made with pound cake, syrup soaked sponge cakes, or basically, any cake you love. For this one, I had to use my favourite butter cake recipe and make a scaled down version so that I didn't have kilos of trifle pudding lying around. The recipe still makes about 3 large servings though.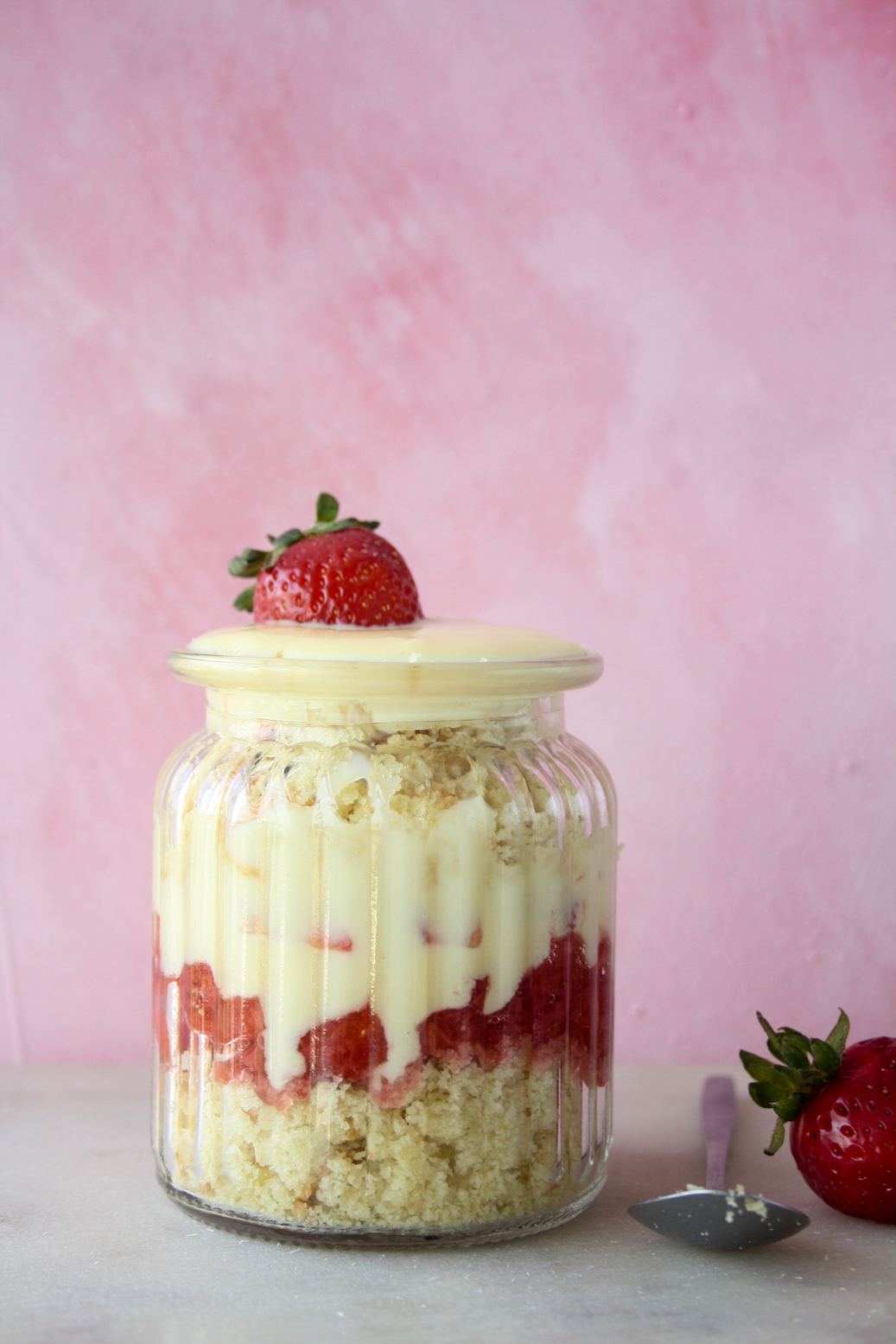 The cake is crumbled up so that it soaks in (wait for it), fresh strawberry compote. YAAAAY! So not only do you get a pretty pink layer of fruit, the juices from it make the perfect accompaniment for the buttery cake. Then you dollop over the custard and if you like, add chopped bananas or any other fruit here too. I left this particular version with just strawberries, but leftover custard is great to play with more fruitiness.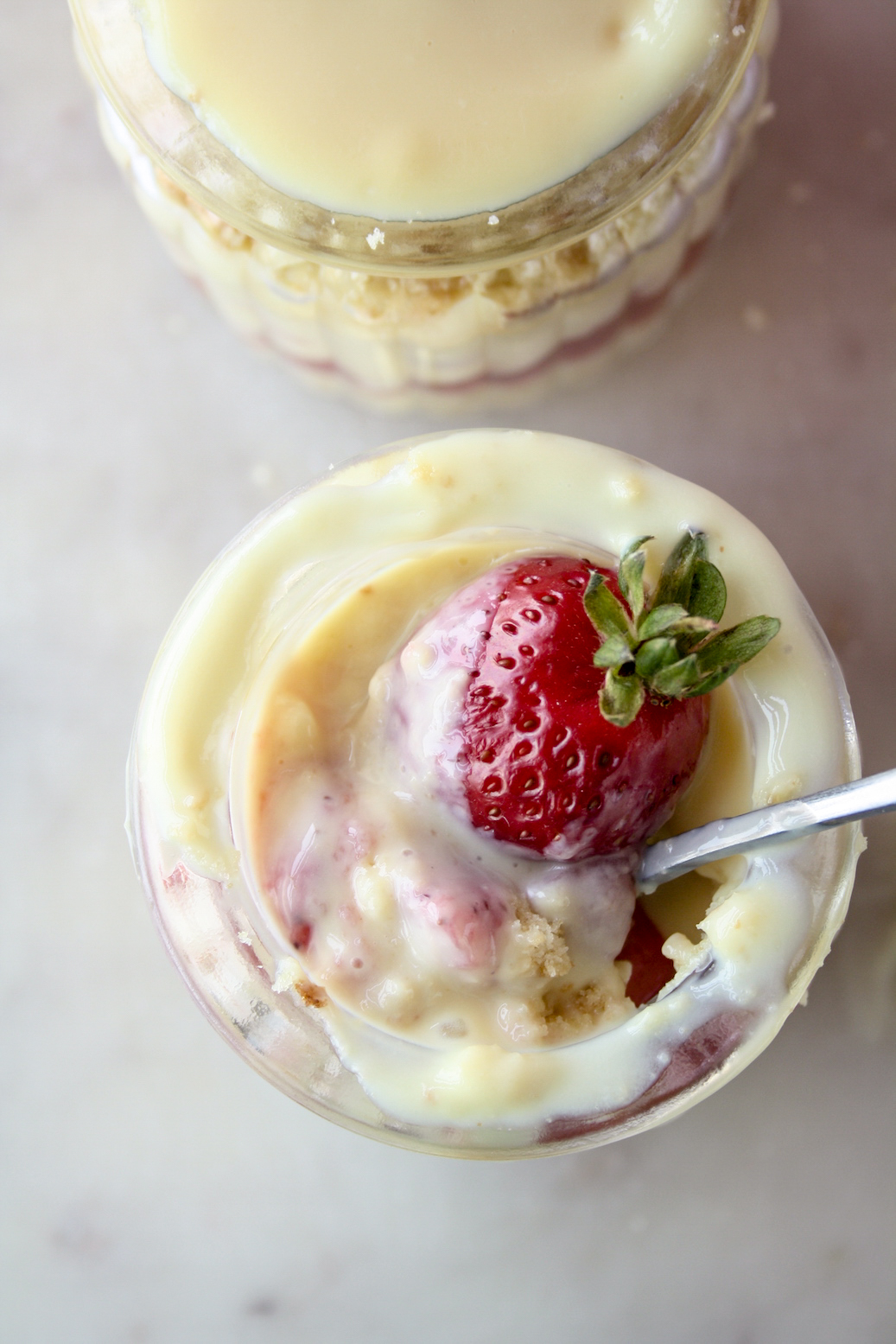 Trifle pudding is traditionally layered, so it's more fun to dive into with a spoon. Cake, strawberries, custard, repeat. I thought of adding almonds for texture, but decided to leave them off at the last minute. I didn't want to mess with something that didn't need messing. Although, feel free to do so!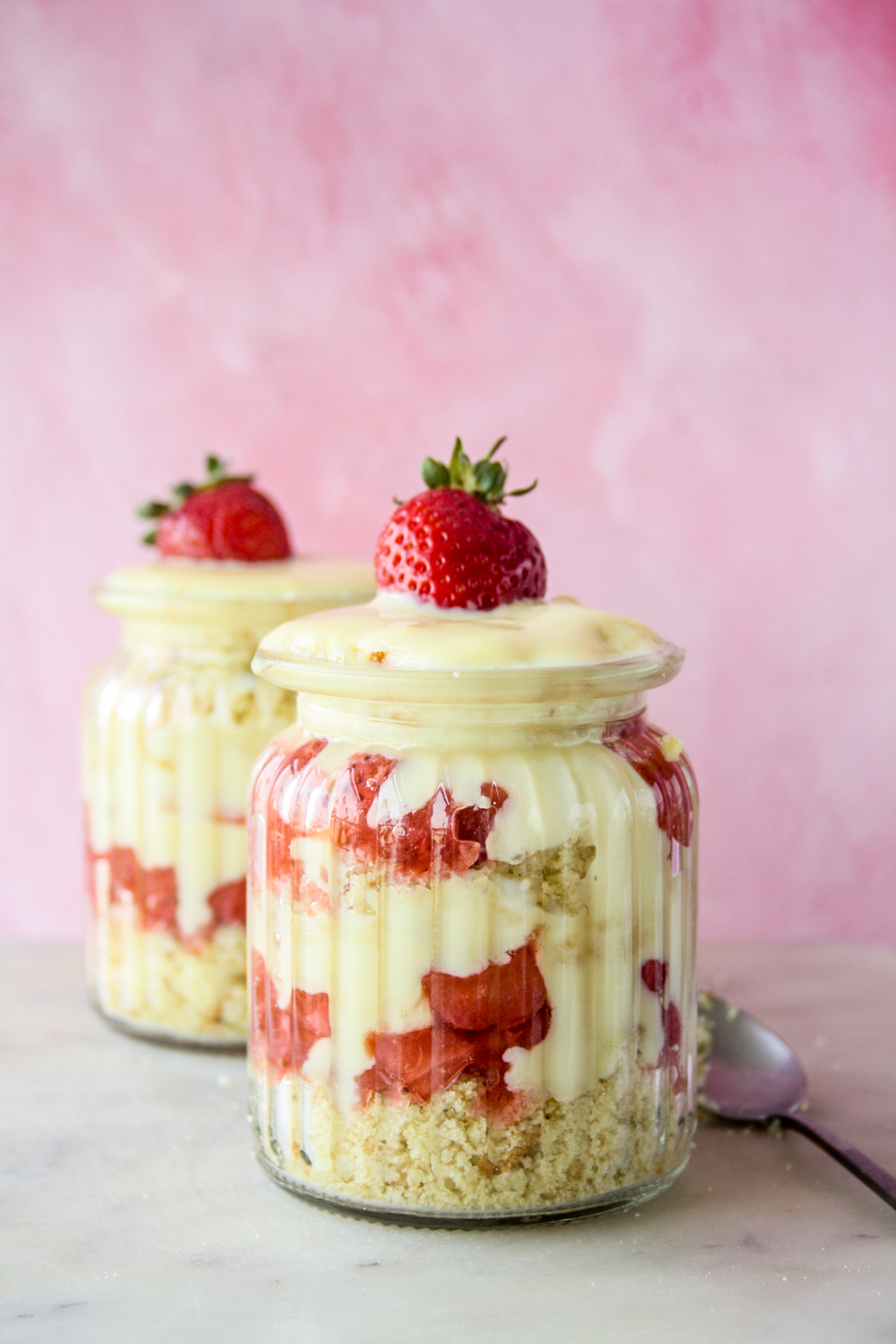 Though the recipe has a couple of different elements, they all come together quite quickly if you multi-task. You can also make the cake and custard the day before and assemble it all with the compote when ready to serve. Once assembled, it tastes best on day one, but even after that, you can store it in the fridge for a couple of days. The fruit may darken a little and the cake will soften quite a bit, but I promise it still tastes delicious!
For an eggless version of the cake, see here. Since this is a smaller amount of batter, start with a couple of tablespoons of milk, and add just enough to make a smooth, spreadable batter.

Strawberry Trifle Pudding
Easy trifle with layers of butter cake, eggless custard and strawberry compote!
Author:
The Desserted Girl
Ingredients
For the cake
½ cup all-purpose flour
½ tsp baking powder
Pinch of salt (if using unsalted butter)
¼ cup butter, at room temp (55 gms)
⅓ cup caster sugar
1 egg
½ tsp vanilla extract

For the custard
2 and ½ tbsps custard powder (I used vanilla flavoured)
3 cups whole milk
4 tbsps caster sugar

For the strawberry compote
200 gms strawberries, diced
1 tbsp caster sugar
Instructions
First, make the cake. Preheat the oven to 175 C. Grease a 6" round cake tin. A square tin is ok too as long as it's not very large because we're only making a small amount of batter.

Sift the flour, baking powder and salt together in a bowl. Set aside.

Beat the butter and sugar till pale and fluffy, using a hand mixer for best results. Add the egg and vanilla, beat to combine.

Fold in the flour mixture, stirring until just combined. Spoon the batter into the prepared tin and smooth it out. The batter is fairly thick but will spread easily.

Bake for 20 minutes, then an additional 5 to 10 minutes until a toothpick poked in the center comes out clean. Set aside to cool completely.

Next, make the custard. I followed the instructions on the back of the box itself and found it worked quite well with a few tweaks to the steps. First, dissolve the custard powder in ½ cup milk in a small bowl and set aside. Then in a saucepan, stir the sugar into the remaining 2 and ½ cups milk and bring to a simmer on low heat.

Into this, pour in the custard powder+milk mixture slowly and whisk constantly. In a few seconds the mixture will begin to thicken. Cook for about 2 minutes till it coats the back of a spoon and when you run your finger down the spoon, it should leave a trail.

Turn off the heat and let the custard cool for about 30 minutes, before transferring to the fridge till completely chilled. A skin will inevitably form on top so you can skim off the top just before serving.

Finally, make the strawberry compote. Simply combine the strawberries and sugar in a saucepan on low heat. Stir frequently until the fruit has softened but not gone completely mushy, and the juices are bubbling. Turn off the heat and let cool at room temperature for about 20 minutes, then give it a quick chill in the fridge for 15 minutes. It shouldn't be too hot when you assemble the trifle.

Now it's time to assemble! Layer the cake, compote and custard one by one, repeating to make as many layers as you like depending on how you're serving this. Either divide into individual bowls, glasses or jars, or assemble it all in one large glass dish so that you can see the pretty layers. Feel free to add more fresh strawberries, sliced bananas or any other fruit between the layers and whipped cream or chopped nuts to the top!

The trifle pudding is best eaten immediately but it will keep in the fridge for 2 to 3 days, though the cake will soften quite a bit. If you have any leftover custard, add various chopped fruit to it and store it in the fridge as well. Happy trifling!
Notes
*For the custard, you can reduce the sugar to 2 tbsps if your strawberries are quite sweet. If you feel it has a few lumps after it's cooked, run it through a sieve into a large bowl, before setting aside to cool.
Shop this recipe!
Check out a full list of my baking essentials here!
This post contains affiliate links.