I already have a favourite brownie and so many of you love it too! Why create another? Simply because, there's always room for dark(er) chocolate. A very large room, your favourite guest room, if you will. I may even give up my own room for it.
Extra dark cocoa, unsweetened chocolate and dark chocolate chips. The result is the fudgiest, richest, chewiest, most chocolatey brownie on the planet. And I don't think there's any looking back.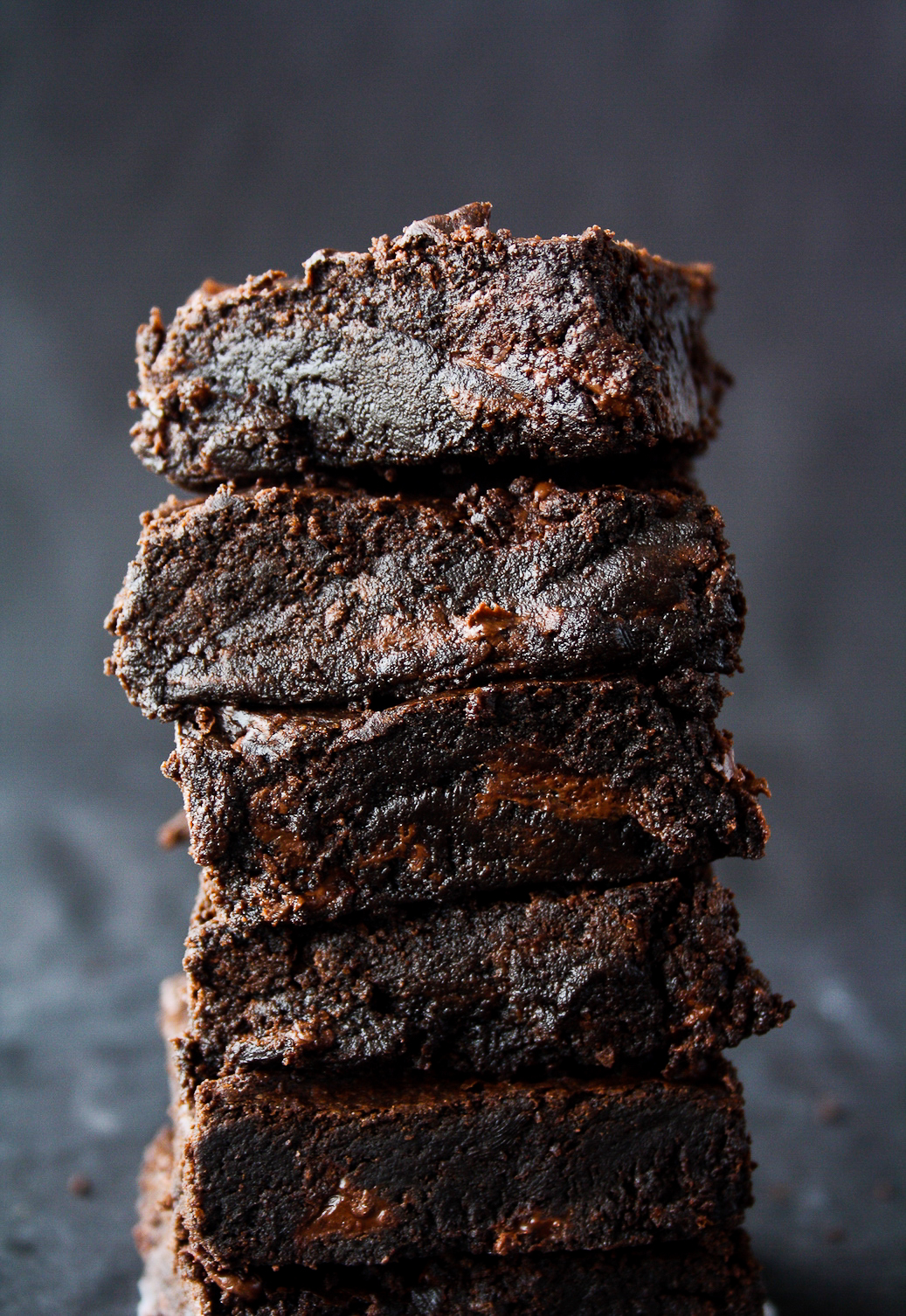 I almost didn't share this recipe here because I kept thinking the crust wasn't great, but as the brownies cooled, the crust became more apparent, the flakiness that I'd hoped for was there, and they were just so decadent, I couldn't not post them. They're much darker in colour than my regular brownies so you may not notice the crust at first when you bake them!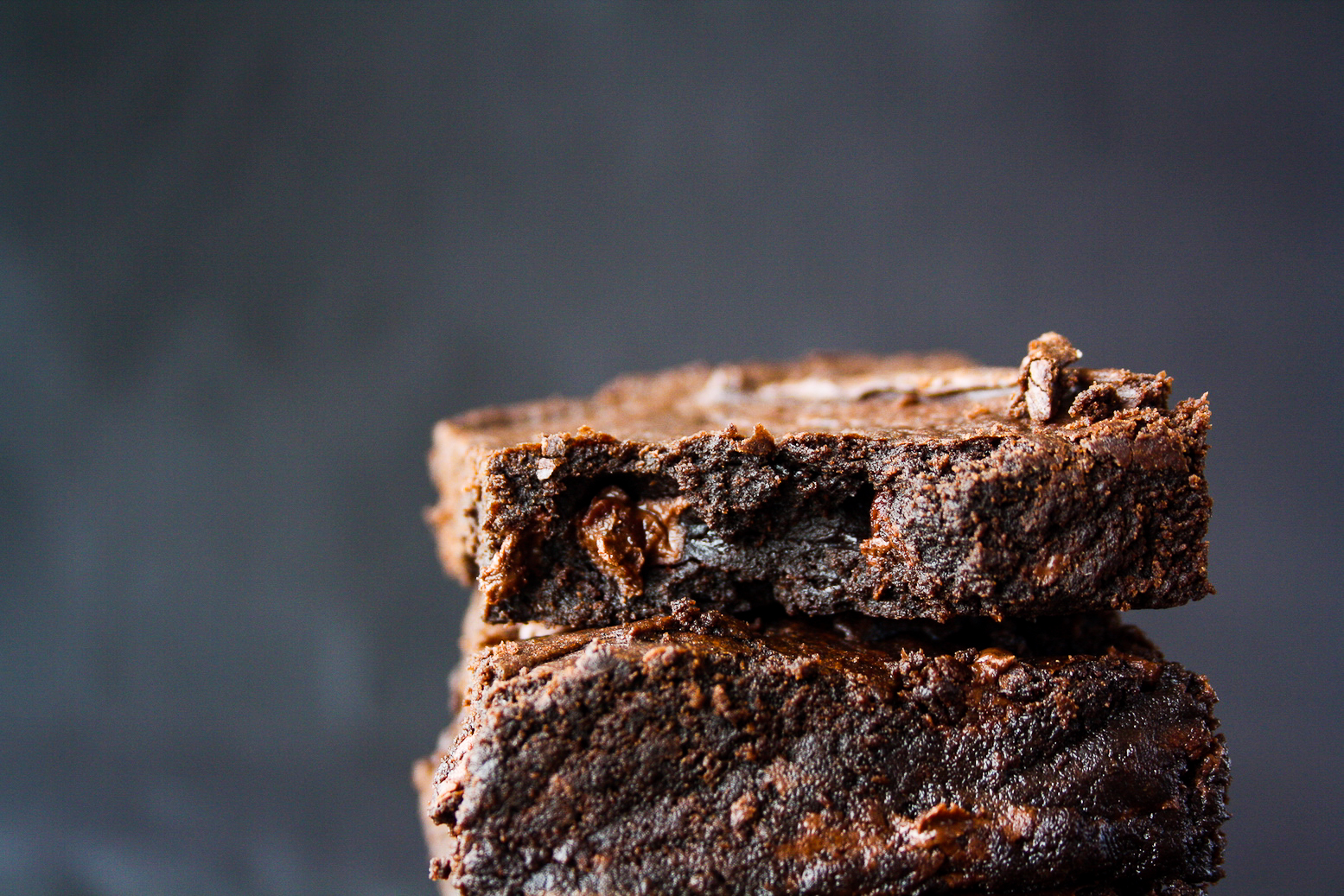 To compensate for the extra dark cocoa and chocolate, I used more sugar than I normally would. But beating sugar and eggs is what creates the crust so as far as brownies go, the more the better! The chocolate chips create gooey pockets all throughout and the whole thing really is the ultimate chocolate treat.
The batter comes together quickly once your chocolate is melted, but it is pretty thick and requires some heavy stirring. It won't really smoothen out much while baking, so make sure you even the top very well before sending it into the oven. I had some bumps on the top that I didn't pay enough attention to! But they're so perfectly moist and delicious, I'm not complaining (anymore). Make these quick!
Note: If you prefer to use regular cocoa and sweetened cooking chocolate (70% to 75 is my standard), this recipe is a winner!

Extra Dark Chocolate Chip Brownies
Rich, fudgy, dark chocolate brownies with melty chocolate chips!
Author:
The Desserted Girl
Ingredients
6 tbsps butter, cubed, at room temp (85 gms)
170 gms unsweetened cooking chocolate, chopped and at room temp
¼ cup extra dark cocoa powder
¾ cup all-purpose flour
¼ tsp salt if using unsalted butter
¾ cup caster sugar
2 eggs
1 and ½ tsps vanilla extract
½ cup dark chocolate chips
Instructions
Preheat the oven to 175 C. Grease an 8" square pan and set aside.

In a bowl placed over a pot of simmering water, melt the butter, chocolate and cocoa until you have a smooth mixture. Do not overheat the mixture. If there are still a few lumps of chocolate, take the bowl off the heat and stir to melt fully. Let this cool while you get the rest of the batter ready.

Sift the flour and salt, if using, in a bowl and set aside.

Beat the eggs, sugar and vanilla in a large bowl till pale, about 4 minutes. This is where you're ensuring a crackly crust forms, so beat away! An electric mixer will get the best results.

Add the cooled chocolate mixture to the egg mixture and beat again till combined.

Finally add the flour mixture and stir until well combined. Fold in the chocolate chips.

Pour into the prepared dish, smoothen the top (the batter doesn't spread much) and bake for 15 to 20 minutes till a toothpick poked in the center comes out with only a few moist crumbs. The top will feel a little soft, that's ok, it will firm up as the brownies cool down. Over baking will lead to dry brownies which are never fun!

Slice into squares once completely cooled. Store at room temperature in an airtight tin for 3 to 4 days, after which transfer to the fridge or freezer, especially in humid environments. Happy baking!
Notes
*If you can't find unsweetened chocolate, use one that's at least 85%.

*These are super dark brownies and they taste that way too. They are sweet enough with 1 cup of sugar, but you could add 1 and ¼ cup if you like. And if you prefer, simply go with my original, 'medium dark' brownies linked just above this recipe!
Shop this recipe!
This post contains affiliate links.