Time for more homemade crackers! They're quick, fun, crispy and super delicious. Seriously, I need to make crackers every week, I have no idea why I don't.
These are made with a mix of rye and all-purpose flour, flavoured with garlic, oregano and paprika. There's some olive oil and a bit of honey which means these are pretty much acceptable binging food.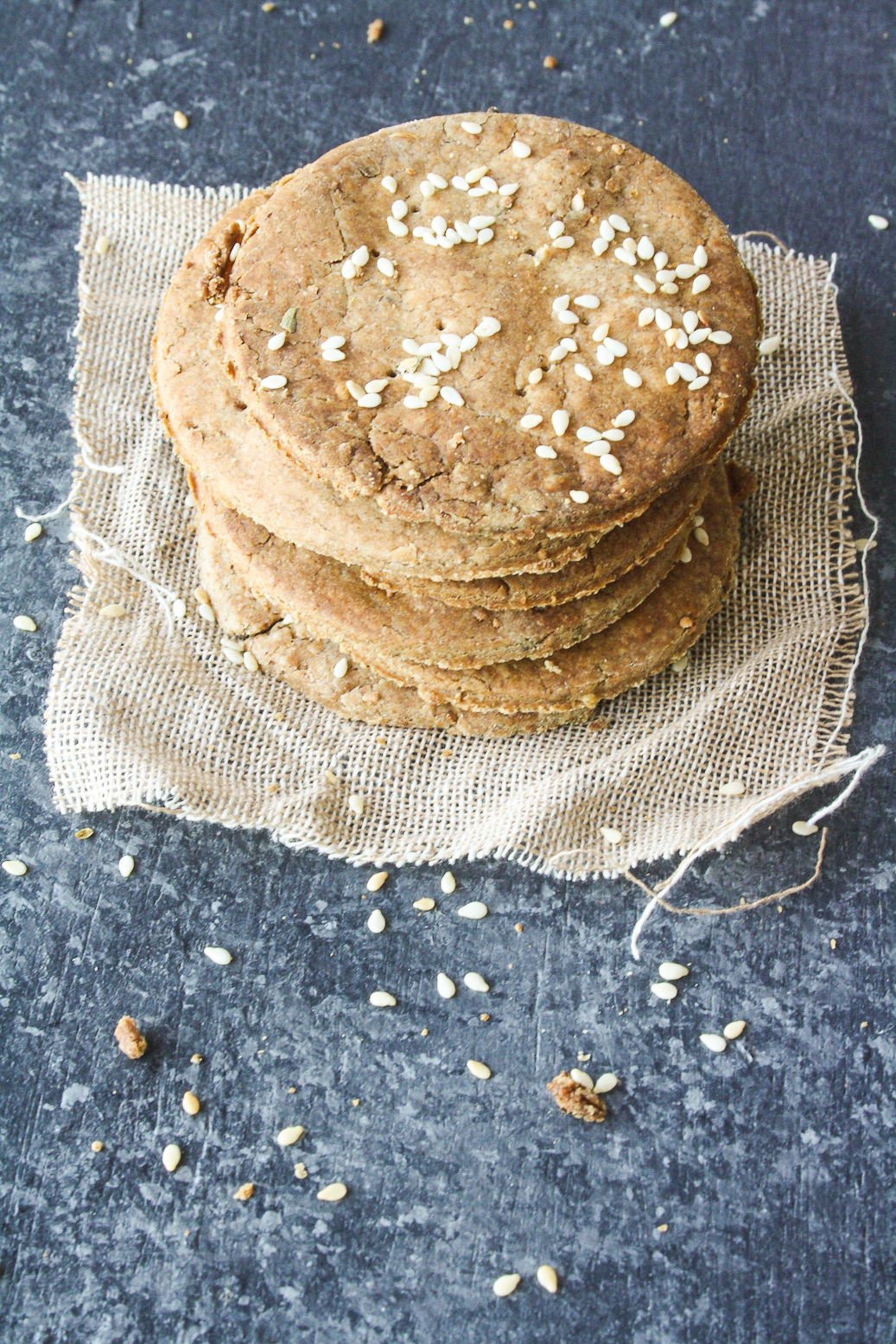 I'd bookmarked this from AllRecipes a while ago and I'm still trying to understand the way rye flour behaves. In this bread, the dough was super sticky, but for these crackers, I found the dough to be dry and firm, even with additional oil and water. It turns out that's normal, but rolling the dough out is a little time-consuming because it tends to crack. The easiest thing to do is roll it between two large pieces of baking paper, and pressing together any bits of dough that are cracking. The thinner you can roll it, the crispier your crackers will be, but I also increased baking time for additional crunch.
Topping the crackers with some sort of seeds is a good idea, for more flavour and fun. Flaxseed, sunflower seed or anything else you may want to try will work great, but I went with white sesame. The spices are prominent but not overwhelmingly so, which means you can definitely increase the quantities if you like. Also, feel free to change them up depending on what your favourite seasonings are.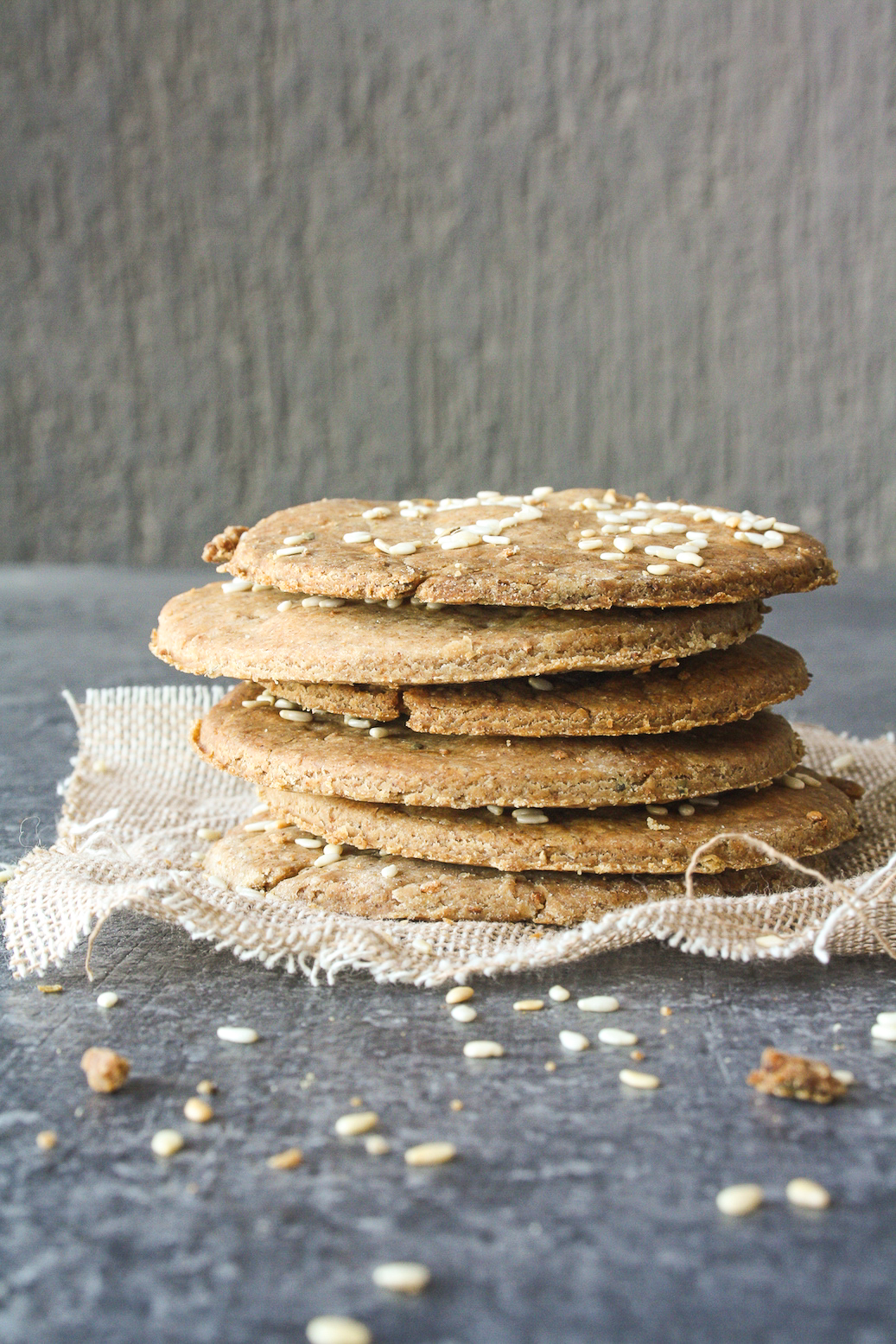 Once you've figured out rolling the dough, it's all pretty straightforward. Cut it into whatever shapes you like, keeping in mind that baking time will change accordingly. I loved these crackers as is, but they'd be great with dips! I think you should make them over the weekend 🙂

Crispy Rye Crackers
Light and crispy rye flour crackers flavoured with garlic and oregano!
Author:
The Desserted Girl
Ingredients
½ cup rye flour
½ cup all-purpose flour
1 tsp garlic powder
½ tsp smoked paprika
1 tsp dried oregano
¾ tsp salt
1 tsp honey
⅙ cup olive oil
3 to 4 tbsps water
Sesame seeds to sprinkle on top, optional
Instructions
In a mixing bowl, combine the flours and seasonings. Mix well.

Add the honey, oil and water and mix with a silicone spatula to bring the dough together, using your hands if necessary. The dough will feel a little dry and firm, but if it's too dry and crumbly, drizzle in a wee bit more water and oil. Make sure it doesn't become sticky.

Cover the bowl and let the dough rest for 10 minutes.

Preheat the oven to 190 C and line a baking tray with a silicone mat.

Place a large piece of baking paper or parchment on the kitchen counter and place the dough in the center. Pat it down into a disc, then cover with another large piece of paper.

Roll the dough out slowly, as thin as you can without tearing it. The dough may crack a little, that's ok, simply lift up the paper and press the cracks together with your fingers. Since it's a fairly stiff dough, you'll need a little longer to roll it out.

Cut out shapes as desired and place on the tray. Bake for 10 to 20 minutes, depending on the thickness and size of the crackers. Rotate the tray as well as the crackers, halfway through baking so that they brown evenly. The crackers are done when the edges are browned and the tops appear slightly puffy.

Leave to cool on a wire rack, then dig in!
Notes
*I made a small batch, feel free to double the recipe for a larger one.