There is a world where tiramisu can be made without coffee and with chocolate liqueur and ganache instead. I want to move to that world for good and I hope you will too. Purists, look away now.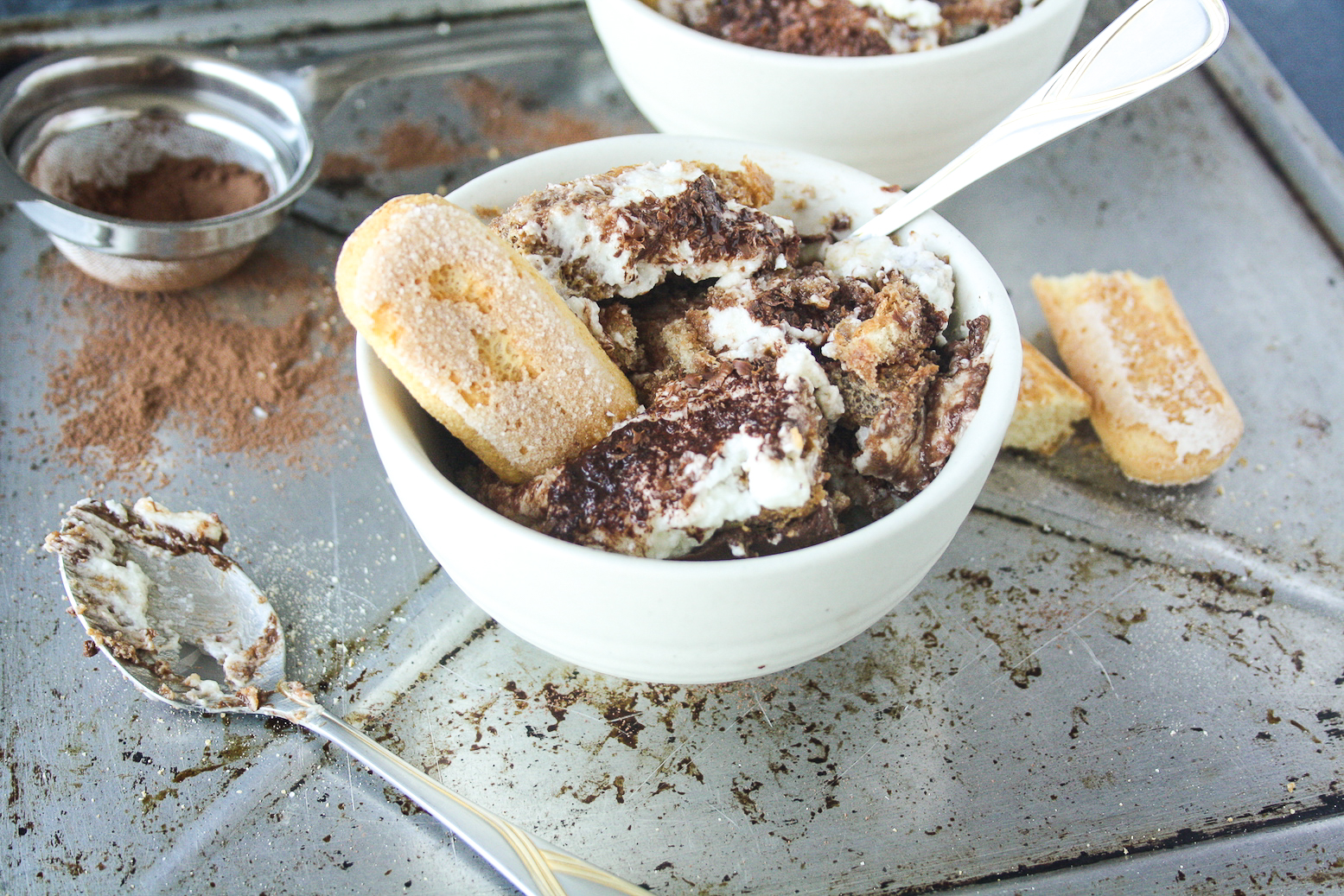 Ladyfingers soaked in hot cocoa, layered with rich chocolate ganache and the classic whipped cream + mascarpone topping. Oh and cocoa powder and grated chocolate, because why stop when the going is good. Let's do this!
The recipe comes from Pretty Simple Sweet, and it's unchanged apart from me reducing the sugar just a little and using a bitter chocolate for the ganache. The liqueur is a nice touch, use it if you have one lying around, but it's not sacrosanct. It's certainly much richer than the coffee version, so make sure you have a crowd to share it with!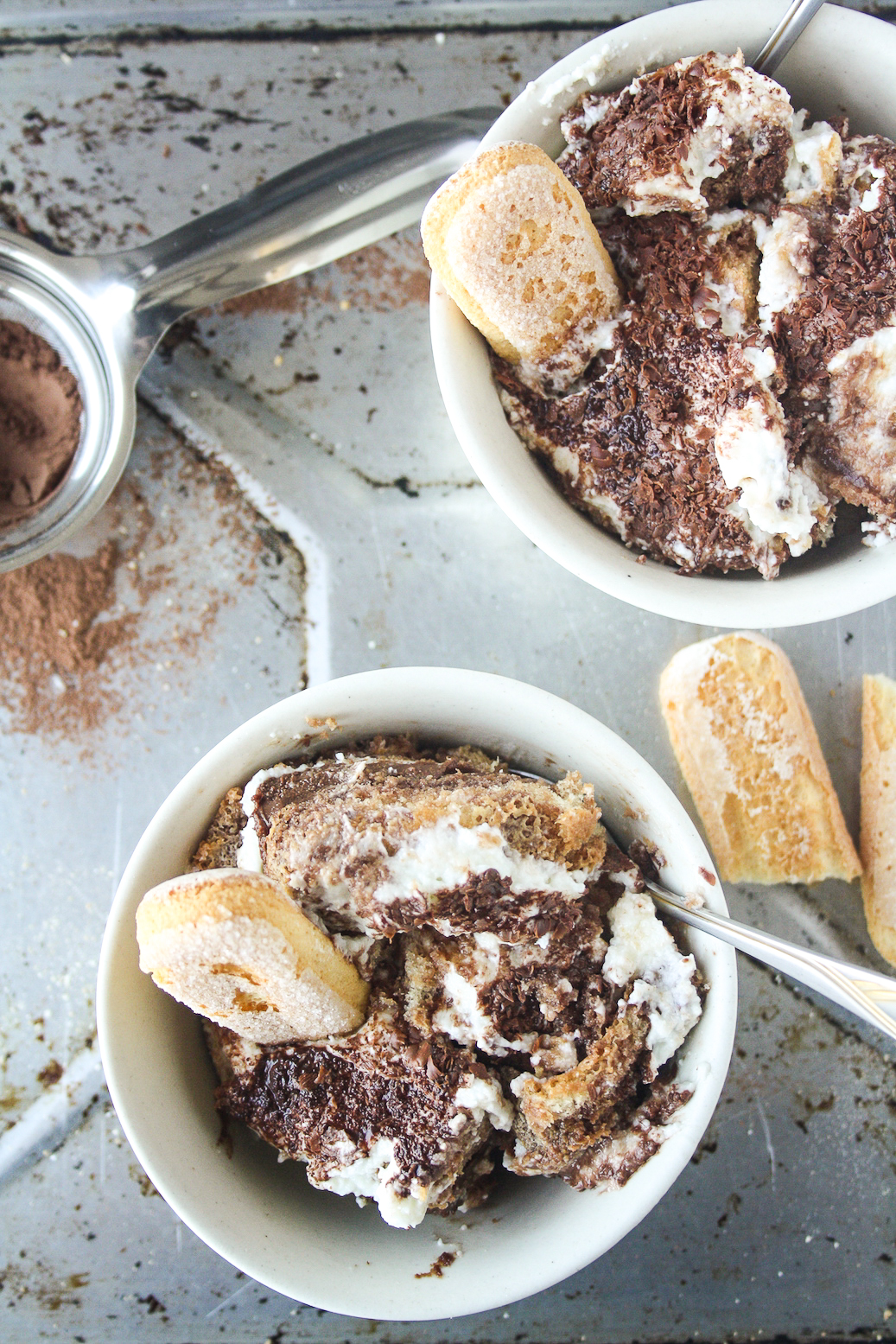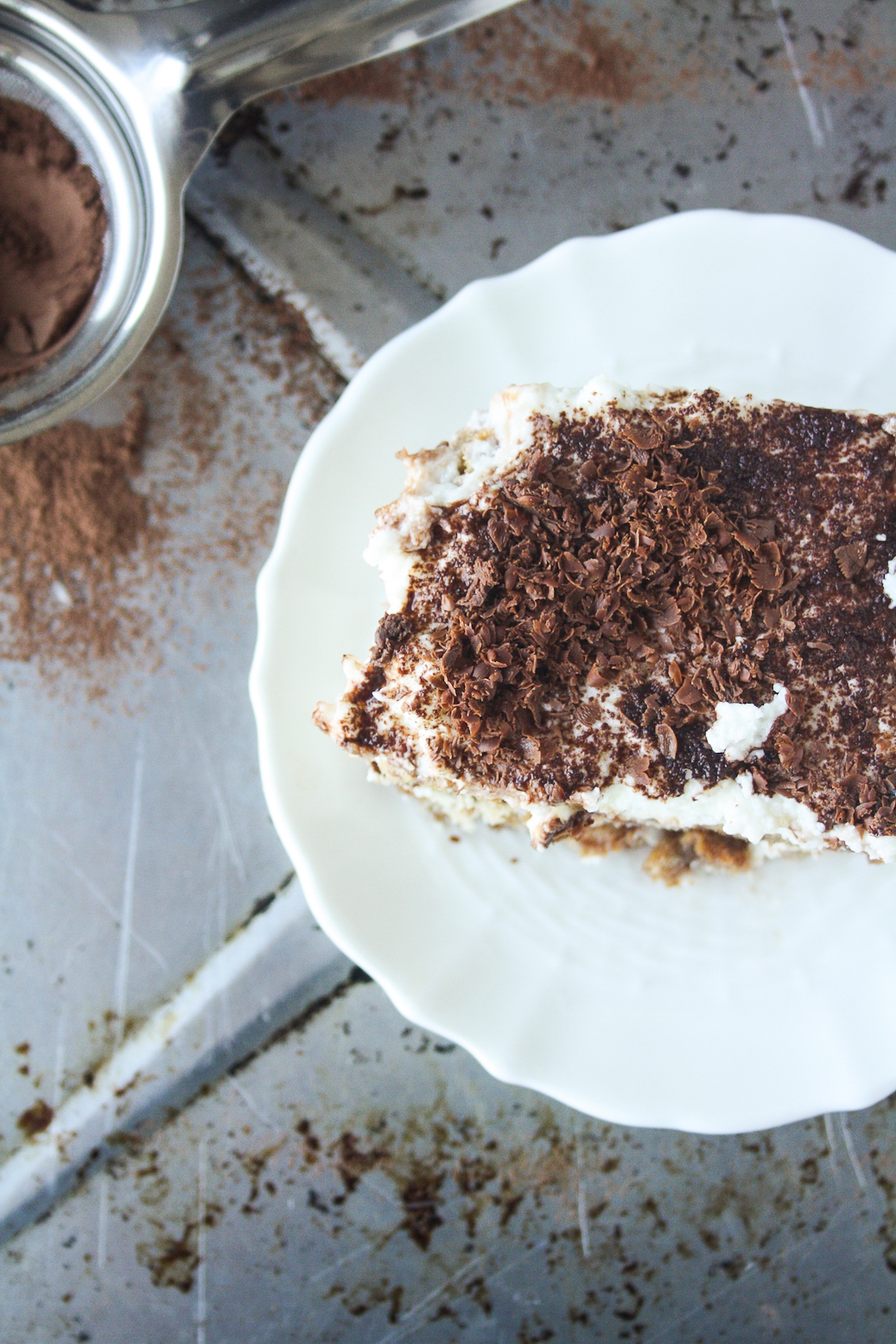 You can serve it in individually assembled glasses, or make one large tiramisu and either cut it into pieces, or simply scoop out and serve as a pudding. I did both, but I think the pudding version might have been more my kind of thing here. There's something about diving into a big mess of chocolate and cream that's sort of unparalleled.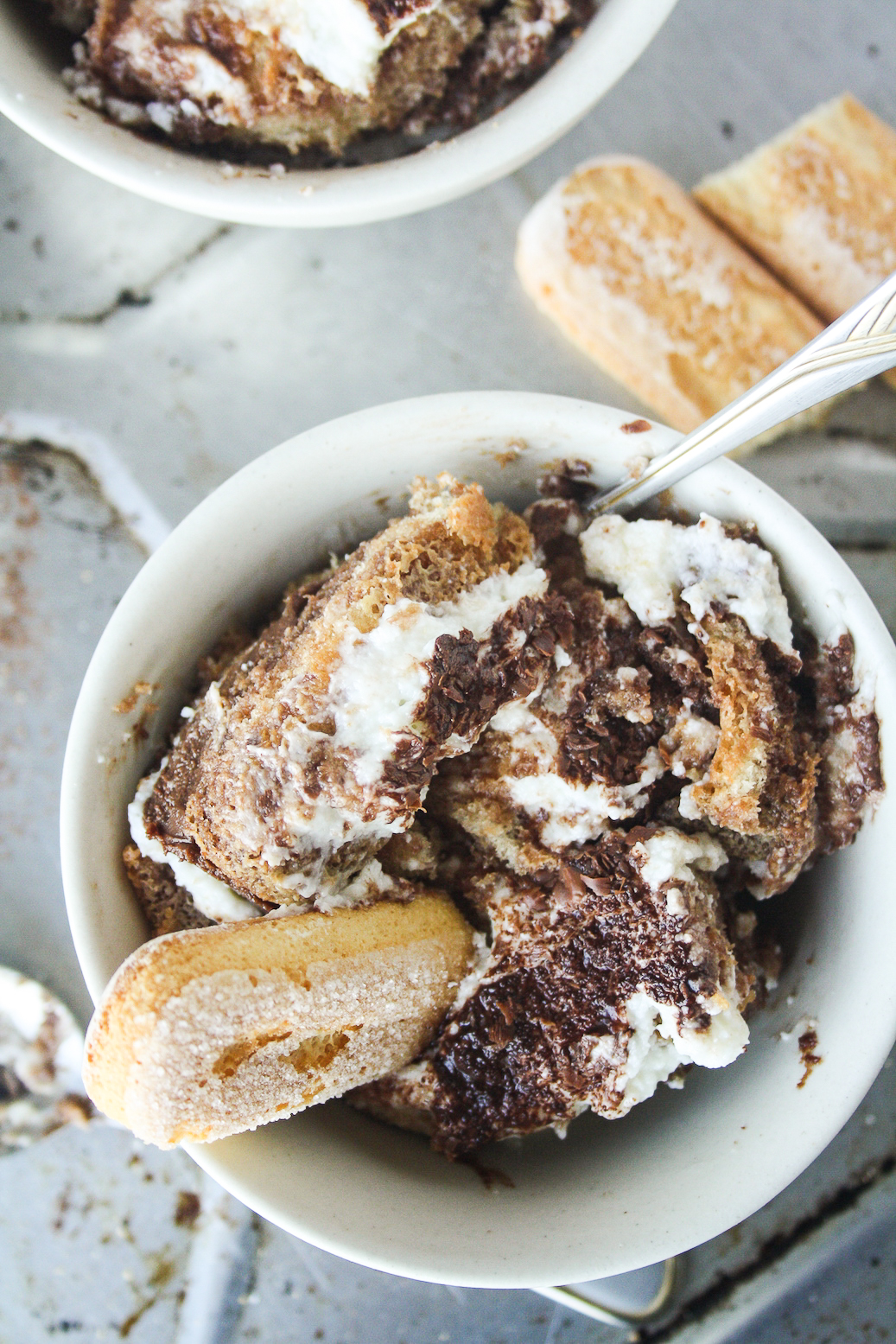 Typically, ladyfingers contain eggs. I haven't yet come across a brand that makes them eggless, but I've heard they're available. The mascarpone topping is egg-free so it's easier to make, safer to eat and still delicious! Bitter chocolate with sweet cocoa soaking syrup, topped with airy cream. OMG. Make this!

Dark Chocolate Tiramisu
A rich chocolate tiramisu layered with ganache and mascarpone!
Author:
The Desserted Girl
Recipe type:
Dessert, No-Bake
Ingredients
1 cup hot water
1 and ½ tbsps cocoa powder
2 tbsps caster sugar
2 tbsps chocolate liqueur, optional

100 gms dark cooking chocolate, chopped and at room temp
½ cup cream
200 gms mascarpone cheese, at room temp (about 1 cup)
1 cup whipping cream, chilled overnight
¼ cup caster sugar
200 gms ladyfingers*
Cocoa powder and grated chocolate, to finish
Instructions
Before beginning, place a glass mixing bowl and the beaters from your hand mixer in the fridge to chill. This is useful to easily whip the whipping cream later because the colder everything is, the quicker and better it whips up.

First make the 'syrup' to dip the ladyfingers in. Combine the hot water, cocoa, 2 tablespoons sugar and liqueur in a small bowl. Stir well till smooth. Set aside to cool.

In a bowl set over a saucepan of simmering water, combine the chocolate and cream and stir often till melted and smooth. Set aside to cool.

In a small bowl, whip the mascarpone using a spoon or hand mixer till smooth and creamy. Set aside.

Get out the chilled beaters and bowl from the fridge and pour in the cold whipping cream. Add the sugar to the cream and whip till soft peaks form. Fold this into the mascarpone in two additions, taking care to be gentle and not deflate the cream. Transfer back to the fridge while you get the rest done.

Keep a shallow rectangular pan ready (9x5 is what I used). Dip each ladyfinger in the cooled cocoa syrup, for less than a second on both sides. Place in the pan, arranging them to fit tightly in, breaking the pieces up as needed. You will make two layers, so make sure you have enough for both.

On top of the soaked ladyfingers, spoon half of the cream+mascarpone mixture, spreading it out evenly. Then spoon all of the chocolate ganache on top and spread it evenly.

Top with another layer of soaked ladyfingers, and the rest of the cream. Dust with cocoa powder and sprinkle on the grated chocolate.

Place in the fridge for 2 to 3 hours for the tiramisu to set. Slice into pieces or spoon into bowls and dig in! You can also assemble this as individual servings. Any leftover ladyfingers and toppings can be used to make a smaller tiramisu. Make sure you finish it within 3 to 4 days and that you have LOTS of people to share it with! Happy eating 🙂
Notes
*I bought the ladyfingers on Amazon (they usually contain eggs) and the whipping cream and mascarpone is also available online in various brands.

*I tried a different whipping cream this time which ended up splitting my ganache. I usually use single cream in ganache, but in case you wind up with any splitting or an oily-looking ganache, simply run a hand mixer through it and it will become smooth and cohesive.
Shop this recipe!
This post contains affiliate links.