Every time I think the chocolate chip cookie has peaked, it grabs a change of clothes and manages a makeover. This time around, it upped itself with a vanilla bean, a good dose of coffee and lots and lots of salt.
Creating what is easily the softest, chewiest, most flavourful chocolate chip cookies I've eaten yet.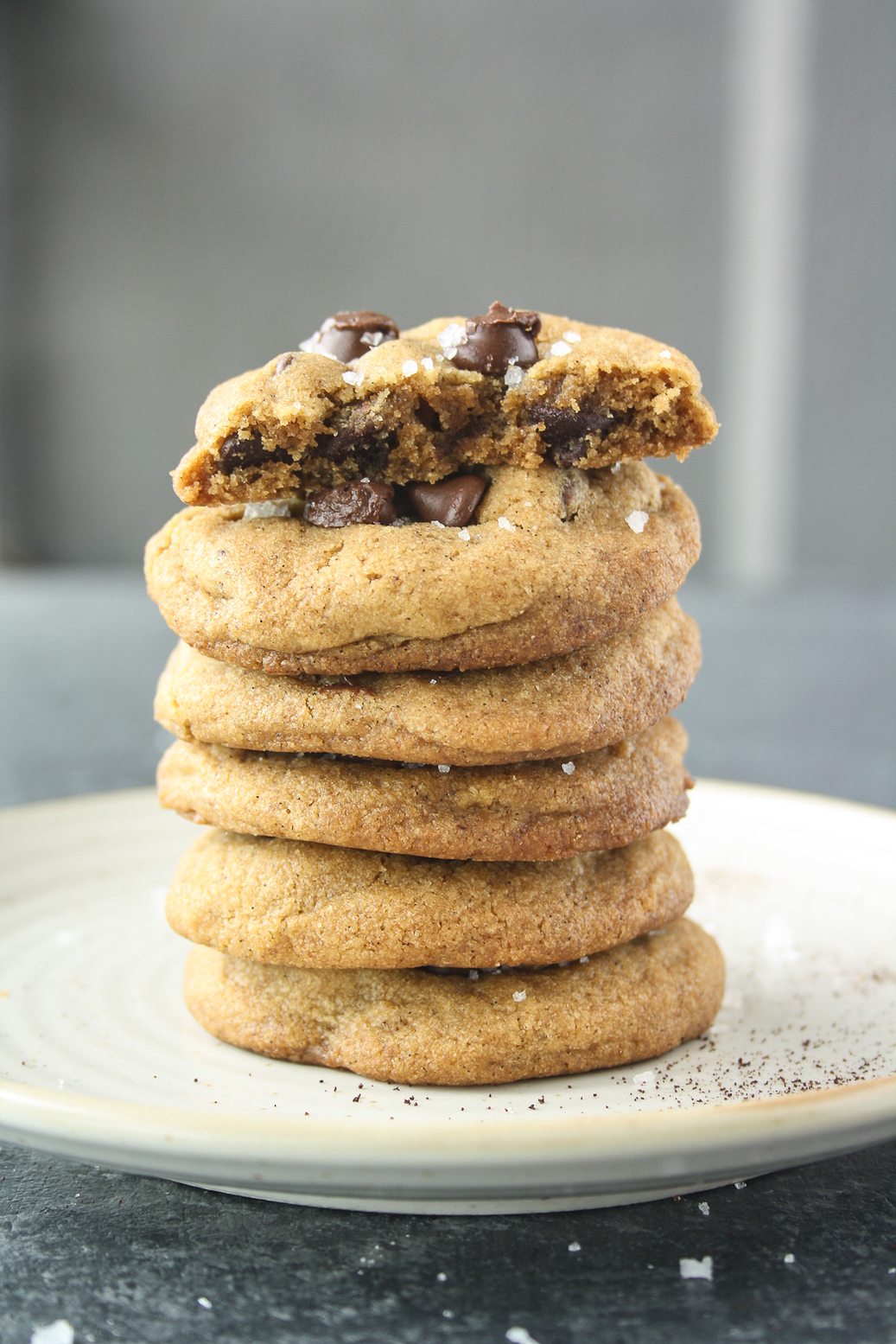 The ironic thing is, these cookies don't taste like coffee or have any overwhelming flavour from the vanilla bean. They instead seem to absorb the best of all of it, and develop a deeper, more intense flavour than ever before. The recipe comes from Dessert for Two who used the vanilla bean instead of extract, and I think it was a genius move. The dough gets speckled with little black dots, it combats any eggy flavour and let's face it, scraping out a vanilla bean is incredibly satisfying. In fact, I used the whole thing, not half as in the original recipe, and I have no regrets.
The coffee colours the dough a beautiful deep brown, brings out the chocolate chips intensely, and in general, is a really good idea! I promise the cookies do not taste like coffee, in case that's something you're worried about.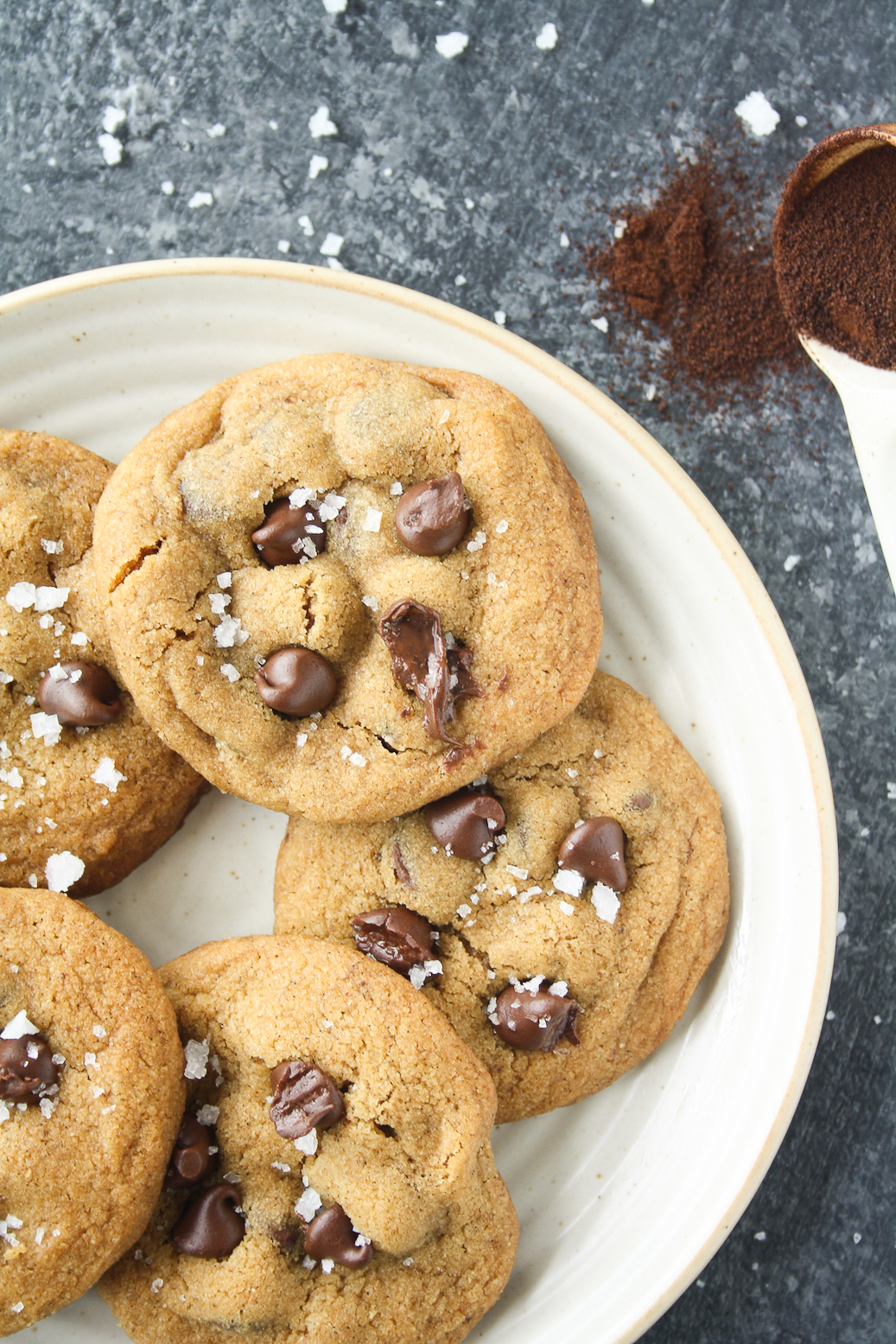 Speaking of eggs, this recipe uses only one yolk, no white. Since the white provides structure and a little lightness, and the yolk usually gives moisture and chewiness, guess what the texture of these cookies is! They're definitely softer more gooey than a regular kind, but in the best possible way. Ridiculously addictive.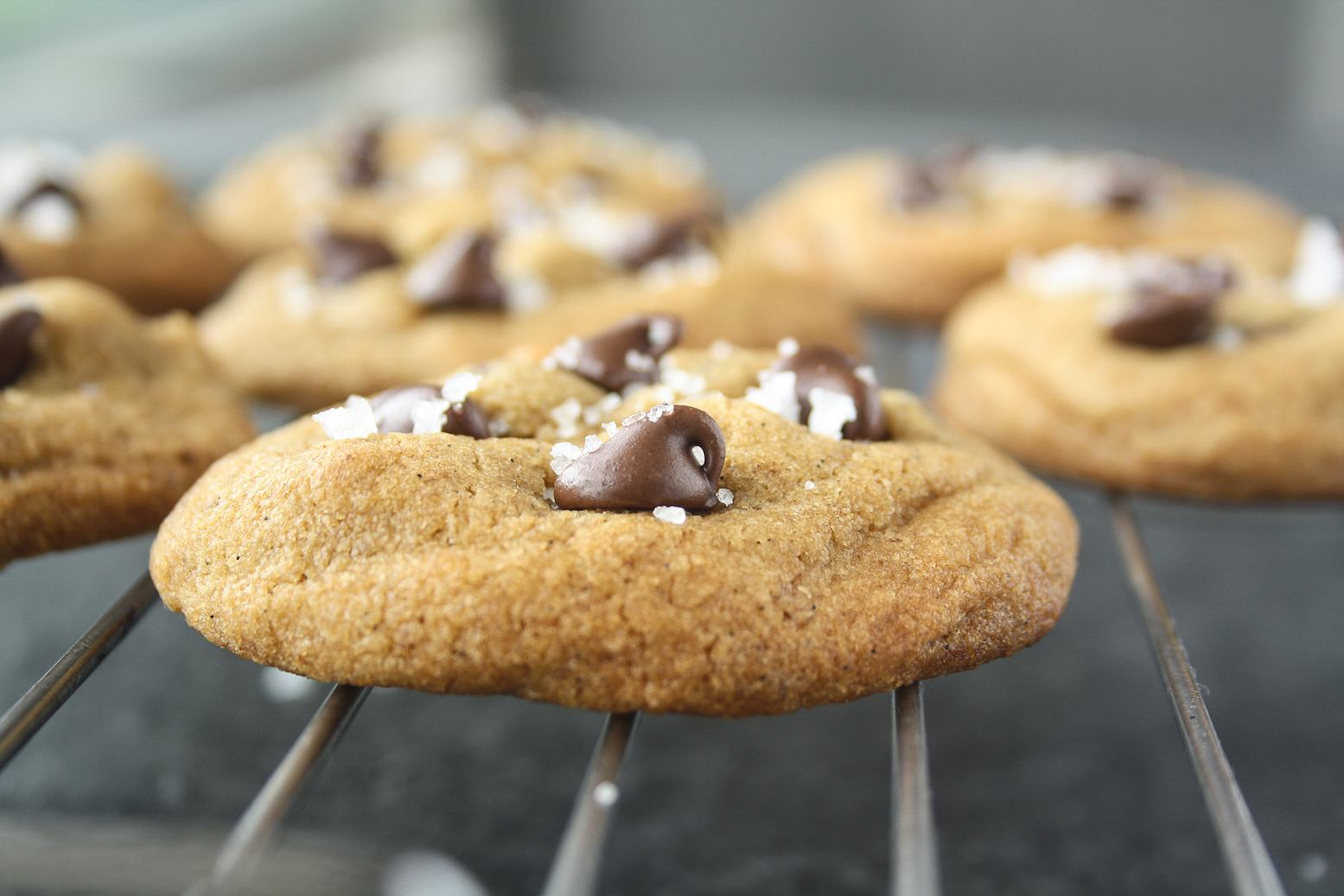 And the salt. I really thought using salted butter, plus adding salt to the dough, plus topping the cookies off with sea salt would be a bit much, but no no no. There's a significant amount of chocolate chips in a small amount of dough, plus plenty of sugar to keep the moisture going. All of that salt therefore is needed to keep the sweetness down, and make the best pairing with chocolate chips. Yum.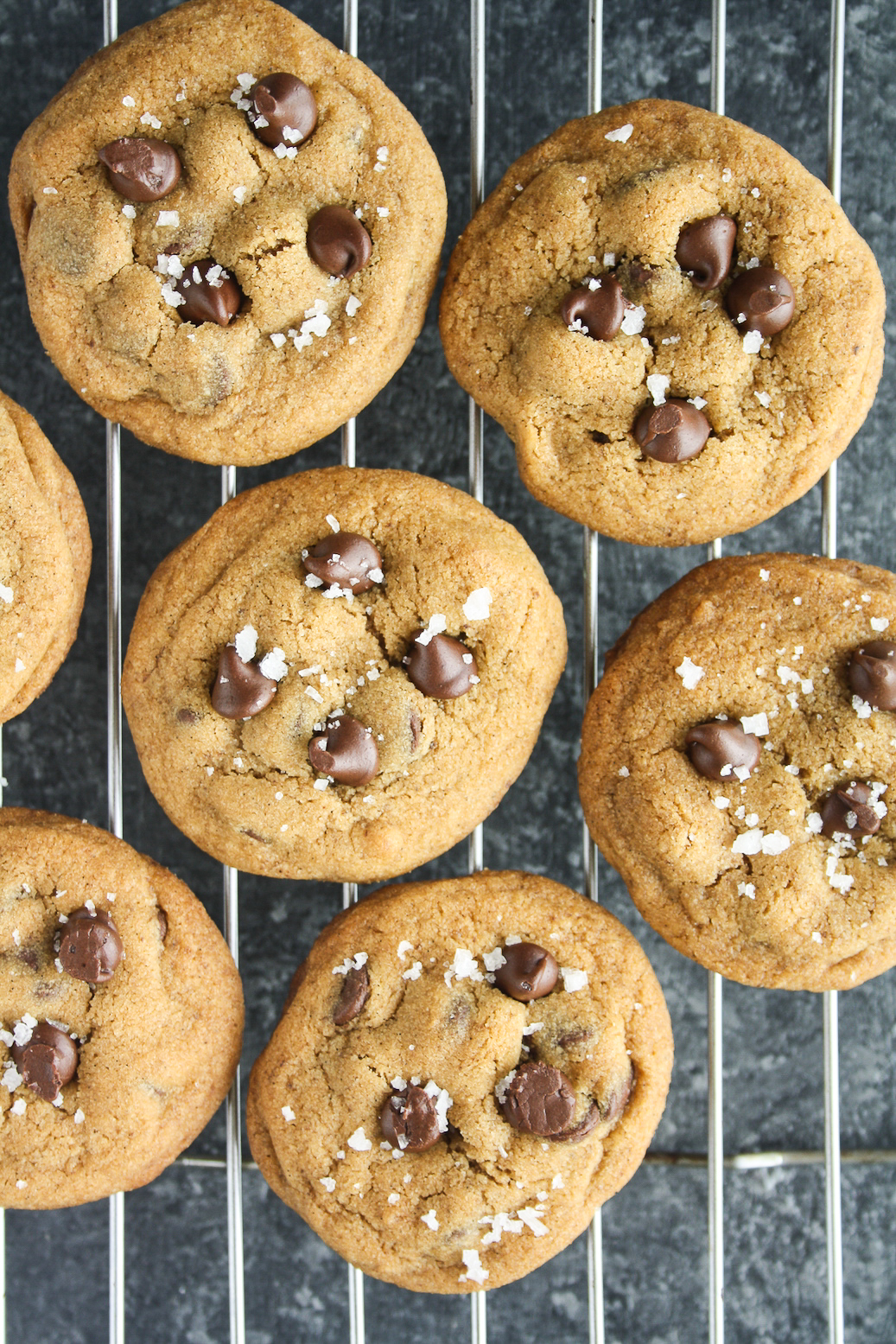 This makes a small batch of cookies, keep that in mind if you're making it for a crowd. I got 8 medium-sized cookies, but the recipe can easily be doubled if you like. And I'd recommend it! They are very soft and fragile at room temperature, but they're so intensely buttery and gooey, I really wouldn't have it any other way. Let's make some cookies!

Chocolate Chip Vanilla Bean Cookies with Sea Salt
Chewy buttery chocolate chip cookies with vanilla bean, coffee and lots of sea salt!
Author:
The Desserted Girl
Ingredients
½ cup + 2 tbsps all-purpose flour
¼ tsp baking soda
¼ tsp baking powder
1 tsp instant coffee powder*
¼ tsp salt
85 gms salted butter (6 tbsps)
¼ cup brown sugar
3 tbsps caster sugar
1 egg yolk
1 vanilla bean
⅓ cup chocolate chips, plus more for the tops
Sea salt for sprinkling on the tops
Instructions
In a large bowl, sift the flour, baking soda, baking powder, coffee and salt. Set aside.

In a mixing bowl, beat the butter and sugars till light and fluffy, about 30 seconds.

Add the egg yolk. Slice the vanilla bean down the middle vertically, then use a sharp knife to scrape it out, and add to the mixing bowl. Beat well.

Fold in the flour mixture. The dough will be thick but sticky. Fold in the chocolate chips.

If you're working in a warm kitchen, chill the dough for 10 minutes.

Preheat the oven to 180 C and roll the dough into 8 equal rounds. Place at least an inch apart on a baking tray.

Bake for 8 to 10 minutes, rotating the tray halfway, until the cookies are lightly browned on the edges. They will look soft and puffy, but don't over-bake.

Press a few chocolate chips on top of the hot cookies and sprinkle on the sea salt. Let cool for 10 minutes on a wire rack so that they firm up and darken. Dig in!
Notes
*I used instant coffee powder, but if you have instant espresso powder, go for it! If using a coffee that you'd normally brew, make sure it's very finely ground.

*If you don't have a vanilla bean, ½ tsp vanilla extract or vanilla powder will be great too.

*The sugar adds moisture to the dough, and prevents the cookies from becoming cake-like. I wouldn't suggest reducing it, they are not overwhelmingly sweet after all of that salt has gone in 🙂

*If you find the cookies are very soft on the inside even after 10 minutes, leave them in the warm (but turned off) oven for a couple more minutes.
Shop this recipe!
This post contains affiliate links.