I'm always up for fries. Always always. Baked, fried, wedges, skinny, browned, burnt, whatever. I'll take them. The only thing they need to be is crispy. That one's a deal-breaker. And because a pot full of hot oil makes me nervous, I've been wanting to perfect baked fries for a while.
Except they just never crisped up enough. I'm embarrassed to admit why, because it's quite a ridiculous reason. But I do a lot of ridiculous things here, so I'll just come out and say it.
(I never baked them long enough).
What this means is, the minute they were soft and cooked through, I'd whip them out of the oven, complain about how they weren't crispy but eat them anyway because wastage is bad.
But now, finally, here they are. Crispy, salty, garlicky fries, bursting with flavour, crunchy on the outside, tender on the inside. There's no rocket science to it, just a couple of things to keep in mind and I promise you'll never look at a drive-through the same way again.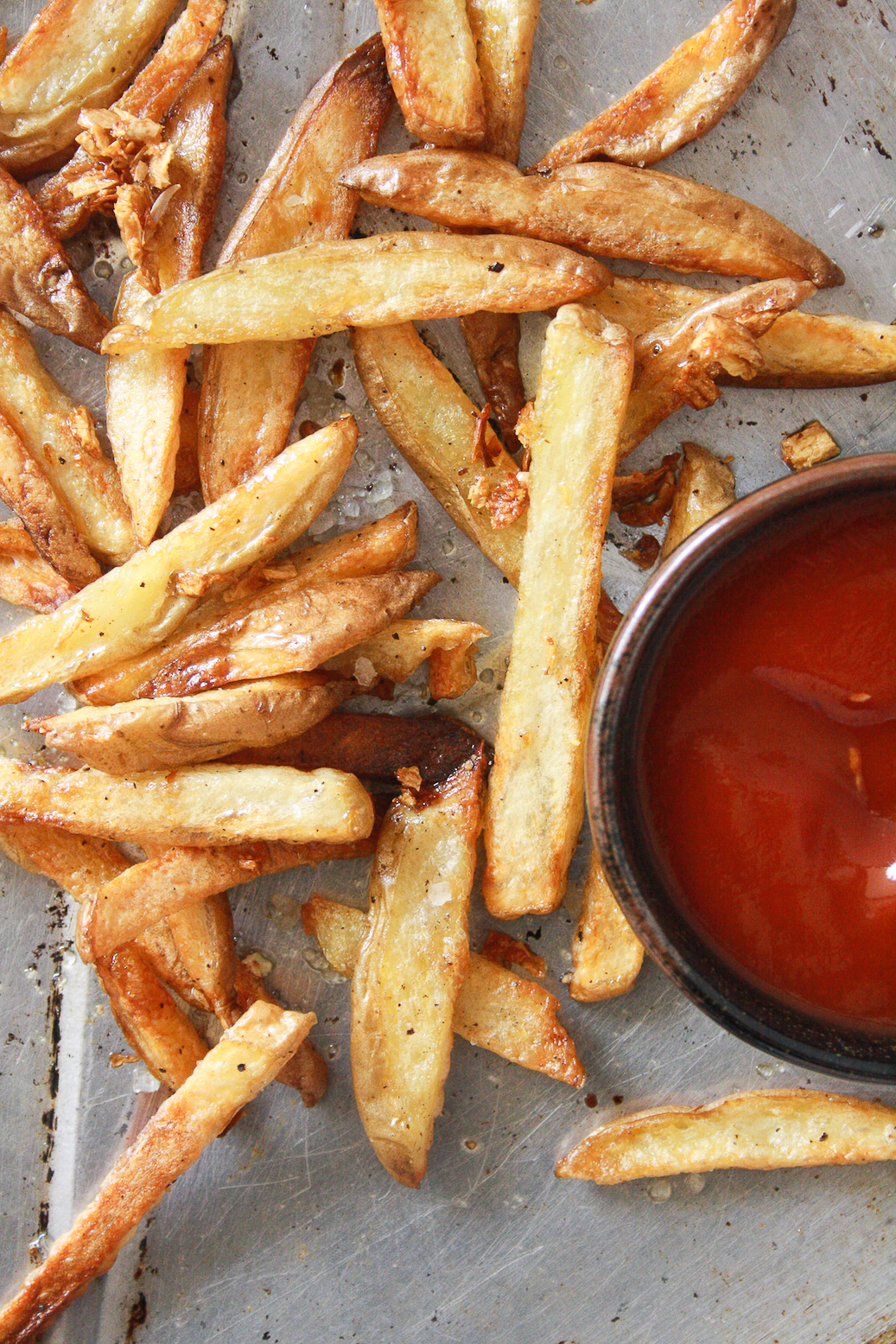 What turned the boat around was a Minimalist Baker recipe. It's super simple. Slice your potatoes skinny, bake them at a high temperature. But what I really loved was tossing them in fried garlic just before diving in. Yummmmm.
In my oven though, baking them for 25 minutes or so did the job of cooking the potatoes, but not crisping them up or giving them any colour. When I tried switching to the broil setting for another 20 minutes or so, it did the trick. Broiling turns the outside golden-brown, makes it super crispy and you're going to want to finish the whole pan off in one sitting and that's exactly what you should do. Bake + Broil. Who would've guessed!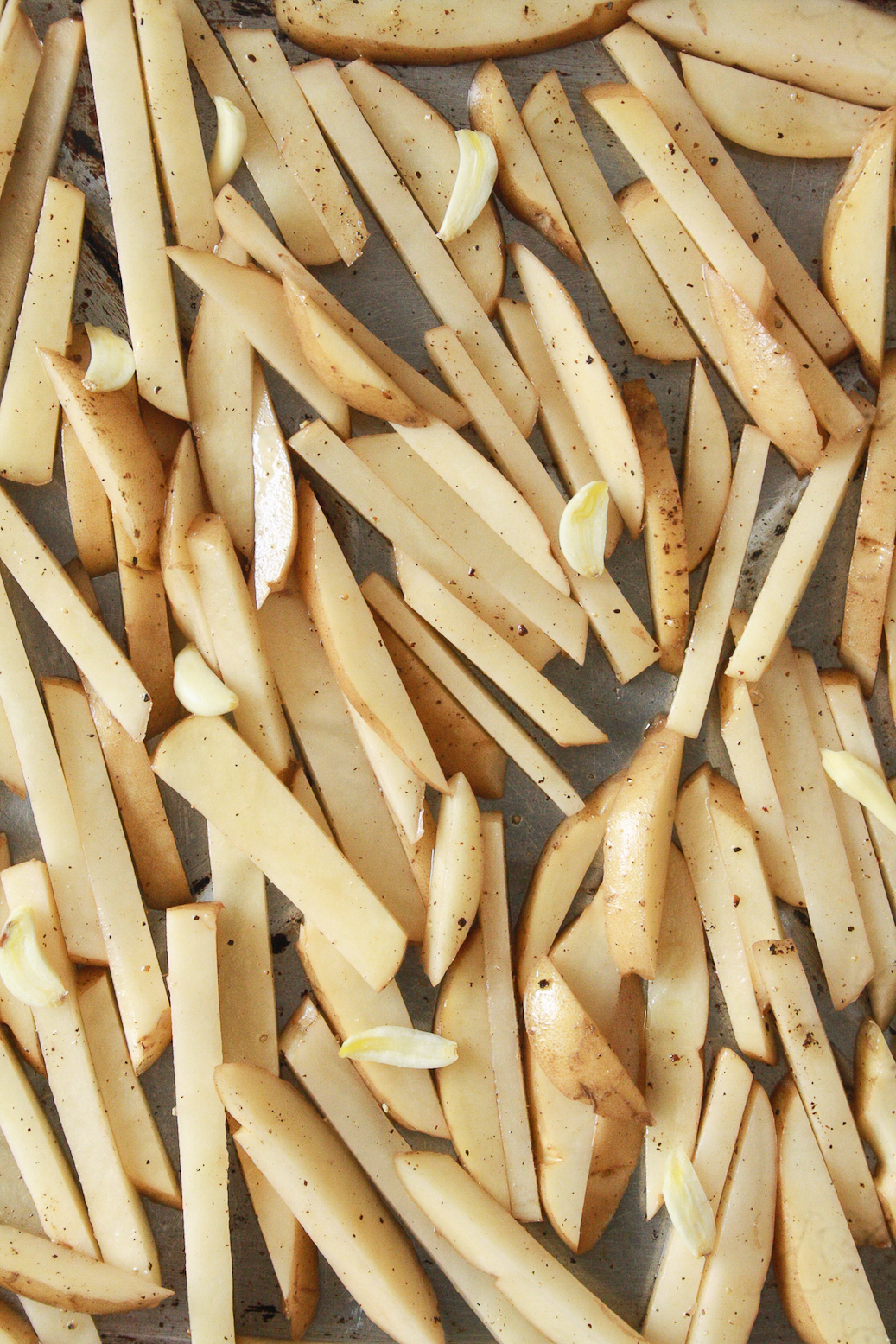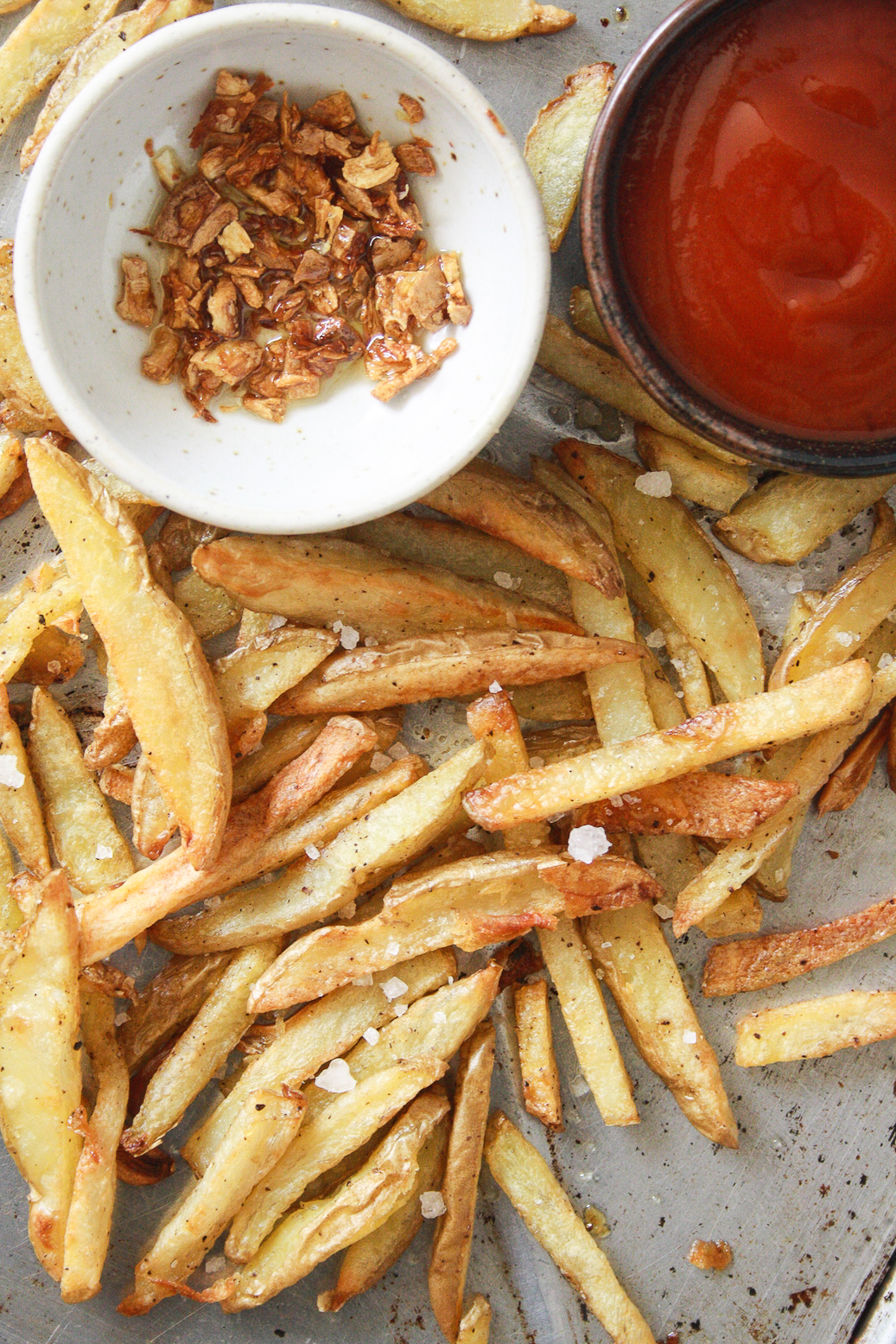 I added a few garlic cloves right on top of the raw potatoes just before baking, and decided not to salt them because in my experience, that causes far too much moisture to be released. Do Indian potatoes have a higher water content, anyone aware?
The longer you broil them, the crispier they are. And it's best to bake these in two batches if you don't work with a very big oven. It is crucial to lay the fries out in one layer, and make sure there's space between each for them to move around. Also, leaving the peel on adds more flavour and crispiness 🙂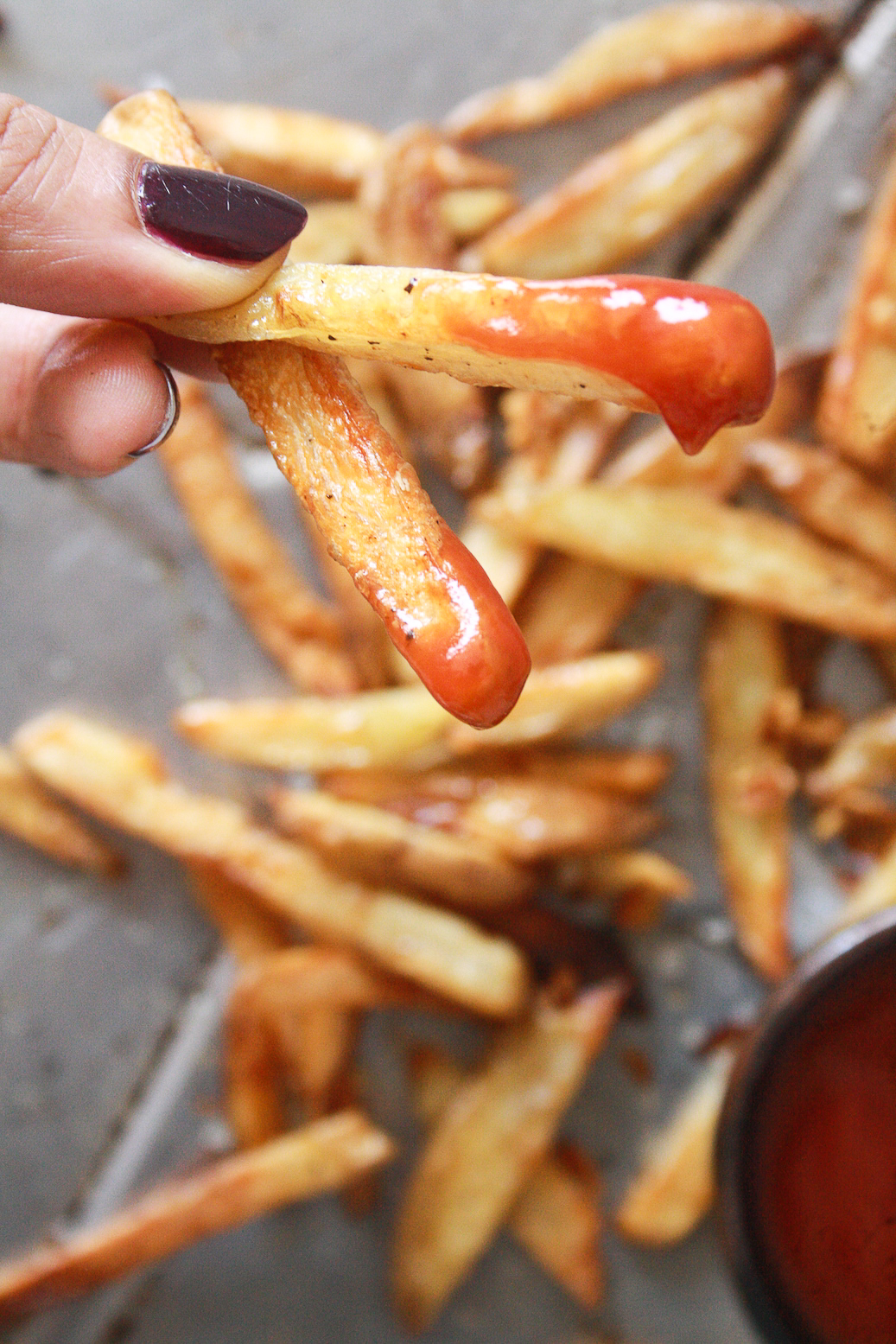 If you're in the mood to dress your fries up a little, eat them with a dollop of cream cheese and a ton of chipotle sauce drizzed aaaallllll over. It's like poutine, but wayyy less goopy.
Hot from the oven, tossed in a ton of sea salt and whatever else your heart desires, these fries are the stuff dreams are made of. You dream of fries, right?

Crispy Baked Garlic Fries
Crispy, salty fries with lots of garlic, baked not fried!
Author:
The Desserted Girl
Ingredients
4 medium potatoes
1 head of garlic
Olive oil, as needed
Salt and pepper, as needed
Instructions
Preheat the oven to 230 C. Generously drizzle olive oil over a baking tray, about 3 tbsps.

Wash the potatoes thoroughly, then dry them on a paper towel. Slice them in half vertically, then slice again into wedges, then slice each wedge into half for a 'matchstick' shape. Some slightly rounded, slightly broader pieces are ok. Toss the potatoes in a bowl with freshly ground pepper and 2 to 3 tbsps of olive oil.

Lay the sliced potatoes on a baking tray, in a single layer, leaving gaps between each piece. Place 3 to 4 peeled cloves of garlic in between them. Pour over any olive oil left in the bowl. Overcrowding the potatoes will make them soggy, so bake in two batches if needed.

Bake for 25 to 30 minutes until the potatoes are tender. If at this point there is not much colour and the potatoes feel soft on the outside, switch your oven to the broil setting and allow to broil for 20 to 25 minutes until crispy and golden-brown. If you do not have a broil setting, bake for longer, or I suspect you could even turn the fries out into a non-stick saucepan on medium-high heat and let them crisp up a bit right in there, without adding much more oil.

In the last 5 minutes of baking, mince 4 to 5 cloves of garlic. Heat 2 tbsps of olive oil in a saucepan on medium heat and fry the minced garlic until browned.

Spoon this garlic and oil mixture over the ready fries and serve hot hot hot with ketchup, cream cheese, chipotle sauce, barbecue sauce, whatever floats your boat! Happy eating 🙂