You guys. If ever you feel a compulsive urge to make yourself and your kitchen a big floury mess, pizza is the way to do it. Homemade, stretchy, chewy, sticky, annoying, delicious homemade pizza. So good. I tackled the issues with this dough and I love this new one about 634783045 times more.
Plus, there's salty artichokes and fresh spinach and tons of tomatoes and garlic to guarantee this is the best meal you'll ever make for yourself.
Your kitchen will smell like the pizza of your dreams (I can't be the only one who dreams of pizzas, right?) and your ego will be soaring because there is very little as gratifying as combining yeast with flour and watching the magic happen. It takes a little patience, a little cursing and a little love but you'll thank yourself once its done 😀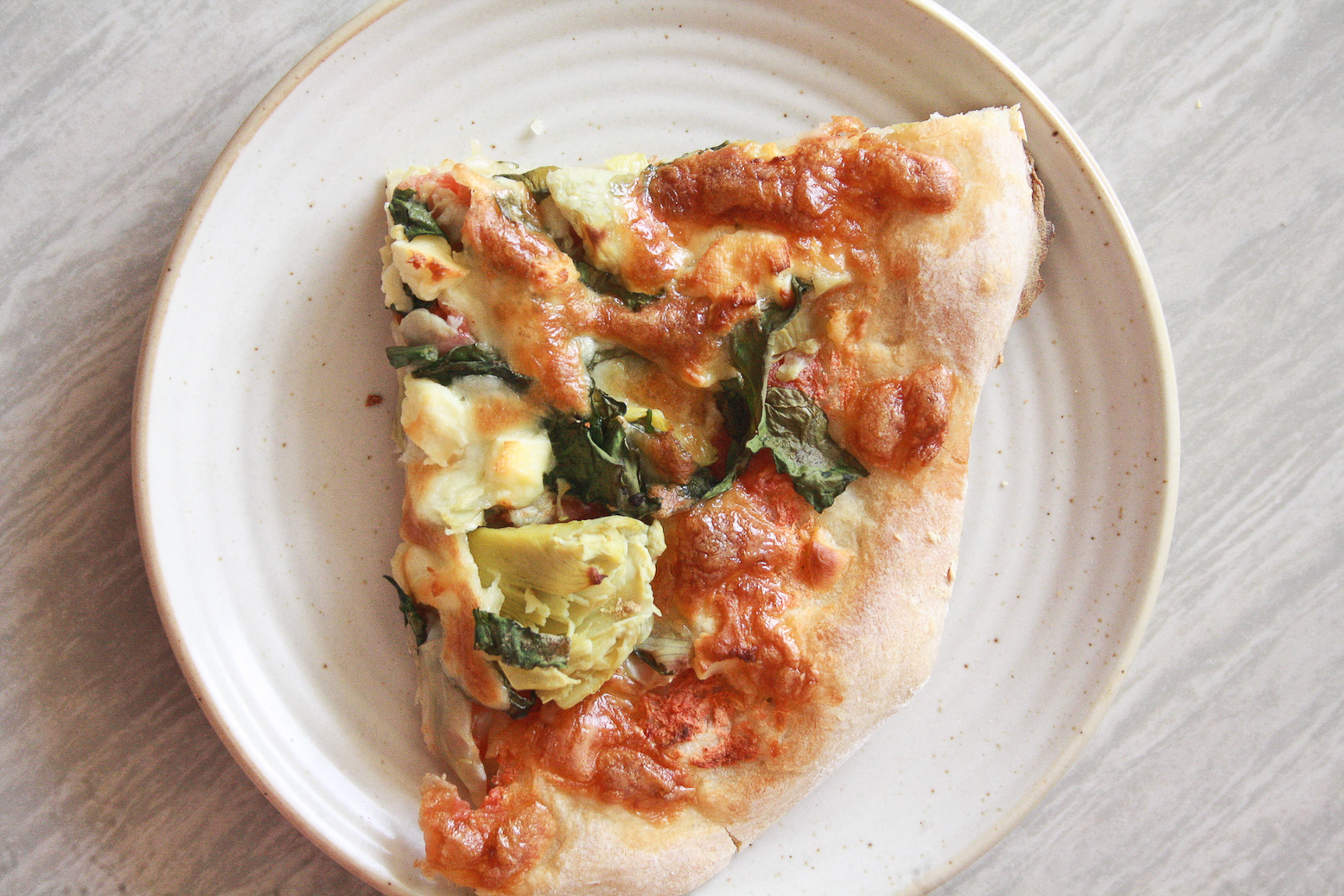 The topping is super straightforward and super customisable so I'm going to spend a little time boring you with doughy details. The first time I tried Deb's amazing no-knead pizza, I had trouble with the 24 hour rise (1/8 tsp yeast) in that the dough rose a bit, but not enough to have doubled. It tasted amazing though and I couldn't figure out why it had trouble. If you try that earlier version, let me know what you think and if you had any issues with it because it's wonderfully flavoured and you shouldn't knock it till you try it.
This time, however, I decided to try the 12-hour rise (1/4 tsp yeast) (because I was making this for a Saturday lunch so started on Friday night) and see whether that worked better with Indian yeast, humidity and flour. It did. It rose, doubled and was stretchy and sticky and all of that. I also decided not to swap half the all-purpose flour with wholewheat, because I did that the last time and suspect that may have caused an issue. Wholewheat flour absorbs far more moisture and weighs the dough down. I also weighed my flour this time, instead of only using cup measures simply because a little bit here and there is the difference between a chewy dough and an excessively bready dough which is not really pizza. And lastly, I added a couple more teaspoons of water to make sure the dough was on the wetter side.
See, the yeast is not proofed, so its not mixed up with warm water and sugar and all of that. Instead, its mixed directly up with salt and room temperature water, both of which means it activates verrrrrrry slowly. What helped a little to get it going was to preheat the oven to 100 C for a couple of minutes, turn it off and then place the dough in it for a rise.
This dough will take anywhere between 12 to 16 hours I noticed, to really double and become stretchy enough without breaking in a second. It still takes some effort to stretch it out on the baking tray but its worth it. The crust is chewy, the center is pillowy and it has that sourdough-like smell of bread made with love and a ton of patience 😀
Also, speaking of baking trays, especially if they're not non-stick, the baked pizza will stick to them so a metal spatula, firm hands and a cool head help prise it off. It will also stick more if the toppings have too much moisture in them, or overload the base, so keep that in mind. More on toppings after some eye candy.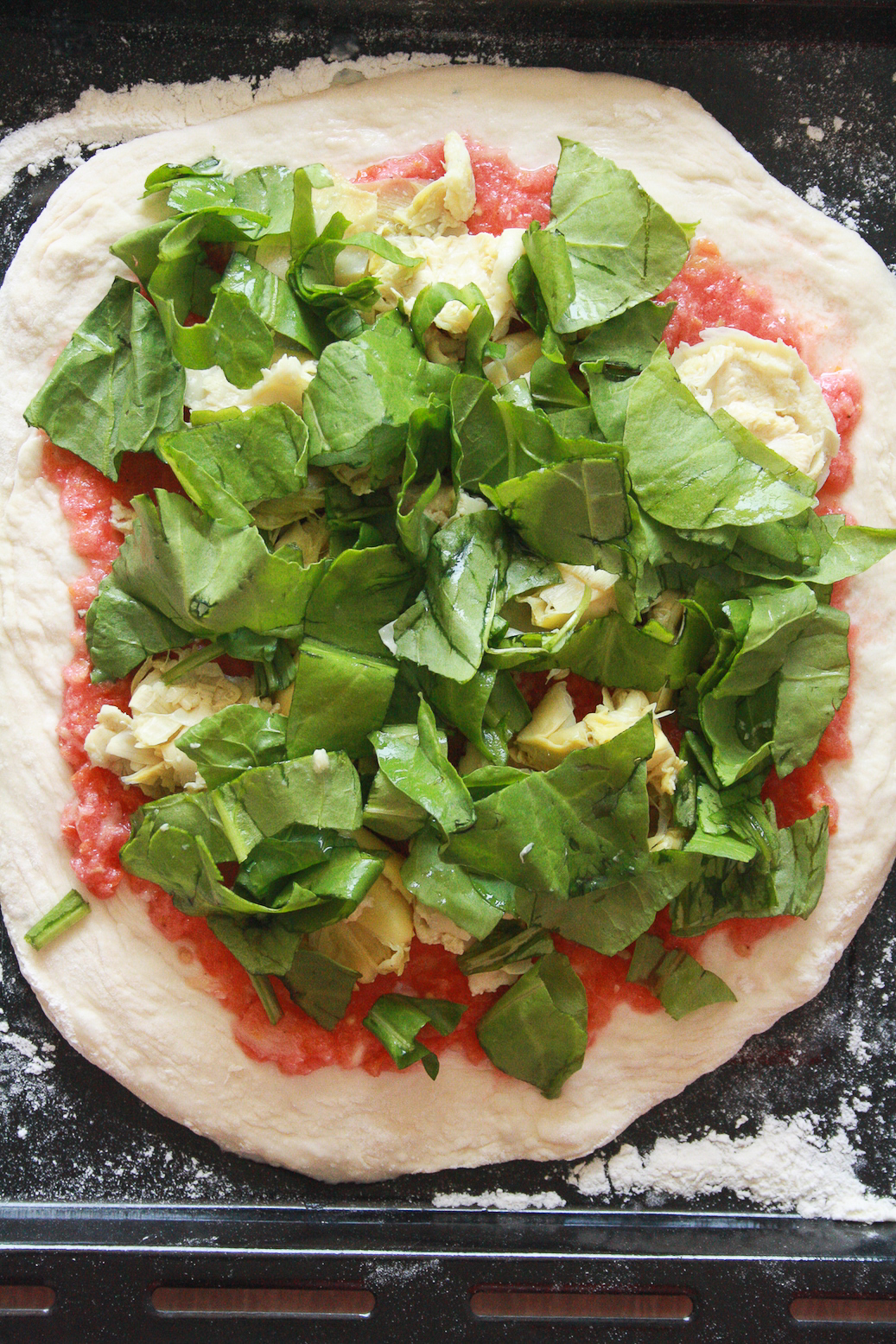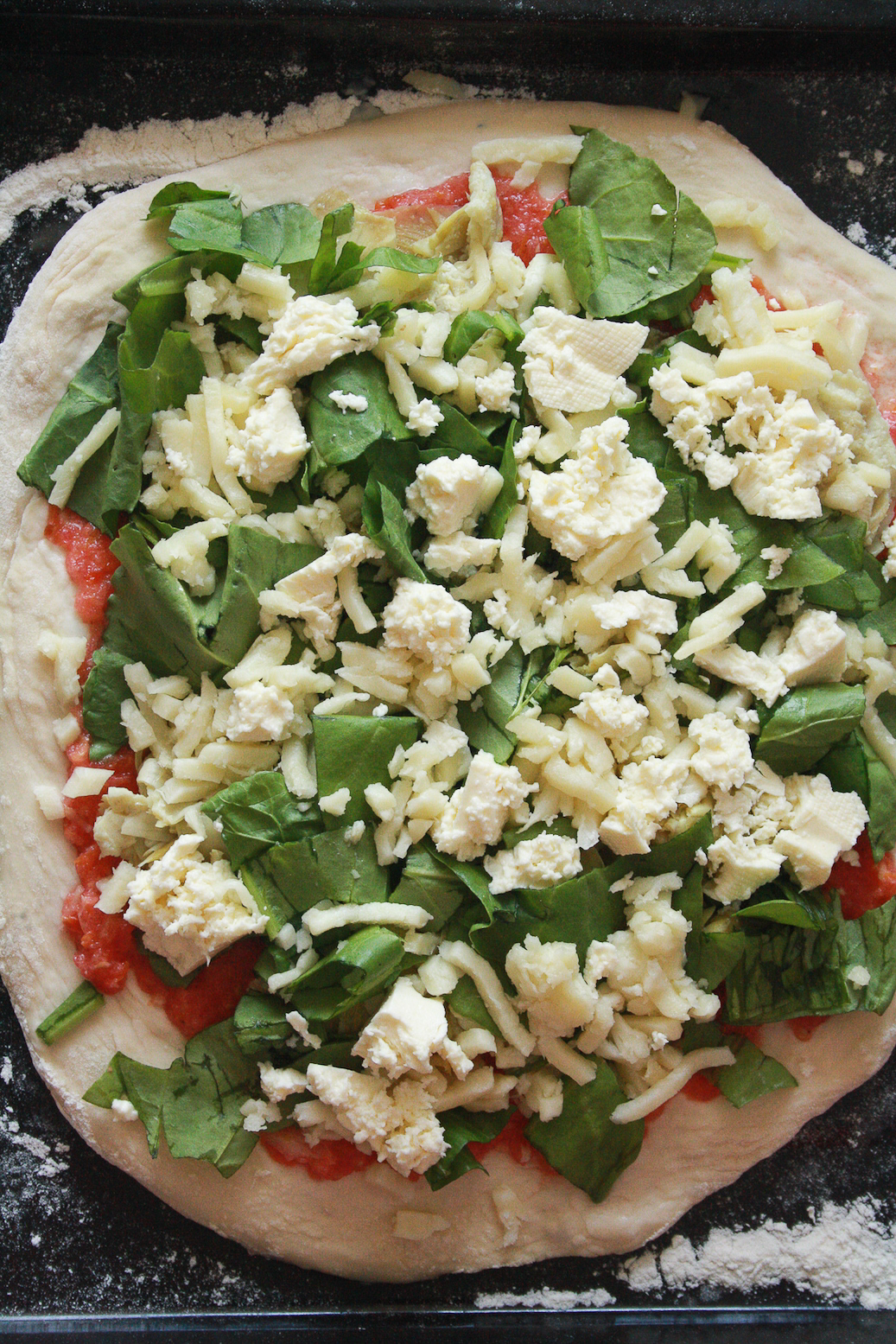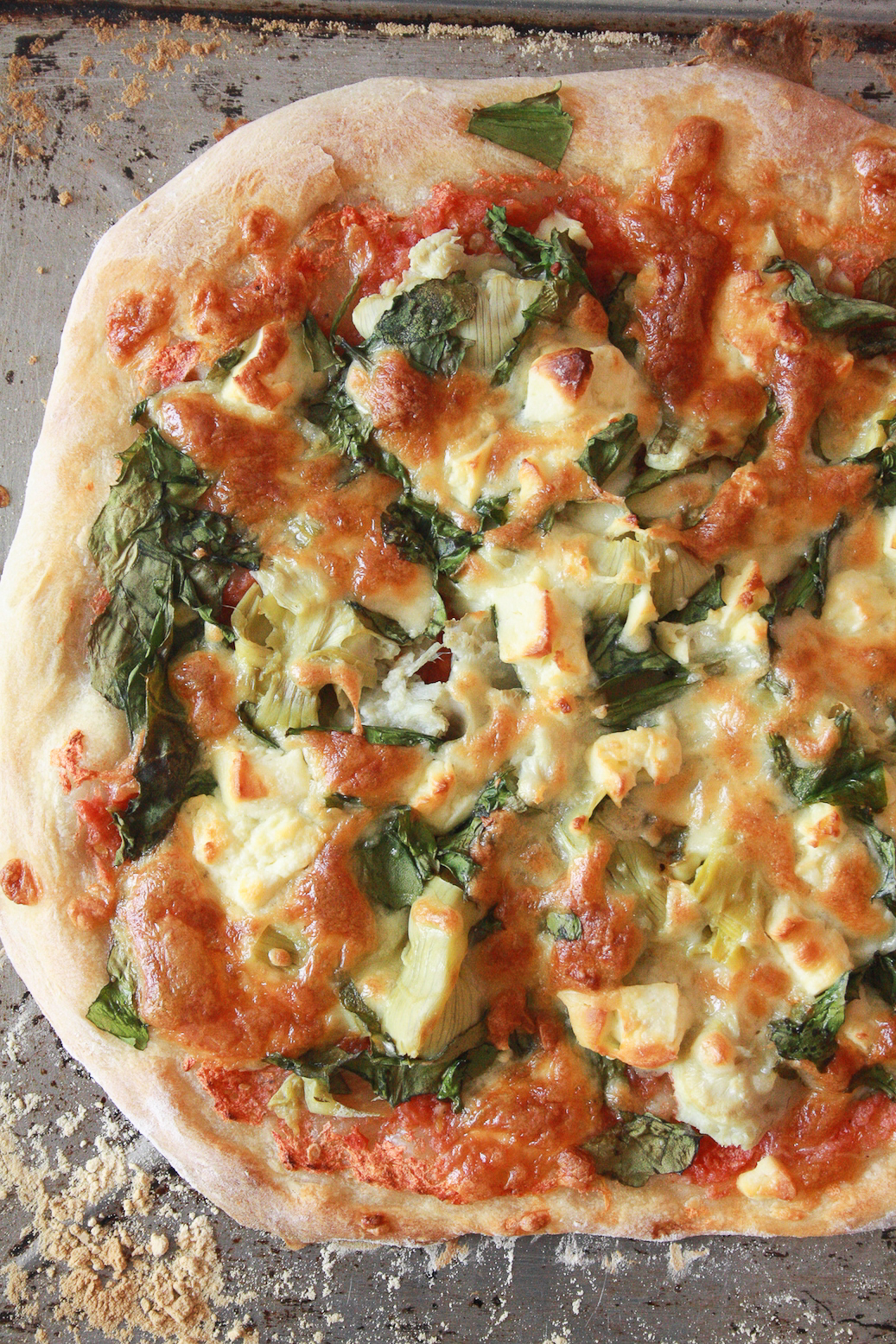 If you make this spinach and artichoke version, the spinach just needs to be rinsed very well, drained very well and chopped. The artichokes, canned because the fresh ones cost all the internal organs I have, need to be drained even more, because they're soft and squishy and hold a ton of brine in them. The tomatoes, once pureed, as Deb recommends, will be passed through a sieve so that almost all of the liquid is out. This is all in an effort to make sure the topping does not get too watery and turn your pizza into a soggy mess. Don't get me wrong, it will still be liquidy and you might have some wetter patches on the baked pizza, but it's far better to take a few minutes extra to do all of this, rather than not do it at all and have toppings sliding all over the place. Under-salt the toppings to reduce the amount of moisture the tomatoes release. You can always add more once the pizza is baked. Also, mozzarella and feta are a terrific combination and you should totally do it.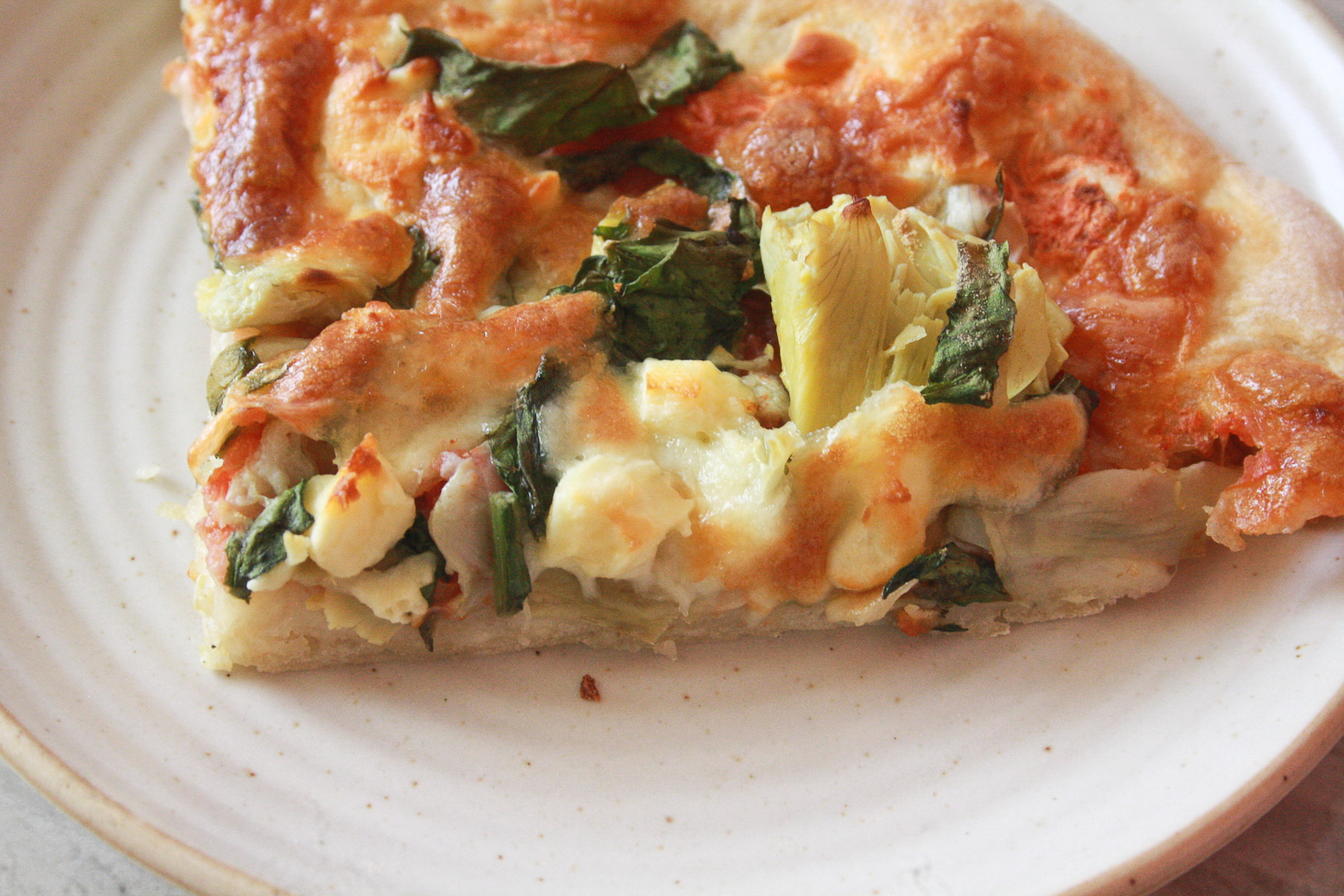 Everything comes together in one very authentic, very deeply flavoured, very cheesy, very fresh pizza. This is my favourite vegetarian meal pretty much any time, and I think it's incredible that it can be made at home so easily. I know this post sounds like a long lecture on dough and I may have scared you a bit, but I promise, you can and should do this. Keep a few things in mind as you go along and you'll have an insanely good pizza gracing your tastebuds. Go forth.

Spinach Artichoke Pizza + Updated Pizza Dough
A chewy, deeply flavoured pizza crust topped with a simple tomato sauce, spinach and artichokes, plus lots of cheese!
Author:
The Desserted Girl
Ingredients
3 cups all-purpose flour (375 gms)*
¼ tsp yeast, slightly heaped
1 and ½ tsps salt
1 and ¼ cups room temp water, plus more if needed

For the pizza topping
200 gms fresh spinach
1 can artichokes (390 gms)
6 to 7 ripe tomatoes
3 to 4 garlic cloves, minced
Salt and pepper, to taste
Feta and mozzarella cheese, as needed
Instructions
To make the dough, simply mix all the pizza base ingredients in a large bowl, till you have a wet, shaggy dough. Add two more teaspoons of water if the dough feels a little dry. You do not need to form a ball of dough, or bother with making it smooth. Simply mix it up, cover with clingfilm and leave to rise at room temperature for 12 to 16 hours. To give it a head-start, preheat the oven to 100 C for a couple of minutes, turn it off and place the dough inside it. Leave it there for the rest of the rise time.

After 12 to 16 hours, the dough should have doubled, look fermented and smell slightly sour. It should also feel very soft and sticky and a little wet.

About half an hour before you begin forming the dough into pizzas, preheat the oven to 250 C (usually its highest temp, as the oven needs to be hot hot hot) and lightly spray two baking pans with oil, then sprinkle with flour and set aside.

While the oven is preheating, get your toppings ready. Rinse the spinach well, drain it of all excess water and chop it into small ribbons. Drain the artichokes and set aside.

For the tomatoes, chop them up roughly, then puree them. Pass through a sieve, so that 90% of the water is drained. Mix in the minced garlic and about ½ tsp salt and pepper.

Now, turn the ready dough out on to a very well-floured counter. It will be sticky and will require floured fingertips to be prised out of the bowl, don't worry. Once you've got it out, sprinkle the top with a bit more flour and form it into a ball. Cut this in half using a sharp knife and form each half into a ball again.

Hold each ball of dough vertically, and let it stretch and fall away from your hands a couple of times before letting it land on the prepared tray. With floured fingertips, stretch and pull the dough to a roughly round/rectangular shape, about 10 inches wide. Don't stretch it too thin, because it needs to be able to hold the toppings.

Spread half the tomato mixture on the base, leaving about ½ an inch border. Top with half the spinach and then half the artichokes, squeezing out any excess brine as you go. Finish with shredded mozzarella and crumbled feta, whatever your heart desires.

Bake for 10 to 15 minutes until the crust has browned lightly, the cheese has melted (mine also got quite nice and brown because the oven temp is high) and your kitchen smells like a small Italian pizzeria. Rotate the tray as needed if one side is browning more than the other. Slice and serve hot hot hot. Use a metal spatula and sharp knife or pizza cutter to help you get off any sticky slices. Repeat with the remaining dough and toppings. Happy eating!
Notes
*For this recipe, weighing the flour is more accurate than using cup measures. If you don't have kitchen scales, make sure you're measuring with the 'spoon and level' method: fluff up the flour with a spoon in the container itself, then scoop and lightly fill the measuring cup up to the top without shaking or tapping the cup, then using the back of a knife, scrape the top of the cup to remove any excess flour. Repeat for as many as the recipe calls for.

*Prep-time does not include rising time.