I know. I already said I found the perfect chocolate chip cookie. I did. And it's not done to just throw the word 'perfect' around the place and then confuse you by saying there's a better version out there. The thing is, I think there might be two perfect cookies because they're perfect in different ways. This is going to be a long post about cookie textures, flour proportions and chocolate quantities. If cookie science is not your thing, just look at the photos, scroll down to the recipe and get baking. If you're willing to listen, I heart you.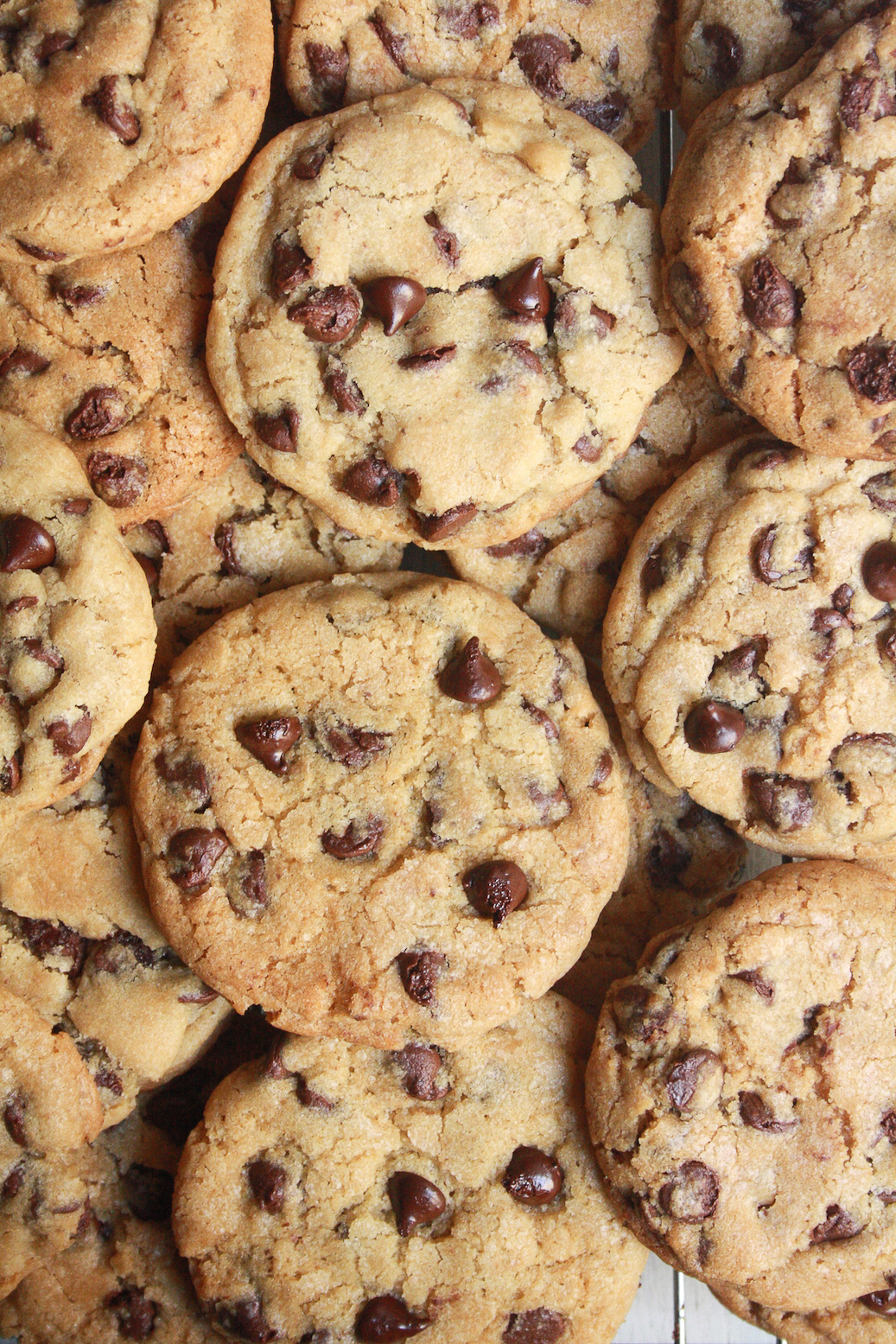 In my earlier perfect cookie, I reduced the sugar the way I liked it. The cookie dough is just about under-sweetened and the chocolate chips make up for it in all their bittersweet glory. But, reducing the sugar means the flour goes up in proportion, which means the cookies are not dense and chewy in the center but sort of pillowy and cakey. I never minded, and no one else ever did, but it never struck me that the reason for the difference in texture was staring me in the face.
And then I read about David Leite's famous chocolate chip cookie recipe, which the Smitten Kitchen adapted and I was hooked because, hello, gigantic cookies bursting with chocolate EVERYWHERE. Why would I object. And I went on to read some of the comments, where people who had reduced the sugar had the same textural questions I did. Bingo.
So. I got off my sugar high-horse and decided to make the recipe the way it was intended. But. I've found that chilling cookie doughs for 24 hours just results in super cold dough balls that do not melt down very quick in the oven, so they need to be baked longer and become kind of extra crunchy. Not a terrible thing, but this time around, I chilled the dough for just about 3 hours and I have no regrets. I also discovered that there is potential to have soft, squidgy cookies or slightly crunchy, darker cookies or flat, 4 to 5-inch cookies with crispier edges. My favourite was the first, but you can really play around with whatever kind you want.
The original recipe was intended to produce 18 large, 5-inch cookies, after a 24-hour chill time for the best flavour, and use exceptional quality chocolate discs. My not-very-large-oven, nor my not-very-large-patience let me try out such a thing, because I'd be baking cookies till right now if I stuck to the size recommended. I also went with a giant number of Nestle Tollhouse chocolate chips because the chance of those lying around in your fridge is higher than Valrhona feves but if you do have them, go to town! Whichever you choose, make sure there's tons of chocolate in there, that's the magic of these cookies. The reason I'm saying all this is that this is a fabulous, fabulous recipe but it comes with conditions that you need not stick to. I still had an intensely flavourful batch of cookies and the most important thing of all, they were not cloyingly sweet. I think I ate two without breathing.
The only thing I wouldn't advise you to do, is half the recipe because the proportions are fiddly. It does produce a very large cookie dough and about 30 cookies if you don't bake them to the giant 5-inch size. You can instead, freeze half the dough, or the prepared dough balls, or even the baked cookies. In the first two cases, thaw overnight before baking and increase the baking time by a couple of minutes as needed. It's also a good idea to use a stand mixer here so that the bulky, thick dough can be mixed by something other than your biceps. Update: If you scroll to the bottom of this post, you'll find a link to a smaller batch of cookies, based off this recipe, and it's pretty stunning as well!
So. I'm done blabbing now and I present to you exhibit A.
These cookies are baked for about 10 to 12 minutes until they have flattened enough to be cookies, but not pancakes. They are soft in the center and just barely crispy around the edges. They are buttery and gooey and completely worth trading your best friend for.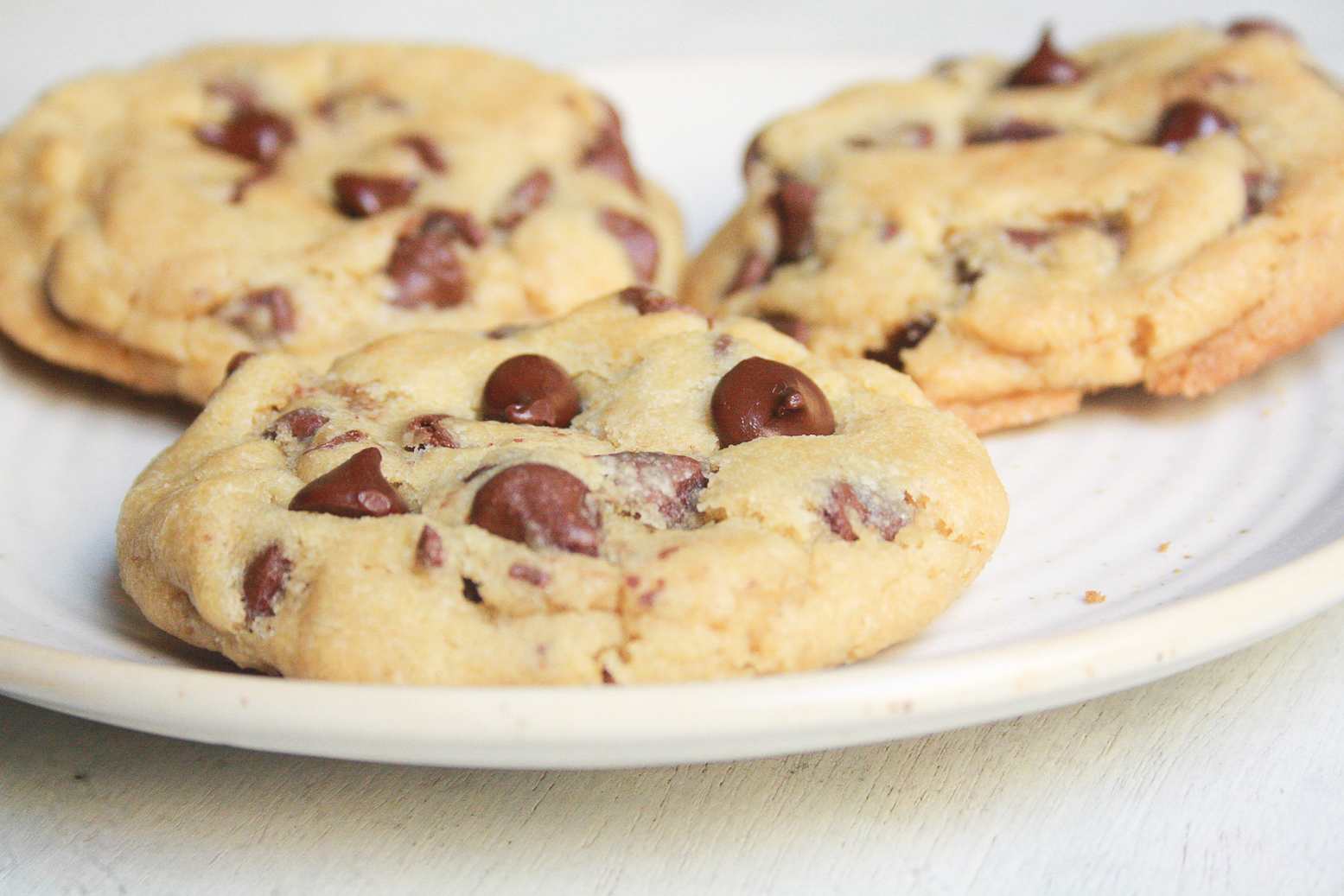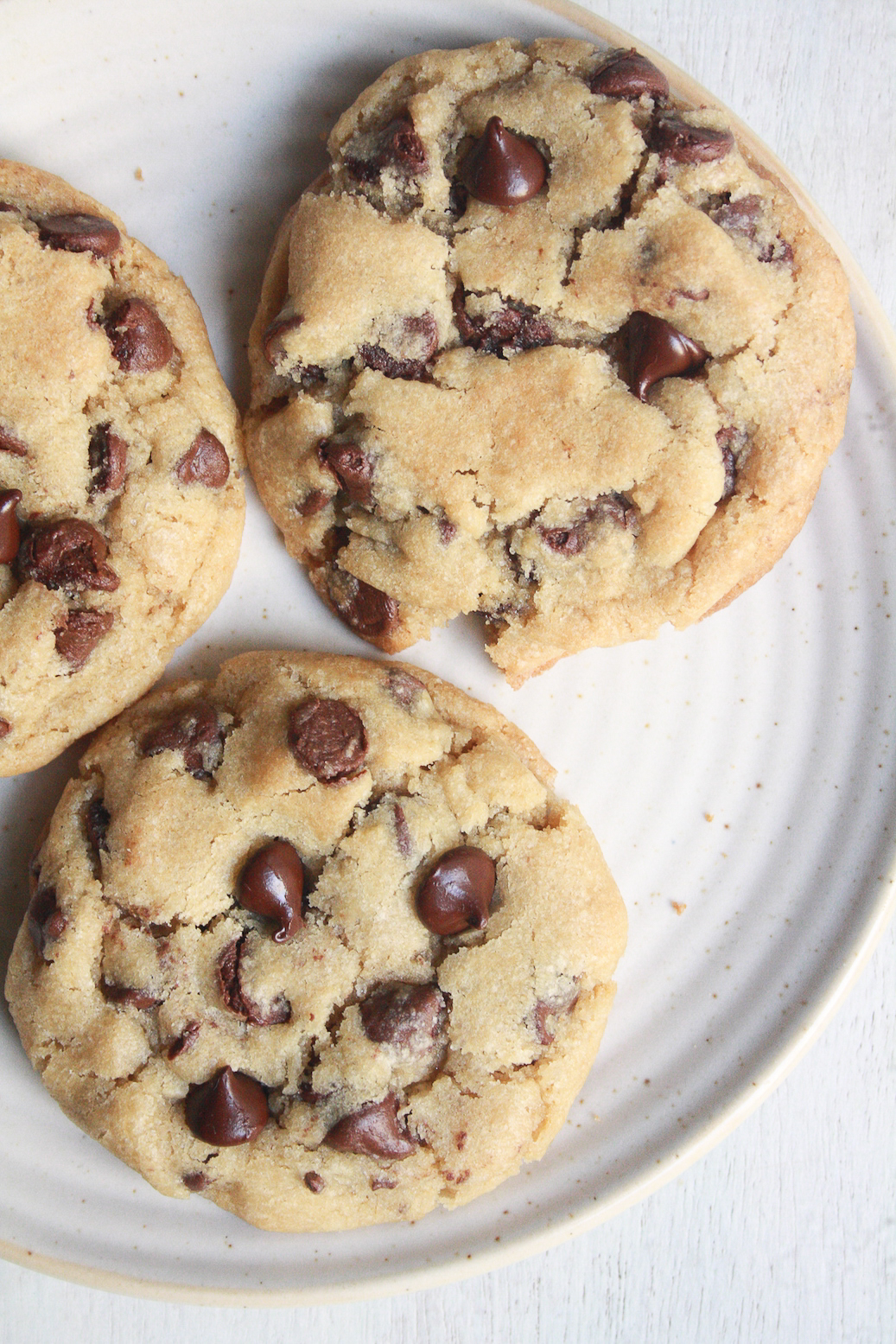 Exhibit B is the slightly flatter, crunchy variety, baked for about 15 minutes. If you like a little bite in your cookies, these are the ones for you. Keep in mind that cookies harden as they cool down, so don't bake them beyond 15 minutes.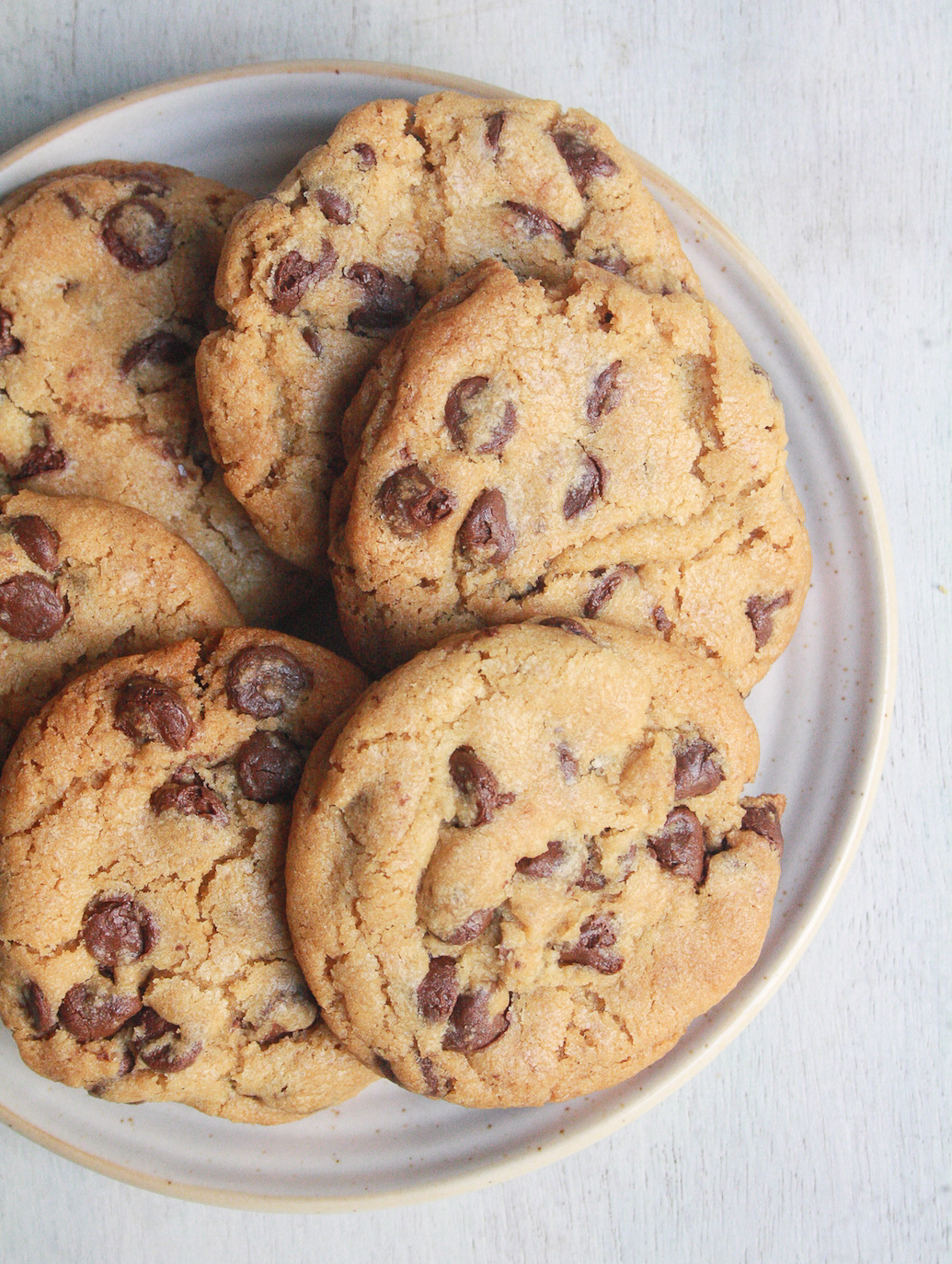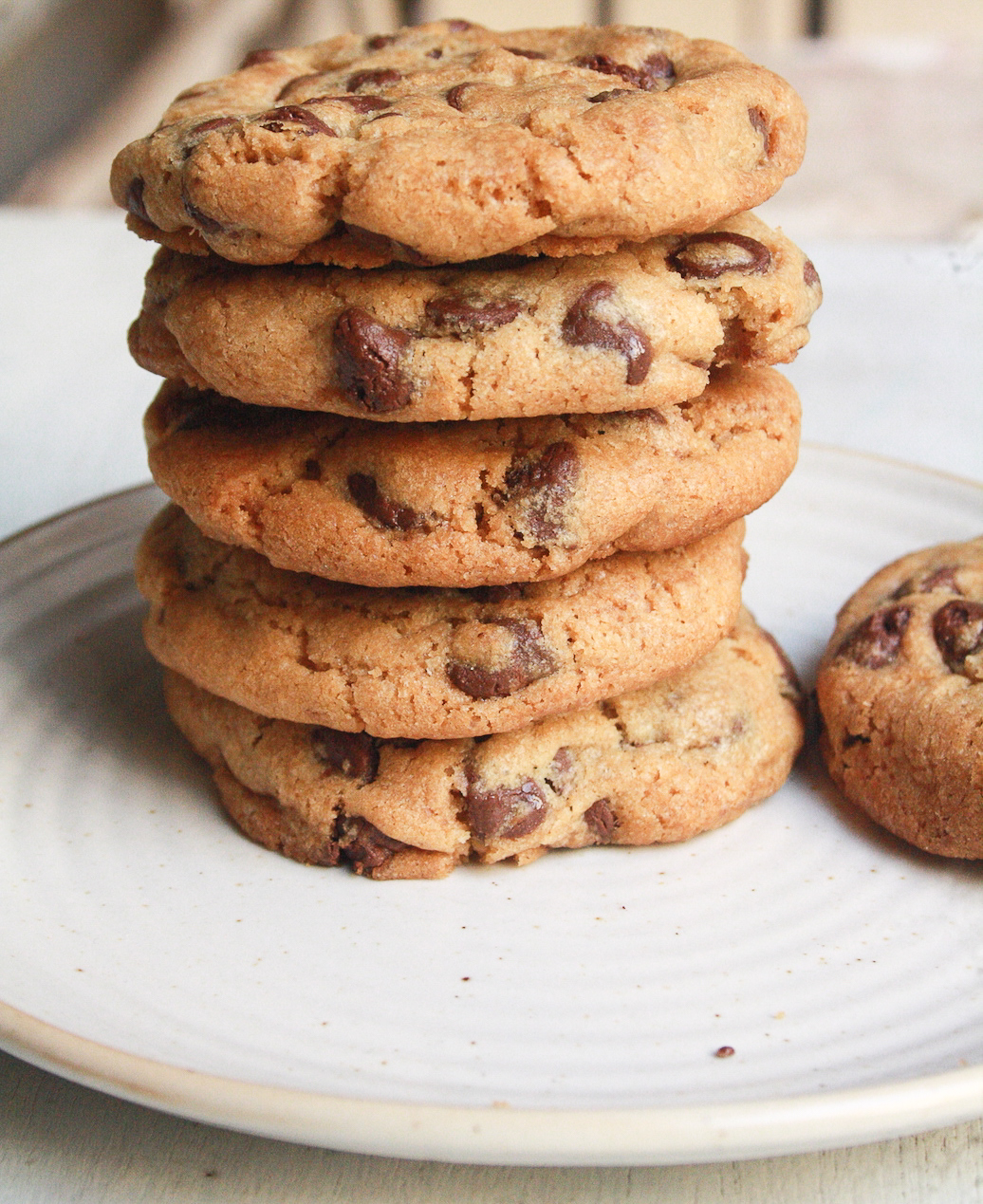 And finally, exhibit C. Closer to the shape and size the original recipe intended them to be, these cookies are flattened slightly before baking and baked for about 15 minutes, to get them much flatter and larger than the other two. I found these to be more crunchy than soft.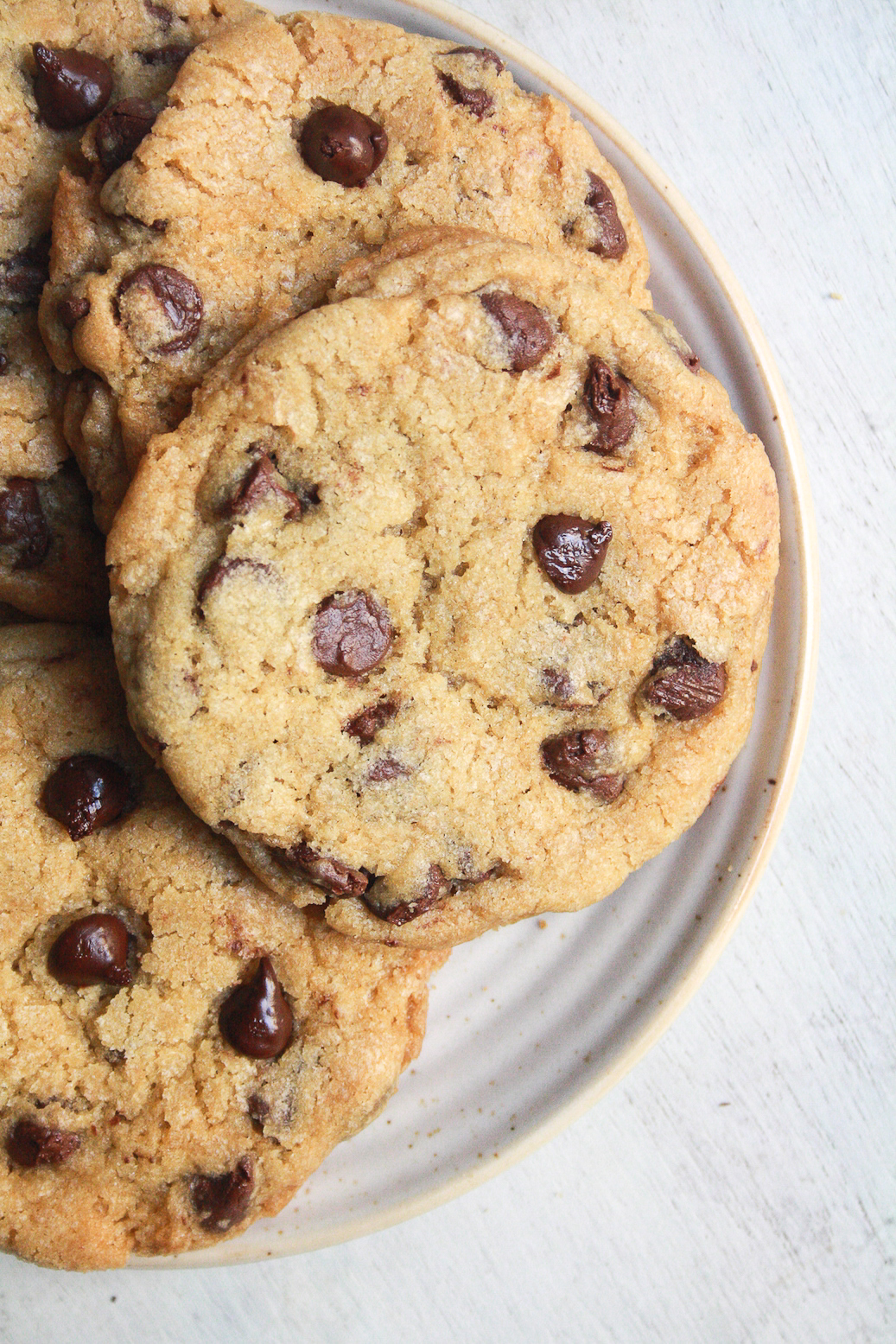 And, I'm done. Whichever kind of cookie you make, it will be phenomenal because there's a ton of flavour in the dough with the most basic ingredients. There's about 5 chocolate chips in each bite, so these are rich, rich, rich cookies. I advise a nap, or a walk after each. Get your mixer and cookie face on. We're baking the best chocolate chip cookies ever!

My New Favourite Chocolate Chip Cookie
A giant, buttery cookie dough bursting with chocolate chips! It has 3 different baking options for however you like your cookie!
Author:
The Desserted Girl
Ingredients
3 and ½ cups plus 2 tsps all-purpose flour*
1 and ¼ tsp baking soda
1 and ½ tsp baking powder
1 and ½ tsp salt if using unsalted butter
1 and ¼ cups butter, room temperature (280 gms)
1 and ¼ cups brown sugar
1 cup plus 2 tbsps caster sugar
2 eggs
2 tsps vanilla extract
3 heaping cups dark chocolate chips
Instructions
Sift the flour, baking soda, baking powder and salt, if using. Set aside.

Preferably in a stand mixer so that the volume of the dough is easier to handle, beat the butter and sugars until pale and fluffy, 3 to 4 minutes. You could use also a hand mixer.

Add the eggs and vanilla and beat again till combined.

Now slowly mix in the flour mixture, until just combined. Do not over-mix.

Finally, mix in the chocolate chips and if using a mixer, do this on low speed so that they don't break or blend into the dough.

Cover the bowl with clingfilm and chill for 3 hours up to 24 hours*.

When ready to bake, preheat the oven to 175 C and lightly grease a baking mat or line it with a silicone sheet.

Roll the dough into equal sized balls, about 2 tbsps each. These will be a little larger than your average cookie so that they hold all the chocolate. Place at least two inches apart on the baking tray.

Bake 10 to 12 minutes for soft, squidgy cookies and up to 15 for crunchy cookies. For flatter cookies, lightly flatten the dough balls before baking. Please read the post above for more details on texture.

Allow the cookies to cool for a few minute before face planting into them 😀
Notes
*It sounds like a very fiddly flour measurement, I know. Two tsps sounds negligible but the proportions are super important in this recipe so stick to them. Use the 'spoon and level' method (fluff up the flour with a spoon in the container itself, then scoop and lightly fill the measuring cup up to the top without shaking or tapping the cup, then using the back of a knife, scrape the top of the cup to remove any excess flour) or weigh 445 gms of flour.

*If you don't have chocolate chips, use about 500 gms of dark cooking chocolate, chopped small. The darker the chocolate, the better it will balance out the sweetness of the dough.

*Prep-time does not include chilling time. Feel free to chill the dough for 24 hours or longer, but let the cold dough sit out at room temperature for about 10 mins before baking and adjust baking time as needed.
Update: I've played around a lot with this recipe to try and scale it down and I finally succeeded with these Nutella Sea Salt Cookies. If you add 1 cup of chocolate chips to the dough, you get some insanely good chocolate chip cookies too!