Happy Monday! Let's start the week off right. The world cannot unfortunately be all cupcakes and chocolate. Sometimes, there's tofu. But it's good tofu.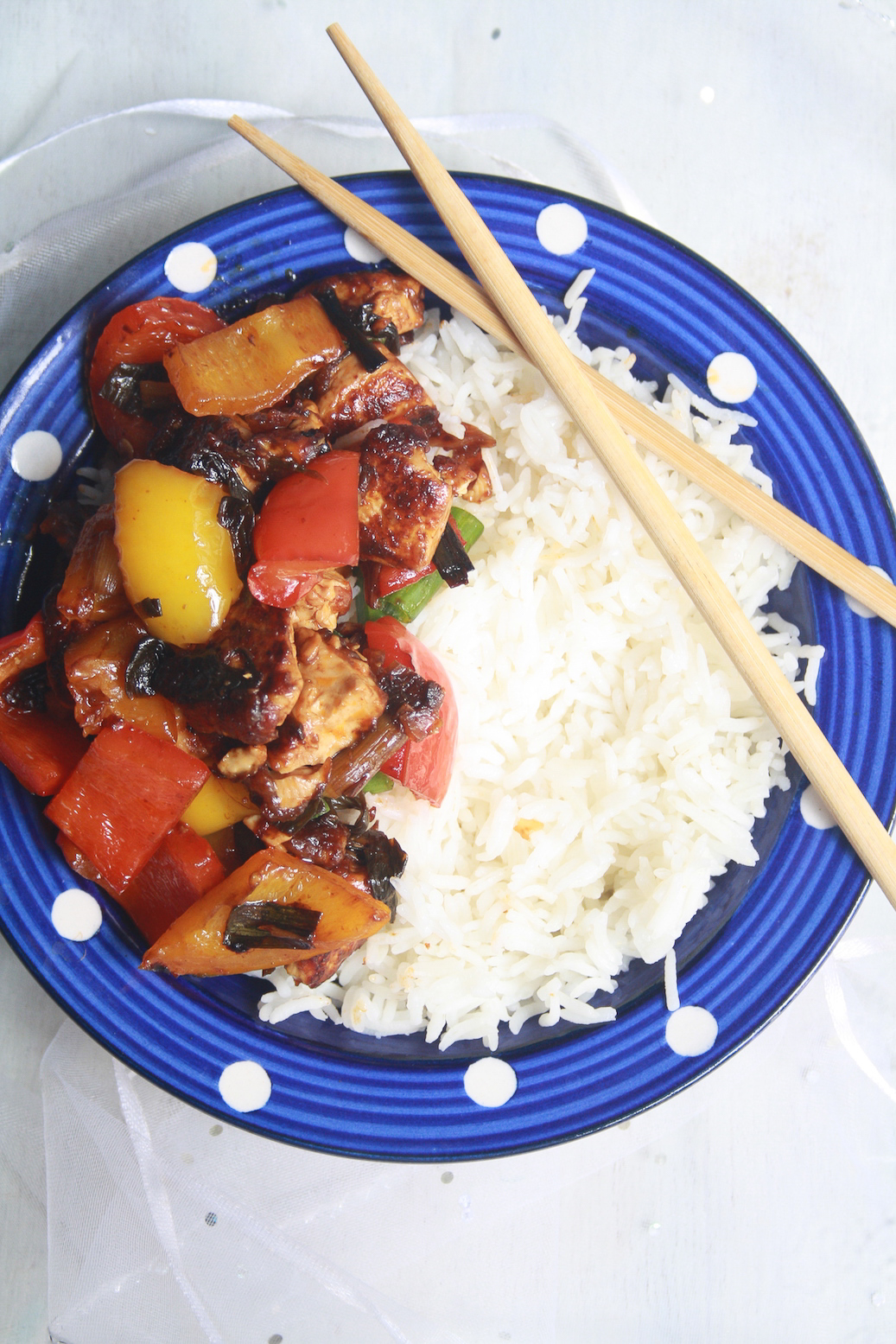 This is equally a lazy-Sunday-binge-watch-Narcos kind of meal as it is a dreary Monday saviour. Because if we can find a way to make tofu fun, we really should be making this meal as often as possible. All it takes is a good teriyaki sauce, tons of fresh veggies, and a one-pan, high-heat, stir fry.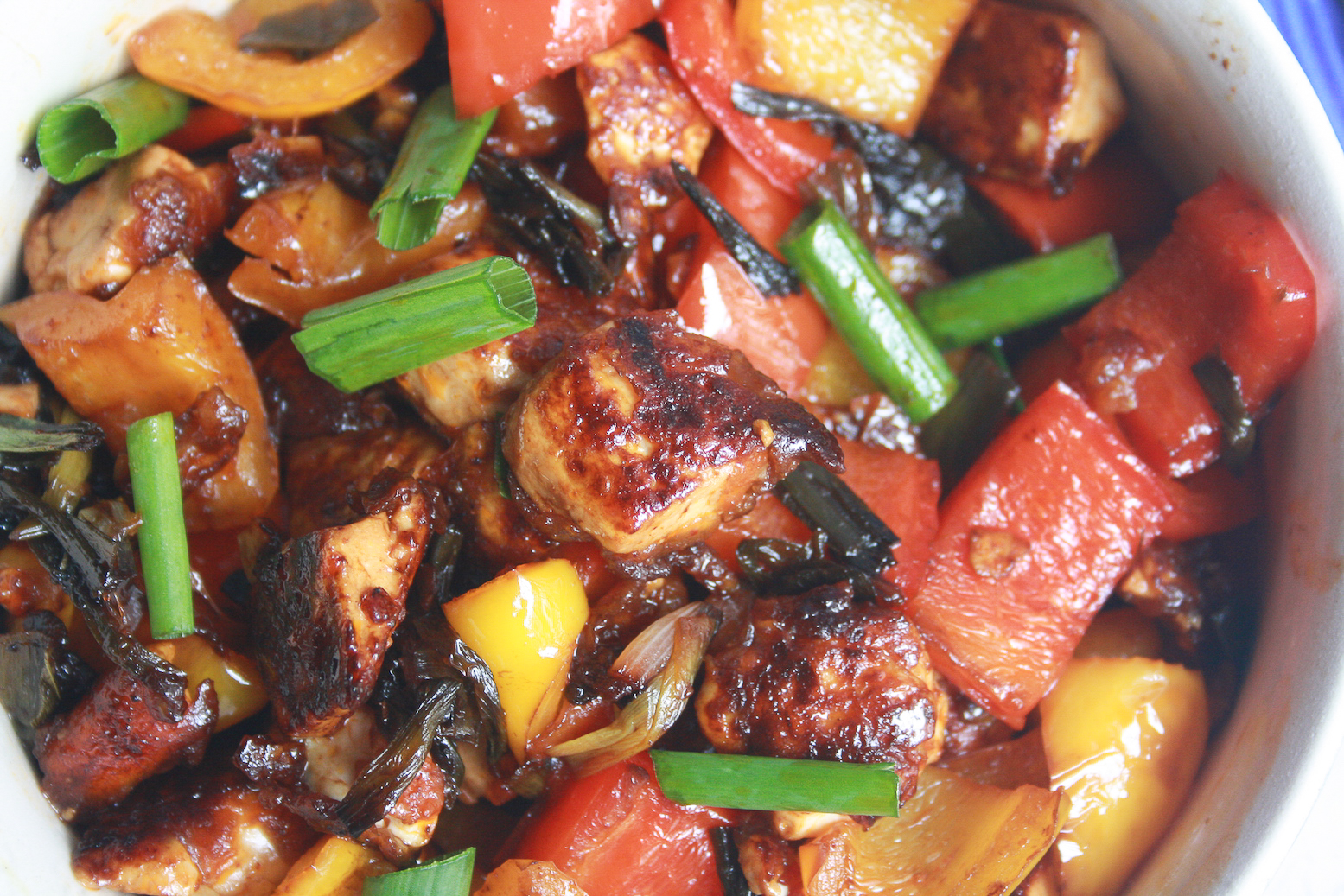 Ok, now tofu! I loved this idea of quickly marinating pieces of tofu in a sauce, then tossing with cornflour and pan-frying. The deep-fried thing always makes me queasy, so this was actually a great way of making sure the tofu doesn't fall apart while stir-frying, gets deliciously golden-brown crispy edges, and doesn't make you feel like a butterball by the end of it.
If you can get your hands on extra-firm silken tofu (FoodHall, Nature's Basket), that's the one to use here. I had the firm version, so my pieces weren't quite as neat, in case you're measuring. but no regrets.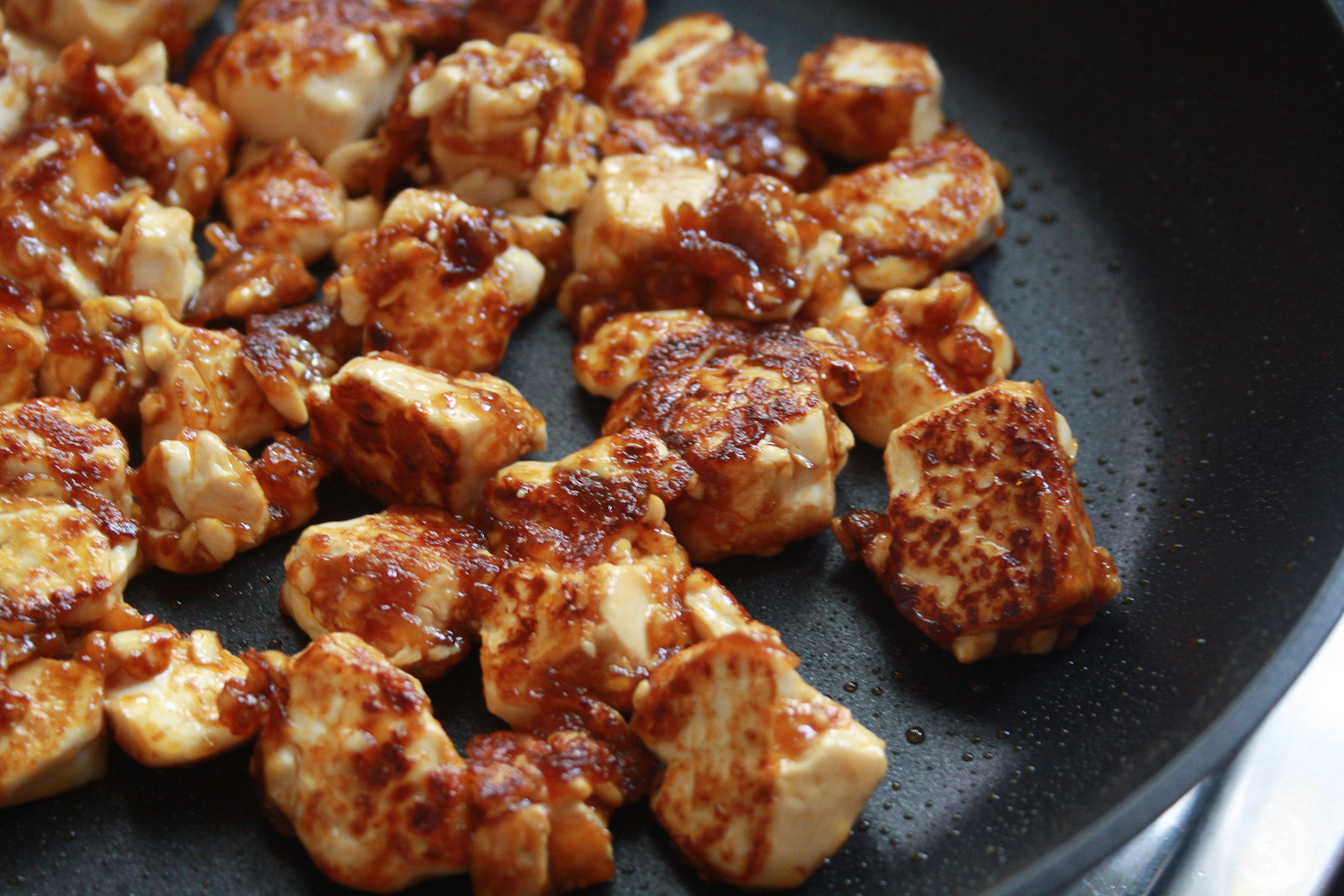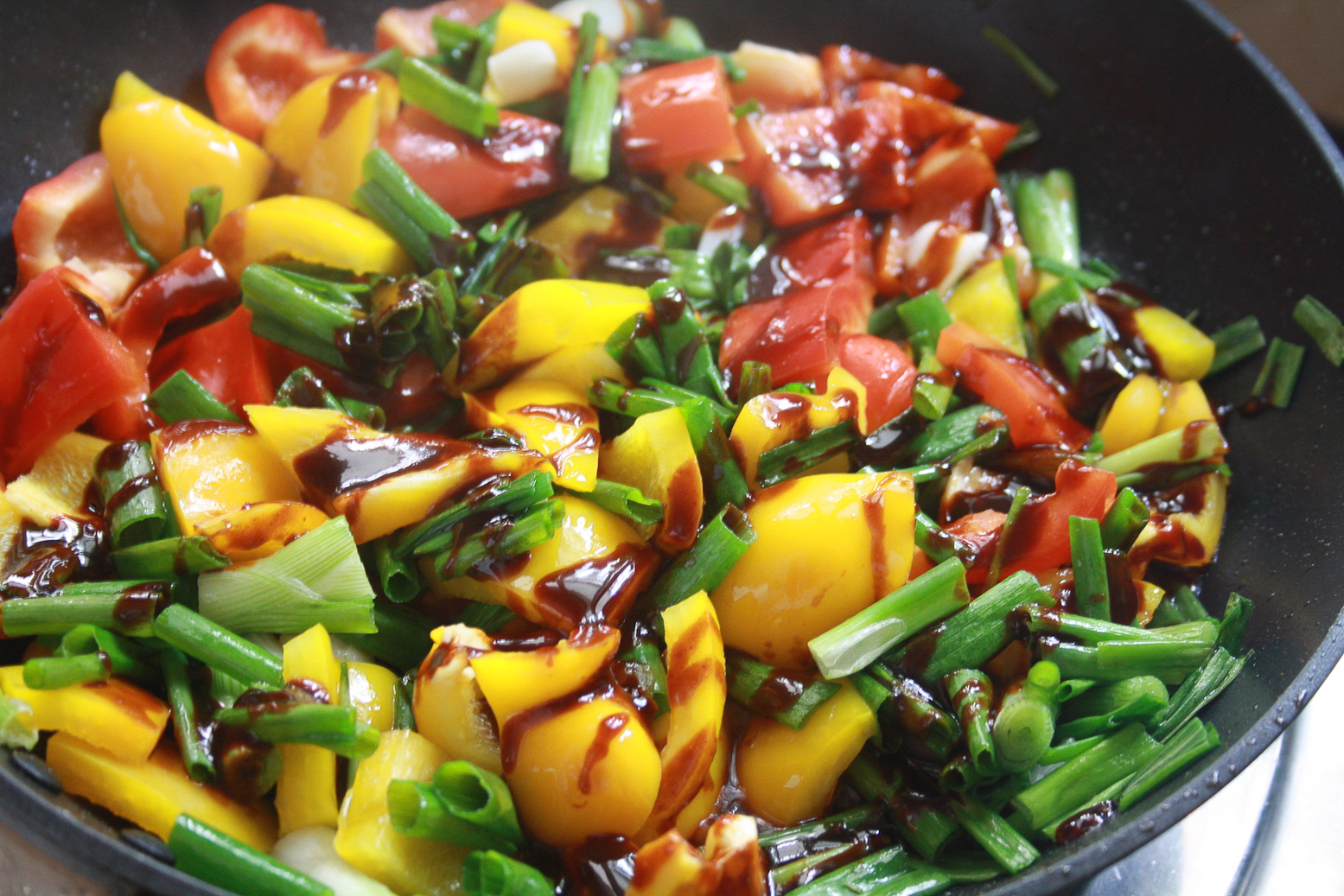 Since most teriyaki sauces are pre-seasoned, this is actually one of the easiest, quickest ways to get a flavourful meal into your tummy. A bit of salt scattered on at the end, if it all, and you're done. Fresh veggies, with a ton of crunch and caramelisation, all that tofu goodness for protein and substance, the sweetness and zing of teriyaki, all heaped over steamed rice for a very adult meal indeed.
I cooked the veggies for longer than a stir-fry normally requires, because I like a little bit of blistering and charred edges, but this is entirely up to you. For a saucier version, you could of course add more sauce, but a splash of water wouldn't hurt either, and some cornflour if required to thicken it up.
(Don't be like me and forget about the stir-fry while you're Snapchatting, I ended up not realising that most of the liquid had evaporated in the process :D)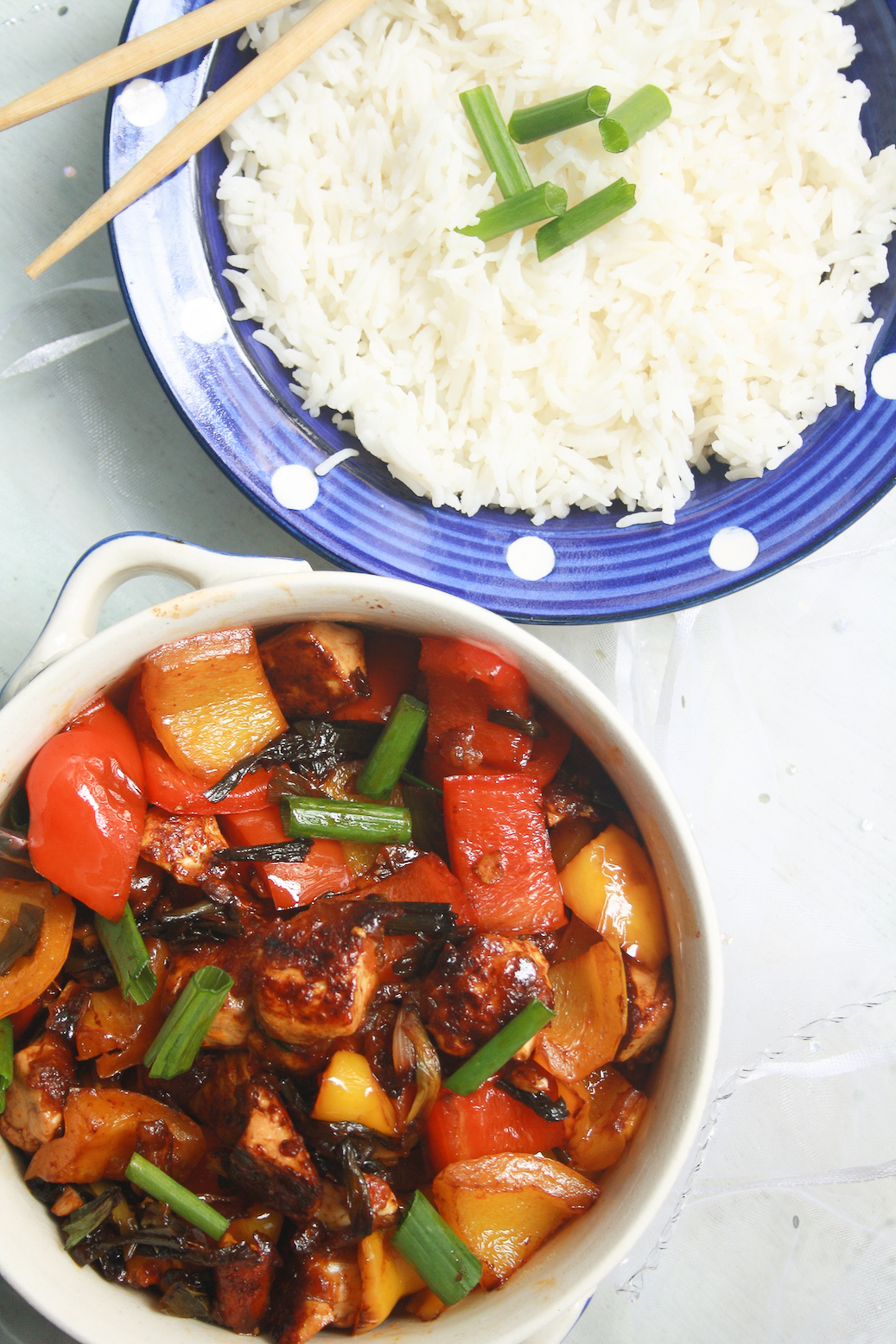 Let's get cooking!

Teriyaki Tofu Stir Fry
Quick and flavourful tofu veggie stir fry with plenty of zippy ginger teriyaki flavour!
Author:
The Desserted Girl
Ingredients
For the tofu
350 gms extra-firm silken tofu, cut into small squares
2 to 3 tbsps teriyaki sauce
5 tsps cornflour
1 tbsp vegetable oil

For the stir-fry
1 medium red pepper, in bite-sized pieces
1 medium yellow pepper, in bite-sized pieces
4 to 5 spring onion stalks, chopped
2 to 3 tbsps teriyaki sauce
1 tbsp vegetable oil
Salt, if needed
Instructions
In a bowl, mix the tofu with the sauce and set aside for a couple of minutes. Then sprinkle the cornflour over the marinated tofu and mix gently, making sure the cornflour spreads to all the pieces. It may not form a thick coating, but it will help the tofu crisp up in the pan.

Heat the oil in a non-stick pan, then add the tofu, spreading the pieces out in a single layer as far as possible. Turn the heat up to high and allow the tofu to cook on all sides, turning the pieces gently as needed. This should take 10 to 15 minutes for a deep caramelisation. Tip the cooked tofu on to a plate and set aside.

In the same pan, add a little more oil, then toss the veggies in, stirring till they cook down for a couple of minutes. Add the sauce and stir well, keeping the heat on high, tossing the pan as needed. When the veggies begin to turn golden-brown on the edges, add the tofu. Mix the whole thing up well, adjust seasoning and turn off the heat.

Serve hot with steamed rice!
Notes
*I used Morinaga brand, the firm version. Extra-firm will be easier to cut and toss.
* For a saucier stir-fry, you can also add about ¼ cup water if you'd like to thicken it further, add 1 tsp cornflour dissolved in a splash of water.
Shop this recipe!
This post contains affiliate links.