I like to tell myself I'm getting a grip on this whole adulting thing. I like to take on strange tasks just to prove a point, I'm not sure to whom. And except when faced with the prospect of having to smush a cockroach, I try and stifle my cries of help to other, more accomplished adults.
This weekend I decided that making my own sweet chilli sauce and deseeding about a million tiny little Thai chillies without gloves was an excellent way to show people I'm growing up. Literally took things into my own hands. My fingers burned for HOURS after, making it impossible to hold anything, and I took to sitting with my hands dipped in a big bowl of gin (I cannot make this up) and then holding ice cubes between them, all the while telling myself, good job girl, you showed 'em!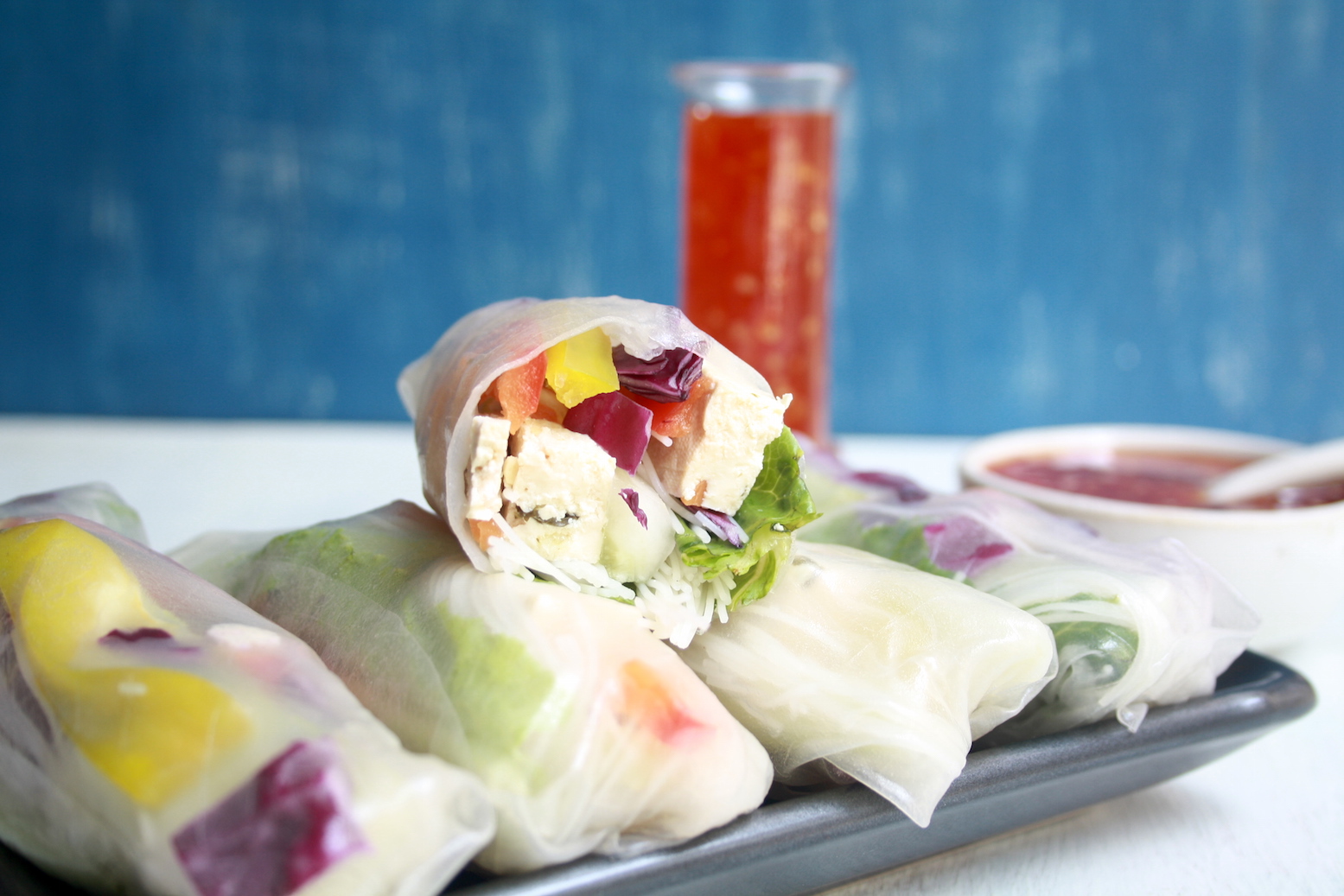 Can I just say, thank God for summer rolls that require no cooking or dealing with hot pans and spoons?Also, do yourself a favour and get some kitchen gloves while you can or read this before it's too late 🙂
Let's eat!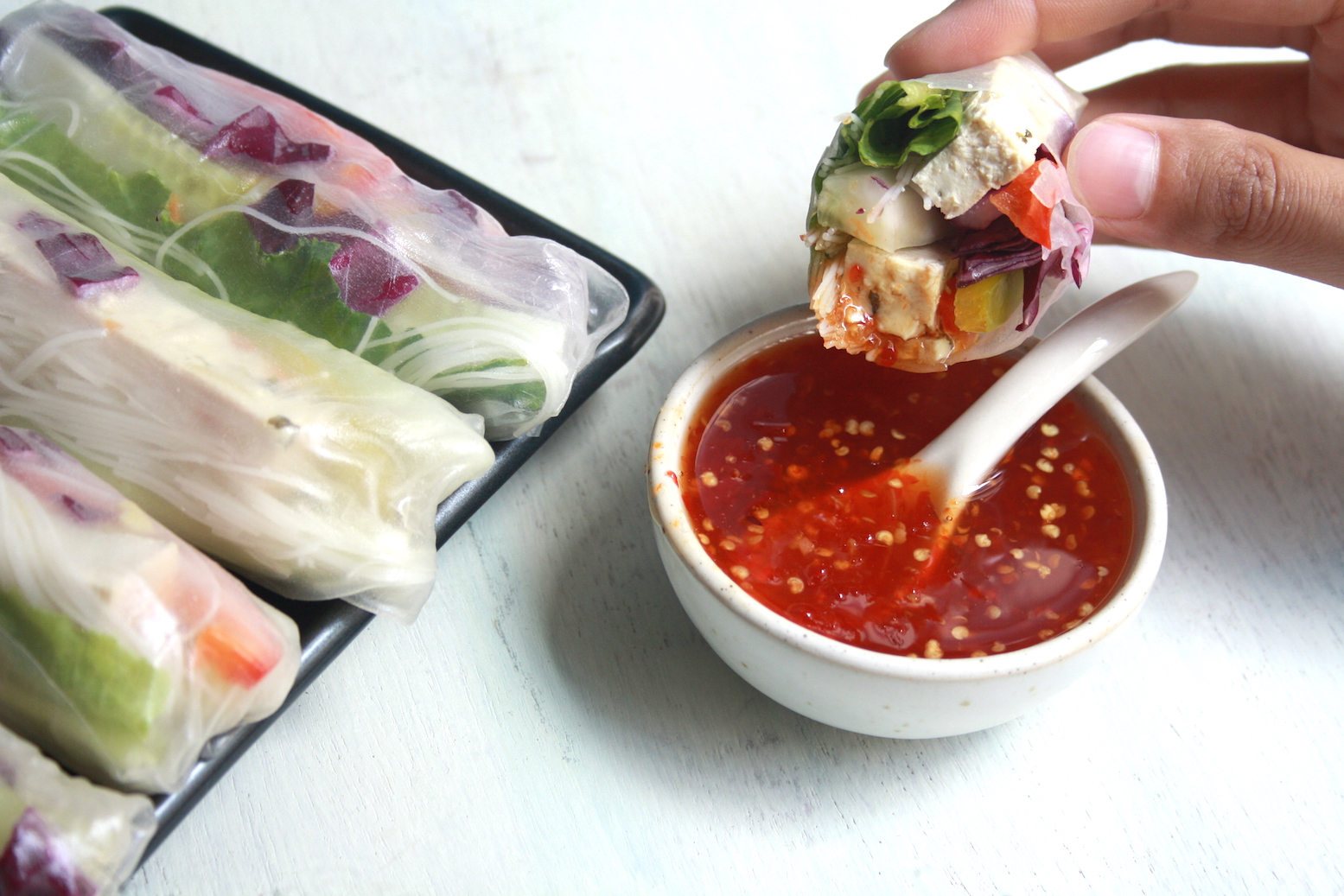 Once I was done burning my fingers off, the sauce was a piece of cake. It's thickened with sugar and cornflour (or cornstarch) and takes on that lovely colour and weird, gloopy consistency we all know and love 😀 I added honey to offset some of the spice and to avoid adding more sugar. It's definitely spicy, but has a fun sweet taste and as far as possible, use rice vinegar for the authentic flavour.
Ok, back to the rolls which are fun and easy and light and fresh and BONUS, no cooking! One less reason to curse this summer.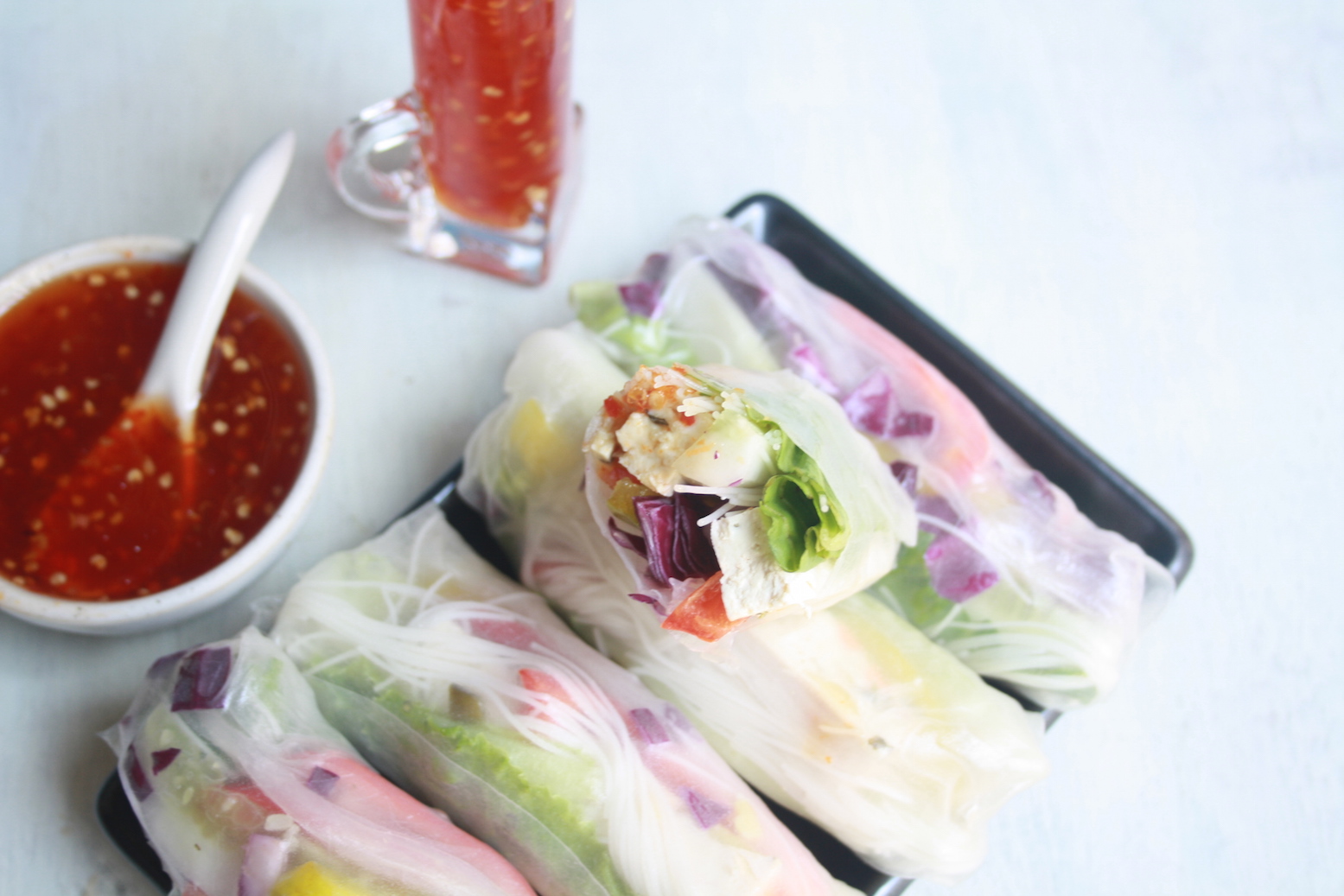 I first had summer rolls at Patnem and it was such a refreshing, crunchy meal in that heat when the stomach can't bear anything, I had to try them at home.
All you really need is rice paper and your favourite fresh veggies, but the meal is heartier with rice noodles and tofu. Rolling them is fiddly work but after a couple, you get the hang of it. Before beginning, have your fillings chopped and ready, a large, wide bowl of clean water to soften the rice papers and a smooth surface to assemble the rolls, preferably nothing wooden.
I preferred filling the rolls in the center of each rice paper, it gave me more surface to cover the filling, but you might find it easier to start towards the bottom of the paper. Really, this just depends on what you're comfortable with. After doing a few, it falls into a pretty easy pattern. The rice paper sticks to itself very easily, so there is no danger of the rolls coming undone or anything.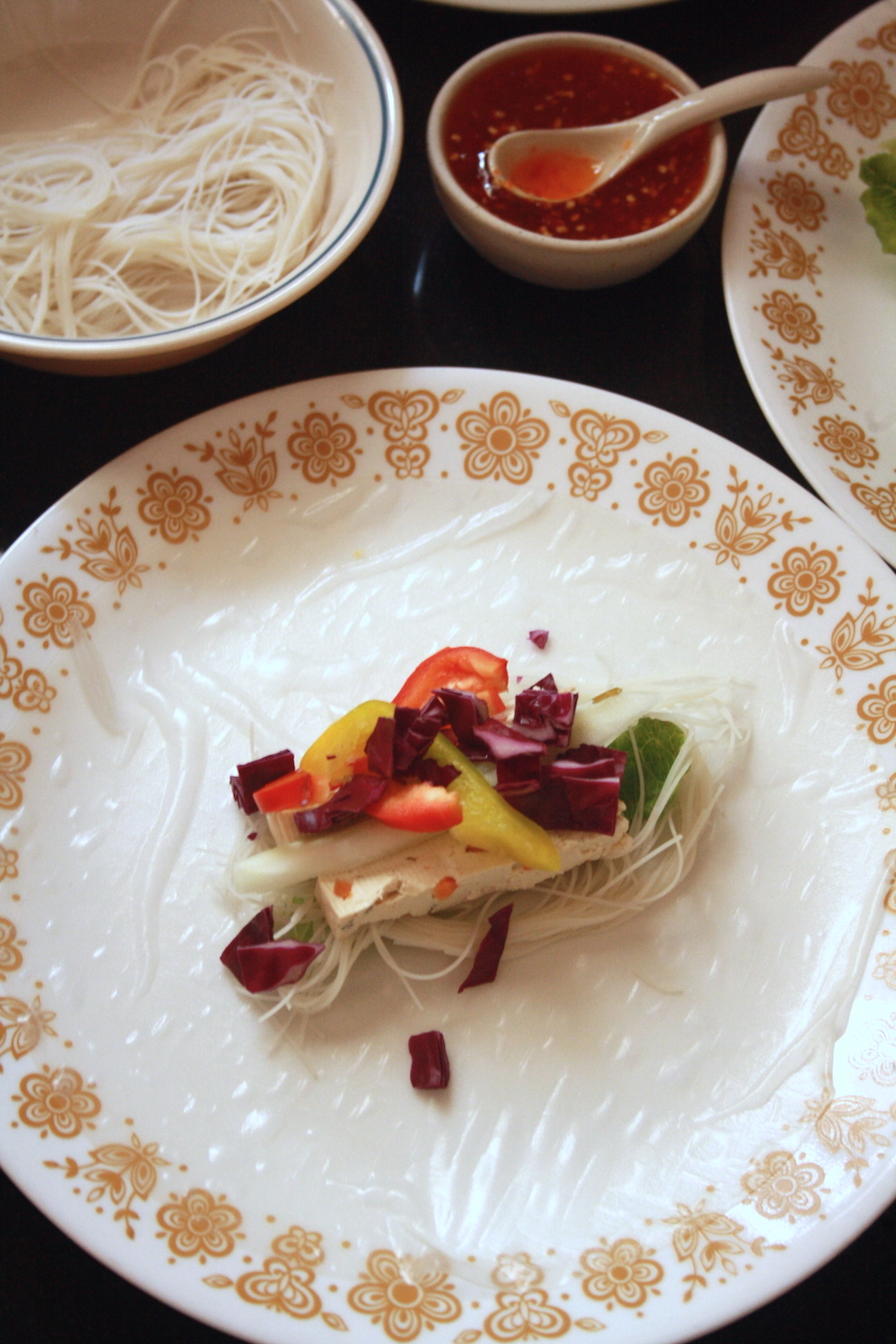 The rolls are vegan and gluten-free (make sure your rice paper pack says so) but since they don't have a strong flavour on their own, the sweet chilli sauce actually went great with them, and the chilli didn't seem so bad once we started eating 🙂 Dip lightly at first and if you haven't caught on fire after a few bites, go to town with that sauce!
If you make the sauce the night before and refrigerate it like I did, make sure to leave it out at room temperature for at least an hour before serving because the sugar makes it firm up as it chills. This recipe takes a little extra prep time with all the deseeding and chopping but it is so worth it! Such a change from regular lunches and so, so healthy 🙂 Try it!

Vegan Summer Rolls with Homemade Sweet Chilli Sauce
Vegetable and tofu packed summer rolls with a made-from-scratch sweet chilli sauce. The perfect light, crunchy, fresh meal!
Author:
The Desserted Girl
Recipe type:
Lunch/Dinner
Ingredients
Sweet Chilli Sauce
25 gms to 50 gms Thai red chillies, depending on spice tolerance (or use regular red chillies)
1 tsp ginger garlic paste (or minced ginger and garlic)
1 cup rice wine vinegar (I used Blue Elephant)
1 cup caster sugar
3 tbsps honey (to make the sauce vegan, use a vegan-friendly sweetener like agave)
2 tsps cornflour/cornstarch


Summer Rolls
10 rice papers (I used Real Thai)
200 gms tofu, cut into strips, I had a spiced variety that was nice!
50 gms purple cabbage, chopped
1 small red pepper, sliced
1 small yellow pepper, sliced
1 medium cucumber, sliced lengthwise and in half if needed
About 5 lettuce leaves, cut in half
100 gms rice noodles or rice vermicelli (I used Real Thai)
Instructions
To make the sweet chilli sauce, cut off the tops of each red chilli, leaving an opening. Gently twist the chilli to remove the seeds and membranes as completely as possible. Don't forget the gloves or coat your hands in a bit of vegetable oil first.

Transfer the deseeded chillies to a blender and process until chopped, but not pureed, just a few seconds.

In a small saucepan, combine the remaining ingredients, add the chopped chillies and stir on medium heat till the mixture comes to a boil.

In a small bowl, combine the cornflour with a splash of water to make a runny paste then add to the sauce. Turn the heat down to low and simmer for about 30 minutes until the sauce has thickened to a sticky consistency. Carefully taste and adjust the sweetness if needed.

Allow to cool and transfer to an airtight container and refrigerate if not using immediately. You will have about a cup and a half of sauce. Before serving, allow the sauce to come to room temperature.

To make the rolls, first keep all the fillings at hand. Cook or soften the rice noodles according to the package instructions. Usually it just means a few minutes of soaking the noodles in warm water, draining them and then letting them stand for a few more minutes to absorb the moisture and soften.

Dip one rice paper into a large, wide bowl of water, lifting it out after just a few seconds. Hold it up for a few more seconds till the water drains and the paper starts to soften. Quickly transfer to your rolling surface (glass, ceramic or plastic). In case the bowl you're using isn't big enough, dip the rice paper in bit by bit, rotating as you go. I preferred holding it up to dry rather than laying it on a paper or cloth towel which made the process more fiddly, but feel free to try it.

In the center of the paper, place two small pieces of lettuce leaves, top with some noodles, two pieces of tofu, two pieces of the bell peppers and one piece of cucumber. See what fits in your rice paper the best and change these quantities around accordingly. Do not overstuff.

Gently lift the bottom of the paper over the filling and tighten with your fingers. The paper will be surprisingly firm and pliable. Fold in the ends on either side, then continue rolling till the end. The paper will 'seal' automatically. Lift and transfer to a serving platter. You might find the roll sticking slightly to the plate, it doesn't fall apart, I promise.

Repeat with the rest of the rice paper and toppings. Serve with the sweet chilli sauce and dig in!
Notes
1. Add or subtract veggies as you like. Carrots would be great, maybe even radishes!

2. Rice paper, rice vinegar and Thai chillies are available at Nature's Basket, Food Hall, bigbasket.com and foodesto.com

3. Rice vinegar can be substituted with regular white vinegar but the flavour won't be the same.