This late 20s thing comes with a lot of premature old lady problems. The inability to comprehend a plan that only begins post 10 PM, the obvious choice between pajamas and anything but, and the tragic decrease in metabolism.
So. When I decided to make this quiche, I knew I wanted to skip a crust loaded with butter and cheese because I had no intention of feeling like a beached whale for the rest of the day. And bonus, I was out of cheese anyway. Enter, crustless awesomeness.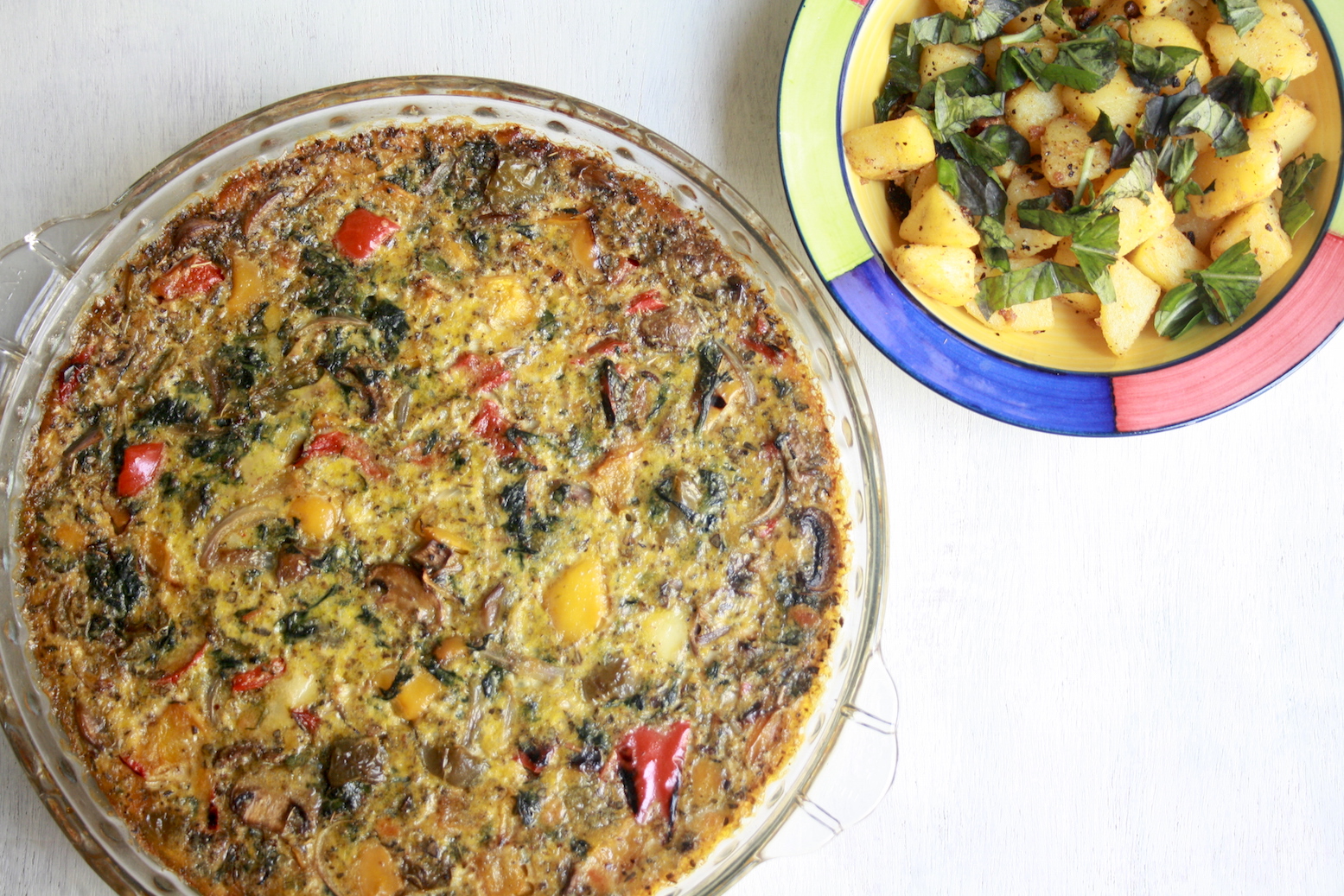 Loaded with spinach, mushrooms, bell peppers and onions, all caramelised like there's no tomorrow, then mixed into a relatively light egg custard and baked. What you end up with is a creamy, filling, hearty weekend lunch that would be incomplete without golden, pan-fried potatoes, because hello, no crust.
This old lady still loves carbs, thank you very much.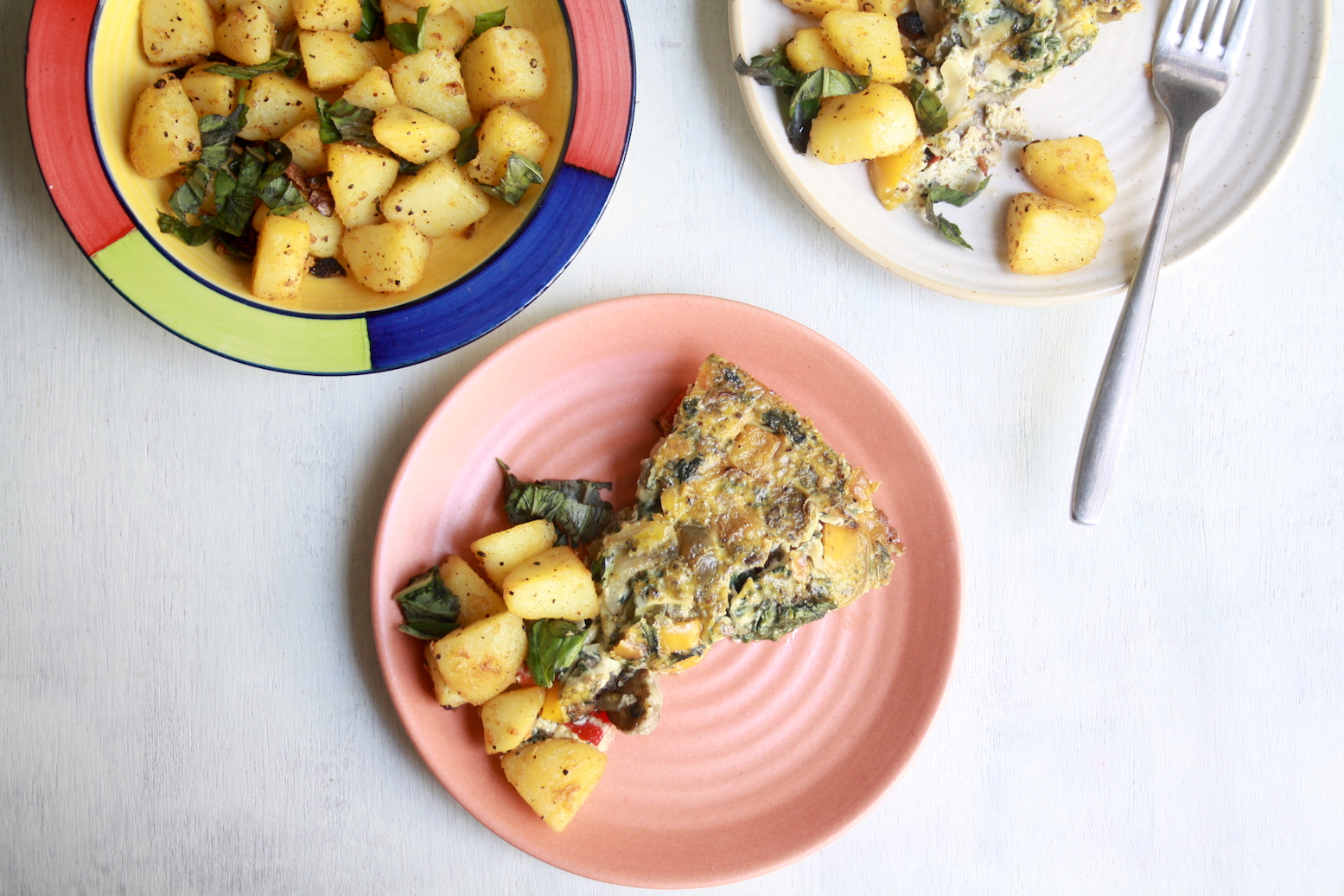 The quiche is a variation of my Mom's favourite recipe that she got from a South African friend of hers. It's easily adaptable to meat eaters and I think chopped sausages or salami would be great. While I haven't tried it, substitute cottage cheese or paneer for the eggs, if you don't eat them. I'm also unfortunately slowly going off eggs, just like I went off all forms of meat, so this substitute version might show up here soon!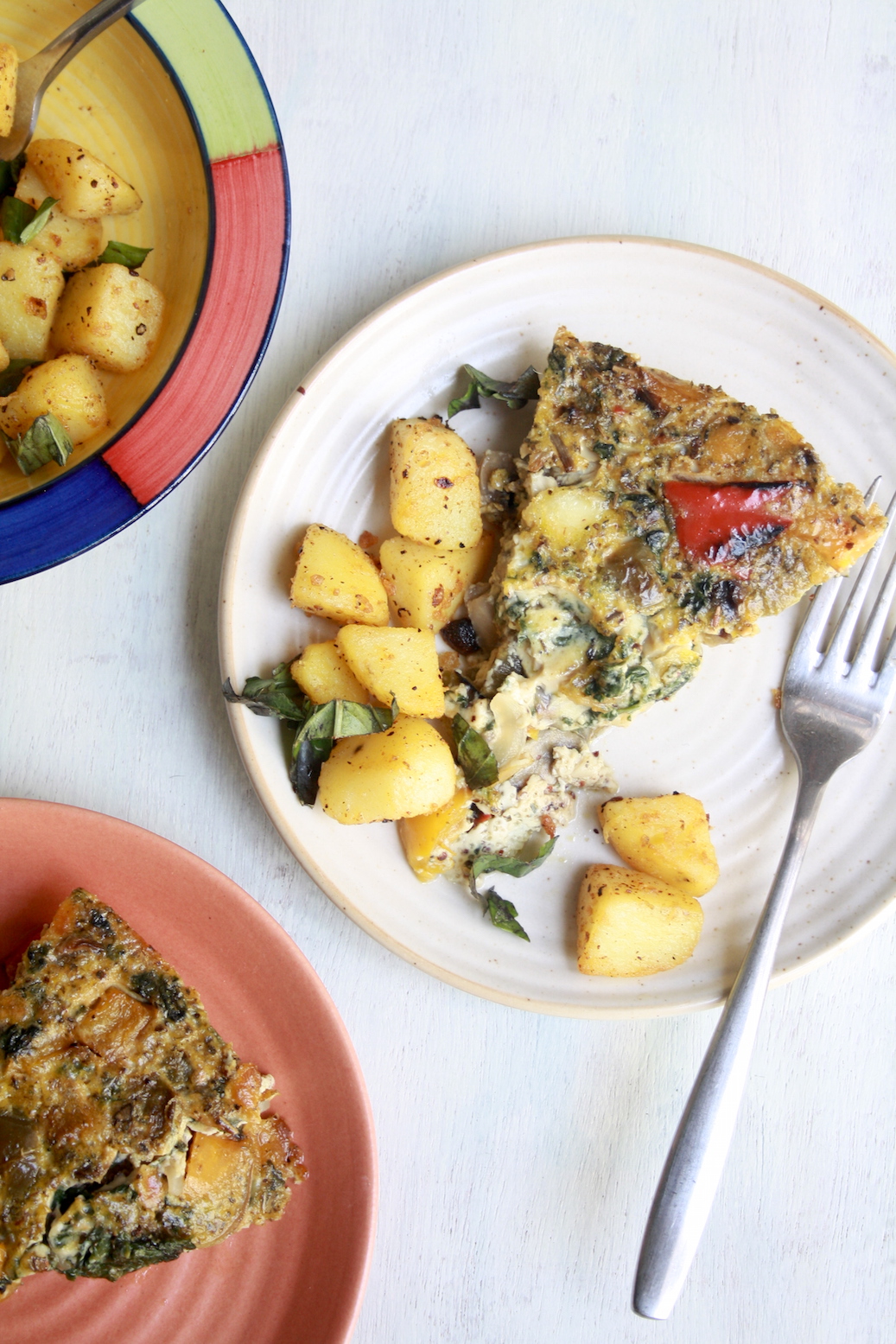 Everything for this quiche can be prepped in advance, because chopping and sautéing a billion vegetables can take some time. When ready to bake, you just need to stir everything in along with the custard and you're good to go. I'm not a fan of very mushy quiches, so I baked this one for a bit longer, but the standard baking time is still 40 minutes, so some planning ahead is a good idea.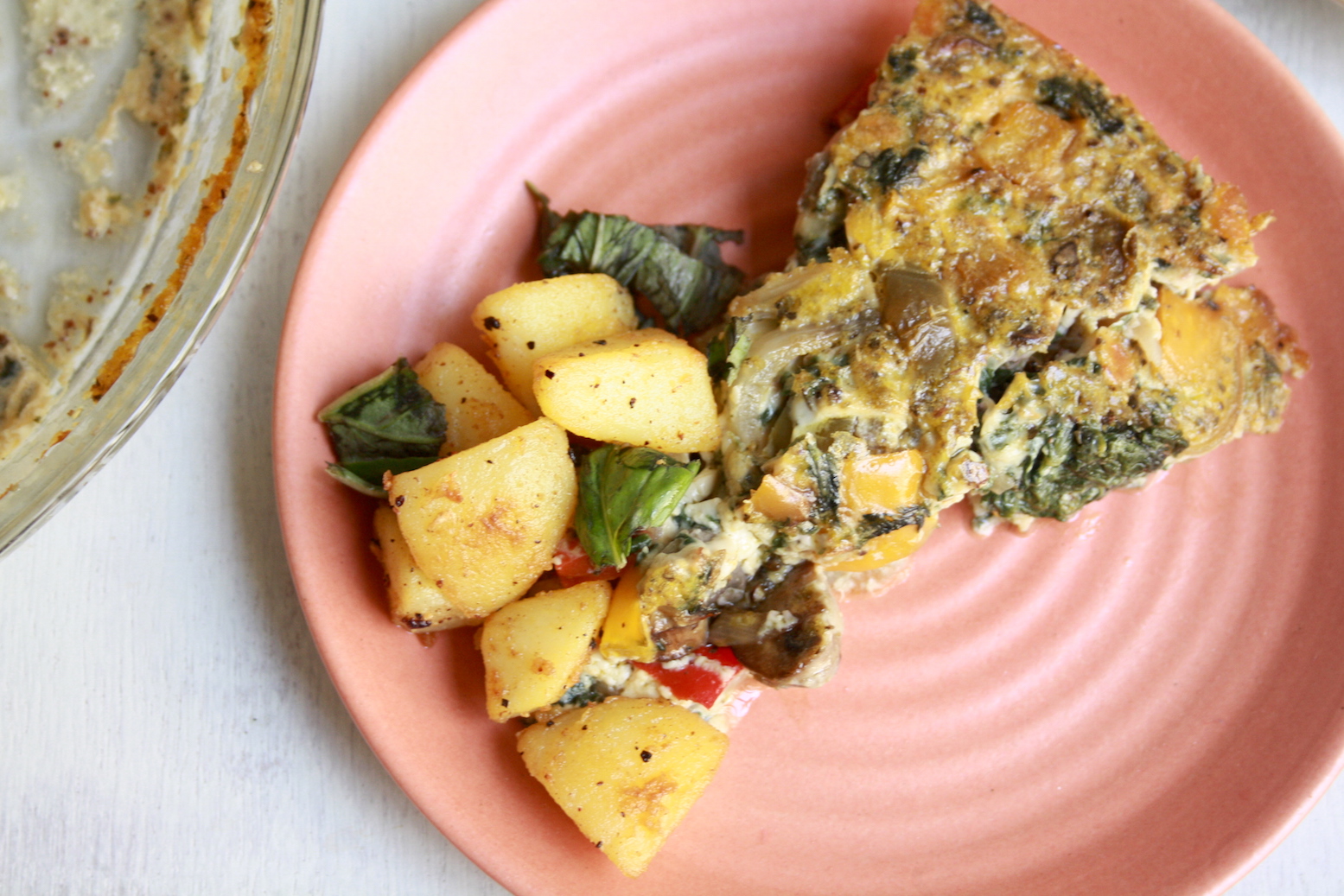 The veggies release all of their delicious juices so don't be alarmed if there is some moisture in the quiche, there's no crust to absorb it, but I promise it doesn't do any harm. Use whatever your favourite veggies and seasonings are. I used chilli flakes, pizza seasoning (such a sucker for that Dominos one), wholegrain mustard and salt and pepper, obviously.
When all this protein-packed awesomeness is paired with golden-brown, seared potatoes tossed in a ton of olive oil and chilli flakes, sprinkled with fresh basil, this meal is in danger of becoming a pretty healthy habit. I know it's going to happen with us.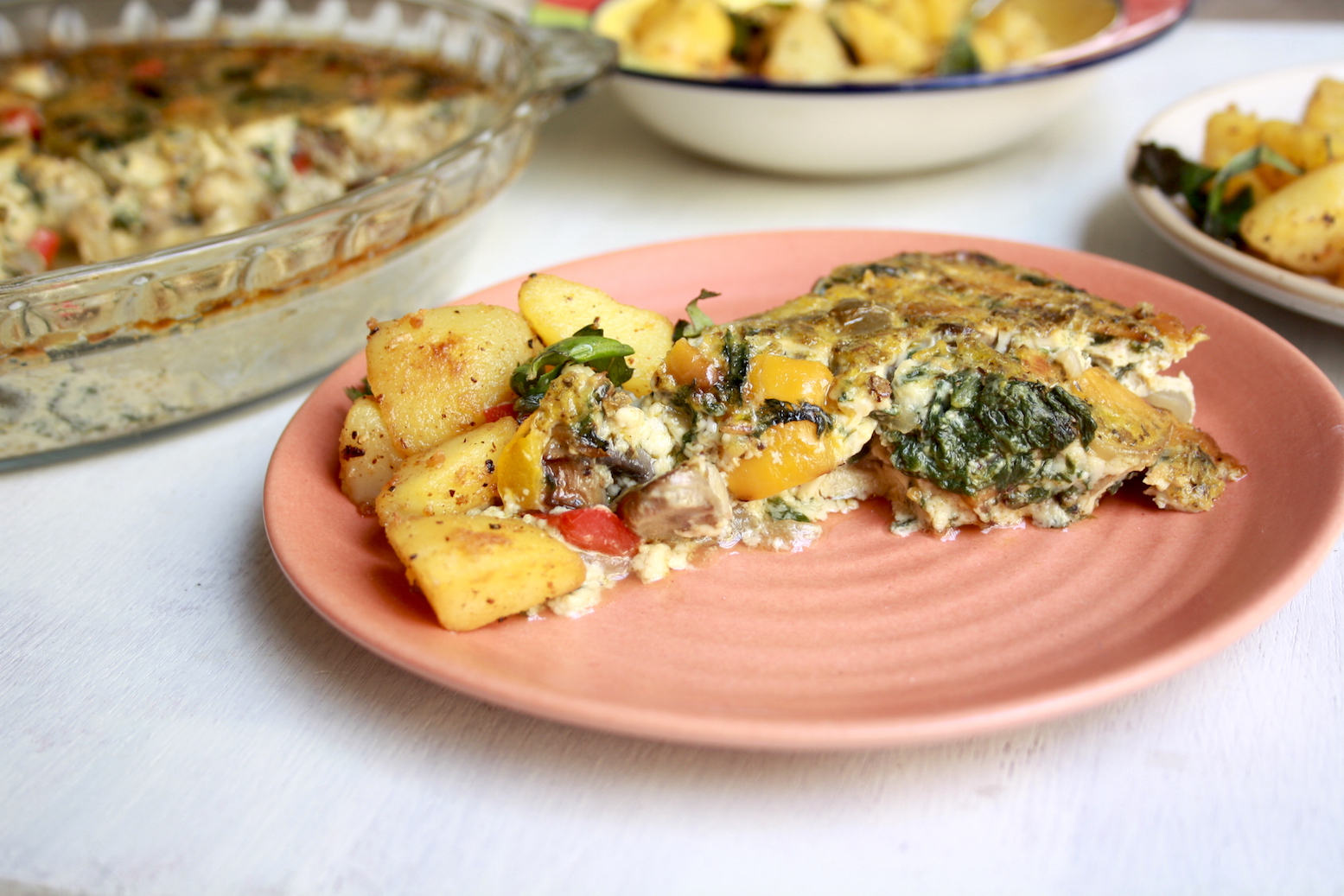 Loaded Vegetable Quiche
A hearty, filling, protein-packed crustless vegetable quiche with spinach, mushrooms, bell peppers and onions, served with golden-brown pan fried garlicky potatoes.
Author:
The Desserted Girl
Ingredients
For the quiche
250 gms spinach, stalks removed, leaves rinsed well and roughly chopped
200 gms button mushrooms, sliced
3 cloves garlic, peeled and finely chopped
3 bell peppers, diced (I used red, yellow and green)
2 small onions, peeled and sliced
Olive oil
3 eggs
1 cup milk
½ cup sour cream ( or for a lighter, homemade version, combine ½ cup milk with 1 tbsp yoghurt and set aside for a few minutes )
¼ cup grated cheese, any kind
1 tsp wholegrain mustard
1 tsp chilli flakes
2 tsp dried oregano
1 tsp pizza seasoning, optional
Salt and freshly ground pepper, to taste


For the potatoes
3 tbsps olive oil
4 small potatoes, peeled and diced
3 cloves garlic, peeled and finely chopped
1 tsp chilli flakes
Salt and freshly ground pepper, to taste
1 tbsp finely chopped fresh basil
Instructions
In a frying pan set on medium heat, add 1 tbsp olive oil, and the chopped spinach. Increase the heat to high and sauté till all the moisture has evaporated, the spinach darkens and begins to stick to the pan. Transfer to a small bowl and set aside.
In the same pan, add 1 tbsp olive oil, and sauté the mushrooms and garlic until golden-brown and all the moisture has evaporated. Transfer to a small bowl and set aside.
Next, cook the bell peppers in 2 tbsps olive oil, until lightly blistered for the best flavour. Transfer to a small bowl and set aside.
Finally, caramelise the onions in 1 tbsp oil until translucent and lightly browned. Set aside.
Preheat the oven to 175 C and grease a 9" pie dish.
In a large mixing bowl, add 1 tbsp olive oil and crack the eggs in, whisking with a fork to beat and combine. Add the milk and sour cream, followed by the mustard and seasoning. Mix well.
Add the cooked veggies to the egg custard and mix. Pour into the prepared dish and bake for 40 to 45 minutes, until the top is set and doesn't wobble. For a firmer texture, bake for an additional 10 minutes.
While the quiche cools, prepare the potatoes. Heat the frying pan (the same one from earlier to minimize dish washing) on high heat with 3 tbsps olive oil. Add the potatoes and garlic and toss well until coated in the oil. Allow to cook for 8 to 10 minutes until the potatoes are soft and golden brown on the outside. Turn off the heat and add the salt, pepper and chilli flakes. Transfer to a bowl, garnish with fresh basil and serve hot with the sliced quiche.
Notes
1. If you would like to make a crust, here's what to do:
Combine 1 cup flour, 1 cup grated cheddar cheese and 125 gms cold, cubed butter in a large bowl till a soft dough forms. Press into a greased pie dish and chill for half an hour. Proceed with the filling as written in the recipe.

2. Veggies can be chopped and cooked the previous night. Keep covered in the refrigerator and mix them into the egg custard when ready to bake.
Try my super easy
Spinach and Mushroom Quesadillas
for your next weekend lunch!