So I turned out to be an utter and total fraud. I, who runs screaming from brownies adulterated with walnuts, who balks at the thought of popping whole cashews in my mouth, who does not understand why perfectly good oatmeal cookies must be tortured with the addition of raisins. I, who does all of that, not because I'm allergic to nuts, but because I'm sceptical of them, went and fell in love with truffles made with, wait for it, walnuts….almonds….and dates.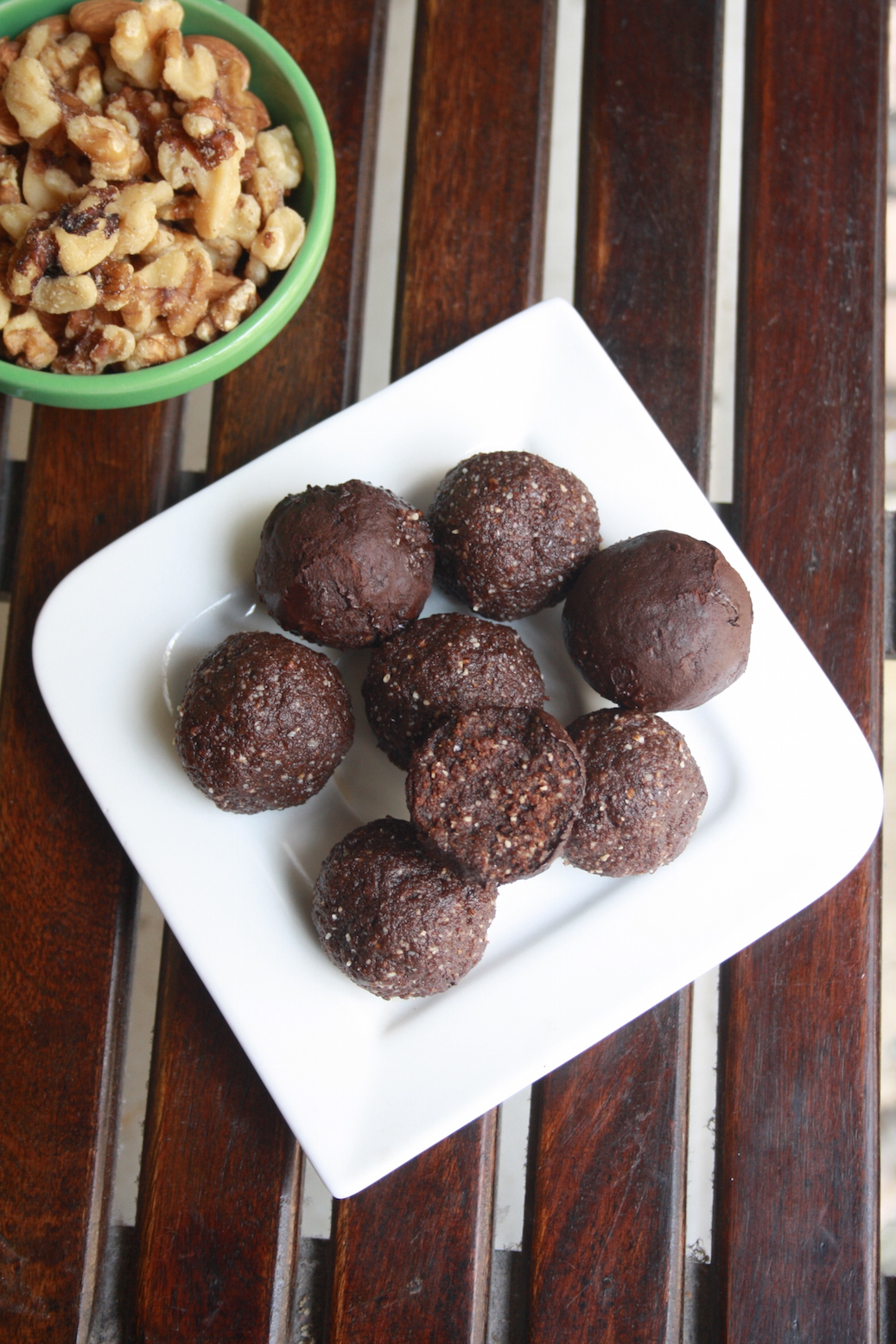 It turns out, if you throw in enough cocoa powder, even a nut-fearing creature like me cannot stop herself from flinging these into her mouth like popcorn. I'm like the girl who cried 'Wolf!'. It's all over.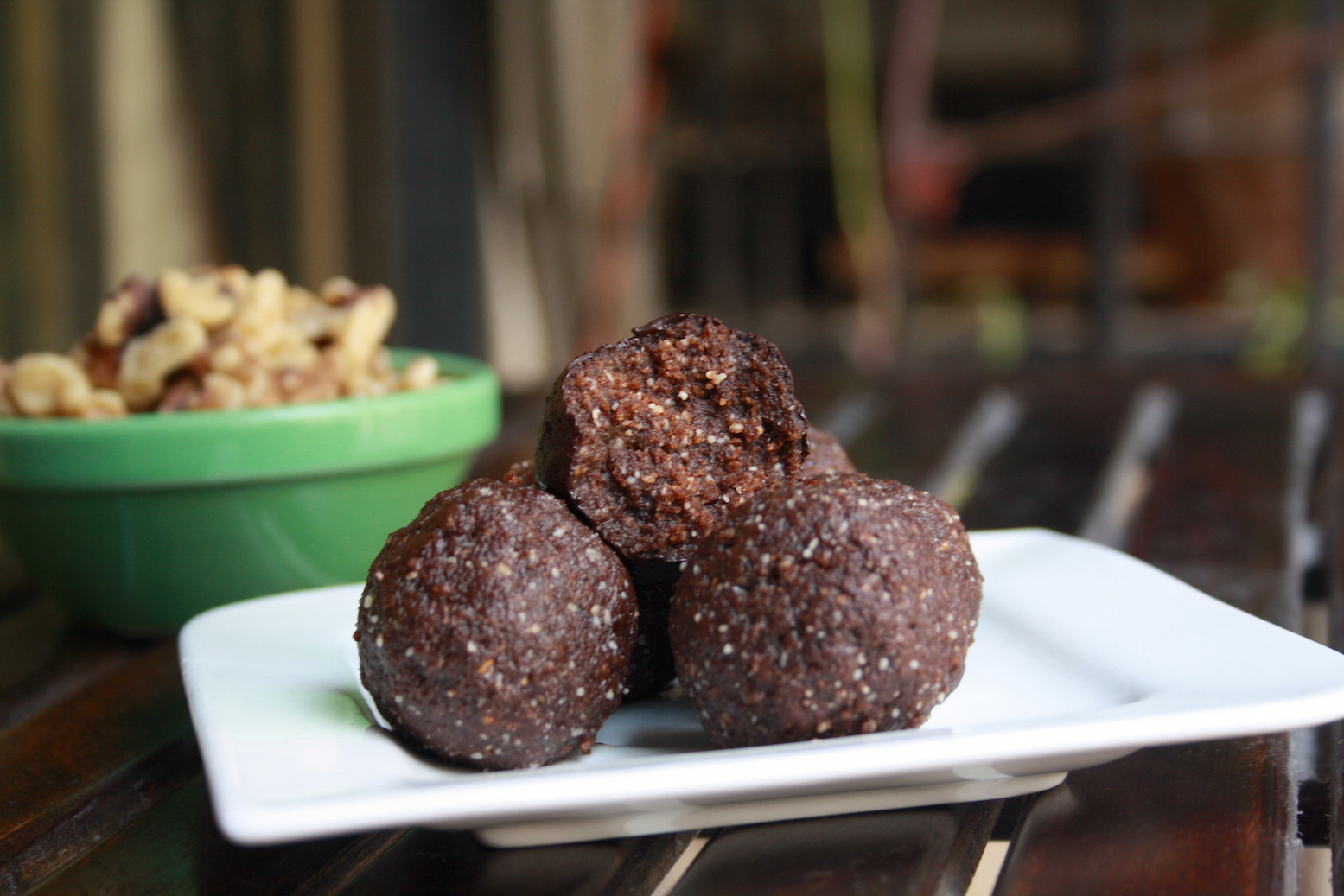 A few weeks ago, Nuts.com inspired me to create a healthy alternative to Halloween candy. I must admit, I first fell for their packaging and then realised, inside those delightful packs, are nuts and dried fruits of all kinds. How would I possibly create something out of ingredients I'd been running from my whole life? Was there possibly a way to make my cake and eat it too? Even if said cake had nuts? The thought itself was scarier than Halloween.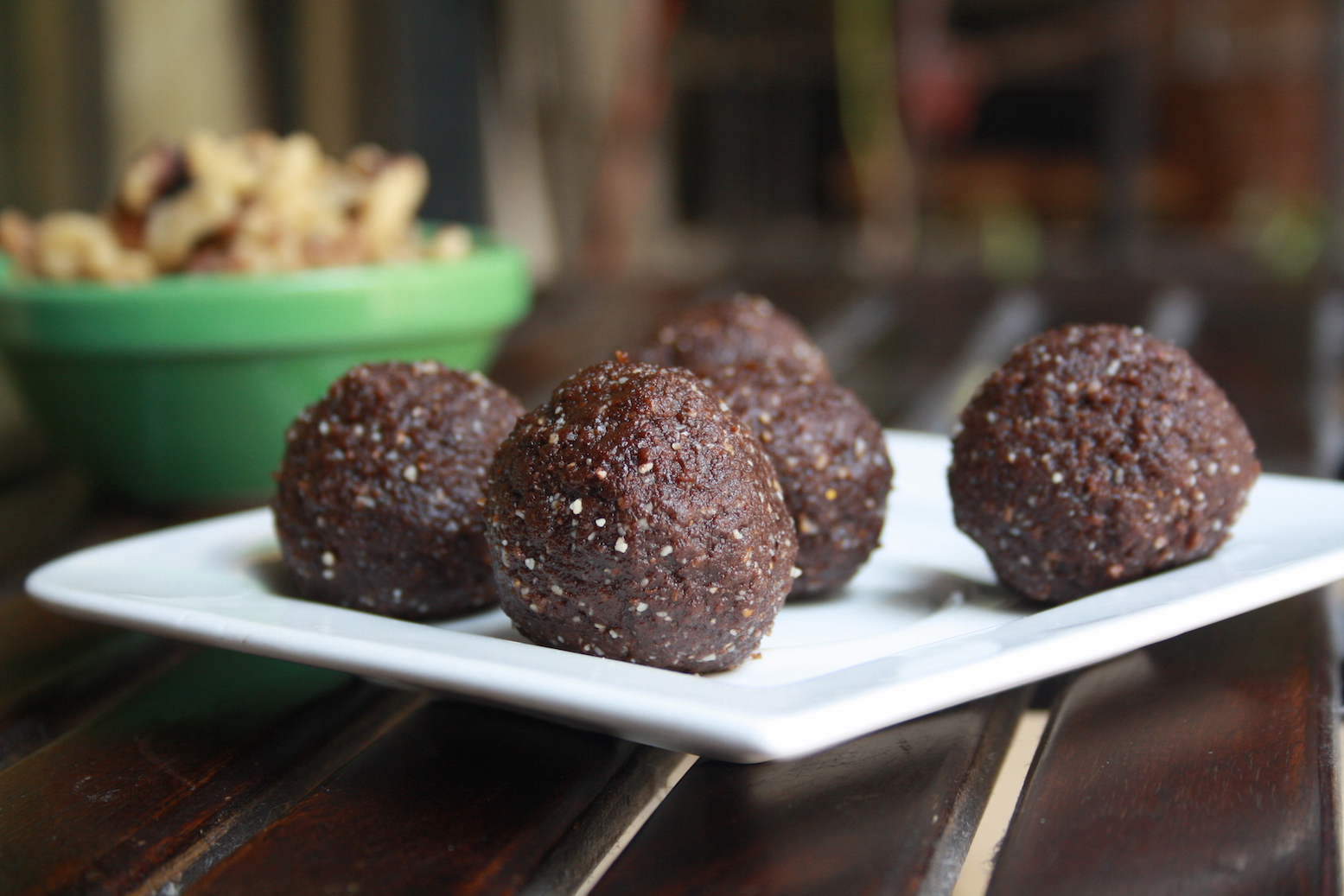 But I said yes. Because I saw this recipe from Sally's Baking Addiction and thought, hey, there's cocoa in here! Chocolate! How wrong could we go, right? I was determined to make something that even a person who doesn't eat nuts with a lot of passion, would love.
I owe Nuts.com many many thank yous for introducing me to this new, nutty, crunchy world. Before we get into these truffles, check out some of their healthy snack ideas!
So. If you have nuts and dates in your kitchen and about 10 minutes in your hands, you need to make these. No sugar, no fat, nothing bad. They taste like chocolate fudge, I kid you not. Chewy and rich and moist with some sort of mysterious coconut flavour that I can't explain. The dates add an incredible natural sweetness, the ground almonds and walnuts add flavour I never thought possible and let's just say they're so good, I'm planning a jumbo batch very very very soon.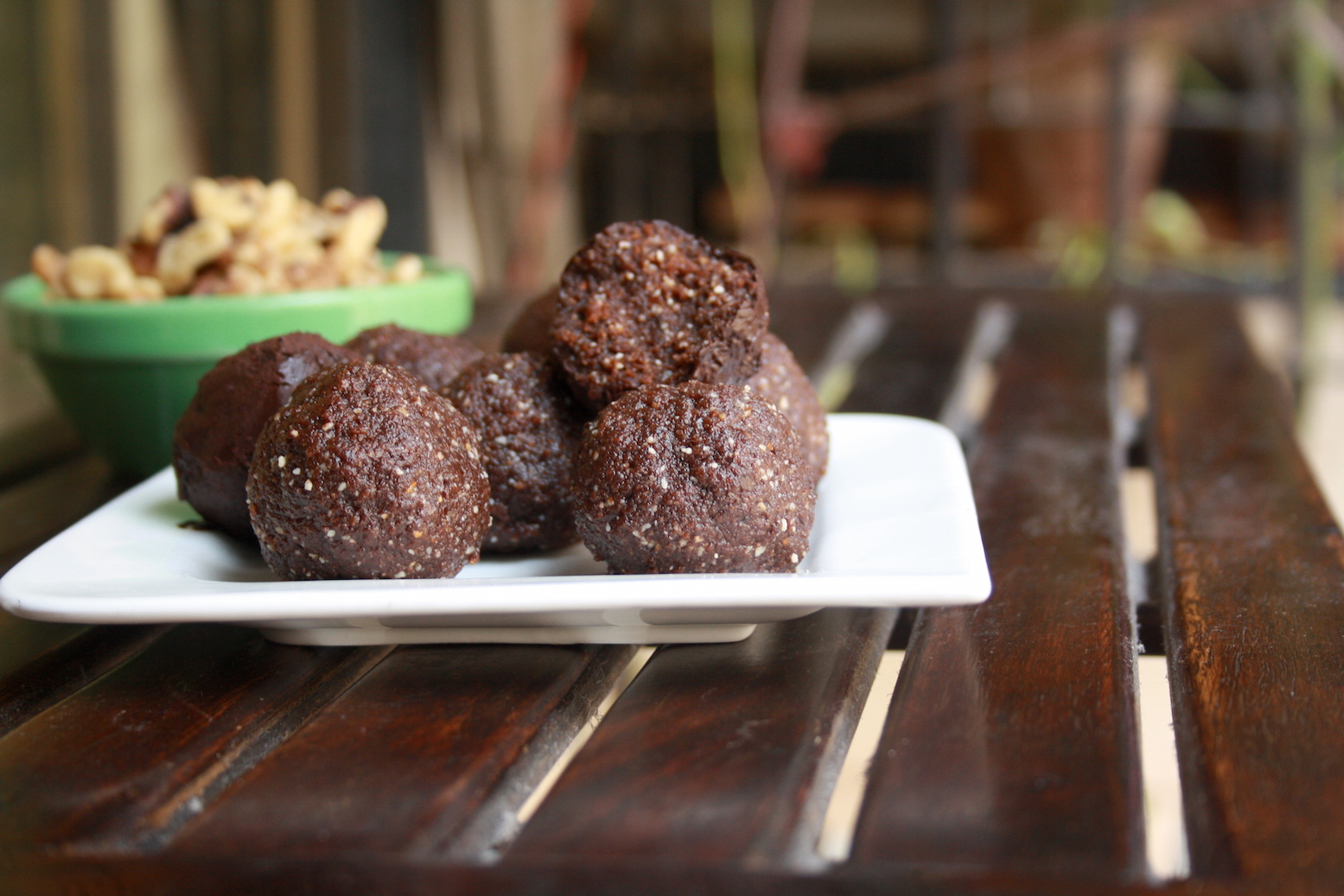 You need a food processor or a blender, plus patient fingers and palms. They're ridiculously easy to make if you don't mind getting your hands dirty, but where chocolate is concerned, no one minds a mess.
The original recipe estimates 16 to 18 truffles but I got only 8, possibly because the dates I used were small or I chose to roll larger truffles.
You can use any nuts/seeds you like in place of the walnuts and almonds. Dig through your pantry and refrigerator and go nuts! Hee hee.
Word of caution if you're planning to roll the truffles in cocoa powder, they soak it in pretty quick so you're left with dark, sticky truffles with a bitter outer coating that I loved, but if you're suspicious of it, I recommend leaving them as is. They really don't need a lot more.
I think you'll find that there's really no contest between trick or treat here. These are a treat all the way. Happy Halloween!
What you'll need:
14 dates
2 tsps vanilla extract
1/4 cup cocoa powder
1/2 cup whole almonds, dry roasted for a few minutes till fragrant
1/2 cup whole walnuts, dry roasted for a few minutes till fragrant
What to do:
1. If the dates you have are not soft, soak them in warm water for 15 minutes and then drain. Proceed with step 2.
2. In the bowl of a food processor, add the dates, roughly chopped, after removing the seeds.
3. Add the vanilla, cocoa powder, almonds and walnuts.
4. Blitz for 5 to 10 minutes until the an oily dough begins to form. If bits of it clump between your fingers, you're ready to roll (so many puns). I didn't wait till an actual dough ball formed once the clumping began. This part really depends on the processor you use and the size of the dates and nuts. Scrape down the mixture as necessary and try and blitz at a stretch if you can. If you find the mixture is too dry even after about 10 minutes, try adding a tablespoon of honey or maple syrup.
5. Tip the 'dough' out into a bowl and take a heaping tablespoon of mixture at a time between your palms. They will get greasy automatically because of the oils released by the dates and nuts. Roll gently till a round, bite-sized truffle is formed. Repeat with the remaining.
6. While they taste great as is, you could roll the truffles in cocoa powder (see above), crushed nuts, desiccated coconut or whatever else you can think of. The sky is the limit and all that. I think melted peanut butter drizzled on them would be stellar and I don't know why I just thought of that!
Happy truffling!