They say if you fail, try and try till you succeed. In my life so far, this motto has not applied to algebra, chocolate abstinence or sensible shopping. But it has applied to pancakes.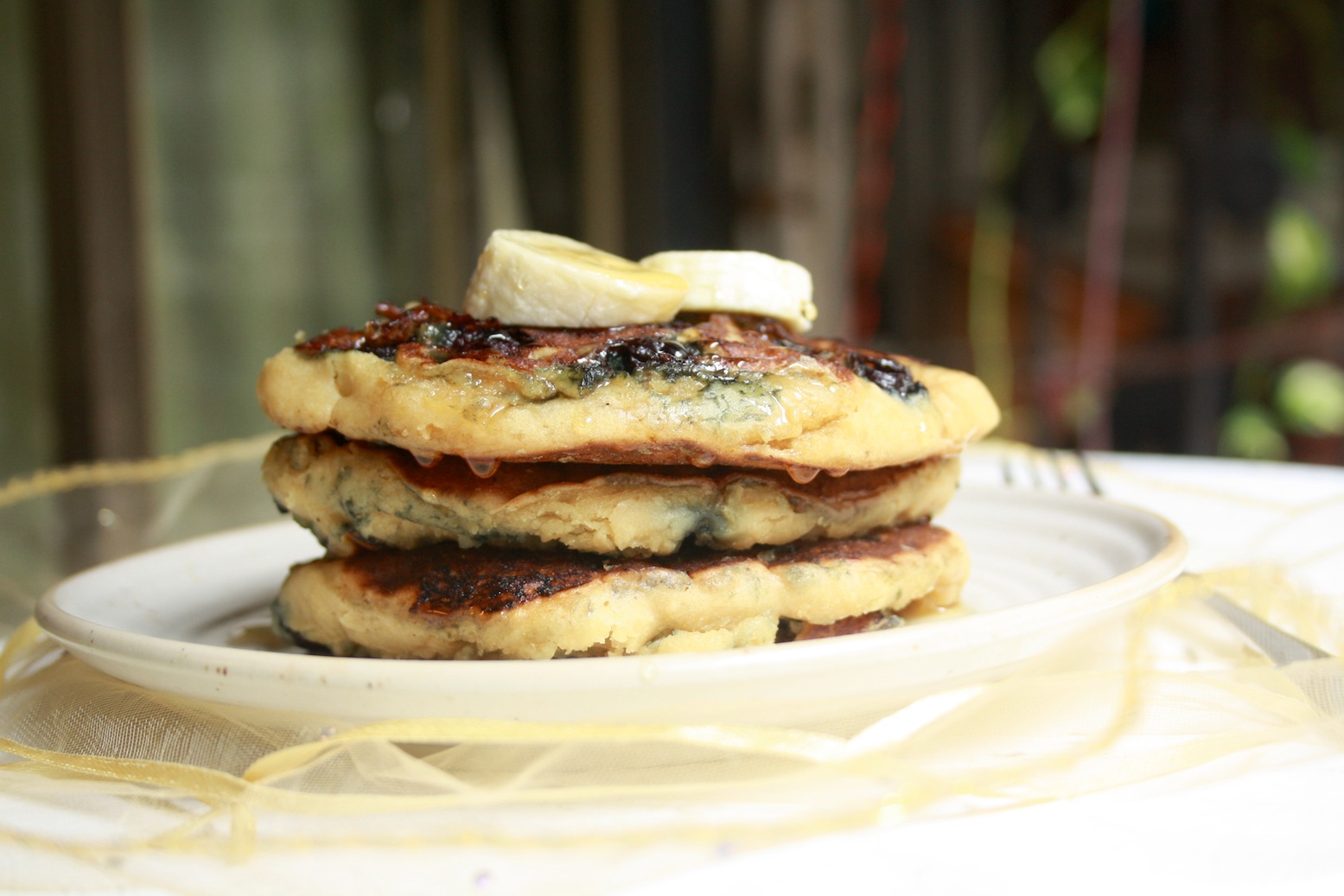 When I first tried these pancakes, I struggled to think of a name for the disaster that ensued. The batter was think enough to become cookie dough, the blueberries stuck to the pan, the pancakes broke into multiple tragic pieces. And I was left picking up sticky crumbs and fragments of my heart.
What went wrong that day will remain my life's greatest mystery. Because the second time around, they were SO FLUFFY I'M GONNA DIE!!!! How I love Despicable Me 🙂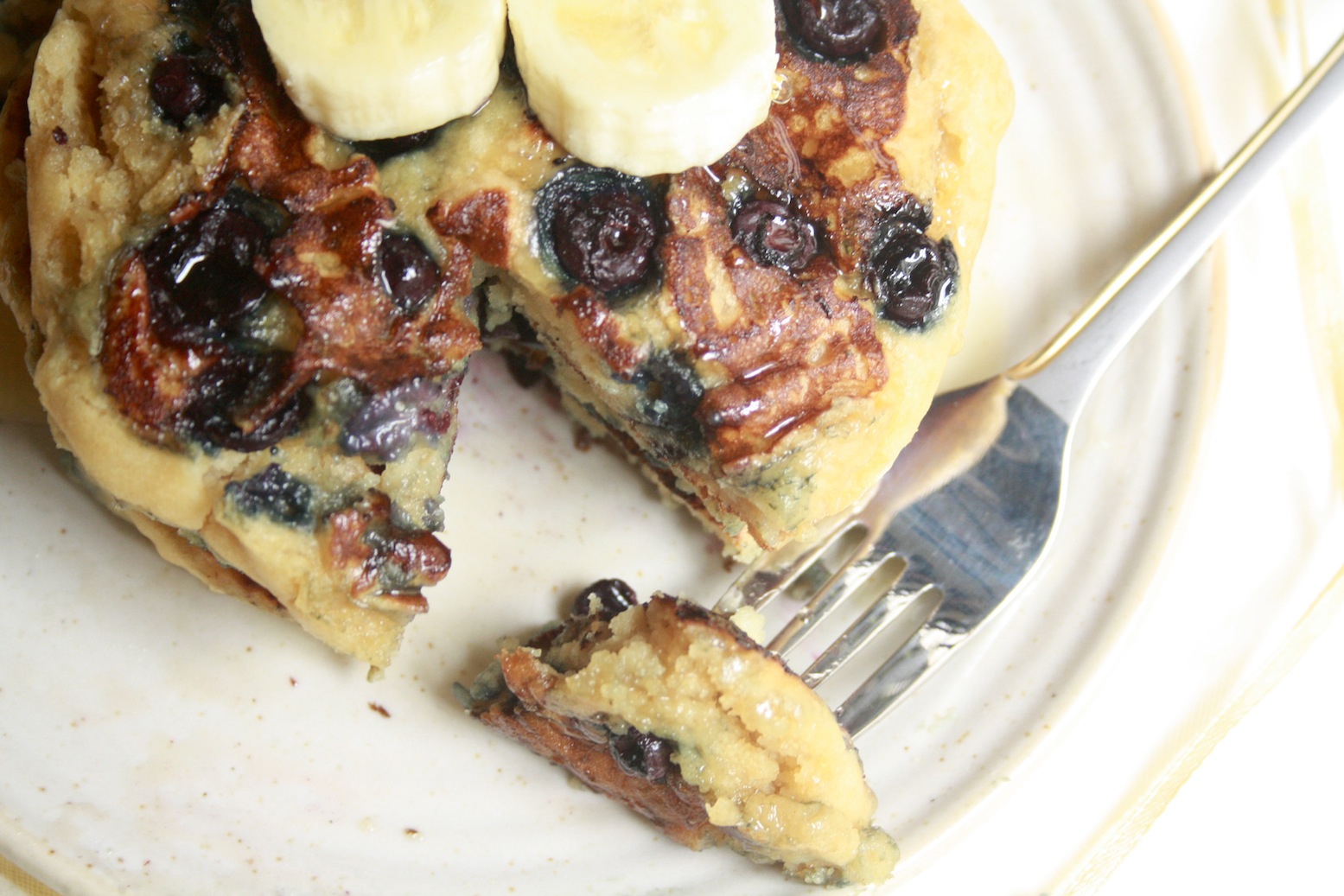 After the disaster, I had to do some pancake research because I began to feel the blueberries were the culprit. What a number of great bloggers said was that sprinkling the blueberries on after the batter is in the pan, is a smart move. This way, instead of having them mixed in earlier, leading to a greater chance of frustrating sticking, they remain just on the top and make it easier to lift the pancake off. It so worked.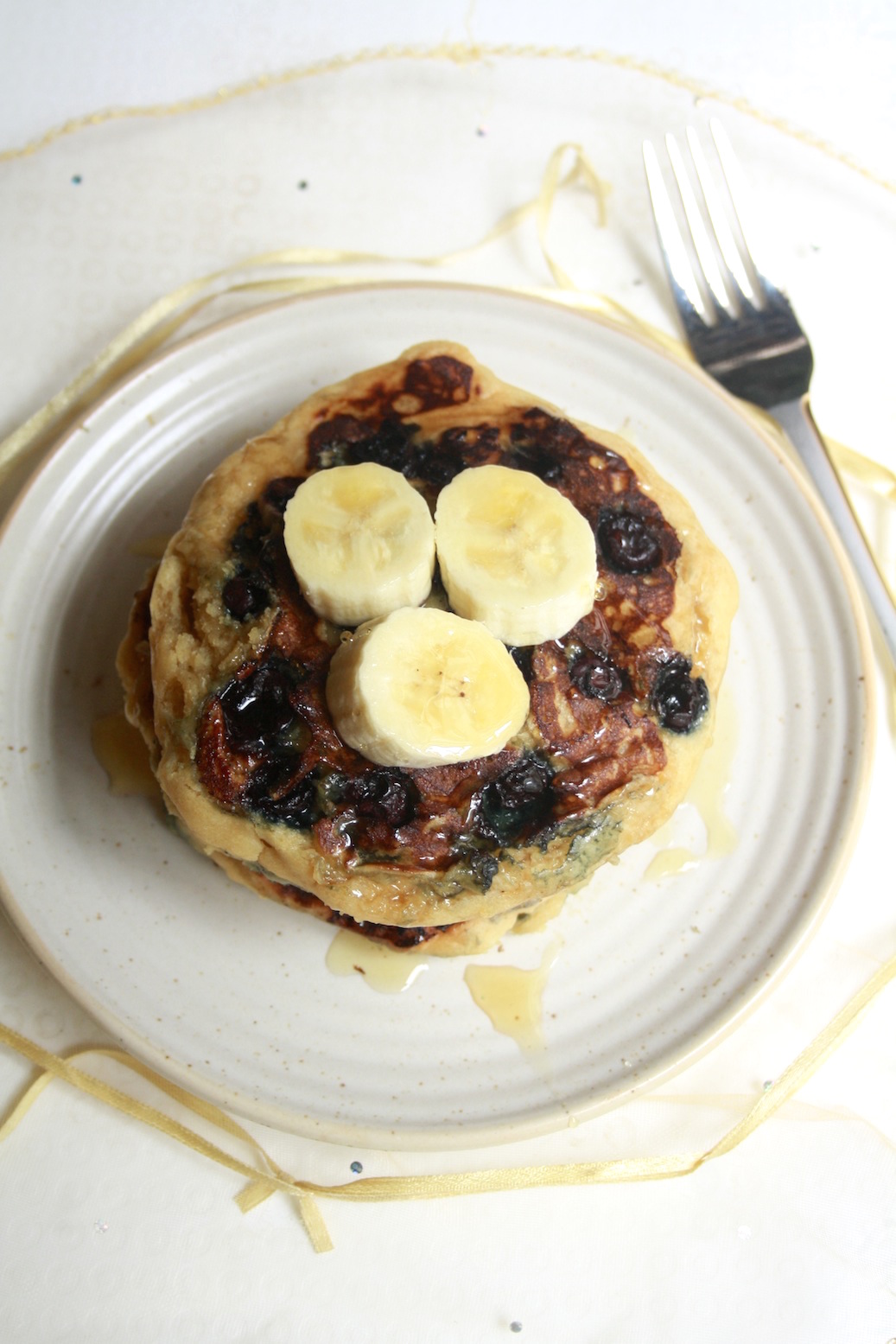 The pancakes are fluffy but slightly dense, hearty but not heavy. Just like these oat and banana lovelies. Also more guilt-free stuff here and here. There's no refined sugar in them, no eggs therefore no egginess and they're made with whole wheat flour. Serious goodness.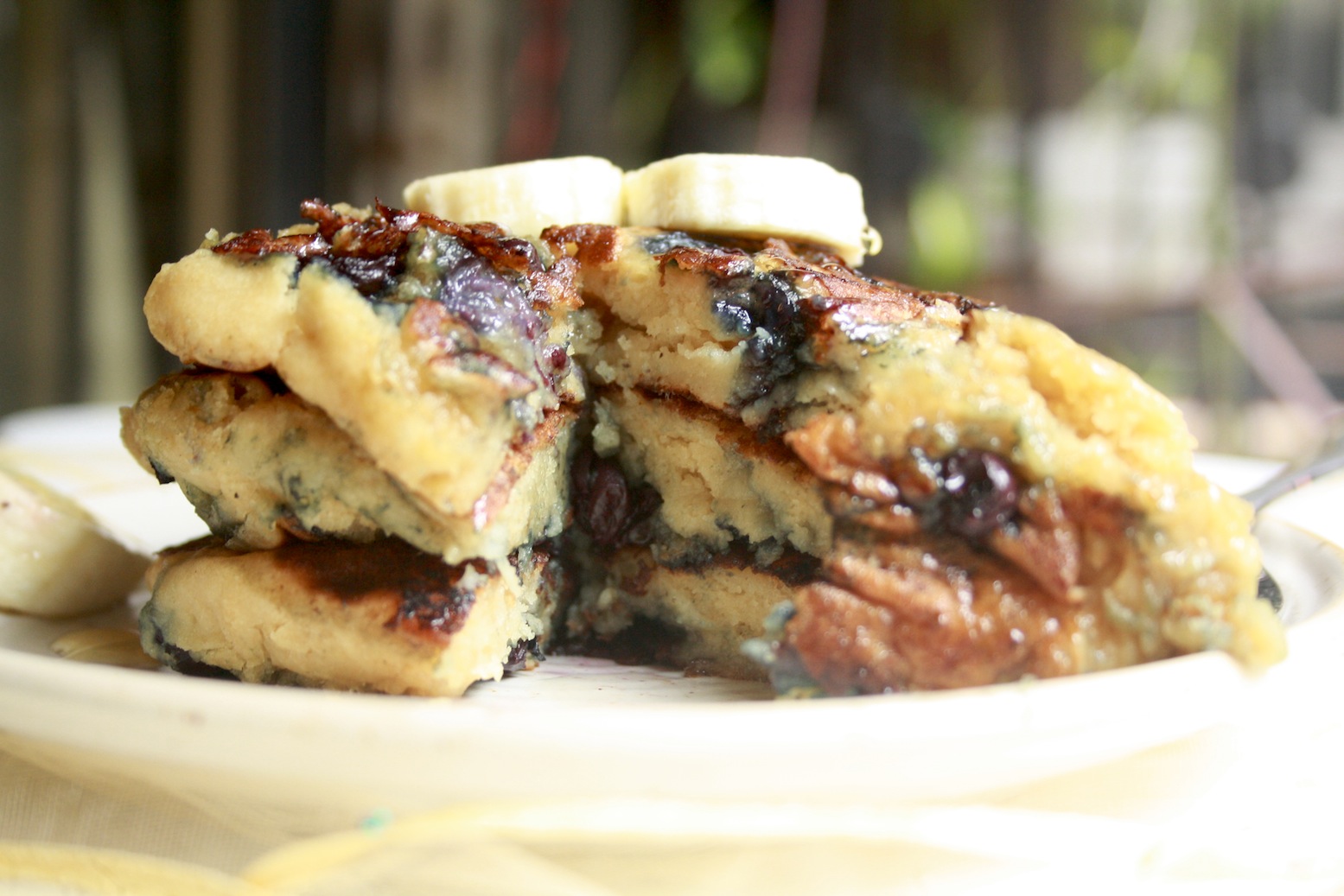 When you eat the leftovers straight from the fridge, it's like biting into French toast. With blueberries. You get two breakfasts in one with this recipe. As if blueberries weren't reason enough.
What you'll need:
1 cup whole wheat flour (I don't think I've ever said this before, but I will now. To measure flour correctly, first fluff it in the container using a large spoon so that it's nice and airy, then scoop spoonfuls of it into your measuring cup, heaping it. Using a knife or the handle of a spoon, scrape the top off to even it. At no point should you tap the cup or shake it, or you will end up adding more flour than you need. This is especially important for these pancakes.)
1 tbsp baking powder
1/4 tsp salt
1 cup milk
2 tbsps olive oil
2 tbsps honey (up this to 4 tbsps if you prefer sweeter pancakes)
1 tsp vanilla extract
1 tbsp frozen blueberries per pancake
What to do:
1. Sift the flour, baking powder and salt in a large bowl. Set aside.
2. In a smaller bowl, mix the milk, olive oil, honey and vanilla. Pour into the flour mixture and fold very gently until just a few lumps remain. Overmixing will lead to tough pancakes.
3. Set the batter aside for 5 minutes to get nice and aerated.
4. Heat a non-stick pan on low heat. Add a drop of water to the hot pan. If it evaporates immediately, it's too hot. If it just sits on the pan, it's not hot enough. If it sizzles a bit and then evaporates, you're home.
5. Stir the batter slightly. You'll notice the baking powder has given it an almost fermented appearance. Just right! The batter will be thick but just pourable.
6. Add about 1/4 cup of batter on to the pan, spreading it out in a circle. Top with 1 tbsp blueberries, and press them in lightly. Allow the pancake to cook on low to medium heat for about 1 to 2 minutes. It is ready to be flipped when the edges are no longer glossy. Flip and allow the other side to cook for 1 to 2 minutes. The pancake is ready to be lifted off the pan when it comes off easily. Repeat for the rest of the batter. I got 4 large pancakes.
Serve hot with more honey drizzled on top!
I used a non-stick pan so needed no oil to cook the pancakes. Feel free to add some to the pan.