As a child, I apparently LOVED curd. And bananas. An abnormal amount of love. Legend has it bananas had to be hid from me. And curd, well no one minded me loving it. Good bacteria and all of that. Then I entered the troubled teens and decided they were both among the ghastliest food items I could put in my mouth. I mean, when there's pizza, why eat anything else.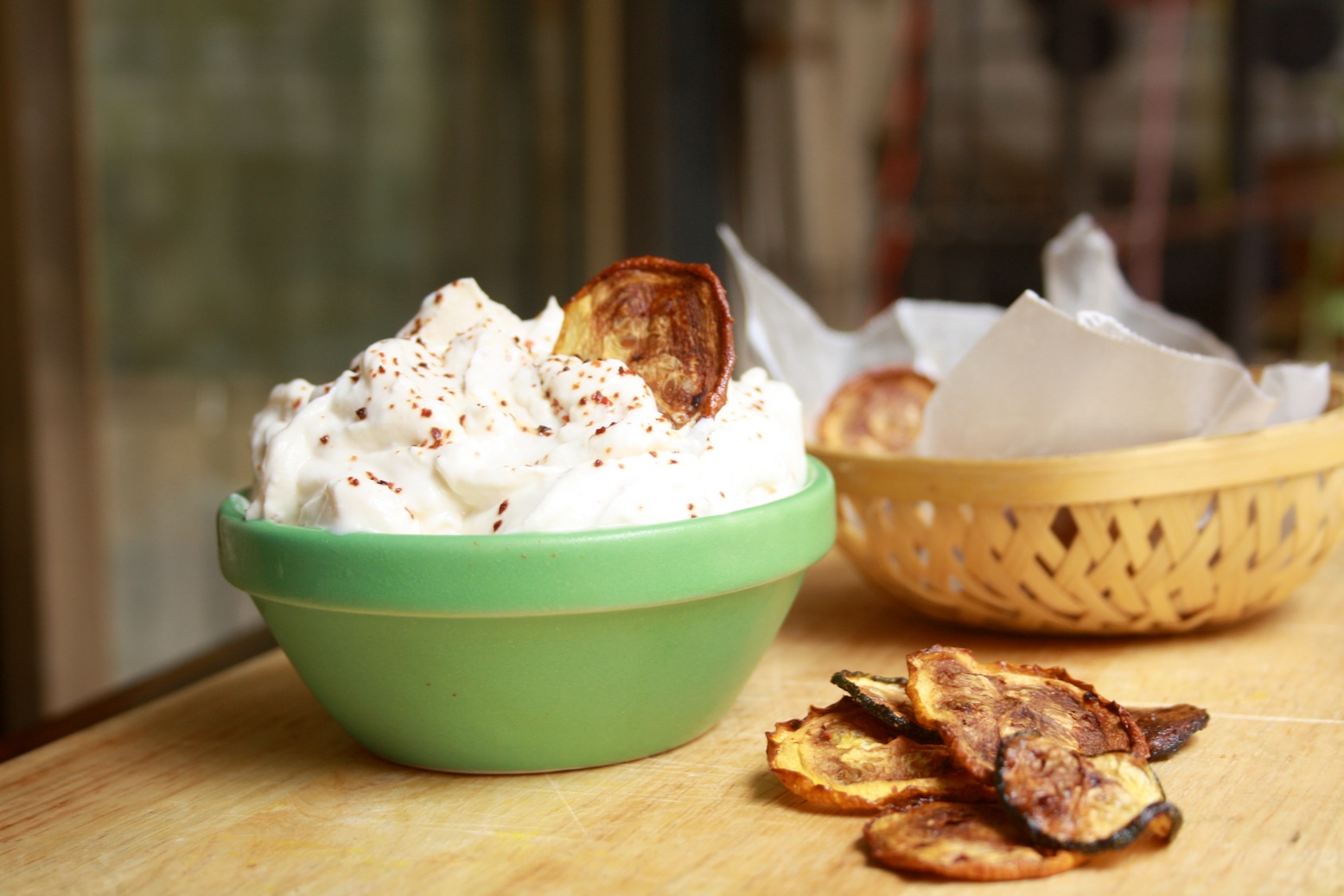 Now in my 20s, with metabolism and immunity taking a serious hit after years of hostel food and Maggi dinners (sob), both curd and bananas have come back into my life. Miracle foods and surprisingly, I now like them an acceptable amount, unlike certain crazed toddlers I can think of. I still prefer eating bananas like this though. I like curd with chia seeds (look at me all evolved), but my favourite form is hung curd. It makes a great cheesecake and is the foundation for that gloriousness called shrikhand.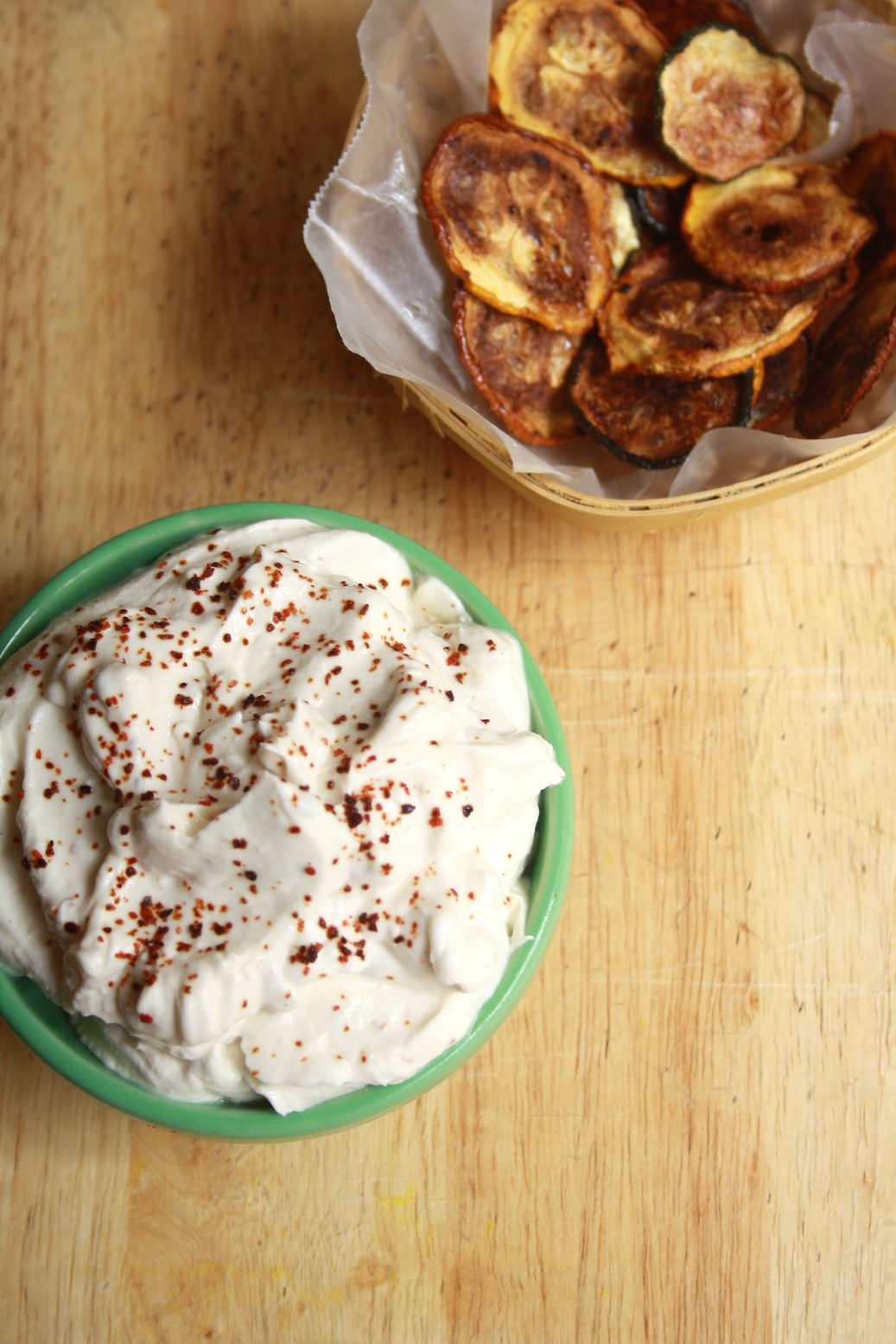 I've actually been making this dip for a while, but when I saw that zucchini could be turned into CHIPS, I decided my dip needed something like that, worthy of being dipped in it. Zucchini is fabulous with chocolate too by the way.
This creamy, lightened up version of a traditional cream cheese dip went delightfully well with this crispy, mildly spiced zucchini chips. Getting older, healthier and braver.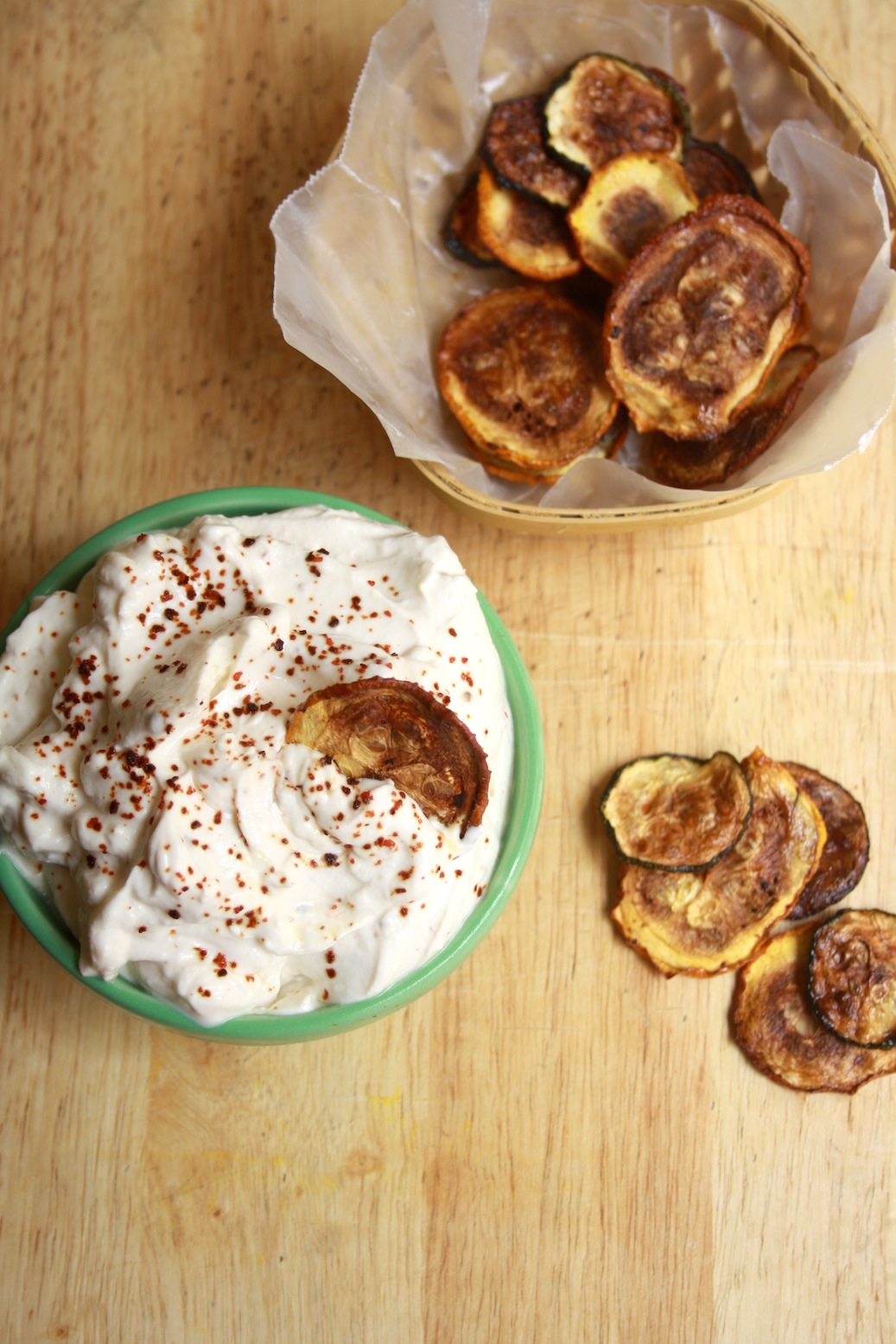 About the dip. It is literally just hung curd and your favourite seasonings. However, I find that the taste of curd is still pretty strong, and I want my dip to be creamy, so I usually add a dollop of cream cheese. You could use sour cream too. Or regular cream but that means your dip will be thinner. You could omit it all together. It's just a matter of how accustomed you are to the flavour of curd. Or yoghurt, depending on what part of the world you live in.
I usually serve this dip with baked potato wedges (maybe soon on the blog). This time, we had it with the zucchini chips, sliced cucumbers and carrots. Also on toasted bread. It is light, creamy and just the right amount of tangy. I heart it.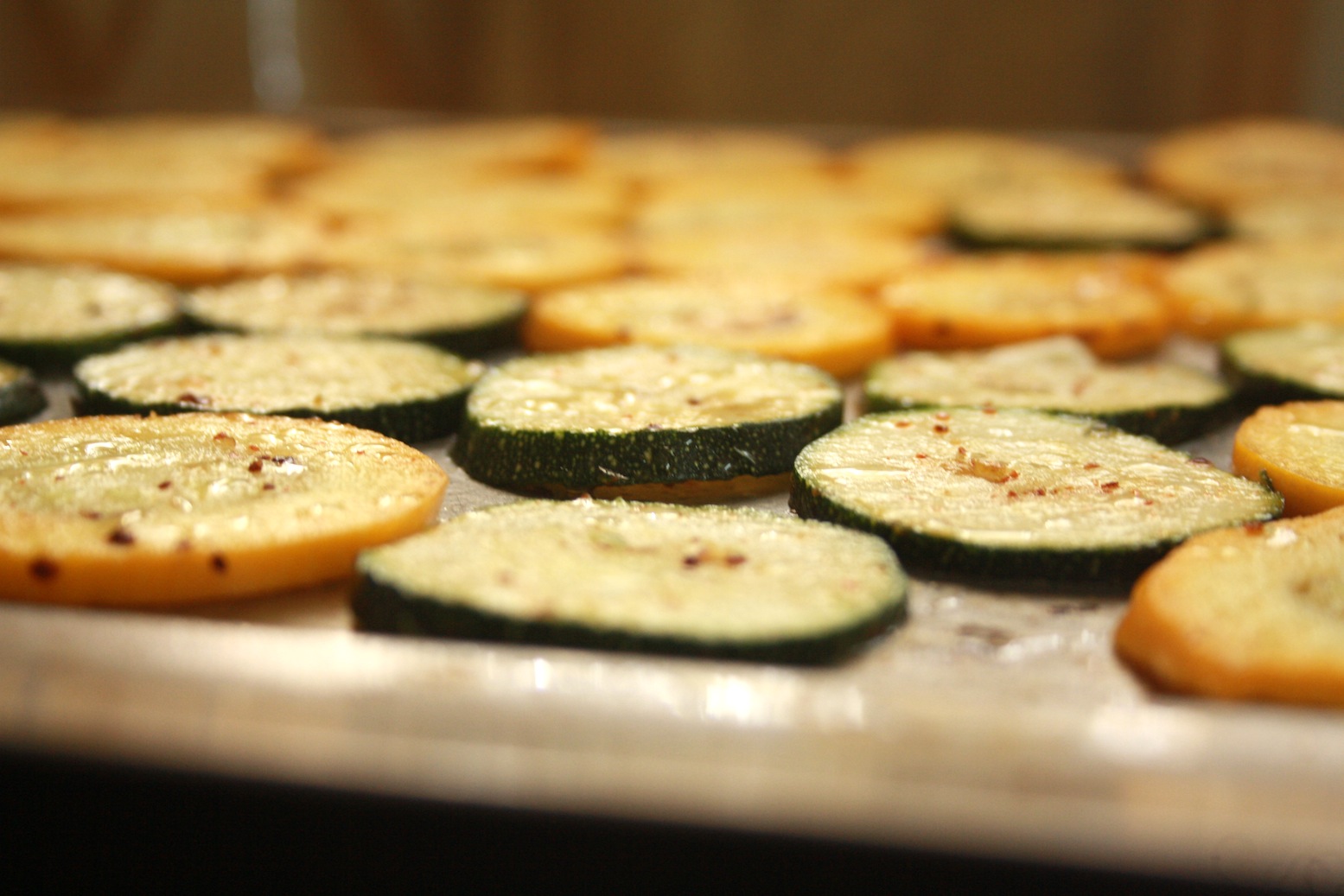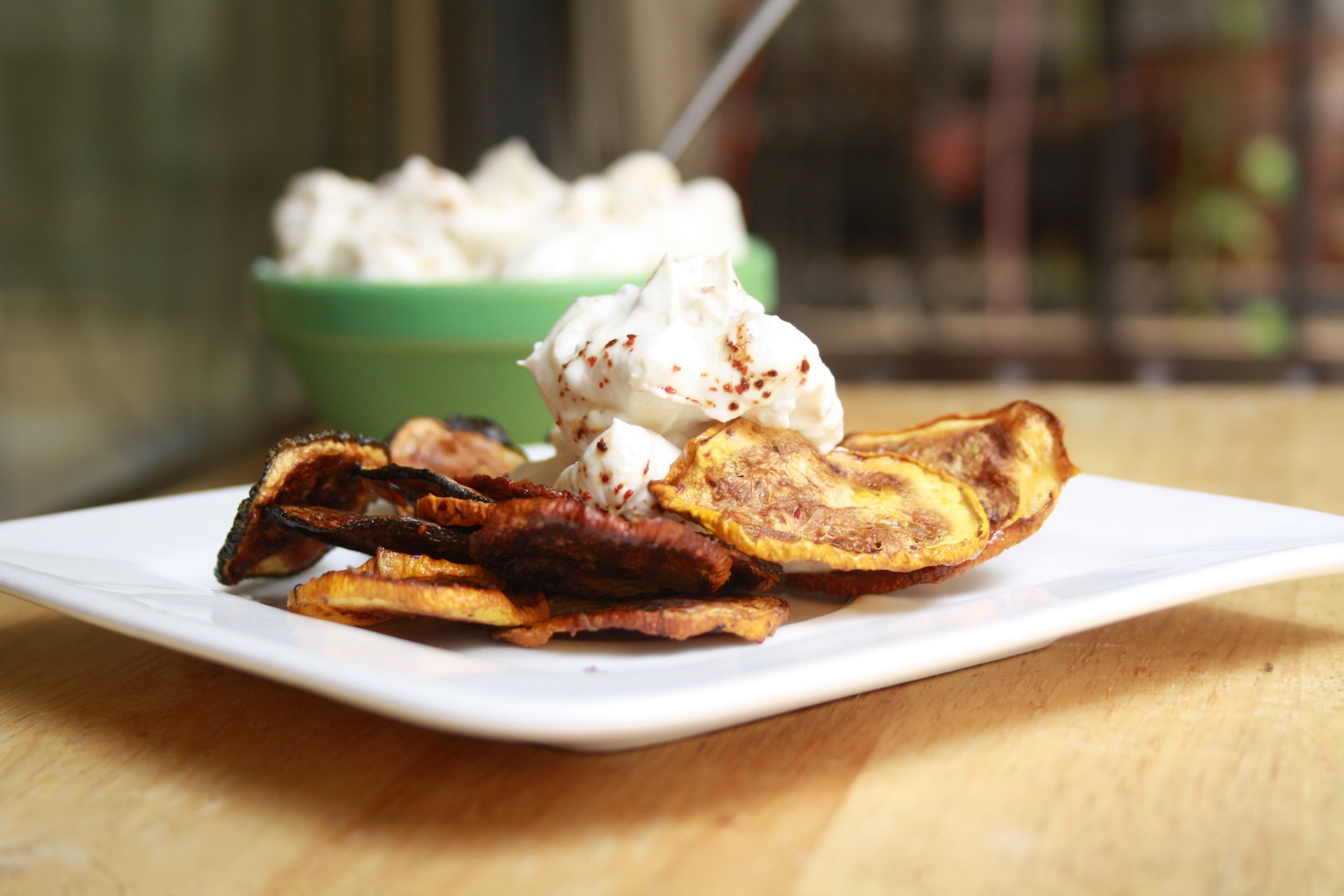 About the chips. Slice and bake. That is all. But they take a while to get done, don't be impatient and crank up the oven, you will lose a few chips to serious burns. I speak from experience. In hindsight, seasoning them AFTER baking would have been a better idea since they release water once the salt is added. But it's not irreversible damage. Make sure you eat them immediately as they get chewy pretty quick.
You will pat yourself on the back for eating such a healthy snack, and why shouldn't you? After all, for every chocolate mousse pie, there will always be a few zucchini chips. All about the balance.
What you'll need:
For the dip
400 gms plain curd/yoghurt (I prefer using store-bought curd here as it's thicker and drains faster)
Seasonings of your choice: salt, pepper, chilli flakes, garlic powder, cumin powder, pizza seasoning et all
2 tbsps cream cheese, optional
For the zucchini chips
1 green zucchini
1 yellow zucchini
Vegetable oil
Seasonings of your choice: salt, pepper, chilli flakes, garlic powder, cumin powder, pizza seasoning et all
What to do:
1. Hang the curd in a thin cloth, with a bowl below it to catch the water. Hang it for at least 3 hours.
2. Remove the thickened curd from the cloth, place in a bowl and add the cream cheese and seasonings. Mix well and chill till ready to serve. Always keep this dip refrigerated.
3. For the chips, preheat the oven to 100 C and lightly drizzle a baking tray with oil.
4. Slice the zucchini as thin as possible, about 3 mm thick. I used a food processor for this, I don't trust my knife skills.
5. Toss the zucchini slices in the seasoning, leaving the salt for the end. Place in a single layer on the greased tray and drizzle with some more oil.
6. Bake for 45 minutes, then rotate the tray and bake for another 30 minutes at least. Check to see that the slices are browned and crispy but not burnt. Bake for longer if needed. Do not increase the temperature.
7. Remove from the oven, sprinkle on the salt and adjust the rest of the seasoning. Serve immediately with the dip.