Someone pass me a pair of chopsticks. And a fork for backup.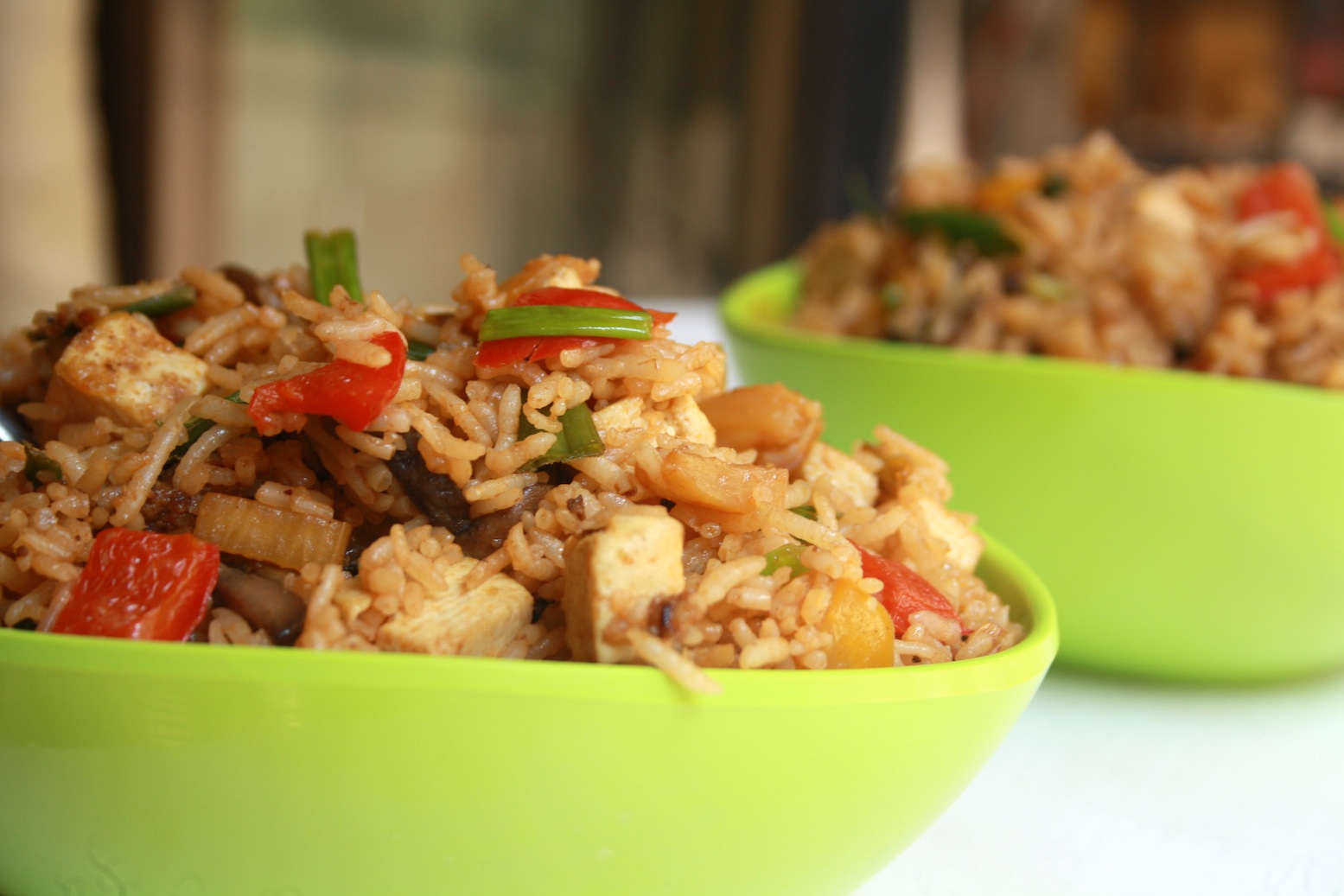 I'm getting quite carried away with these non-dessert recipes. There shall be chocolate soon, I promise. But first, let's eat some rice.
Out of the many beautiful products Sprig sent me, one was a sample of their Nam Prik Pao paste, to be launched in August so stay tuned! It's a thick, dark paste fragrant with all sorts of beautiful ingredients. Move over Thai curry paste, this is my new love.
Ordinarily, I'm not a fan of pineapple added to anything that's not cake, or a muffin, but after this salsa, I grew up. I'd bookmarked this recipe along time ago because I hadn't seen a prettier bowl of rice in my life.I changed around the recipe to match my tastebuds and whatever I had in the kitchen, making a special effort for the pineapple because it was just divine. The Nam Prik Pao (such fun to say) was absolutely meant for it.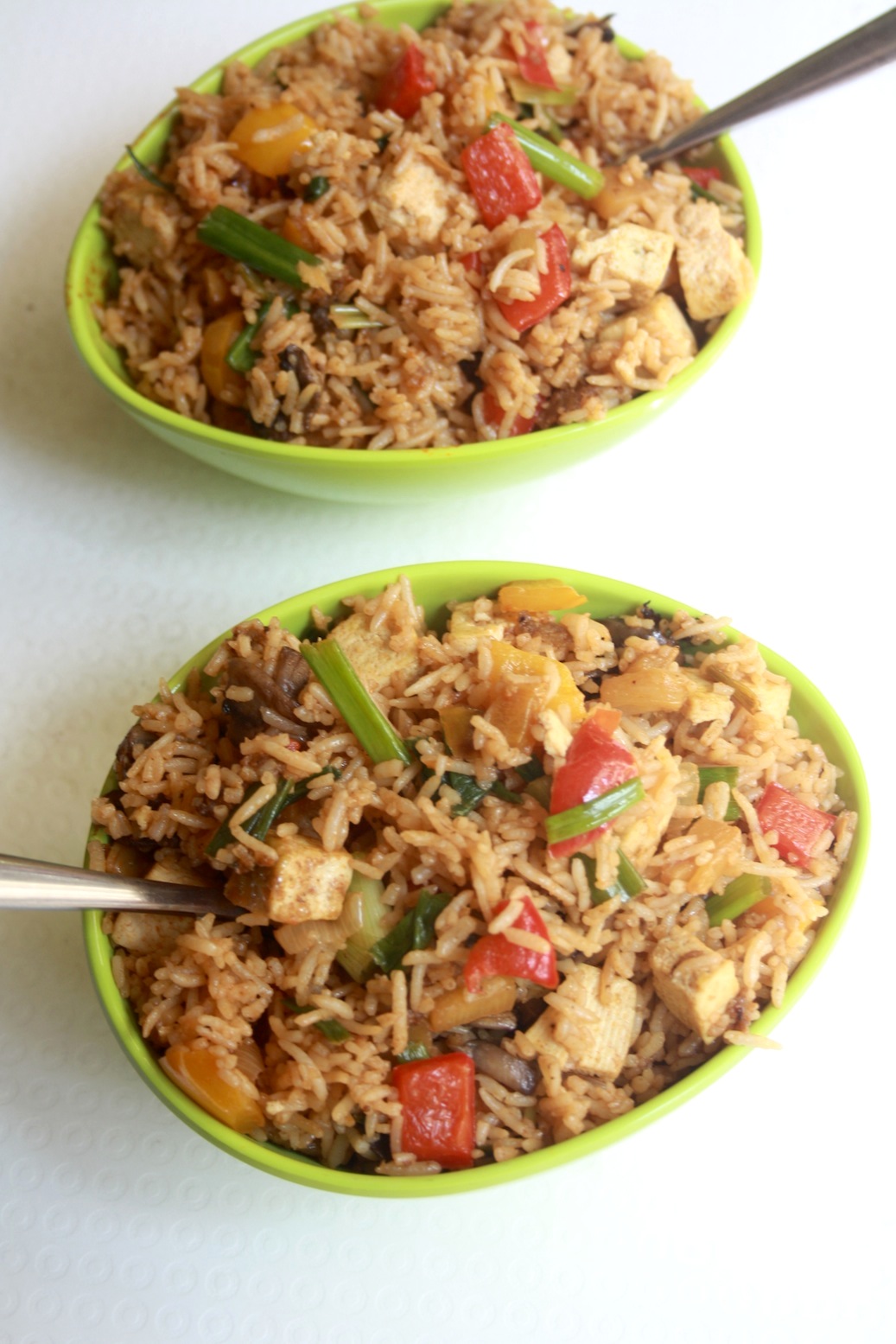 Add some sauteed tofu (taking this 'healthy meals' thing dangerously far now), whatever vegetables your heart desires, though leaving out bell peppers would be a huge mistake, and even add in your favourite meat/seafood, or some beaten eggs. Toss it all around, add some cooked rice, and you're done.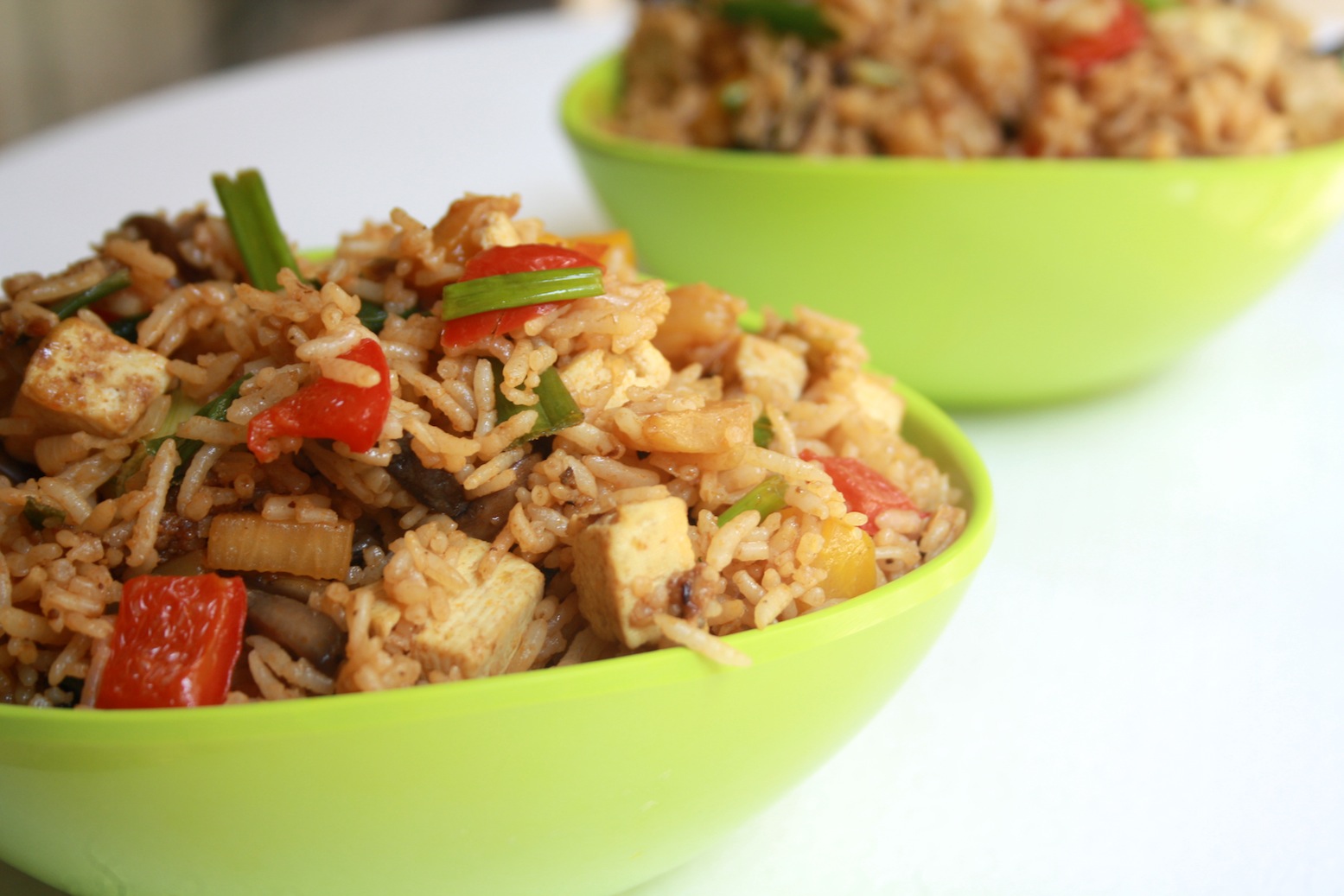 If you're evolved enough to be able to use chopsticks, please do. If you're like me, just stuff your face with socially unacceptable forkfuls of this beautiful meal. The Nam Prik Pao paste adds a wonderful, satisfyingly Thai cuisine flavour (and is completely vegetarian for those with unpleasant reactions to fish sauce, like I have), the tofu is just what the doctor ordered and with all those veggies, even two bowlfuls of rice can't be frowned upon.
It's fresh, it's delicious and it's easy. Leaving your weekend with plenty of time to be a weekend.
What you'll need:
The great thing about this recipe is you can increase or decrease quantities as you like, and change around ingredients as you like. The pineapple, tofu and bell peppers are highly recommended though.
Vegetable oil, as needed for frying
8 to 10 mushrooms, sliced
500 gms tofu, cubed
4 to 5 slices fresh pineapple, chopped
2 bell peppers, any colour of your choice, chopped
3 spring onions, chopped (stalks and bulbs)
2 cups cooked and chilled white or brown long-grained rice (preferably made the night before)
2 tbsps Thai paste (substitute with soy sauce, chilli sauce or your favourite South East Asian flavouring, to taste)
Salt and pepper, to taste
Lemon juice, to taste
What to do:
1. In a large, thick-bottomed wok, or deep frying pan, add 2 tbsps oil and fry the mushrooms till their moisture has evaporated and they brown lightly. Transfer to a small bowl. Next, fry the tofu in 1 tbsp of oil  till lightly browned. Transfer to another small bowl.
2. In the same wok, add 1 tbsp oil and caramelize the pineapple until lightly browned. Add the peppers and saute the mixture until the pineapple has turned a deeper brown and the peppers are lightly blistered.
3. Add the spring onions and give it all a quick stir. I like leaving the spring onions a bit crisper than the rest. Add the mushrooms and tofu and stir again.
4. Finally add the rice and give the whole thing a good toss. Mix in the Thai paste (I first whisked it with a bit of water to make it runnier), add the salt and pepper and allow the rice to warm up for a few minutes before turning off the heat. Squeeze lemon juice over it, garnish with some fresh coriander if you have it and you're done!
Serve hot 🙂