There are some things that are meant to happen. Like baking this cake on weeknights. Apart from preparing the plums, there's really no work involved and it tastes best left out overnight. Get home from work, make a cake, go to sleep, wake up, eat a cake.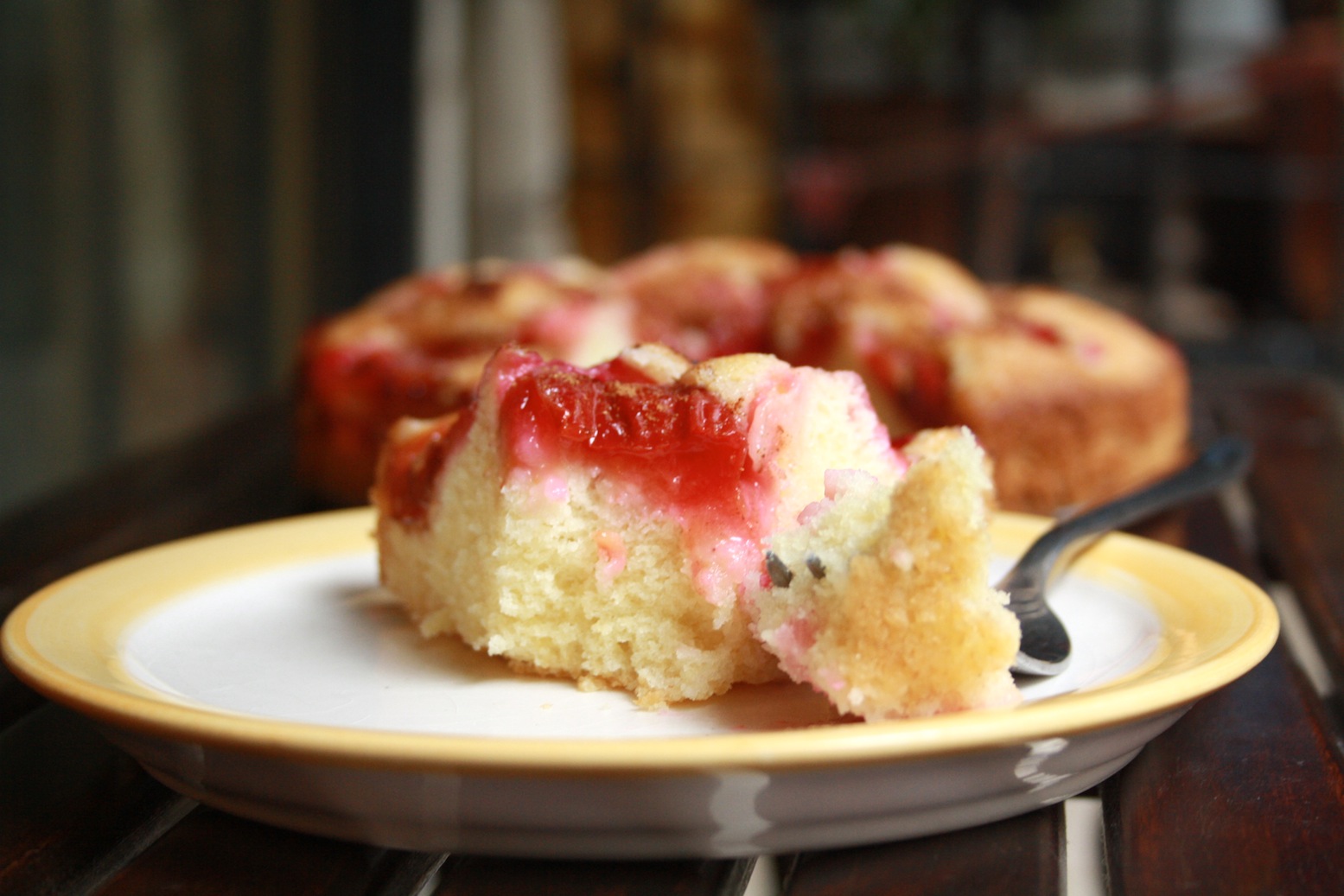 I bring to you the softest butter cake I've ever eaten, giving this one a run for its money. Topped with tangy, juicy, sugary, cinnamony plums, it will blow your mind.
This is the way to eat fruits, if you ask me.
The recipe comes from Deb at the wonderful Smitten Kitchen. Plums seem to be all over the place right now and I knew she'd have a great idea for what to bake with them. Can't get enough of her blog!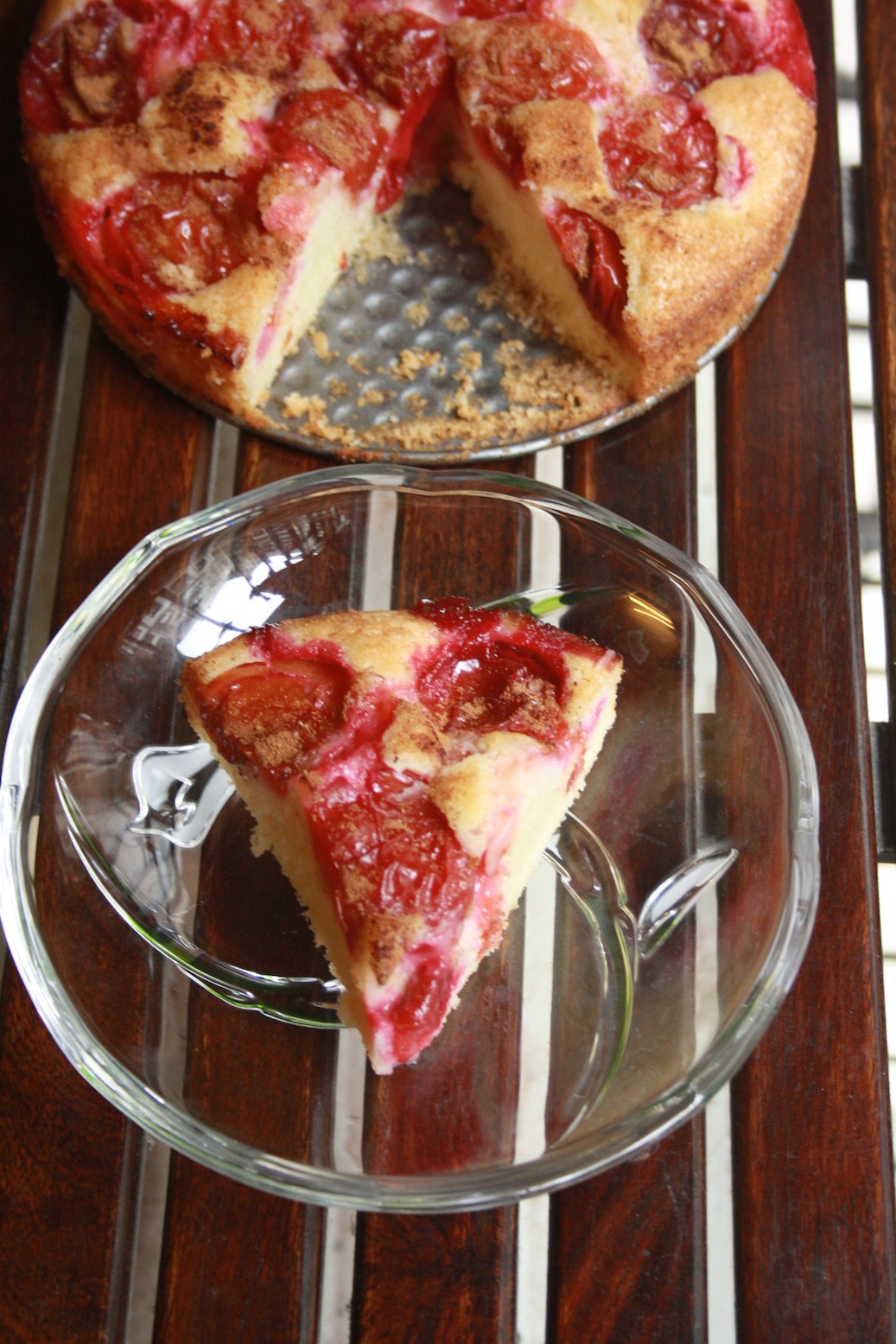 The only change I'd make to suit Indian plums which tend to be on the sour side even when they're ripe enough (and too mushy when they're sweeter), is to toss them in sugar just before topping the cake batter, rather than only sprinkling them with sugar. I'd also omit the lemon juice if you're working with these kinds of plums and don't like too much sourness. Since I didn't realise any of this before I made the cake, I topped each slice with a bit more sugar and that worked 🙂 It's a matter of preference really, I know people who love sour stuff and somehow, it complements the buttery base beautifully!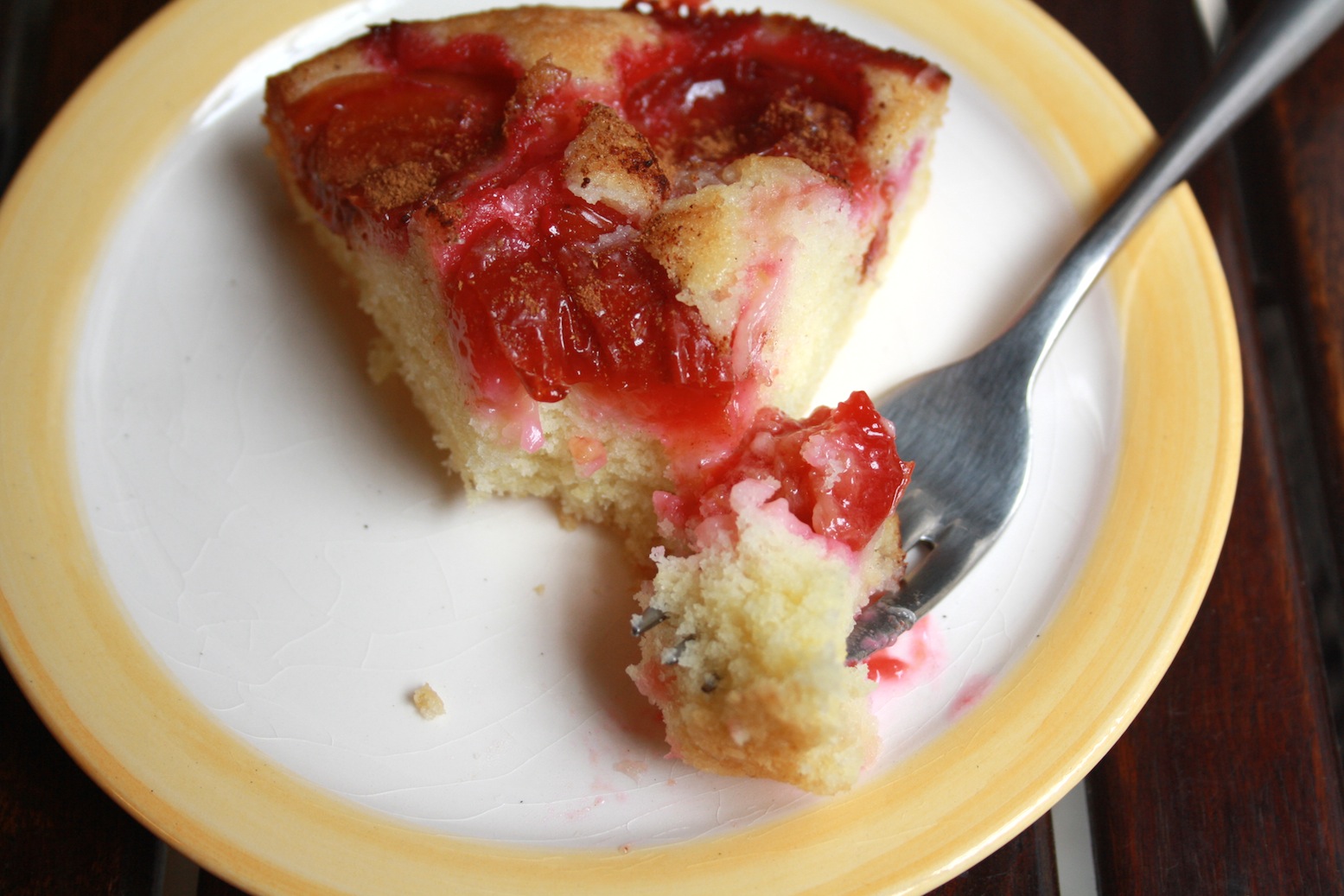 Leaving the cake out at room temperature till the next day was Deb's most amazing recommendation. The juices of the plums get a chance to really moisten the cake and strengthen the flavour. Soft, fluffy and fruity. Beats any plum cake I've ever had!
It's like a not-upside-down-but-looks-like-it-is plum cake 😀
What you'll need:
1 cup flour
1 tsp baking powder
3/4 cup castor sugar plus 2 tbsps (to toss/sprinkle) for the plums, depending on the sourness
1/2 cup butter (I used Amul and omitted the pinch of salt)
2 eggs
10 to 12 plums, halved and pitted
1 tsp lemon juice (omit if the plums are a bit sour)
1 to 2 tsps cinnamon powder, depending on how cinnamony you like it 🙂
What to do:
1. Preheat the oven to 175 C. Grease a 9″ springform pan and set aside. A regular cake dish is fine too, springform makes for easy removal.
2. Sift the flour and baking powder and set aside.
3. Cream the butter and sugar till pale and fluffy, by hand or with an electric mixer.
4. Add the eggs and beat well.
5. Fold in the flour and baking powder mixture, stirring until just combined. Spoon the batter into the prepared tin and smooth it out. The batter is thickish.
6. Toss the halved, pitted plums in the sugar and place them face down on the cake batter, covering as much of it as possible. Sprinkle with lemon juice (optional) and cinnamon (highly recommended!)
7. Bake for 45 to 50 minutes, till a toothpick comes out free of batter and the cake is golden-brown.
Preferably allow it to cool overnight and then dig in 🙂