My last name is 'Shrikhande'. Unfortunately, or fortunately, it does not mean my ancestors made, or ate, a bucketful of shrikhand for every meal.
It does mean that everyone thinks of dessert every time they hear my name. This has been on since way before the blog 🙂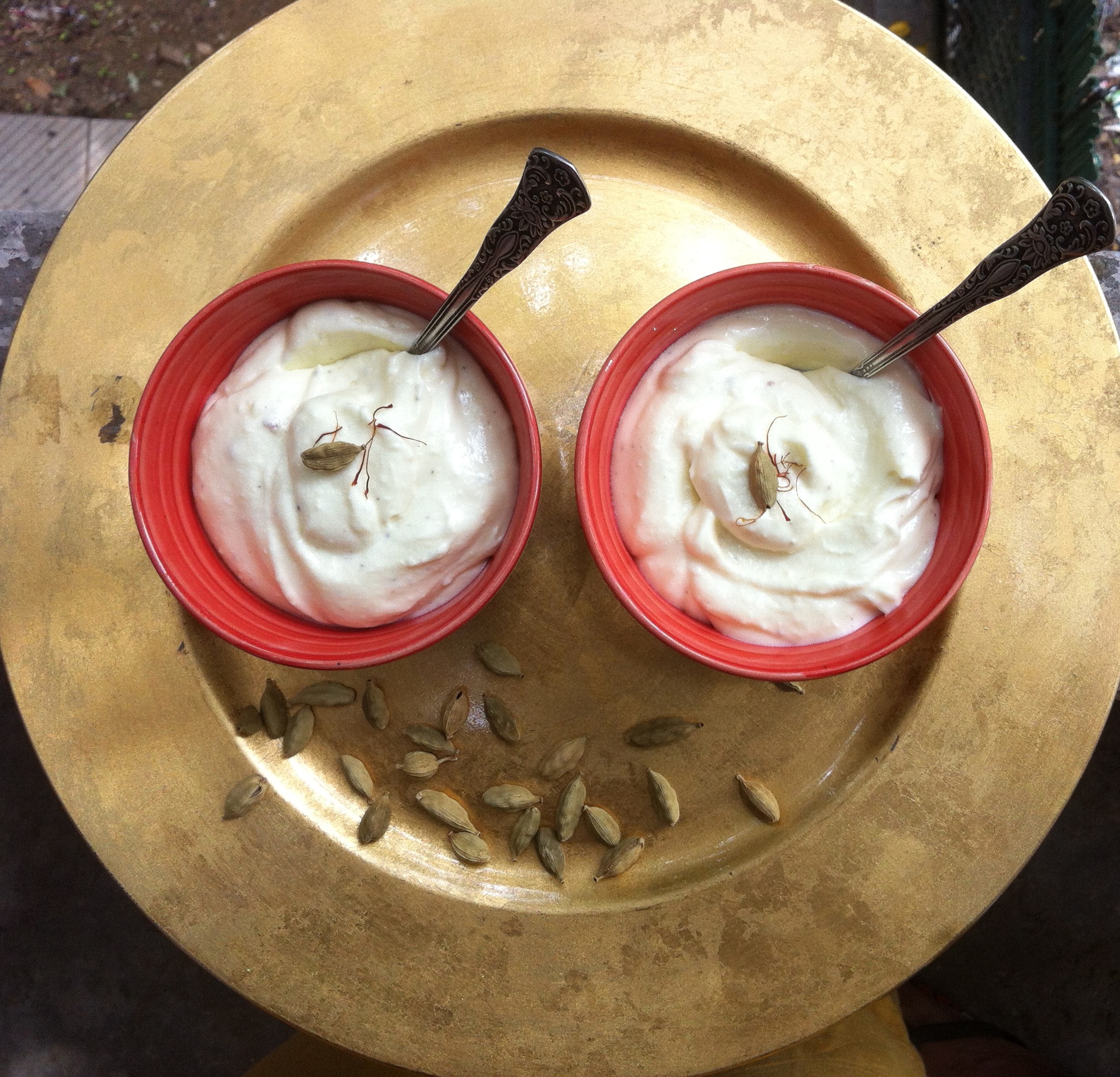 I'm in Delhi at the moment, at my parents' and shrikhand is one of absolute favourite things to eat at home. My mom's is particularly famous among friends and family and she was happy to share 🙂
One iPhone photo later, we were good to go. I don't usually enjoy milky desserts but this one I could kill for.
Making shrikhand is time consuming, but not difficult. It's mostly just a lot of chilling and waiting around! You have the option to use readymade yoghurt and start with step 3 or do it from scratch, as most Indian households do. It is essentially hung curd and sugar, nothing more complicated. Homemade shrikhand beats any other kind hollow, trust me on this one.
It's amazing for the summer, to serve to guests or just you know, sit with a big bowl all by yourself. I may or may not have done that.
What you'll need:
1 litre whole milk + 2 litres skim milk (all whole milk makes the shrikhand too rich, but feel free if you don't mind it!)
2 tbsps curd/plain yoghurt for setting (homemade is best)
White sugar (quantity depends on how much hung curd you end up with, explained further)
A pinch of saffron (kesar)
1 tsp cardamom powder (grind whole cardamom seeds with a pestle and mortar)
A few drops of yellow food colour, if desired
What to do:
1. Boil the milk and set aside till lukewarm. Add the curd, stir and leave it to set for a few hours or overnight. For those used to making homemade curd, this is just like making a larger quantity.
2. Once the curd is well set, chill it and let it firm up for 5 to 6 hours.
If you don't want to make the curd at home, about 1kg of Greek yoghurt will give you the same results. Proceed with step 3.
3. Take a large muslin/cheese cloth, tip the curd into it, and secure it tightly with a rope or string. Hang the bundle of curd for 8 hours or overnight, till all the whey has drained out. Make sure you have a large vessel underneath to catch all the liquid.
4. Once the curd is drained of all liquid, untie the cloth and in a large, deep dish, scoop one heaped spoon of the curd and one level spoon of white sugar into it, alternating them. Use two spoons of the same size. The amount of sugar depends on how much hung curd you end up with. In a hotter climate, you will need more sugar as the curd will be more sour.
5. Using a hand mixer, beat the curd/sugar mixture till smooth. Add the saffron and cardamom powder and beat well with the food colouring, if using. The shrikhand should be sweet, with a hint of sourness. You might need to adjust the sugar at this stage.
6. Chill for a few hours. Serve garnished with chopped fruits or as is. I personally prefer it plain, but one of my favourite variations is below 🙂
Alternative: mango pulp added to the hung curd, makes a delicious mango shrikhand, or aamrakhand. If making it this way, omit the saffron and cardamom.