My mom has two legendary recipe books. One was a notebook she used in college, but now has scribbled recipes for almost everything under the sun. The other is a large sketchbook, whose beautiful pages are filled with cutouts of yet more recipes from magazines and newspapers of all kinds. Between my mom, my sister and me, we've gotten through endless Fevisticks, documenting her hunt for all kinds of yumminess. Some day, these books will be worth millions 🙂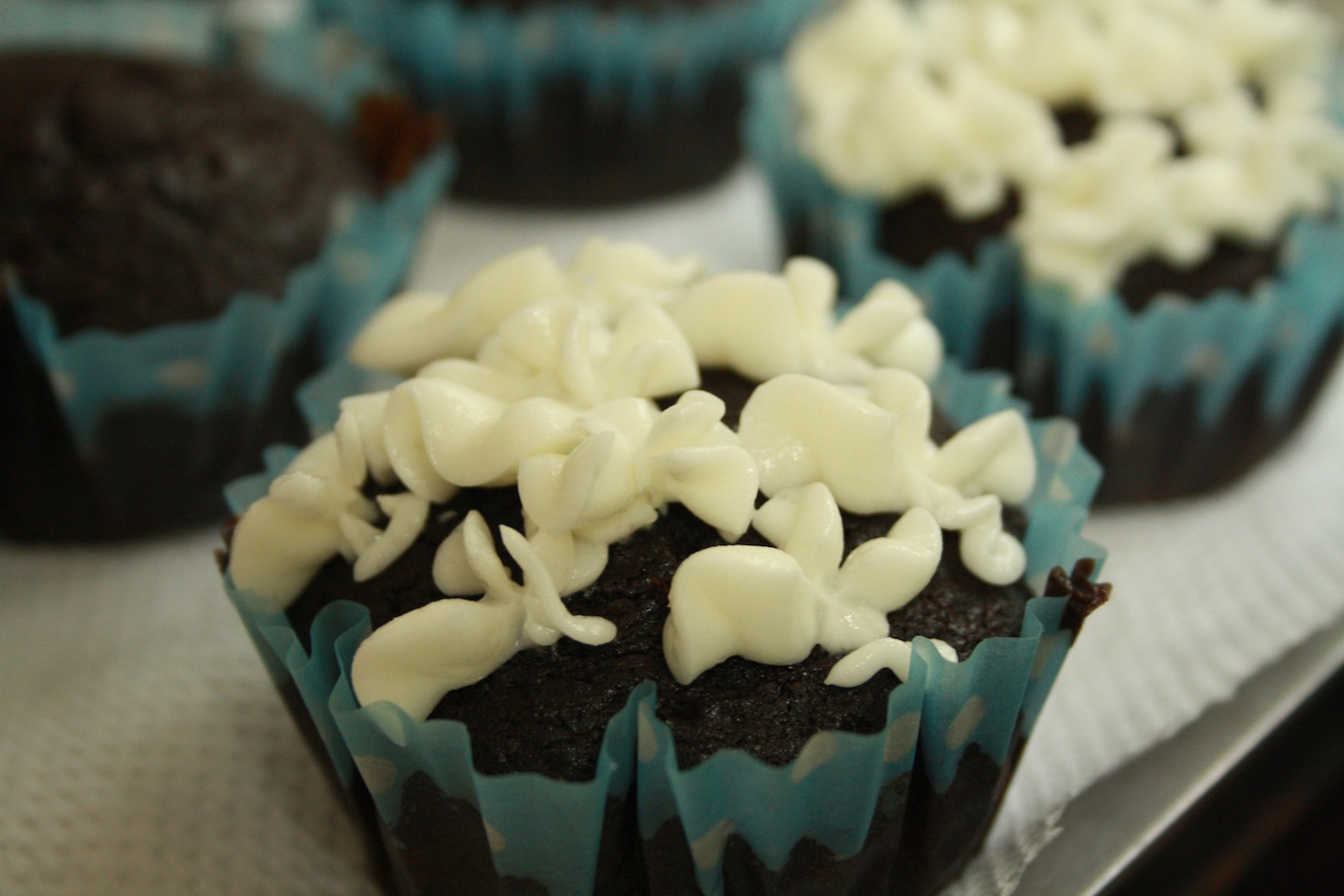 One of the recipes she's collected was for a chocolate mud cake on the back of a packet of Nestle Dark Chocolate Melts. It is undoubtably, the best chocolate cake I've ever eaten, and I can say this confidently because I just can't keep my hands of any kind of chocolate cake.
It's what a mud cake should be, soft and moist and decadent. My Amarula Chocolate Mud Cake was awesome, but it wasn't what a true mud cake should be. This one is. Mom made it recently and I begged her to squint at the Nestle wrapper and email it to me. Luckily, there were others like her who'd discovered it and I found it online 🙂
Aside from this treasure chest of recipes, these cupcakes were inspired by another story.
We recently attended the most beautiful wedding reception in Bangalore. The bride and groom, filled with great ideas, decided not to go with a traditional wedding cake and serve homemade cupcakes instead. And I have to say, I have not eaten better cupcakes. They were melt-in-your-mouth soft and the frosting was juuuust right. Not too much, not too sweet, total perfection. And so pretty!! I wish I had a picture but I was too busy gobbling them up to think of that at the moment!
So. I set out to make cupcakes like that using that perfect mud cake recipe. And, I'm happy to say, I succeeded.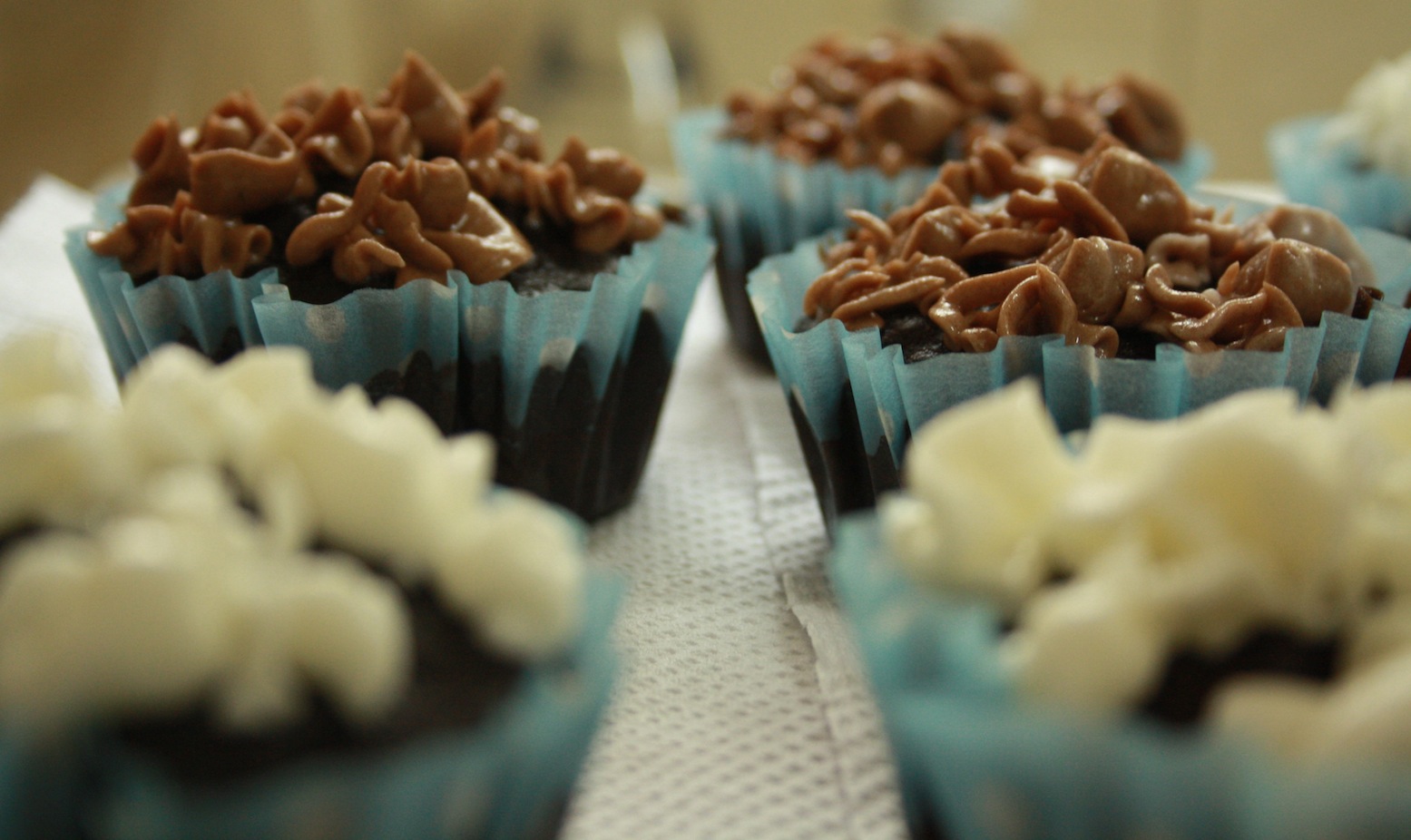 To me, cupcakes have one drawback. The frosting can get a bit overwhelming. Especially if there's too much of it. What I loved about the ones I ate was that the frosting was piped in tiny little flowers, just one layer of them, not swirls piled high.
So, I bought a lovely little set of piping bottles and tips from Debenhams. The bottles are kind of awesome, because they need to be pressed down, not squeezed so you don't face the problem of air bubbles unlike in a piping bag (which my inexperienced hands have had disastrous results with) and the whole thing is rather neat and stress-free. Plus, they came with 4 tips, one of which created these cute flower-like designs. Yay! I do plan to try the swirls too, I just don't have the right tip for it, and plus, I prefer eating frosting this way 🙂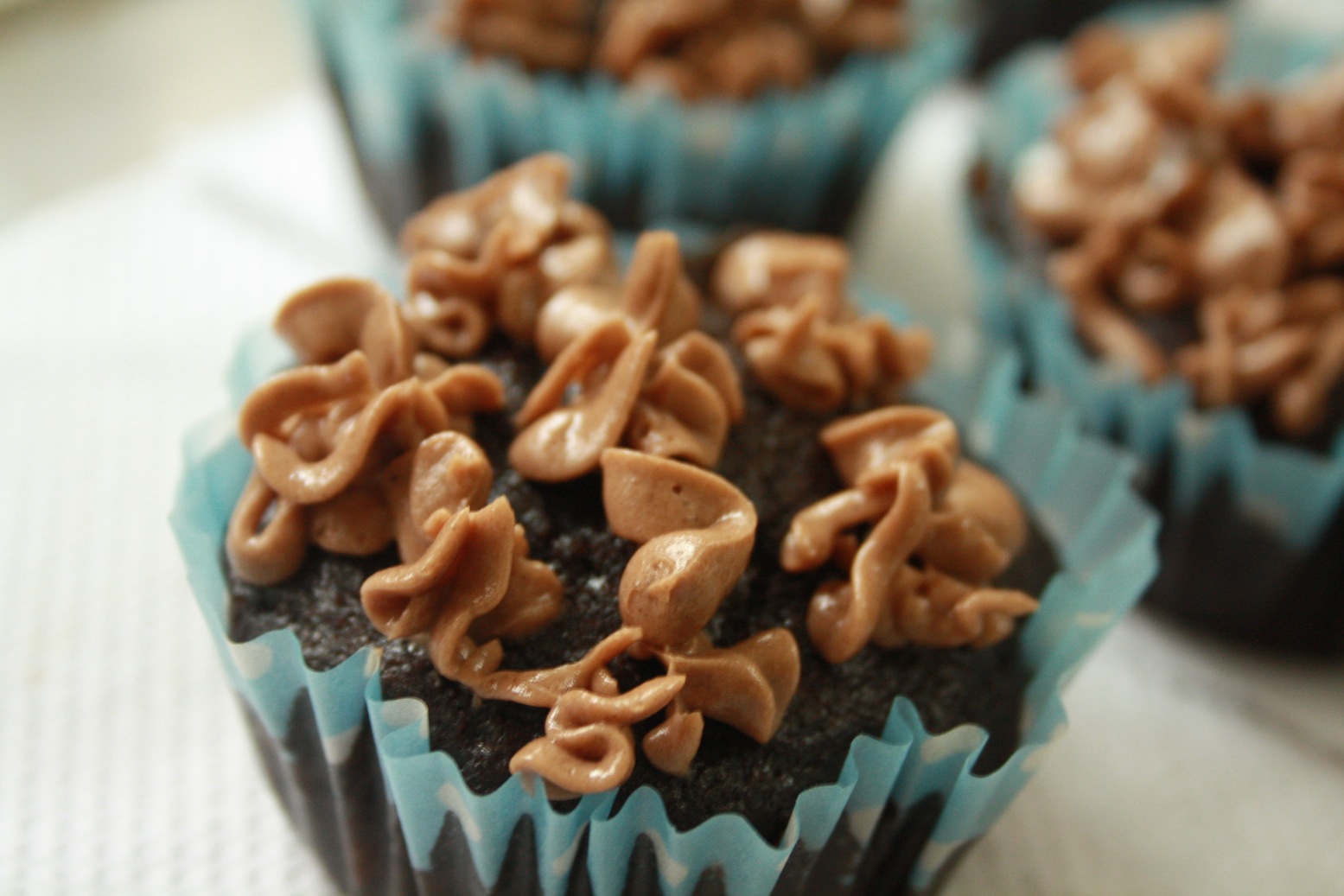 I felt the cupcakes themselves were a tad under-sweetened so I made up for it in the frosting and balanced the whole thing out. I got a bit carried away and made a plain and then a chocolate buttercream frosting. Much fun to lick off hands, spoons and the electric mixer attachments.
Oh, and the other big achievement was actually the electric mixer which I bought after way too long and the frosting would just not have been the same without it 🙂
The cupcake batter takes a while to make and is a bit fiddly, but it's worth every frosted bite, I promise.
They also don't harden in the fridge because they contain oil, not butter. However, bring them to room temperature before serving so the frosting becomes nice and soft.
I halved the original recipe and made 12 cupcakes and one small loaf cake. The original recipe makes one GIANT mud cake!
Also, my oven really blew my mind today, because the cupcakes were done in 15 minutes, unlike the recipe's instructions which say 55 minutes for the whole cake! I'd advise you to hover around your oven for a bit and start with a lower cooking time. You can always leave them in longer if needed.
What you'll need:
1/2 cup milk
1 tsp lemon juice
1/4 cup oil
100 grams dark chocolate (I used Morde, though the original is of course Nestle Dark Melts)
1/2 cup hot water
1 tsp instant coffee
1 cup all-purpose flour
1/2 tsp baking powder
1 tsp baking soda
1/4 cup cocoa
1/2 cup powdered sugar
1 egg
What to do:
1. Preheat your oven to 180 C and line a greased muffin pan with cupcake holders. The holders aren't necessary, they just look cute 🙂
2. Combine the milk and lemon juice and set aside to sour.
3. Place oil, chocolate, coffee and hot water in a saucepan and stir over low heat till smooth and the chocolate has melted. Cool to room temperature, or at least lukewarm.
4. Sift the flour, baking powder, baking soda and cocoa in a large bowl.
5. Add the powdered sugar and mix all the dry ingredients together.
6. Add the egg to the cooled chocolate mix and stir well until combined.
7. Pour the above into the soured milk and stir again.
8. Now pour the wet ingredients into the dry and mix thoroughly.
9. Fill each muffin mould about halfway (the batter rises a lot so you might end up with mushroom like cupcakes if the moulds are too full) and bake for 15 minutes or till a toothpick comes out clean.
10. After the cakes have cooled, frost each one using the following steps.
What you'll need:
100 grams soft, unsalted butter
5 to 6 tsps powdered sugar (adjust according to how sweet you like frosting)
2 tsps cocoa
What to do:
1. Beat half the butter and sugar well to form the plain buttercream frosting. Fill a piping bag or bottle and pipe away!
2. Beat the other half of the butter and sugar, then add cocoa, to make the chocolate buttercream frosting. Happy piping!
P.S. The Minion adds a nice touch, dunnit?!