Sometimes you really need pudding, but you've also been eating a few too many cookies. Which means you need to adult and eat something a little healthier, but not boring. Enter, this ridiculously easy chocolate 'pudding' which is basically homemade chocolate cashew milk thickened with chia seeds.
It's creamy, naturally sweetened and super chocolatey. Add your favourite toppings and go to town!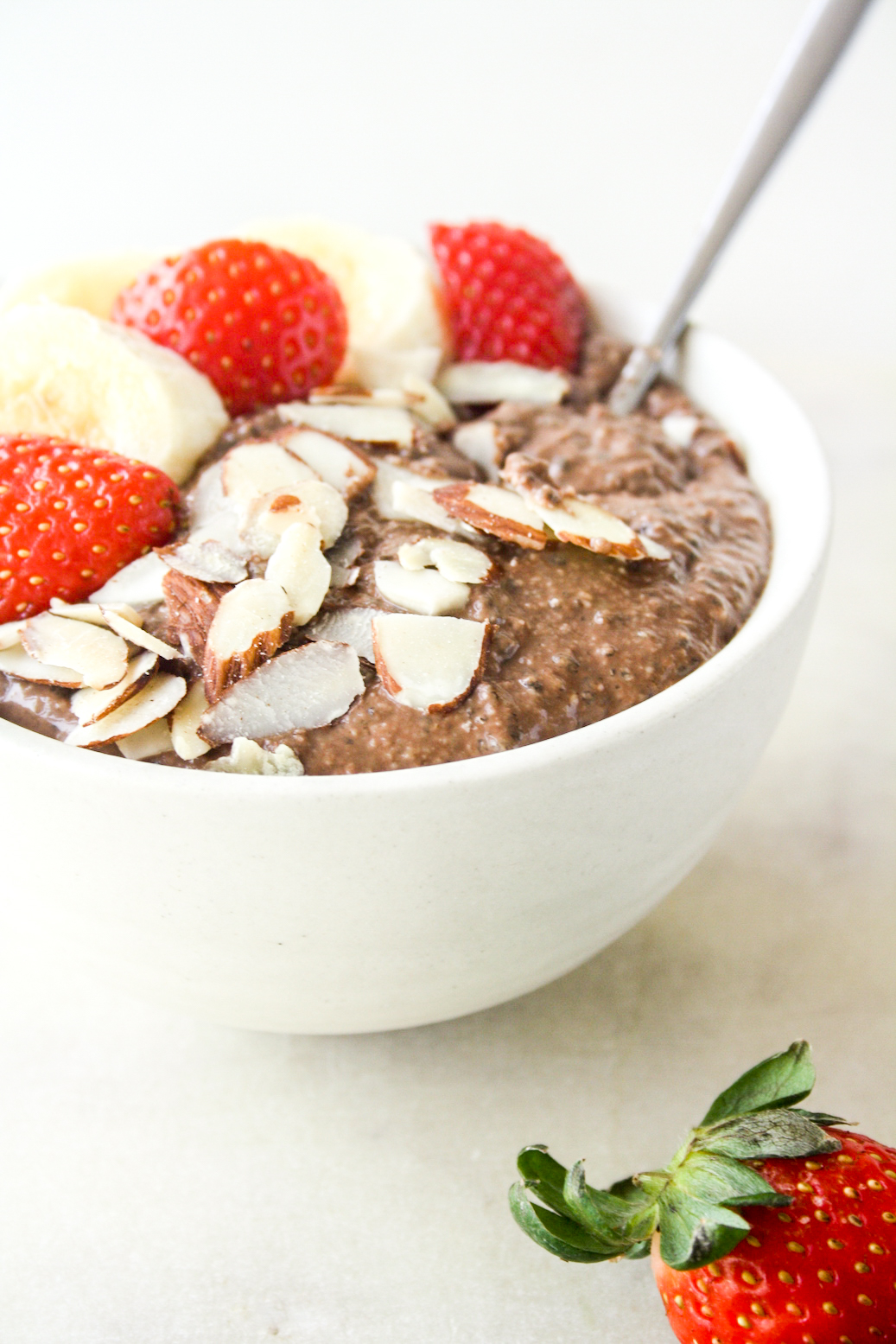 I first came across this chocolate chia wonder on Pinch of Yum's Instagram Stories and because healthier puddings actually do taste great, I decided to give this one a shot. You basically just need a blender and you dump everything in  and whiirrrrrrrrr.
The one small change I made was to soak the cashews in hot water for about 15 minutes, to get them extra soft and creamy while blending. And I added a bit of cinnamon for a flavour boost. It's all super flexible and you can definitely switch things up quite a lot.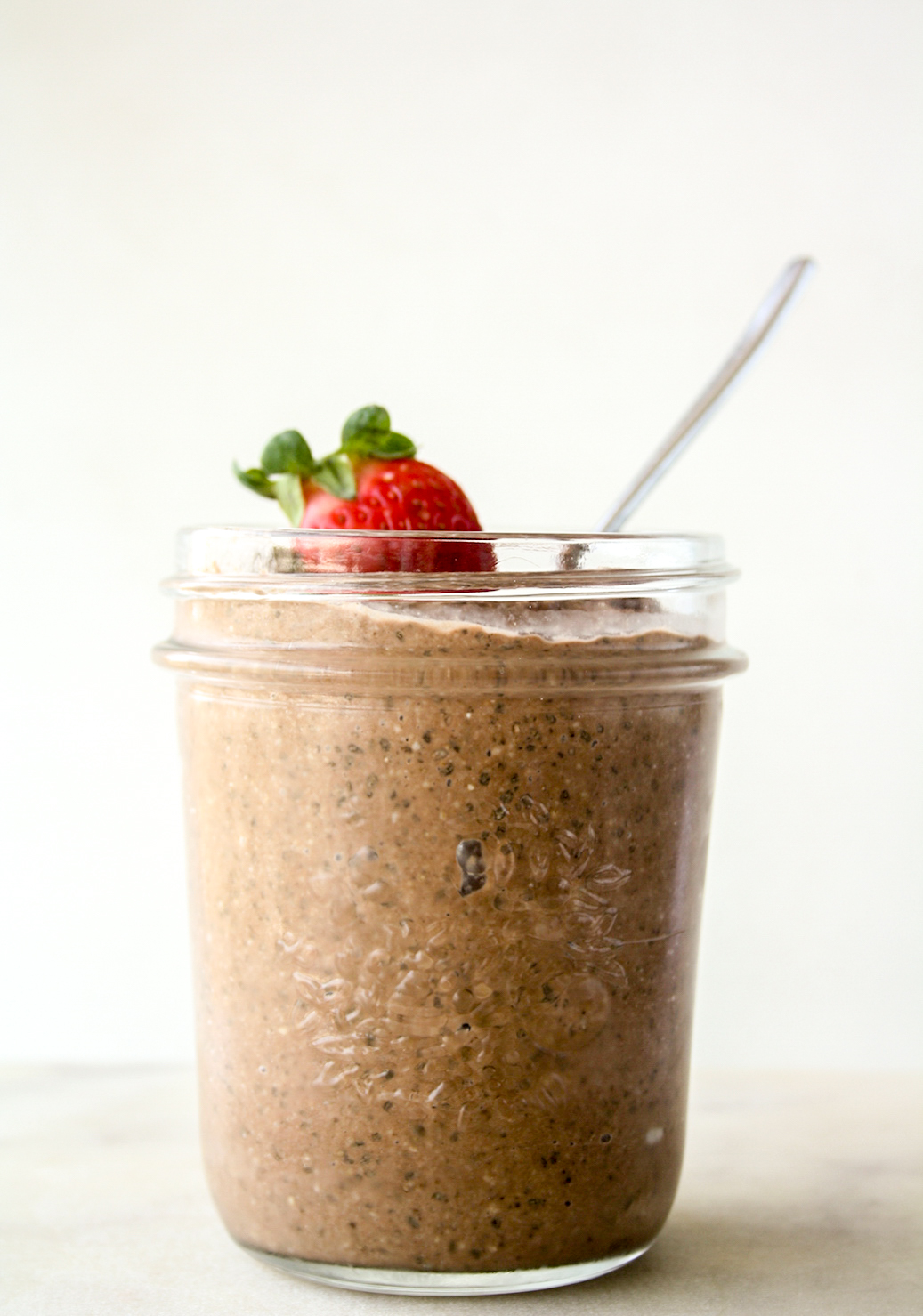 The chia seeds soak up liquid quite quickly and I found that within a couple of hours, the pudding had thickened to a scoopable consistency. Cashews also contribute to the thickening so the longer it sits, the more it thickens. If you like, use a smaller amount of chia and let the pudding take its time chilling in the fridge. I used 1/4 cup of chia seeds, but I feel like the texture gets a little sticker by day two so you can use your judgement and add a smaller amount.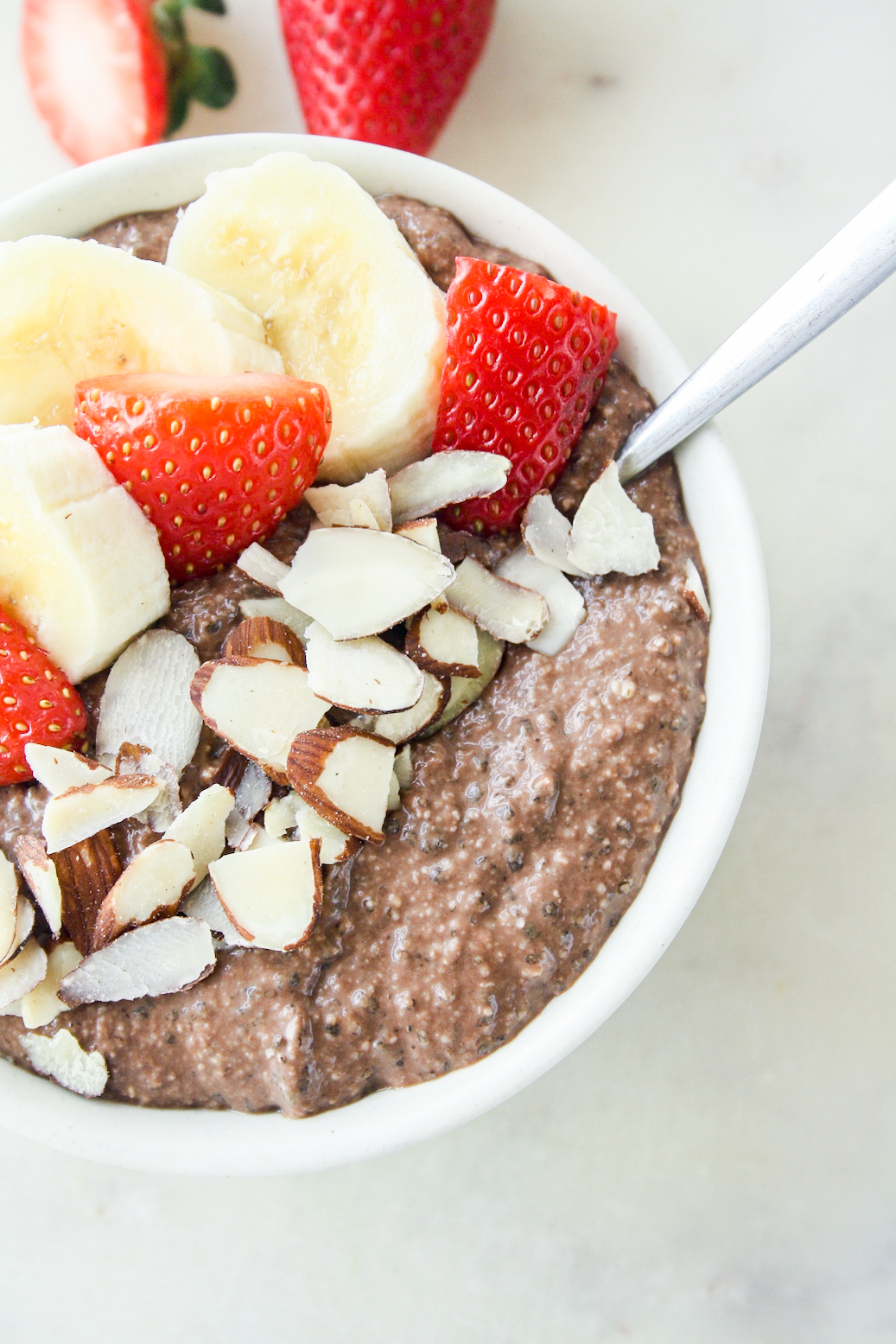 I used Dutch-process cocoa here for a deeper, more chocolatey flavour and darker colour. It's delicious! Use honey or maple syrup as a sweetener and depending on whether you'd like to add fruits or not, you can adjust the amount of sweetener as well.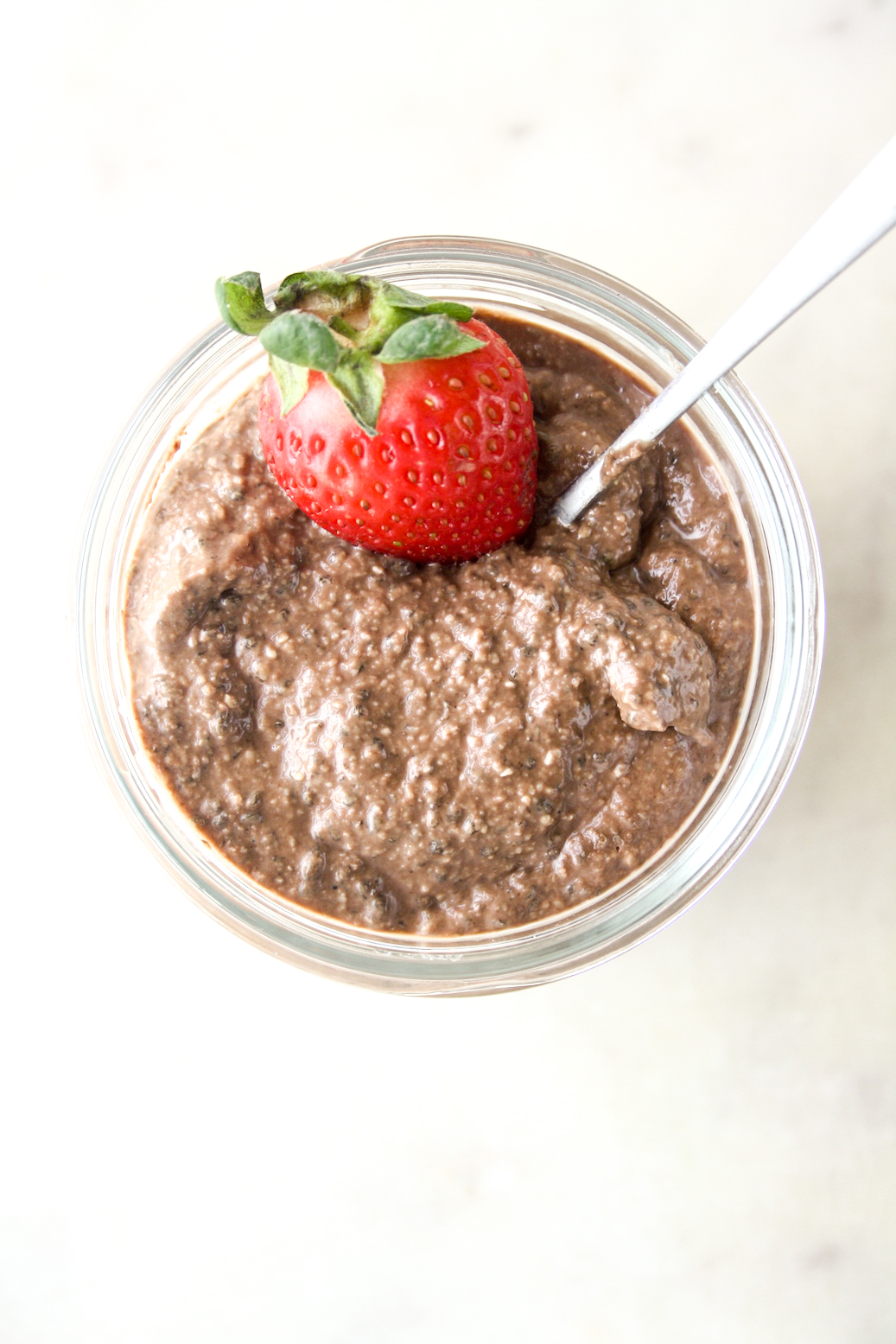 I like to keep puddings like these in airtight jars in the fridge, and spoon a little into small bowls when cravings strike. Of course, there's nothing like the real thing, but in a pinch when the guilt hits, definitely give this version a shot!

Chocolate Cashew Chia Pudding (Vegan)
Creamy, healthy, chocolate, cashew and chia pudding
Author:
The Desserted Girl
Ingredients
½ cup cashews
⅓ cup hot water
¼ tsp vanilla extract
3 to 4 tbsps honey or maple syrup
Pinch of cinnamon powder
Pinch of salt
2 tbsps cocoa powder
1 cup water, at room temp
¼ cup chia seeds (see notes)
Instructions
Combine the cashews and hot water in a small bowl. Cover and set aside for 15 minutes. This helps the cashews become extra creamy while blending.

Now combine all the remaining ingredients except the chia, in a blender. Drain the cashews and add them to the blender as well.

Blitz till smooth, then add the chia and blitz again to combine. You can also just stir the chia in by hand, but I prefer the blender to get them evenly dispersed and powdered slightly.

Pour the mixture into a jar and chill for 1 to 2 hours. It should be fairy thick by this time, but you can keep it for longer if it hasn't reached a scoop-able consistency yet. The pudding will thicken more the longer it sits.

Dig into the jar with a spoon or scoop the pudding into a bowl and for the most delicious combination, add some fresh fruit and almonds. Will keep in the fridge for 3 to 4 days although the consistency will be sticker as time goes by. Happy healthy eating!
Notes
*Chia seeds help the pudding thicken and ¼ cup is a large-ish amount, but creates a scoop-able, thick pudding consistency. Over a couple of days, the texture gets a little sticky, so if you prefer, use just about 1 to 2 tbsps of the chia, and let it sit longer in the fridge. It will still thicken a fair bit and the texture will likely be a bit smoother.

*I like Dutch-process cocoa here for a stronger chocolate flavour, but you can use any kind you like.