Happy Valentine's Day! Whether you have crazy amounts of pink surrounding you or you prefer all things dark and chocolatey (so with you), and whether you roll your eyes at this day or embrace it with confetti, I hope you're ready to eat some cupcakes!
Cupcakes that have champagne in the batter aaaaand in the frosting. These are RIDONKULOUS. Softer than a cloud, lighter than air, and just bursting with fruity champagne flavour.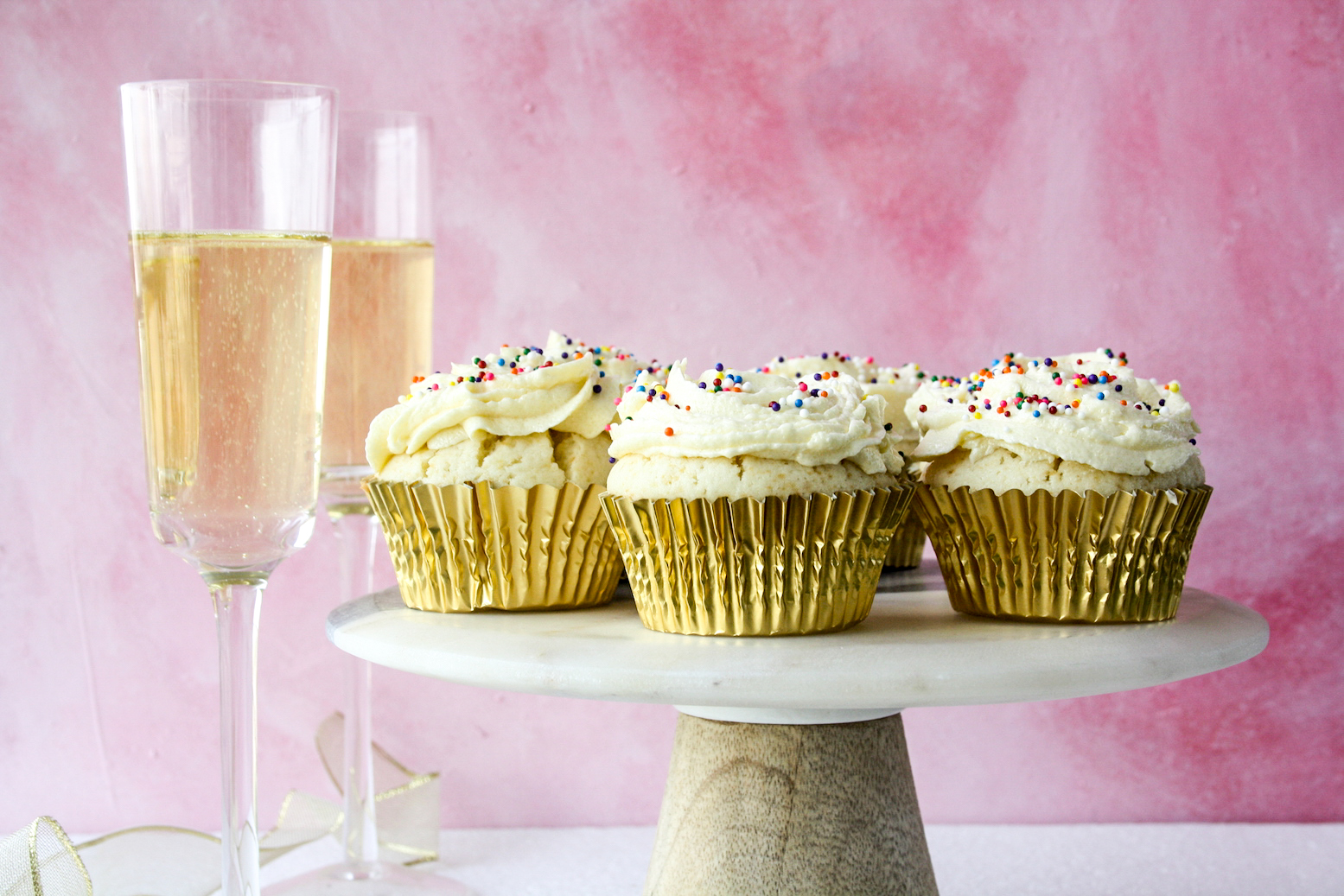 The recipe is adapted from Sally's Baking Addiction, and I made a half batch using regular all-purpose flour, not cake flour and yoghurt instead of sour cream. The cupcakes still turned out so soft and light, I was amazed, but it's all thanks to the egg whites (no yolks here) that make the batter super airy and tender.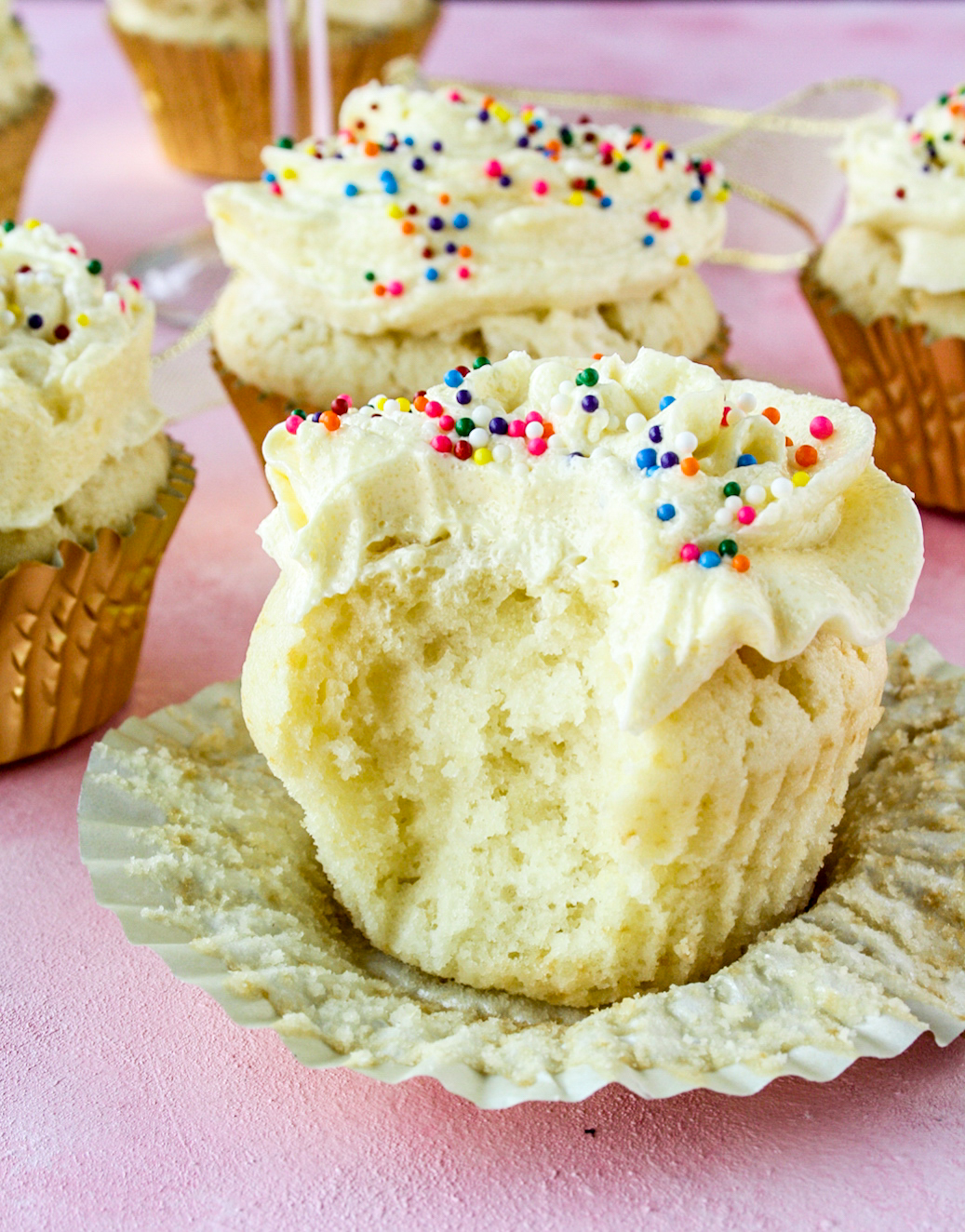 I made the frosting my usual way, with lesser sugar than normal because very sweet frostings really don't agree with me. The magic though is from the champagne, which is reduced down to almost a champagne extract, till it's changed colour and becomes much more intense. It also prevents the frosting from splitting which is likely to happen if you directly pour champagne straight from the bottle. Also, did I mention it's delicious! I thought the champagne flavour would be subtle but nope, both the cake and the frosting are quite vocal about their booziness. It's most prominent when the cupcakes are freshly frosted so preferably, eat them immediately!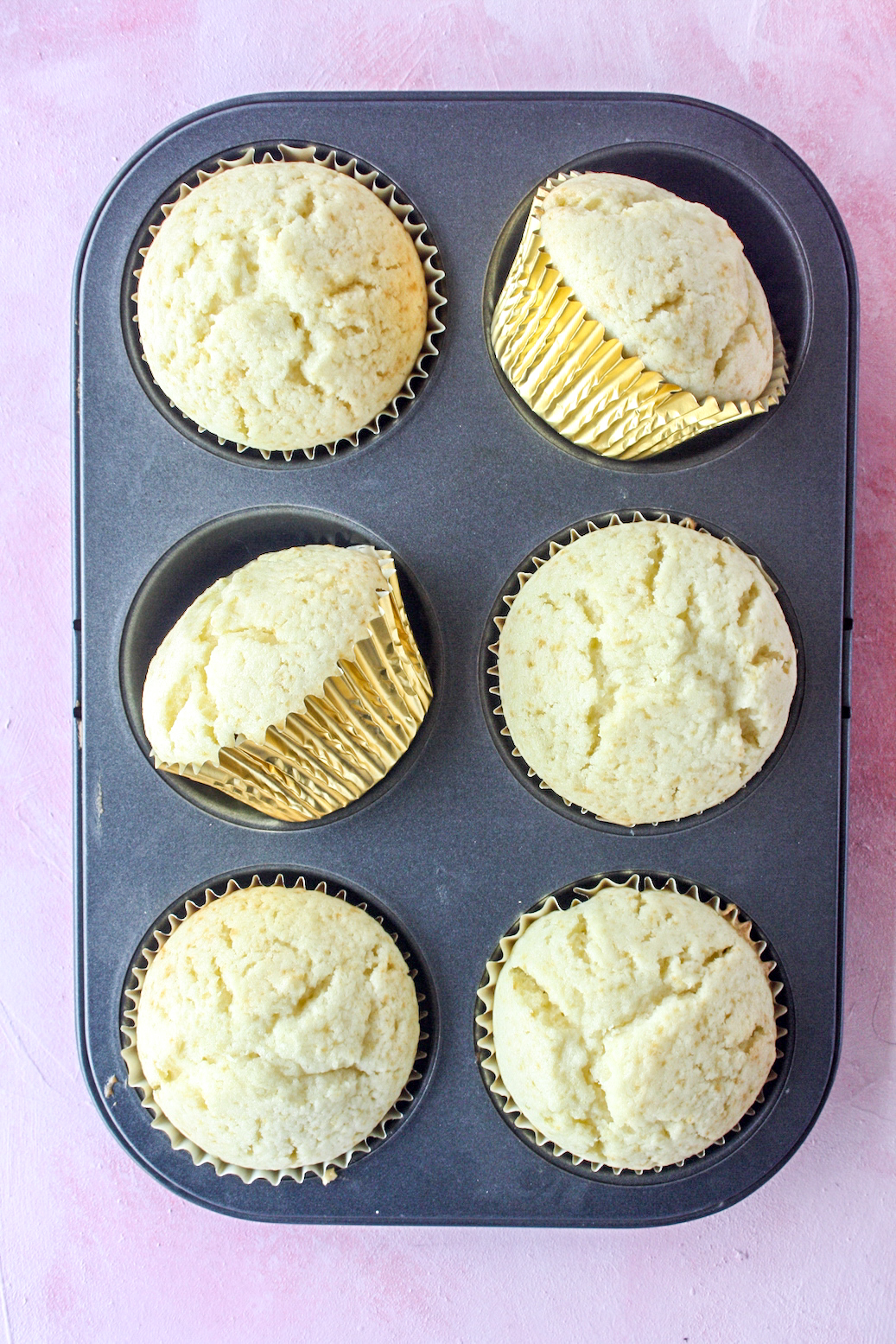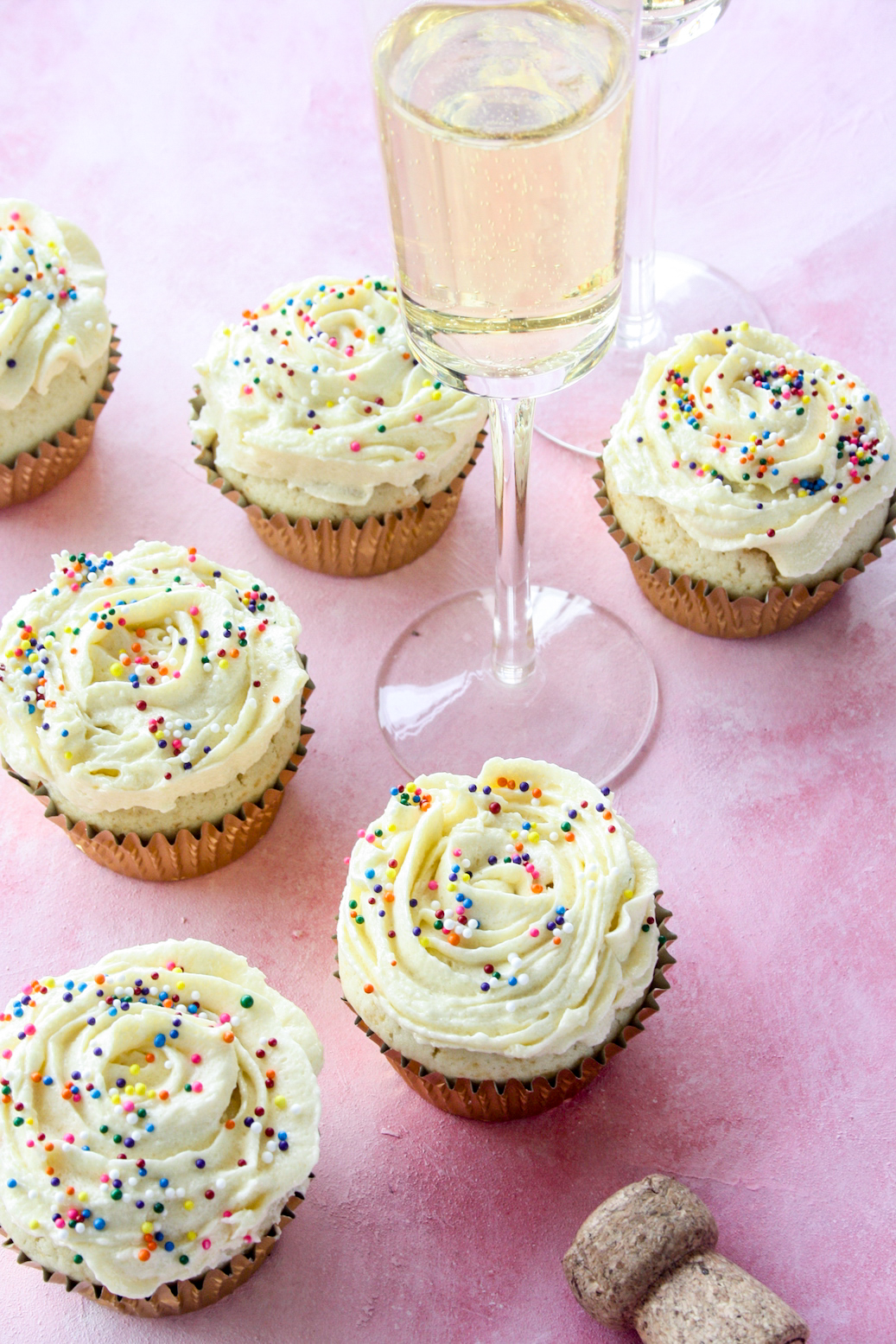 You can certainly double the recipe for a larger batch, but this batch of 6 cupcakes is perfect for date night or a small party. Best when freshly frosted or at room temperature so that you can really taste how soft that cake is!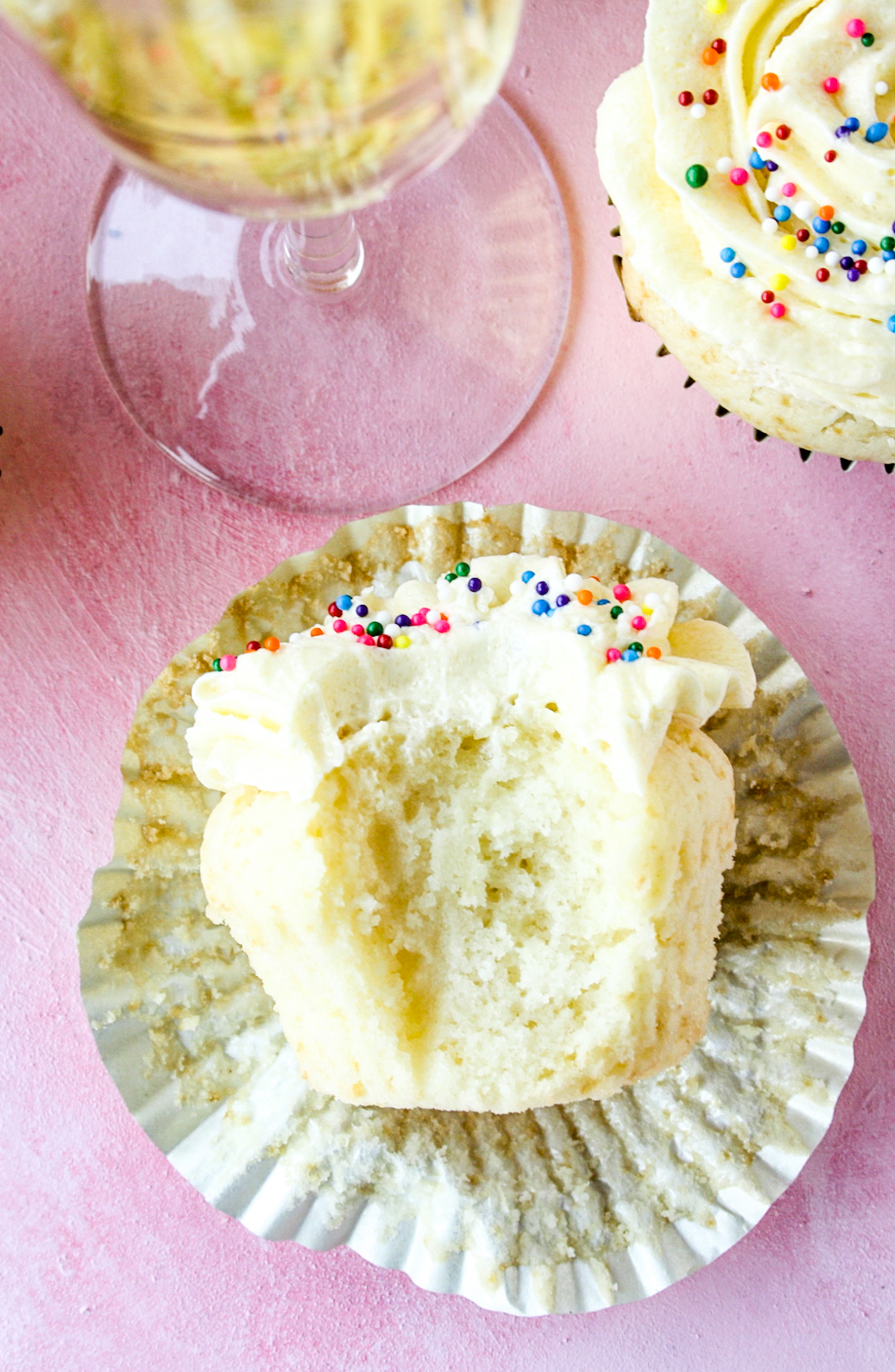 You could decorate the top with any sprinkles you like, or leave them off. I didn't have gold sprinkles on hand, but the funfetti does add a touch of…fun? Gold cupcake liners are pretty here and go with the whole champagne feel, although it's what IN them that matters of course!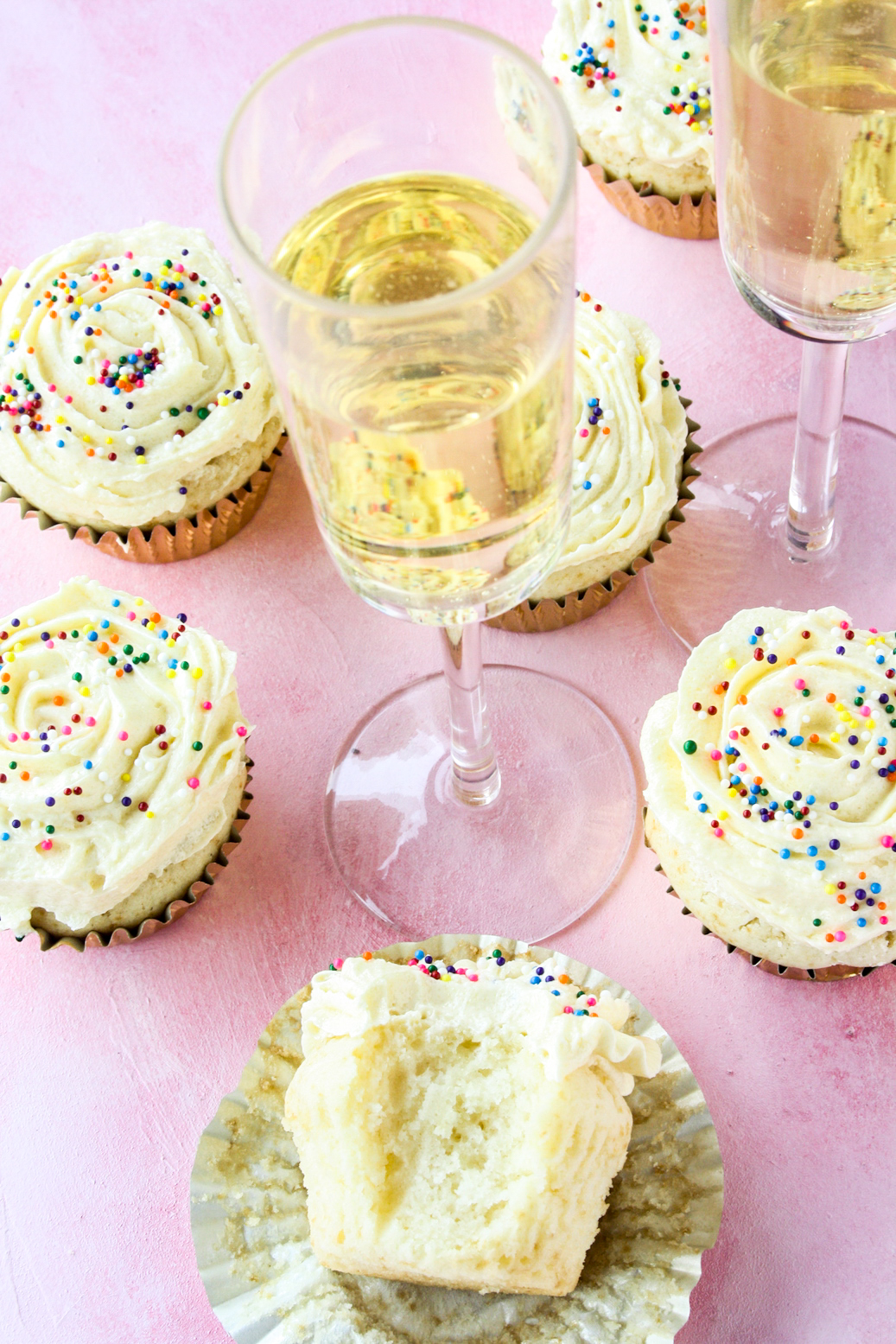 Let's make some cupcakes!

Champagne Cupcakes
Soft and light champagne cupcakes with champagne frosting!
Author:
The Desserted Girl
Ingredients
For the cake batter
1 cup all-purpose flour
½ tsp baking powder
⅛ tsp baking soda
Pinch of salt
¼ cup unsalted butter, at room temp (55 gms)
½ cup caster sugar
2 egg whites
½ tsp vanilla
¼ cup plain yoghurt
¼ cup champagne or sparkling wine

For the frosting
½ cup champagne or sparkling wine
½ cup to ¾ cup butter, at room temp (115 gms to 170 gms)
½ cup to ¾ cup icing sugar
Instructions
Preheat the oven to 175 C and line 6 muffin moulds with cupcake liners.

Sift the flour, baking powder, baking soda and salt in a bowl. Set aside.

In a mixing bowl, beat the butter and sugar with a hand mixer until pale and fluffy. Add the egg whites and vanilla and beat to combine.

Add the yoghurt along with a spoonful of the flour mixture to prevent curdling. Mix well.

Add the rest of the flour mixture along with the champagne and stir to make a smooth, pale batter.

Divide the batter equally among the muffin moulds and bake for 20 to 25 minutes until a toothpick poked in the center comes out clean. The tops will not brown much, so don't over bake them.

While the cupcakes are cooling, pour ½ cup champagne into a small saucepan and bring to a boil on medium heat. Reduce to low and let it simmer for about 5 minutes, till it has reduced to about ¾th of the original volume. It will darken and you will have two to three tablespoons of the champagne reduction. Set this aside to cool completely.

When both the cupcakes and the champagne reduction are at room temperature, make the frosting.

Beat the butter and icing sugar in a bowl, until pale and fluffy. I liked to add ½ cup butter and ½ cup sugar and then see how much more I need to adjust the consistency. For a thicker frosting, add more sugar, although I prefer mine not too sweet.

Add the reduced champagne gradually and beat to combine.

If the frosting seems a little soft, chill it for 10 minutes, before piping or spooning on top of the cupcakes. Decorate with sprinkles and enjoy! Champagne flavour is strongest while the cupcakes are fresh. Store them in the fridge in an airtight tin for 4 to 5 days. Happy baking 🙂
Notes
*Make sure all your ingredients are at room temperature, giving the batter less of a chance to curdle as you mix it.