Making cheesy, heart-shaped desserts is so much fun that I'm finally throwing in the towel and saying ok, I'm a Valentine's Day enthusiast. And now that it's out in the world, please join me in sticking little pink hearts inside every cake you can find!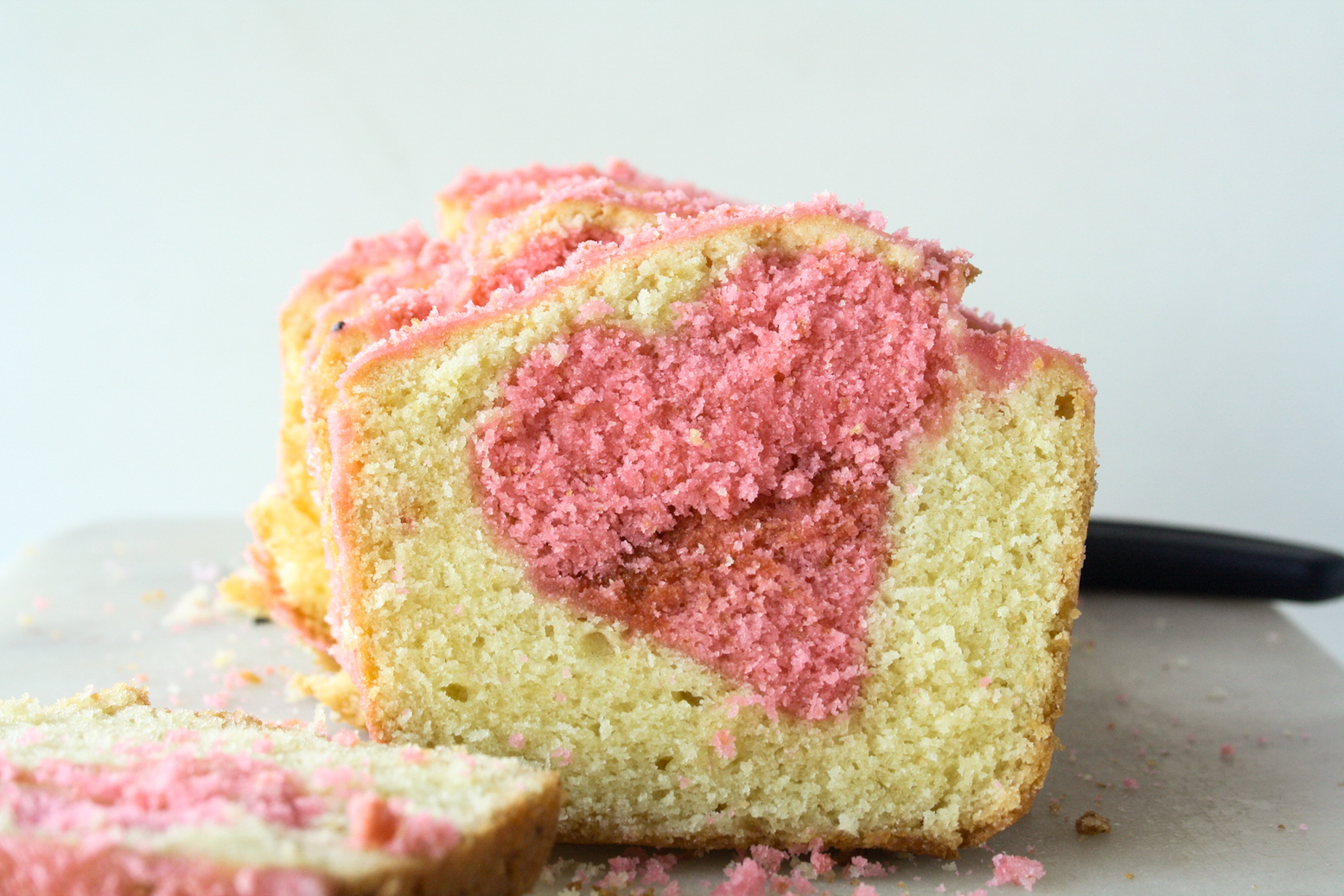 These kinds of cakes are called "surprise inside cakes", "hidden surprise cakes" or just "surprise cakes". I'm on a mission to find a better name but till then: OMGthere'saheartinhere is what we're going with. I've been wanting to make one of these for a while now but they looked intimidating.
Now that I've conquered the fear, I promise they're not! It involves making one cake, cutting shapes out it and letting them freeze. Then you make a second cake batter, stick the frozen pieces inside it and cover them up. After it's cooled, you can slice into it for the surprise! It takes a while but isn't difficult.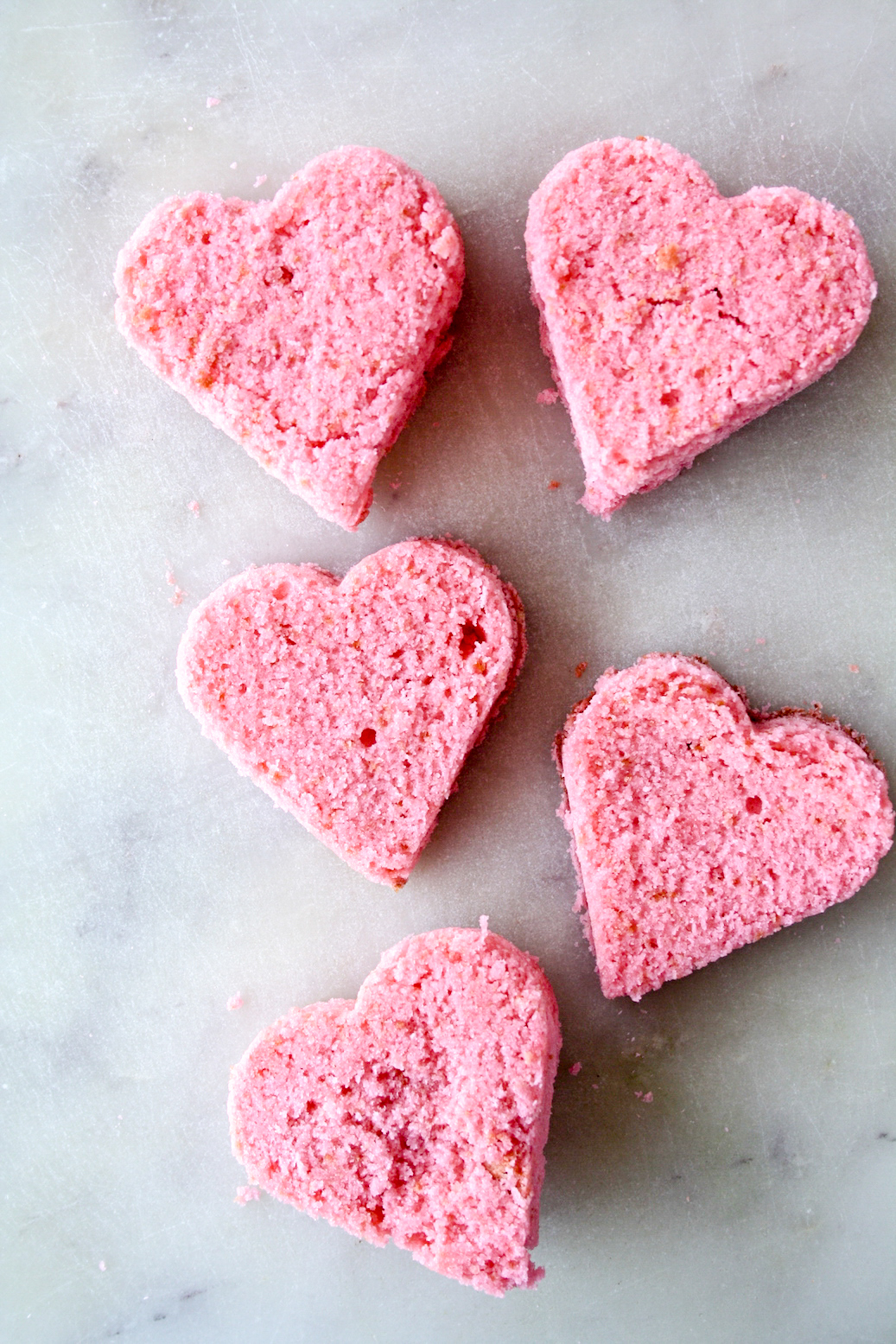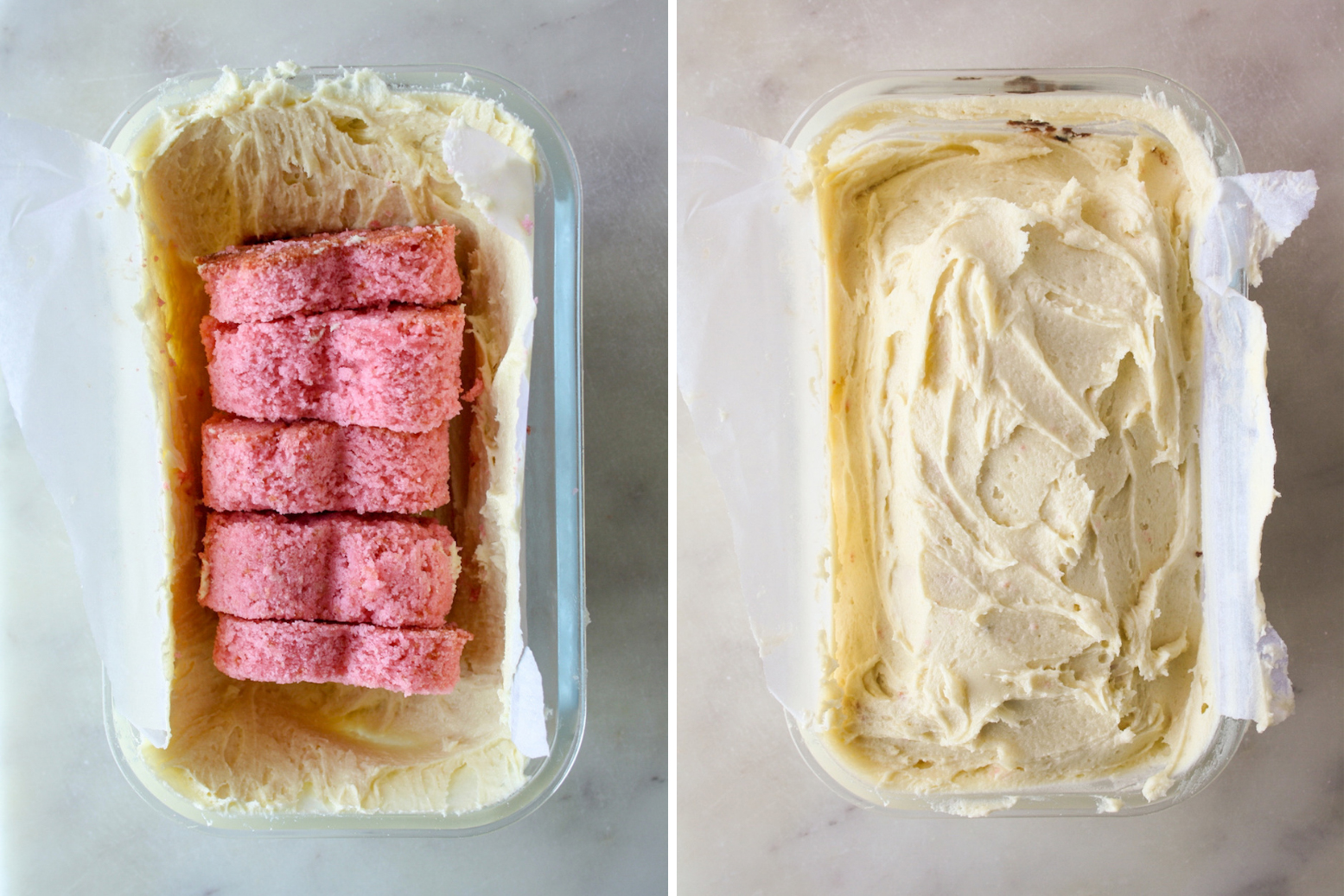 I made this as a mini loaf in my 6×4 pan because one, it was my first time trying something like this and two, there's always dessert at home so smaller quantities are welcome! My go-to butter cake is delicious, but more importantly, the batter is thick enough for a cake like this, which requires you to spread batter on the sides and bottom of the pan before placing the cut-outs of the cake. So I scaled the recipe down to make a half-batter for the pink hearts (like in this trifle where I also needed a smaller quantity) so that it can be completely covered with the plain cake batter. Confusing I know, but it's simple once you get down to it, really!
The only thing that's a bit fiddly is the actual cutting of the hearts step. Normally, you would slice the pink cake vertically, like any regular cake, and then cut out the shapes from each slice. But because this is a smaller cake, the pink portion isn't tall enough for vertical slices unless you're using a really tiny cookie cutter. So, this layer is sliced horizontally and then cut into hearts. It means you may have bits of the darker crust showing up on the hearts but I didn't mind it and I don't think you will either!
Once baked, you may find some of the hearts have moved around a bit or the shape doesn't show up quite perfectly. It happened to a couple of slices in this cake, and I panicked but as long as you place them firmly together and ensure there's enough batter to cover them all properly, you'll be fine. And if there are some imperfections, all our hearts have those 🙂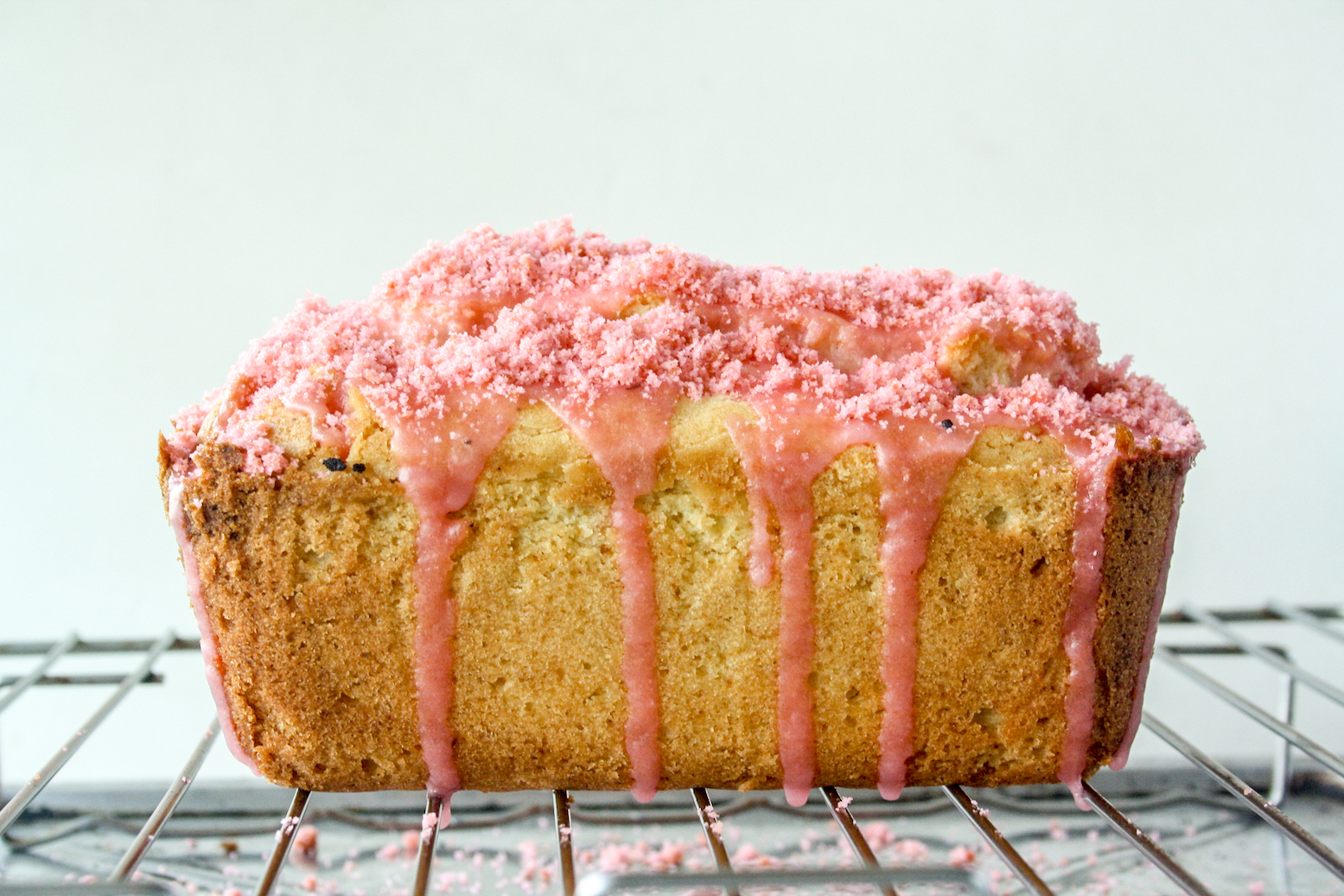 A little bit of lemon added to the batter creates a burst of bright flavour and though the pink glaze on top is optional, it's also lemony and sugary and I highly recommend it! Plus, it's a good base to stick cake crumbs on from the scraps you have leftover after cutting out the hearts!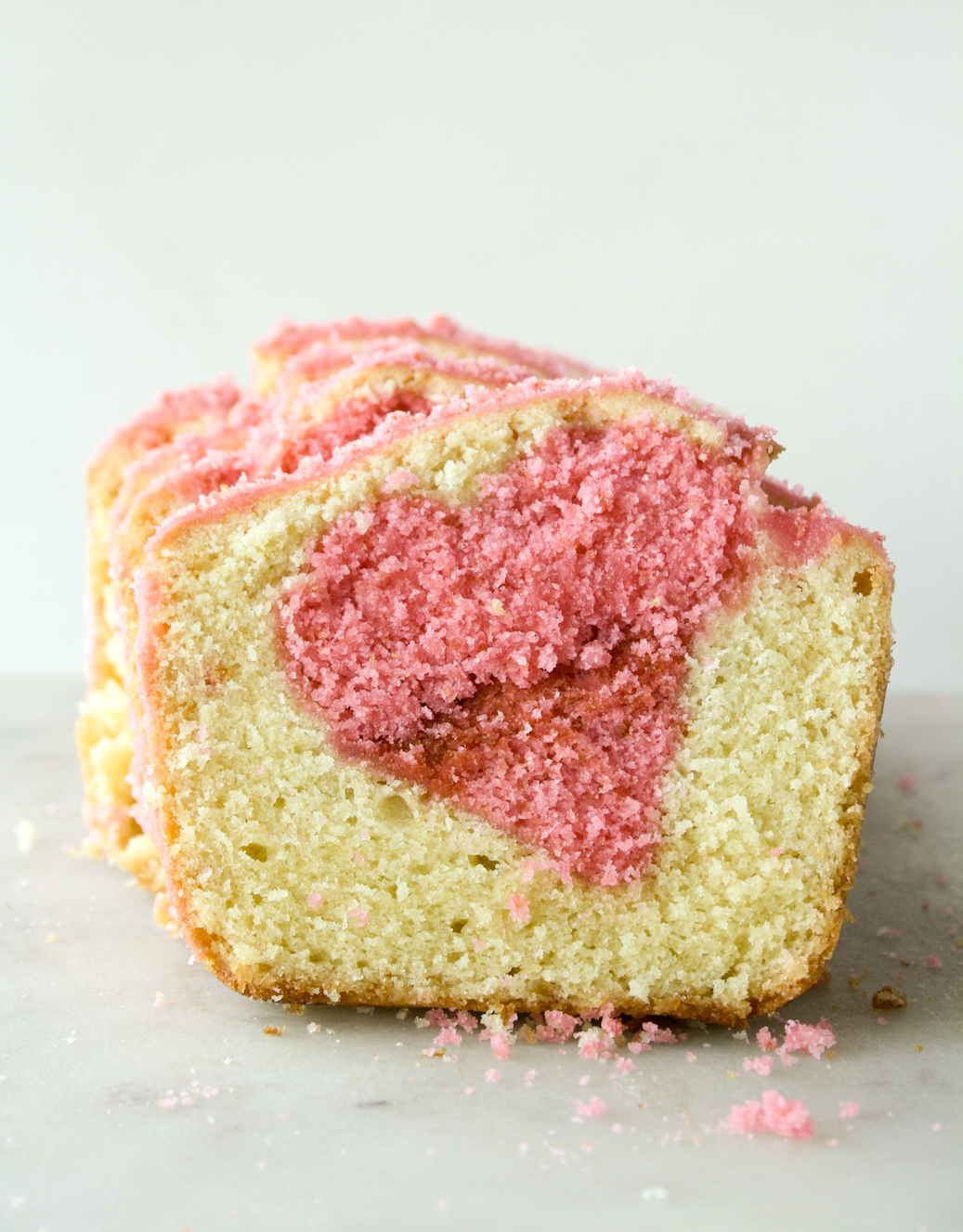 There's plenty of tips and instructions below, so let's get right to it!

Heart 'Surprise' Cake
A glazed lemony loaf cake with a Valentine's surprise heart inside!
Author:
The Desserted Girl
Ingredients
For the pink batter
½ cup all-purpose flour
½ tsp baking powder
Pinch of salt (if using unsalted butter)
¼ cup butter, at room temp (55 gms)
⅓ cup caster sugar
1 egg
¼ tsp vanilla extract
2 to 3 drops of pink gel food colour

For the plain batter
1 cup all-purpose flour
1 tsp baking powder
Pinch of salt (if using unsalted butter)
½ cup butter, at room temp (115 gms)
½ cup caster sugar
2 eggs
Zest of 1 small lemon
½ tsp vanilla extract

For the glaze
2 to 3 tbsps lemon juice
¾ cup to 1 cup icing sugar, sifted
1 drop pink gel food colour, optional
Instructions
First, make the pink batter. Preheat the oven to 175 C. Grease a 6x4 loaf tin, then line it with baking paper leaving a little overhang. Grease the paper as well.

Sift the flour, baking powder and salt together in a bowl. Set aside.

Beat the butter and sugar till pale and fluffy, using a hand mixer for best results. Add the egg and vanilla, beat to combine.

Fold in the flour mixture, then add the food colour and lightly beat to combine. The batter is thick and should remain that way but if you find it excessively thick, add a tiny splash of milk. Spread into the prepared tin and smoothen the top.

Bake for 25 to 30 minutes or until a toothpick poked in the center comes out clean. You may need an additional 5 to 10 minutes baking time. Set aside to cool in the tin for about 15 minutes, then lift using the overhang and place on a wire rack to cool for about an hour.

Place the cake in the fridge for 20 minutes, then slice off any uneven bits on top. Now slice it in half horizontally. Use a 1 to 2 inch wide heart-shaped cookie cutter to cut out the hearts. I got 5 heart shapes but a smaller cutter will yield more. Place the hearts on a tray and freeze for 30 minutes.

Rinse and thoroughly dry your mixing bowl and beaters, along with any spoons or spatulas you plan to reuse. Make sure there is no pink colour left on anything. Lightly grease the same loaf tin again, and line with fresh paper. Grease the paper as well.

Now make the plain batter. Follow the same method as the pink batter, except you will add lemon zest with the vanilla, and no food colour.

Get the frozen pink hearts out and spread a thick layer of the plain batter on the bottom and sides of the loaf tin, making sure you have enough reserved for the top. Arrange the hearts close together in one straight line, in the center of the tin. Spoon the remaining batter around the edges and on the top, making sure the hearts are completely covered.

Bake for 35 to 40 minutes, until a toothpick poked in the center or around the sides comes out clean, but start checking for doneness at 30 minutes. If the top is browning too fast, cover it loosely with foil.

When the cake is done, allow it cool in the tin for 15 minutes, then remove it using the overhang and place on a wire rack.

To make the glaze, combine the lemon juice and sugar in a small bowl. Stir thoroughly to combine, then add the food colour and stir again. You will have a thick glaze which needs to be poured immediately onto the slightly warm cake, so that it sticks and sets.

Use any scraps from the pink as decoration, by crumbling them up and sprinkling them onto the glaze. Let the cake cool completely before slicing and be ready to be surprised! Happy Valentine's week 🙂
Notes
*Gel food colour is more concentrated so if you're using a different kind of colour, you may need to adjust the quantity. The one I used is linked below (affiliate link).

*You can add lemon zest to the pink layer as well, if you like.

*For a regular sized 9x5 loaf cake, double the entire recipe. In this cake, you will be able to slice the pink cake vertically and cut hearts out of each slice, instead of doing it horizontally.
Shop this recipe!
This post contains affiliate links.