If you're a little bit Masterchef Australia obsessed like I am, you know that they make a LOT of tuile. Since all it really is, is a wafer-thin biscuit, I figured, why not make it at home? So we're taking a bit of gingerbread break, and making something that will go great with your festive table anyway!
Shaping a baked tuile is something that I'm not super skilled at yet, but ohmygod these are delicious! With a browned butter base and a little almond flour, they are amazingly flavourful, so addictively crispy and really, you shouldn't be fooled by how basic they look.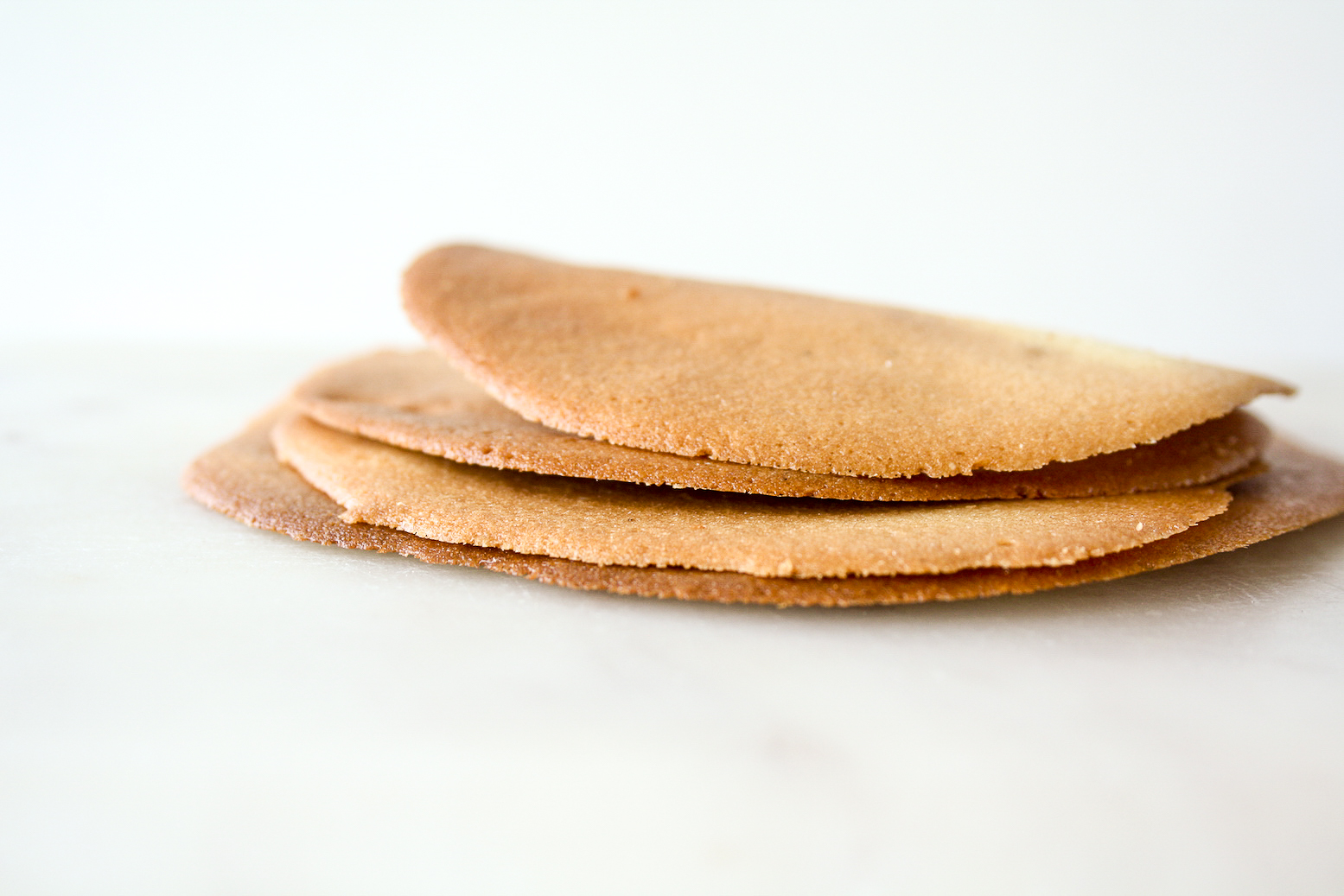 These tuiles taste amazing as is, or broken up over pudding, ice cream, anything where a bit of texture would be awesome.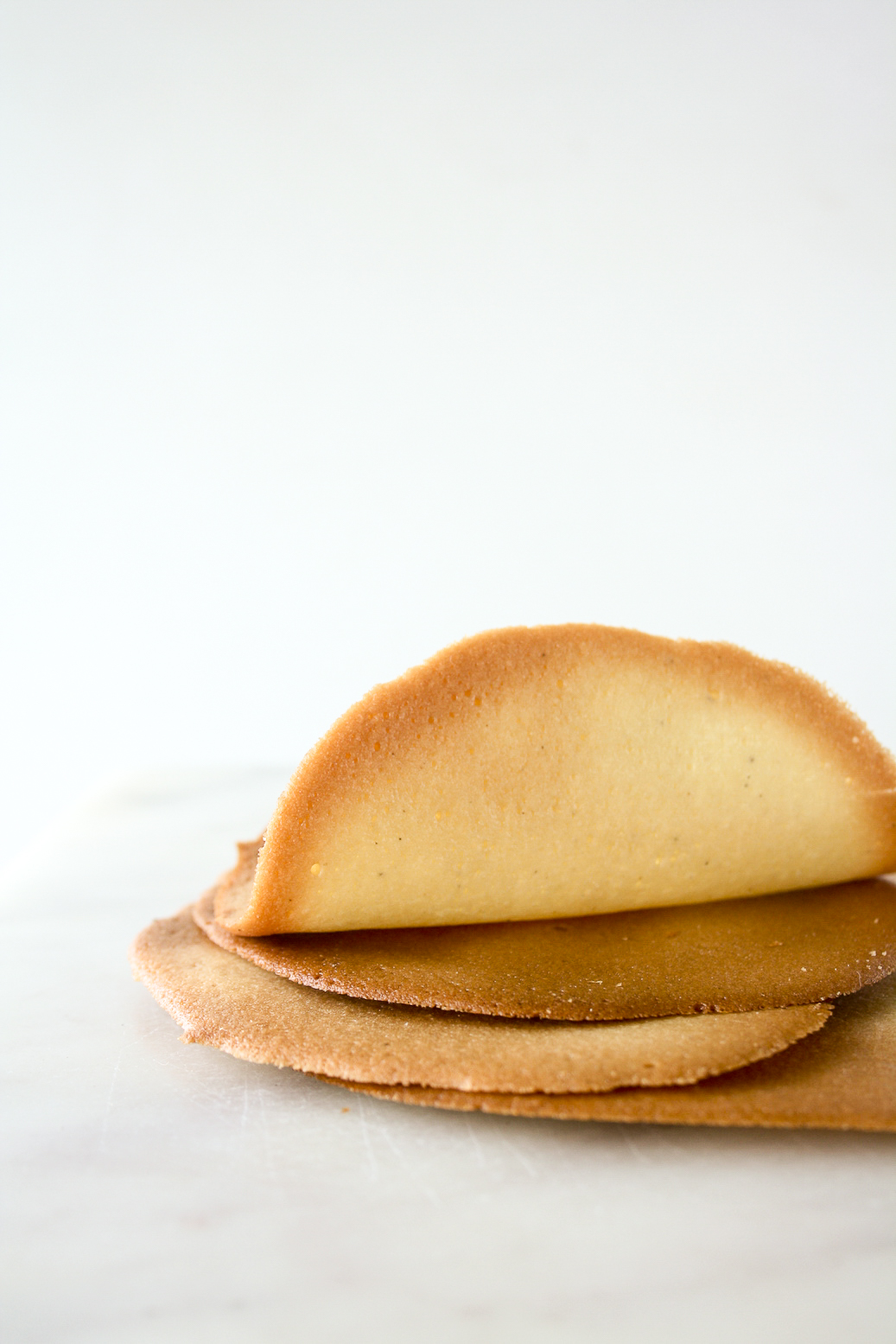 This recipe comes from the Sweet cookbook and because my initial plan was to make ice cream cones out of the tuiles, I swapped the flaked almonds for a little bit of almond flour. Of course, ice cream cone batter is a little different and the tuiles are so thin and crispy that rolling them becomes hard, so I dropped that idea. But, the rest of them baked up as cute little flat wafers. You can also curve them a little using your fingers or around a rolling pin, try not to burn yourself! My shaping wasn't perfect but the texture was spot on 🙂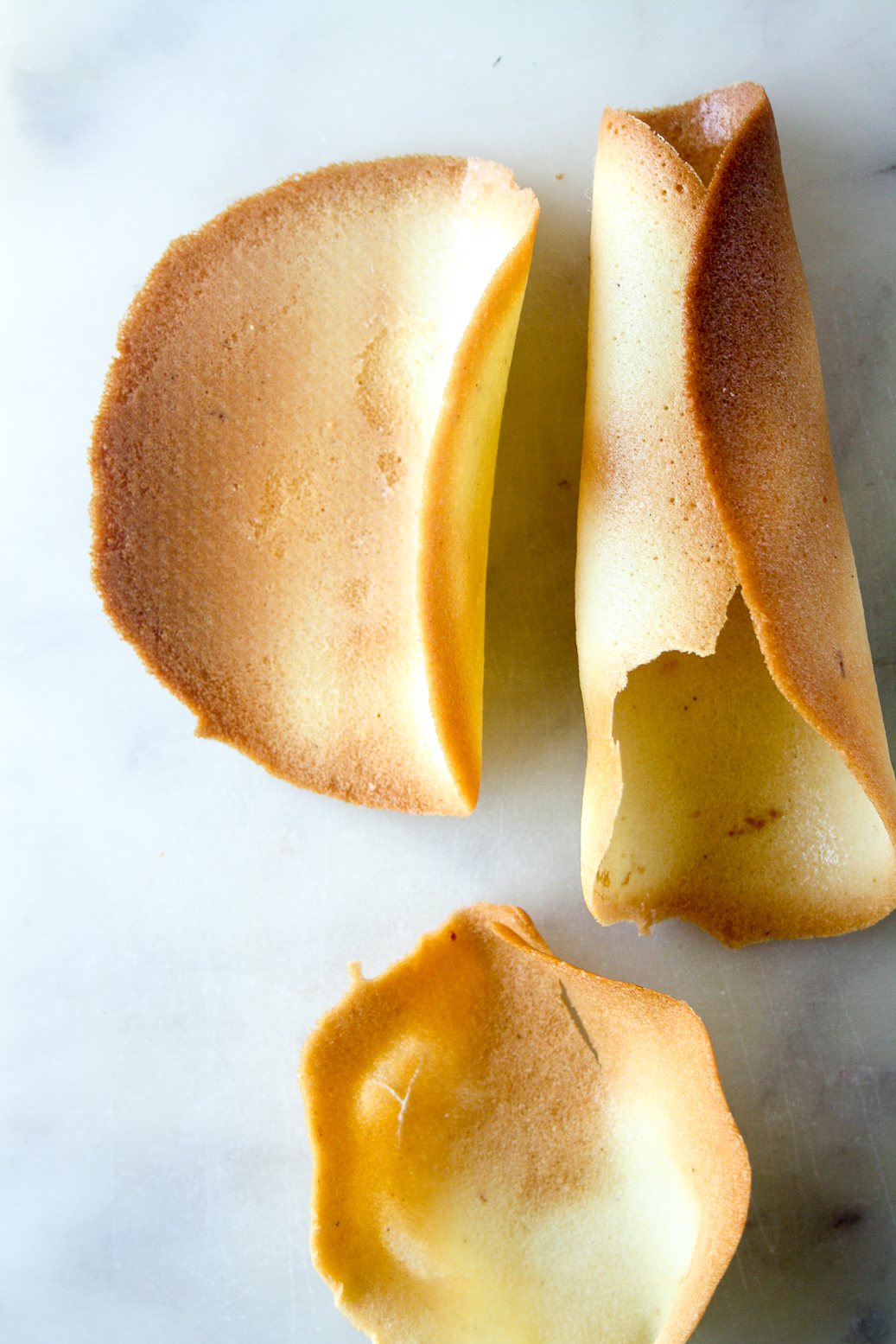 I hope you'll try these, they are deeeelish!

Browned Butter Tuile
Crispy almond tuiles with browned butter
Author:
The Desserted Girl
Ingredients
3 tbsps unsalted butter (42 gms)
⅓ cup all-purpose flour
3 tbsps almond flour/finely ground almonds
Pinch of salt
½ cup caster sugar
2 egg whites, at room temperature
½ tsp vanilla extract
Instructions
First brown the butter by melting it in a small saucepan on low heat until it begins to foam and then you start to see dark brown bits at the bottom. The butter will have darkened to golden brown and have a nutty, caramel-y, amazing aroma. Turn off the heat and let the butter cool so that the darkened bits settle.

Preheat the oven to 180 C and line a baking tray with a silicone mat. You can also use greased baking paper but I find the mat easiest to ensure the tuiles don't stick.

In a mixing bowl, combine the flour, almond flour, salt and sugar. Now strain the cooled browned butter directly over this mixture. Stir to combine. It might look a little gritty but that's ok.

Add the egg whites and vanilla. Stir again till a smooth batter forms. It will be a little thin but spreadable.

Now spread a couple of tablespoons of the batter onto the baking tray, making a circle about 4 inches wide. Leave at least an inch between each circle, and bake only 3 to 4 at a time at the most.The thinner you can make them, the crispier they will be, but they shouldn't be so thin that they burn!

Bake for 10 to 15 minutes until each tuile is evenly browned. Rotate the tray often to make sure they are cooking evenly and bake for longer if needed depending on the thickness and size of your tuiles.

If you want to roll them, use a thin metal spatula to get them off the tray, then immediately and carefully, bend the edges to make a traditional arch shape, or shape them along a rolling pin. If they start to crack, let them just cool as flat shapes, I promise they'll be delicious!

Let the tuiles cool completely then transfer to an airtight container at room temperature 2 to 3 weeks, they stay crispy! Happy baking!
Shop this recipe!
This post contains affiliate links.