Happy new week everyone! I'm back after an indulgent vacation in the US and getting back to real life has been much harder than I expected. I wasn't too excited about baking or blogging in the last four days since I've come back to India.  Apparently a three week break from the oven and kitchen switched me off, plus, jet lag, oh my god jet lag. So I started off small, with some good old chocolate chip cookies and then tried out these almond butter blondies that turned out so great, I can feel the enthusiasm returning!
They're naturally sweetened, packed with almond butter and wholewheat flour, with just enough chocolate chips to elevate them to dessert. Moist, flavourful, slightly chewy and so delicious!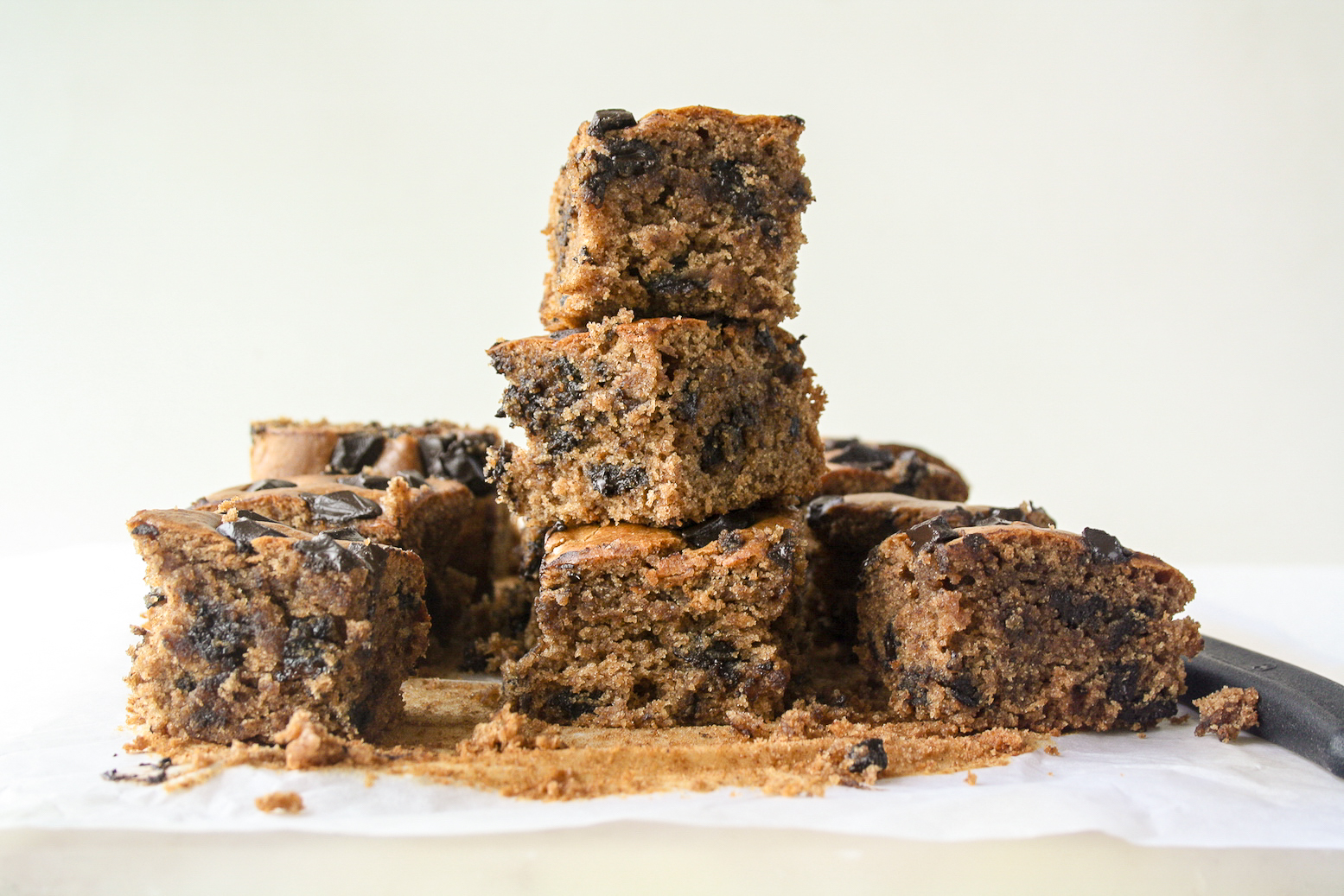 This was originally a GF, vegan recipe I found on Vegan Richa, but I decided to make a quicker version of it with wholewheat flour, an egg (I didn't have any flaxseed meal) and regular milk. However, feel free to go whichever way you prefer! I also used more milk and a half-half balance of honey and coconut sugar for a nice mix of flavours because honey goes sooo well with wholewheat flour.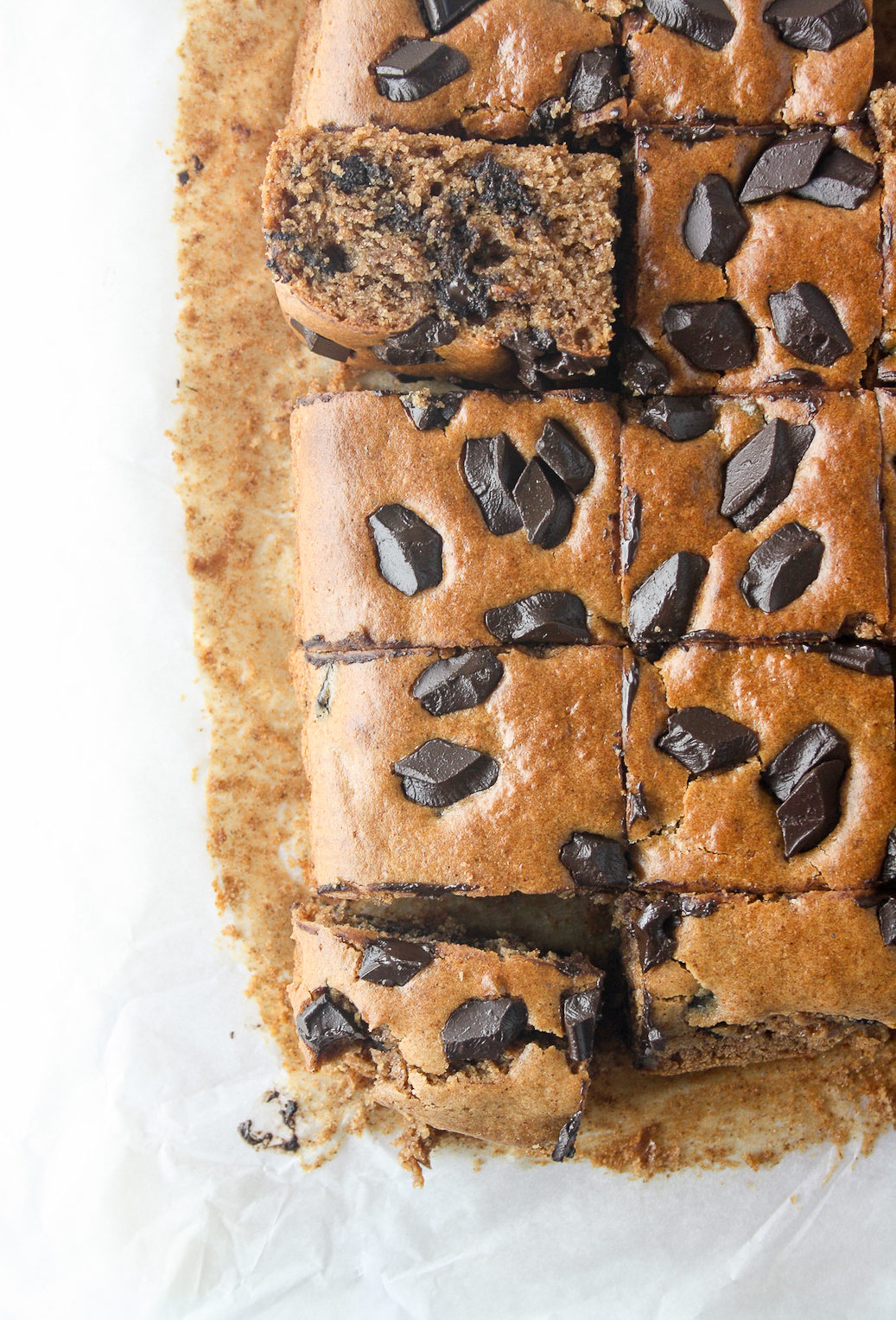 The chocolate or chips do have some sugar, but you can use an unsweetened version if you like, or skip the chocolate altogether and add nuts instead! Either way, it'll be delicious. The blondies are slightly chewy, slightly dense and yet, perfectly tender and moist. They taste vaguely of caramel and the almond butter omits the need for any additional fat though you can't really taste it if that's a concern.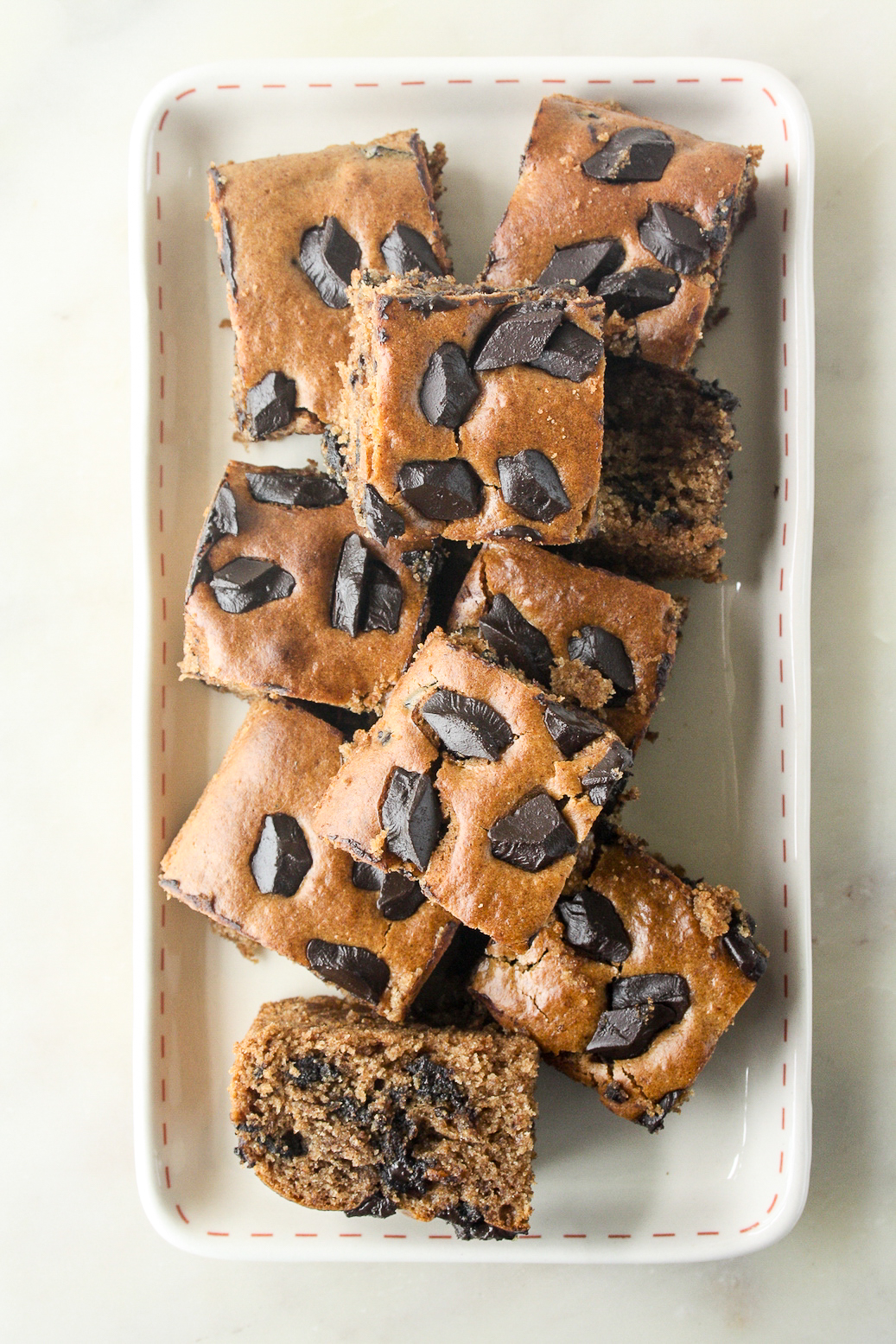 They took waaaayy longer to bake than I was prepared for, possibly because of the changes I made as I went along, so when they rose and cracked, I thought ok, blondies are done for. But as they cooled, the cracks closed up and I could cut easily into them. Sooo delicious!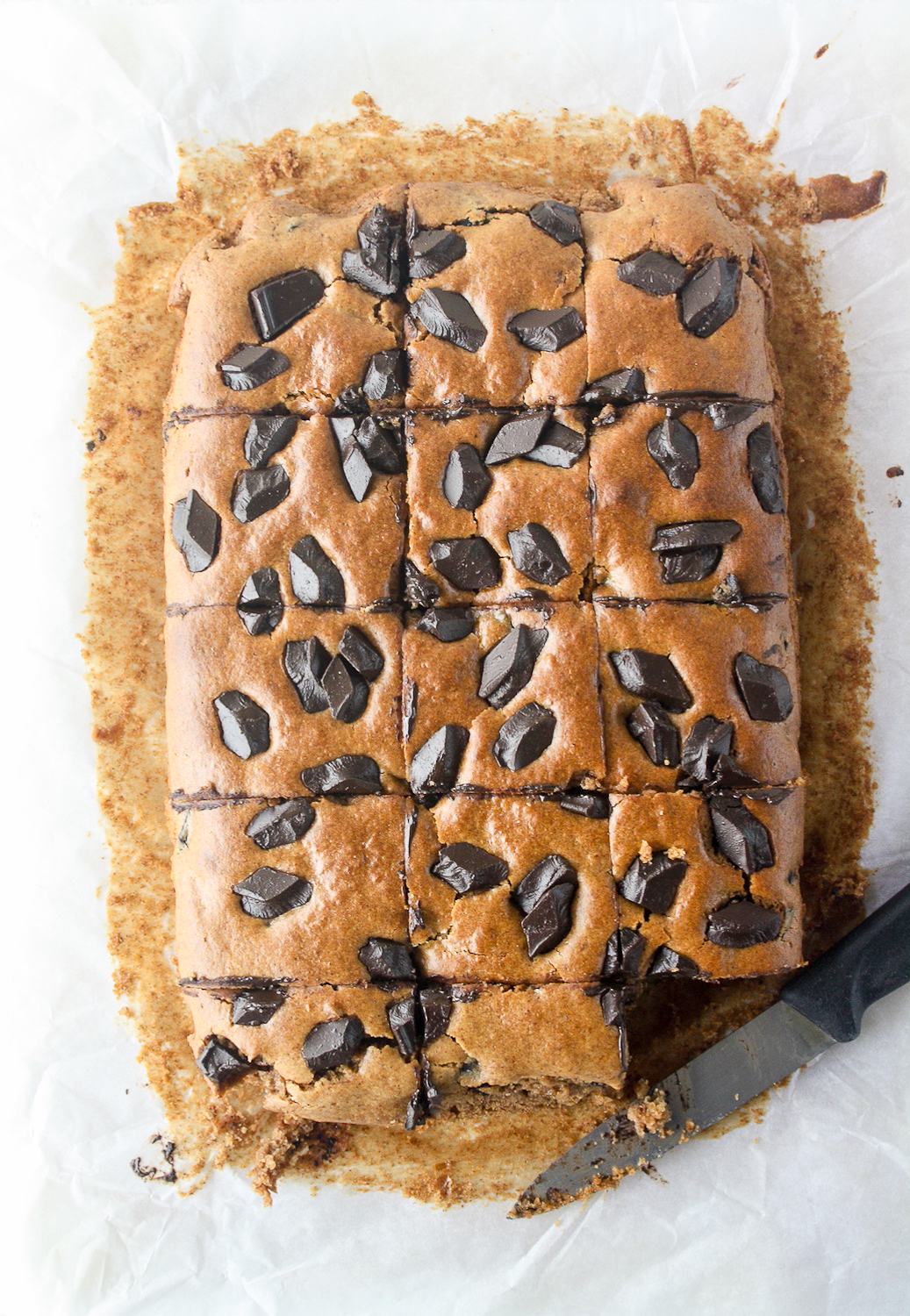 The melty chocolate in every bite is pure heaven and all of the flavours work beautifully together. I'm in love! I hope you'll make these today 🙂

Wholewheat Almond Butter Blondies
Moist, naturally sweetened almond butter blondies with chocolate chunks!
Author:
The Desserted Girl
Ingredients
¾ cup wholewheat flour
¼ tsp baking soda
¼ tsp salt
¼ tsp cinnamon powder
¾ cup almond butter (unsweetened)
⅓ cup milk
¼ cup honey
¼ cup coconut sugar
1 tsp vanilla extract
1 egg
½ cup chocolate chunks or chocolate chips
Instructions
Preheat the oven to 175 C. Grease and line a shallow 9x5 baking dish with baking paper, leaving a little overhang for easy removal. Grease the paper as well. You can also use an 8x8 pan, but I prefer these blondies to be thicker.

Sift the flour, baking soda, salt and cinnamon in a large bowl. Set aside.

In a mixing bowl, whisk the almond butter to loosen it a little, then stir in the milk and whisk gently to combine.

Stir in the honey, sugar and vanilla. Add the egg and mix well till it is fully incorporated.

Fold in the flour mixture. The batter will be a little thick, but if it seems excessively thick, add a little milk to help it along.

Finally stir in the chocolate chunks. Spoon the batter into the prepared pan, smoothen the top and and sprinkle with more chocolate.

Bake for 40 to 45 minutes (an 8x8 pan of blondies will cook faster) or until a toothpick poked in the center comes out clean. Start checking for doneness at 30 minutes and cover the top loosely with foil if it browns too quickly.

Allow the blondies to cool in the pan. If any cracks appeared while baking, they will close up as they cool. Remove from the pan using the overhang and slice into pieces. Store in an airtight tin at room temperature for 2 to 3 days, then transfer to the fridge if you live in a warm place. Happy eating!
Notes
*Use unsweetened chocolate to keep this entirely free of refined sugar. Alternately, you could use chopped almonds or walnuts!
Shop this recipe!
This post contains affiliate links.