This blog is not new to apple crumble. Here it is with strawberries, here with sage, here as a pie. But what it didn't have till this moment was a classic, basic, magical 'plain' apple crumble that doesn't even have a proper recipe and still can't go wrong no matter what you do.
All it's got is juicy apple chunks, lots of cinnamon and a buttery crumble topping that can totally qualify as a dessert by itself. Vanilla ice cream on top absolutely essential.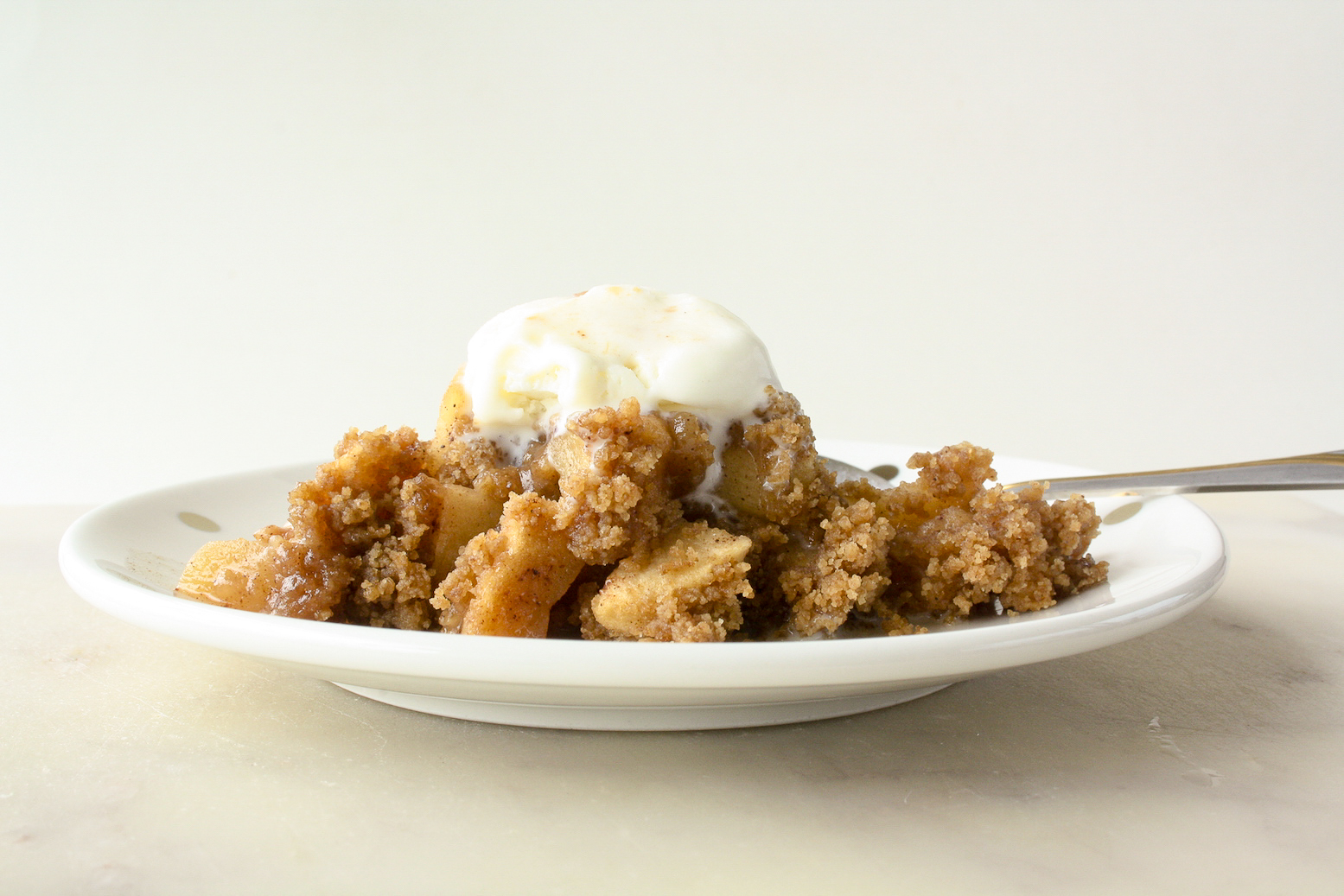 I've made A TON of apple crumble and it's the one thing I always make just eyeballing the measurements and keeping the ingredients really simple. I took notes this time and created a recipe out of it but you can definitely play around with it to make your kind of crumble too!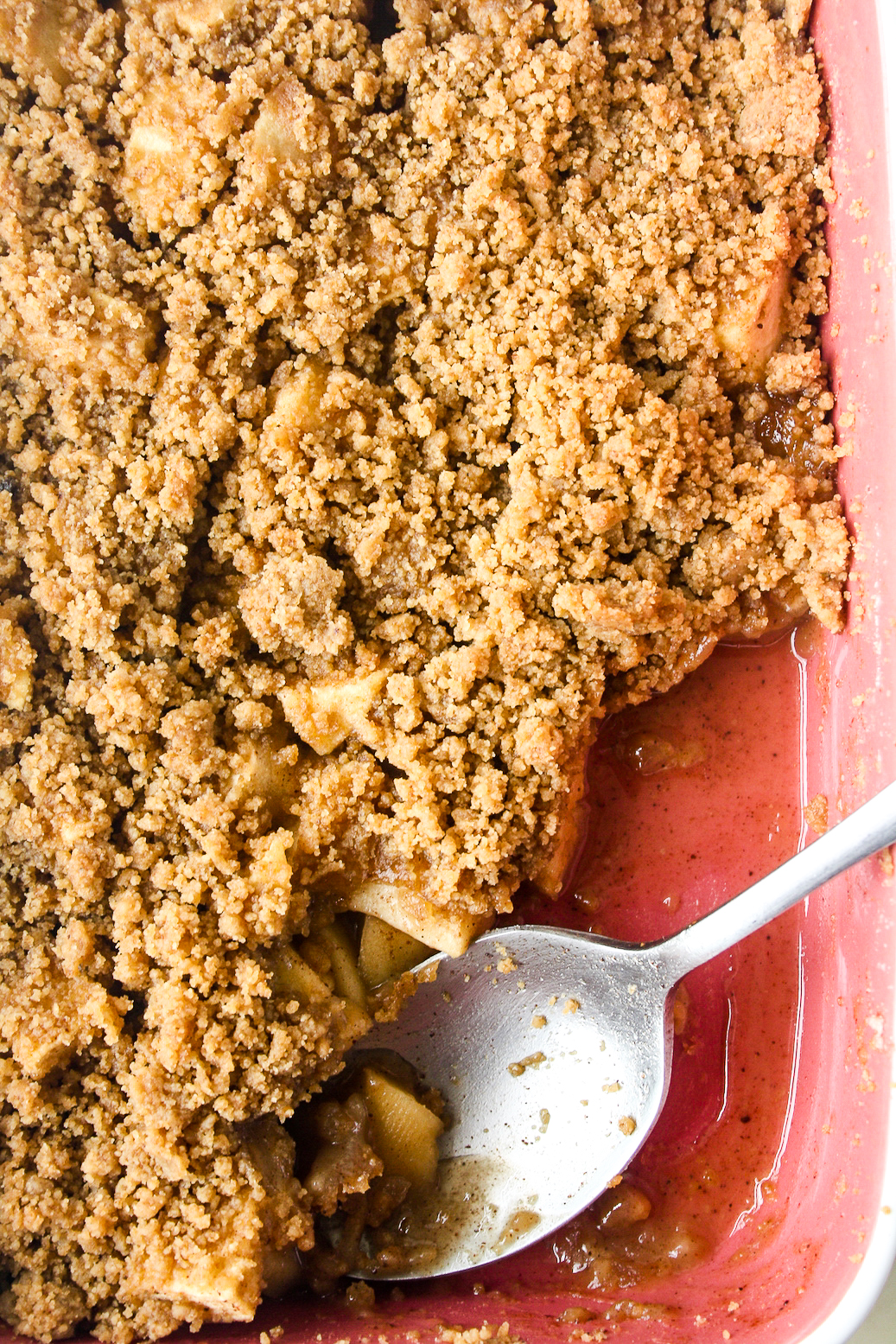 Warm from the oven, it tastes like absolute heaven but it also makes a fabulous cold breakfast the next day! There's alI sorts of texture fun and the flavours are such a winning combination! I add just a bit of ground ginger  for extra warmth but it's optional and the dominant flavour is still cinnamon. The apples cook down to soft, with just a little bite. I prefer them this way but you can cook them longer if you prefer them a little mushy.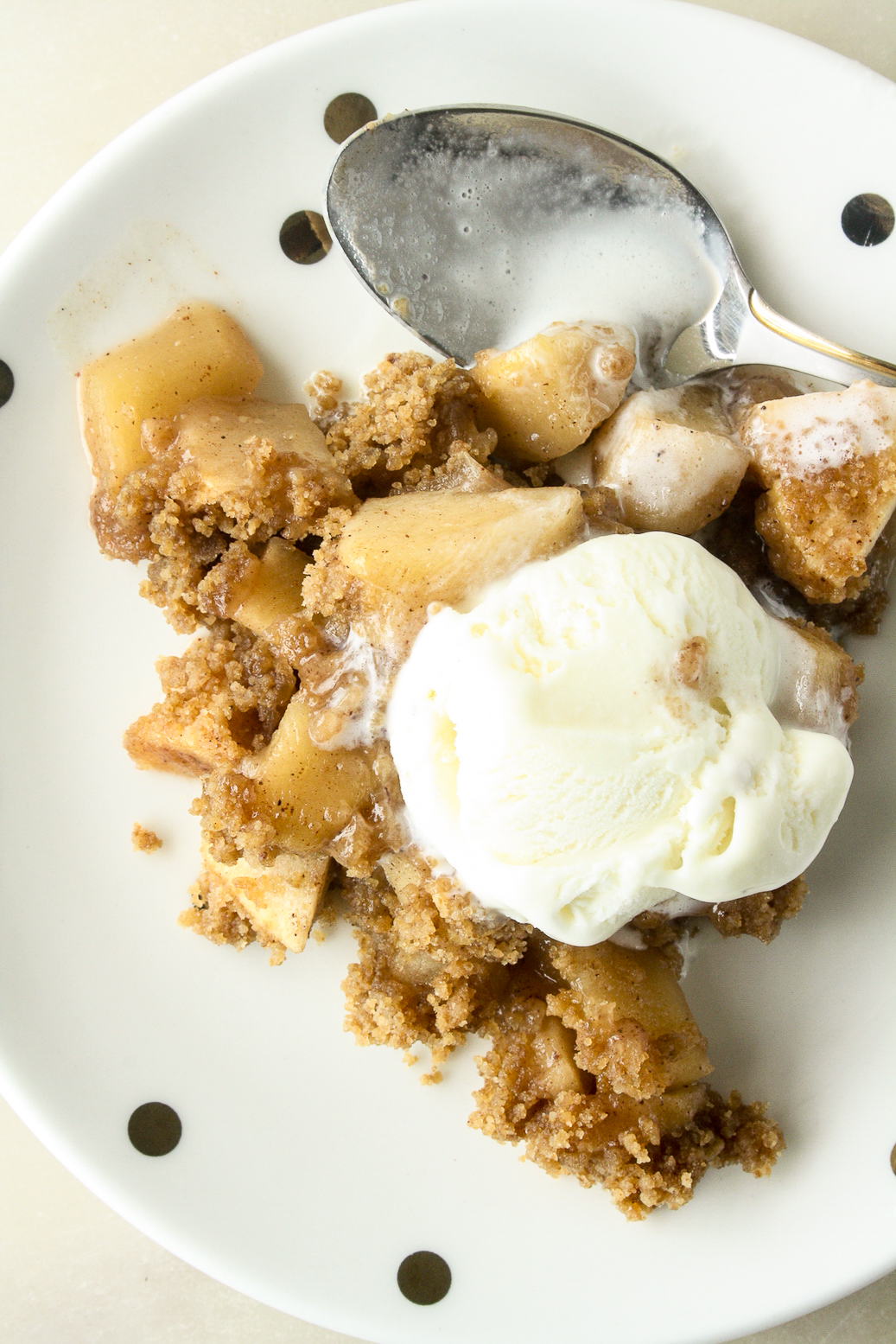 Use any apples you can get your hands on now, they don't have to be special or fancy. A squeeze of lime helps balance the sweetness of the fruit and sugars, and though I didn't do it this time, just a little orange zest also goes a long way! So hard to share this.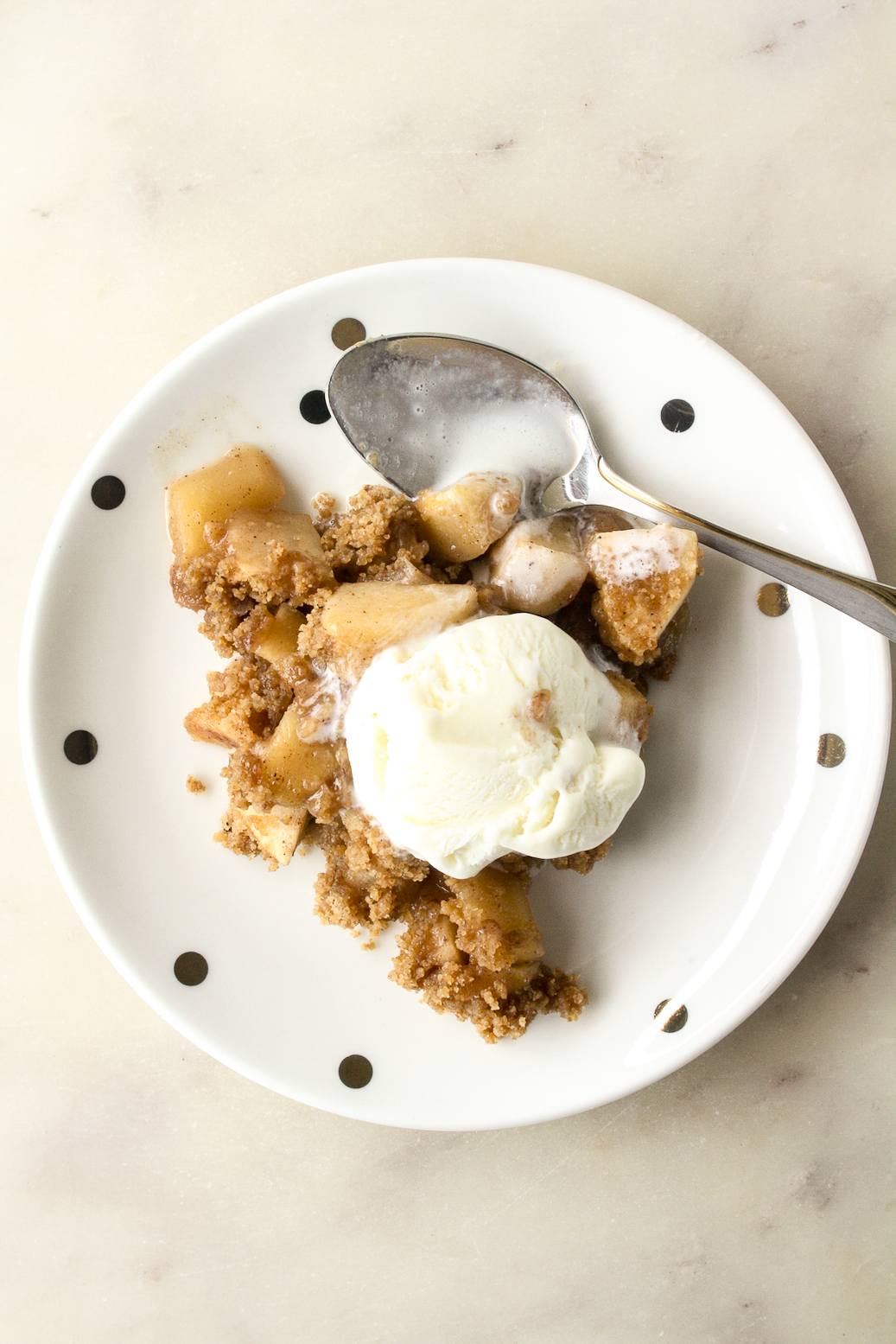 It takes all of 15 minutes to put together and it's absolutely worth the non-effort. Make this today!

Classic Apple Crumble
Classic apple crumble with cinnamon and juicy apples!
Author:
The Desserted Girl
Ingredients
For the apples
3 red apples, peeled and chopped into chunks
¼ tsp cinnamon powder
⅛ tsp ginger powder
2 to 3 tbsps caster sugar, depending on sweetness of apples

For the topping
½ cup + 2 tbsps all-purpose flour
¼ tsp cinnamon powder
3 tbsps brown sugar
¼ tsp salt if using unsalted butter
50 gms cold butter, cubed
Instructions
Preheat the oven to 175 C. In a shallow baking dish (about 9x5 inch, or use a square dish. The size of the dish isn't very crucial as long as it fits the apples), combine the apple chunks, cinnamon, ginger and sugar. Mix well and set aside to help the apples release their juices. Note: A small squeeze of lemon juice prevents the apples from going too brown and adds a little extra flavour.

Now make the topping. In a bowl, combine the flour, cinnamon, brown sugar and salt (if using). Mix well, then add the cubed butter.

Rub the butter into the flour with your fingertips till you have a crumbly mixture. Spread it all over the apples evenly, making sure the apple pieces are covered so they don't dry out in the oven.

Bake for 20 to 25 minutes until the top has started browning. Cover with foil and continue to bake for another 20 minutes or until the juices are bubbling, the apples feel tender when poked with a fork and the top is well-browned. You can bake for a few extra minutes for super soft apples but make sure the topping doesn't burn.

Remove the foil, allow the crumble to cool for 10 minutes, then serve with vanilla ice cream! Store covered in the fridge for 3 to 4 days.
Notes
*You can cut the apples into smaller pieces to help them cook faster and become softer. I like them with a little bite!
Shop this recipe!
This post contains affiliate links.