I really never thought I'd want to buy marshmallows and eat them. I've tried them, decided they were too sugary and too gooey for me and oh my god, never again. But, if you sandwich them with melty chocolate and the most incredible honeyed graham crackers, plus call them 's'mores', apparently I'll eat anything.
Despite them being mentioned in so many American books and TV shows I'm surrounded by, s'mores weren't ever on my baking bucket-list but homemade graham crackers were. They are crunchy, caramel-y and so delicious, it seemed like a huge waste to grind them up for a cheesecake crust. And so, into the oven they went, with squares of chocolate and spongy marshmallows. And I must say, no regrets!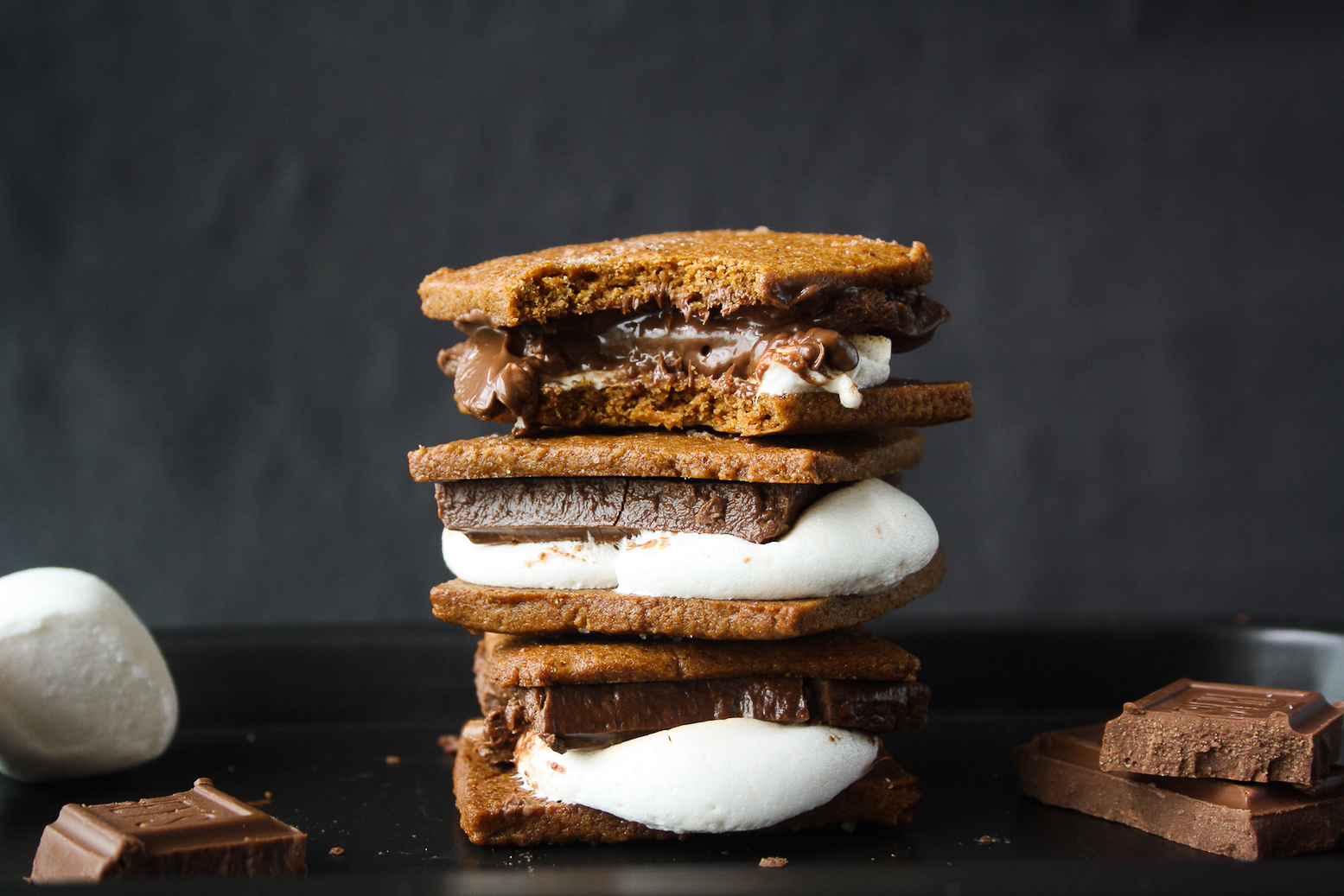 The recipe for the graham crackers is from Smitten Kitchen. I halved the recipe and still got about 30 crackers and found that rolling the dough out between clingfilm and a silicone mat was easier than doing so directly. They remain crunchy for days even at room temperature, have a beautiful honey and brown sugar
flavour combination, a light cinnamon sugar sprinkling and mysteriously taste like ginger biscuits without having any ginger!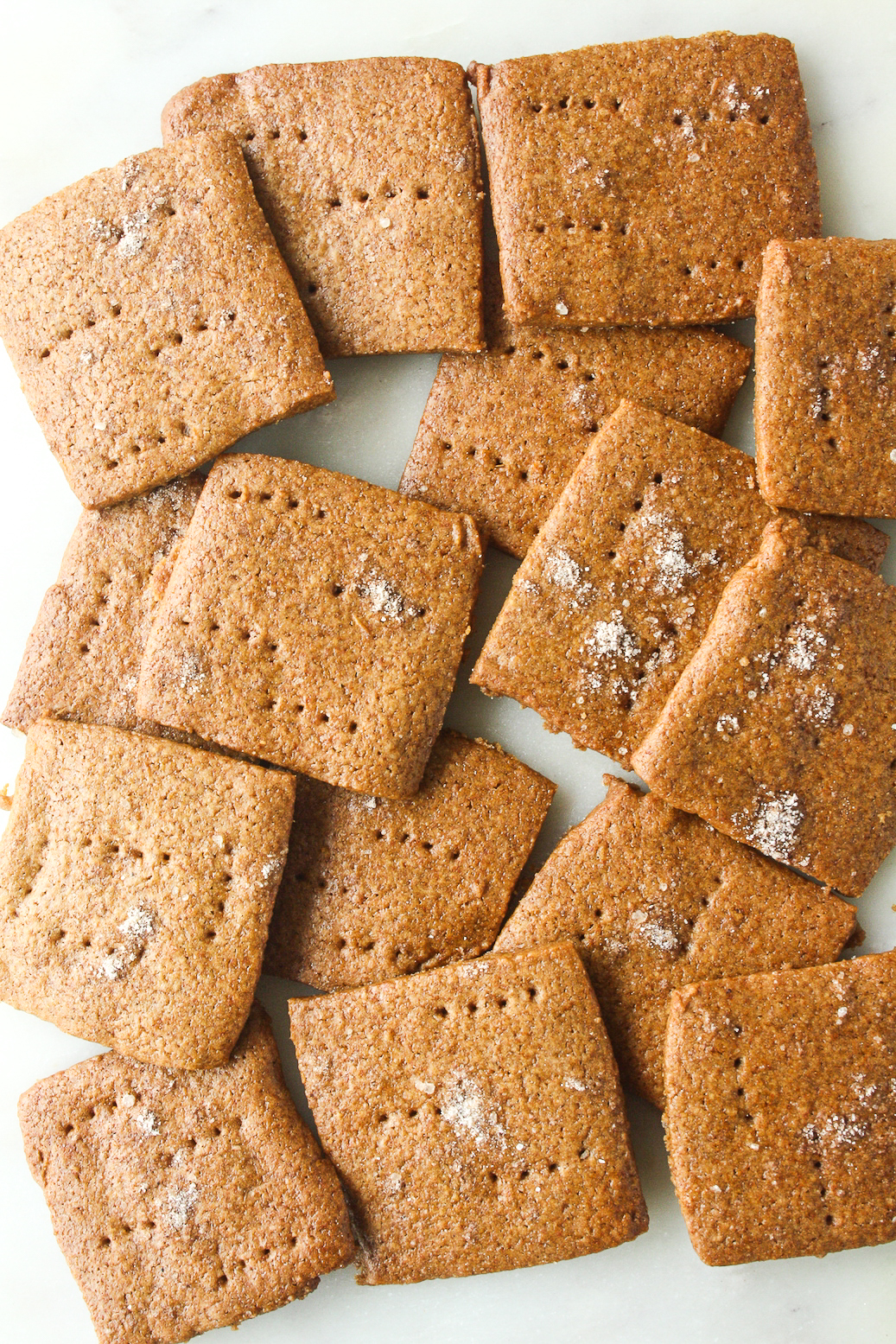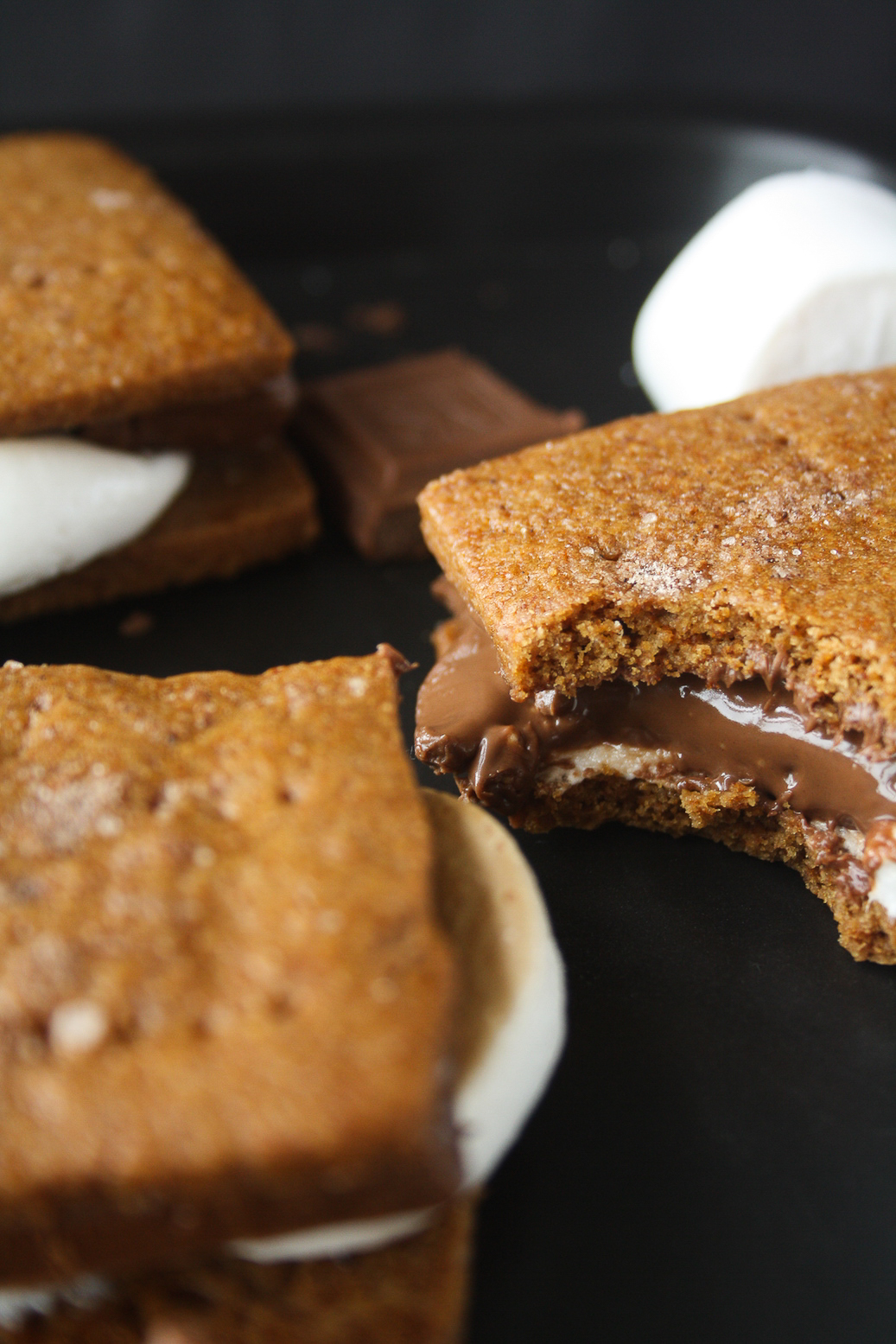 The s'mores themselves are very very easy. Simply make sure you have enough chocolate and marshmallows depending on how many you want to make. If you oven has a broil setting, that's great but if not, you can just bake them on a regular setting too. The crackers don't become extra hard or anything, just that the marshmallows will brown and soften and the chocolate will get melty. Which is perfect!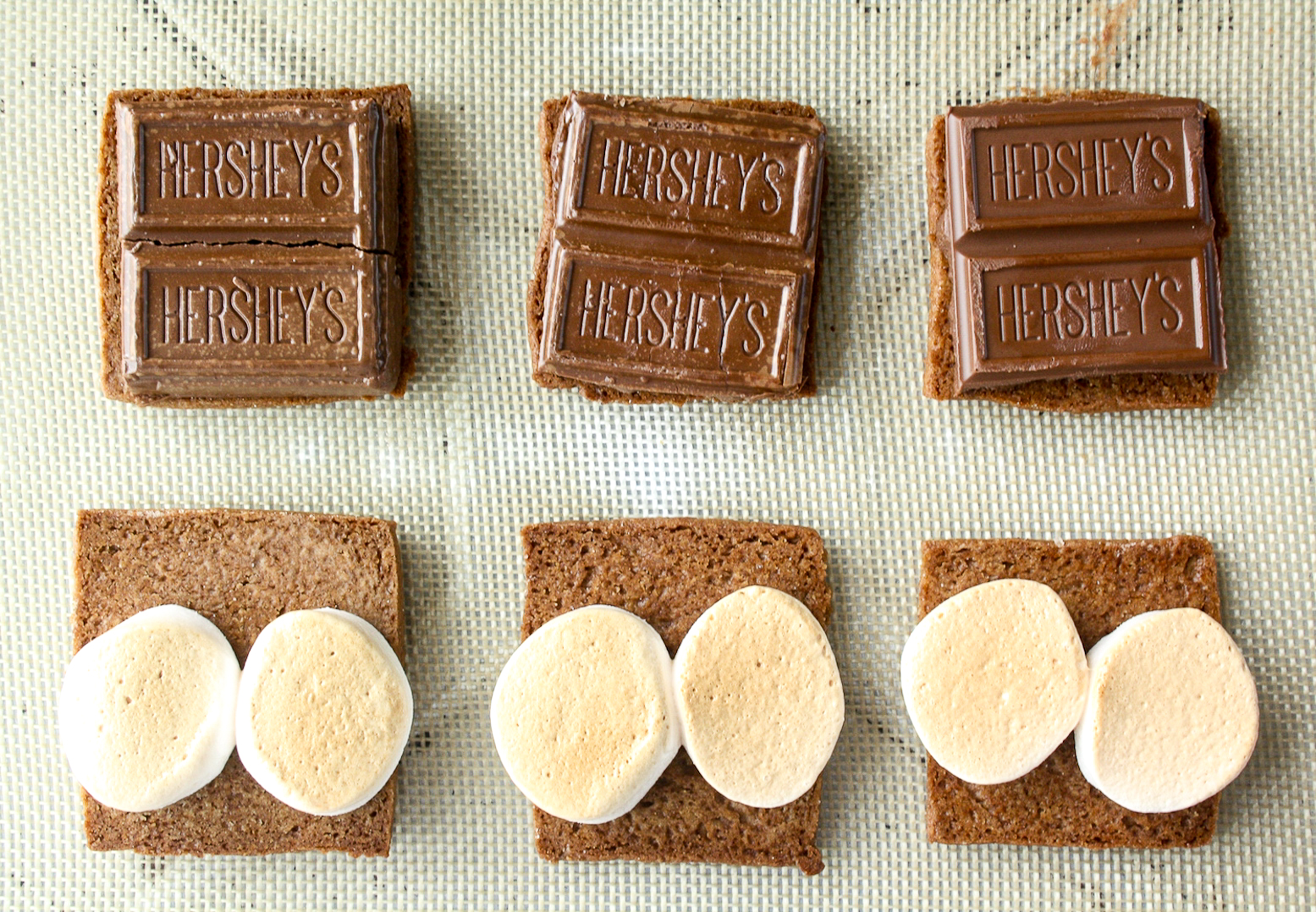 For the authentic s'mores experience, I recommend Hershey's milk chocolate
. It has a signature flavour that's quite unbeatable! I found that you can even store leftover s'mores in the fridge and reheat them the next day for an almost identical texture as freshly made.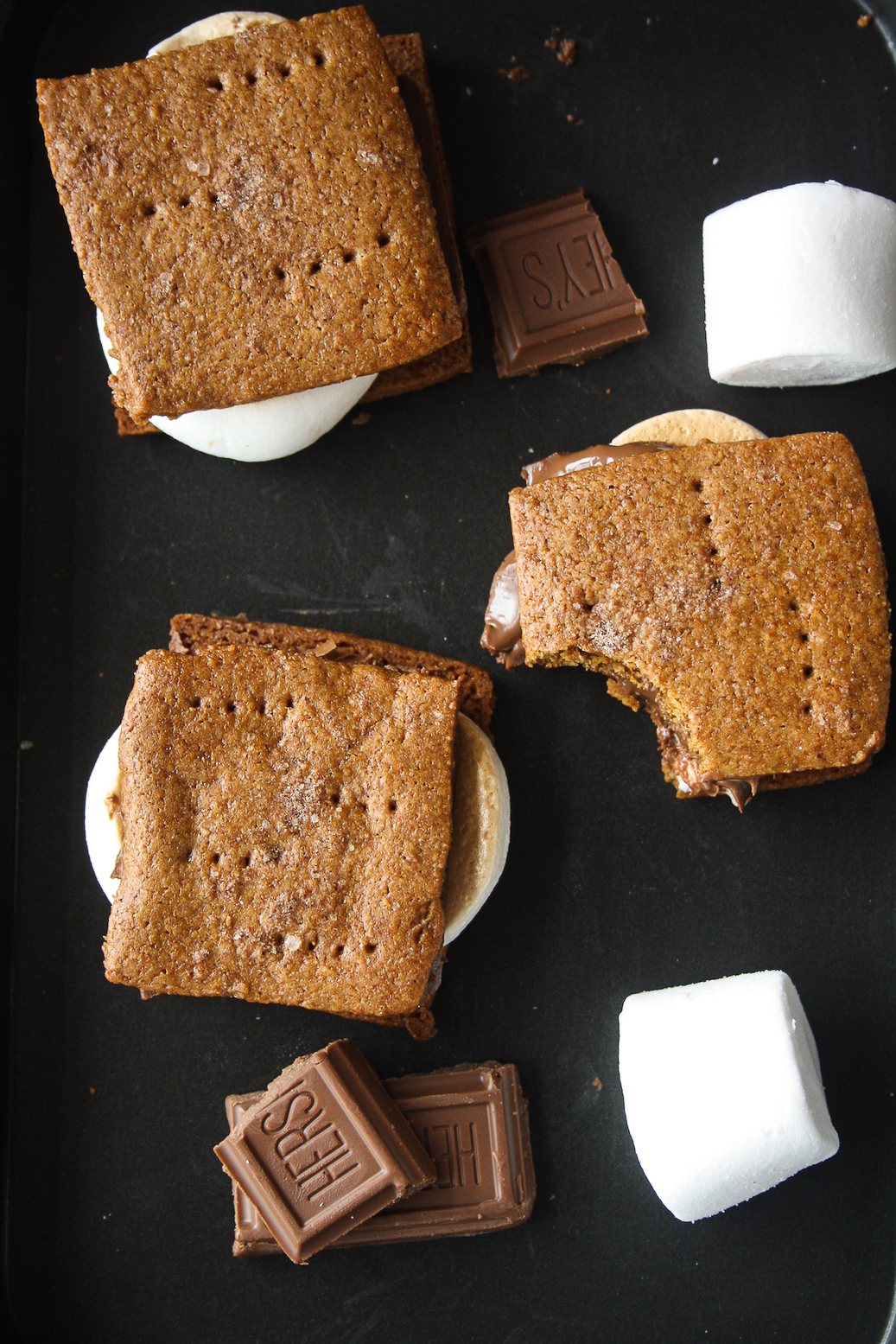 They're wonderfully chewy, gooey and sugary. But the graham crackers make sure none of it is overwhelmingly sweet. They're truly magical! Warm from the oven, you're suddenly transported to a wintry bonfire night and it's quite perfect 🙂 Let me know how you like these!

S'mores with Homemade Graham Crackers
Delicious homemade graham cracker s'mores with melty chocolate and marshmallows!
Author:
The Desserted Girl
Makes:
About 30 crackers and 15 s'mores
Ingredients
For the graham crackers
1 cup all-purpose flour
¼ cup wholewheat flour
½ tsp baking soda
1 tsp salt if using unsalted butter
½ cup brown sugar
50 gms cold butter, cubed (1/4 cup)
3 tbsps whole milk
3 tbsps honey
2 tsps vanilla extract
1 tsp cinnamon powder + 2 tsps powdered sugar, optional

To assemble the smores
Milk chocolate pieces and marshmallows, as needed
Instructions
In the bowl of a stand mixer, combine the flours, baking soda, sugar and salt (if using). If doing this by hand, use a large mixing bowl. You could also use a food processor but mine tends to overwork dough so I avoided it here.

Add the cold butter and run the mixer on low speed till the mixture resembles coarse breadcrumbs, or use your fingertips to rub the butter in.

In a smaller bowl, whisk the milk, honey and vanilla. Pour into the flour-butter mixture and run the mixer on low to bring the dough together. If doing this by hand, a silicone spatula is great. Do not overwork the dough. Mine was not sticky at all, but it is definitely soft.

Place the dough on a large piece of clingfilm, pat it down and wrap tightly. Chill for 1 to 2 hours, or overnight.

When ready to roll, lay out a silicone mat or large piece of clingfilm on the counter and sprinkle lightly with flour. Combine the cinnamon and powdered sugar in a small bowl.

Unwrap the chilled dough and place it on the floured surface. Cover with another sheet of clingfilm and roll out to a roughly 10" square. It may be more rectangular or more square, the shape doesn't matter much. It is more important to roll it out thin enough that the crackers are crisp, but not so thin that the dough tears.

Slice it into equal squares and save the scraps. Don't separate the squares just yet. Slide the rolled out dough onto a baking tray (using the silicone mat or clingfilm) and place back in the fridge for 10 minutes. When it's cold, it's easier to separate the pieces.

Preheat the oven to 175 C. Take the chilled, sliced dough out of the fridge, and gently separate the squares, setting them a few centimetres apart. You will need to get out another baking try and silicone mat if baking in batches.

Use a fork or toothpick to poke holes in the top of the crackers for a fun look. Sprinkle with the cinnamon sugar. Bake for 15 to 20 minutes, rotating the tray halfway through the baking time. The crackers are done when they are browned, slightly puffed and firm in the middle, but not hard. They will harden as they cool down. Every oven works differently so check that your crackers are not burning.

Allow to cool and repeat with the rest of the dough. Crackers can be stored for about 2 weeks at room temperature in an airtight tin. In humid environments, they will soften after about a week, so then storing them in the fridge is a good idea.

When ready to make the s'mores, preheat the oven to 180 C. If you have a broil setting, that's better for browning the marshmallows.

Place squares of chocolate on half the crackers and marshmallows on the other half. You may need to place two pieces of chocolate on each cracker, and if the marshmallows are too large, cut them in half and place each half side by side (see picture above). Broil for 2 to 3 minutes until the marshmallows brown and look softer and the chocolate begins to melt.

Quickly place the chocolate halves on the marshmallow halves and press down lightly. Eat warm! Leftover s'mores can be stored in the fridge for 2 days and reheated in the oven or microwave. Enjoy 🙂
Notes
*To keep this recipe completely egg-free, make sure you're using marshmallows that are free of gelatine or egg whites.
Shop this recipe!
Check out a full list of my baking essentials here!
This post contains affiliate links.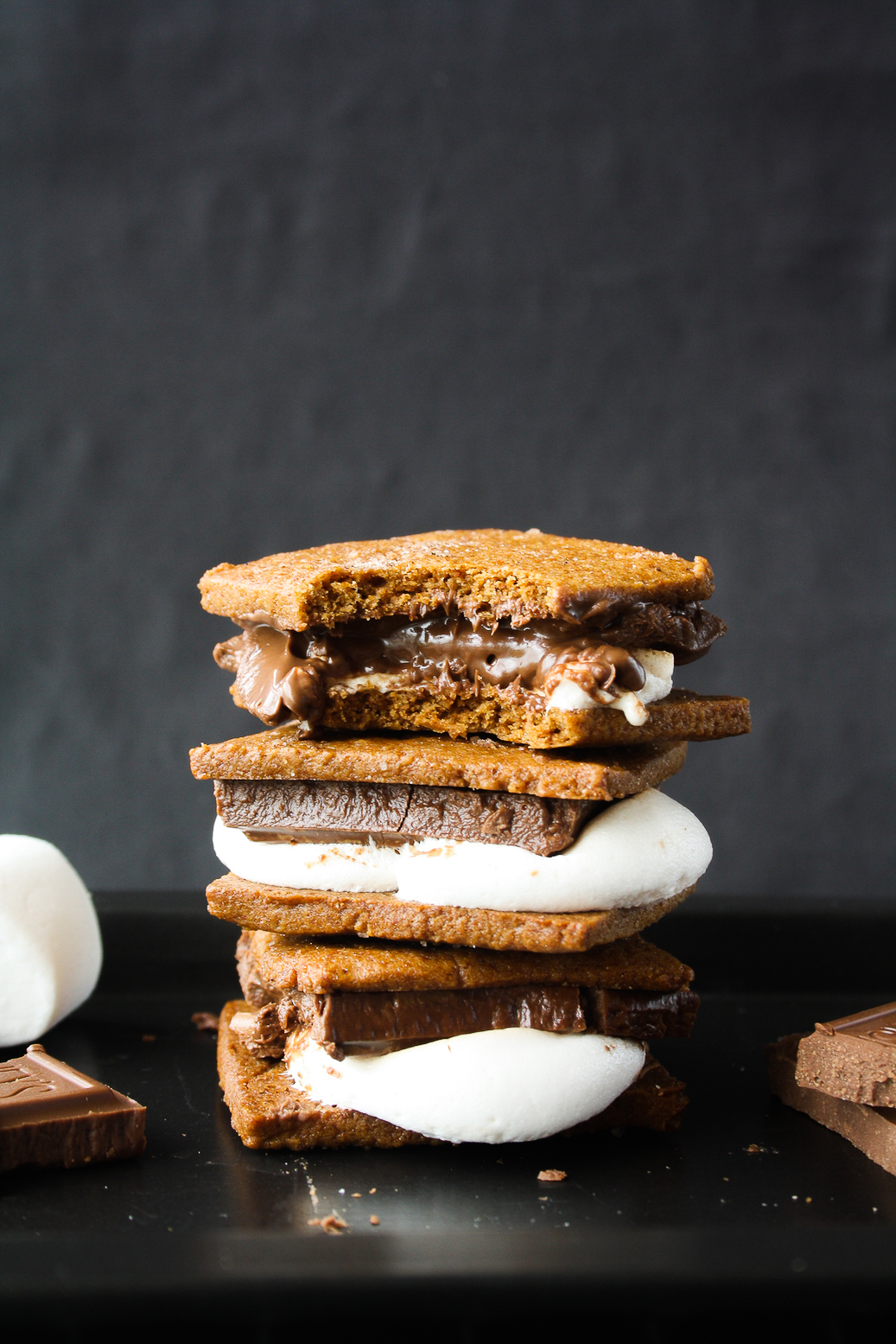 This post contains affiliate links.