Every year I tell myself that heart-shaped food around Valentine's Day is the most ridiculous invention in the world. And every year I get out my heart-shaped cookie cutter anyway. For once though, I did this without meaning to. In the quest to make a smaller cake that two humans could consume without having to jog around the Equator for the rest of their lives, I decided to make mini cakes. From mini cakes, I went to….heart-shaped.
And then I checked the calender. And then I decided I have no regrets. Because when dark, rich homemade chocolate cookies are sandwiched with the most perfect peanut butter whipped cream, does the shape really matter? I think not.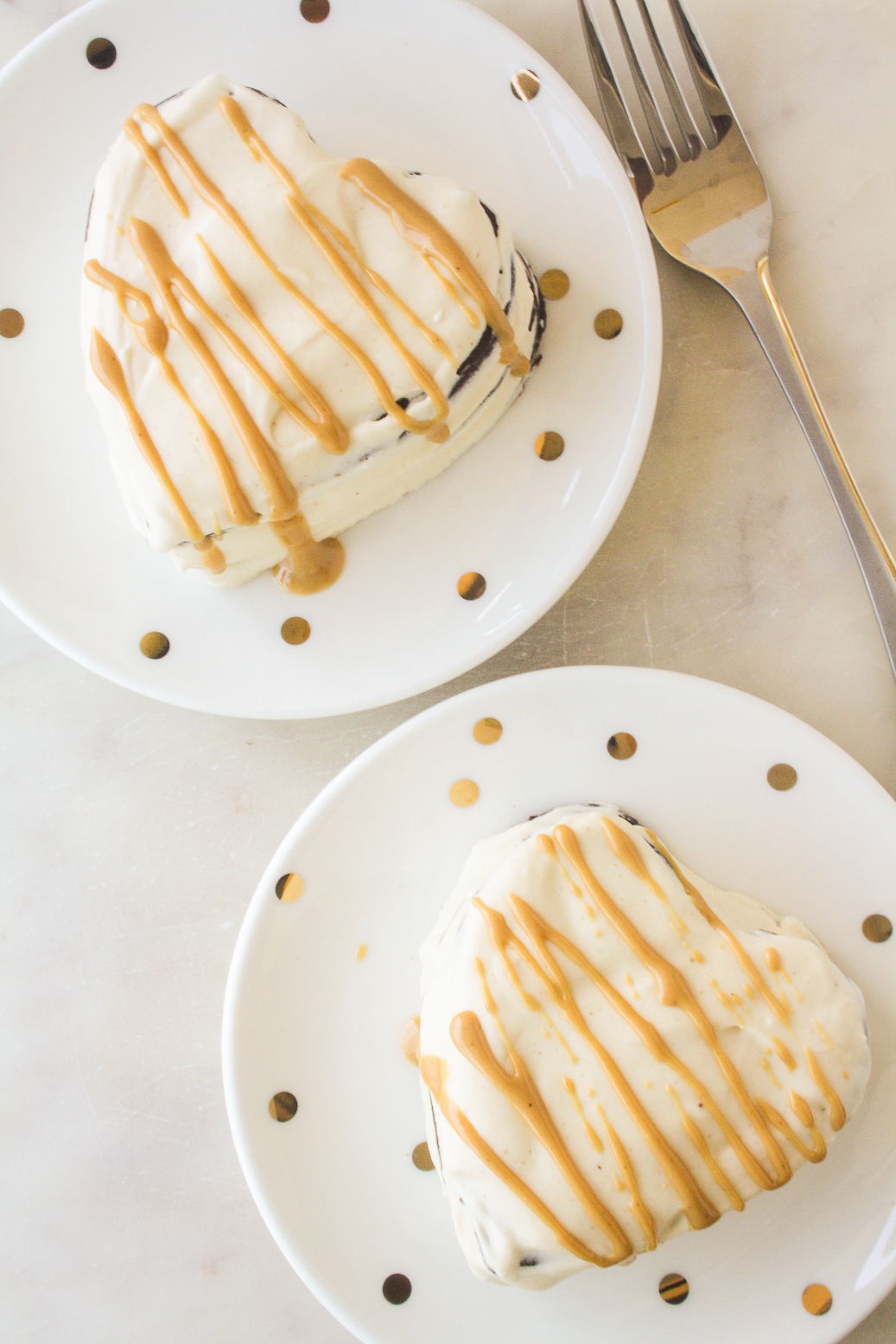 The recipe is from the book, Smitten Kitchen Every Day
. It looked amazing, sounded super easy and I had to make it. The thing is though, icebox cakes are basically left overnight to soften in the fridge (or 'icebox') and mine rarely has the space for a cake stand topped with a fragile cake. That and the fear of having an entire 8 inch cake staring at me, led me to halve the recipe and make three of these smaller heart-shaped ones.
Why three? One for you, one for your Valentine and one more for you, because you're awesome.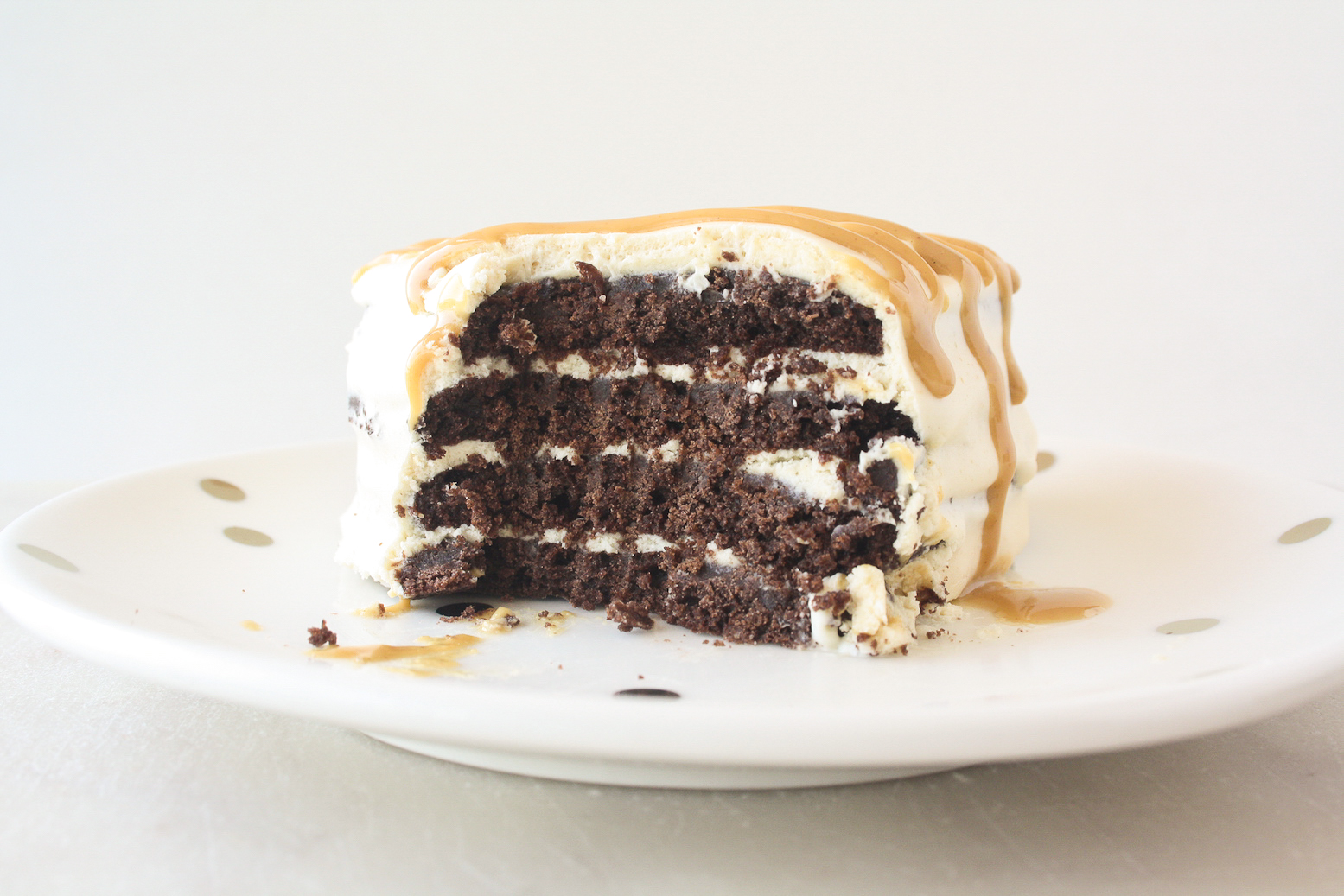 The cookies themselves are so delicious, I'm going to make a batch of them and eat them just as is. They're perfectly dark and chocolatey and exactly the kind of thing that satisfies a craving. The original recipe has you roll out the cookies, chill them, then trim them and bake. But because I was working with a smaller amount of dough and it's warming up in Mumbai now, I first chilled, then rolled, then cut it into shapes. Nothing too difficult and a light sprinkling of flour solves any sticky situations.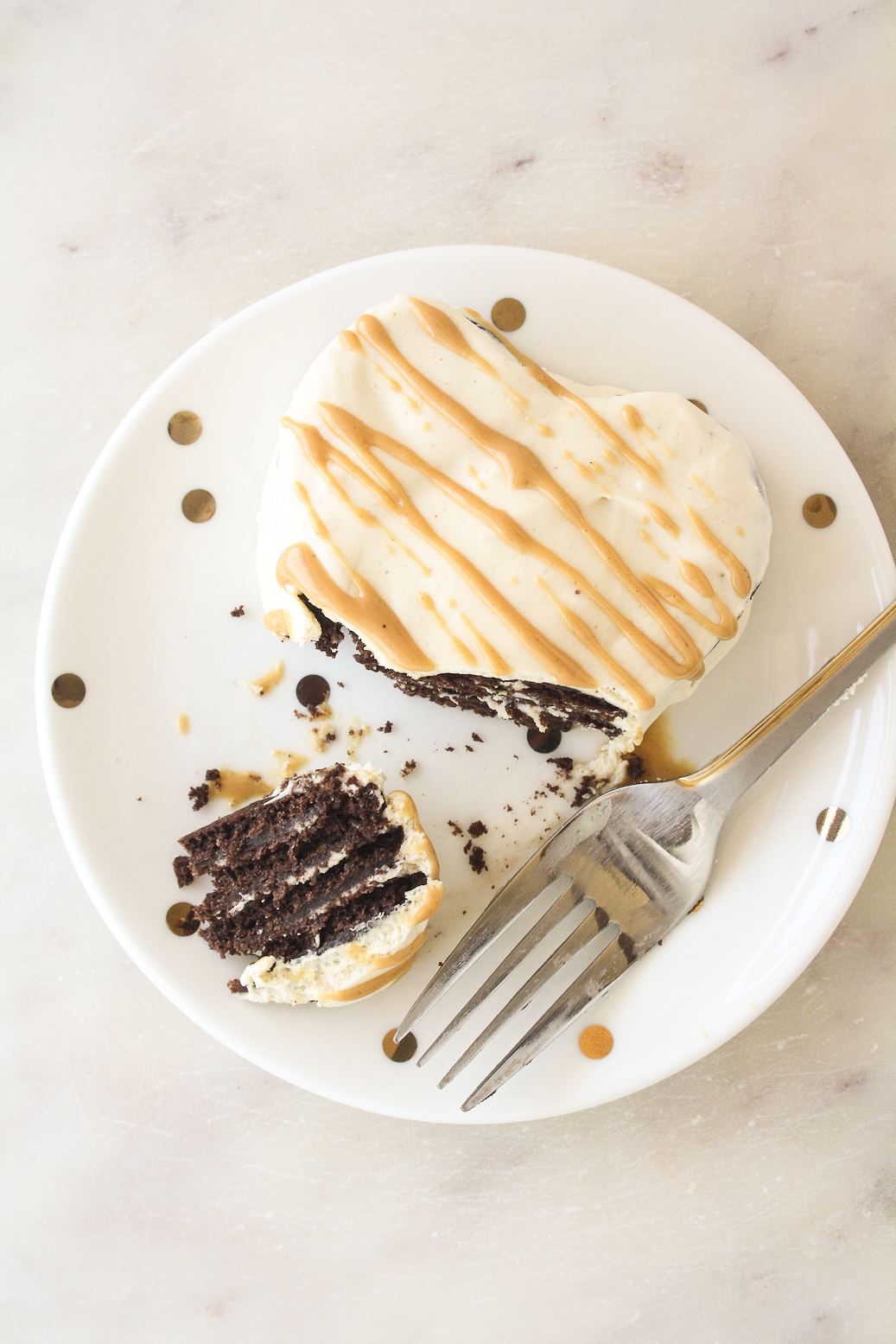 The cookies soften as they soak up the moisture from the cream and so by the next morning, you have nice neat little pieces of 'cake'. I decided to also spread the cream on the sides of the cake and I think this helped define their shape and keep the edges from going dry.
That cream, by the way? Magical! Whipped till light and fluffy with a little bit of peanut butter, enough to elevate it to heavenly status. Because we all know chocolate and peanut butter is the love that never dies.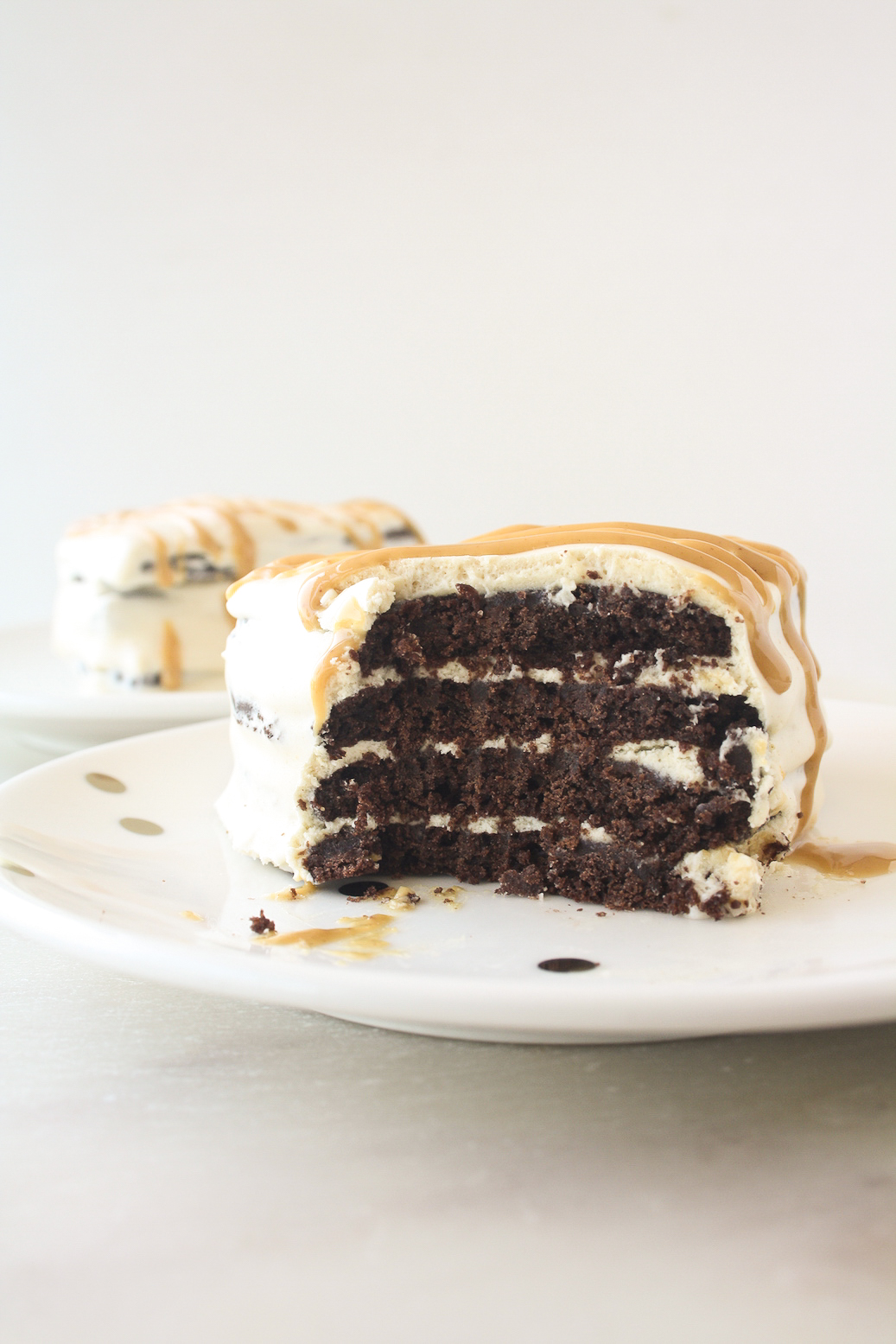 It's a straightforward recipe, fun to make and if you decided to make it as a single round cake, that's just fine too. Gathering up any leftover dough scraps, rolling them out thinly, baking them, then grinding them up into cookie dust is a TERRIFIC afterthought. You should absolutely do it.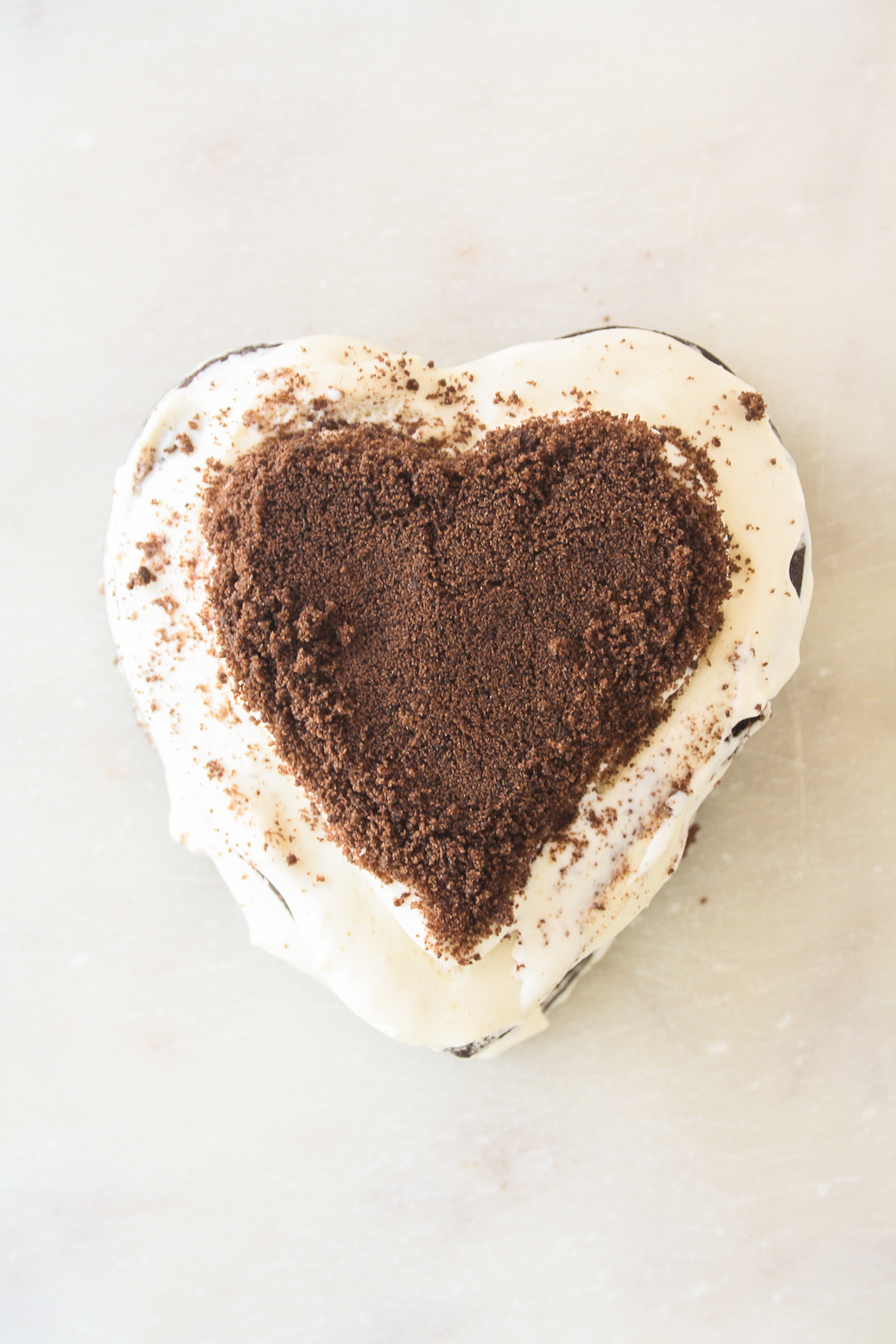 Mini Chocolate Peanut Butter Icebox Cakes
Easy and delicious icebox cakes with homemade chocolate cookies and peanut butter whipped cream!
Author:
The Desserted Girl
Ingredients
For the cookies
¾ cup all-purpose flour
¼ cup cocoa powder (a dark variety if possible)
¼ tsp baking powder
¼ tsp salt
¼ cup butter, at room temperature (55 gms)
½ cup caster sugar
1 egg*
½ tsp vanilla extract

For the filling
2 tbsps peanut butter
1 tbsp caster sugar
¼ tsp vanilla extract
Pinch of salt if using unsalted peanut butter
½ cup chilled whipping cream*
Instructions
Sift the flour, cocoa, baking powder and salt in a large bowl.

In a mixing bowl, beat the butter and sugar until light and fluffy, then add the egg and vanilla. Beat till combined.

Fold in the flour mixture, taking care not to over-mix. You will have a soft, sticky dough. Cover the bowl with clingfilm and chill for 30 minutes to 1 hour, until firm but still pliable.

Preheat the oven to 175 C and place a silicone baking mat on the kitchen counter.

Lightly sprinkle the mat with flour, then place the cold dough on it. Lightly sprinkle the top of the dough with flour and roll out into a circle about 8 to 9 inches in diameter. You don't want it thin enough that it tears, but also not thick enough that the cookies don't crisp up. You can also place a large piece of baking paper on the dough and roll over that, in case the dough is sticking.

Cut out your desired shapes and slide the mat onto a baking tray. I found the easiest way to do this step, was to cut the cookies out about an inch apart, then lift off the surrounding scraps of dough. This way the shape remains undisturbed because you don't need to transfer the cookies to another tray. Roll up the remaining scraps and place in the fridge if they've warmed up.

Bake the cookies for 10 minutes (if your cookies are small, reduce the baking time accordingly), until slightly puffed, fragrant and with small cracks on the surface.

Set aside to cool and repeat with the remainining dough. I had 12 heart-shaped cookies, about 3 inches in diameter. Any smaller scraps of dough can be rolled out and baked as small pieces. They taste great as is, or you can grind them up after they've cooled and use them for decoration!

Once the cookies are completely cool, make the filling.

Beat the peanut butter, sugar, vanilla and salt until smooth. Add just a little of the cream and beat again so that the peanut butter is blended well into the cream, then pour in the rest and continue beating till soft, rounded peaks form in the cream when you lift the beaters. This should take about 4 to 5 minutes, but keep a watch on the cream as it can go from over-beaten to split very quickly.

Place 3 of the cookies on a large plate or platter. Place a generous dollop of the whipped cream on each one and spread it around. Place another cookie on top and spread more cream on it. Make 4 such layers for each cake. Use any leftover cream to spread on the sides. This prevents the edges from drying out and helps the cake 'set' better.

Chill overnight to let the cookies soften and become more cake-like. Drizzle the chilled cakes with peanut butter or sprinkle with cookie crumbs and dive in! Happy Valentine's 🙂
Notes
*I halved the original recipe but still used a whole egg, because I didn't want half an egg lying around. If you choose to double the recipe for a larger 7" cake, you can still go ahead with one egg as in the original recipe.

*If making one cake instead of mini cakes, divide the dough equally into rounds, roll each one out, then trim the edges using a circular plate as a guideline. The half recipe I used here should make four round cookies of 4 to 5 inches each.

*Your whipping cream needs to be cold, chilled at least 48 hours before you whip it. Half an hour before whipping, place your bowl and beaters in the fridge as well. All of this is essential if whipping cream in a warm kitchen. I used Amul whipping cream.

*I haven't tried replacing the egg, but if you'd like to make these eggless, use about ¼ cup milk instead. Add it slowly to make a soft, slightly sticky, but not wet dough. You may need less or more for the right consistency.
Shop this recipe!
This post contains affiliate links.