I made you a cake that's red and white because 'tis the season and it's frosted in what looks and tastes like vanilla ice cream, except it's basically a ton of fluffy whipped cream and mascarpone. Also, it happens to be layered with strawberries roasted in balsamic vinegar because we're making the most of these beauties while they're in the market!
When it comes together, it tastes like the 'pastry' we all ate growing up in India. The one that was 99% cream, 1% cake and came from your favourite local bakery, the same one you and everyone you knew, got birthday cakes from. I don't know how this happened, but I'm so glad it did!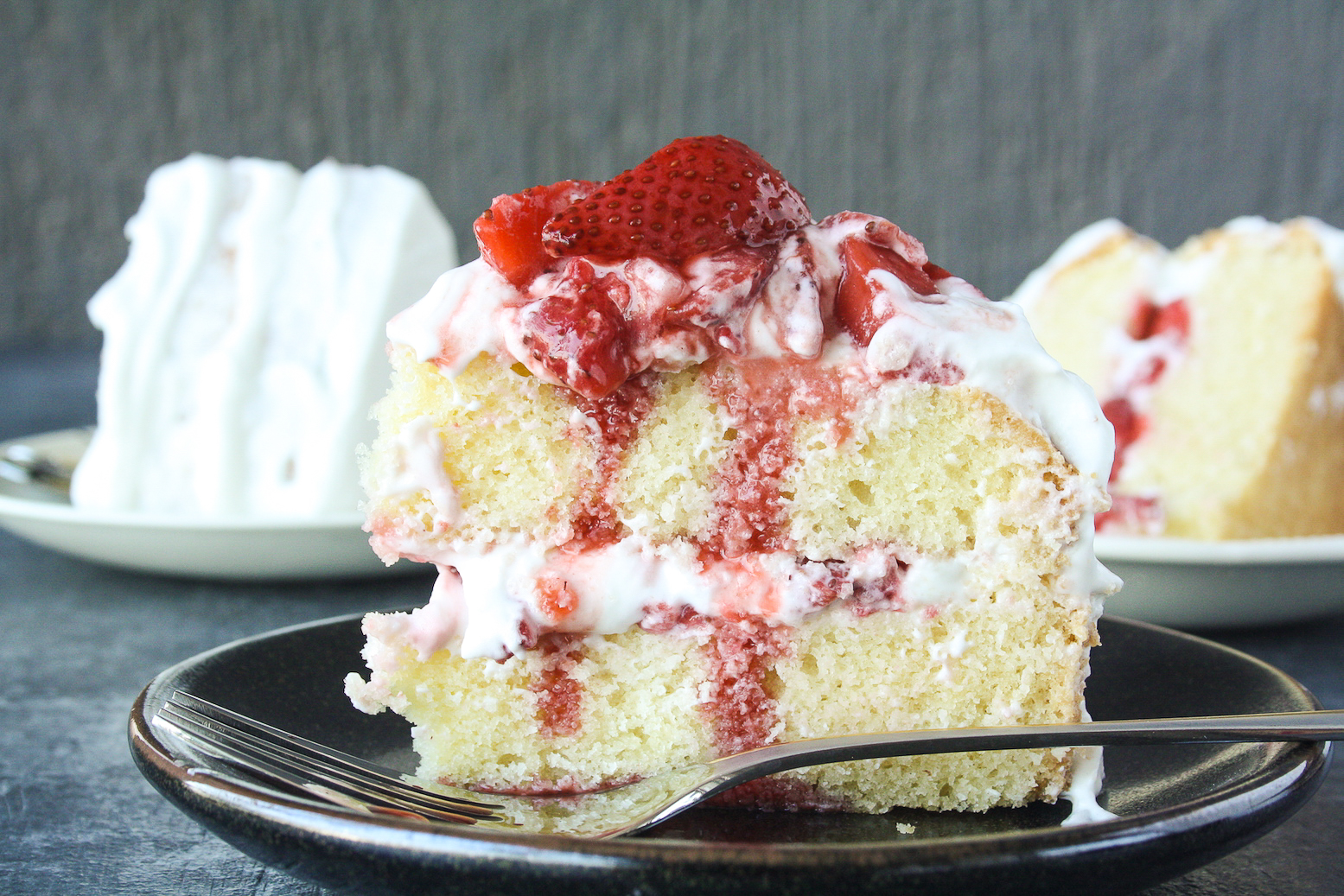 Soft, moist, super tender, this is my basic and favourite butter cake, and it goes with pretty much any and every fruit. Try mangoes or plums too! It can be scaled up and down depending on how tall you like your layer cakes, and the sugar can also be adjusted depending on how sweet the fruit is.
The cake itself is super buttery and flavourful just by itself, so really, I won't blame you if you decide to eat it all as is!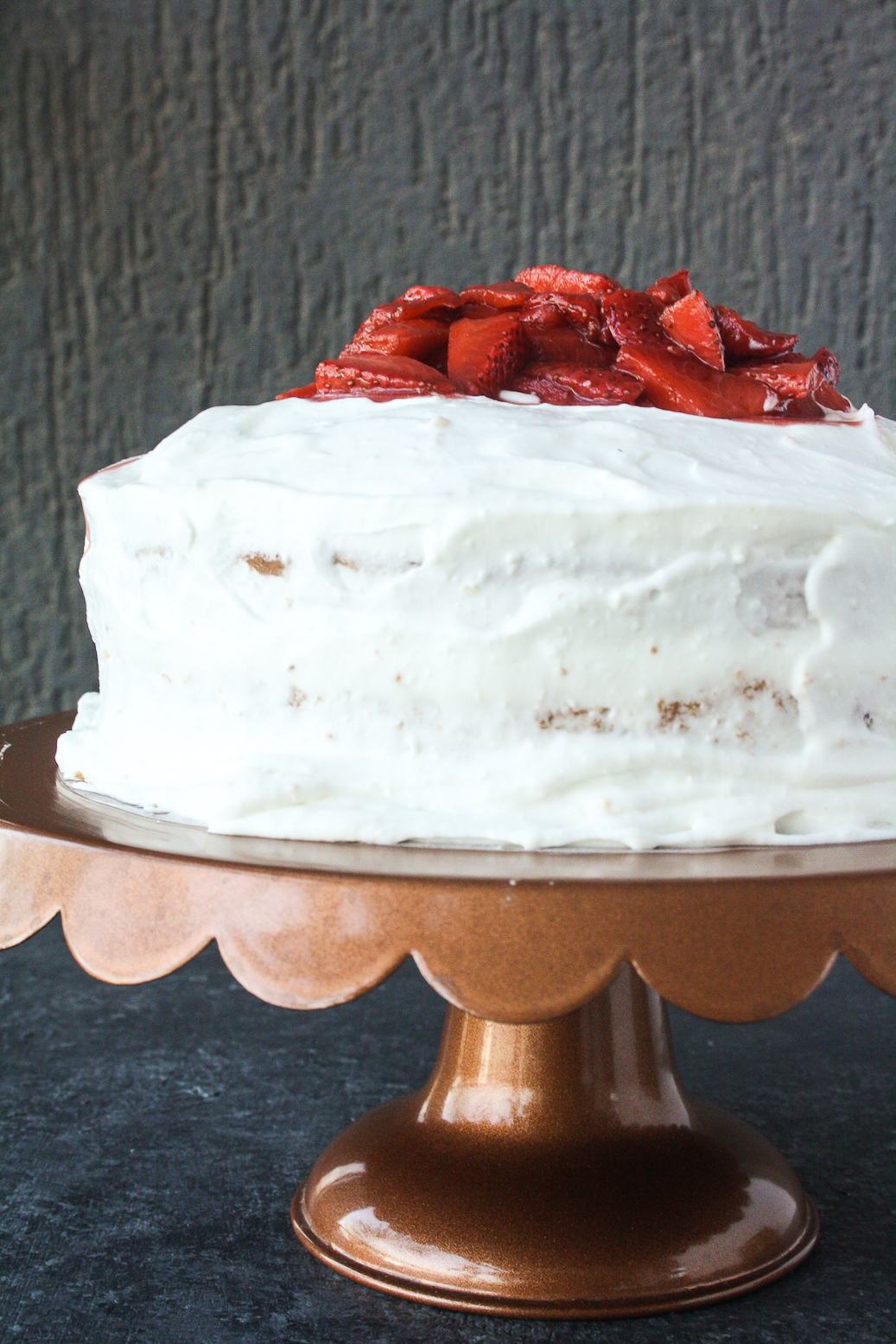 The strawberries though, let's talk about those. While fresh berries are the best thing you can put on a cake, there's something quite amazing about cooking them in the oven with a little balsamic vinegar
and sugar till they're soft, not quite jammy, but juicy enough to seep into the cake and the frosting and transform it.
They bring a little tang and sourness into the picture and take the classic strawberries and cream to a whole new level. So good.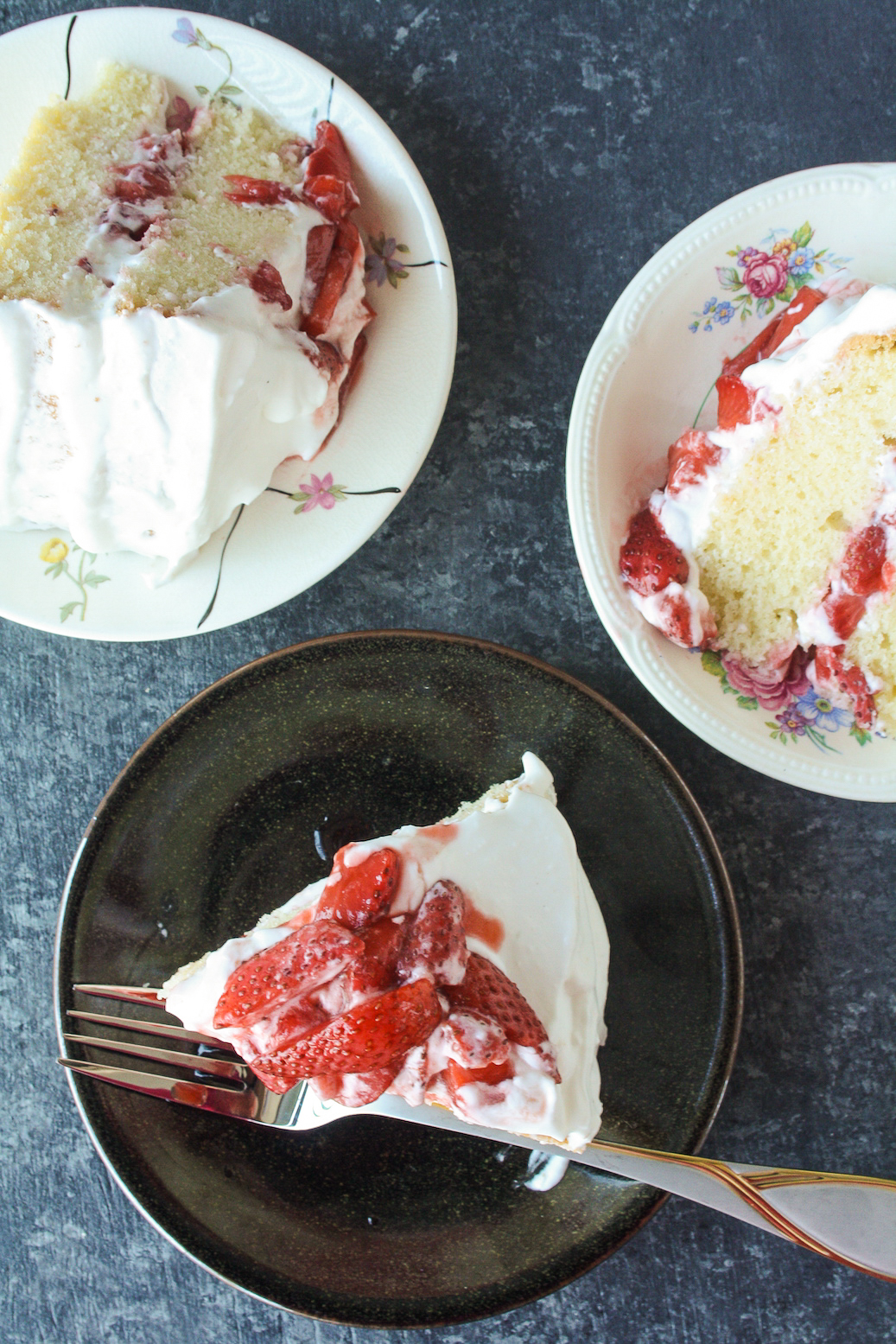 The juices left behind after the berries are cooked are delicious, but can make the frosting too runny once spooned on top. So I decided to reduce them into a thicker sauce with a little bit of cornflour and spoon them over the pieces before serving. Just the thing!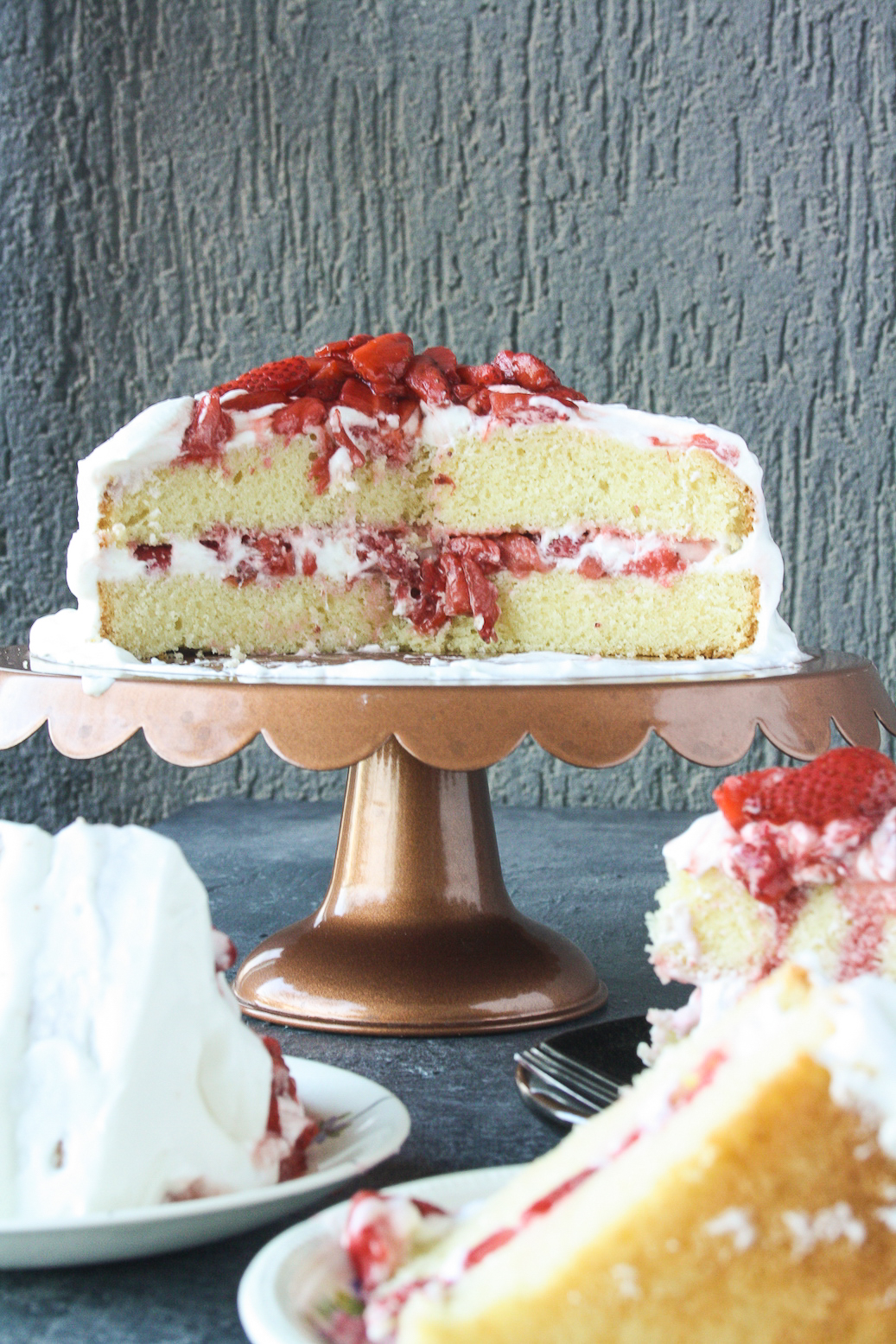 This cake blew my mind for how wonderfully every flavour goes together! Make it todaaaay but make sure you have people to share it with! Buttery cake with creamy frosting with juicy strawberries. That's all.

Roasted Strawberry and Mascarpone Cake
Tender butter cake layered with fluffy whipped cream and mascarpone frosting and juicy roasted strawberries!
Author:
The Desserted Girl
Ingredients
For the cake
2 cups all-purpose flour
2 tsps baking powder
½ tsp salt, if using unsalted butter
1 cup caster sugar
200 gms butter at room temp (Just shy of 1 cup)
4 eggs
2 tsps vanilla extract
2 tbsps milk

For the strawberries
500 gms strawberries, sliced
1 tbsp balsamic vinegar
2 tbsps caster sugar

For the frosting
¾ cup chilled whipping cream (150 ml)*
1 cup mascarpone cheese
2 tbsps icing sugar
1 tsp vanilla extract
Instructions
Preheat the oven to 175 C. Grease an 8" springform pan and set aside.

Sift the flour and baking powder in a large bowl. Mix in the salt if using, then set aside.

Cream the butter and sugar till pale and fluffy, preferably using a hand mixer or stand mixer. Make sure you're using a large mixing bowl.

Add the eggs and vanilla and beat well till combined.

Fold in the flour mixture, and beat until smooth and combined. Add the milk if the batter seems too thick to spread. Spoon the batter into the prepared tin and smooth it out.

Bake for 30 mins, then check to see if the top is browning too fast. If so, cover with aluminium foil and continue to bake for another 20 to 30 mins. A toothpick poked in the center must come out clean.

Let the cake cool completely at room temperature before frosting.

In the meantime, combine the strawberries, vinegar and caster sugar in a shallow ovenproof dish. Mix well, then spread the strawberries out in a single layer and set aside for 20 minutes.

Preheat the oven to 200 C, then bake the strawberries for 10 minutes. Set aside to cool completely.

To make the frosting, beat the cream, mascarpone, icing sugar and vanilla till light, fluffy and thickened, 2 to 3 minutes. When you lift the beaters, the cream should hold soft peaks. Keep chilled while you slice the cake.

Unmould the cake, and using a sharp, long knife, level the top, then slice it in half horizontally, turning it with your hands as you go, so that the cut is even. Use a metal spatula to lift the top off and set it aside on a large tray or plate. Transfer the lower half to a serving platter.

Spoon about half of the frosting onto the lower half, spreading it evenly, then top with half the cooked strawberries, taking care not to spoon on too much of the juices left behind in the dish. Cover with the top half and the rest of the frosting, letting it spill over the sides. Use a blunt knife to spread it all over the top and sides evenly. Pile on the remaining strawberries. Chill the cake for 15 minutes before slicing.

In the meantime, strain the remaining strawberry juices into a small saucepan. Heat on low till bubbling and then if you'd like it thicker, mix 1 tsp water with ¼ tsp cornflour and add it to the pan. Bring to a boil and set aside to cool and thicken. Spoon this sauce over individual pieces of cake. The cake must be kept refrigerated at all times but leave it out at room temperature for 10 mins before digging in. Happy eating!
Notes
*Before whipping the cream, chill it for at least 48 hours and then chill your bowl and beaters about 30 minutes before beginning. I recommend Amul whipping cream.
Shop this recipe!
This post contains affiliate links.