If halloumi didn't cost half the earth in India, I'd be eating it for every meal. But my idea of a splurge is to buy delicious cheese, and this one is absolutely worth it. Salty, creamy, soooo good. Even more so when you bake it to golden-brown perfection along with a whole load of tomatoes, zucchini and mushrooms. It's a one-dish wonder.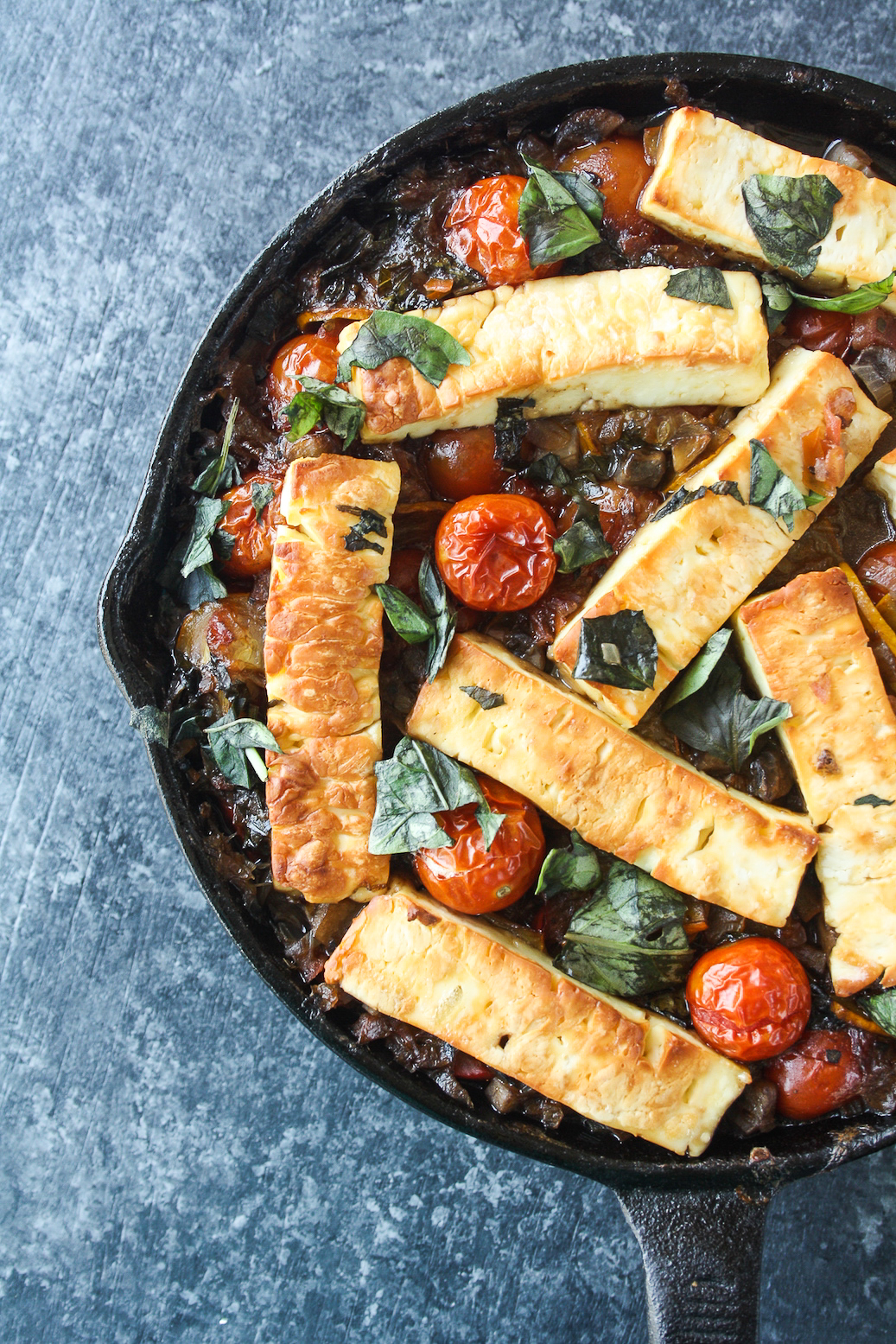 This dish is so very easy, so very basic, I was contemplating whether to put it up on the blog at all. But since so many of you responded with a YES when I took a poll on Instagram, here it is!
The recipe is inspired by Half Baked Harvest, except I made a veggie version with more cherry tomatoes and changed up the flavours with some garlic and oregano. The mushrooms release some water as they bake so the sauce isn't thick, but has a ton of flavour. Crusty bread is your best friend here!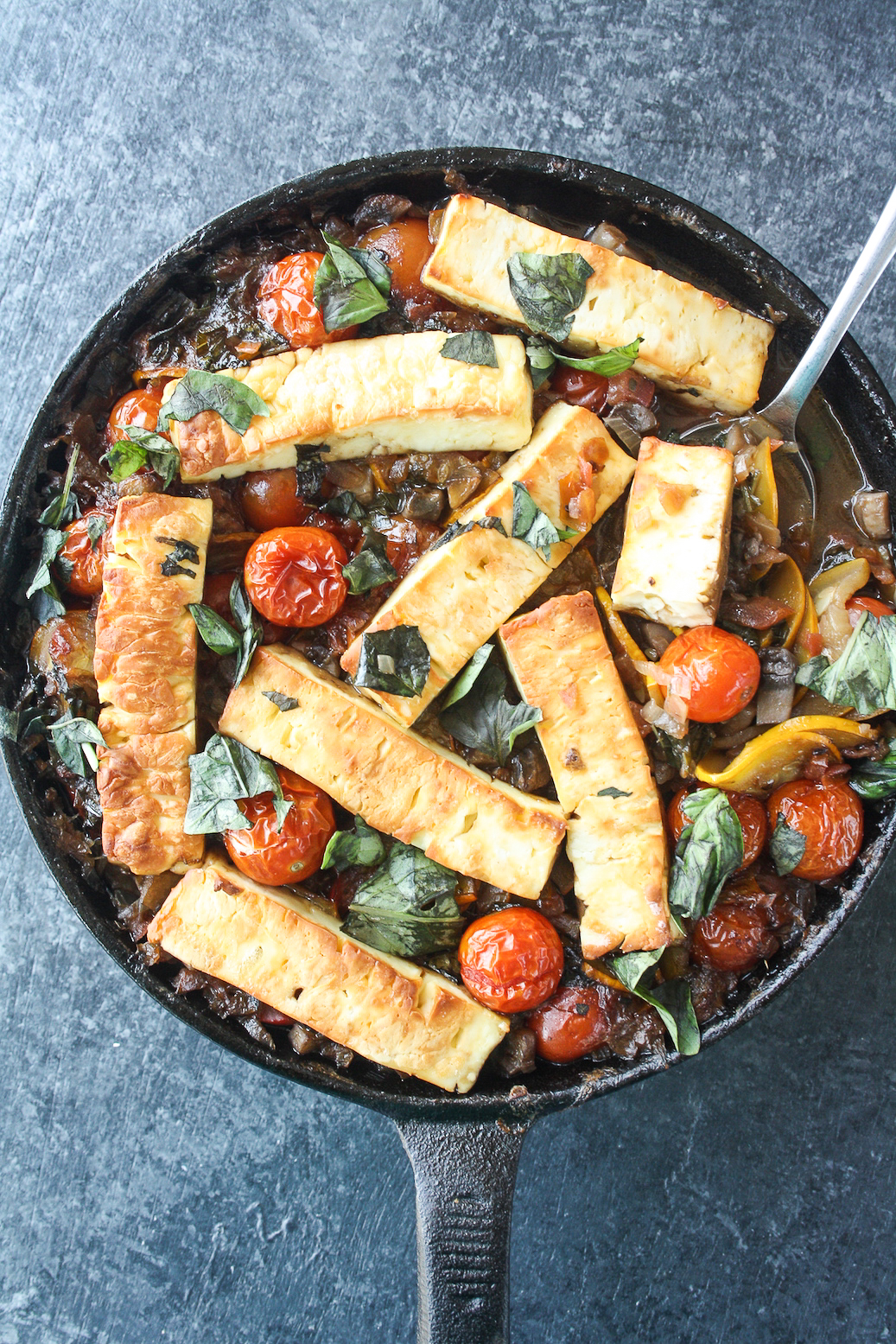 And while this can technically be made in one skillet (stove and oven-safe ideally), I did cook the zucchini and red bell pepper separately for a little colour and caramelisation. Totally optional, but a good idea if you have a small skillet and still want to ensure all the veggies are nicely done. They do cook further in the oven, of course, but nothing like browning them in a pan first.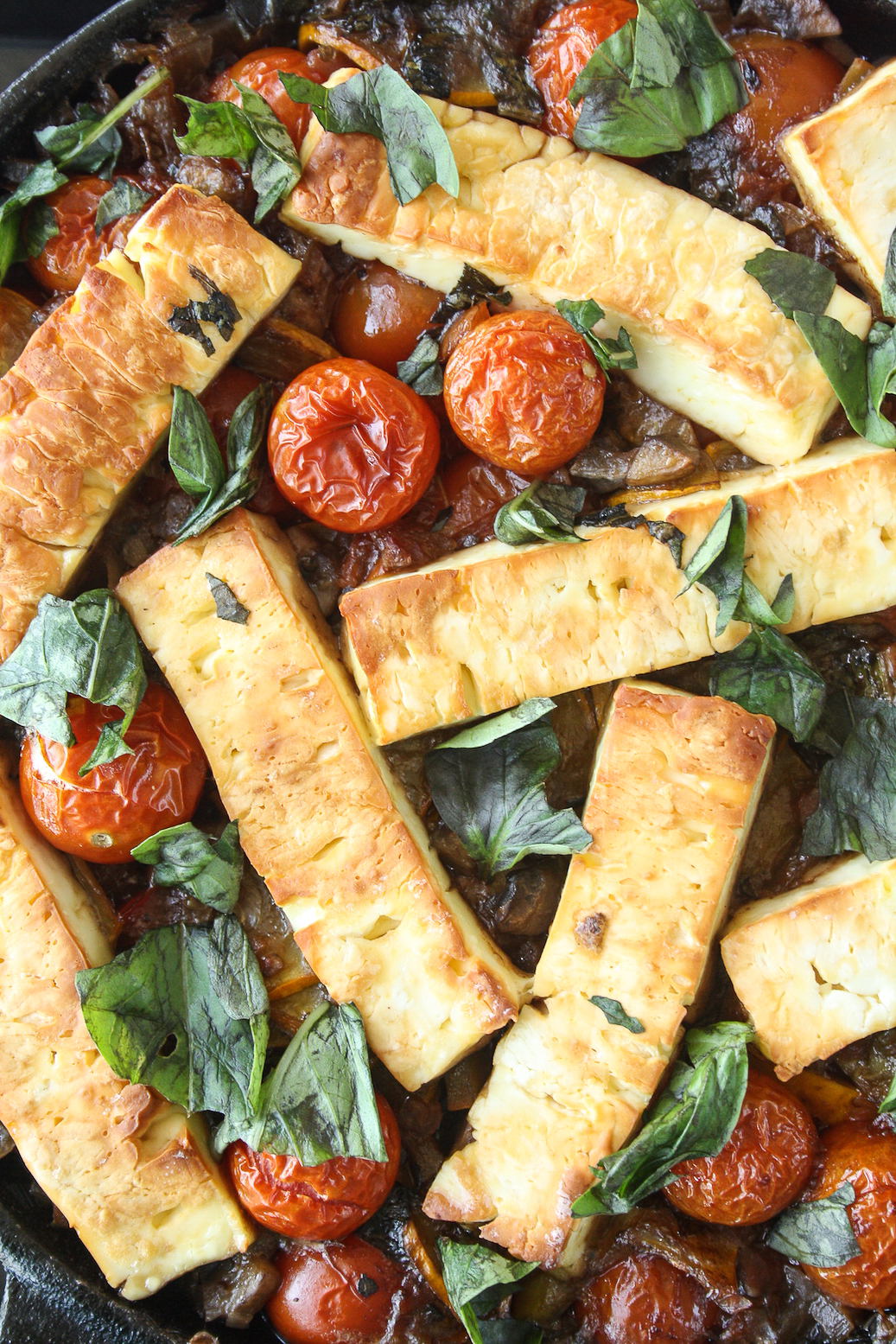 The best part is the red wine! It's thrown in with the tomatoes and makes the most deeply flavoured sauce, when it mixes with all the juices from the veggies. Soooo delicious. The whole thing is super flexible, use whatever your favourite veggies might be, keeping in mind that some need to be cooked for longer. Like if you were to add potatoes for some bulk, you'd want to cook them at least halfway before adding the rest. Feel free to play around with the spices and seasonings too! Treat this as a base and go nuts 🙂
It's filling, delicious and actually very healthy. What more could you want from a meal?

Veggie Mushroom & Halloumi Bake
An easy baked dish with lots of fresh veggies, mushrooms and halloumi in a red wine sauce!
Author:
The Desserted Girl
Ingredients
4 tbsps olive oil
1 small onion, diced
3 garlic cloves, minced
200 gms button mushrooms, diced
2 tomatoes, chopped small
200 gms cherry tomatoes
1 small yellow zucchini, sliced thinly
1 small red bell pepper, diced
Seasonings: salt, pepper, dried oregano, smoked paprika
½ cup red wine
¼ cup fresh basil, chopped
180 gms halloumi, sliced*
Instructions
In an iron skillet (8 to 10 inches wide), heat 2 tablespoons olive oil on a medium flame. Add the garlic and fry for a few seconds, then add the onions and cook till lightly browned.

In a separate pan on medium heat, add the remaining olive oil and cook the zucchini and bell pepper till lightly browned. I like doing this for a nice caramelised flavour, and because my skillet is small and won't fit all the veggies at once, but feel free to cook the zucchini and bell pepper with the onions.

To the mushrooms, add the chopped tomatoes and three-fourths of the cherry tomatoes. Cook till the tomatoes have softened and begun to release their juices. Then add the seasonings and stir well.

Add the red wine, then the cooked zucchini and bell pepper. Stir in the basil. Mix very well, then cover for 3 to 4 minutes until the liquid is bubbling and slightly thicker.

Meanwhile, preheat the oven to 220 C.

Place the halloumi slices on the cooked veggies, and add the rest of the cherry tomatoes on top as well, so that they become nice and blistery in the oven.

Bake for 15 to 20 minutes until the cheese is browned, the sauce has thickened further and the veggies are sticking to the edges of the pan slightly. Remember that the mushrooms and tomatoes both release water as they bake, so the sauce will always be on the thinner side.

Let the skillet stand for 10 minutes, then sprinkle on more fresh basil and serve with crusty, extra toasty bread!
Notes
*Sliced feta or firm paneer (avoid the soft malai variety) would be a great substitute for the halloumi.

*If you do not have an iron skillet, use a regular frying pan, and once the veggies are cooked, transfer the whole thing to a baking dish before adding the halloumi on top.

*You could swap the wine with vegetable stock, though the flavours will be different.

*I found halloumi on Big Basket and Natures Basket, Lemnos brand.