Stop whatever you're doing. Unless you're dousing fresh cherries in rum, in which case please continue. This weekend, promise me you'll make yourself a batch of rich, fudgy, booooozy chocolate cakes, topped with the quickest, most delicious vanilla mascarpone because really, what else would you rather do?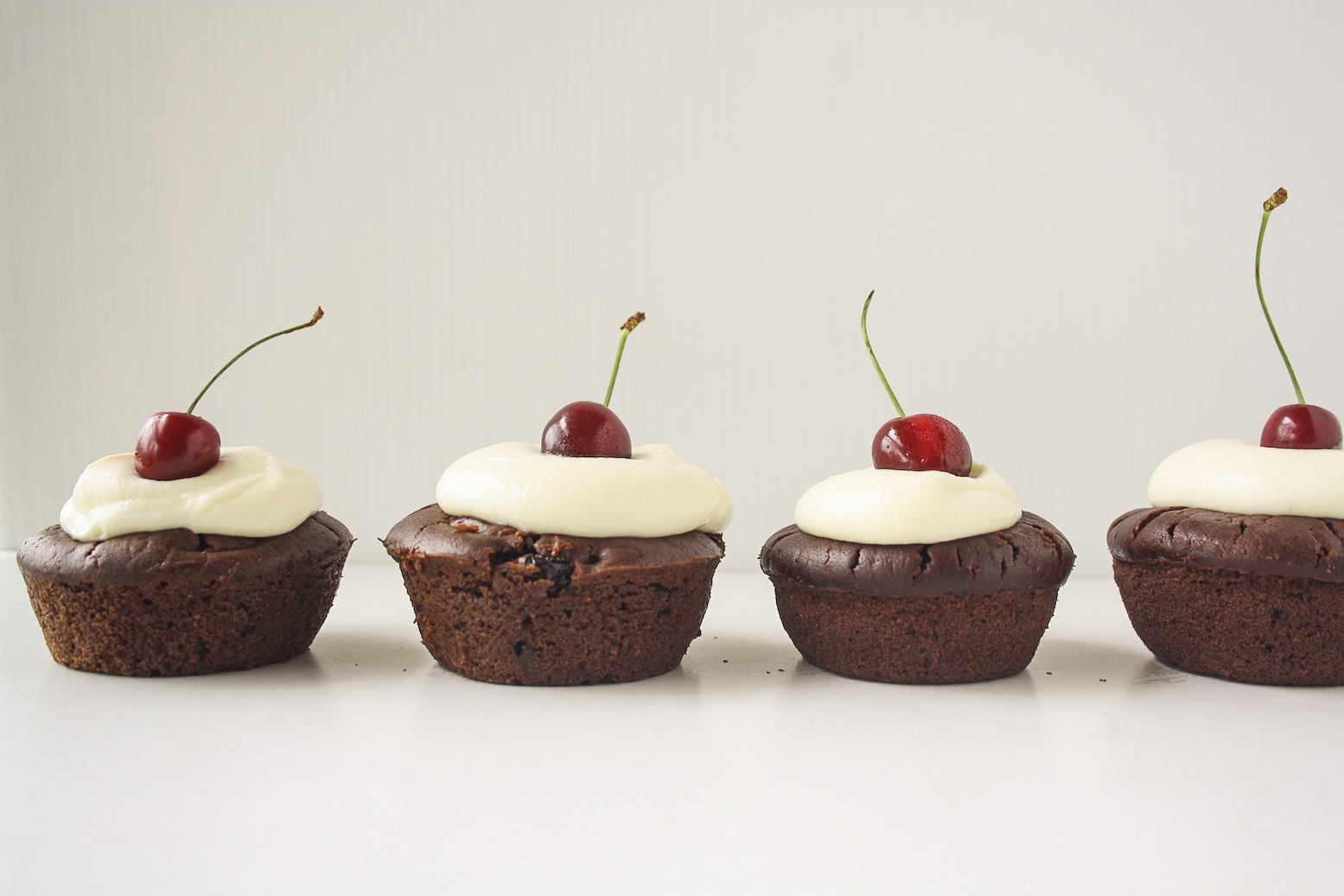 Laced with rum, these little cakes are sort of like Christmas in the summer. Which is totally something we should celebrate. Also, how adorable are they!!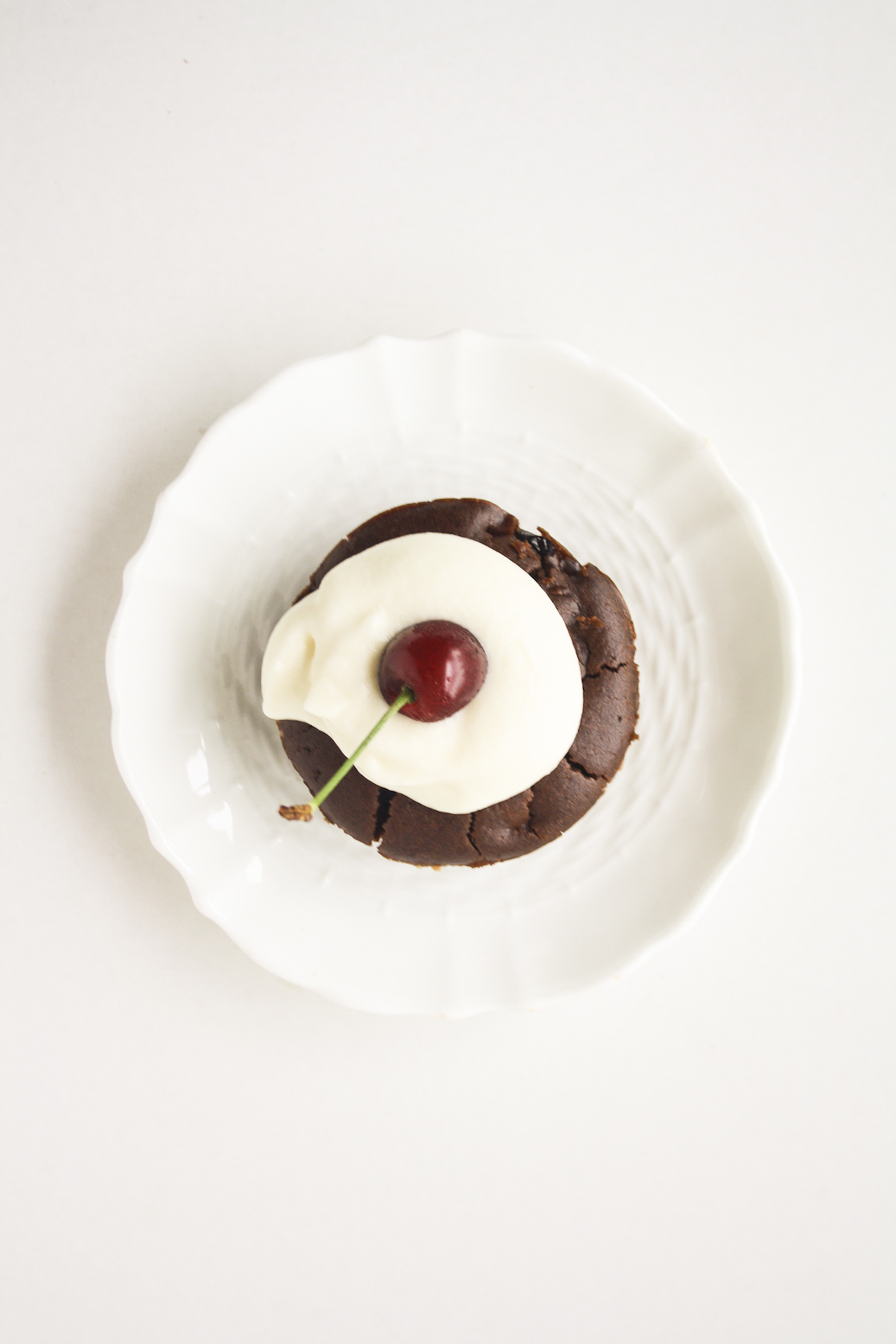 These cupcakes should look familiar if you've seen these. All I did was make them funner with cherries and rum. The added liquid from both makes this a runnier batter, that rises while baking, but sinks down into fudgy yumminess after cooling. All perfectly normal with cakes that have a lot of moisture. This is also the reason I'm not calling them 'cupcakes', which have a lighter texture. And that's also why I decided to skip a regular frosting and all the piping drama. Honestly, the cakes don't need anything more. But I found that a dollop of quickly whipped, sweetened mascarpone doesn't really hurt!
Look at the little cherry desperately peeking out here 🙂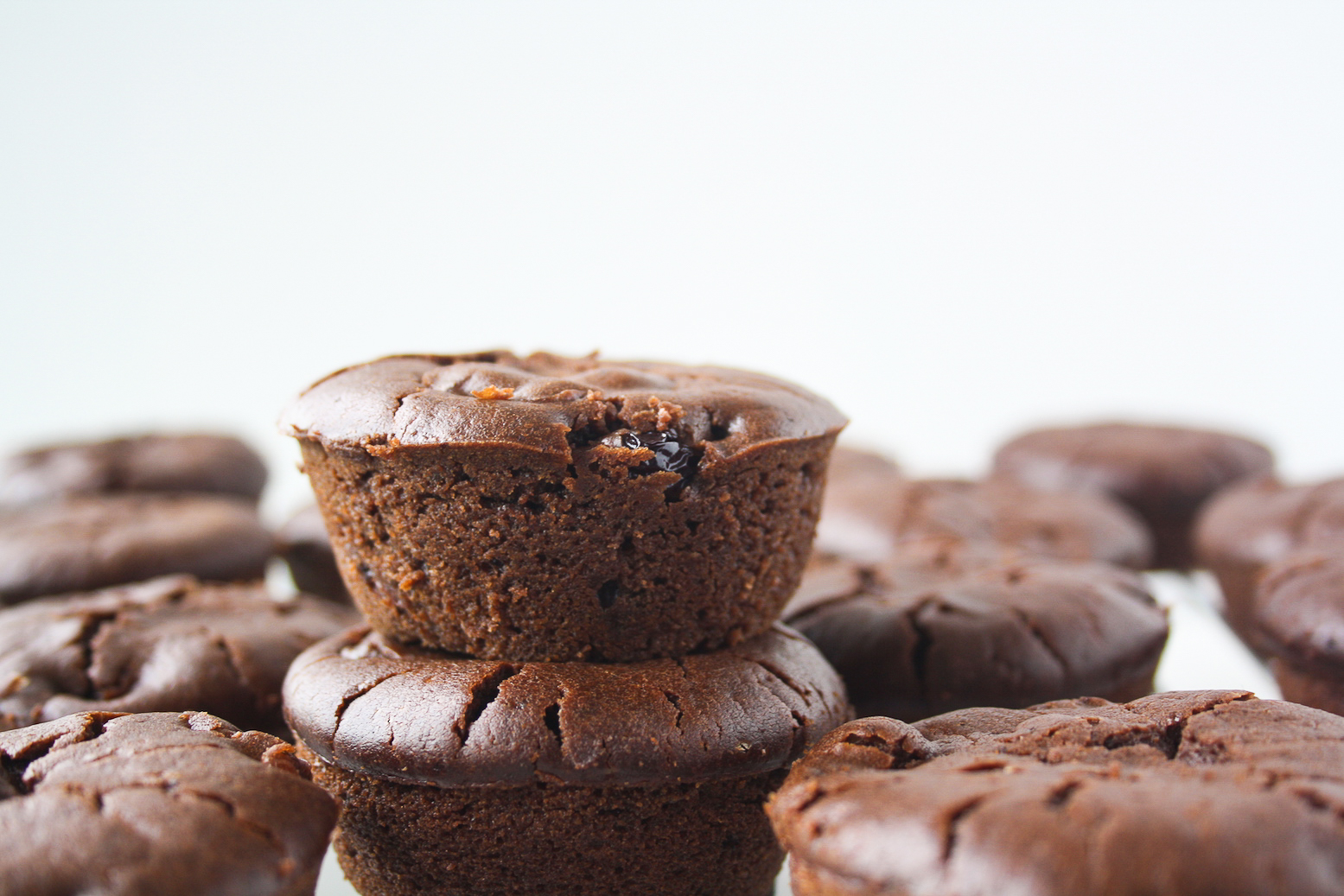 The rum-soaked cherries are scattered through the batter and make the most amazing boozy surprises between bites. The cakes themselves have a little rum-y flavour, but not overwhelmingly so. It's almost like a fudgier Black Forest Cake, which can't ever be a bad thing, right? There's just a lot of intensely chocolatey goodness, spiked with a tang and kick from the cherries and rum respectively. Excuse me while I dive face-first into one of them.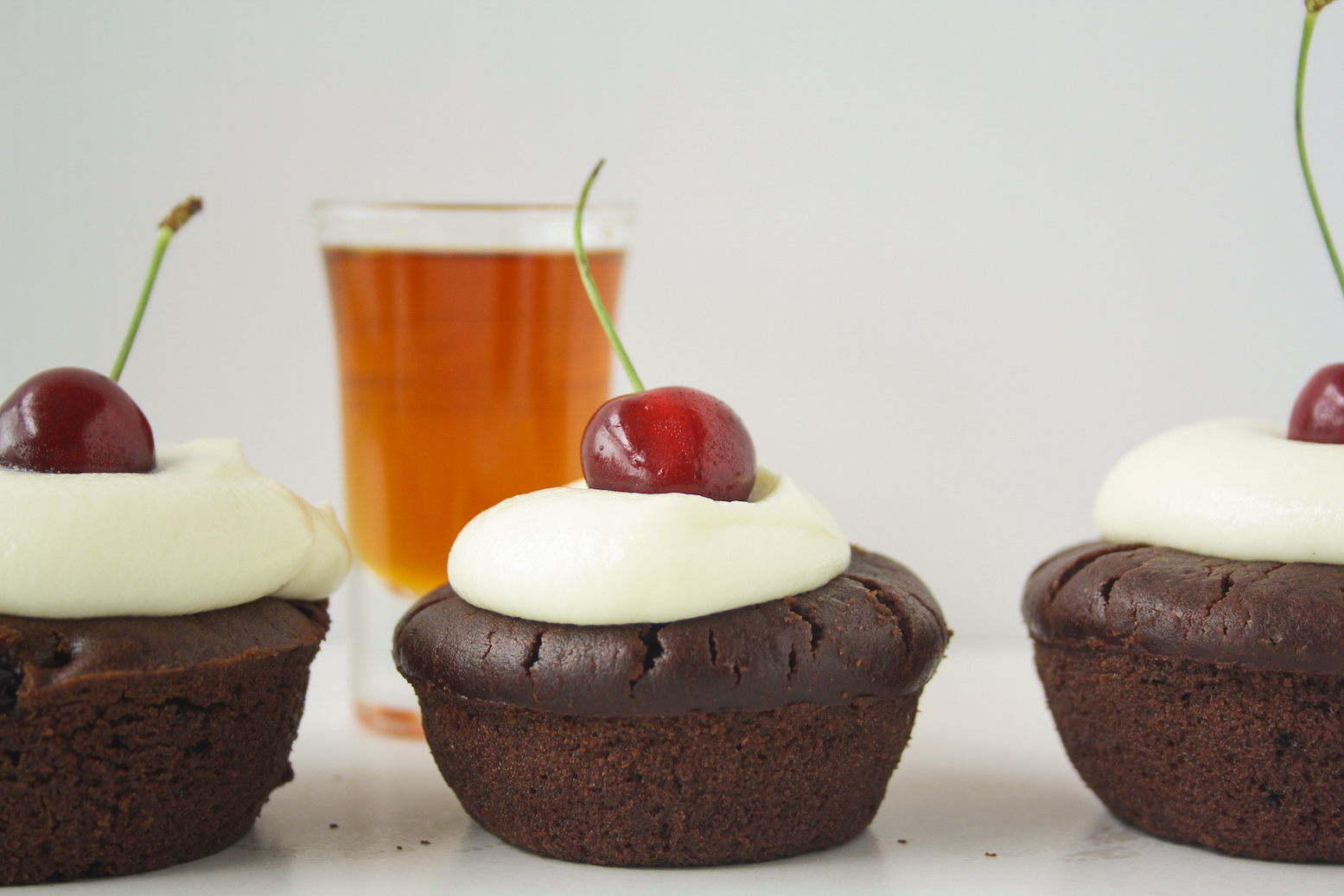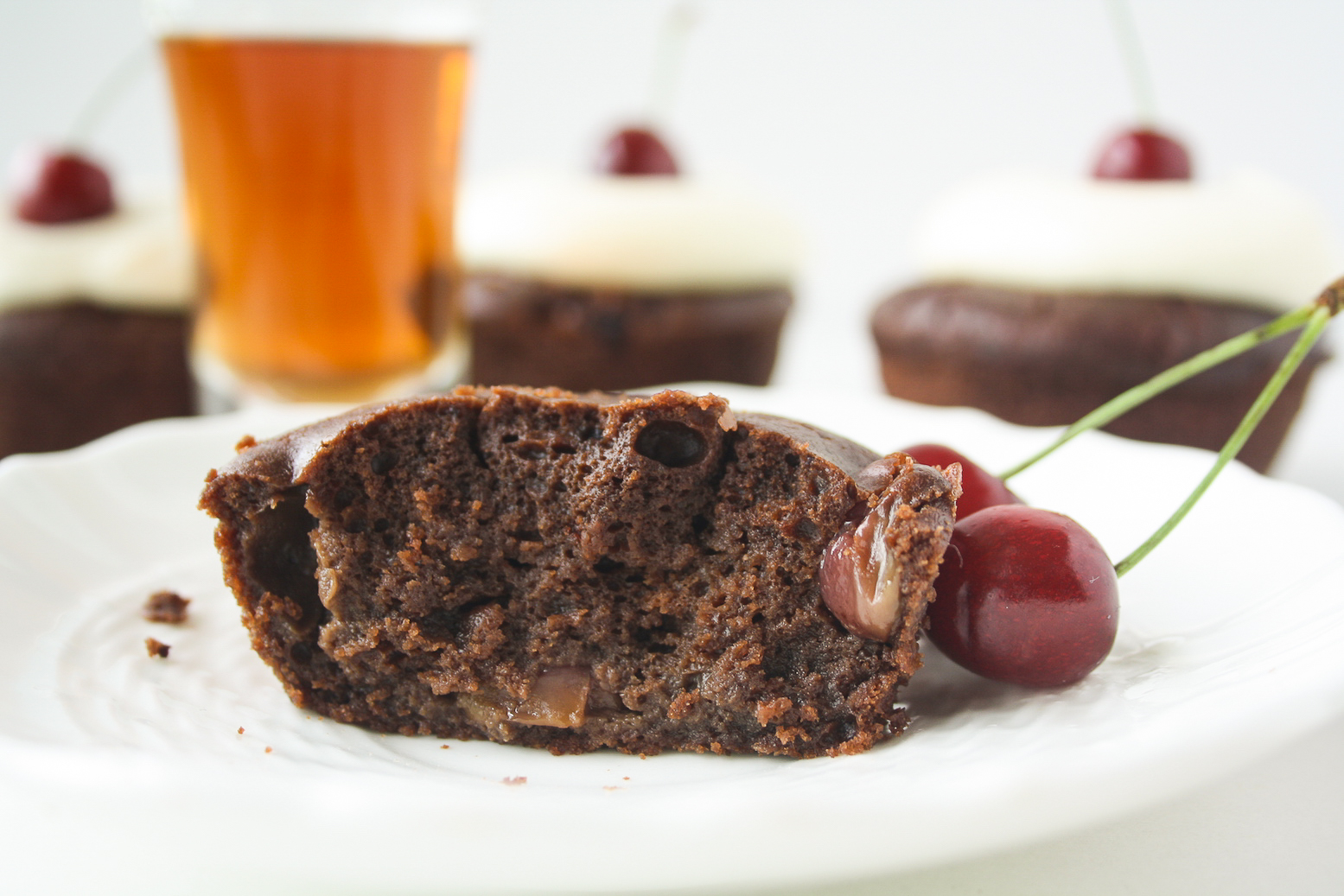 The cakes can be made a day in advance for the flavours to intensify, and the mascarpone topping can be made a few hours before and stored in the fridge. Perfect for if you have people coming over! And I hope you do because 16 cupcakes by yourself…I mean.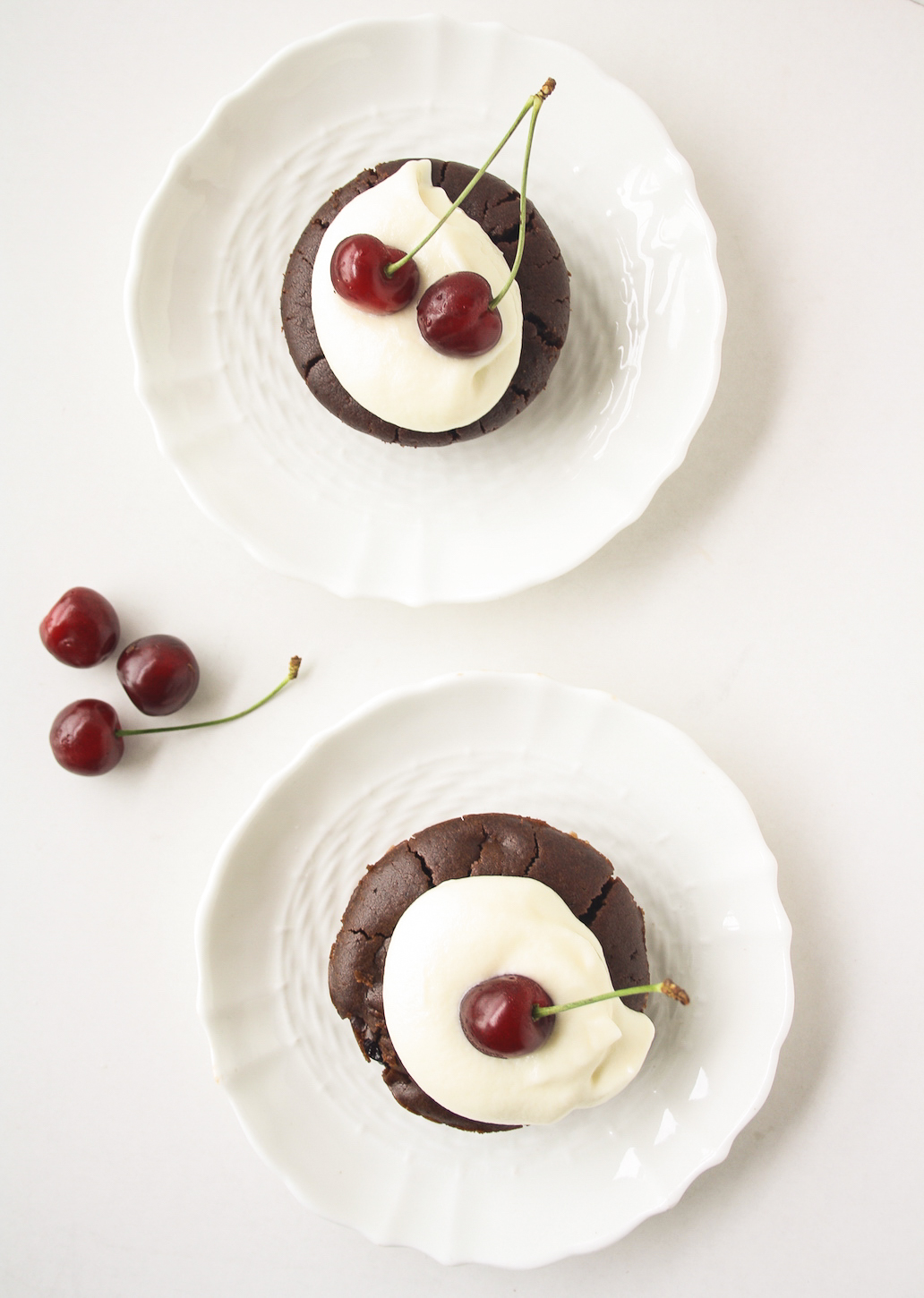 This can be made as a tall 9″ loaf or an 8″ round cake, but baking time will increase to about 30 minutes, maybe longer.
This batter needs eggs to keep the cakes from becoming too dense. For an eggless version, try these cupcakes, they will be a little less fudgy but just as delicious 🙂

Boozy Cherry Chocolate Cakes with Vanilla Mascarpone
Rich, fudgy cakes filled with rum-soaked fresh cherries, served with a simple vanilla mascarpone topping!
Author:
The Desserted Girl
Ingredients
For the cakes
230 gms fresh cherries, halved and pitted
¼ to ⅓ cup rum
1 and ½ cups all-purpose flour
1 tsp baking soda
200 gms dark cooking chocolate, roughly chopped
1 cup butter, at room temp (230 gms)
1 cup brown sugar
2 eggs at room temperature
1 tsp vanilla extract
1 cup freshly boiled water

For the vanilla mascarpone
150 gms mascarpone cheese at room temp
2 tbsps icing sugar
3 tbsps cream
¼ tsp vanilla extract
Instructions
In an airtight jar, combine the cherries and rum. Add enough rum that the cherries are covered but not drowning, or you'll end up with too much liquid. Shut tightly and keep in the fridge for at least 12 hours, upto 24 hours.

To make the cakes, first sift the flour and baking soda in a large bowl. Set aside.

Preheat the oven to 175 C and line 16 muffin moulds with cupcake liners. If not using cupcake liners, generously grease the moulds.

Melt the chocolate till smooth in a double boiler or heatproof bowl set over a pot of simmering water. Set aside to cool.

In a large mixing bowl, beat the butter and sugar till pale and fluffy. Add the eggs and vanilla and beat well. A hand mixer is best here.

Add the melted chocolate, and mix till combined but do not over-mix.

Now add the flour mixture gradually, alternating with the boiled water. Stir gently, avoiding lumps as much as possible. If you do see any lumps, run a hand mixer through the batter. The batter should be smooth and a little runny.

Finally fold in the boozy cherries and pour in any rum left behind. Mix well. The batter will be thinner now so don't worry.

Divide the batter equally among the muffin moulds and bake for 20 to 25 minutes until they have risen, developed crackly tops and a toothpick poked in the center comes out with only a few moist crumbs. Start checking for doneness at 20 mins as all ovens are different.

Allow the cupcakes to cool in the tray for 10 minutes and then place them on a wire rack to cool completely. They might sink as they cool, this is normal for a fudgy cake with extra moisture.

In a small bowl, lightly beat the mascarpone, sugar, cream and vanilla till smooth and fluffy. You don't need a hand mixer here, a spoon is enough. Dollop small amounts onto each cake and serve with more fresh cherries!
Notes
The mascarpone will be enough for a dollop on each cake, but double the quantities if you'd like a more generous 'frosting' 🙂