It's a happy happy Monday. Any Monday that includes donuts is a good one. And not just any old donuts. We're talking buttery, pillowy, super soft brioche donuts. Then they are poked open and filled with a cold mango whipped cream. Which basically means you bite into the only thing that's good about an Indian summer.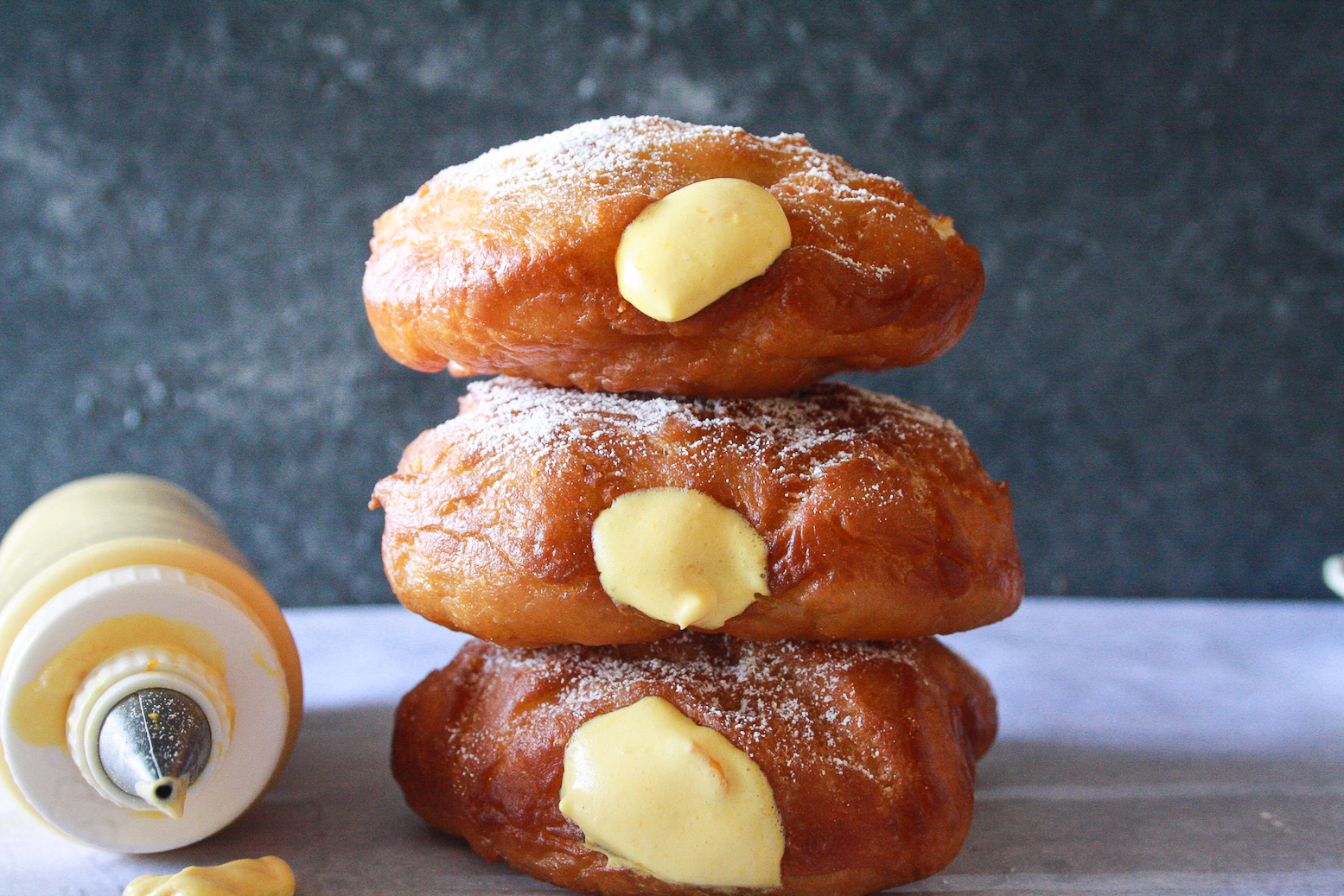 You guys, these are incredibly good. Like really, really good. Let's make donuts!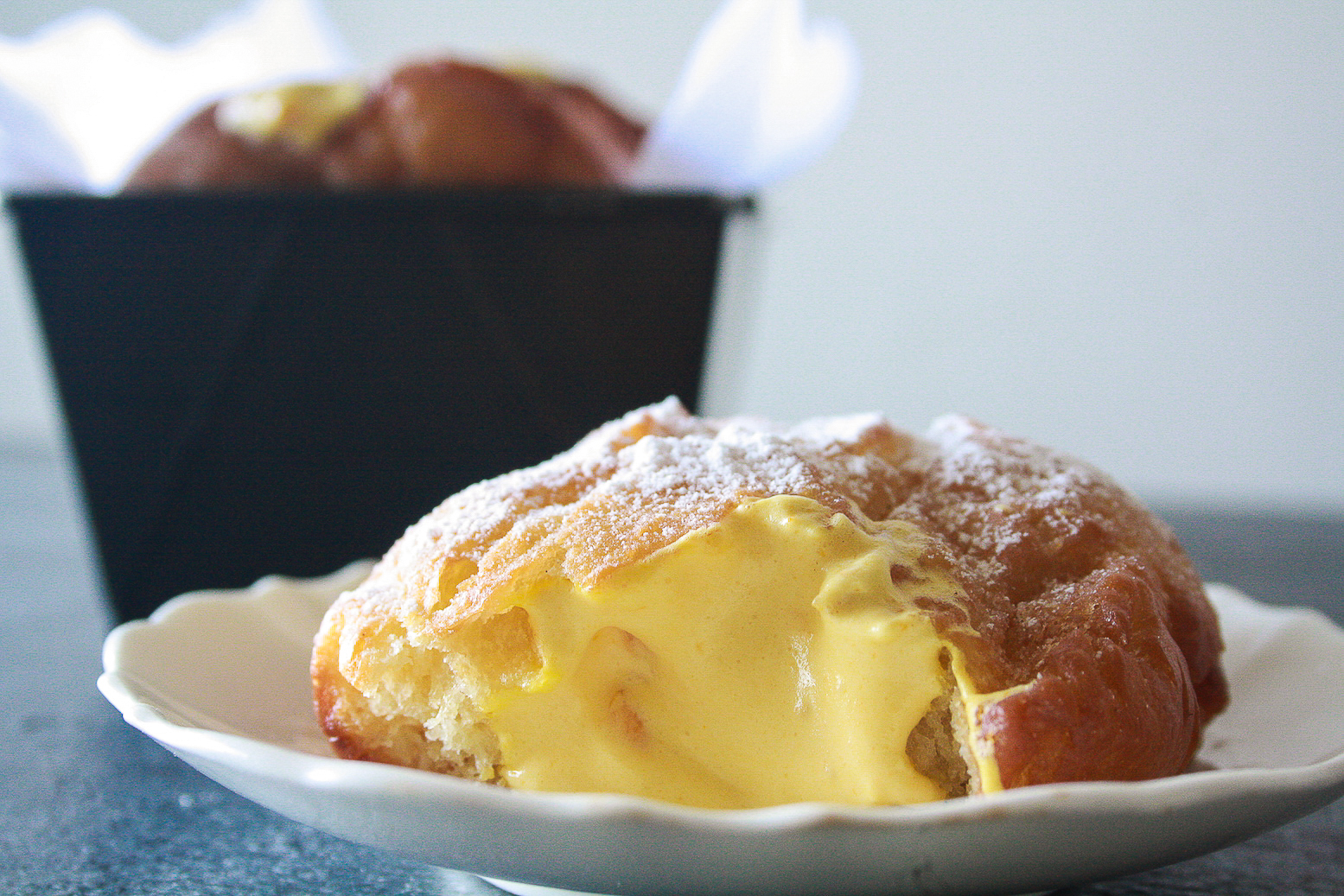 For more than a year now, these eggless donuts have been the most viewed recipe on this site. They're super super fluffy and light for a dough that's free of eggs. I was so thrilled when I got them right and I hope you've tried them! This time around, I wanted taller, puffier donuts that could be filled. That puffiness comes from a brioche dough, traditionally made with eggs and butter. You can definitely use the same eggless dough, but the difference will be in the amount of filled you can pipe in. It's not a terrible situation or anything, but if you do eat eggs, definitely give this version a shot.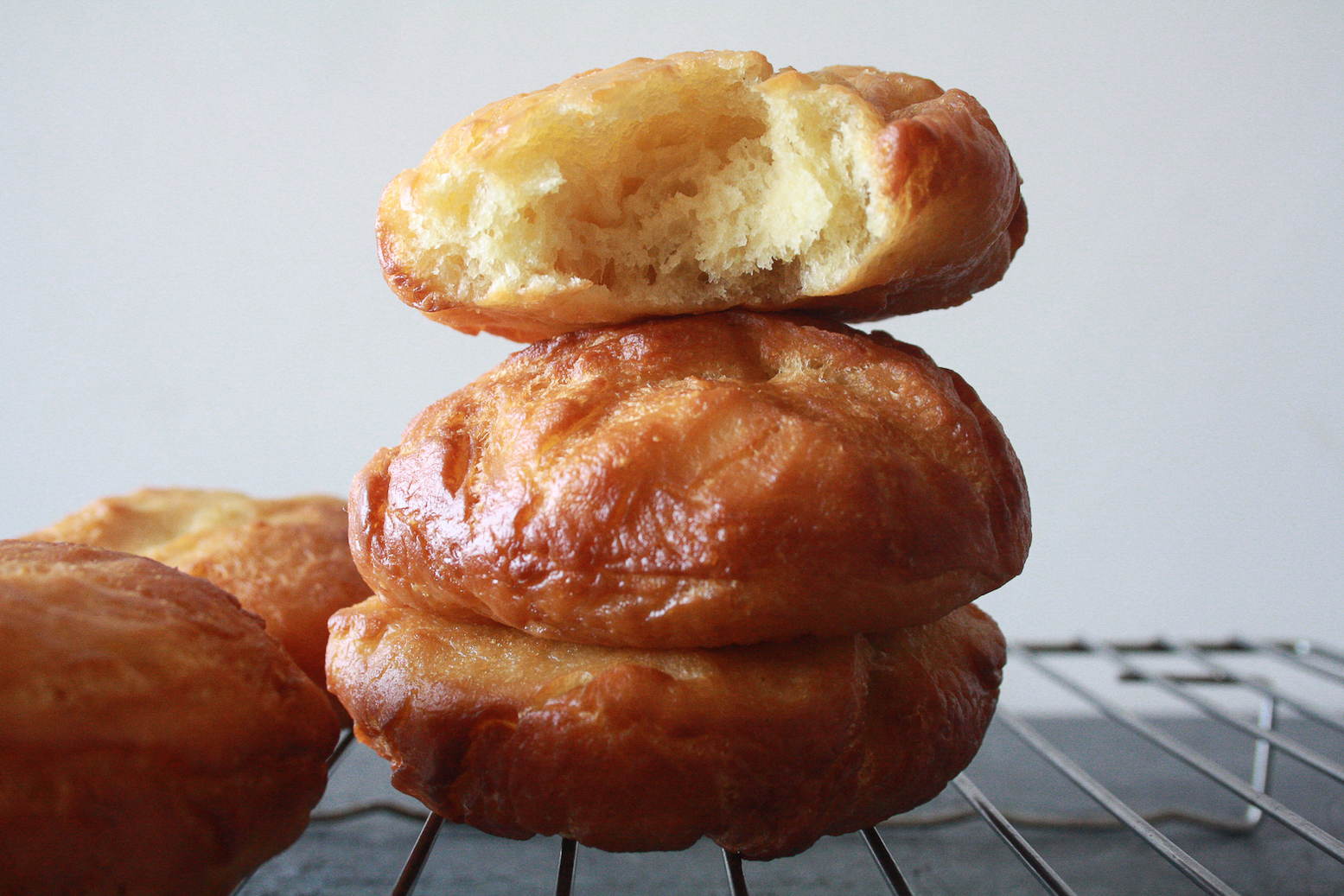 This recipe is based off Jernej Kitchen and The Kitchn. I made some changes that I'm so relieved worked to my advantage. First, I halved the dough to make five very large donuts simply because a double batch would have been dangerous to have lying around. Second, I didn't rest the dough overnight in the fridge because over-fermentation is a very real annoyance in this kind of weather. I found the approximately 3-hour rest just fine. The donuts were perfectly soft and pillowy. (Have I said 'pillowy' too many times already?) Third, I chose not to fill them with a traditional pastry cream because I wanted a filling without any egginess, though feel free to do so. And finally, I threw in a ton of vanilla extract to combat any eggy flavour that the dough may have had. Oh also, these donuts contain rum which has the most faaaabulous flavour!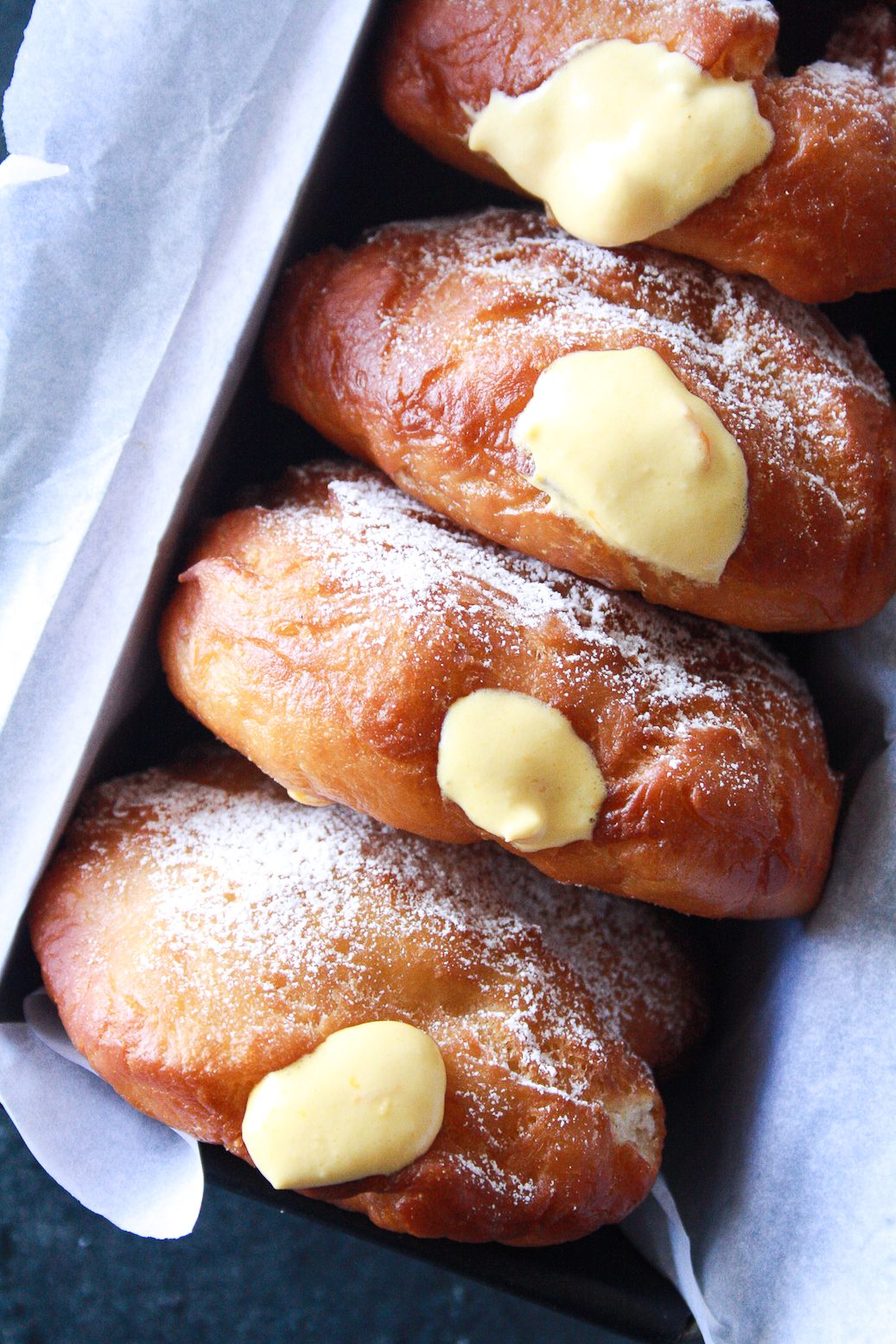 A stand mixer is preferred for this recipe, otherwise you're in for about 10 minutes of kneading. It's not impossible, but it is a little bit harder. The dough needs to be worked till it's glossy and smooth. In a mixer, this took about 6 to 8 minutes but since my kitchen was warm, the dough remained a little sticky so I didn't work it too much more. In the end though, everything worked out! My one recommendation would be to actually use this half recipe but make 10 smaller donuts. I found that the 5 large ones that I made, were really hard to lift off the tray and put into the hot oil, without deflating or wrinkling them. They did still fry up nice and pillowy (there I go again) but smaller ones will be a little less nerve-wracking, because after the second rise, the dough is very fragile. I promise this is actually the only hard part about this recipe, the rest is fairly straightforward. And the results are soooo worth it!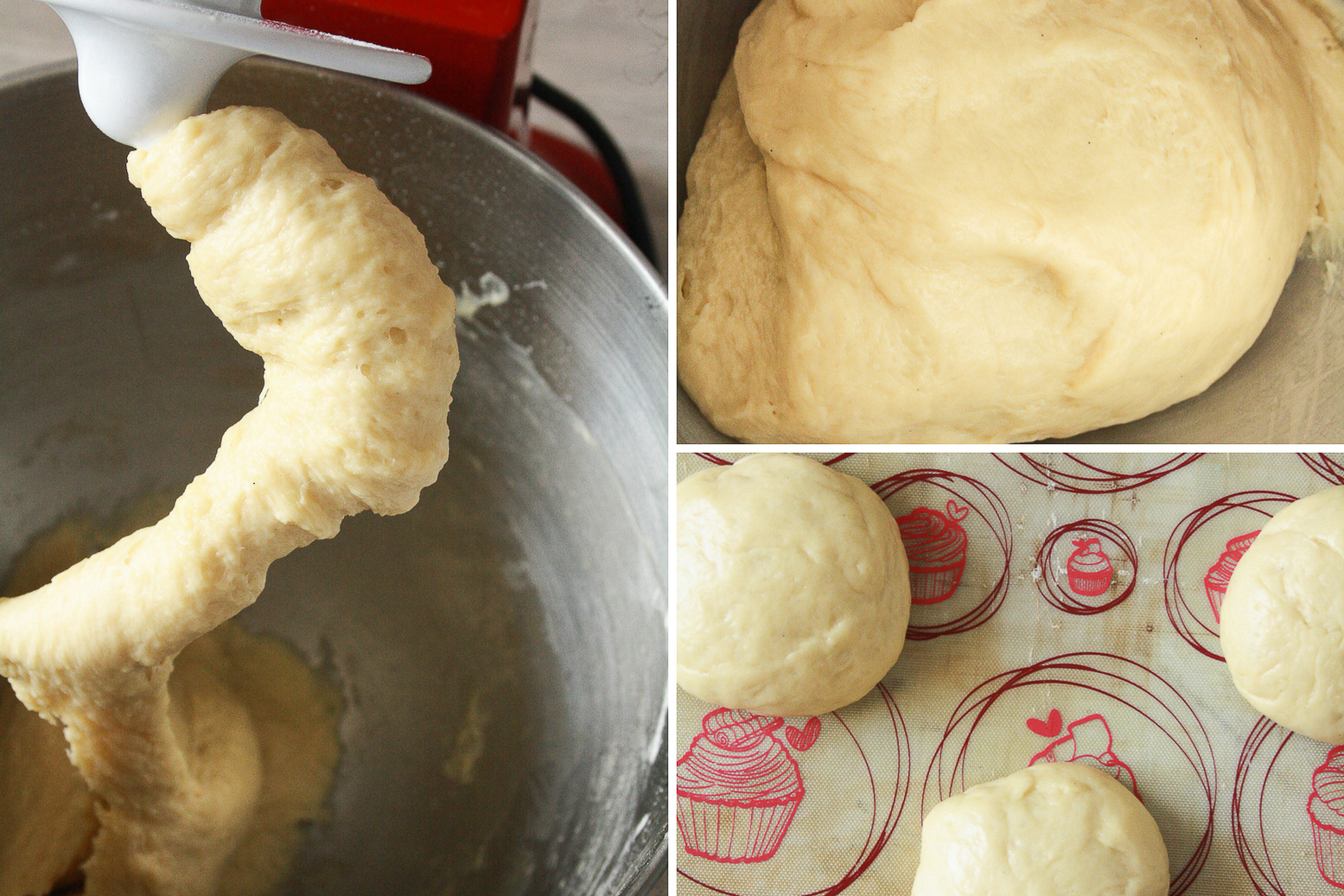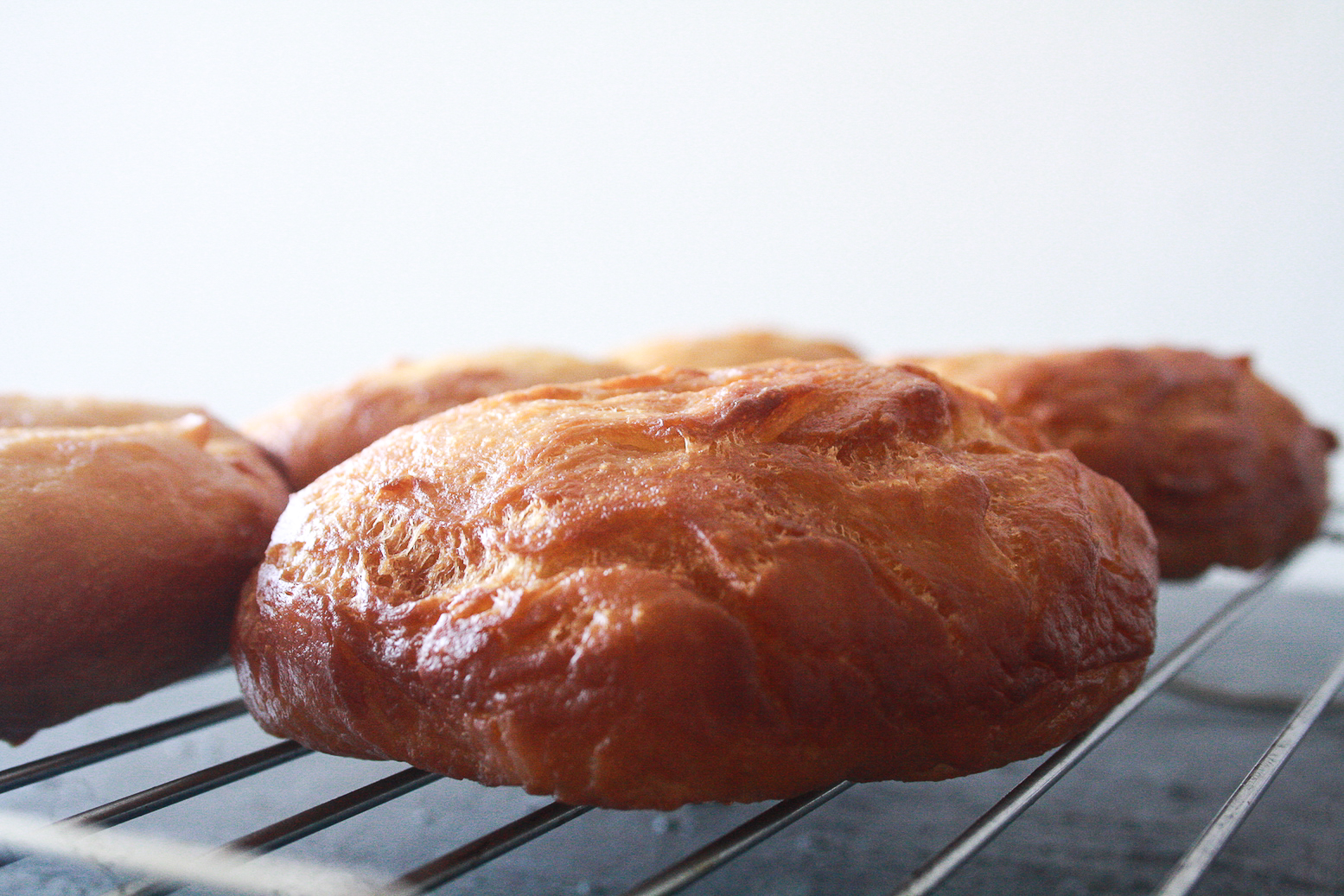 What you end up with is an amazingly flavourful donut, rich and light. And the freshness of that mango cream is so perfect with it, I went into raptures. I hope you'll try these! Depending on the temperature of your kitchen, the dough might be harder or easier to work with. But power through! I'll try and add as many tips and tricks in the recipe below. Happy baking!
Please read the recipe notes before beginning.

Brioche Donuts with Mango Cream Filling
Soft, pillowy, buttery brioche donuts filled with fresh mango cream!
Author:
The Desserted Girl
Makes:
5 large or 10 small donuts
Ingredients
⅓ cup water plus 1 tbsp
⅛ cup caster sugar
1 and ⅛ tsps active dry yeast
1 egg, lightly beaten
1 tbsp rum
3 tsps vanilla extract
2 cups all-purpose flour
1 tsp salt
¼ cup butter, cubed and at room temp (50 gms)
1 ripe mango*
1 cup cold whipping cream (200 ml)* (I use Amul)
Vegetable oil for frying
Powdered sugar for sprinkling
Instructions
Heat the water in a bowl until it's warm but not too hot. You should be able to dip a finger in comfortably. Stir in the yeast and sugar till dissolved. Cover and set aside until foamy, about 10 minutes.

In the bowl of a stand-mixer fitted with the dough hook, (or a large mixing bowl if doing this by hand), combine the yeast mixture, egg, rum and vanilla. Mix and then add the flour and salt. Knead on low speed till a shaggy dough begins to form.

Add the butter, one cube at a time and mix on medium speed, adding the next cube after the first is mostly incorporated. I accidentally added them all at once, so had to work a little harder to get the glossiness, so gradually is best.

Knead for 6 to 8 minutes in the mixer (about 10 minutes by hand) until the dough is smooth and glossy. Cover tightly with clingfilm and set aside for 1 to 2 hours until doubled. Even in a hot kitchen, this dough will rise slower because of the butter and eggs.

If the risen dough feels sticky, place it in the fridge for 15 minutes to chill and become easier to handle.

Form the dough into 5 large or 10 smaller rounds (see notes). Place at least 2 inches apart on a silicone or parchment lined sheet. Cover loosely with clingfilm and allow to double, about 1 more hour.I found them becoming wider rather than taller but the final texture remained unaffected.

When the dough balls have almost doubled, pour vegetable oil about ⅔rds of the way in a large, sturdy wok or pot. Pinch off a small bit of the dough and drop it into the oil. If it rises to the surface and begins to brown, the oil is hot enough.

Carefully lift off the puffy dough balls, taking care not to deflate them as much as possible. If some lose their shape or become wrinkly, do not fret. They will still fry up well. Just slide them into the hot oil and cook for two to three minutes on each side until golden-brown. Place on a paper-towel to drain.

Allow the fried donuts to cool completely. Meanwhile, peel the mango and place the pulp in a blender. Puree until completely smooth.

To make the filling, place a mixing bowl and beaters from a hand mixer in the fridge about 20 minutes before beginning. This ensures that the cream stays cold while you whip it.

Pour the cream into the bowl and add ¼ cup sugar if you'd like to sweeten it (see notes). Whip on medium speed until soft peaks form and hold their shape when you take the beaters out.

Fold in the mango puree slowly. The cream will deflate and thin out a bit because of the water that mangoes contain, don't worry about it. Place the cream in the fridge while you prep the donuts.

Use the end of a fork to poke a hole in the side of each donut, taking care not to poke all the way to the end. Move the fork around to loosen the donut just slightly.

Fill a piping bag or bottle with the filling, and attach a thin tip which won't break the donut. Fill each one till the mango cream reaches the outside, then stop. Dust liberally with powdered sugar and serve immediately.

The donuts are naturally best eaten fresh, but keep well in the fridge for 2 to 3 days. They remain soft enough to be eaten cold! Enjoy 🙂
Notes
*Preferably, form 10 small donuts, not 5 large ones. This makes it easier to lift them and put them into the oil without deflating them.

*Make sure your whipping cream is in the fridge at least 24 hours before making the filling.

*I like slightly under-sweetened desserts these days, so I left the filling as is, without adding sugar. However, if your mango isn't too sweet, or you like a sweeter donut, add ¼ to ⅓ cup powdered sugar while whipping the cream.

*Prep-time does not include rising or cooling time.