Grown-up, responsible muffins for you today. Apparently my Fridays are just as sensible as my Mondays. I basically don't want you guys to have any fun.
(These are delicious though. And there are chocolate chips.)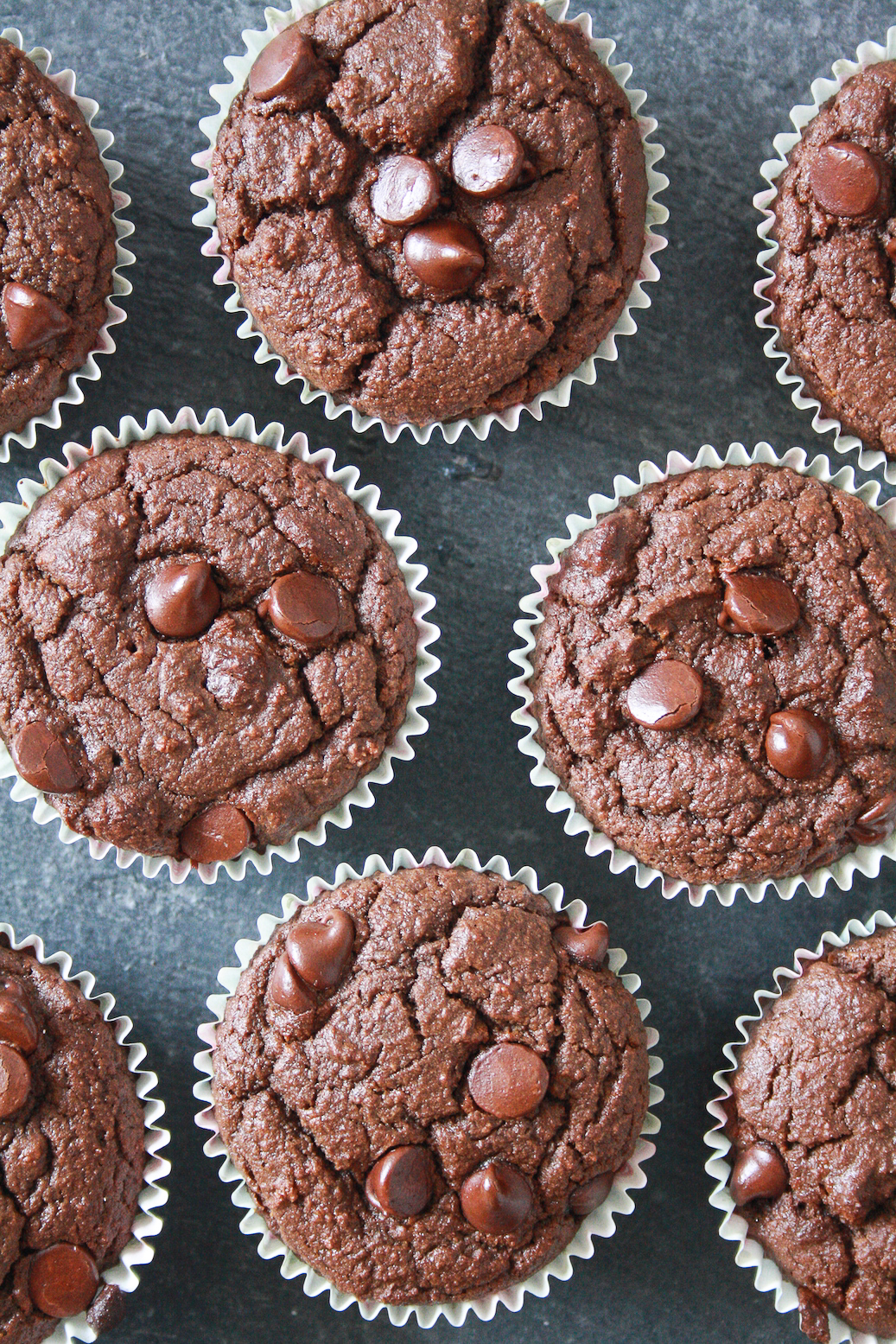 These soft, tender, super amazing muffins are made with all of the good stuff. I'm having such a great time working with new ingredients! Coconut flour for the win. And also, muffins for breakfast for the win.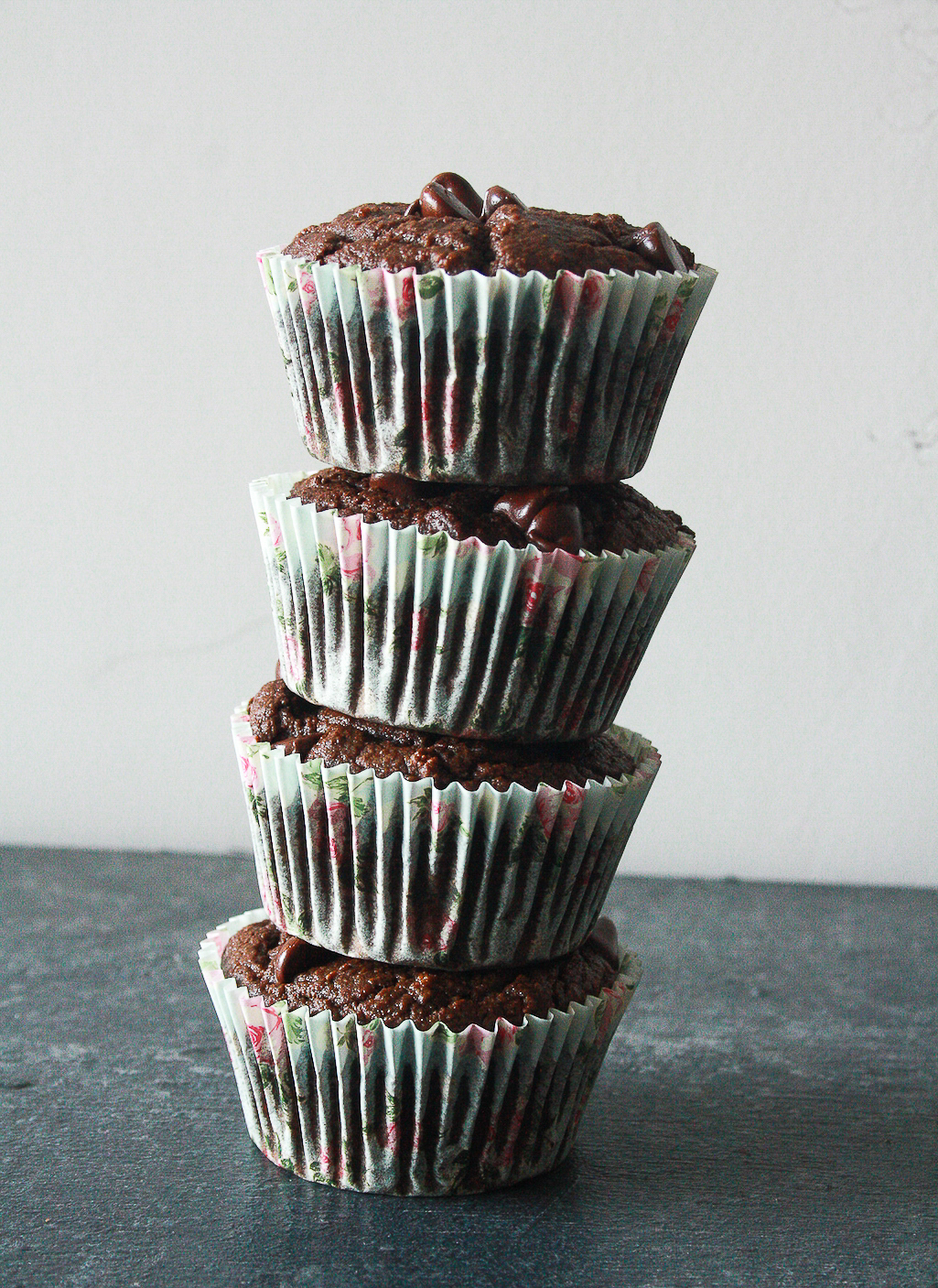 Coconut flour isn't something I've used before, but to me it seemed like a finer version of desiccated coconut. It tends to absorb a fair bit of liquid, so this recipe has a little more milk than you'd normally see. I adapted it from Ambitious Kitchen and used peanut butter instead of almond butter (saving that for something later next week!) as well as regular milk instead of a non-dairy option though you can absolutely use either.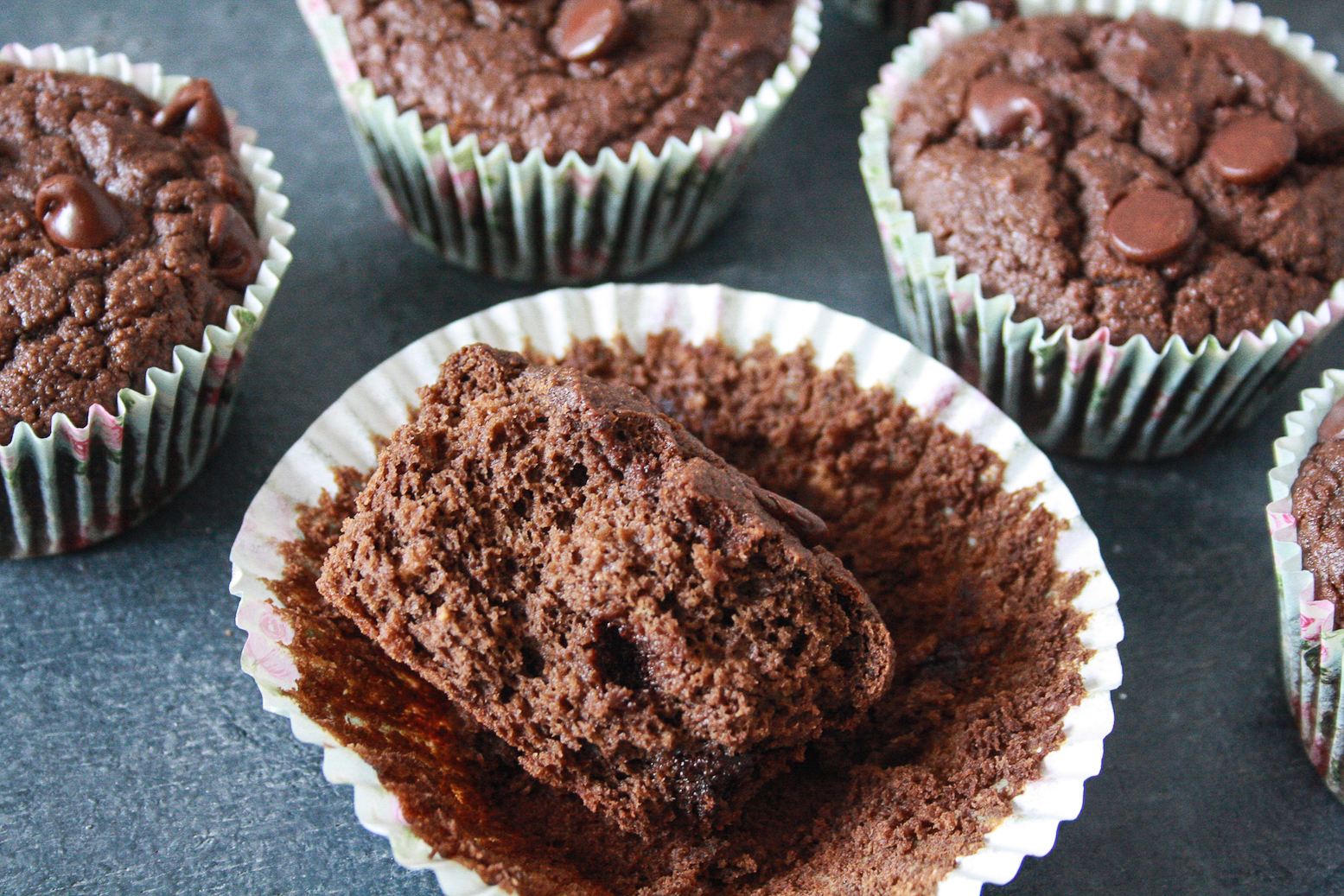 The peanut butter I had was sweetened, so along with the chocolate chips, these muffins aren't exactly free of refined sugar. If that's something you're after, skip the chips (or use an unsweetened variety) and make sure the peanut butter you have is natural, with no added sugar. You can't taste the peanut butter really, the flavour is still dominantly coconut and chocolate. Yum.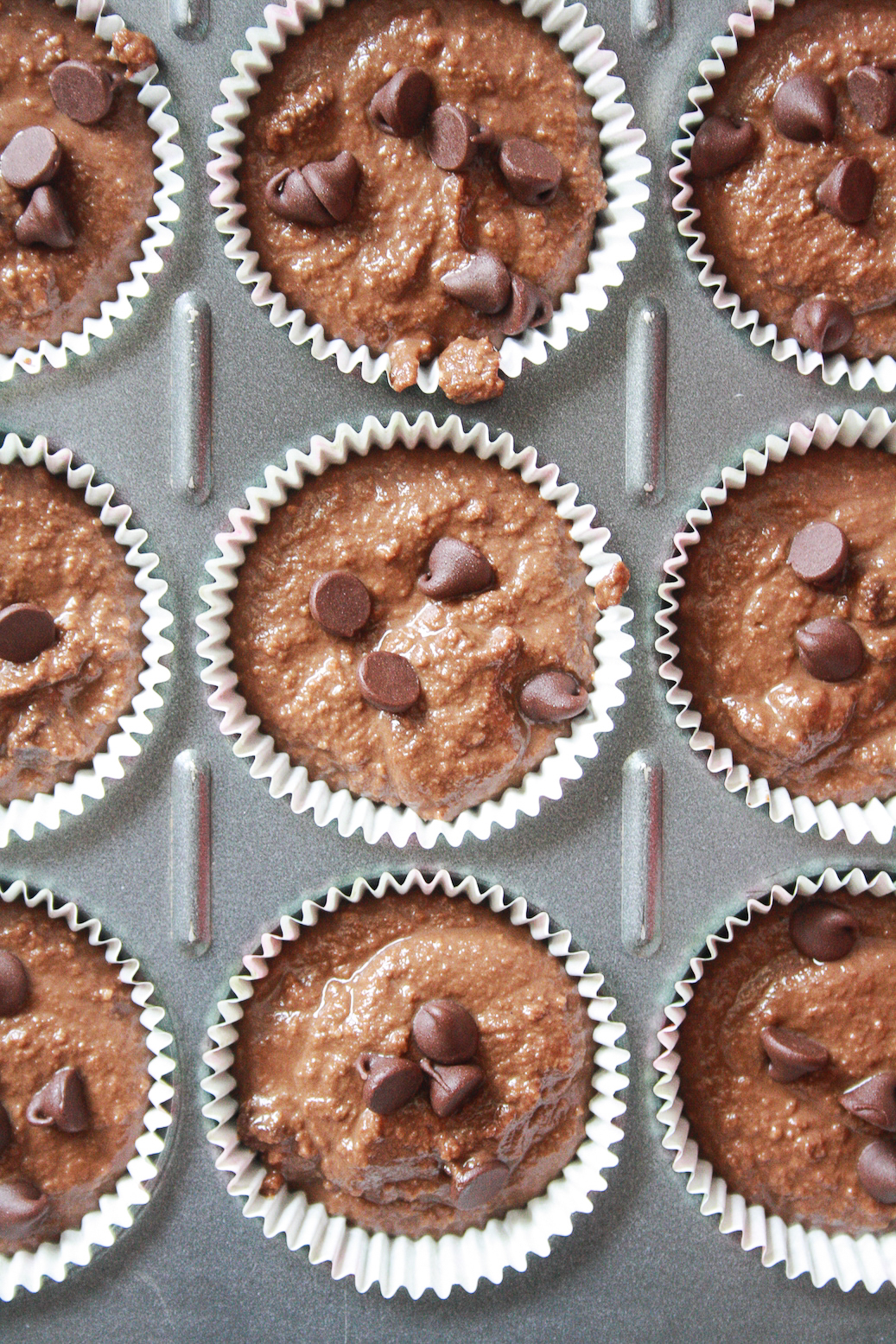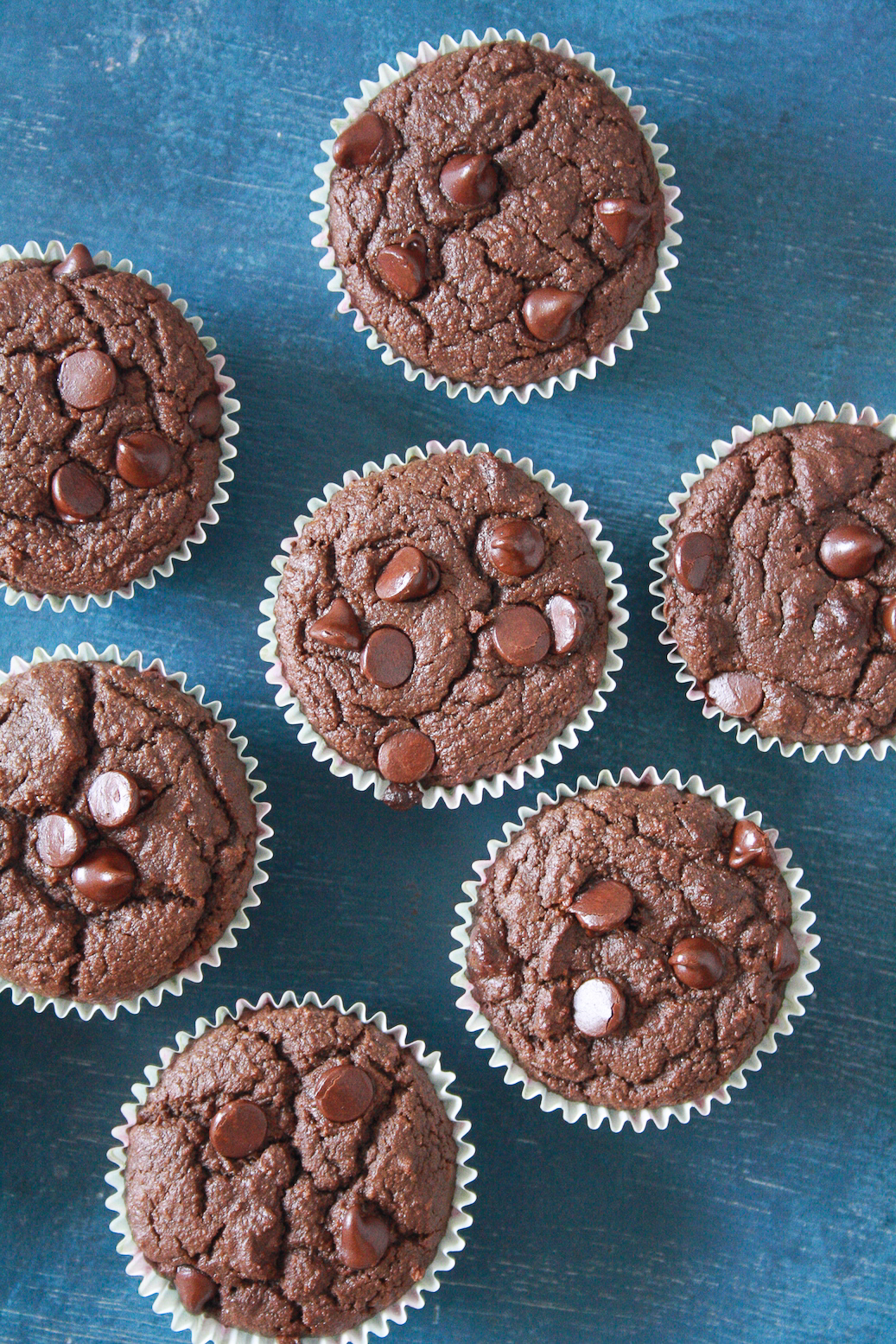 The muffins are super easy to make and completely delicious. There is no evidence of the absence of regular flour, butter, that kind of thing. Coconut oil is used, but you can sub a regular oil if you like. There's plenty of moisture from the coconut and peanut butter anyway. The whole thing is a tender, chocolatey wonder. And I'm so making them again!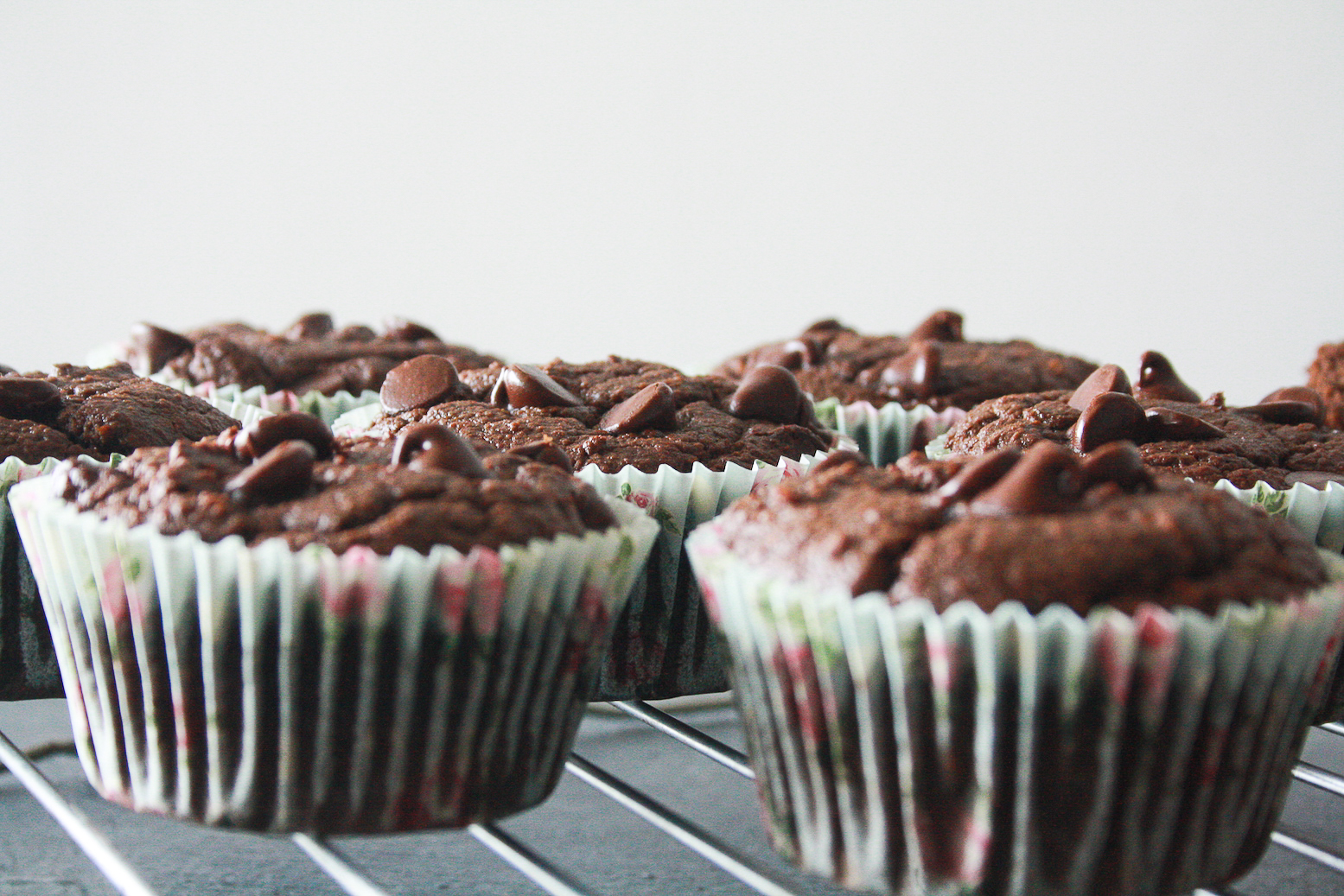 I found these muffins took much longer to bake than expected, so I'm going to note that in the recipe though it might differ for you. I also used a little more coconut flour because the batter seemed too runny, but again, depending on the milk and flour you use, this might not be something you experience as well. And finally, I got 9 muffins, not 12, so that's the yield I'm going with here, though you may get anywhere between 9 and 12 muffins.

Coconut Chocolate Chip Muffins
Soft, moist, almost healthy chocolate chip muffins made with coconut flour!
Author:
The Desserted Girl
Ingredients
⅓ cup cocoa powder
2 tsps baking powder
½ cup coconut flour (plus 1 to 2 tbsps if needed)
¼ cup peanut butter
2 tbsps coconut oil
½ cup coconut sugar
1 tbsp vanila extract*
2 eggs
1 cup milk
⅓ cup chocolate chips, plus more for sprinkling on top
Instructions
Lightly grease 9 muffin moulds or line with cupcake liners. Set aside. Preheat the oven to 175 C.

Sift the cocoa and baking powder in a bowl, then stir in the coconut flour. Set aside.

In a mixing bowl, combine the peanut butter, oil, sugar and vanilla. Beat using a hand mixer till combined.

Add the eggs and beat again till smooth and creamy.

Now add the milk and mix on low speed till combined. Add the coconut flour mixture and mix well. The batter will be runny, so add up to 2 tbsps more of flour if it seems too thin.

Fold in the chocolate chips. Divide the batter equally among the muffin moulds.

Bake for 25 to 35 minutes until a toothpick poked in the center of each comes out clean, or with a few moist crumbs. Start checking the muffins for doneness at 20 minutes. Mine took much longer to get done, so I'm going with a broader time window.

Allow to cool for a few minutes, then transfer to a wire rack to cool completely. The muffins are fragile so if you're using liners, wait for them to cool completely before peeling them off. Happy eating!
Notes
*The amount of vanilla might seem like a lot, but the batter does remain a bit eggy, so that much is needed.