The long weekend wasn't long enough, and we all need a cookie. Dark, rich, fudgy, intensely chocolatey. And because it's a new day, we're eating gluten-free cookies that taste as insanely good as these gluten-full ones.
Guys, this one's a keeper.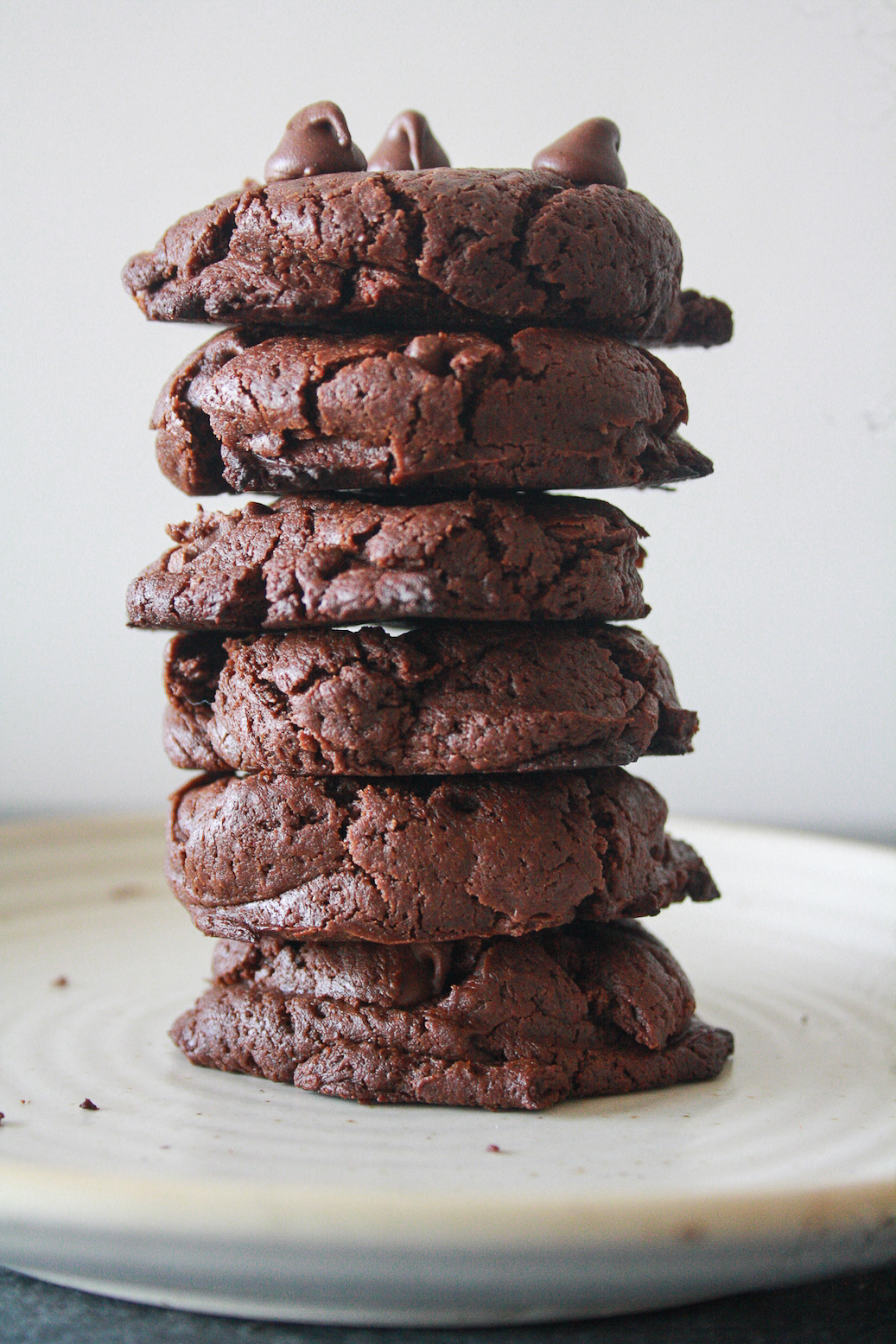 These cookies taste like brownies, are filled with melty chocolate chips and can make a cup of coffee taste like the very elixir of life. They're just that good.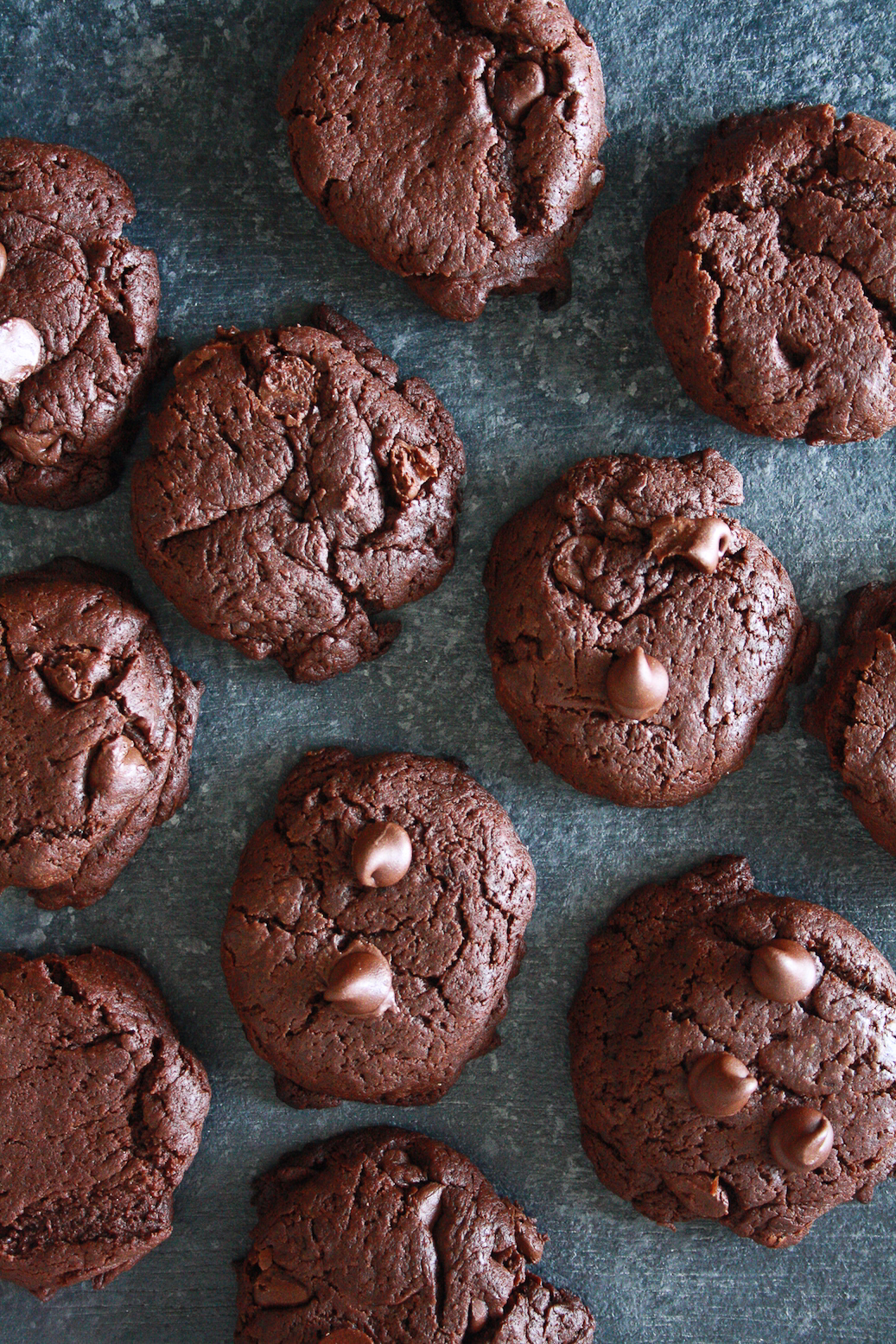 I haven't worked with buckwheat flour (kuttu atta in India) so I looked to Cookie and Kate for an easy recipe to start off with and used arrowroot starch instead of tapioca, caster sugar instead of cane sugar. You can absolutely use cornflour and cane sugar/coconut sugar as substitutes, respectively. I also swapped out the extra chocolate chunks with chips, just because I had them, but feel free to use either.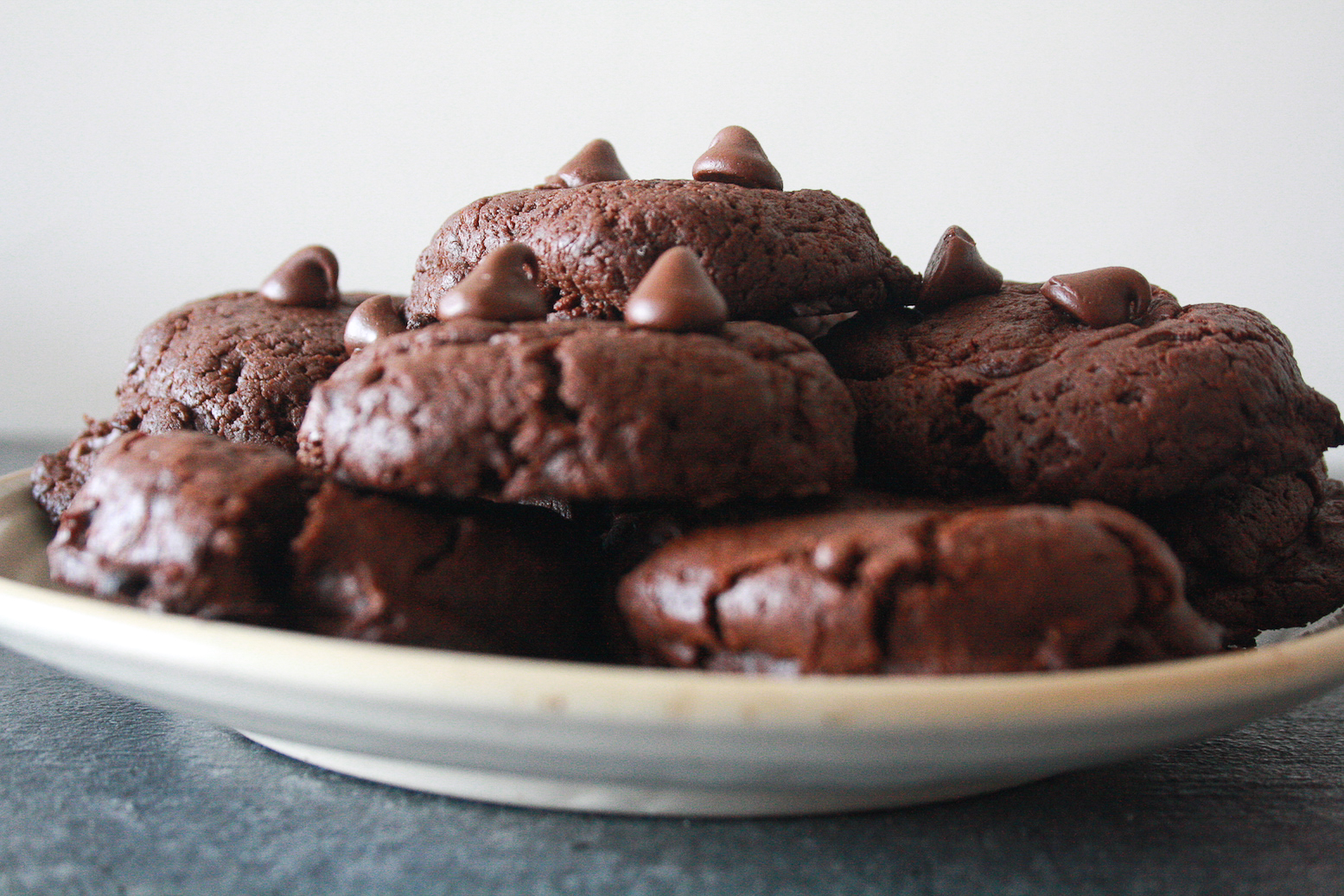 The dough is very easy, no chilling required! It is in fact thick, like a brownie batter, and super shiny. I was concerned the cookies will be greasy because buckwheat doesn't seem to absorb butter as well as all-purpose flour does, but the end result was perfect. The cookies didn't seem to spread much, my hunch is because the arrowroot acts as a thickener, but you can press them down before baking for thinner cookies.
The eggs need to be beaten for about 5 minutes till super pale and fluffy, much like the way you'd make brownies with a flaky crust. I do recommend a hand mixer here, because I found my stand mixer was too large to whip up just two eggs, so the tops aren't as crackly as they could have been. A hand mixer will take a little longer and you'd have to stand there holding it, but there is more control over the process.
The easiest way to scoop the dough out is to use a tablespoon measure. This way you get uniformly sized cookies, and avoid all kinds of greasy chocolatey messes.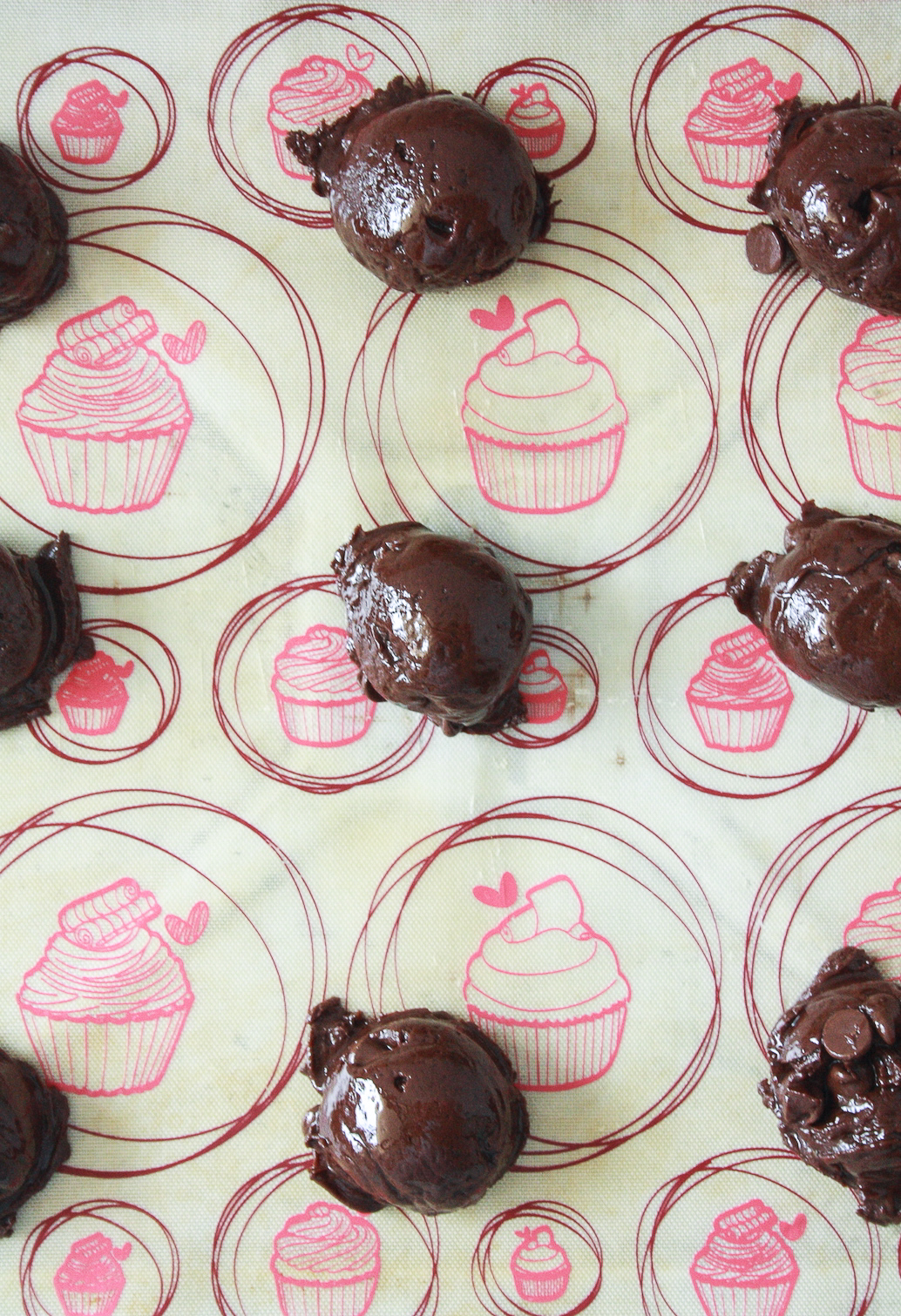 I promise, one bite of these cookies and you'll be sold! They do not taste like buckwheat, because they basically taste only of chocolate. But they do have a sort of earthiness that doesn't come from all-purpose flour and I loved it! I'm definitely baking more with this flour very soon and will keep you posted on an eggless cookie recipe. In this particular one, swapping the eggs out will be hard because you need them to act as a binder in the absence of gluten flour. I have a hunch buckwheat would work here, let me know if it does!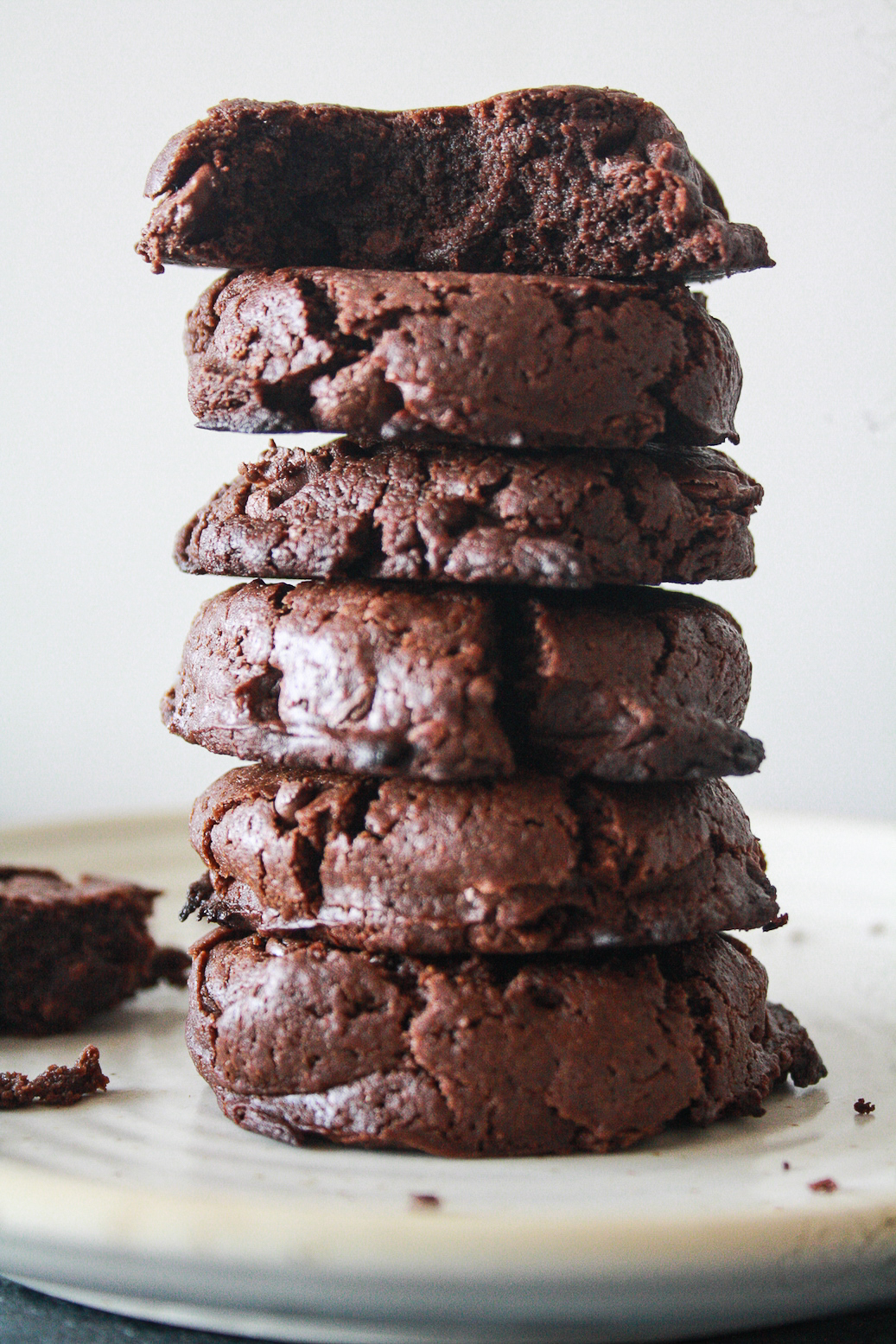 Happy baking!

Double Chocolate Buckwheat Cookies
Dark, rich, fudgy, gluten-free double chocolate cookies made with buckwheat flour!
Author:
The Desserted Girl
Ingredients
85 gms butter at room temp (6 tbsps)
225 gms dark cooking chocolate
⅓ cup dark chocolate chips
½ cup buckwheat flour
2 tbsps arrowroot starch / cornflour
¾ tsp baking powder
2 eggs at room temp
½ cup caster sugar
½ tsp salt, if using unsalted butter
2 tsps vanilla extract
Instructions
In a double boiler, melt the butter and chocolate until smooth. Set aside.

Preheat the oven to 175 C and lightly grease a baking sheet or line with a silicone mat.

Sift the buckwheat flour, arrowroot and baking powder in a large bowl. Set aside.

In a mixing bowl, beat the eggs and sugar with a hand mixer, for about 5 minutes until pale and fluffy (or use a stand mixer, though I found it harder to beat the eggs well in this, as the bowl is much larger than needed)

Add the vanilla and the melted chocolate mixture and beat for a few seconds to combine.

Add the flour mixture and beat until just combined. Fold in the chocolate chips. The dough will be shiny, and may ball up.

Scoop out the dough in a tablespoon measure and drop on to the baking sheet. I got 18 cookies, but you may get more or less depending on the thickness of the dough.

Bake for about 10 minutes until the cookies have cracked on the top, the edges have set and the middle is no longer wet. You may need to press them down to flatten. Best eaten warm!!
Notes
*I use Mii Spezial Coverture, usually 75%