I've been waiting and waiting and waiting to put up this post. Granola is the most exciting thing in the world. That's right, I said that. And I will say it again and again. You guys, this is incredible.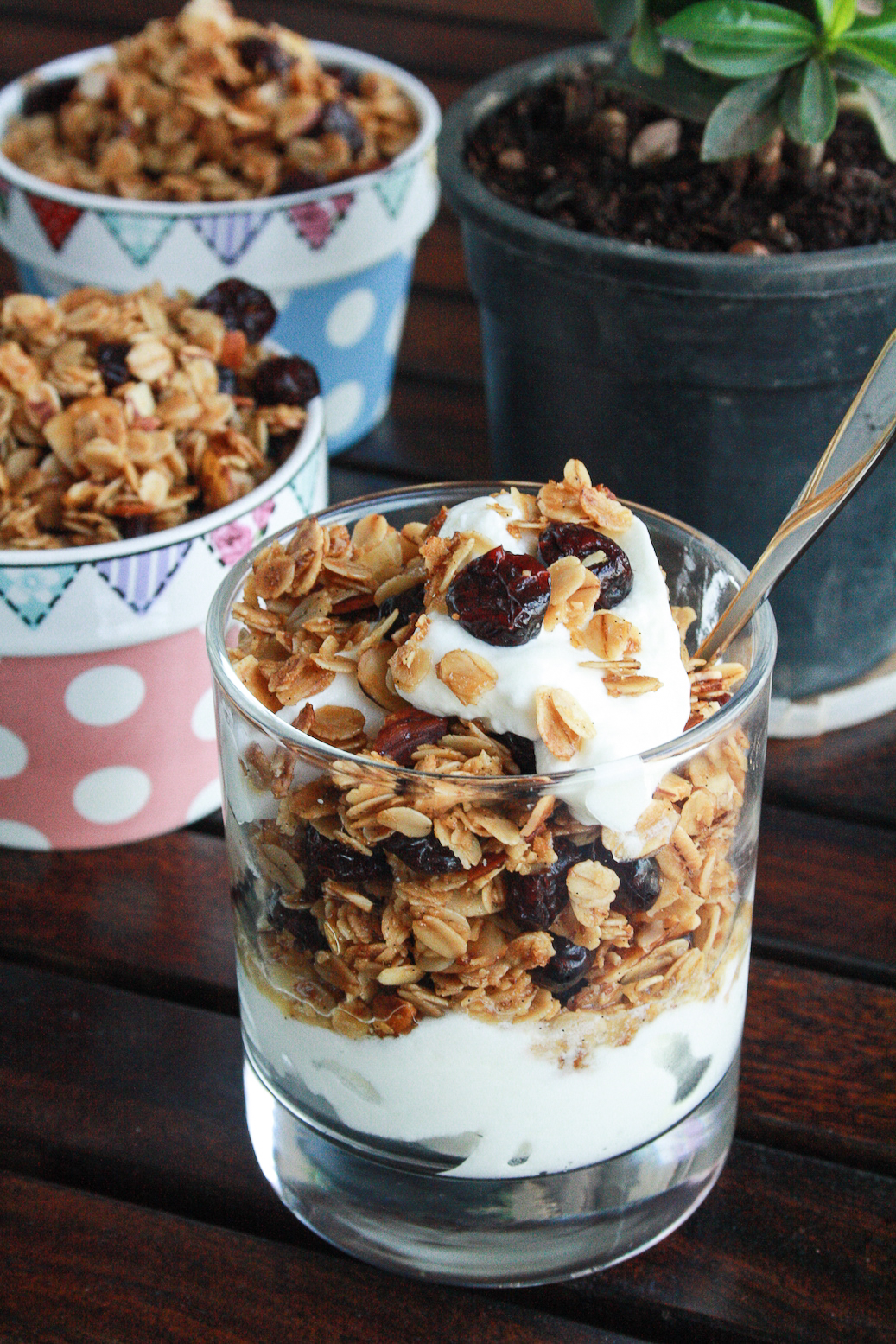 Granola, that mostly boring, cardboard-y snack was something I ate out of compulsion to stop myself from scarfing down the entire bag of chips. I began warming up to it when I made these peanut butter bars, and they made me actually ignore chips. And that has literally never happened to me. It turns out that when you mix up tart cranberries, crunchy almonds and a whole bunch of oats together with honey and olive oil, the result is so magical, you'll be craving a big bowl of it, topped with cold yoghurt till the end of time.
(Excuse the insane number of pictures, this was a really fun shoot!)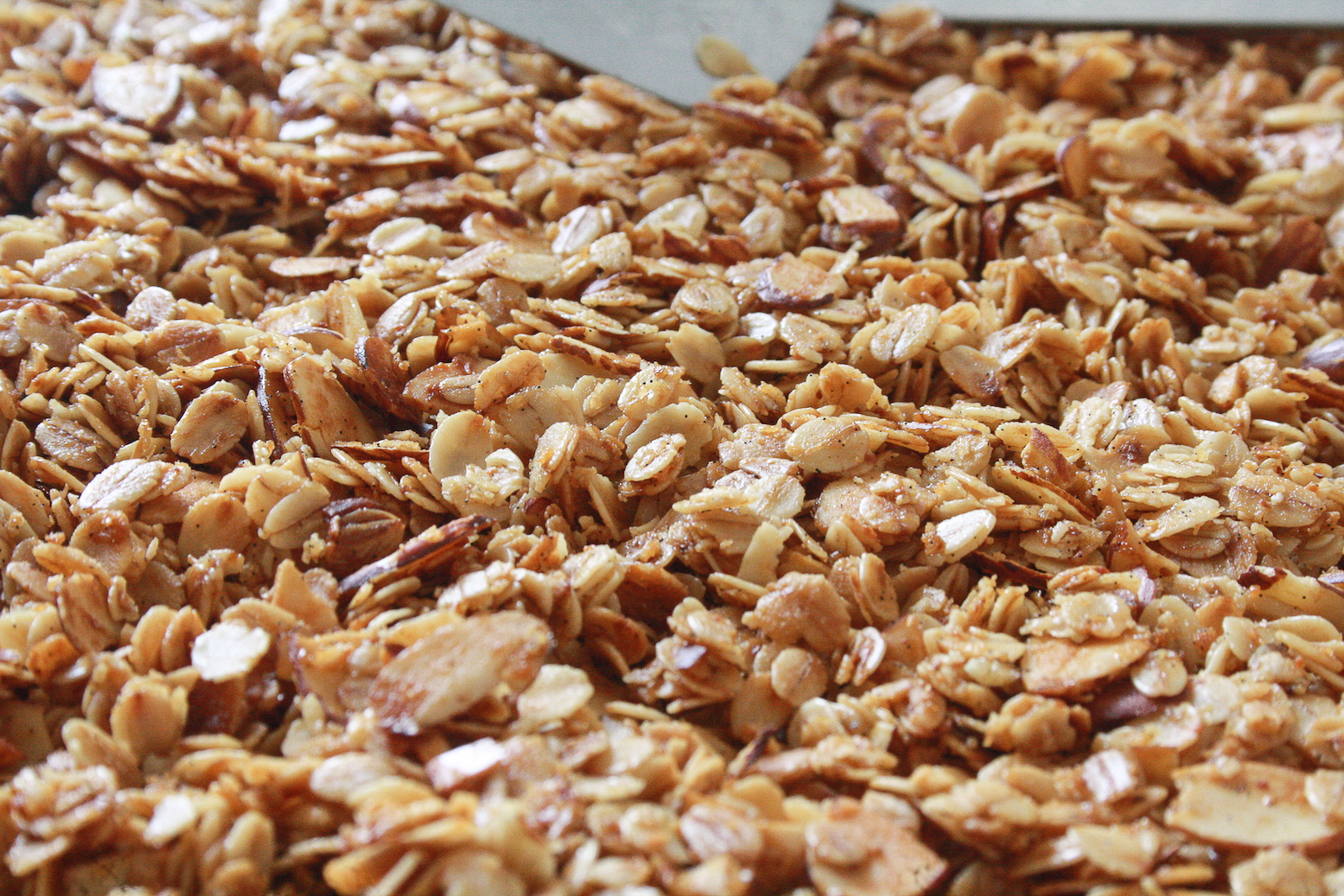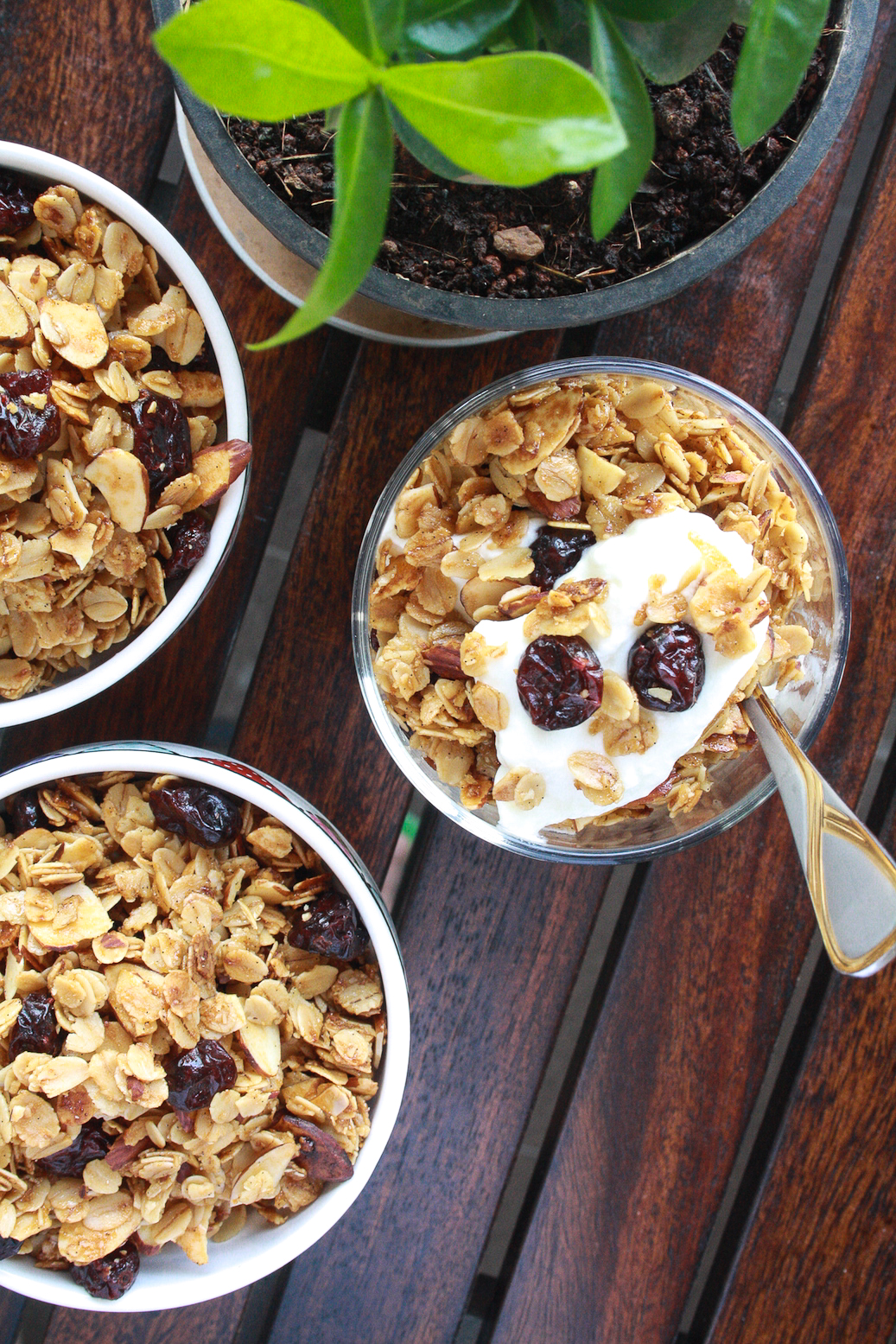 I saved this recipe from Cookie and Kate a long time ago, and over the last few months, I've been feeling the need to snack better because when you're surrounded by dessert, that need really, really has to be paid attention to. The recipe is so simple, and so versatile that you can really use any of your favourite flavours. Chocolate chips are allowed too. Definitely throw in some dried fruit, berries or non-berries, anything works. They add a really welcome chewiness among all the crunch.
Oh, I added desiccated coconut on a whim and it got nice and toast in while baking. Yum!! You can use maple syrup instead of honey if you're vegan, and coconut oil instead of the olive oil. Switch the almonds with whatever your favourite nuts are, it's always going to taste great.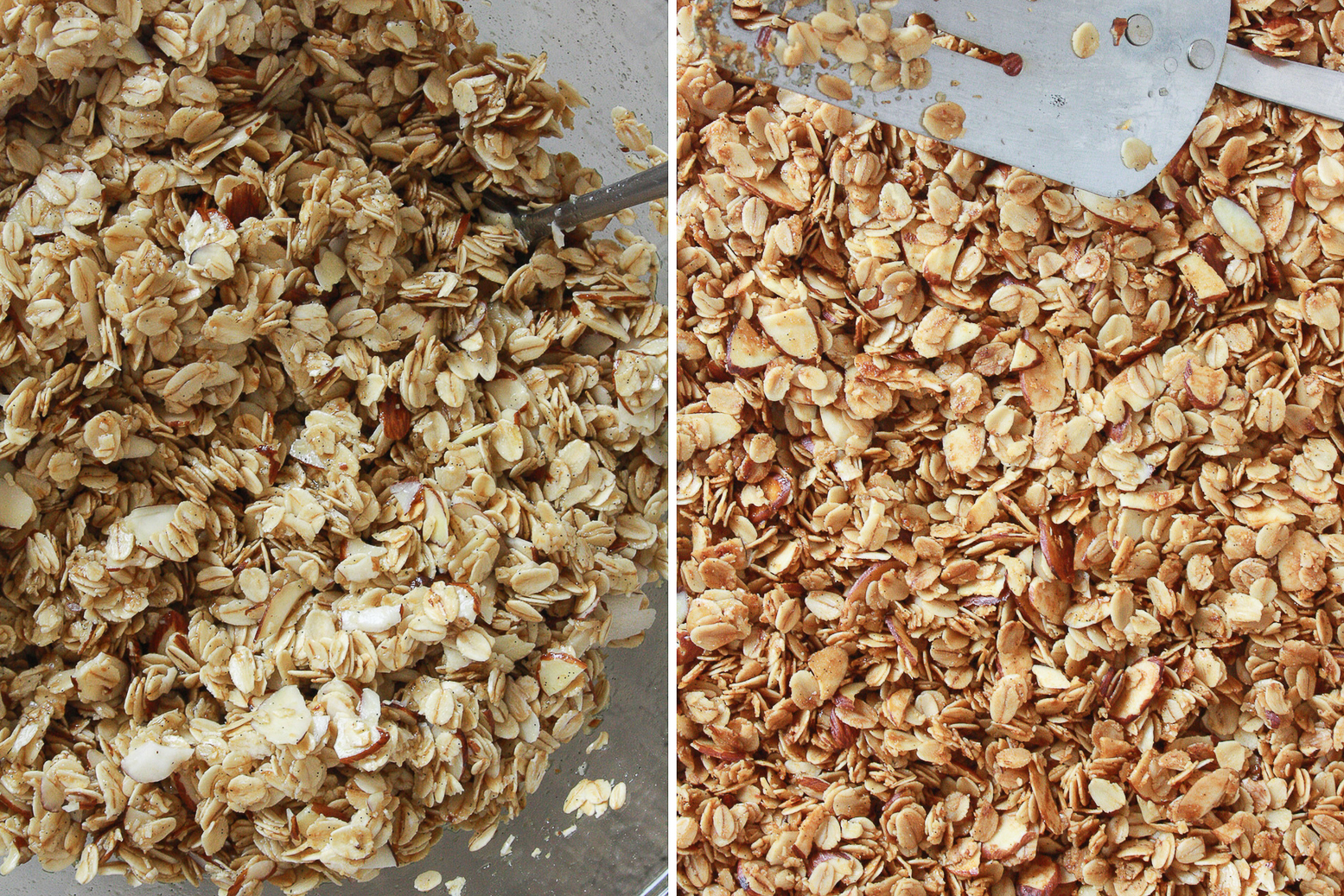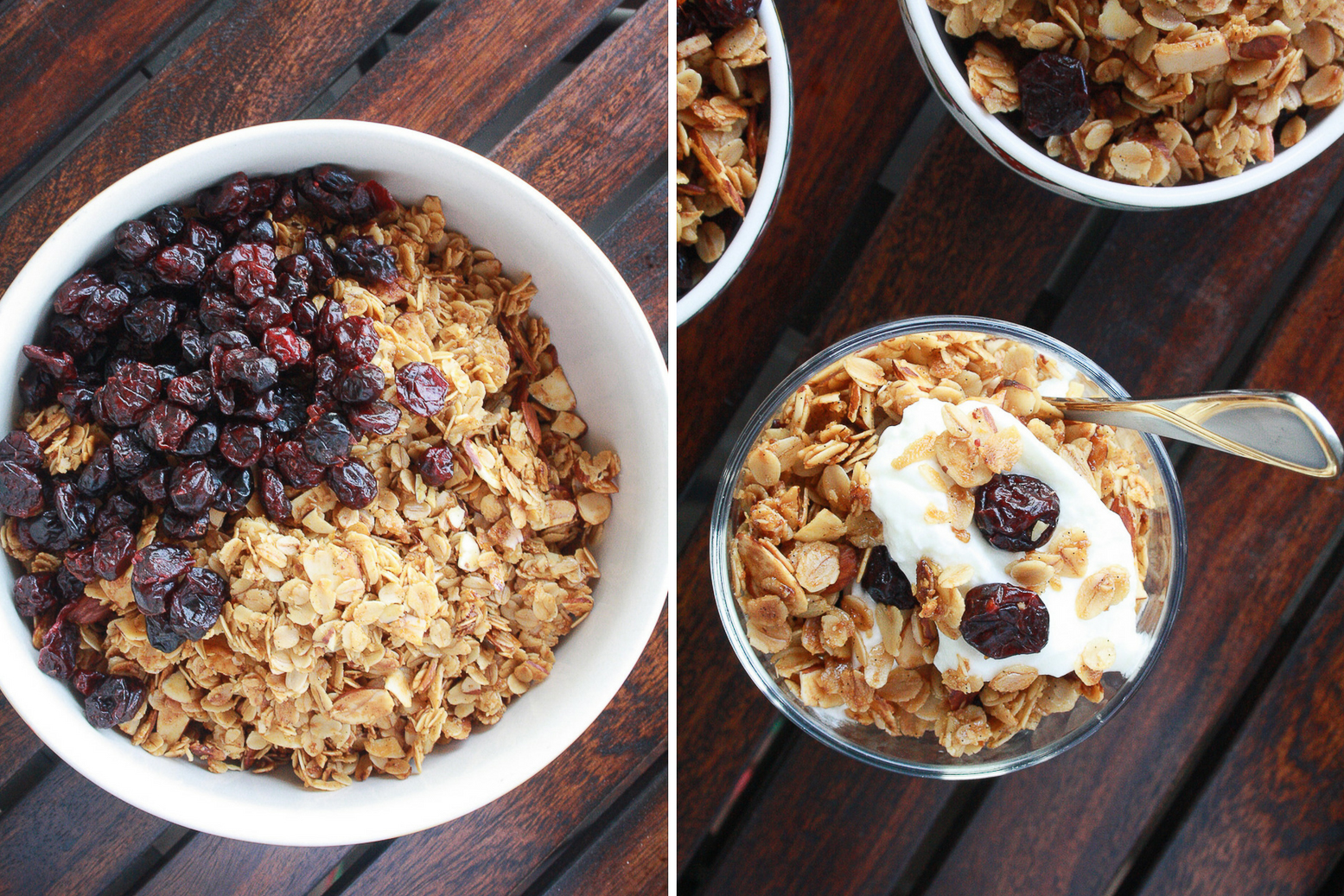 The only thing I will recommend highly is to spend a little extra and buy rolled oats for this granola. They're available easily on Amazon and Big Basket. Rolled oats are the less processed version of instant oats, so they are larger and bake up crunchier which is always great. They have a ton of bite and are somehow more flavourful. In a pinch, you can use instant oats (which I normally use in cakes, muffins and cookies) but know that the baking time will be a little lesser, plus the texture of the granola will be a little different.
The recipe makes abut 500 gms, so feel free to halve it if you like. The entire batch needs to be baked in two batches if you have a small oven, like I do. Overcrowding leads to uneven cooking. You need to crowd the oats just enough that the form some 'clumps' which are always nice to much, but not so much that they remain raw. Cost-wise, this is almost the same (maybe even more expensive) than buying readymade granola, but it is filled with only good stuff, no chemicals, no extra processing, nothing. And, it's about a 638940562 times more delicious. I counted.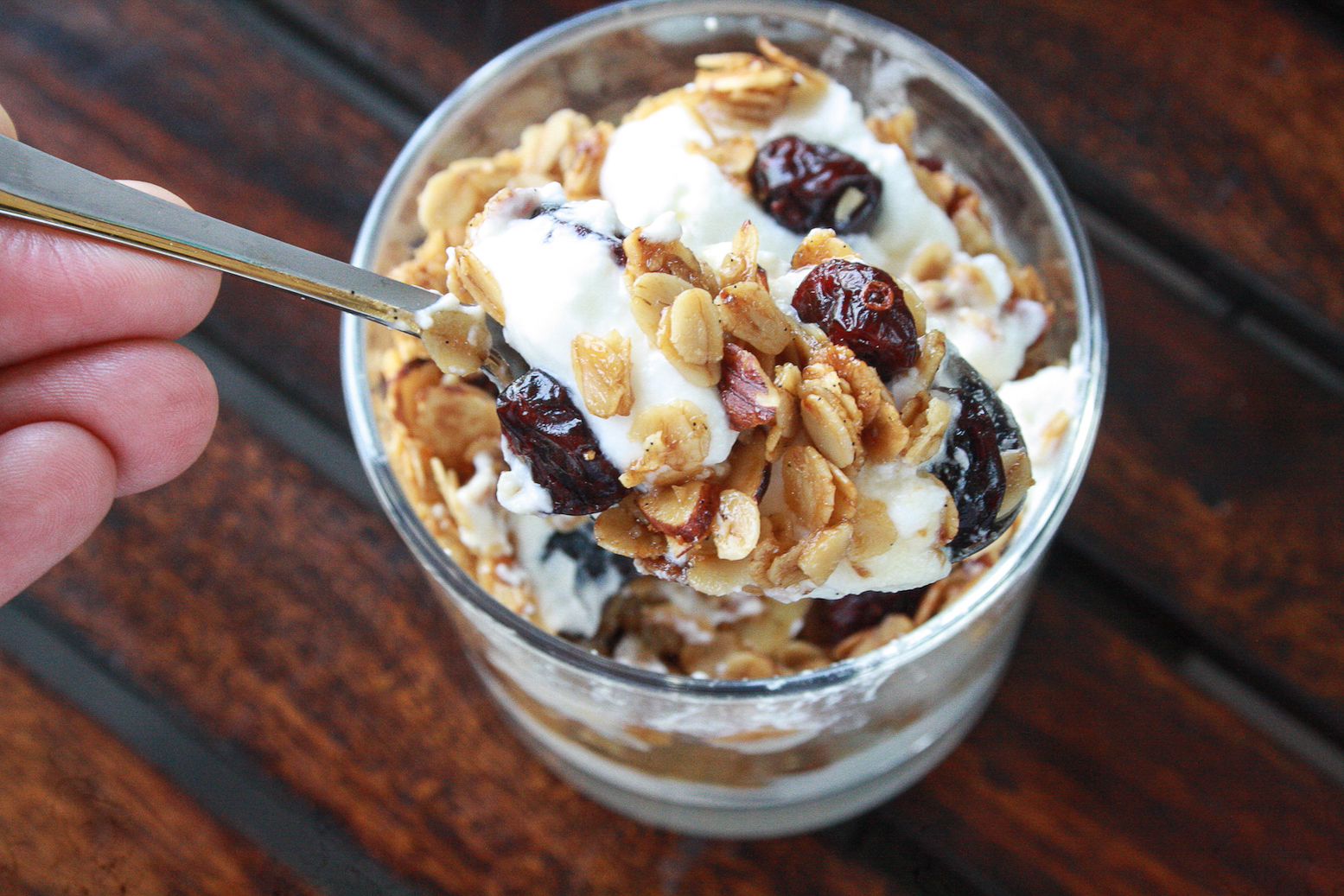 We've been eating it as is, with lots of yoghurt, and on Sunday morning, we tossed it into a mango smoothie bowl which is literally just fresh mangoes blended with yoghurt. Sooooo good. So so good. This is the kind of thing you'll eat, be stuffed but in a good way, and then not need anything more till your next full meal. Seriously, this stuff is magical.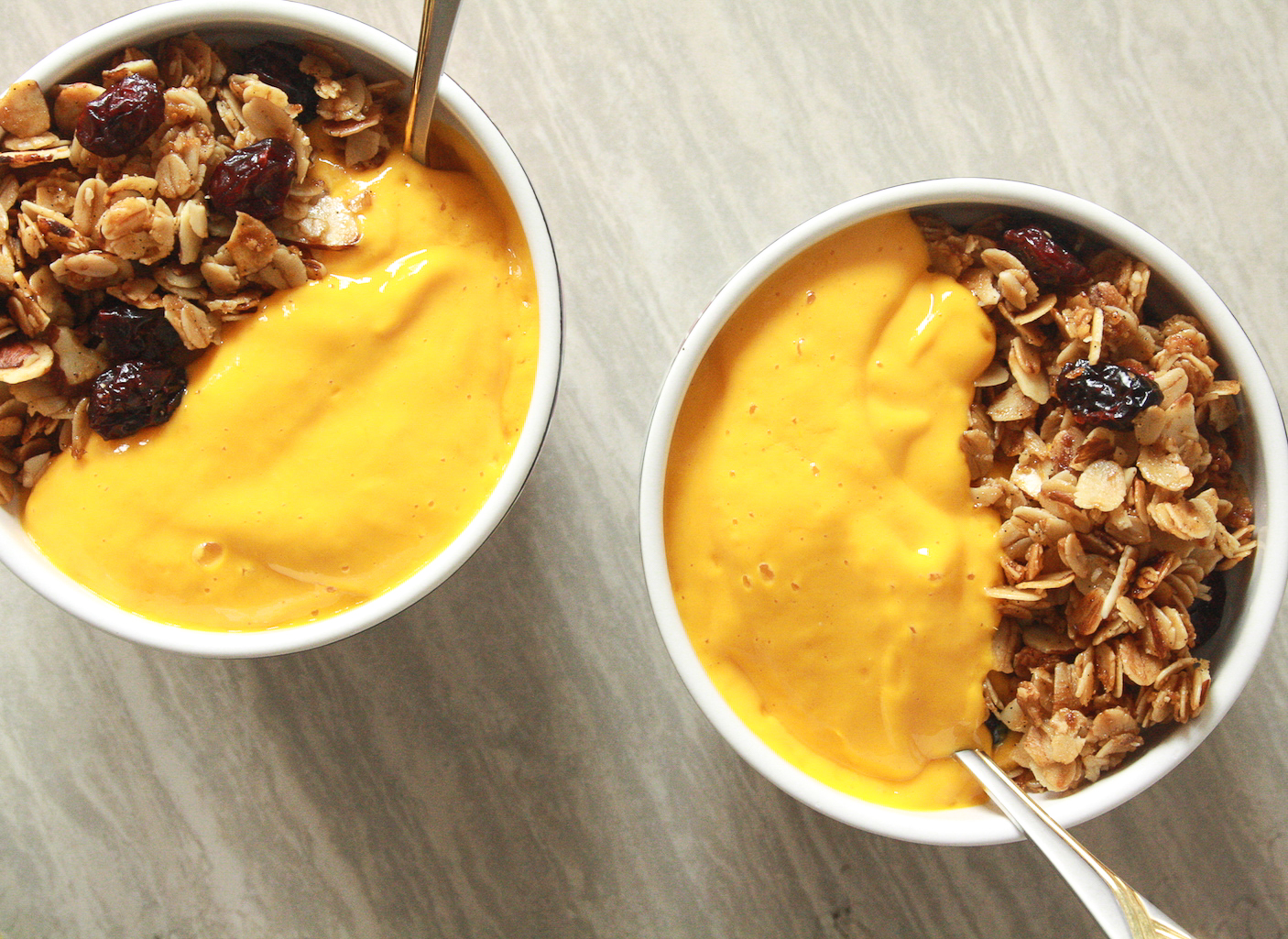 There's a perfect blend of textures, sweetness, saltiness, sourness and nuttiness. The coconut flavour is just barely there, but adds a really delicious undertone. Dried cranberries are among my favourite baking ingredients because they're sort of citrusy which is always a great flavour to include. But I mixed them up in only about half the batch, so that we could enjoy the other batch as is. There's something incredible about this granola even without mix ins!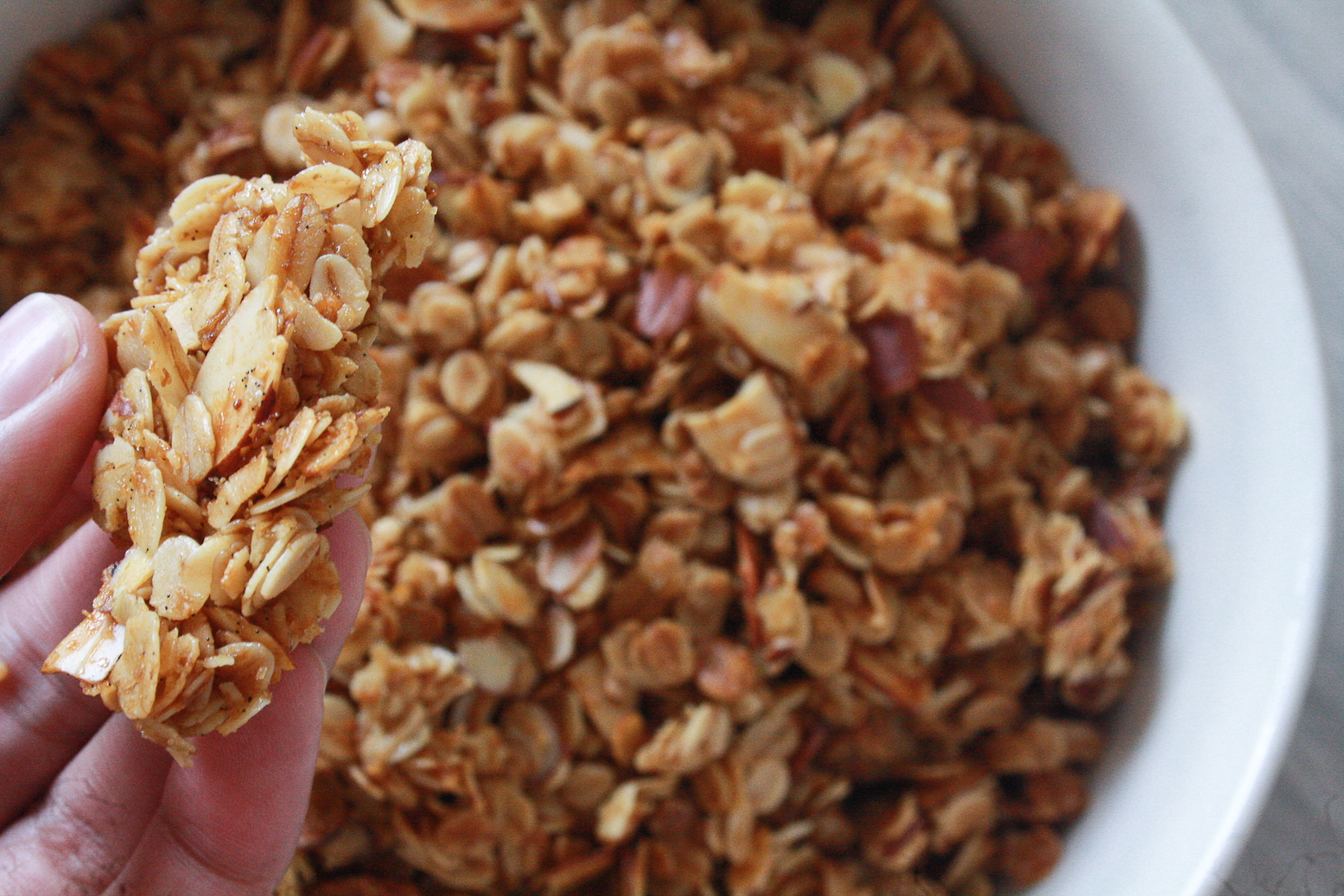 I've probably tired you out. Maaaaake this please!

Homemade Cranberry Almond Granola
This super easy, flavour-packed, crunchy granola makes the best healthy snack!
Author:
The Desserted Girl
Cuisine:
Gluten Free, Vegan
Ingredients
4 cups rolled oats*
1 and ½ cups flaked almonds, or any other nuts, chopped small or sliced thin
2 tbsps desiccated coconut, optional but recommended*
½ tsp salt
½ cup olive oil
½ cup honey (or maple syrup if vegan)
1 tsp vanilla extract/powder*
1 cup dried cranberries, or any other dried fruit
Instructions
Preheat the oven to 175 C and line a baking sheet with a silicone mat or wax paper, which will prevent the honey from sticking to anything but the granola.

In a large mixing bowl, combine the oats, almonds, coconut and salt. Mix well. Now add the olive oil, honey and vanilla (measure the oil first, so the honey slides right out of the cup), and mix very well, making sure the liquids coat every single inch of the oat mixture.

If your oven is small (mine is a 22ltr OTG, for reference), divide the mixture onto two lined baking sheets. The idea is to have an even layer that's thick enough for the oats to do some 'clumping', but not so thick that the mixture doesn't cook. Use your best judgement depending on oven size.

Bake for 20 to 25 minutes until as browned as you like, but watch carefully in the last few minutes. Halfway through baking, gently stir the mixture to make sure the entire thing is cooking evenly. Rotate the baking tray if needed.

Allow the baked granola to cool. As it cools, it will firm up more, and pressing down on it with a metal spatula helps more clumps form, if you'd like that.

Once completely cool, tip into a bowl and stir in the cranberries. And you're done! Store in airtight jars in the refrigerator and the granola will remain crunchy for days. It can even be frozen. Eat as is, or with plain yoghurt. If you'd like to make a 'mango smoothie bowl', simply blend one ripe mango with about 1 cup yoghurt, then top with the granola. This makes enough mango smoothie for two. Happy healthy eating!
Notes
*Rolled oats are better for granola because they are larger and bake up crunchier. I got mine off Amazon. You could use instant oats but the baking time will likely be lesser, watch carefully to ensure the granola doesn't burn. Instant oats will also create a granola with lesser crunch and texture, but it'll still taste good.

*If you'd like to use fresh, shredded coconut, toast it lightly in a pan so dry out some of the moisture or your granola will be too wet. Mix it in once the oats are done baking.

*For this granola, I used vanilla powder for the very first time and really liked it. However, vanilla extract is just as good.

*Cook time is for two batches. If your oven is large and you're baking this as one batch, it will be about half that time. If you'd like to halve the recipe for a smaller batch instead, feel free.
Shop this recipe!
This post contains affiliate links.