The thrill of being able to make my favourite breads at home just never gets old. Not that I'm churning out dough after dough every day, but with every experiment, I get more comfortable working with yeast and more excited to see how easy the whole thing is. So todaaaaayyyy pita bread!
And not just pita bread. Pita bread with hummus that's bursting with incredible flavour from roasted red peppers. If you're a hummus purist, look away now. I'll take this version over the regular one any day! It's bright, fresh, and so incredibly delicious with fluffy pita still warm from the oven.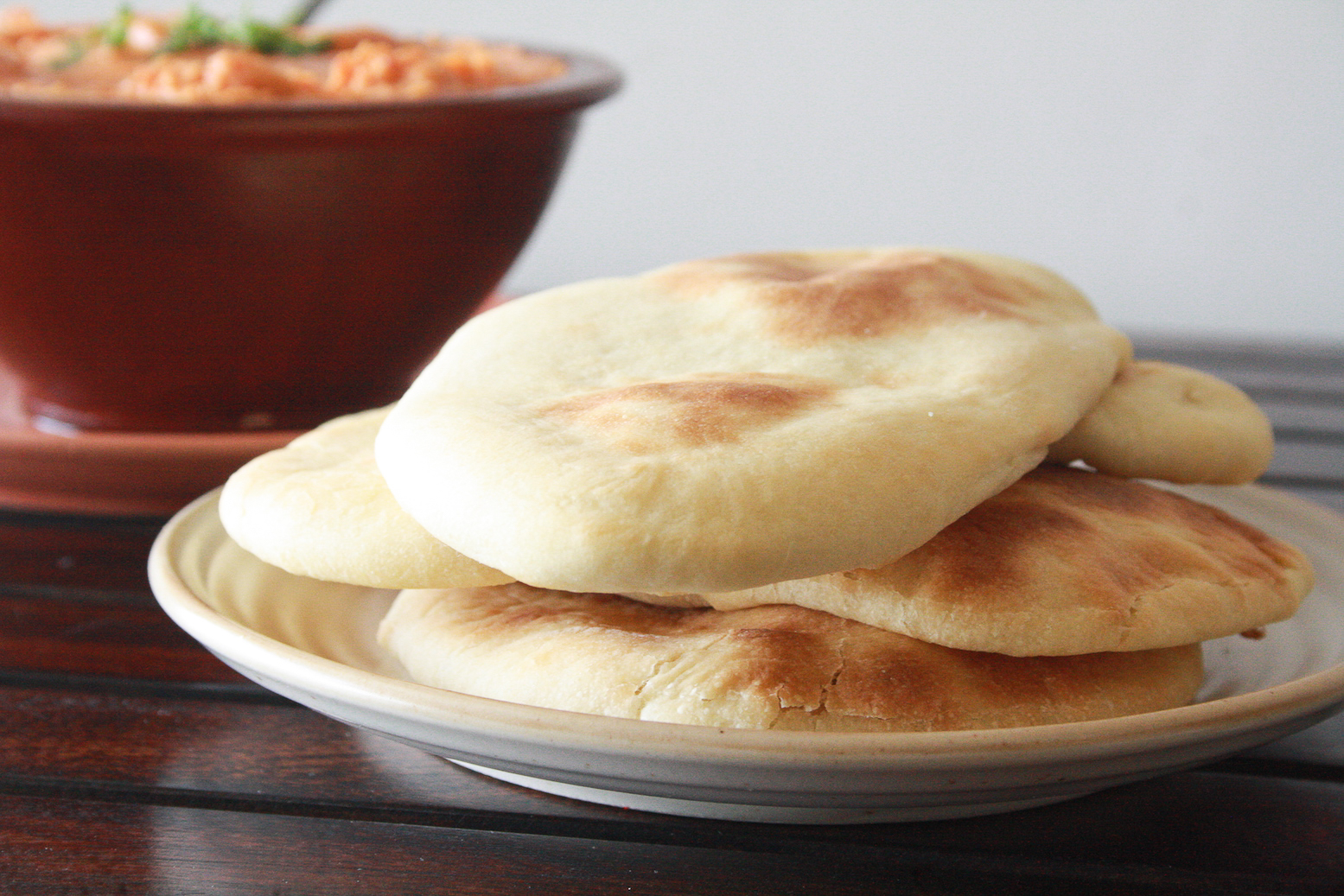 This is one of the nicest, non-regular, vegan homemade meals I've eaten, and super filling. Serve this pita-hummus combo with whatever your heart desires, falafel, veggies, stir-fried mushrooms (so good). You can do no wrong.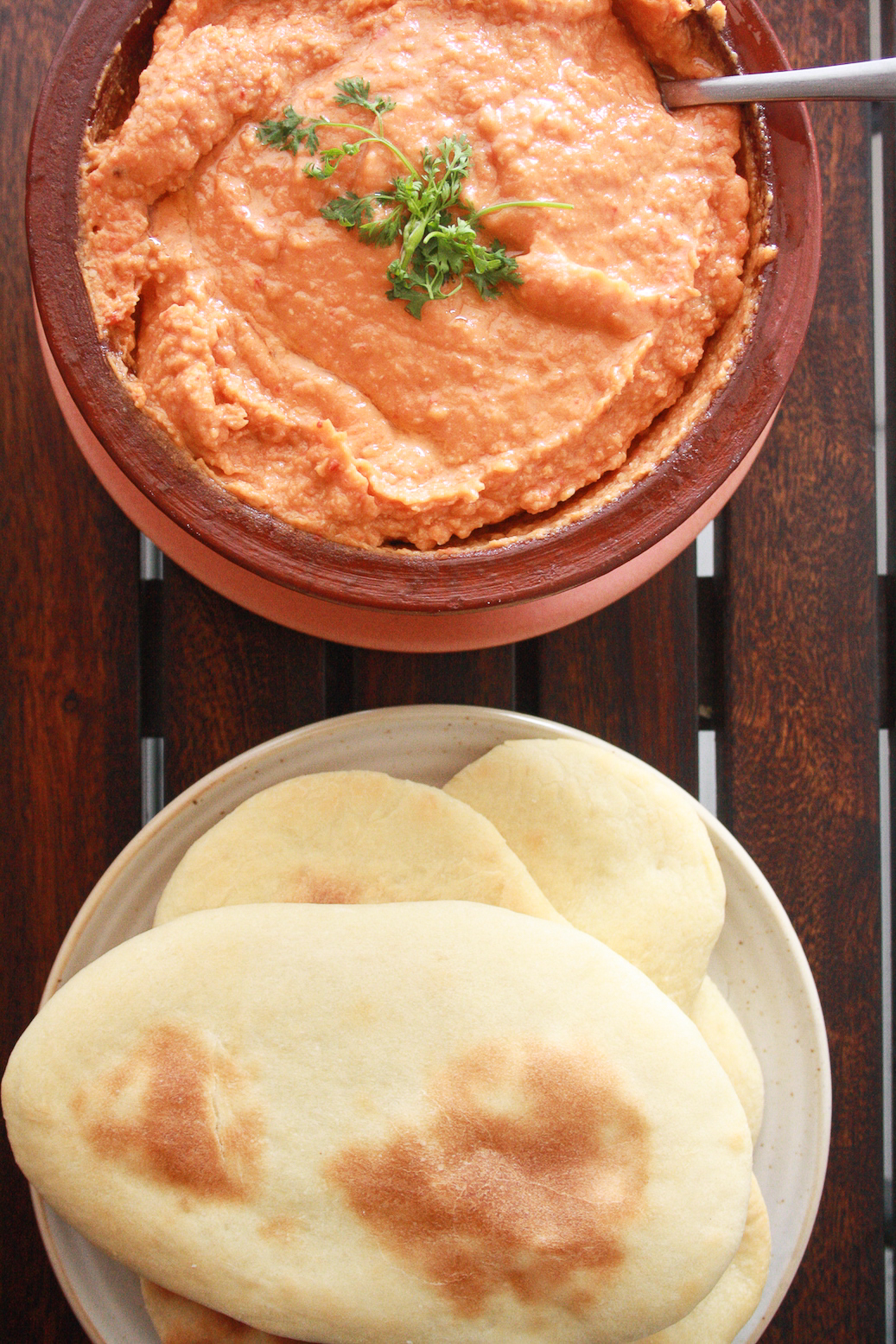 The pita recipe is from Molly on the Range
though I used all-purpose flour instead of bread flour. It's a very straightforward recipe, though the dough is sticky, possibly also because of the current weather, so I added a little extra flour and oil to help smoothen it. A stand-mixer helps, because there is about 10 minutes kneading required at least, and I would assume by hand this could take 15 to 20 minutes, but it's doable.
These pitas honestly beat any store-bought ones hands-down. They're full of flavour for such few ingredients, super tender and just so good.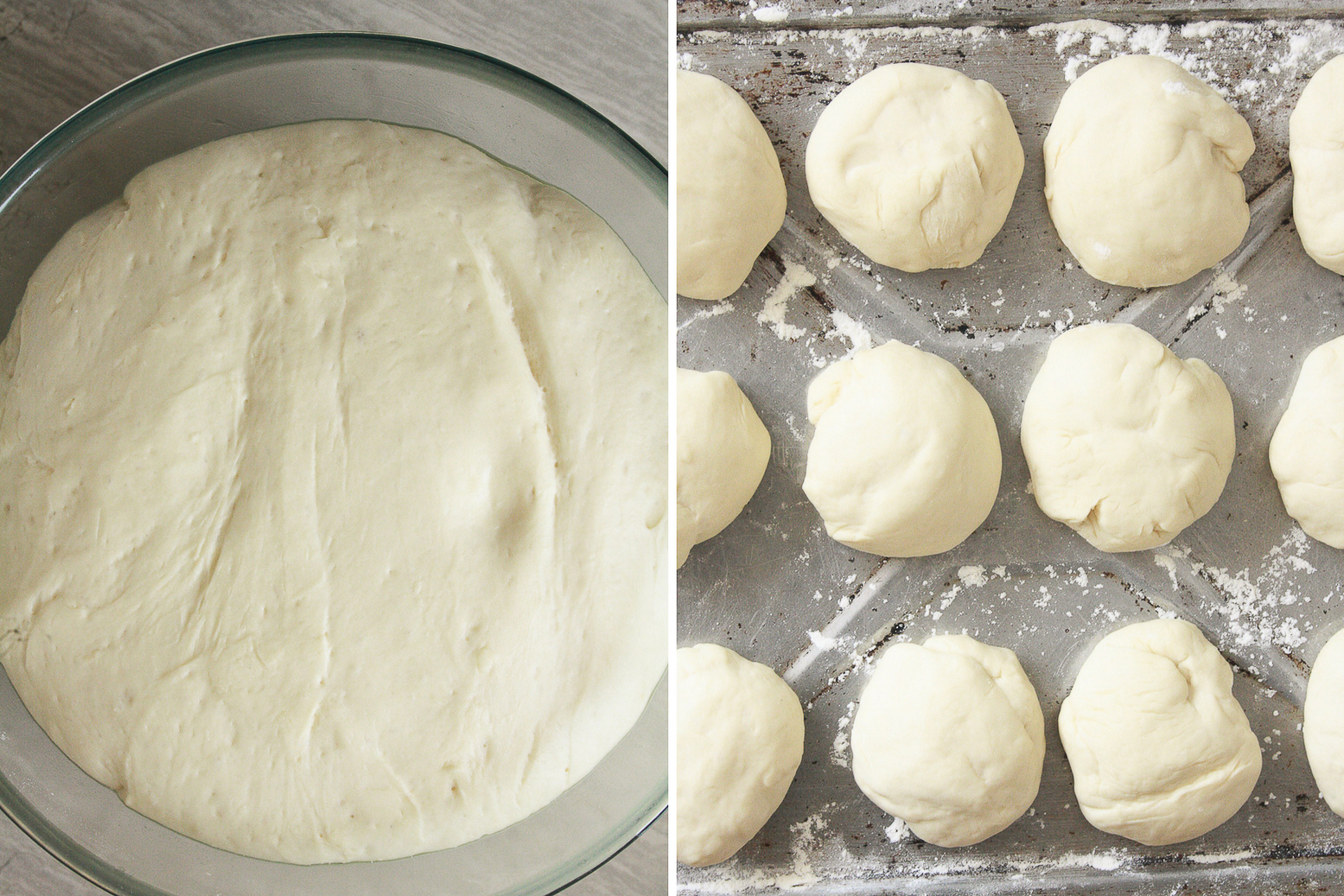 The hummus is based on my earlier version, though this time I didn't add tahini, and honestly didn't notice the difference. The only reason I didn't is because I was shooting in the other room and ended up burning the sesame seeds while roasting them! By all means, add tahini if you like it 🙂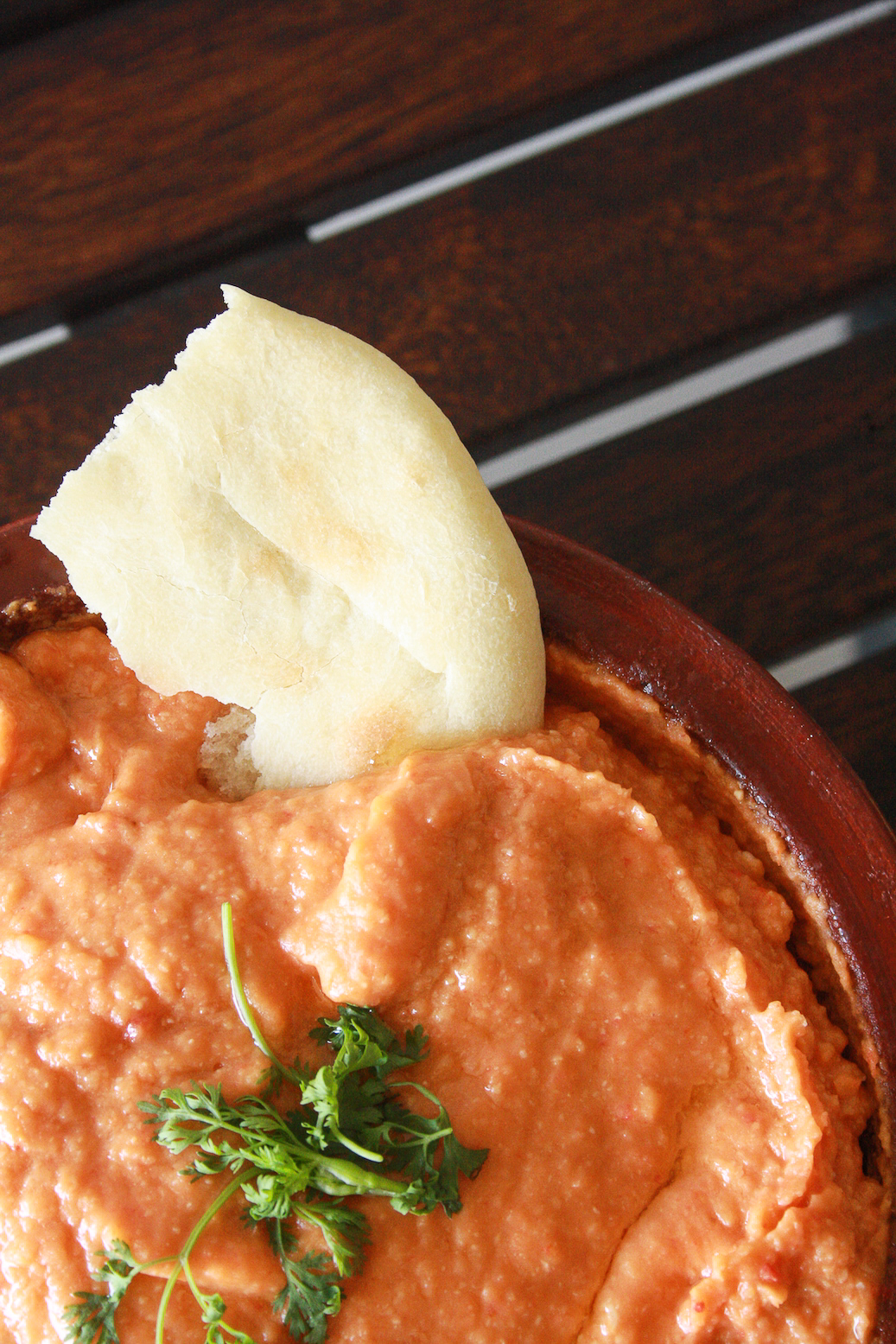 Can we now take a moment to admire these charred, beautiful peppers? Soooooo much flavour!!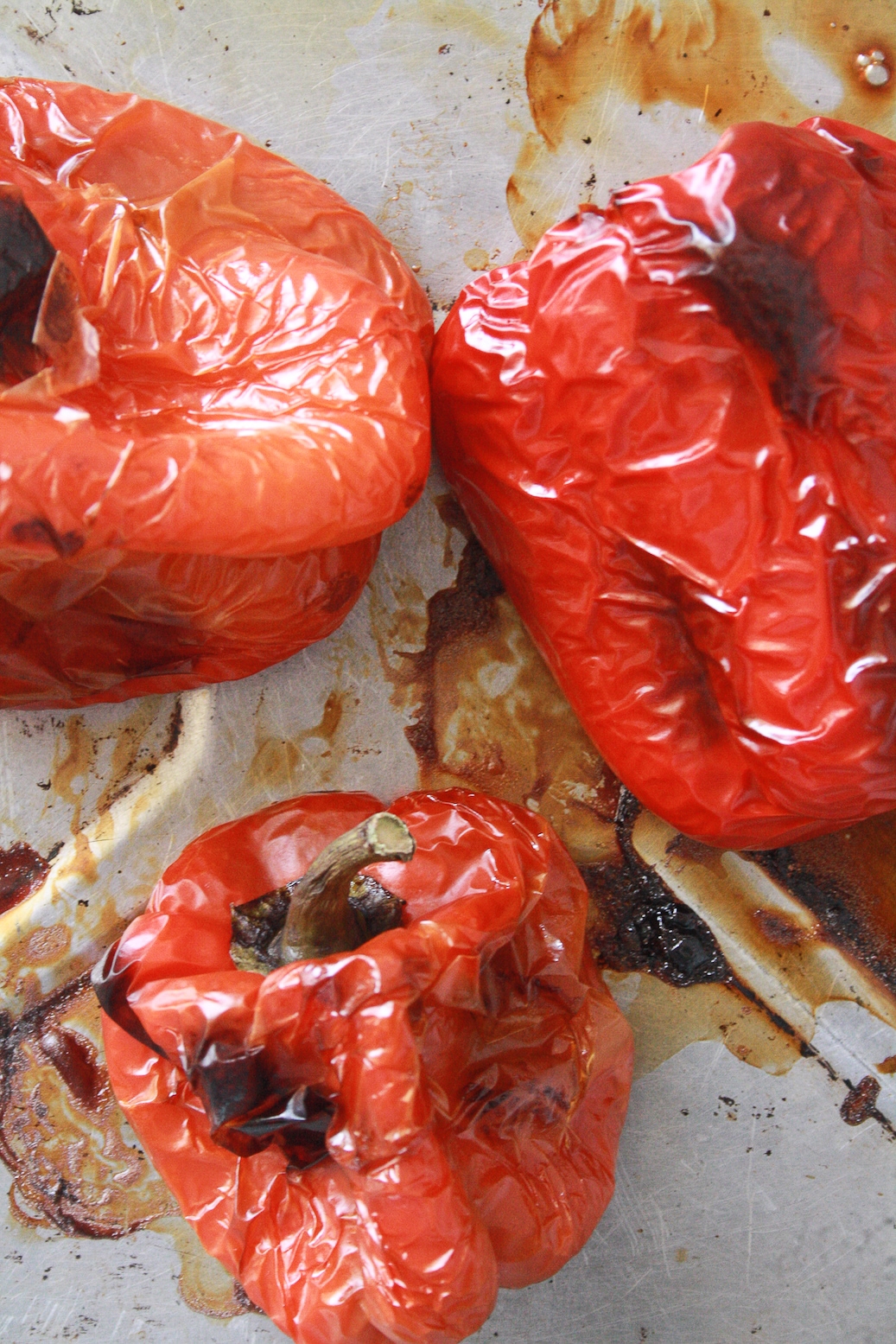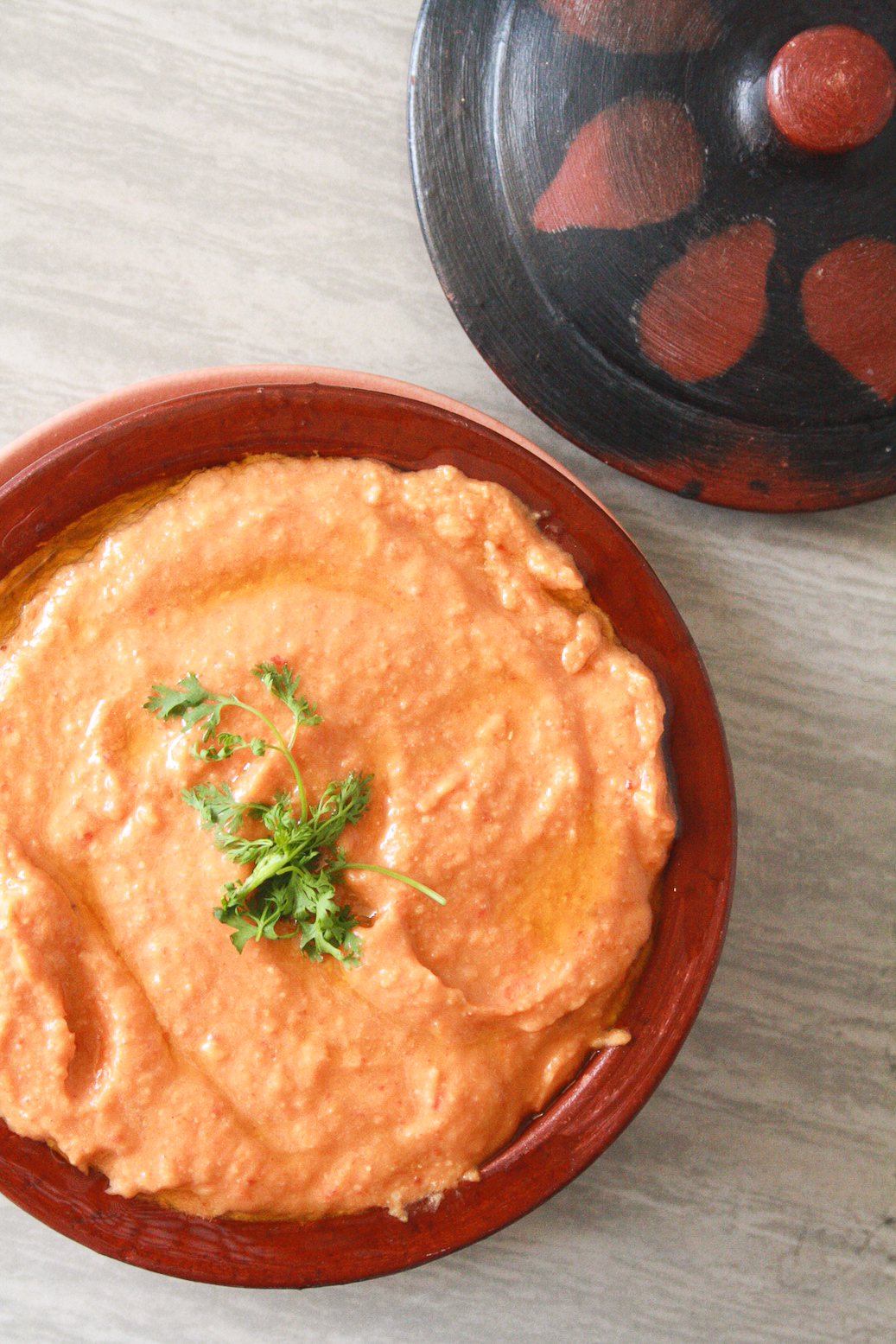 This is not a super quick meal to make, about 4 hours from start to finish, and there is also some pre-soaking and boiling and stuff required, so plan ahead. The pitas can easily be refrigerated or frozen, though we finished the whole batch in a day and a half so I have no idea how long they last! Seriously, eat them with everything.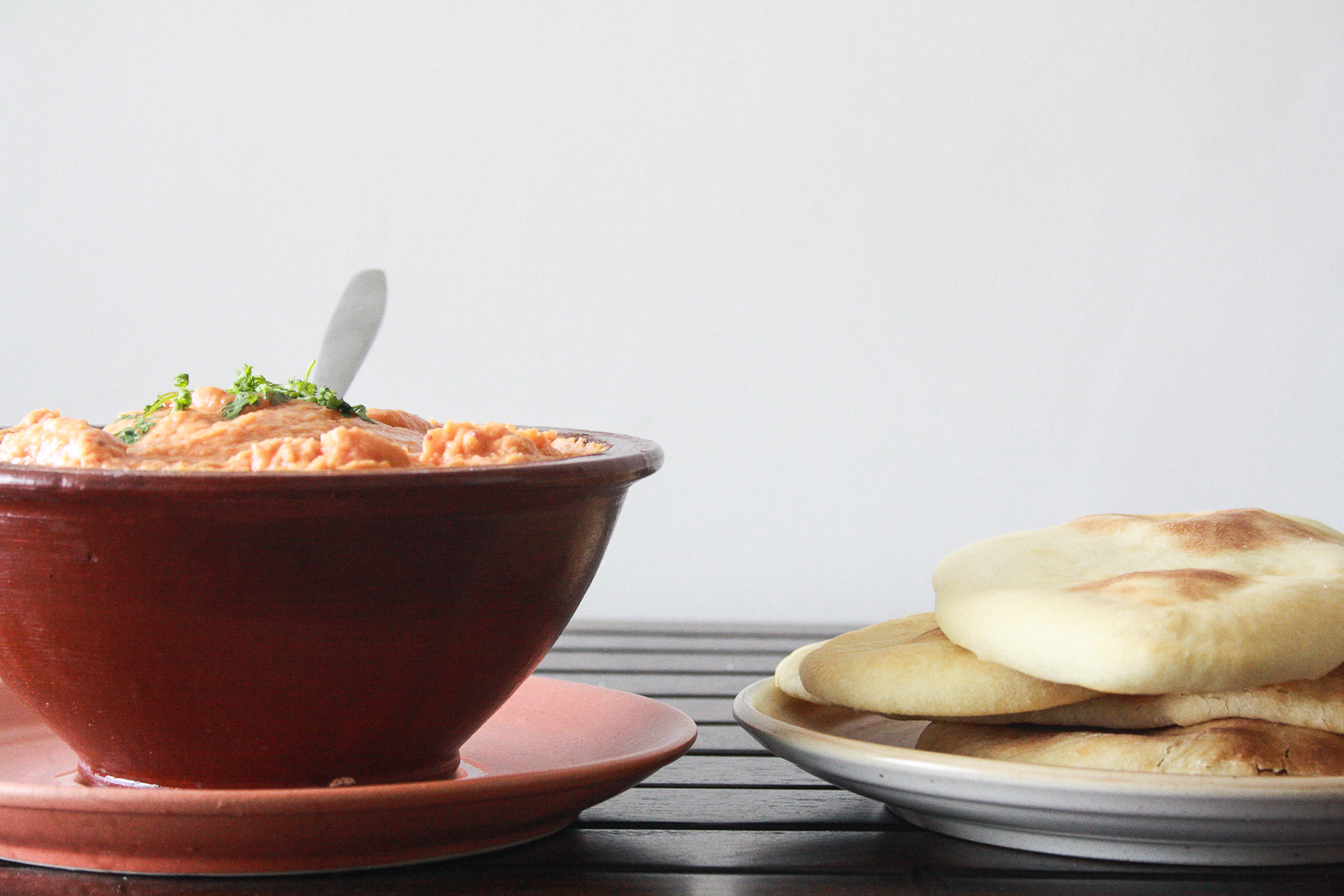 Let's cook!
I know this recipe looks crazy long, but most of the steps can happen simultaneously, so fear not! Please read the recipe notes before beginning 🙂

Roasted Red Pepper Hummus with Homemade Pita
Classic hummus taken up a notch with juicy roasted peppers, served with soft and fluffy homemade pita!
Author:
The Desserted Girl
Makes:
2 cups hummus and 12 pitas
Ingredients
For the hummus
3 red bell peppers
⅔ cups raw chickpeas, soaked overnight
¼ to ½ cup tahini*
2 tbsps lemon juice, to taste
4 cloves garlic, minced
1 tsp salt, to taste
¼ cup chickpea soaking liquid, or plain water

For the pita bread
1 and ½ cups water
2 and ¼ tsps yeast
1 and ½ tbsps caster sugar
1 and ½ tsps salt
3 tbsps olive oil, plus more if needed
3 and ¾ cups all-purpose flour, plus more if needed*
Instructions
Make the pita dough: Heat the water until it is warm enough that you can comfortably dip a finger in it, but not too hot. Stir in the yeast and sugar, cover and set aside for 10 minutes or until nice and foamy.

If using a stand mixer, fit it with the dough hook, then pour in the yeast mixture, oil and salt. Mix for a few seconds to combine. Add the flour all at once and mix on low to combine, then switch to medium-high speed for about 10 minutes, until smooth and slightly sticky. If the dough is still sticking to the bowl a lot (in a hot kitchen, this may happen), sprinkle on a little more flour and oil and knead by hand until smooth. I used about ¼ cup additional flour and 1 more tsp of oil. If making the entire dough by hand, use a large mixing bowl and knead for about 15 minutes until smooth and slightly sticky.

Place the dough in a lightly oiled bowl, cover with clingfilm and set aside at room temperature until doubled, about 2 hours. Now you can get on with roasting your peppers and making the hummus.

Roast the peppers: Set your oven to the broil setting at 225 C. Place the whole red peppers on a baking tray and let them cook till fairly charred and tender. Turn them with tongs to make sure the entire pepper is getting cooked. If your oven does not have a broil setting, roast the peppers on an open flame on your gas stove. Place the hot peppers in a bowl, cover with clingfilm and set aside for 20 minutes or so, till the peel is easy to remove. Peel and chop the peppers, removing the seeds and stems. Set aside.

Make the hummus: Drain the soaked chickpeas, keeping the liquid aside. In a pressure cooker*, boil the chickpeas on high with enough water to cover them completely, for two to three whistles or till they are soft. Blitz the chickpeas in a food processor till you have a crumbly mixture. Add the tahini, if using, lemon juice, garlic and salt and blitz again. Now add the pieces of roasted peppers, plus any juices they released. Blitz till pureed and with the food processor running, add up to ¼ cup of the chickpea liquid or water, as needed, till smooth and creamy. Adjust seasoning as needed.

Tip the hummus into a bowl, drizzle generously with olive oil and refrigerate for 30 minutes for the flavours to settle. This step is optional but I prefer chilling the hummus a little, especially in this heat.

Now get back to the doubled and puffy pita dough. Punch it down to release the air, then turn the dough out onto a lightly floured surface, pat into a roughly ¾ inch disc and divide into 12 equal wedges using a pizza cutter. Form each piece into a round and place about 2 inches apart on a baking tray. Use two trays if needed, but make sure the dough balls have space to rise. Cover with clingfilm and set aside for another 30 minutes.

Preheat your oven to 250 C*. I found that after the first batch, the pitas began to brown too fast, so adjusting temperatures between 230 C to 250 C is a good idea. I managed to bake 3 pitas at a time, so the last couple of batches sat out much longer, but it didn't dramatically affect flavour or texture.

By now the dough balls would be nice and puffy. Roll each one out about ¼ inch thick, round or oblong in shape, it doesn't matter much. There shouldn't be any stickiness, but lightly flour your rolling pin and fingertips in case there is. Place as many as can fit at a time on your baking tray, making sure they aren't sticking to each other.

Bake the pitas for 8 to 10 minutes, until puffy and browned. You could also under-bake them to just 5 minutes, and then toast them at a later stage. Either way, serve warm with that amazing hummus!
Notes
*Like I said in the post, I made this hummus without tahini out of compulsion, but I also don't like too much tahini even on an ordinary day. So add between ¼ to ½ cup, depending on how you like it 🙂

*You could also substitute up to 1 and ¾ cups all-purpose flour in the pita dough with wholewheat flour, but I haven't tried it. Do report back if you do!

*If you do not have a pressure cooker, the chickpeas can also be cooked in a covered pot for about 2 hours until completely soft. I've tried making hummus with peeled and unpeeled chickpeas and honestly didn't notice much of a difference in texture.

* The original recipe recommends baking the pitas at 260 C but my oven stops at 250 C. If your oven doesn't go that high, then between 200 C to 230 C is ok too, but the pitas will cook slower.

*Prep-time does not include dough rising time.
This post contains affiliate links.