Ironically for someone who has a blog primarily about desserts, I avoid excessively sugary frostings, cloyingly sweet cookies, anything doused in a ton of powdered sugar. Apparently as the new year approaches, all of that goes out the window because ohmygodthesecookiesarefabulous.
I mean, toasted hazelnuts mixed into a buttery cookie dough that is then rolled into gigantic rounds and further rolled in a lot of sugar? I was quite certain I'd make these 'snowball' cookies just because they look adorable, but seriously, I had to hold back from finishing the entire batch. Sweet-salty-nutty all at once. And SO MUCH fun to make (did you see my Instagram stories?) !! They're everything that December should be.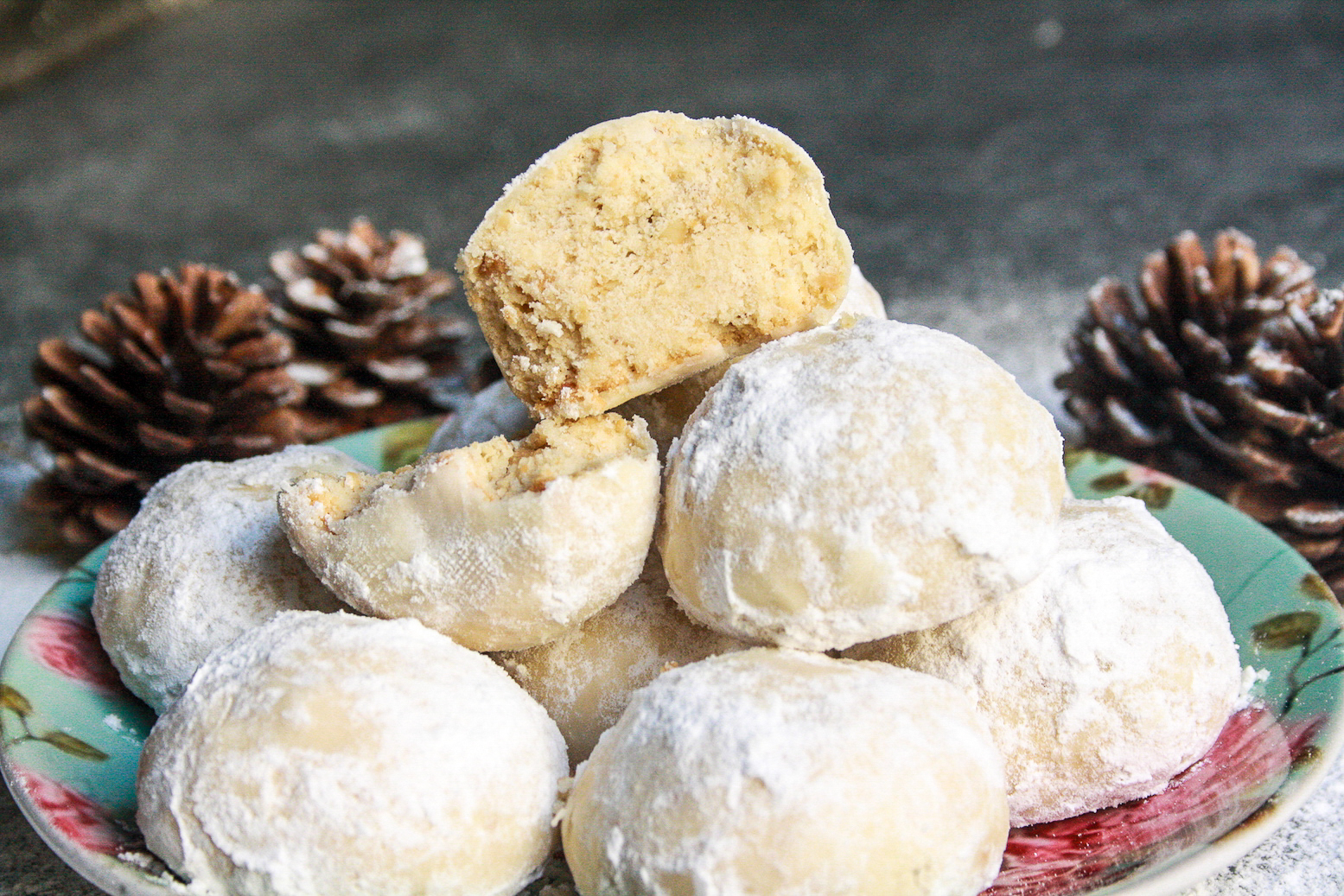 Snowball cookies have been around for a while but since I was always terrified of diving into a tub of powdered sugar, I never tried them. But Sally's Baking Addiction made a pecan version of them, and I couldn't get them out of mind. Because it was the first time snowballs of the edible kind were making my acquaintance, I halved the recipe for a smaller batch, then reduced the sugar in the dough even further so that the snowy coating on top wouldn't become overkill and the rest is a winter wonderland.
The dough comes together so quickly, you'll think you did something wrong. And because I decided to use hazelnuts, these are basically Ferrero Rocher in cookie form. You're welcome. I also ended up with mostly finely ground nuts because my blender is extra enthusiastic, but the thing is, I actually preferred this. The hazelnut flavour, rather than being restricted to chunks of the nut, actually gets dispersed through the dough, which means you have one seriously flavourful snowball to fight with.
I made giant cookies and got 10 out of this batch, I suspect you could make about 15 if you roll the dough into smaller balls. I also found it easier to roll the dough and then chill it, as opposed to the other way round. The cold dough balls just go straight into the oven, ensuring they retain their rounded tops, which is the whole reason we're venturing into the 'snowball cookie' territory anyway!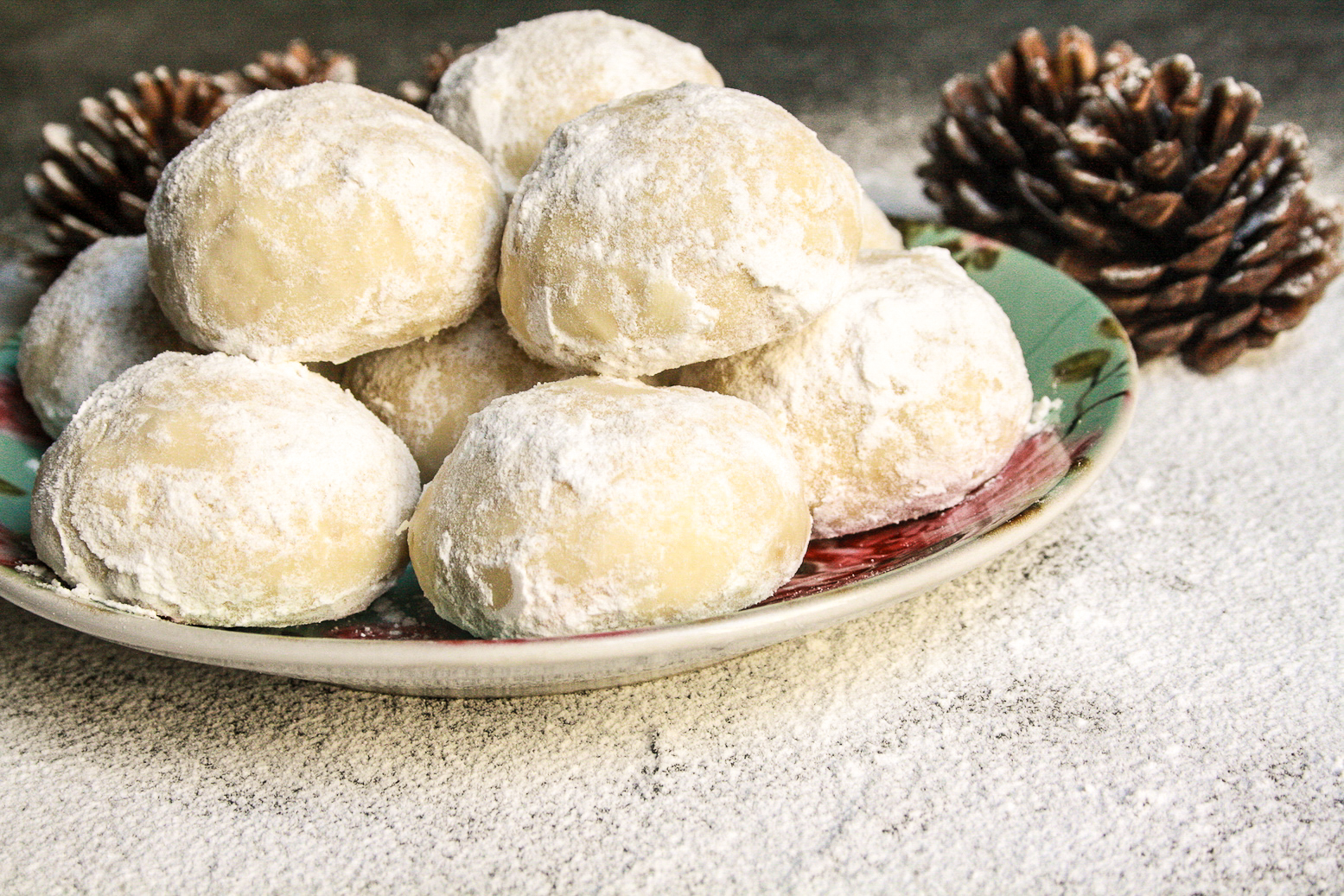 Incredibly flavourful, the cookies are not soft and chewy exactly, but crustier on the outside and crumbly on the inside. It's a completely fabulous texture because they are so buttery and the hazelnut everywhere only makes it all more fabulous. Best eaten in giant bites as powdered sugar gets all over your face and on the floor. Happy festivities!

Hazelnut Snowball Cookies
Buttery hazelnut cookies rolled in sugar will be the cutest thing on your festive table!
Author:
The Desserted Girl
Ingredients
½ cup butter (115 gms)
⅓ cup powdered sugar
1 tsp vanilla extract
1 and ⅛ cup regular/all-purpose flour
½ cup hazelnuts
Sifted powdered sugar, for rolling (approx 2 cups)
Instructions
Preheat the oven to 200 C. Spread the hazelnuts in a single layer on an ungreased baking tray and bake for 8 to 10 mins until fragrant and golden-brown. Set aside to cool.

In a mixing bowl, beat the butter and sugar until smooth and creamy. Mix in the vanilla extract.

Add the flour and slowly mix it in.

Pulse the hazelnuts in a blender until a few larger bits remain. Mix it into the dough. I prefer doing it this way to get the maximum hazelnut flavour throughout the cookie dough. If you prefer a chunkier dough, simply chop the hazelnuts up by hand.

Roll the soft, pliable dough into 10 equal rounds, making sure they're as ball-like as possible because they will flatten a little in the oven. Transfer the dough balls to a plate and chill for 30 minutes.

When ready to bake, preheat the oven to 175 C. Place the dough balls at least an inch apart on the baking tray and bake for 15 to 20 mins until the bottoms have flattened a little bit, and the tops are lightly browned.

Set aside to cool for 5 mins. Spread the sifted, powdered sugar out onto a large, flat plate and roll the still-hot cookies in it, coating them all over. Transfer to a wire wrack to cool completely, then roll one more time and eat the whole batch!

Notes
*Prep time does not include cooling time.

*Feel free to use walnuts, almonds or pecans instead of the hazelnuts.