Losing my precious Lassie made me think many times about going back to normal and how soon would I feel okay talking about cake again.
And then I realised that Lass would have never said no to cake and I shouldn't either. (Not that I would have allowed her to eat a 9″ loaf).
This one's for you, pup 🙂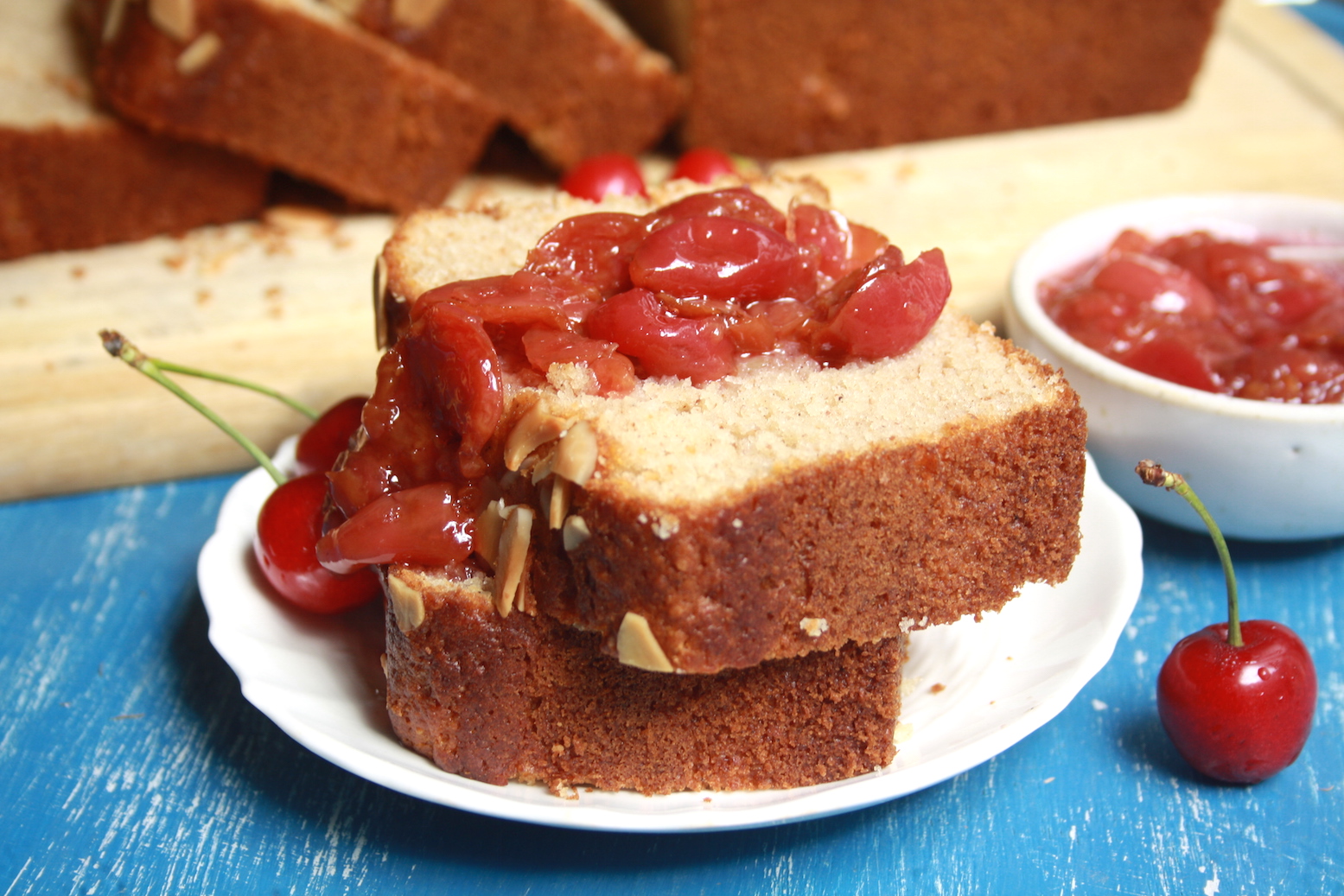 This cake has been a long time coming. Based on a Rachel Allen recipe from her book 'Cake', it uses self-raising flour that I finally picked up in London and the literal cherry on top celebrates this great season of fruit.
Made with ground almonds, yoghurt and oil, the cake is light, moist, studded with cinnamon and just barely sweet. Topped with a quick, homemade, sugary cherry compote, it makes the perfect dessert for a summer afternoon. Vanilla ice cream wouldn't be a bad idea 🙂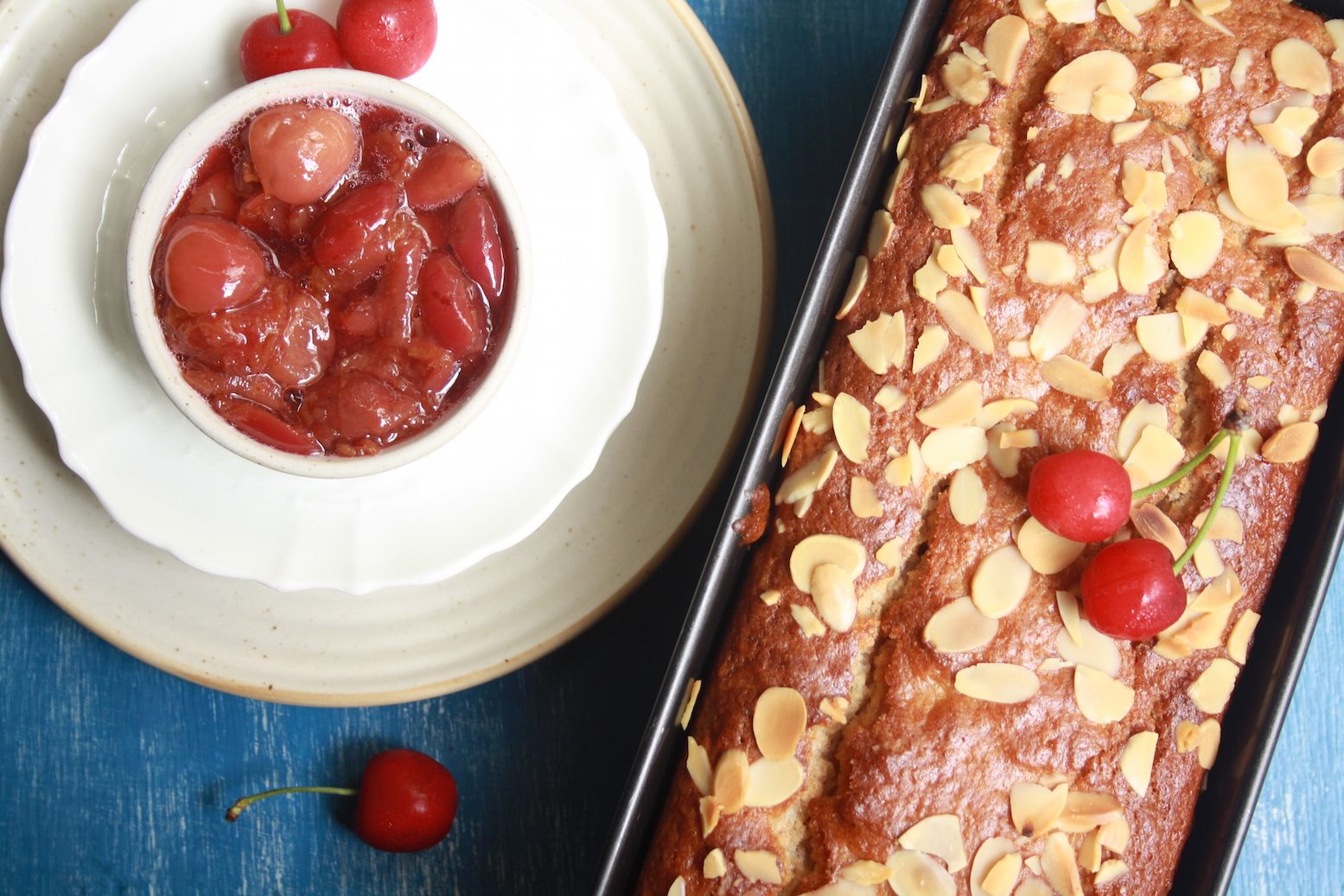 It took me a while to get down to making this because the recipe required a lot of measurement conversions and I had to figure out a substitute for self-raising flour for those who don't have it, because I've never seen it in India and I'm sure it costs half the earth, even if it is available. The recipe notes will give you the recommended substitution.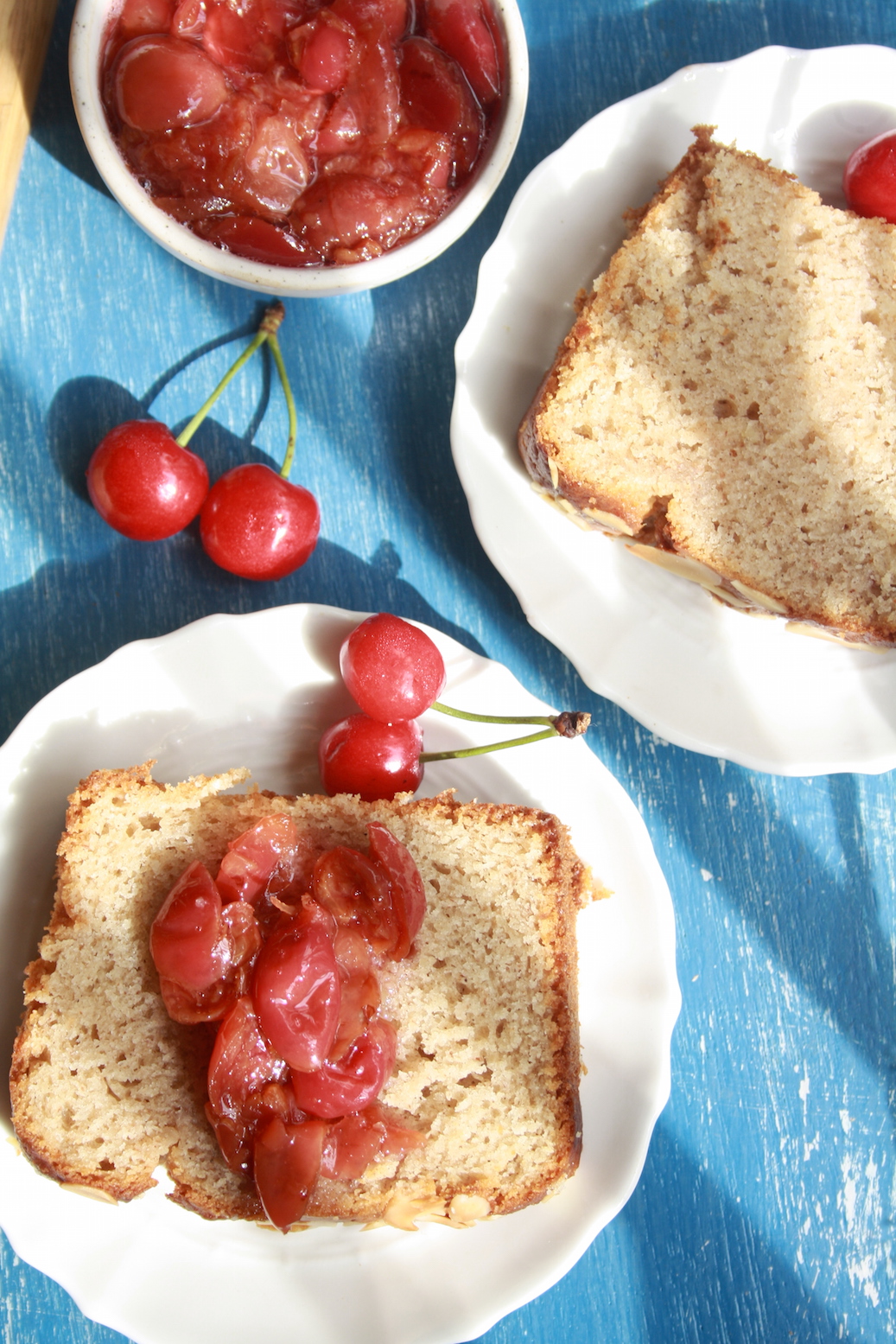 The cherry compote can be made in advance and stored in the fridge. Along with the cake, it makes for a terribly pretty arrangement on a plate. And tastes completely out of this world.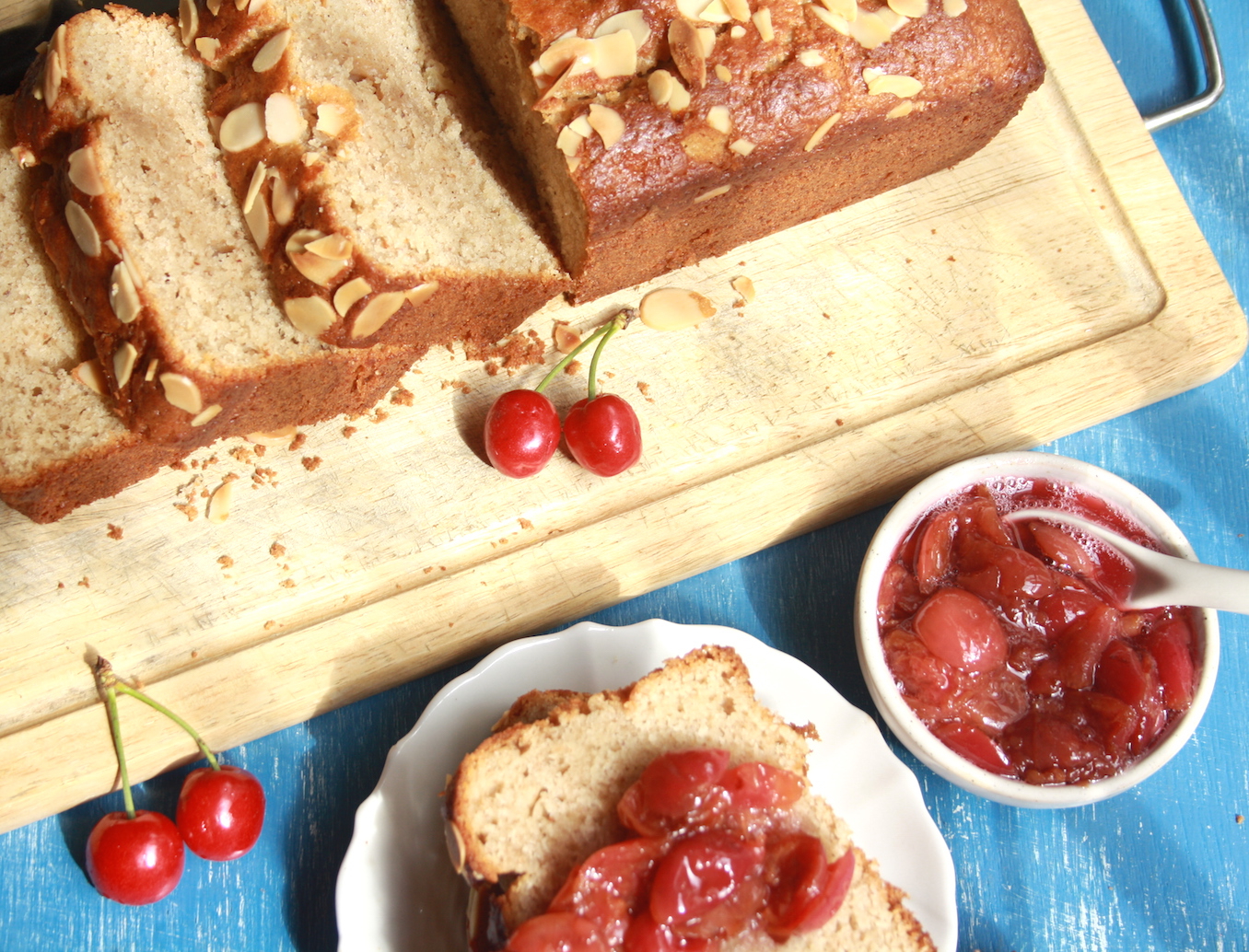 Before I get into the recipe, I want to send out big hugs and thank yous to each one of you. Your lovely messages, comments and emails about Lassie have helped me and my family heal. Thank you a million times over <3

Cinnamon Almond Cake with Cherry Compote
A classic, moist cake with almonds, yoghurt and cinnamon, topped with a sweet homemade cherry compote!
Author:
The Desserted Girl
Ingredients
For the cake
1 and ¾ cups self-raising flour (see notes for substitutions)
1 tsp baking powder
1 tsp cinnamon powder
½ cup castor sugar, lightly heaped
½ cup or 75 gms whole almonds, ground into a fine meal
2 eggs
3 tbsps honey
1 cup plain yoghurt
½ cup oil (sunflower or vegetable oil)

For the cherry compote
250 gms fresh cherries, halved and pitted
2 to 3 tsps sugar, depending on sweetness of cherries
½ tsp cornflour dissolved in a splash of water
¼ cup water
Instructions
Lightly grease a 9x5 loaf tin and set aside. Preheat the oven to 180 C.

In a large mixing bowl, sift the flour, baking powder and cinnamon. Add the sugar and ground almonds, mix and set aside.

In another bowl, lightly beat the eggs, then add honey, yoghurt, oil and mix well till combined. Pour into the dry ingredients and gently fold to combine. Pour the batter into the prepared pan.

Bake for 30 minutes or till the top is golden brown, slightly cracked and a toothpick poked into the center comes out clean.

Allow the cake to cool before turning it out of the pan and slicing.

To make the compote, combine all the ingredients in a small saucepan over low heat and bring to a boil. Mash some of the cherries as they cook to create a jammy texture. Add more water if you would like to make it thinner. After it has cooled and thickened slightly, either serve immediately with the cake, or store in the fridge in an airtight container.
Notes
Some basic Googling showed me that all it takes to make self-raising flour is adding 1 and ½ tsps of baking powder for every 1 cup of regular or all-purpose flour.

Therefore, for this recipe which needs 1 and ¾ cups of self-raising flour, you should do just fine with using the same amount of regular or all-purpose flour and sifting it with an additional 2 and ½ tsps of baking powder. This is over and above the 1 tsp baking powder the recipe already includes.

I haven't tried this substitution but I'm pretty confident it should work. Let me know how it goes!