Sometimes, the night before Christmas, we really need cake.
Sometimes we get so busy burying the tree in ornaments, we forget that there's a cake to be baked. A cake that should have been baked weeks ago. Or we don't have the will power to wait for three weeks to cut into said cake. Or we ended up having our cake, and eating it too.
Whatever your cake-deficiency reason may be, I got you covered.
It's a Christmas miracle.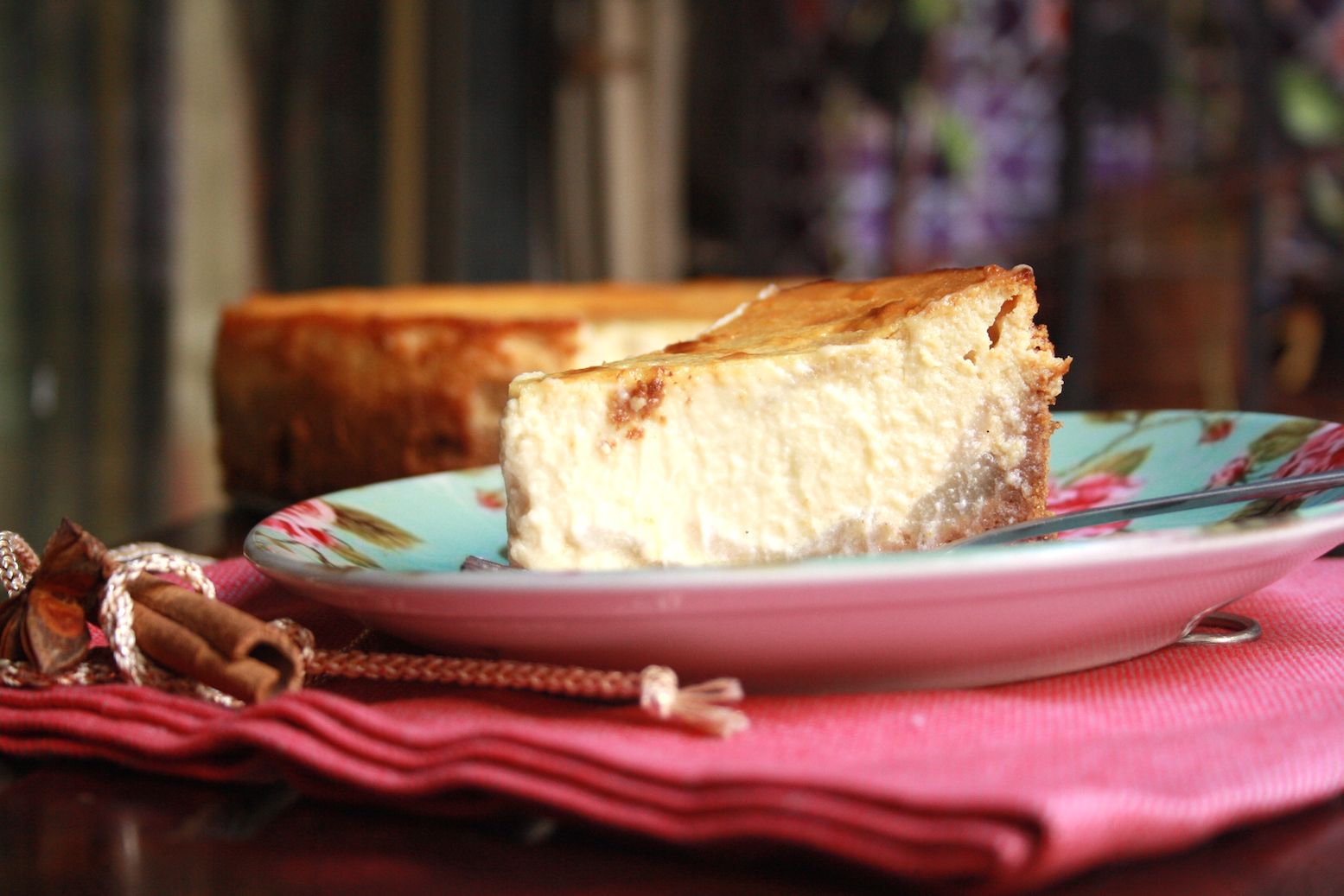 If you hustle, you could have this cake chilling in the next three hours, all ready to slice on Christmas day, in its beautiful spiced glory.
There are pears poached in mulled wine spices, a buttery biscuit base flavoured with ginger and a rich, creamy cream cheese filling. It's all kinds of festivity in one cake.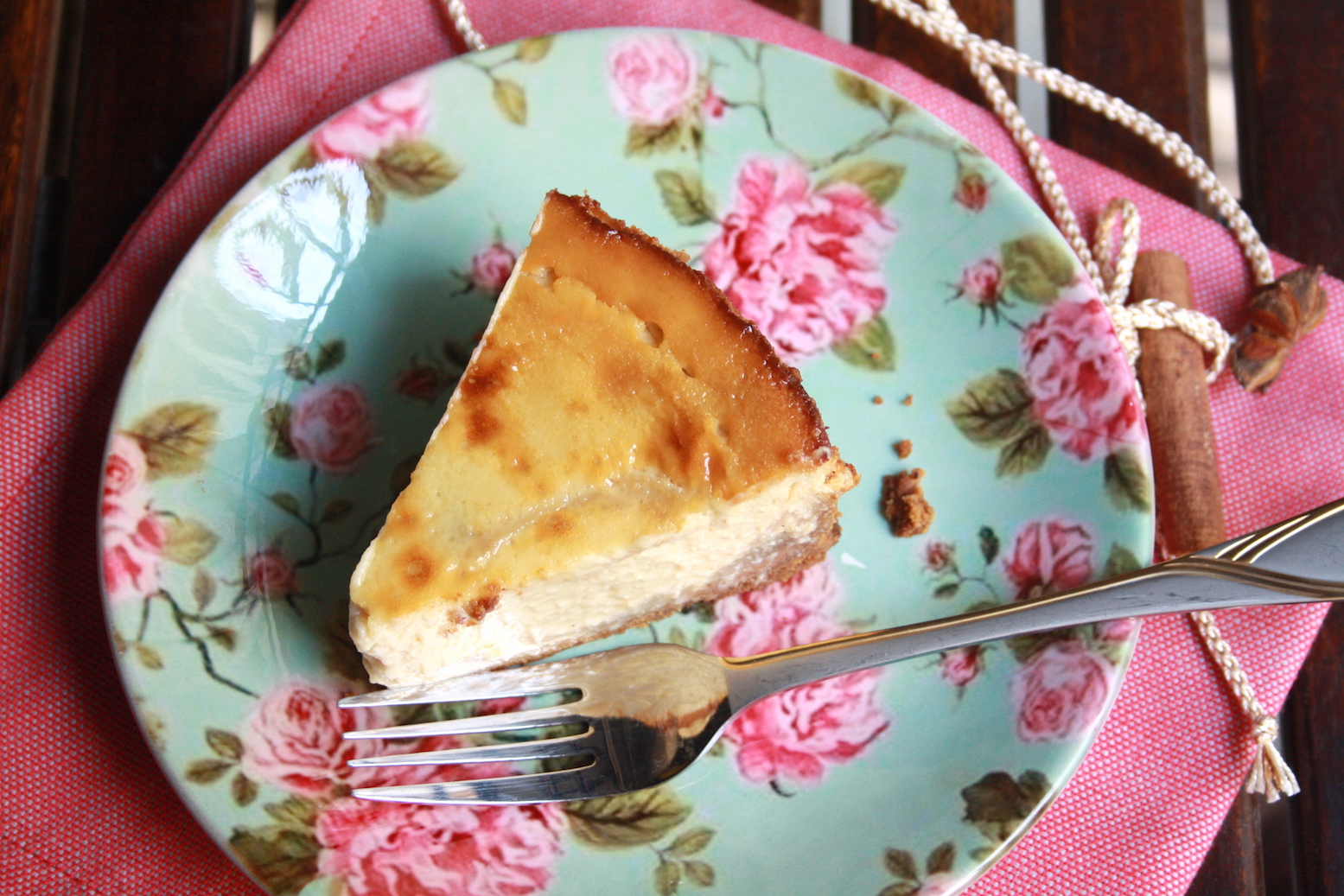 This beauty is inspired by the recipe in Rachel Allen's Cake. While she uses gingernut biscuits and more sugar than I like, the fundamental idea of a spiced cheesecake was too good to pass up.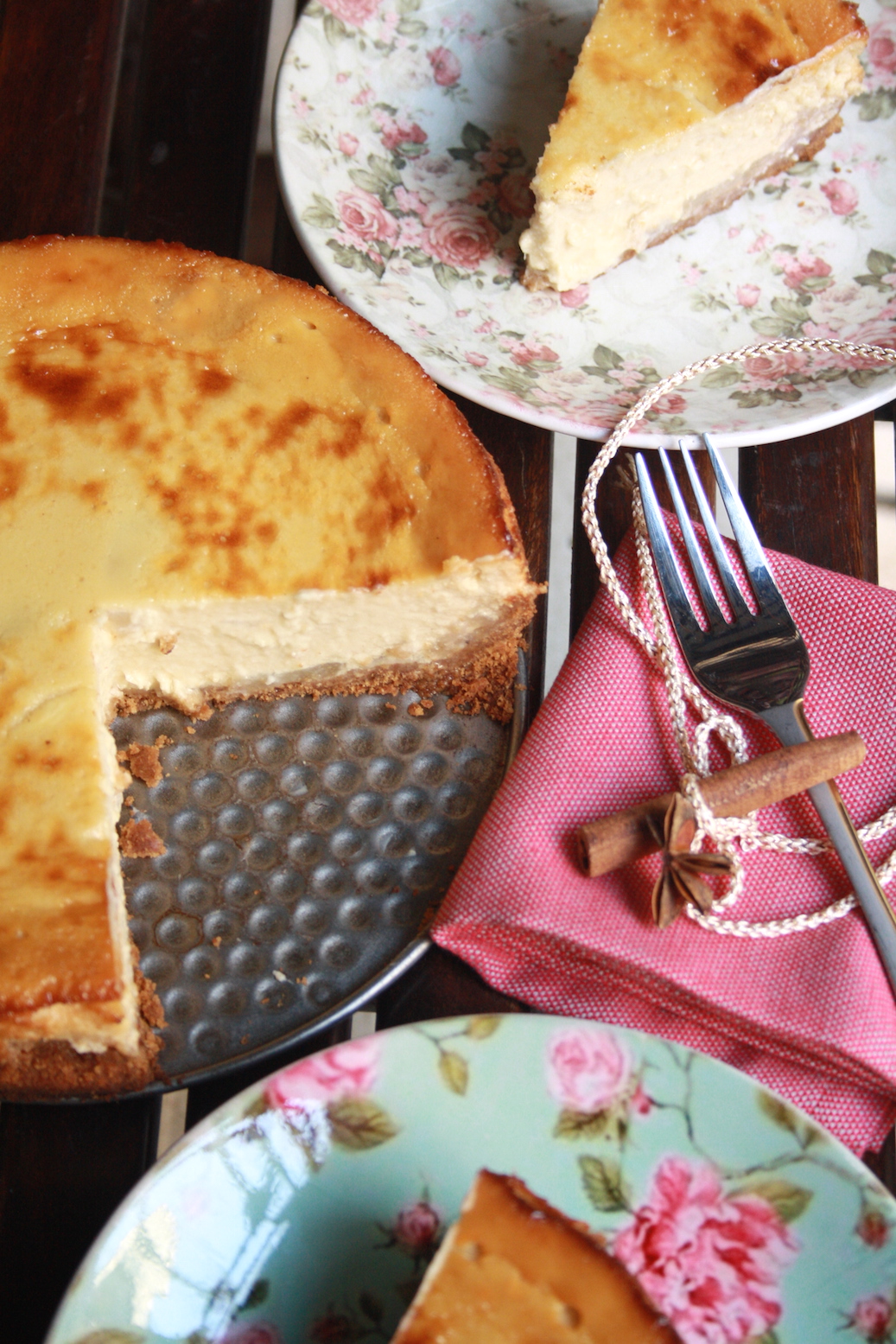 So I made a regular digestive biscuit base, with dried ginger and cinnamon. Reduced the sugar in the filling since the pears are poached in sugar syrup anyway, and found that three pears, instead of four, were more than enough to ensure plenty of bite in each slice.
The batter will be runnier than a basic cheesecake because it includes the poaching syrup and the baked cake is also softer than expected because the pears release their juices while cooking.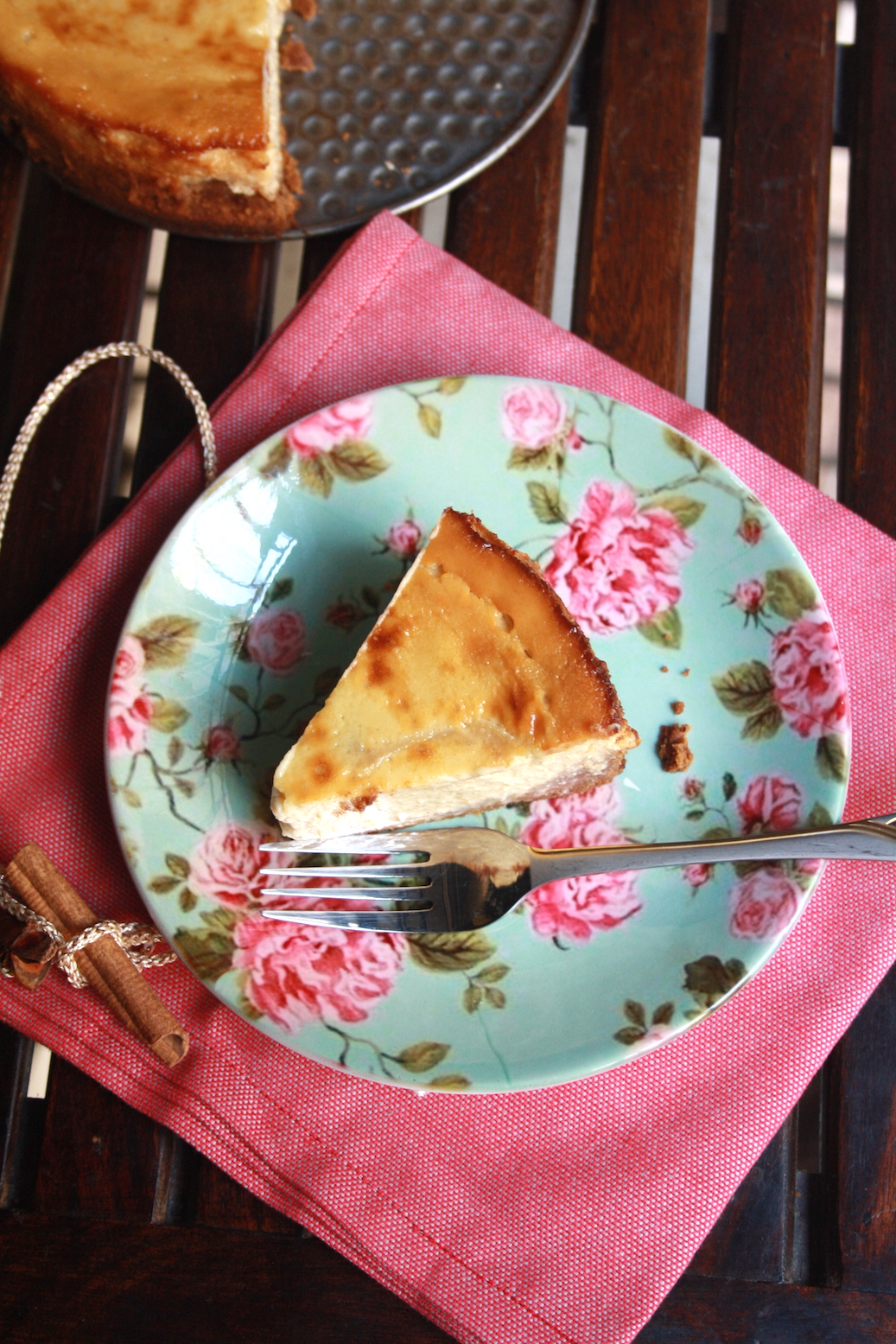 The result is phenomenal. A sort of caramel custard crossed with a cheesecake. All kinds of flavour explosions all through the cake. Spices, sweet pears, crunchy biscuit base, creamy filling.
This is not a cake to take lightly. Make it now!
What you'll need:
For the poached pears
200 ml water
40 gms caster sugar
1 cinnamon stick
3 whole cloves
1 star anise
3 ripe pears, peeled and sliced
For the biscuit base
170 gms digestive biscuits
1 tsp ginger powder
1 tsp cinnamon powder
75 gms melted butter
For the cheesecake filling
450 gms cream cheese
100 gms caster sugar
4 eggs, lightly beaten
1 tsp ginger powder
2 tsps vanilla extract
What to do:
1. Combine the sugar, spices and water in a saucepan over medium heat. Stir until the sugar has dissolved, then increase the heat and bring to a boil.
2. Reduce the heat to a simmer, then add the sliced pears and cover with a disc of baking parchment. You could also cover the pan with a lid.
4. Simmer for 10 minutes or until the pears have softened, then drain and leave to cool. Reserve the poaching syrup.
5. While the pears are cooling, place the biscuits and spices in a food processor and blitz for a few minutes or until the mixture resembles coarse breadcrumbs.
6. Add the melted butter and blitz again until the mixture is moist and starts to clump. Tip the mixture into a 9″ springform pan, spreading it out and pressing firmly with your fingers or a rubber spatula to evenly cover the bottom and halfway up the sides of the tin. Chill for 15 minutes.
7. Clean out the bowl of the food processor, add the cream cheese and blitz for a few seconds till smooth. Add the sugar, poaching syrup, vanilla and ginger and mix well. Add the beaten eggs and blitz till combined.
8. Arrange the pears in a single layer on the chilled biscuit base, then pour the cheesecake filling on top.
9. Bake for 45 minutes to 1 hour or until the top is golden-brown, edges are a little cracked, and the center has a slight wobble when you shake the pan.
10. Remove from the oven and allow to cool for 1 hour, then place in the fridge and leave to set for at least 4 hours, preferably overnight.
Have a very merry Christmas, eat lots!