What do you do when you really want to curl up with a big mug of warm apple cider but fireplaces and gloves are a ridiculous occurrence where you live?
Why, you turn it into chilled sangria, is what you do. And you fill it with fruits and honey and feel all beachy instead of wintery. And remind yourself that that's a good thing too.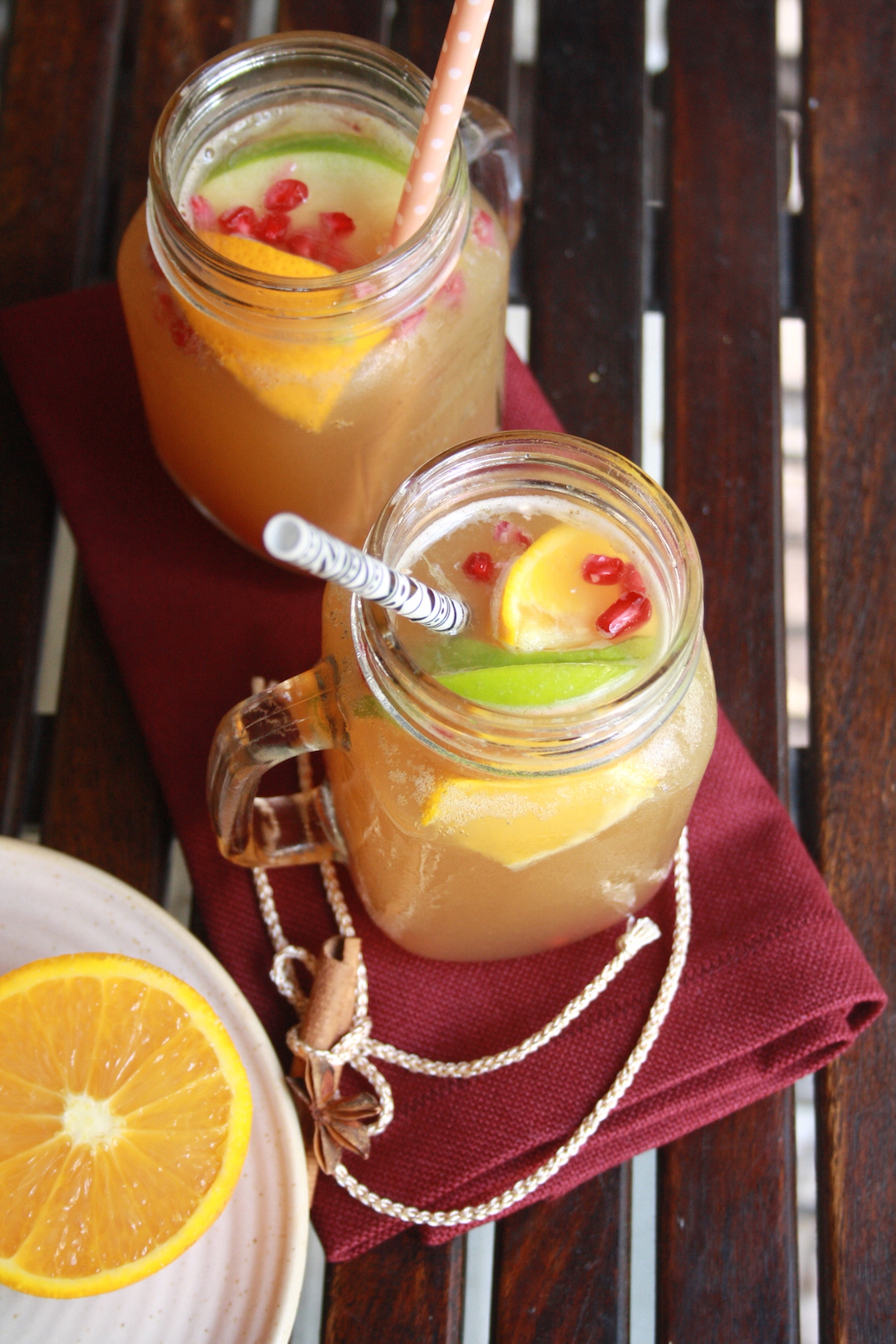 Homemade spiced apple cider mixed with freshly squeezed orange juice, sliced fruits, topped with white wine, left to soak into awesomeness and then finished off with fizzy bubbly soda. If you're celebrating Christmas in the summer, there is no drink better to toast with.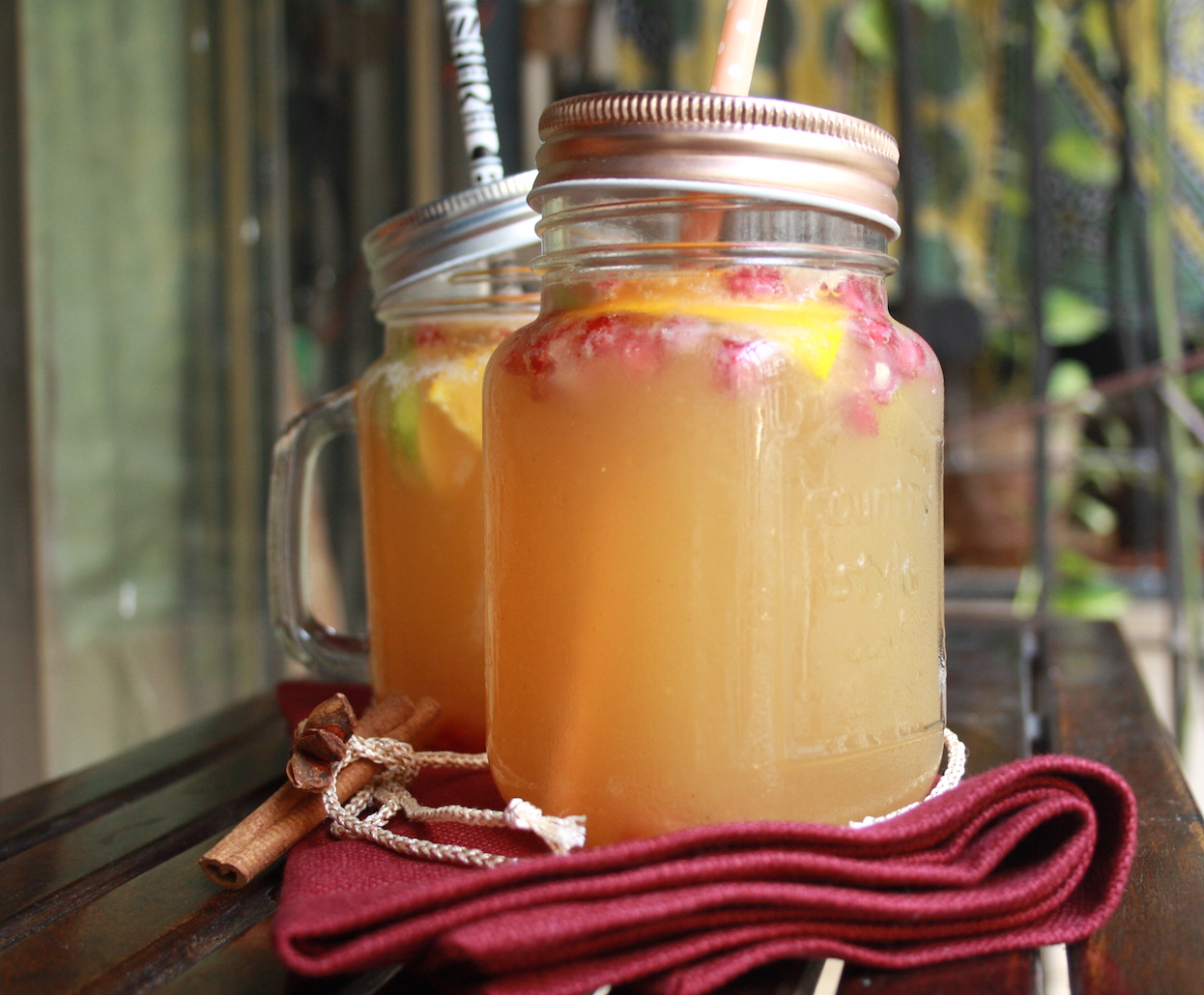 Making this sangria is easy, it just takes a while to let everything cook and then soak. The longer the fruits sit in there, the better the flavour, the more fun it is to scoop them out and eat all that wonderful wine-y, fruitiness.
Also, if you serve them in these adorable Chumbak mason jars, then everything just becomes way more festive.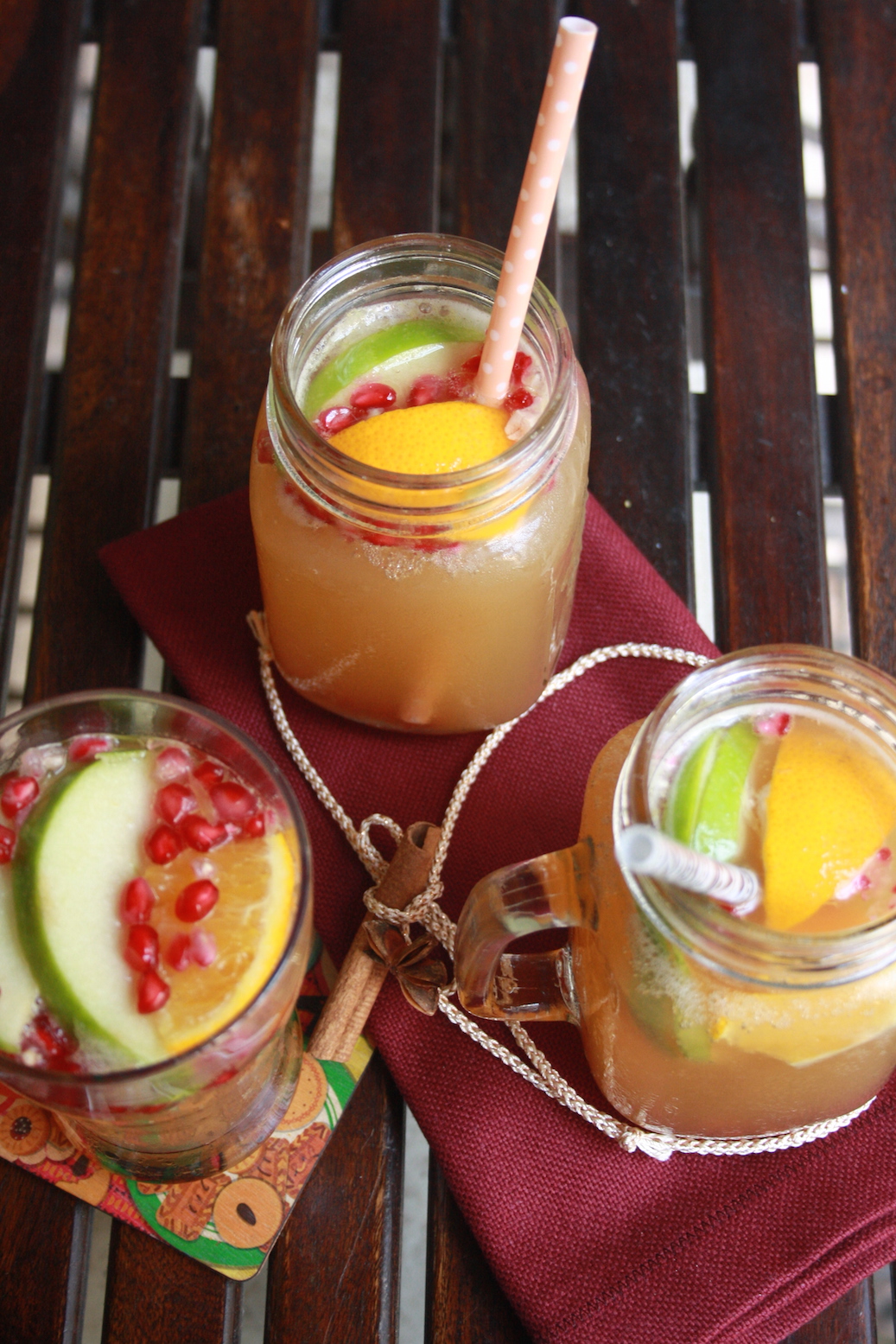 This beautiful drink is a mix of this apple cider recipe and this sangria recipe.
The apple cider, while it cooks, will make your entire house smell like Santa's house. It's wintery, and citrusy and like someone's making a giant apple pie. Even warm, it tastes fabulous, but the weather demands something cold.
Enter, white wine. I prefer my sangria without any other kinds of alcohol. This means I don't like brandy, tequila, or any other concoction where wine should be instead.
So this one is just cider, juice and wine. Honey for balance. A straw for cuteness.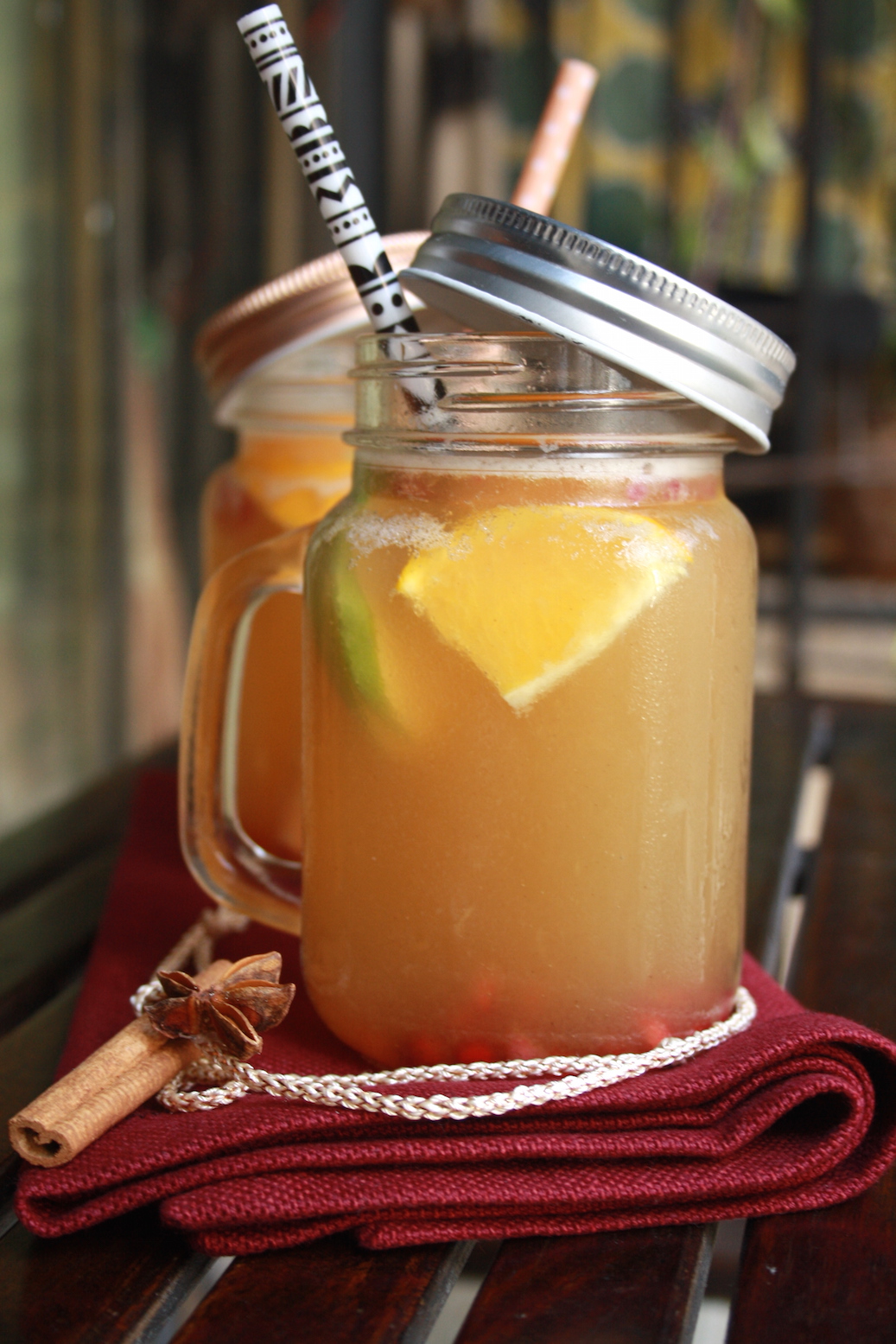 Chilled, spiced, citrusy, sweet, apple-y and fizzy with the soda. If you need a refreshing drink on a hot Sunday, look no further. It's too perfect to be true. Cheers 🙂
Makes enough for three very thirsty people.
What you'll need:
For the apple cider
4 apples, quartered (I used 3 green and 1 red apple)
1/2 orange, peeled and quartered
1 cinnamon stick
1 tbsp cinnamon powder
2 cloves
1 star anise
Honey, to taste
Water
For the sangria
Chilled apple cider
Sliced apples, as much as you like
Pomegranate seeds, as much as you like
2 cups white wine, any kind
1/2 cup fresh orange juice
Honey, to taste
Chilled soda
Quartered oranges
What to do:
1. Make the cider by combining all the ingredients in a large, sturdy pot. Cover with water and cook for 1 hour on medium heat until the fruits are soft. Mash them well till the whole thing looks suspiciously like baby food and darkens in colour. Cook for 1 more hour on low heat. Strain the cider at least three times to remove any bits of mashed fruit. Allow to cool and store in a jar overnight in the refrigerator so that the flavours really come together. You should have about 1.5 cups of cider. I strained it a fourth time before adding it to the sangria.
2. In a large pot, combine all the sangria ingredients except the soda. Cover and chill in the refrigerator for at least 3 hours to allow the fruits to soak everything in and become irresistible.
3. When ready to serve, pour the sangria into tall glasses or mason jars, dividing the sliced apples and pomegranate seeds equally. Top with the quartered oranges and soda. I prefer adding the oranges later because the sangria could become too sour if they're soaking in it.
Happy drinking!