First off, I'm going to pretend I made these all by myself for as long as I can convince you. I won't admit that I stared dumbfounded as my Mom, way quicker than she thinks, moulded these perfect little modaks, popped them into the steamer and all I did was pop them into my mouth.
I also won't tell you that my grandmother, whose cooking is the stuff dreams are made of, is the creator of this recipe, with tricks I'd never even heard of.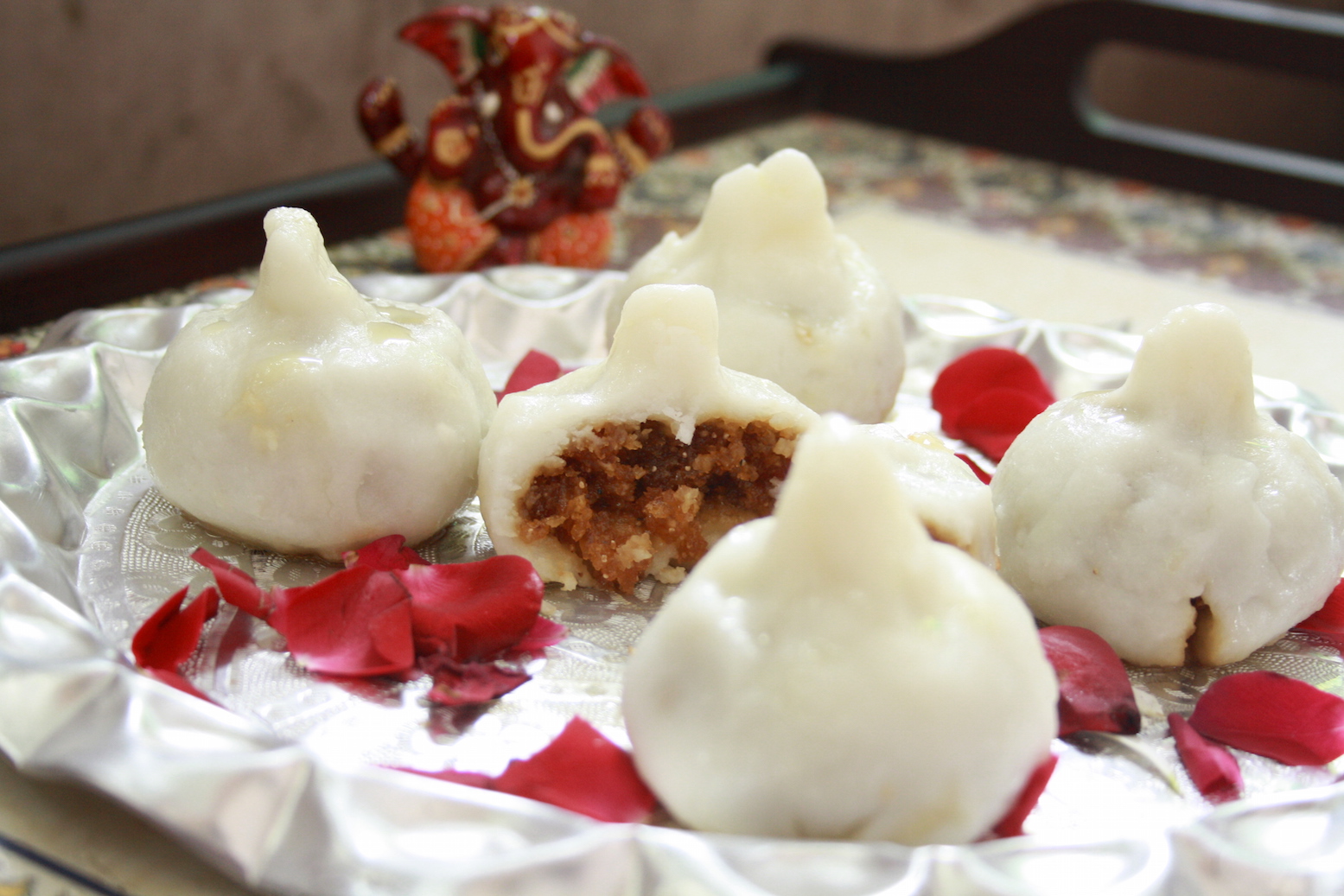 I learned two things while these modaks were made. One, that they really aren't that frightening to make at all. Two, that of all the things that could be passed down generations, I'm so glad modaks made the cut.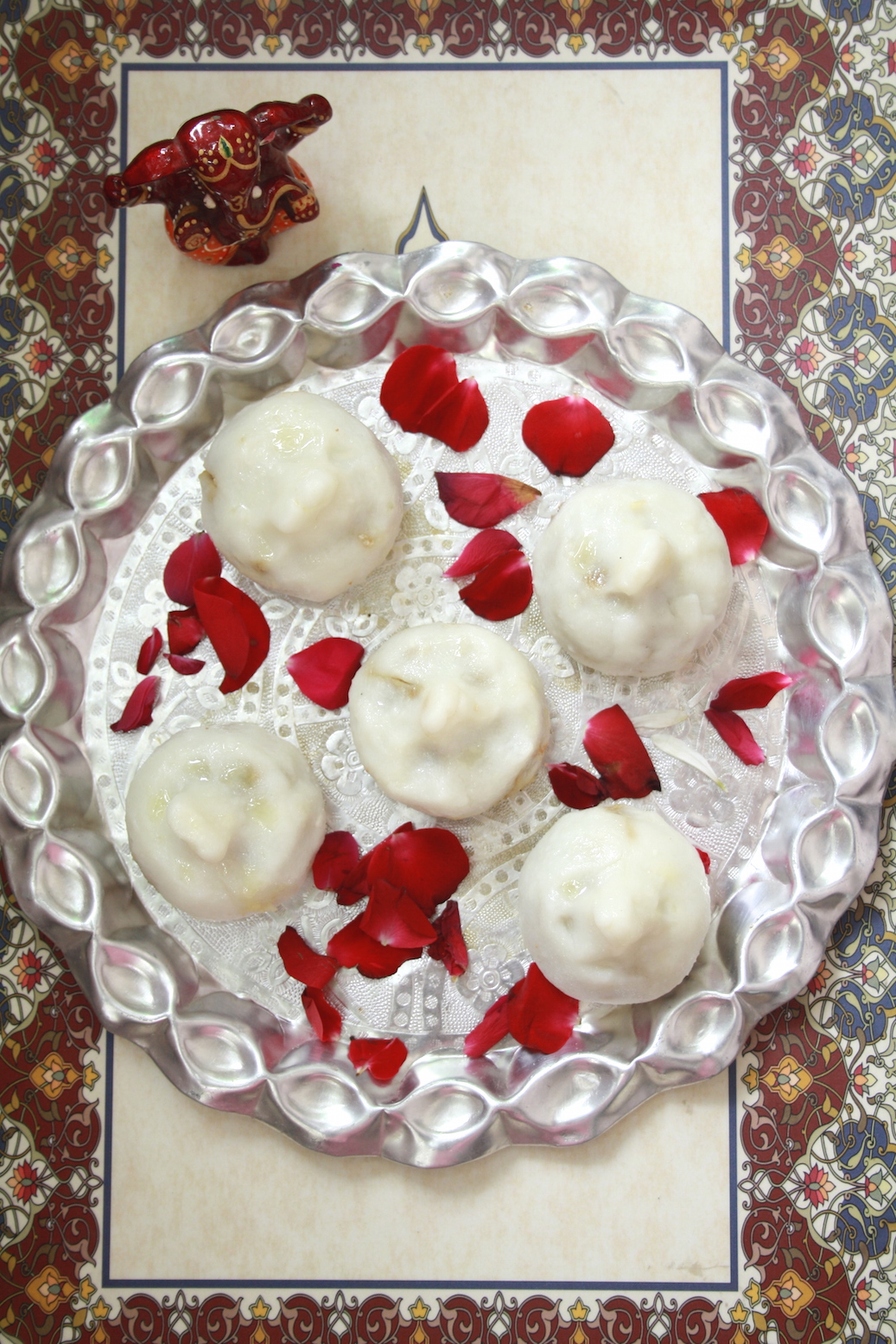 The Ganesh Chaturthi festival is an elaborate 10-day affair in many Maharashtrian homes. In mine, it's a small and calming puja on the first day, that for the last two years, has ended in diving headfirst into a plate of steaming, soft modaks drizzled with an unholy amount of ghee.
I've grown to like this version for obvious reasons 😀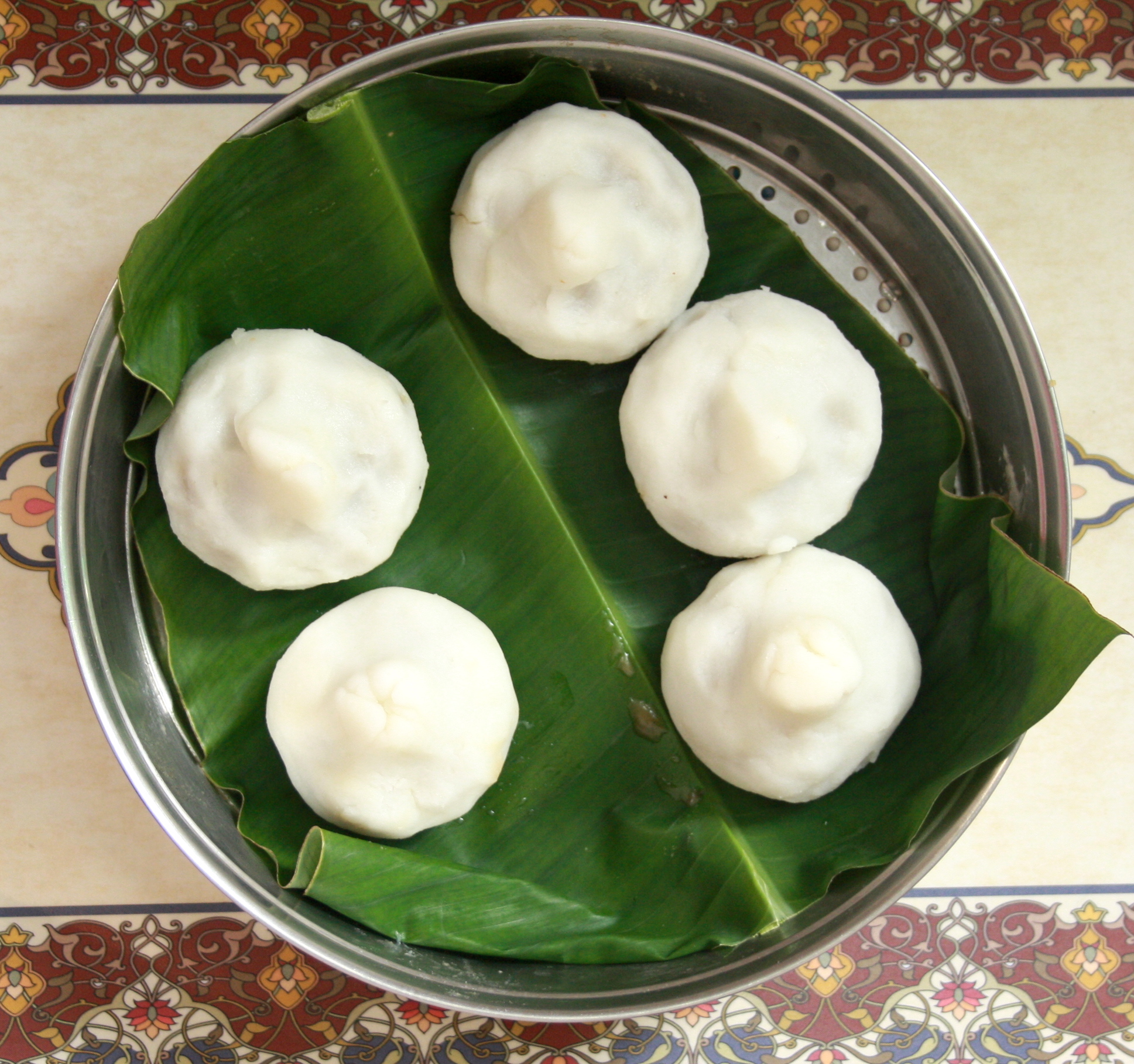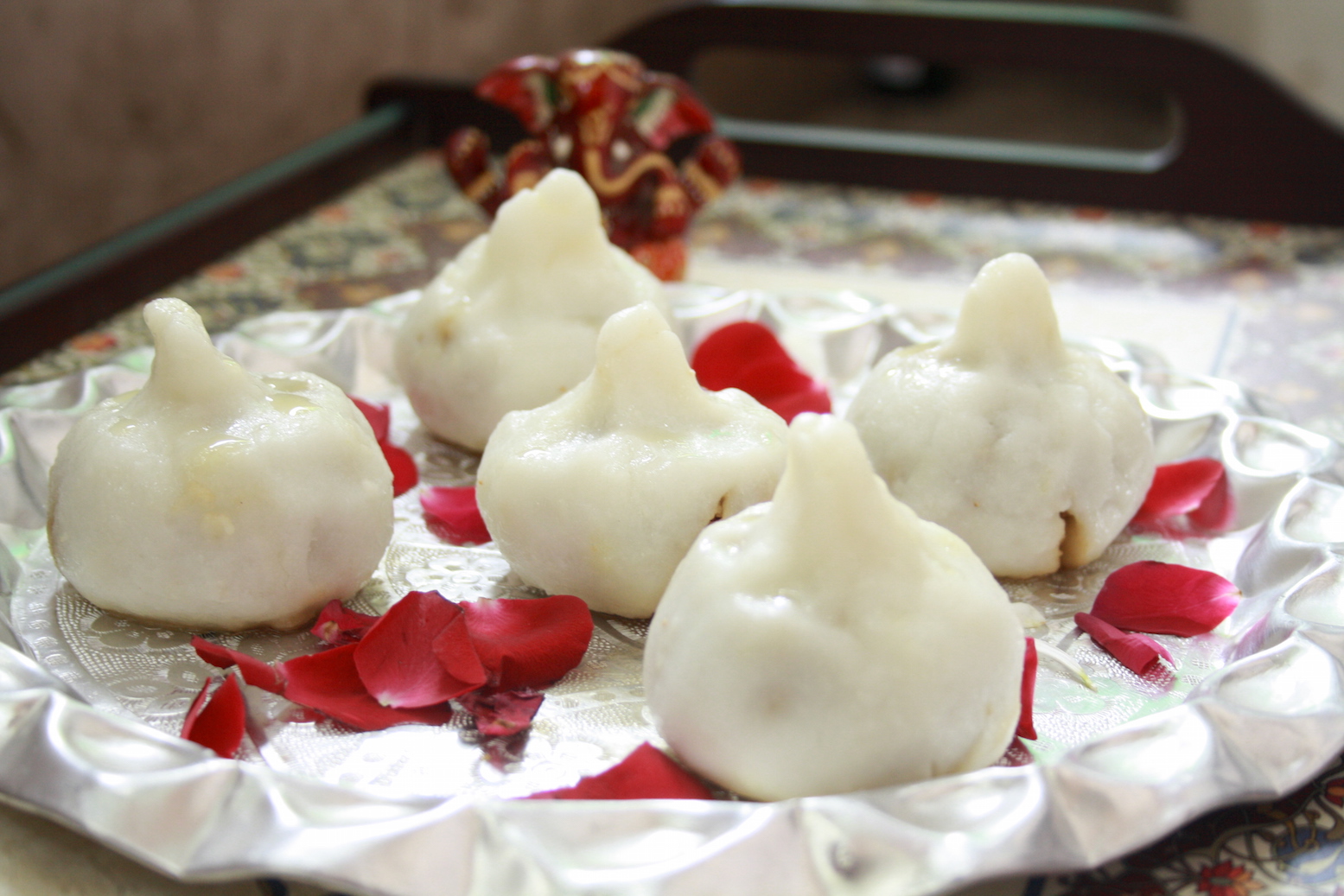 When I got down to actually trying my hand at making a few of them, I discovered that like many other seemingly intimidating things, modaks are pretty straightforward. There is a fried version and this steamed version, called ukdi che modak in Marathi. As a kid, I wasn't a fan of this second kind of modaks. Apparently very few kids are but you grow up learning to appreciate the slightly chewy shell which makes the sweet jaggery filling inside, even more of a star. Poppy seeds add a welcome crunch.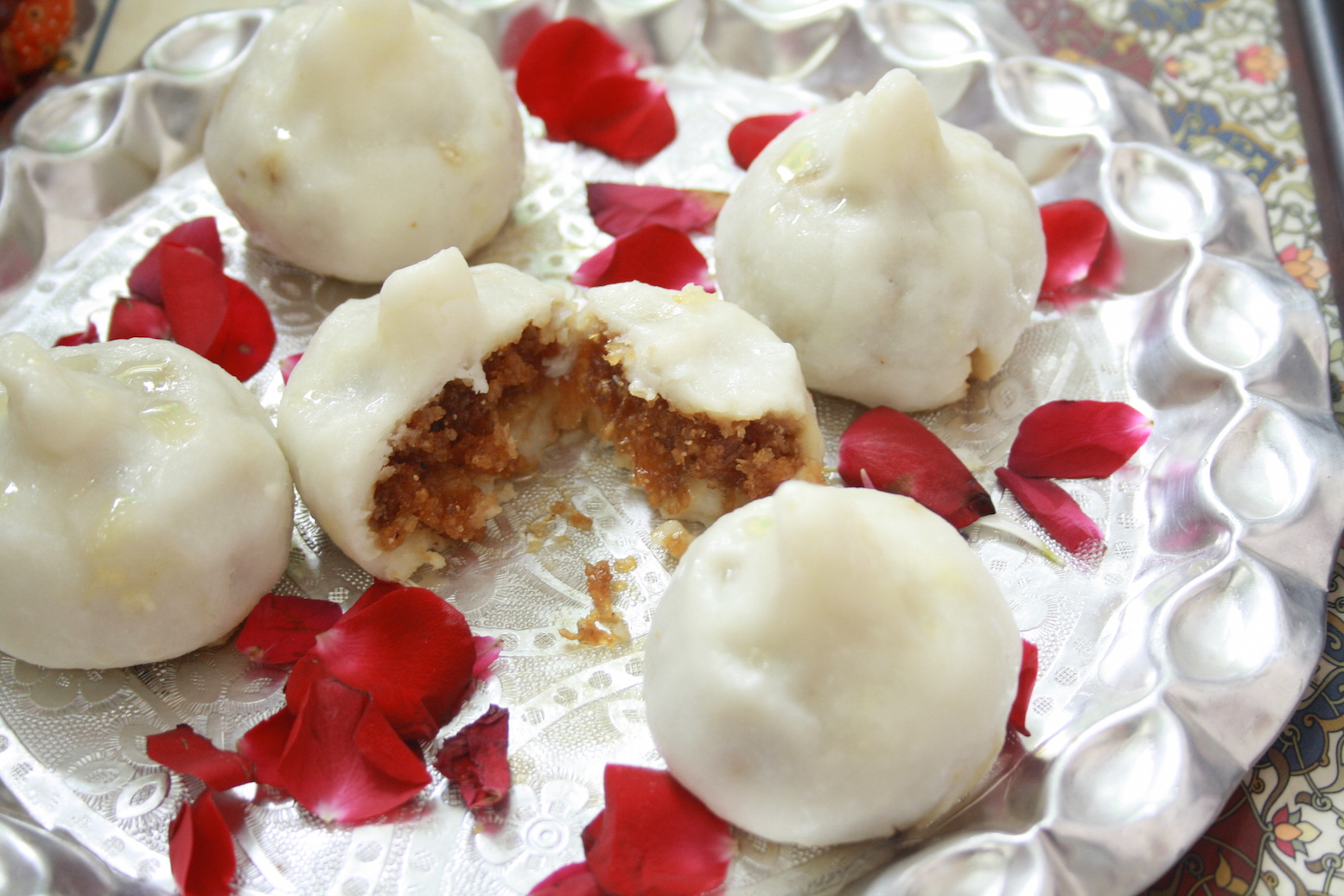 Five modaks are traditionally offered during the puja and if you're a part of my family, you secretly add to your prayers, the hope that you'll get to eat them really soon.
They are best eaten piping hot, just out of the steamer. Not drizzling copious amounts of ghee on them seems like a waste of the one day no one raises an eyebrow at you for doing so.
The proportions have been painstakingly worked out with my Mom who seems to have some sort of measuring scale wired into her brain. You might be left with a bit more dough or a bit more filling, but it happens to the best of us. I plan to make these again all by myself and I hope you will too. Apparently, practice makes perfect and you and I both will develop incredible modak instincts. Till then, here you go!
What you'll need:
1 coconut, grated and measured in cup measures
Jaggery, the same measure as the coconut (So if you wound up with 1 cup coconut, use 1 cup jaggery)
1 tbsp white poppy seeds, lightly roasted 
10 cardamom pods
1 and 1/2 cups rice flour (available in most grocery stores)
3 and 1/2 cups water
1/2 tsp salt
1 tbsp oil
What to do:
1. In a sturdy pan on low heat, combine the coconut and jaggery, stirring frequently to get a sticky, dark mixture. If the jaggery you have is stubborn, break it up into chunks before adding it to the pan. It should take about 20 minutes to get this filling ready. Crush the cardamom pods and add to the mixture along with the poppy seeds. Stir well and set aside.
2. Bring the water, salt and oil to a boil in a large, sturdy cooking pot. Add the rice flour, and working very quickly, stir fast to bring the mixture together. It will begin to clump into a thick white dough. This part is the only slightly difficult part of the modak making. Put in all the arm strength you've got!
3. Once the dough has come together (it should take just about 5 minutes), shut the pot, turn off the stove and allow it to stand.
4. When the dough has cooled enough that you can handle it, divide it into equal portions, a bit larger than a golf ball. Do the same with the filling, using about 1.5 tablespoons per dough ball. We got 17 modaks plus leftover filling enough for one modak, that I plan to eat by itself! Overfilling the modaks will cause them to split while steaming, so make sure you don't stuff them to bursting.
5. Lightly oil your hands, hold the dough ball in one hand, knead it for a few seconds to soften, and gently flatten using the fingers of your other hand. Press down on the edges more than center. Flatten to about half a centimetre's thickness.
6. Now place the 1.5 tablespoons of filling right in the center, pressing it between your fingertips. Holding the filling down, flip the whole modak over, and begin cupping the dough over the filling. Turn it back upright and work on bringing the dough right over the filling, closing it. The little stem on each will form naturally as you work. Pull and press on the dough gently as needed to form the modak. Smooth down any lumpy bits. Repeat with the remaining dough and filling. Step-by-step photos weren't possible because we had to work fast, but here are some that I hope will help. It's easy, I promise. Keep your palms greased as required and dip your fingers in cold water to remove any stickiness.
7. To steam the modaks, place a banana leaf in a steel sieve, trimming it to fit. Lightly grease the leaf and place the modaks on it taking care not to crowd them. Place the sieve over a pot of boiling water and cover with a well-fitting lid. Steam for 5 minutes on high heat, then another 5 minutes on low heat. If you already have a steamer that you use for momos, go ahead with that 🙂
8. Once the modaks have become slightly translucent, they're done. Carefully remove them from the sieve, top with fresh melted ghee and serve. They taste best if you cut them and pour the ghee inside them. Everything is better with ghee 😀