I'm not a terribly fast cook. In fact, I'm terribly slow. Even when I have help on hand, I'm still moving around at my own pace, stirring real slow, chopping real slow. I enjoy it. I can walk fast, talk fast, read fast. Can't cook fast.
With this salad though, no matter how hard I tried to take things slow, I couldn't. It's just too quick to put together.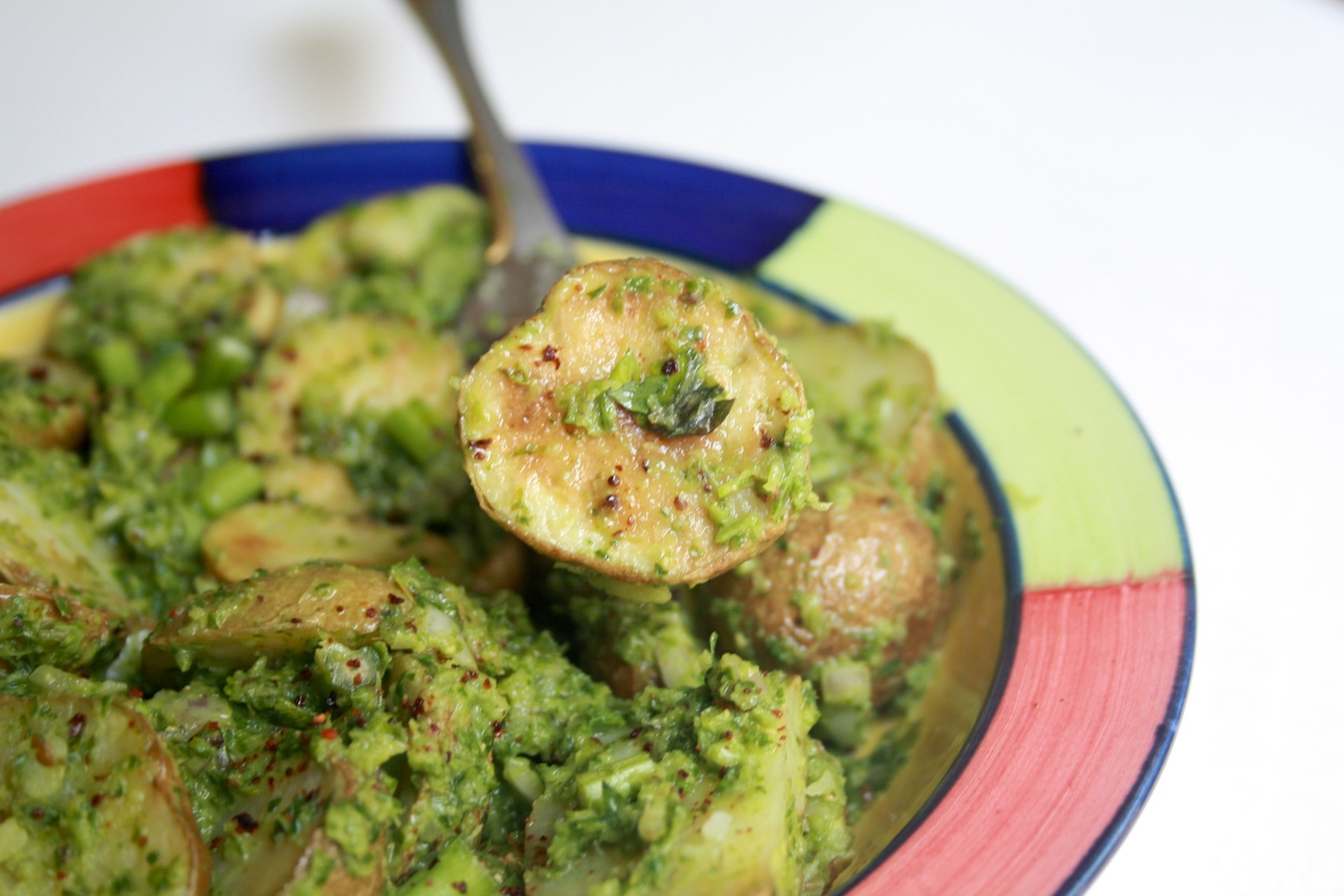 Baby potatoes, roasted to golden brown perfection, fresh parsley ground with a few basic things, mix and voila. All done. The beauty of this salad is that in barely a few ingredients, you get one seriously flavourful side dish, so hearty that you could eat it as a meal in itself.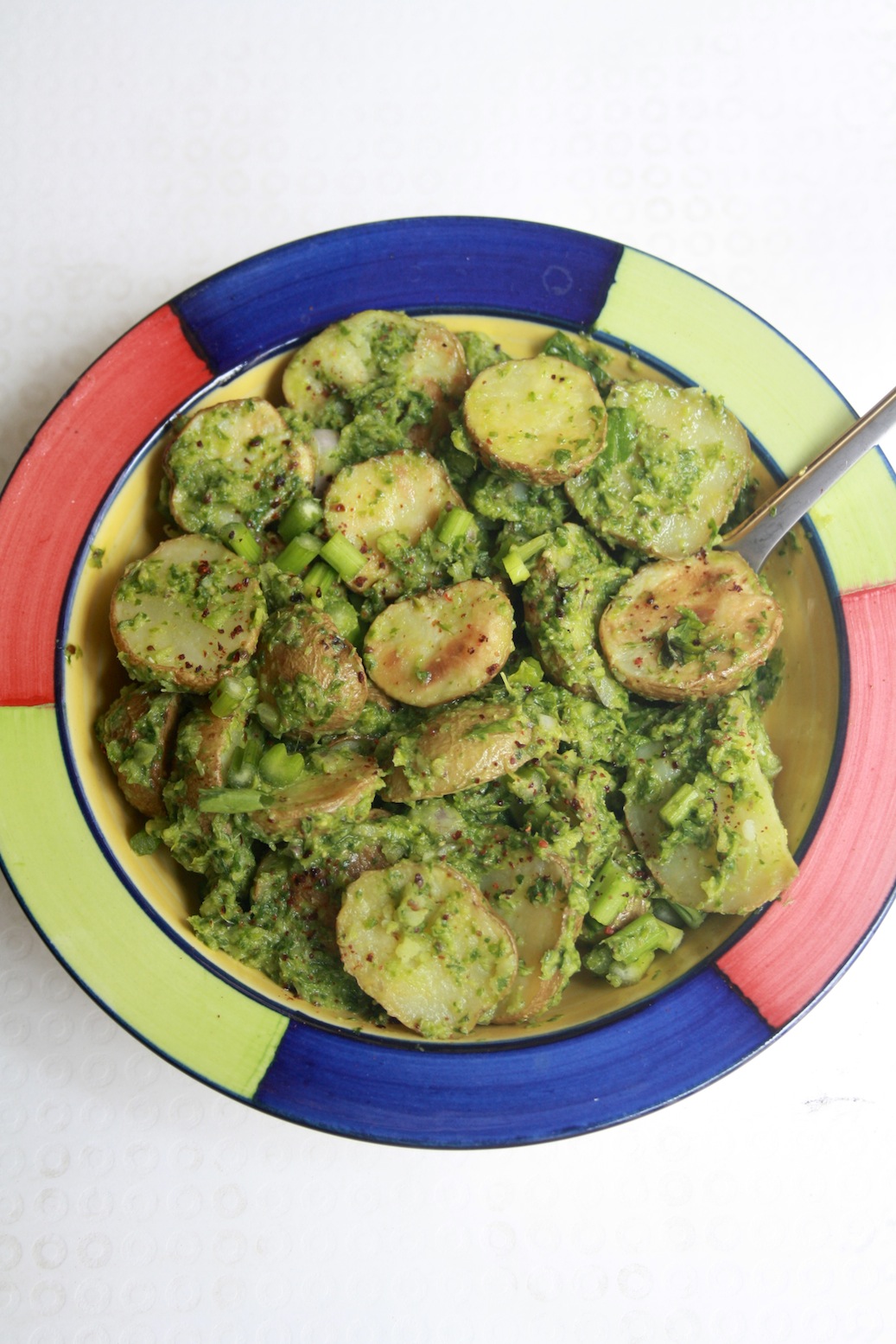 The salad is best when it's chilled. Even without the mayo and sour cream and all of that, you will get that incredible signature potato salad taste thanks to all the parsley. Really, no reason not to make this!
The original Cookie and Kate recipe uses sliced, boiled potatoes and the starchy water goes into the salad dressing for a creamier version of it. I decided to roast the potatoes for no particular reason, except that they take on a crispy texture and are awesome, and then added a bit more olive oil to the dressing to help the parsley break down.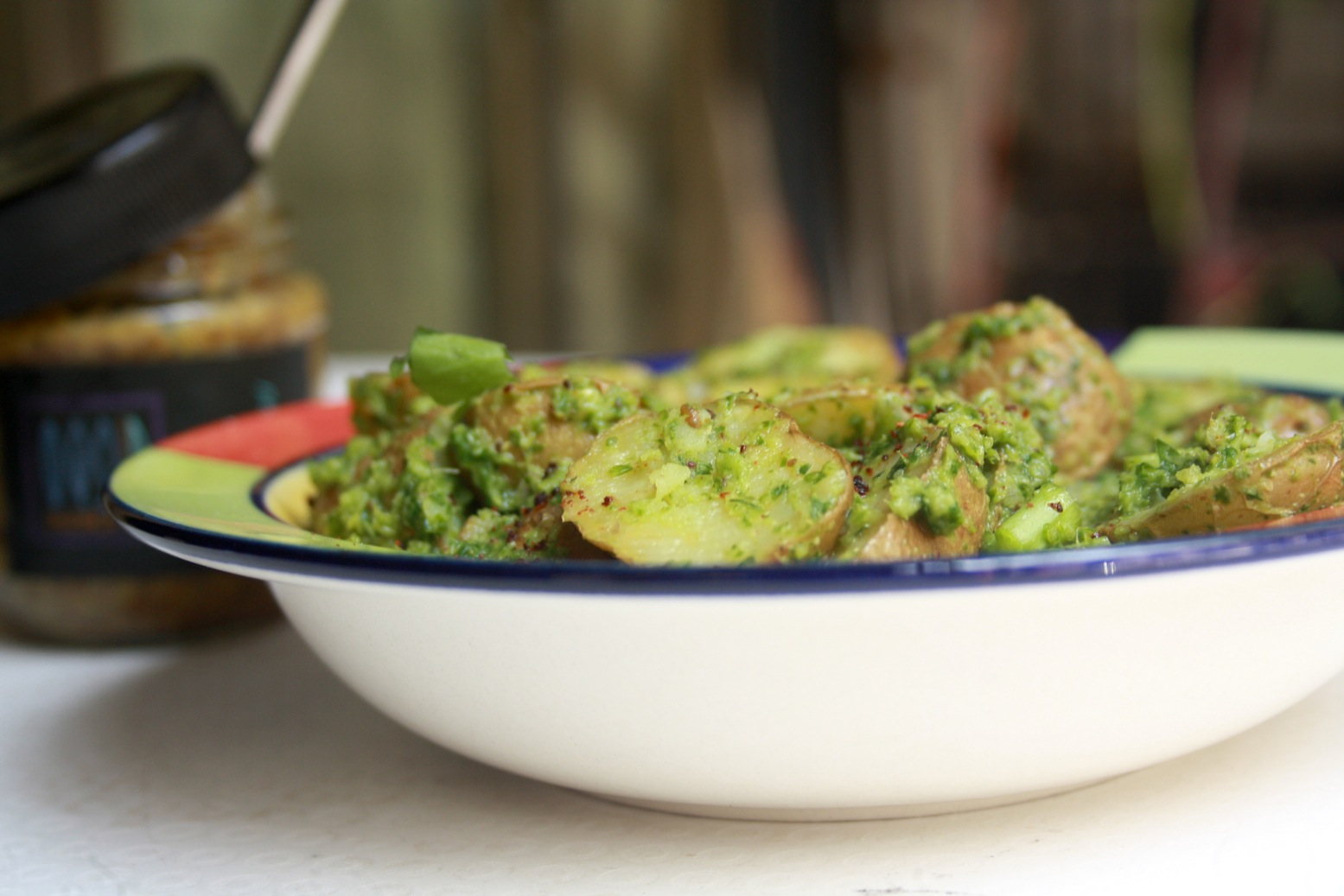 Whole grain mustard gives the dressing the zing it needs. I got mine from Indigo Deli because every time I eat there, I go a bit crazier over that mustard. So good! Then comes chilli flakes, salt and freshly ground pepper. And that's it!
Must I convince you more?
I made just enough for the two of us, feel free to increase these proportions as needed.
What you'll need:
250 gms baby potatoes
2 tbsps olive oil, plus more for roasting
25 gms fresh parsley, chopped (stalks removed)
1 small onion, chopped
1 tsp whole grain mustard
1 clove garlic, minced
1 tsp lemon juice
Salt and pepper, to taste
1 stalk celery, chopped
Chilli flakes, optional
What to do:
1. Preheat the oven to 150 C.
2. Wash the potatoes thoroughly, cut in half, and place face-down on a baking tray. Drizzle with olive oil and bake for 10 minutes. Poke a toothpick into each piece of potato. If it goes in easily and the underside of the potatoes are lightly browned, they're done. If not, bake for another 5 minutes. When in doubt, taste 🙂 Set aside to cool.
3. In a blender, pulse the parsley, onion, garlic, mustard, lemon juice and olive oil till you have a slightly chunky paste. Add the salt and pepper and mix well.
4. Toss the roasted potatoes in this dressing and chill for 10 minutes to allow the flavours to come together.
5. When ready to serve, sprinkle on some chilli flakes and the chopped celery.
Serve with your favourite form of protein and veggies. I'll share mine soon. Stay tuned!